Browse thousands of used BMW X2 cars for sale with Parkers. Our search filters help you find the best secondhand models from our selection of used BMW X2 cars for sale.
Results

1

to

10

of

207

2019/68
7,174 miles
Manual
Diesel

2019/68
5,743 miles
Automatic
Petrol

Evans Halshaw Ford Coatbridge,

Coatbridge

2019/19
2,987 miles
Automatic
Petrol

2019/19
3,319 miles
Automatic
Petrol

2019/69
65 miles
Automatic
Petrol

2019/19
2,198 miles
Automatic
Petrol

2019/19
6,880 miles
Automatic
Petrol

2019/19
2,946 miles
Automatic
Diesel

2019/69
2,000 miles
Automatic
Diesel

2019/69
5,313 miles
Automatic
Diesel
Disclaimer
Telephone numbers starting with 08XX will cost you 7p per minute plus your phone company's access charge. Calls to other telephone numbers will only cost your phone company's access charge.
What is the BMW X2?
Something of an in-betweener SUV in the brand's small crossover range, the BMW X2 slots between the X1 and X3. Being a coupe version of the former, it's named with an even number that denotes a sportier design, as with the lower-slung X4 and X6 crossovers higher up the range.
That sportier character means it's likely to be compared with the Mercedes-Benz GLA, Range Rover Evoque and Audi Q3 Sportback. These are compact cars promising a smidge of raised, SUV driving position, but without sacrificing sportier looks and a hefty dose of driving pleasure.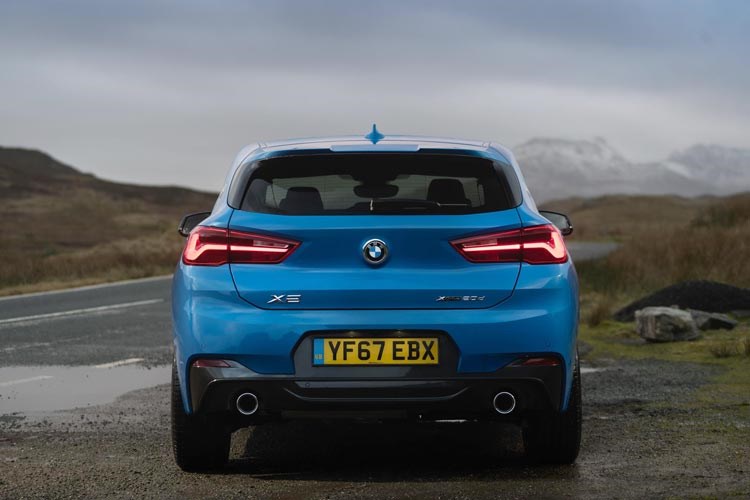 Think of the BMW X2 as a four-seater hatchback on stilts. Its downsized dimensions mean it's not too big for today's crowded urban roads yet it'll probably be big enough for most day-to-day duties for many small families.
Top speed: 127-155mph
0-62mph: 5.0-9.6sec
Fuel economy: 47.9-62.8mpg
Emissions: 119-134g/km
Boot space: 470-1355 litres
Which versions of the BMW X2 are available?
The BMW X2 arrived on the scene in 2017 and is a straightforward range to get your head around. There is only one crossover bodystyle available in the X2 family, so shopping for one merely means you must choose your preferred engine, transmission and trim level, dictated by your driving needs, budget and desire for the latest equipment levels.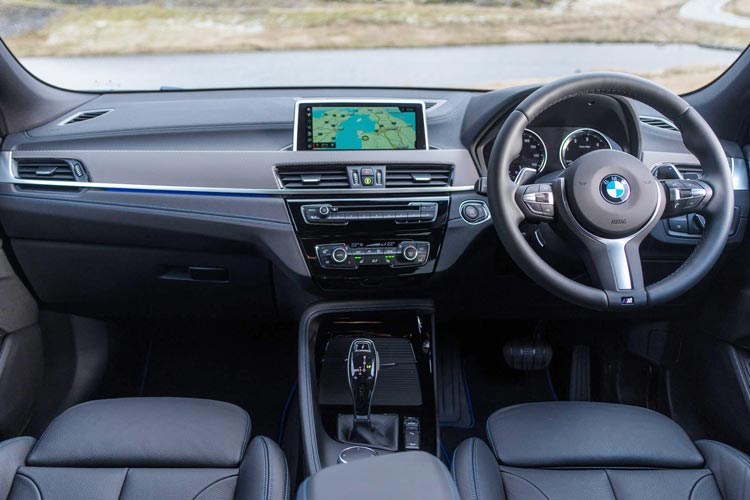 A wide choice of engines comprises three petrol engines (18i, 20i and M35i) and a pair of diesels (18d and 20d). In reality, the engines are all-but-identical - you merely pick the larger numbers to liberate a higher state of tune for more power and torque. As for specs and trim levels, simply consider the equipment you want to pay for. The entry-level BMW X2 SE level is reasonably equipped, but you can step up through Sport, M Sport and Sport X trims to add extra bells and whistles.
What is the BMW X2 M35i?
This being a BMW, it's inevitable there's a go-faster high-performance version of the X2 available. Called the M35i, it's a high-power turbocharged rocketship producing a stout 306hp for some devilishly fast acceleration figures: 0-62mph takes just five seconds.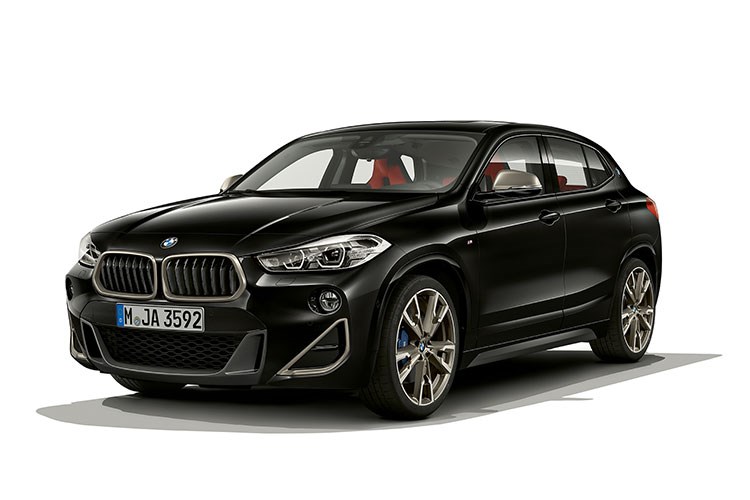 Performance is predictably rapid - it feels much more like a hot hatch than a small family crossover. It's impressive how BMW has managed to keep a go-kart feel to the handling, despite the X2's slightly raised ride height. Just remember that you pay for the privilege. The X2 M35i costs upwards of £43,000 - that's £15k over the entry-level model. That's quite a steep premium to pay, but if you fancy something distinctive, fast and crossover shaped, you won't find many better places to put your money.
S

tyling and engineering

The BMW X2 has a squatter stance and lower roofline compared with the odd-numbered BMW crossovers. So where the similarly sized X1 is tall and perhaps even bulbously shaped, the X2 hunkers down more. This is what you're paying for: a sportier vibe. It's dripping with neat details and we really like the BMW roundels on the rear-window pillars of the X2 - they're a smart touch aping some of the heroic BMWs of yesteryear. Inevitably, that squat shape takes a toll on boot space and practicality - accommodation is tighter than in the X1.
Underneath, the X1 and X2 share much of their engineering and hardware. That means that most X2s are front-wheel drive, but all-wheel drive is available on the M35i to tame all that power.
Is it good to drive?
The good news is that the X2 retains the dynamic prowess of most BMWs. Not for nothing did the manufacturer label its cars 'The ultimate driving machines' for many years. The X2 maintains that reputation. It steers, stops and goes with a measured precision, and keen drivers will like that. But even if you're more interested in fuel economy, reliability and running costs, you'll appreciate the X2's benign characteristics. It's an easy car to live with.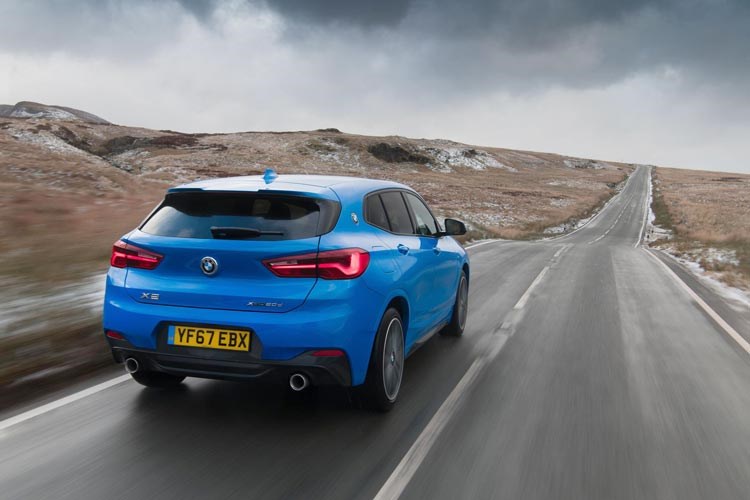 This BMW has switched to the group's latest front-wheel drive platform, which means that traction is better in slippery conditions than previous BMWs. So when the going gets slippery, the X2 should keep going - and if you pick one of the xDrive models you'll have all-wheel drive for superior traction no matter wha the conditions outside.
How much does the BMW X2 cost?
Prices for the BMW X2 kick off at around £28,000. This is a premium small crossover, make no mistake. The majority of cars will retail for considerably more than that and most will push well into the mid-£30k territory. Expect your invoice to swell if you choose one of the loftier engines, trim levels or add xDrive to your order.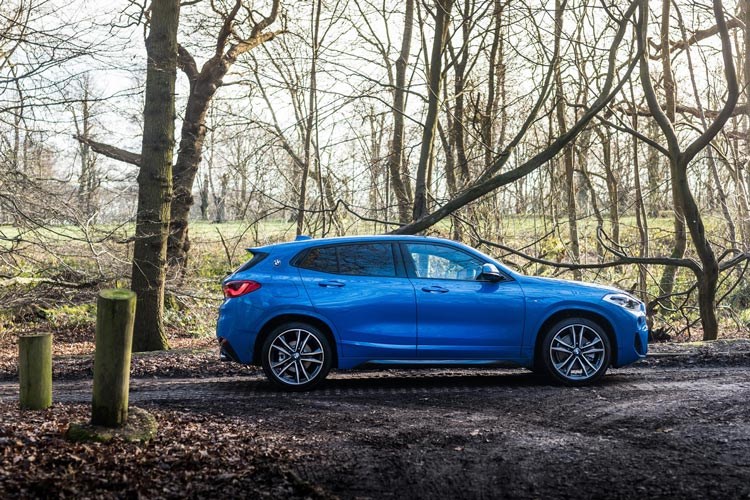 Our advice, as ever, is to shop around and play off different dealers against each other. The X2 is a rare beast, and it's definitely worth casting your net far and wide to see if you can snag a decent discount on one if you're looking to buy or finance one.
See what drivers of the BMW X2 have to say about their cars in our detailed owners' reviews.
Watch our BMW X2 video review
Parkers has thousands of used BMW X2 cars for sale in our classified listings. Find your next secondhand model in our ads – we've everything from family cars and hatchbacks to executive saloons and sports cars.