First drive: Saab 9-3 TTiD
9-3 gets new range of twin-turbo diesel engines
119g/km CO2 means 13% company car tax band
Available to order now from £21,995 on the road
The 9-3 saloon is a long-standing model in Saab's range, having been launched in 2002 and this latest model promises improved economy and power as well as low emissions of 119g/km of CO2.
This means the 9-3 falls into a 13% BIK company car tax band. The automatic version emits 153g/km of CO2 resulting a BIK band of 21%.
It uses a new TTiD engine that replaces all TiD variants. It is based on the existing 1.9-litre twin-turbo unit and is available in three power levels up to 180bhp. Emissions remain the same for all power levels when fitted to Turbo or Vector Edition saloon models.
Improvements to the engine's output and emissions have been achieved by adjusting the engine management system, reducing load on the electrical system and by making the power steering more efficient. The cars also get low rolling resistance tyres, thinner panels in places to reduce weight, exta sound deadening, improved aerodynamics and modified gearing to suit the updated engine.
The model on test was the range-topping 180bhp TTiD diesel which has 400Nm of pulling power. This car, in 'Turbo' specification, costs £22,995 and comes as standard with alloy wheels, climate control and leather seats.
On the road the engine runs smoothly, even at high speed, with plenty of pulling power for overtaking in reserve. There's the occasional hint of diesel noise but the engine is otherwise refined and quiet. Acceleration is prompt with no delay in power taking the 9-3 from 0 60mph in eight seconds. The six-speed manual gearbox has a well-chosen range of gears but is hampered by a clunky shift and relatively long throw.
It isn't as engaging as an equivalent BMW 3-Series to drive, with the handling being competent as opposed to enthusiastic, but with its excellent ride and tall gearing it eats up the miles and isn't tiring to drive.
Saab claims a combined economy of up to 62.8mpg and on our cross-country 220-mile test route we averaged 45.6mpg which was impressive considering the level of performance and low emissions - with the engine having the lowest CO2 per horsepower of any four cylinder diesel on the market.
Other alterations to the car include new badges, a 'change-up' indicator to promote economical driving, a new alloy wheel option and a larger range of all-wheel-drive models. All 9-3 models also now come with Bluetooth and heated front seats as standard.
The Saab 9-3 TTiD is available to order from your local dealer now with prices starting from £21,995.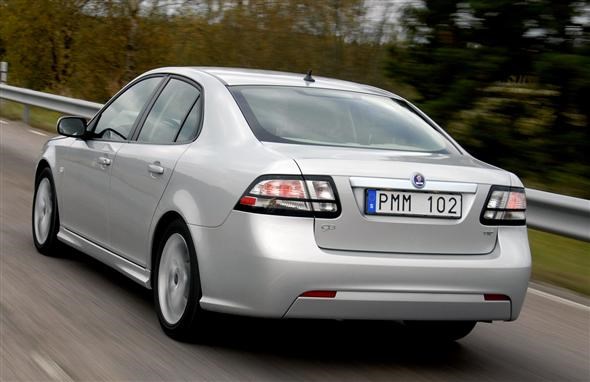 Also consider:
The 3-Series is great to drive but options are expensive and the car does have a firm ride. The 320d ES returns similar economy to the Saab while being slightly faster - but it'll cost around £3,000 more before options and road tax is also more expensive, at £155 a year.
The Mazda isn't as cheap as you'd expect but it comes with a superb diesel engine and sharp looks. The 2.2-litre diesel isn't as efficient or clean as the Saab's but it'll still do 50mpg combined and is just as fast.
With its reputation for being a well-engineered car, the Passat has an image of quality that few others can match. The 2.0-litre diesel with 167bhp will return 46mpg and similar performance to the Saab. The SEL comes with similar equipment to the Saab and costs only a few hundred pounds more, although tax costs £155 a year.