First drive: Volkswagen Phaeton
Minor design revisions, but no new engines
Entry level diesel places Phaeton in top BIK band
Low P11D value delivers competitive company car tax costs
As times get tighter even the high-end executive models must be competitive in the company car sector: they must deliver value for money as well as luxury.
Step forward the VW Phaeton. First launched in 2003, this luxury executive car has been quietly trying to win over company car drivers and now, in 2011, it promises to up its game. It's had a refresh with a reworked bumper and front lights sporting the latest in LED wraparound running lights. The rear lights also get a more modern look.
Under the bonnet the choice of engines remains the same, however. There's a reasonably tax-friendly 3.0-litre V6 diesel, but a more Devil-may-care 5.0-litre diesel in the line-up. Petrol fans can choose from 3.2-litre V6 or the massive 6.0-litre W12 (so-called because that is the layout shape of the 12-cylinders).
We drove the entry level diesel - a model likely to make up the majority of the sales. Fuel economy is half decent in this version at a claimed average of just over 32mpg, but CO2 emissions are somewhat frightening at 224g/km.
As a driving maching it's what you might expect. It's got decent performance: push the right foot down and the 3.0-litre V6 diesel delivers strong pulling power in a smooth, imperious way. No drama or fuss, just a very definite gathering of speed that means hustling along in the fast lane is both easy and stress free. It's pretty good around corners too and it delivers a compliant yet comfortable ride particularly if you put it in the Comfort setting. The Sport setting firms things up a bit but it still rides nicely over the bumps.
To be a winner in this sector it still has to hold its own when you consider company car tax costs. VW is currently offering discount of £5,500 off the list price which means its P11d value is just over £42,000. That's a good start and our company car tax calculator reveals that a top 50% tax payer will have to cough nearly £690 a month. Not bad for a car with such portly dimensions.
But it's not all great news when you consider the VW's rivals. Take the benchmark Mercedes-Benz S-Class in its 350CDi BlueTEC guise. It emits just 164g/km, manages a claimed average of 46mpg and, despite a P11d of just under £60k (nearly £20,000 more expensive than the Phaeton), a 50% tax payer pays a monthly company car tax charge of less than £650.
It is cheap - and that's it's ace card - but not as cheap to run as the Merc. In that respect the Phaeton still has a long way to go to beat its rivals.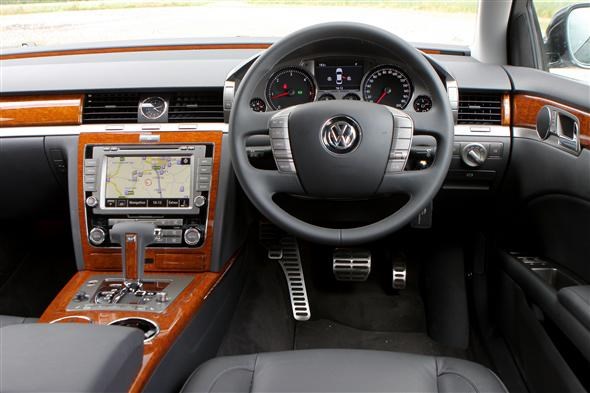 Also consider:
Mercedes Benz S-Class
The benchmark car in this class, and the BlueTEC model is surprisingly cheap as a company car choice
Audi A8
A posher version of the Phaeton, but it's essentially the same as a Phaeton. Bigger engine range but a heftier price too
BMW 7-Series
You'll be paying more but you'll get the best driving dynamics of the lot here. Lots of technical wizardry comes at a cost