Mobile phones are now more distracting than ever, but a new feature from Apple aims to stop you picking yours up at all while driving.
The evocatively titled Do Not Disturb While Driving mode will arrive with the next version of Apple's iOS 11 operating system and is an extension of the existing Do Not Disturb mode on the firm's devices, which stops all communication with your device except from certain pre-selected contacts.
Find out everything you need to know about Apple's CarPlay infotainment system
The new bit is that the phone can now detect you're in a car, limiting any notifications (calls, messages, social media) unless they're from 'favourite' contacts. 
But what about the person trying to contact me?
You have to tell the handset to switch into Do Not Disturb While Driving mode the first time it initialises, thereafter if someone tries to get in contact with you while the mobile is in this state, they'll get an automated text reply telling them you're driving and that you'll get back to them as soon as is practical.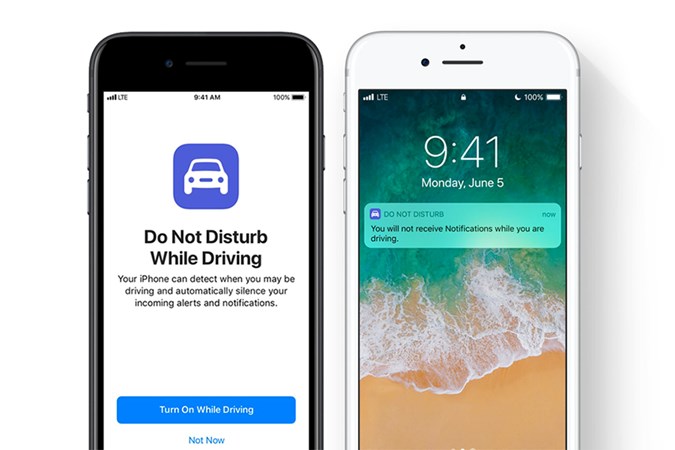 However, a spokesman for road safety organisation GEM Motoring Assist says that while the concept is a good one, the facility to override the feature still allows people to use their mobile in the car:
'The Apple update is an excellent step forward, and a powerful awareness raiser for road safety. However, we are concerned that there is an option for a vehicle occupant to override the 'do not disturb' mode.
'Currently we are not aware of any technology that can distinguish between a driver and passenger choosing to override the safety feature. No doubt a core of offenders, with little or no regard for the law, will choose this option and continue to put lives at risk by using a phone while driving.
'For every driver, taking personal responsibility and never touching or using a phone on a journey is the most effective way of reducing risk. A bit of planning might be needed, and this can make a huge difference for safety.'
Is there an Android version?
There's no word yet on an official Google-made Android solution to the problem of using your mobile while driving, but there are plenty of third-party apps offering similar services available on the Play Store.
Why bother with Apple's Do Not Disturb While Driving mode?
The reasons not to use your smartphone while driving are many and varied, but at a basic level it's all about safety. Even using handsfree Bluetooth connectivity to make or receive calls is highly distracting to drivers, with more and more fleet managers blanket-banning the use of mobiles while employees are out on the road.
Of course, there are legal dangers to using your mobile too. The maximum penalty if you're caught using a smartphone while in charge of a vehicle is £200 and six points on your licence, meaning if you passed your test less than two years ago you'll have to retake your driving test.
You could also be summoned to court, in which case you could be banned outright and fined £1,000 (or £2,500 if you're driving a lorry or a bus).
What to read next: 
Cut tax bills with BMW 530e
Five cars to beat the daily grind
Low-tax diesel company cars
The cash vs company car debate