Dacia Sandero Stepway review
Current Model
Visually appealing SUV-aping looks provide no real advantage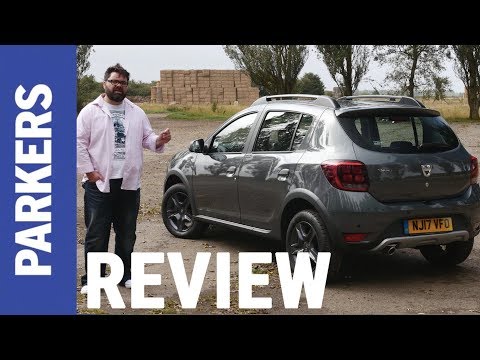 Enlarge
1

videos
Enlarge
97

photos
PROS
Spacious interior
Large, flexible boot
Fashionable crossover looks
Inexpensive to own
CONS
Little benefit over a regular Sandero
Dearer models offer less value for money
Safety equipment is off the pace
Not really an off-roader
PROS
Spacious interior
Large, flexible boot
Fashionable crossover looks
Inexpensive to own
CONS
Little benefit over a regular Sandero
Dearer models offer less value for money
Safety equipment is off the pace
Not really an off-roader
Dacia Sandero Stepway rivals

Small hatchback running costs married to SUV looks sounds like a streetwise car choice, but does it make sense in the form of the Dacia Sandero Stepway?
Based on the more conventional Sandero hatchback range, Dacia bills the Stepway as the most affordable crossover on sale. That's maybe stretching the loose definition of what a crossover is close to snapping-point, and it's a market segment few manufacturers bother with anyway.
Its chief alternatives include the Ford Fiesta Active, as well as the smaller Kia Picanto X-Line and Vauxhall Viva Rocks.

Those affordable price tags are designed to tempt motorists out of used cars and into a brand new model, perhaps for the very first time.
Families on tighter budgets will appreciate the practicality, decent fuel economy and rugged appearance, but it inevitably loses some of its good value in the Stepway metamorphosis.
Limited range of engines
If you subscribe to the notion that too much choice is a bad thing, then you'll likely appreciate that the Sandero Stepway has a choice of just two engines, both of which produce 90hp.
Naturally, these are shared with the regular Sandero hatch, with a straight choice between petrol and diesel.
Suiting most buyers' demands is the turbocharged TCe 90 petrol, a combination that should easily achieve 45mpg in the real world.

Petrol engines are well matched to shorter, urban-centric journeys, which is why we'd only consider the dCi 90 diesel if you regularly drive long distances and cover a high annual mileage.
Whichever you choose, it will send its power to the front wheels – the Sandero Stepway is no budget 4x4.
Two levels of Sandero Stepway equipment
Two trims are available on the Sandero Stepway, with similar equipment to their namesakes in the regular Sandero line-up. In 2019 two new trims were added, which are detailed below.

The entry-level Ambiance specification comes with electric front windows, front fog lights, and roof bars, Bluetooth connectivity, metallic paint, and a multimedia system.
Choose the top-of-the-range Laureate trim and you get everything on the Ambiance version plus air-con, a chrome finish to the front grille, all-round electric windows, electrically adjustable door mirrors, cruise control, rear parking sensors and sat-nav.
Practicality matters
Building on the regular Sandero's impressive practicality, the main change the Stepway benefits from is a 40mm elevation in ride height.

That's not a huge increase, granted, but it makes it all the eaiser for the Stepway to tackle slightly rougher terrain.
Perhaps of greater benefit is the ease of access afforded by the higher seating position, making it easier to load kids into child seats, as well as aiding the ingress and egress of those less physically mobile.
Minor update in 2019
Available to order from 10 January 2019 with deliveries starting in February, Dacia added two new engines and a pair of new trims.
A new entry-level petrol motor is called SCe 75 is available in Essential Trim with a manual gearbox only, with 75hp and 95Nm of torque. This car costs £8,995 and will cover 0-62mph in 16.7 seconds, with top speed 97mph. Its fuel economy is a claimed 43.5mpg and CO2 output is 124g/km.
The other engine is called Blue dCi 95 and is a diesel, with 95hp, 220Nm of torque, fuel economy of 58.8mpg and CO2 emissions of 103g/km. With this motor 0-62mph takes 12.3 seconds with top speed rated at 111mph.
Essential specification includes air-con, DAB radio, Bluetooth and 16-inch alloys. Comfort trim adds luxuries such as touchscreen sat-nav, Apple CarPlay and Android Auto connectivity, rear parking sensors, cruise control, heated and electrically adjustable door mirrors and electric rear windows.