Mazda MX-5: goodbye to our winter drop-top
Time with the MX-5 has come to an end
Can you survive the winter with a small convertible?
We look at the highs and lows
Time with the MX-5 has come to an end
Can you survive the winter with a small convertible?
We look at the highs and lows
After five months, 11,073 miles and 765 litres of petrol it's time to say goodbye to our Mazda MX-5 Icon long-termer. To say we're sad to see it go is an understatement.
For all its (relatively minor) flaws, both Tom Goodlad and I had a real soft spot for the majestic Mazda and would have happily kept it for many more enjoyable miles.
Did it survive the winter?
It did – and it's surprised us just how easy it is to live with through the colder months of the year. The lack of properly icy conditions has helped this (there was only one instance where the window struggled to lower itself because it was frozen to the roof), and our Icon's heated leather seats were an absolute god-send.
With three heat settings, you could have as toasty a rump as you liked, and the heaters were particularly effective at warming up the cabin in very little time as well. We found them to be perfectly positioned to blow straight onto your hands in close proximity, too, which is especially good for top-down motoring when it's easy to feel the cold.
Its lightweight, rear-wheel drive set-up was never a problem in terms of feeling too slippery and like a liability on icy roads, either – such is the communicative and manageable nature of the car.
What we did notice is just how small you can feel when travelling on bigger roads at night – you become very aware of larger vehicles around you, especially when you have bright lights shining right though the small rear screen and straight into the rear-view mirror.
If you're even considering the MX-5 as a potential option, chances are you don't care too much about practicality, so we won't stress too much about how big the boot is (but it's surprisingly useful if you do care a little bit).
It's easy enough to get in and out of, our Icon trim is packed with desirable kit that makes it feel a cut above a basic sports car and it's comfortable for when you don't want to thrash around country lanes – there's an awful lot going for it in this regard.
What isn't as easy to live with is the limited interior storage, just for the odds and ends that most people store in their cars, and the fact that visibility isn't its strongest point. Again, not always the most important aspect in this kind of car, but if it's the car you're using every day, it'll impact you.
It all comes down to your lifestyle. If you never open the boot lid and just want to have some fun on the journeys you regularly make, then you'll have no issue in running an MX-5 every day – it's an absolute joy.
If, however, you do make use of the boot and you're up and down the motorway often, you may notice the cramped cabin and noisy engine more than you would if you had an MX-5 as your second car. It'll do what you ask of it, but we found a few long journeys in a row tiring, especially at night with the weather against you.
Where the MX-5 makes most sense – at least with the 1.5-litre engine – is as a second option on the driveway. As a sports car that you can jump into at the weekend for drive into the countryside, with a more practical option taking care of the more sensible duties the rest of the time.
While not everyone's situations will allow for this, if you do fancy an MX-5, you're not going to be worrying too much about how much you can fit in the boot for a trip to the dump. And that's how it should be.
Special edition Icon trim – is it worth it?
Our Icon edition Mazda MX-5 is sandwiched between SE-L and top-spec Sport Nav trim, coming in at £20,995. We reckon that's a pretty reasonable price considering it's got all the kit the average sportscar driver will ever need. Note, too, that the more premium Sport Nav spec costs a substantial £1,800 more.
Then there's the exclusivity factor; just 600 Icons were made meaning you'll rarely pass one coming in the other direction. And therein lies the problem. Mazda has sold the last MX-5 Icon, meaning you can't buy a new one anymore.
However, we recently road tested an Arctic edition MX-5, and – since it's mechanically identical underneath – found it to be just as rewarding as the Icon.
It's even the same price, and comes with the same luxuries such as cruise control, climate control, Bluetooth phone connectivity, DAB radio and sat-nav. The only real differences are the Arctic's colour – Blue Reflex Mica only – and the subtle front splitter and rear spoiler on the Icon.
Make sure you snap one up quickly, though, as like the Icon numbers are strictly limited to just 400.
Counting the costs
When it was first registered back in August 2016 our Mazda MX-5 Icon was up for sale brand new at £20,995. After eight months and 11,000 (mostly) careful miles it's now worth £15,005 part exchange or £17,295 at a franchised dealer. Taking the latter price into account, our MX-5 Icon has lost a respectable 17.6% of its value, costing 33 pence per mile in deprecation.
Interestingly, when compared to its Fiat 124 Spider sibling, the Mazda comes out slightly worse off. Priced at £22,350 when new, the Lusso-spec 124 Spider would be worth £19,050 after roughly eight months and 11,000 miles. That means depreciation of just 14.8%, costing 30p per mile.
However, take into account the Mazda's outstanding fuel economy and we reckon it would be enough to make up that 3p deficit. The MX-5 Icon returned 43.4mpg during our time with the car, a figure achieved over town, B-road and motorway use with a variety of drivers.
What makes it even more impressive is the lack of stop-start technology, meaning fuel is being wasted whenever the car is sat idling.
Insurance
We also took a look at how much it would cost to ensure an MX-5 Icon, the cheapest quote we could find on Mustard.co.uk insurance comparison site being £726.61*
Verdict
It's probably fairly obvious by now but we've thoroughly enjoyed our time with the Mazda MX-5 Icon.
Yes, it could do with a little more torque and yes the ride over broken surfaces leaves something to be desired. It's also no good if you're over 6ft 2" – unless you can permanently keep the roof down…
However, when the roads (and weather) are half-decent it's absolute joy to be in. And if we're being honest, it really doesn't disgrace itself when neither of the above aren't in its favour anyway. And it's pesky Fiat 124 Spider sibling? We'd still take the Mazda. It's a purer, sharper-looking more enjoyable sports car than the - admittedly talented - Fiat in our eyes.
Here's a quick snapshot of our highlights:
Highlights – Tom
Eye-catching looks
Easy to have fun at all speeds
Generous kit list
Highlights – James
Fabulous gearchange
Zesty engine
Striking looks
Mileage: 11,073 miles
Fuel economy: 43.4mpg
*Figure based on a 30 year-old male living in Peterborough with five years no-claims bonus
---
Ninth report: what are other options like?
Line the Mazda MX-5 and DS 3 Cabrio up side-by-side for a comparison and you'd be forgiven for thinking we've gone a little mad. Surely these two cars aren't competitors?
Looking at the DS 3 Cabrio head on and you'll miss the fact there's a canvas roof in place of a solid metal one – it's just that it's a very different style to our simple MX-5.
We got them together for a quick in-house comparison to see how similar (or not) they really are.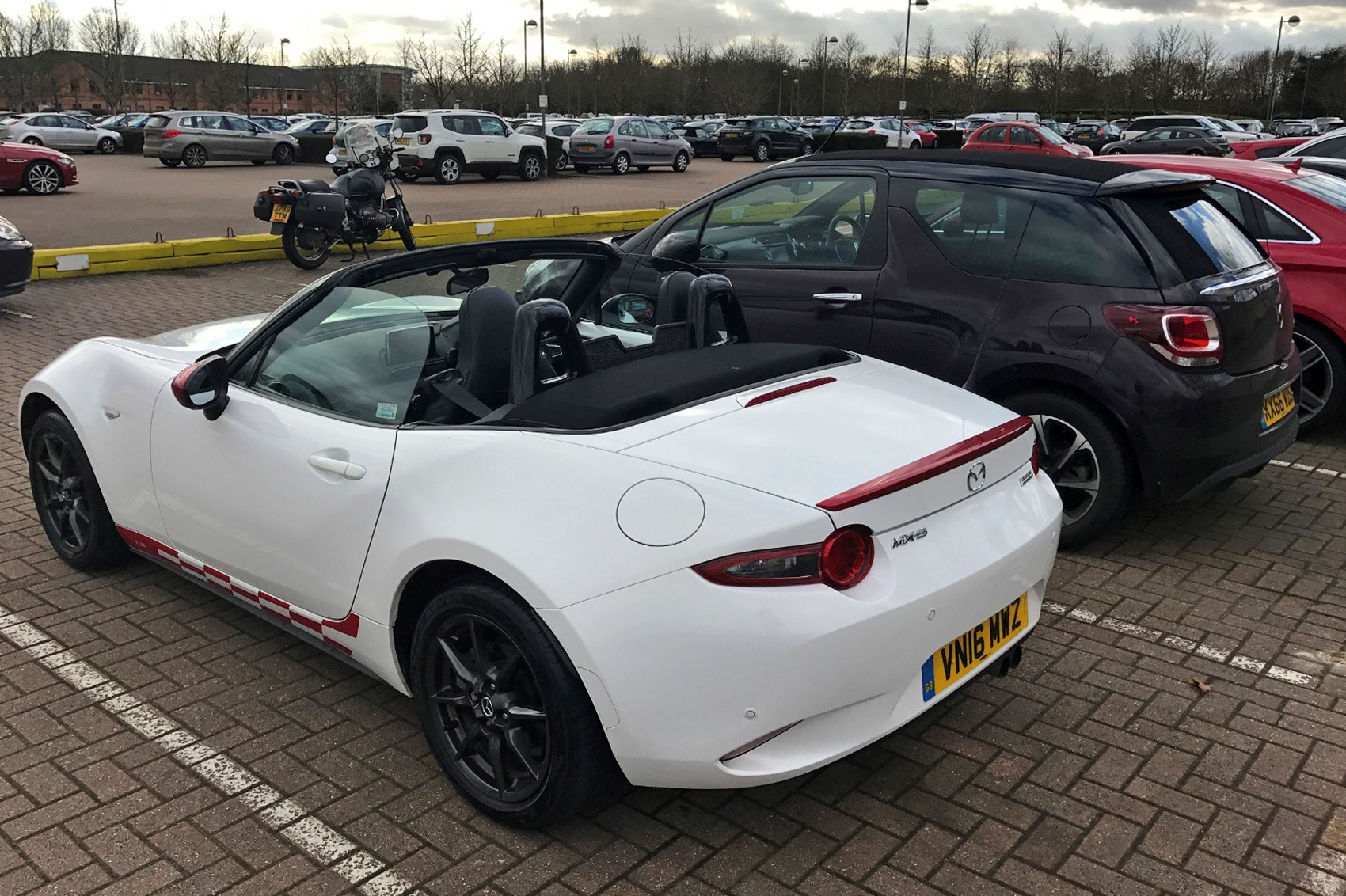 How do the roofs compare?
We've already seen just how easily the MX-5's roof flings back into place with just one swift movement.
The DS 3 Cabrio, however, requires you to press and hold a button as it gradually eases its way towards the rear of the car, where it concertinas up and blocks your view out the back. It leaves all the pillars in place and acts more like an enormous sunroof than a full-on drop-top.
That makes it more usable though, because you can raise and lower it at almost any speed, whereas you'll need to pull over to operate the MX-5's.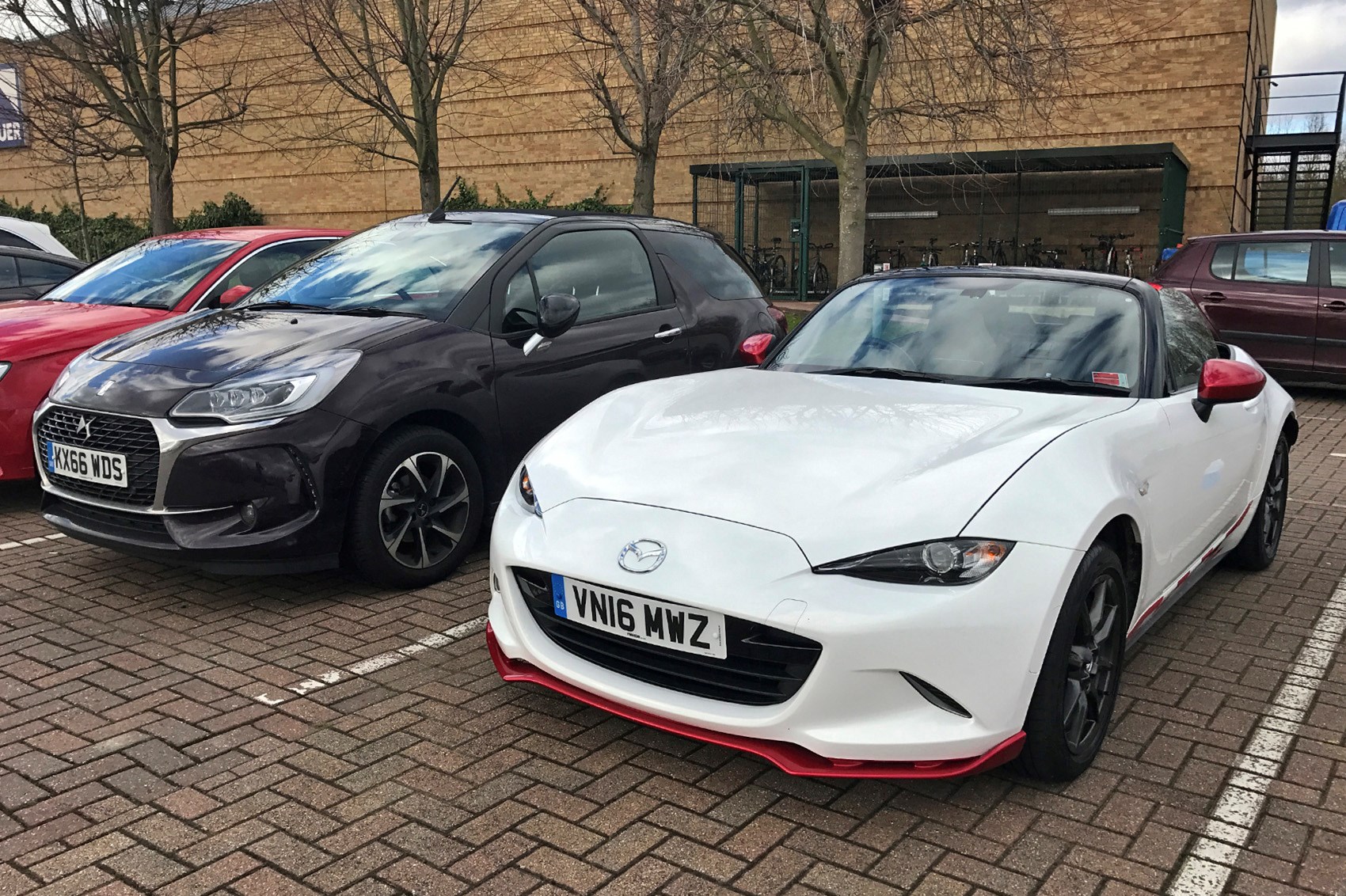 And what about performance?
Our MX-5 features a rev-happy 1.5-litre engine under the bonnet with 131hp, while the DS 3 is powered by a punchy 1.2-litre turbocharged PureTech engine producing 130hp.
It's much torquier than our Mazda though with 230Nm of shove against 150Nm, which you notice on longer journeys – it's a much better cruiser, but also much less involving when you get to a twisty road.
It does have character like the MX-5, though – with a growly three-cylinder engine note making itself heard, it's just a shame the steering and gearbox are a long way off the involving feel of the MX-5's mechanical bits.
Which would we have?
Personally, I'd have the MX-5 all day long. But it comes down to personal needs, as the DS 3 is a much more practical car for daily use with three extra seats and a bigger boot (that's more difficult to access).
The DS 3 will give the MX-5 a run for its money in the speed stakes, but get to a corner and the French car won't put a smile on your face like the Mazda can.
Then comes the price – our two cars cost a very similar amount. The MX-5 Icon was £20,995 new (you can't order one anymore as the Icon had a limited 600-unit run), while our DS 3 Cabrio Elegance weighed in at £19,495 when it was new.
However, you can't buy these versions anymore, so an MX-5 1.5 SE-L Nav (the donor car for our Icon) will cost £20,195, while a DS 3 Cabrio with the PureTech 130 engine now only comes in high-spec Prestige trim for £21,785.
At the end of the day, personal preference and needs will dictate which you should go for, but it's nice to know there's a range of diverse roof options if you want a small car that can let the sun in on those rare days of pleasant weather.
Mileage: 10,322 miles
Fuel economy: 43.3mpg
---
Eighth report: meet your maker
The Mazda MX-5 no longer has a monopoly over the low-cost two-seat roadster class – not now the Fiat 124 Spider is on the scene.
However, they're more like stablemates than true rivals, as Fiat has borrowed the MX-5's underpinnings and interior to create the 124 Spider – it's just added some Italian flair to the exterior design and its own 1.4-litre turbocharged engine to the mix.
Which is the most stylish?
A subjective thing, of course, but both cars have their merits. I love the taut, sharp look of the MX-5 (even if I'm still not sold on the chequered flag down the side). It's simple and effective – which is reminiscent of the whole character of the car.
Fiat has harked back to the original 124 Spider with its front-end design – a simple grille and rounded lights, with an almost Maserati-esque look to the rear of the car. It's a fine looking drop-top, but I'm not sold on the larger overhangs when compared with the MX-5.
The Fiat looks as though it would be suited to the French Riviera, whereas the MX-5 has more of a street racer vibe.
Blink and you'll miss it interior
Drop into the cabin and the only thing that'll split the difference between the two are the badges on the steering wheel and a different gearknob. That's it.
The main difference between our two cars here is the upholstery. The Fiat is clad in lovely tan leather that goes very well with its image – and it gives the cabin a much-needed lift. We found the seats to be more supportive and comfortable than the Mazda's too.
It's worth pointing out that you can get this colour in the MX-5 in higher-spec models, though. Our limited-run Icon offers no choice.
Engine and performance
Where the two cars begin to split is when you get behind the wheel and push the starter button. Instead of the rorty 1.5-litre naturally aspirated growl that emanates from the MX-5, the 124 is a more refined 1.4-litre turbocharged unit with 9hp more than the Mazda at 140hp.
The greater amount of torque the Fiat offers – 240Nm vs the MX-5's 150Nm – makes it so much more useable in everyday driving, though. Overtaking on the motorway is made much easier and it feels a lot quicker than our 1.5-litre Icon on almost every road.
In the bends, the 124 feels slightly stiffer than the MX-5 and produces less body roll, but it's easily upset by larger bumps and the stability control system can be keen to kick in.
Which one would we go for?
We're very torn between the two. When you drive the MX-5, you get what you put in, in that you need to work the engine and gearbox harder to make swift progress. You're rewarded with an addictive soundtrack and a fun car in the bends.
However, the extra power and torque of the 124 means it's much easier to drive it quickly and enjoy the wonderfully balanced chassis that both of these cars are blessed with. It's also easier to live with on an everyday commute on the motorway too.
At the end of the day it'll come down to which one you prefer the look of or what you prioritise most. If you want a long-distance cruiser, go for the Fiat. If you want something where you have to work harder to be rewarded on a spirited drive, go for the Mazda.
But if you want the look of the Mazda and more get-up-and-go, there's always the 2.0-litre version of the MX-5…
Mileage: 9,672
Fuel economy: 43.1mpg
By Tom Goodlad
---
Seventh report: Rightsizing is the right way to go
Our Mazda MX-5 long-term test car is powered by a 130hp 1.5-litre naturally aspirated engine – we'll get on to what that last bit means in a second.
Many manufacturers, such as Ford and Vauxhall, are able to extract the same sort of power levels – and often more – from far diddier engines, sometimes no larger than 1.0-litre in size.
They do this by turbocharging their engines, with the outcome being a smaller capacity motor that produces the same power as a larger, non-turbocharged one. This process is called downsizing, and over the last few years it's become a common practice within the automotive industry. The theory behind it is that by reducing engine sizes there should, in theory, be a reduction in fuel consumption and CO2 emissions.
However, Mazda doesn't really buy into this whole downsizing business, instead preferring to 'right-size' its engine. This, like the name suggests, matches the size of the engine to the size of the car it's powering. And, in the MX-5's case, this means a naturally aspirated engine – AKA no power boosting devices such as a turbocharger or supercharger in sight.
The advantages of Mazda's philosophy? Well, we'll save the effect it has on actually driving the car for a later update where we'll be comparing the MX-5 to its turbocharged brother, the Fiat 124 Spider.
What we can say, however, is that the Mazda MX-5 is probably the most economical petrol-powered sports car on sale. We touched on this about a month back, but the fuel economy of our MX-5 is so impressive it really deserves more of a look into.
We're currently averaging 43.7mpg in the Mazda and regularly get around 350 miles out of the car's relatively small 45-litre fuel tank. To put this into perspective that's the second-best average fuel economy figure among all of our other long-termers, just behind Lawrence's 130hp 1.2-litre turbocharged DS3.
It's worth pointing out that we're not the most light-footed bunch either, and when we took our MX-5 all the way around Iceland – most of the time driving at a constant speed – we achieved more than 48mpg on our 800-mile trip. Impressive stuff, and we're certain that much of it is down to the turbo-less right-sized engine.
It's worth pointing out, however, that fuel economy won't be the priority for most sports car buyers and there are downsides to engines sans turbo. We'll make a proper comparison when the 124 Spider comes in for a twin-test, though, so keep an eye out for that in the next few weeks.
Mileage: 8,573 miles
Fuel economy: 43.7mpg
By James Dennison
---
Sixth report: weekend away
In our last report, we commented on the convenience of having access to a more practical car for sensible load-lugging duties, but what if you don't have such luxuries?
We hit the road to visit family in the West Country for a weekend to find out.
How much can you actually fit in the boot?
Quite a lot, as it turns out. At a mere 130 litres, it's a diddy boot relative to most cars. But it's accessed top-down, meaning you can easily organise what you're putting in and you don't have to reach right to the back or crouch down to see inside like you would in something like the DS 3 Cabrio or a regular saloon, for example.
It's not exactly a square shape but it's deep. This meant I could fit in an enormous holdall which almost filled the whole of the boot on its own, along with several coats, a cool bag and extra bits and bobs to plug the gaps around the side. Needless to say it was sticking out of the top, but the lid closed with ease.
That was enough stuff for two people during winter, so it should only improve from there if you're going away for a summer weekend retreat – no winter warmers required.
What about the cabin?
Inside, I've discovered there's more space behind the seats if you don't plan to lower the roof – you can fit a couple of small items where the roof stows if you're desperate, but it's the lack of storage in general that's proving to be the most frustrating thing.
While cupholders are handy, anything I put in seems to fall over within a couple of miles because they're so wide. That's great if you've got larger bottles, not so much if you've got smaller flasks, for example. Also, when they're occupied, access to the storage bin between the seats is limited as the lid drops down.
However, that space takes in all your odds and ends, which is a good thing too because there's nowhere else for anything significant. I've discovered the central cubby fits my phone perfectly, though – it's possible to file bits and bobs away if you're methodical with it.
Did it succeed?
After a rain-soaked drive on dark roads and motorways, I did feel more tired than I would in a regular hatchback because of the road and wind noise, as well as dealing with other cars' lights shining right onto the non-auto-dimming rear-view mirror, but that's part and parcel with a car like this.
It was still comfortable though – the seats are exceedingly good in my opinion – as well as economical, returning well over 40mpg for the whole journey.
I also resolutely forgot all about any practicality concerns because the MX-5 was a joy to thread along narrow country lanes – it's just a shame it rained the whole time so I couldn't get the roof down.
Mileage: 8,063 miles
Fuel economy: 44.0mpg
By Tom Goodlad
---
Fifth report: one part of a good two-car garage
Regular visitors to our long-term test car pages will have noticed by now that we have joint custody of the MX-5 and a SEAT Ateca (you can read that report here).
Having a two-seat sports car is a dream for many, and I feel very lucky to be able to run one day-to-day. However, the illusion is shattered somewhat when the inevitable happens and you need space for more than two people and their luggage.
We thought it would be interesting, then, to run these two alongside each other – and it's turning out to be a good pairing. It's not the kind of exotic set-up most would have that costs something like £200,000 - ours comes to £47,940 all in.
Why these two?
Our special edition MX-5 Icon adds some extra visual pizazz to an already-winning formula of simple, sharp design and fun handling that guarantees to put a smile on your face.
Our MX-5 faces an extra challenge of toughing it through winter, but at least our car comes with heated leather seats…
The Ateca on the other hand, is very on-trend. It's a stylish, high-riding crossover with lots of space, lots of equipment and a tidy driving experience. It's what MPV and estate car buyers are decamping to in their droves.
So, does the combination of the two cars mean we've got something for nearly all eventualities?
Practicality whitewash
If you need to fit the family in, take some rubbish to the dump or make that trip to buy some Swedish meatballs and a Billy bookcase, the Ateca is great. There's space for five and a 510-litre boot – accessed via the touch of a button or a wobbly wave of the foot under the rear bumper.
The MX-5 isn't designed for carrying much at all. The boot is big enough for a couple of squashy weekend bags, there's a small hatch between the seats to hide away items securely, a pair of cup holders in front and a lidded cubby on the centre console just about big enough for a set of keys.
We're finding that running an MX-5 is a great exercise in learning to pack lightly, but a recent trip away highlighted you can squeeze more into the MX-5 than you might think.
At least it's easier to access than our DS 3 Cabrio…
Fun stuff
The MX-5 is a go-to car for driving enjoyment. The engine is free-revving and has loosened up nicely, the gearbox feels mechanical and the steering communicative. You're close to the road and, with the roof down, the growly exhaust note only adds to the excitement – it's a really immersive experience.
There's no electronic trickery or complicated systems – it just makes you smile – and that's exactly what you want in a second car that's bought purely for that reason. It's even more impressive that we're achieving better fuel economy than in the sensible SEAT, averaging 44mpg vs the SEAT's 37mpg.
There's still fun to be had in the SEAT, though. It feels lively in corners and the steering is communicative enough to instil confidence in cornering at speed. Body control is impressive too, so if you want to have some fun after dropping the kids at school, this is the crossover to go for.
A winning combo?
These two cars make for a great two-car garage, but of course everything is relative and not all buyers will be looking for cars like these – we all have different requirements.
While the Ateca is of the popular crossover breed and likely more real-world, the MX-5 is a car that we're finding a joy to spend time with – but that's probably because we're able to jump into the SEAT for more sensible, practical duties.
On a daily basis the MX-5's lack of practicality may become a nuisance if it's your only car, but we'll go into greater depth on that in the next update.
For now, we think it's a pretty good two-car garage to have.
Mileage: 6935
Fuel economy: 43.7mpg
By Tom Goodlad
---
Fourth report: first dealer visit
Those of you who regularly follow our long-term updates will remember our Mazda 2 illuminating a premature service warning light after just 6,000 miles.
Well, the same has happened to the MX-5. So, another visit to Donalds Mazda of Peterborough for a quick check was all that was needed to set it right.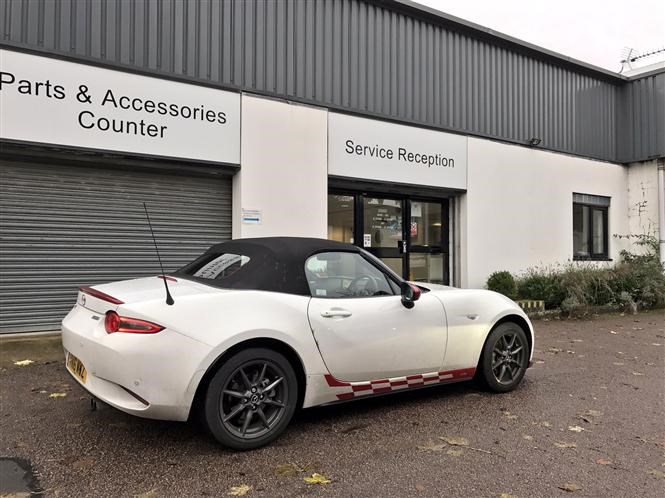 It didn't need a service, so the light was reset and the technicians at the dealer checked to see if any software updates were required for the infotainment system.
It was also given a thorough wash, which was a nice surprise when I went to pick it up later that day. Especially as I'm finding it an impossible task to keep a low-slung, white roadster clean through the winter.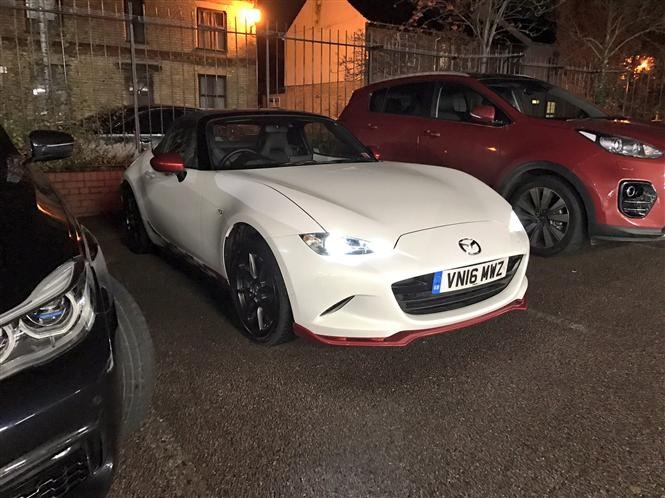 Mucky motor
As we're piling on the miles from motorways and country lanes, there isn't a single panel of the MX-5 that doesn't get coated in grey/brown gunk – I seem to be buying screen wash much more regularly than ever before.
Still, the Mazda continues to garner plenty of attention and put a smile on my face whether it's sparkly clean or incredibly mucky.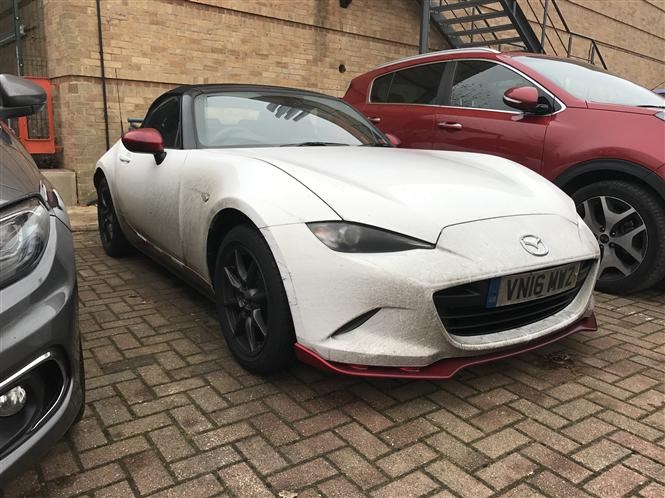 Fun and frugal
We're also finding fuel economy to be really impressive for a car that encourages you to drive like a pretend racing driver. It's consistently returning around 44mpg, which is not only fairly close to its claimed fuel economy of 47.1mpg, but also more impressive than the family-friendly 1.4-litre SEAT Ateca fellow Staff Writer James Dennison and I are running alongside it.
More on the virtues of the SEAT and the Mazda two-car garage next time…
Mileage: 6,116
Fuel economy: 44.2mpg
By Tom Goodlad
---
Third report: winter warmer
The Mazda MX-5 is an exercise in simplicity. While there are a few luxuries on this latest Icon model to make life with it easier in the 21st century – namely heated seats, a slick infotainment system and climate control - there's something very refreshing about its manual roof.
The main reason for its existence is to save weight – there's no complicated mechanism to fold it away electronically.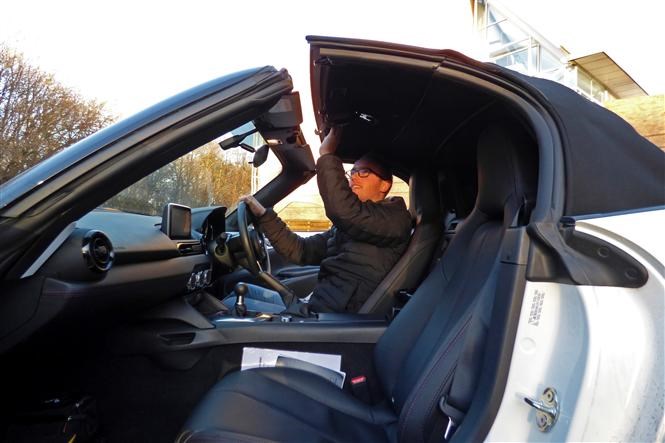 How does it work?
All you need to do to drop the roof is lift a catch by the rear-view mirror which releases it from its fixings at the top of the windscreen, use the handles to pull it back over your head, and push it down behind the seats until it clicks away.
Raising the roof is even easier – you can do it with just one hand.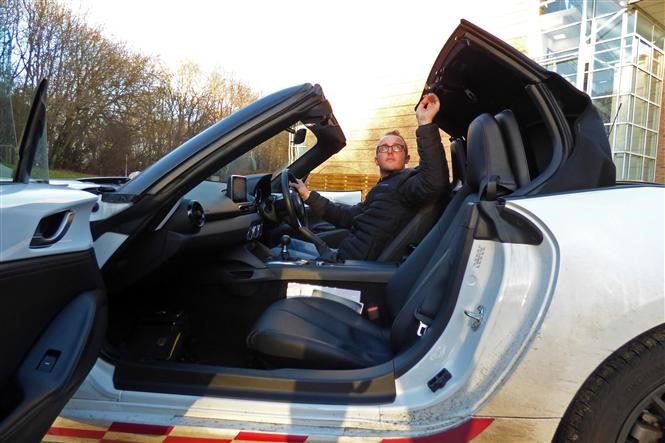 There's a lever between the seats to release the stowed roof so you can grab it with one hand, pull it up and over your head and back into its fixings. Clip it into place and it's done.
It's fuss-free, easy and much quicker than an electric set-up. It's one of the most cleverly thought-out parts of the MX-5.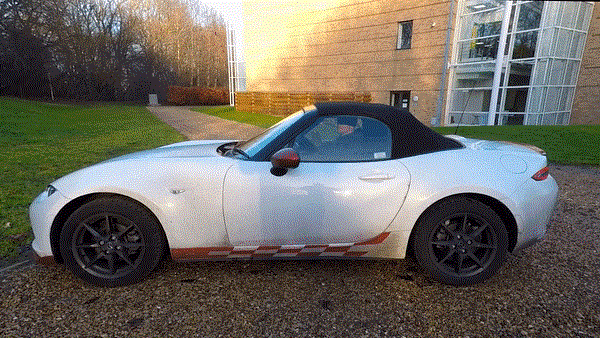 How is it handling the British winter?
OK, a winter in the UK is nothing compared to that of Siberia or Alaska, but it can be bitter at times and just a bit miserable.
That's why the heated seats are a very welcome feature on our Icon, and very good they are too. I'm yet to brave them on their hottest setting, such is the strength of the heating elements.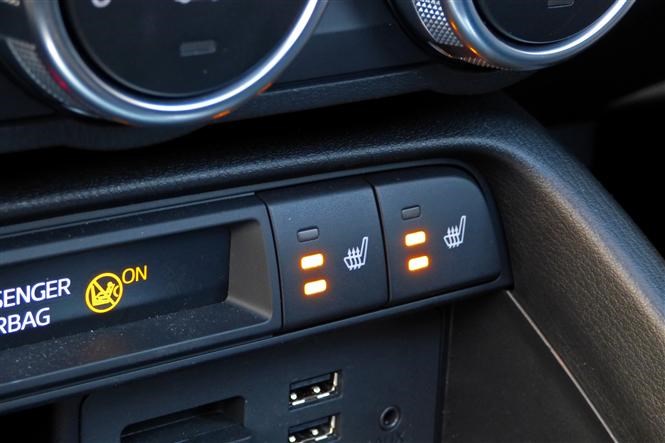 Equally strong is the heating in general – the vents blast incredibly warm air out at a real rate of knots – ideal for roof-down driving on a sunny but cold day.
And that's when I've found the MX-5 most rewarding – a rare crisp winter day with bright blue sky for a drive around the Chilterns. All you need is an extra layer and a woolly hat and I think it's more enjoyable than driving a convertible on a hot summer's day.
All sounds very idyllic – what's not so good?
My only gripe with driving a car like the MX-5 at this time of year is at night. Having the roof up really darkens the fairly cramped interior, and sitting on the motorway low down makes you feel quite vulnerable.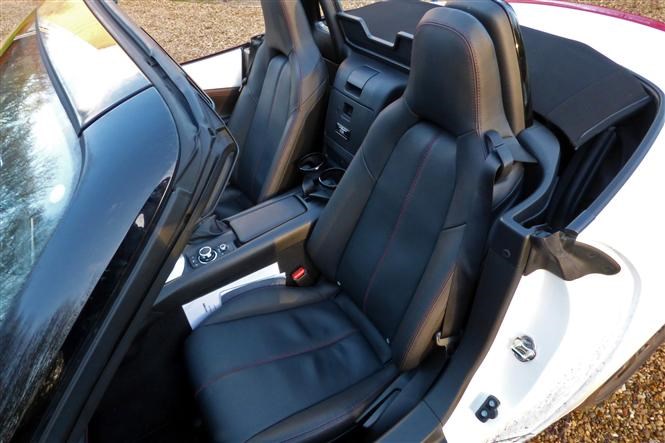 It doesn't help that most other cars' headlights are just at the wrong height for you, meaning you have to put up with being dazzled fairly regularly. Add rain into the mix and you've got a fairly tiring commute if you're not in the mood for it.
I'm finding these small niggles easy to forgive though, because it's just so much fun on every other road. The best part is you don't even need to be driving quickly for it to put a smile on your face, making it very rewarding as a sports car to use every day.
Mileage: 5,461 miles
Fuel economy: 43.9mpg
---
Second report: lap of Iceland
The eagle-eyed among you will have noticed that our Mazda MX-5 Icon long-term test car was displaying decidedly grubby bodywork in our introductory piece last week. And as we alluded to towards the end of the piece, this wasn't simply the work of a muddy country lane and a lazy valet.
No, as a month before we took delivery of the MX-5 at Mazda UK's HQ in Dartford, our car was pounding around Iceland on a whistle-stop 36-hour lap of the island.
Can the MX-5 go the distance?
Readying ourselves for the off at our hotel in Reykjavik, we were keen to find out how versatile the MX-5 would prove itself to be in such unfamiliar surroundings.
We already knew about its credentials as a sports car, but how would it fare as a long-distance cruiser, especially with the roof down in temperatures barely touching eight degrees Celsius? We'd soon find out.
The first leg of our trip took us from Reykjavik to Egilsstadir on the eastern point of Iceland, via the bay of Skagafjordur. A distance of 400 miles, we stopped to fill the MX-5 up once, otherwise zipping from checkpoint to checkpoint with puppy-like enthusiasm.
The combination of breathtaking scenery, flowing roads and the Mazda's agile on-road manners made the first leg fly by without fuss – the convertible roof staying firmly down all the way to Egilsstadir.
A quick stop for pictures at the gushing Godafass waterfalls attracts many admiring glances from locals and fellow tourists, many posing for a picture next to the petit sports car. No wonder, seeing as the local Mazda dealer informs us that they've only sold four MX-5s in Iceland.
A special mention also needs to go to the heated seats - standard kit on our Icon trim car. There are three different settings and – while they may not be the quickest to heat up – they are some of the most effective we've ever used in a car.
Even with the roof down in chilly temperatures, we found ourselves constantly turning them down to avoid any instances of overheating drivers.
Rain comes to the land of fire and ice
The second and final day of our trip saw us tackle the southern side of the island in a brisk dash back to the capital, winding our way past the Jokulsarlon glacier lagoon and the black sand beach at Reynisfjara.
Before any of this, however, we had to negotiate a narrow, winding dirt road not far out of Egilsstadir. Far from being an all-wheel drive rally car, our little MX-5 should have been out of its depth, yet in reality it was anything but.
Skipping across the loose surface the lightweight sports car made short work of the tight twists and turns, never once providing a heart-stopping moment as the edge loomed close. If only Britain had more gravel tracks…
As we admired the hardy seals braving the freezing temperatures of the glacier lagoon, the rain began to set in on the previously bone dry canvas of our soft-top roof. We still had 230 miles to drive and little over four hours to do it in if we wanted to reach Reykjavik by nightfall.
Cue a quick move to put the roof back in place – a two second action – and we set off in a rather different atmosphere, the open expanse of a top-down car no longer present.
Head room is obviously tighter and visibility is reduced (you lose the ability to perform an over the shoulder blind spot check), but you still don't feel overly hemmed in. Those of a taller disposition may see it differently, of course, but my 5ft 11in frame fitted nicely.
MX-5 goes the distance
Rolling back into Reykjavik at around 8:30pm our near 800-mile drive was complete. The country was spectacular, a striking union of some of the most breathtaking scenery on the planet all tucked onto a small volcanic island just 835 miles off the Scottish coast.
Could the car match the country? Of course not. Did it impress nonetheless? Absolutely. At the start of our voyage we set out to discover whether the Mazda could be used as a long-distance cruiser.
With several hundred miles under our belt spent both in the driver's seat and passenger seat, we can report that the MX-5 more than holds its own – roof up or roof down.
Sure, it won't be anywhere near as comfortable as your average family hatchback but the fact is we drove the equivalent of London to Cardiff five times over and didn't feel completely exhausted.
The MX-5 has survived the land of fire and ice, but how will it fare over the next five months? Keep an eye on this page to find out.
Delivery mileage: 4,365
Fuel economy: 42.6mpg
By James Dennison
First report: welcome
As long-term test cars go, this really shouldn't be a bad one. The Mazda MX-5 has long been the benchmark for small, light convertible sports cars and looks sharp and fresh in fourth-generation form.
Previous experience behind the wheel of one also confirms that it's still a hoot to drive and remains firmly set in sports car territory.
A viable everyday car?
That's all very well and good, you may say, but what's it actually like to live with a low-slung, two-seat sports car which people over six-foot tall will struggle to get into?
The suspension may be nicely set up for scything down Britain's twisty country roads, but how will it cope on the M25 during our 90-mile commute?
And what about the sports car fuel, servicing and insurance bills? How will they fare on the 23-year-old road testers running this car?
Our previous long-termer, the Mazda 2 (pictured), managed to combine driver enjoyment, practicality and low running costs all into one well-sorted package. Can its sports car cousin do any better, or will the MX-5 come unstuck on the relentless daily grind?
These are all things we shall be finding out in due course. But first, let's take a closer look at the car itself.
It's worth pointing out that this isn't an ordinary Mazda MX-5, rather it's the limited edition Icon model.
And while it's the only one in the country that hasn't been sold (production is limited to 600 units), it doesn't come with any unique performance or chassis modifications, so bar the red styling tweaks you can go out and buy a near-identical MX-5 right now.
Headline figures
Powered by the smaller of the two engines available with the Mazda MX-5 – a 131hp 1.5-litre non-turbocharged four-cylinder – our Icon edition car still manages 0-62mph in a respectable 8.3 seconds, while top speed is rated at 127mph.
Its party piece, though, if it turns out to be accurate, is fuel economy. Mazda claims the 1.5-litre MX-5 will return an average of 47.1mpg – an impressively frugal figure which wouldn't look out of place on a family hatchback.
Indeed, the MX-5 has a revised and more powerful version of the engine seen in our old Mazda 2 long-term test vehicle – a car which claimed to return an average of 62.8mpg but, in reality, yielded more like 50mpg.
We thought this to be a pretty good return, and something which was likely down to Mazda's philosophy of fitting cars with larger, non-turbocharged engines that don't have to work as hard as the smaller turbocharged units other brands fit to their vehicles.
It will certainly be interesting to see just how close the 1.5-litre engine in our MX-5 can get to its lofty fuel consumption claims.
Icon trim explained
Because the Icon is a limited edition trim, its priced is fixed at £20,995 and there are no options to choose from. You can, however, choose between Crystal White Pearlescent and Meteor Grey Mica for the exterior paint colour. We went for the former.
Standard equipment on the MX-5 Icon is extensive thanks to it being based on the SE-L Nav trim, which includes:
The Icon spec builds on this by adding features such as:
16-inch Gunmetal alloy wheels
Black leather seats
Rear parking sensors
Automatic headlights
Rain-sensing wipers
The Icon's wing mirrors, rear spoiler and front splitter are also decked out in Soul Red metallic paint to differentiate the model from other MX-5s.
The heated seats, cruise control and automatic headlights and wipers should prove highly useful in the winter months and we'll report back soon on how we're faring.
You may also have noticed that our brand-new MX-5 isn't quite as clean as you'd expect it to be when picking it up from a dealer. That's because the day the pictures were taken wasn't the first time we met our MX-5.
In fact, we'd already driven it on a 48-hour, 400-mile road trip past geysers, glaciers and volcanoes - most of the time with the roof down. Come back in a couple of weeks to find out exactly what we've been up to…
Delivery mileage: 3,774
Fuel economy: 47.1mpg (claimed)
By James Dennison
Read our road test of the Mazda MX-5 Icon here