Mercedes CLS 2018: all the details
Mercedes-Benz CLS enters its third generation
Smart new style, impressive interior quality and technology
Six-cylinder-only diesel and petrol engine range from launch
On sale in the UK from spring 2018, prices from around £50k
Mercedes-Benz CLS enters its third generation
Smart new style, impressive interior quality and technology
Six-cylinder-only diesel and petrol engine range from launch
On sale in the UK from spring 2018, prices from around £50k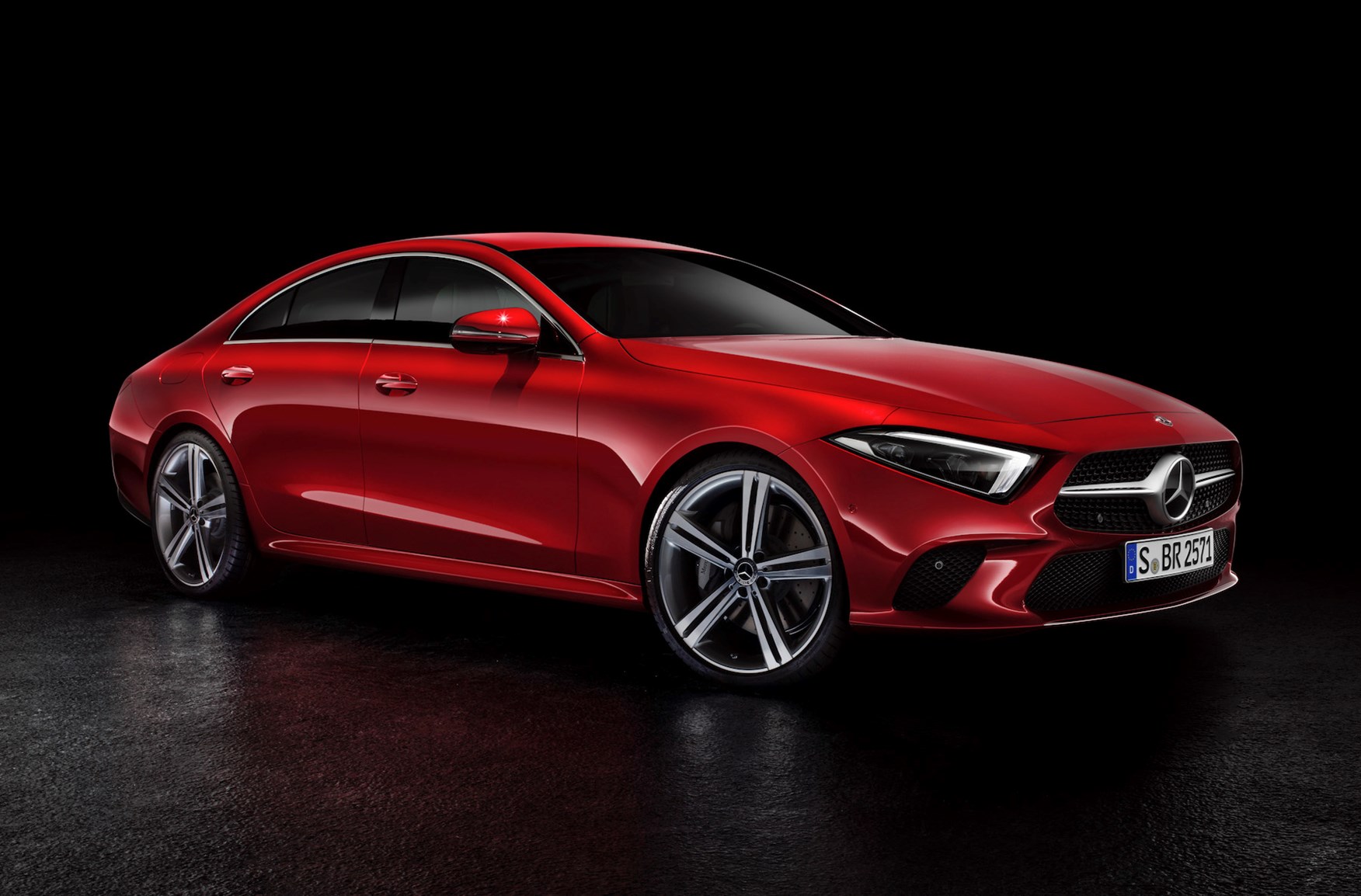 Pros
Latest tech available
Cleaner emissions
Now a five-seater
Cons
More anonymous style than previous CLS
It won't be cheap
Costlier six-cylinder models only at launch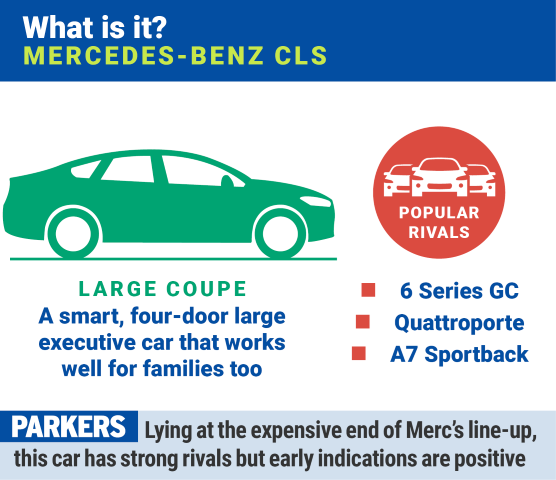 Mercedes-Benz is readying the third-generation CLS, expected in UK showrooms by April 2018. It's a four-door coupe, if you believe the sales patter; we'd call it a sleeker, sportier take on the E-Class executive saloon - the two share mechanical underpinnings and engines, just in different flavours of bodystyle.
The CLS wears the slinkier wardrobe. Where the E-Class Saloon and Estate prioritise pragmatic practicality, this model provides a dash more svelte, coupe-like fun, albeit with the added practicality of rear doors.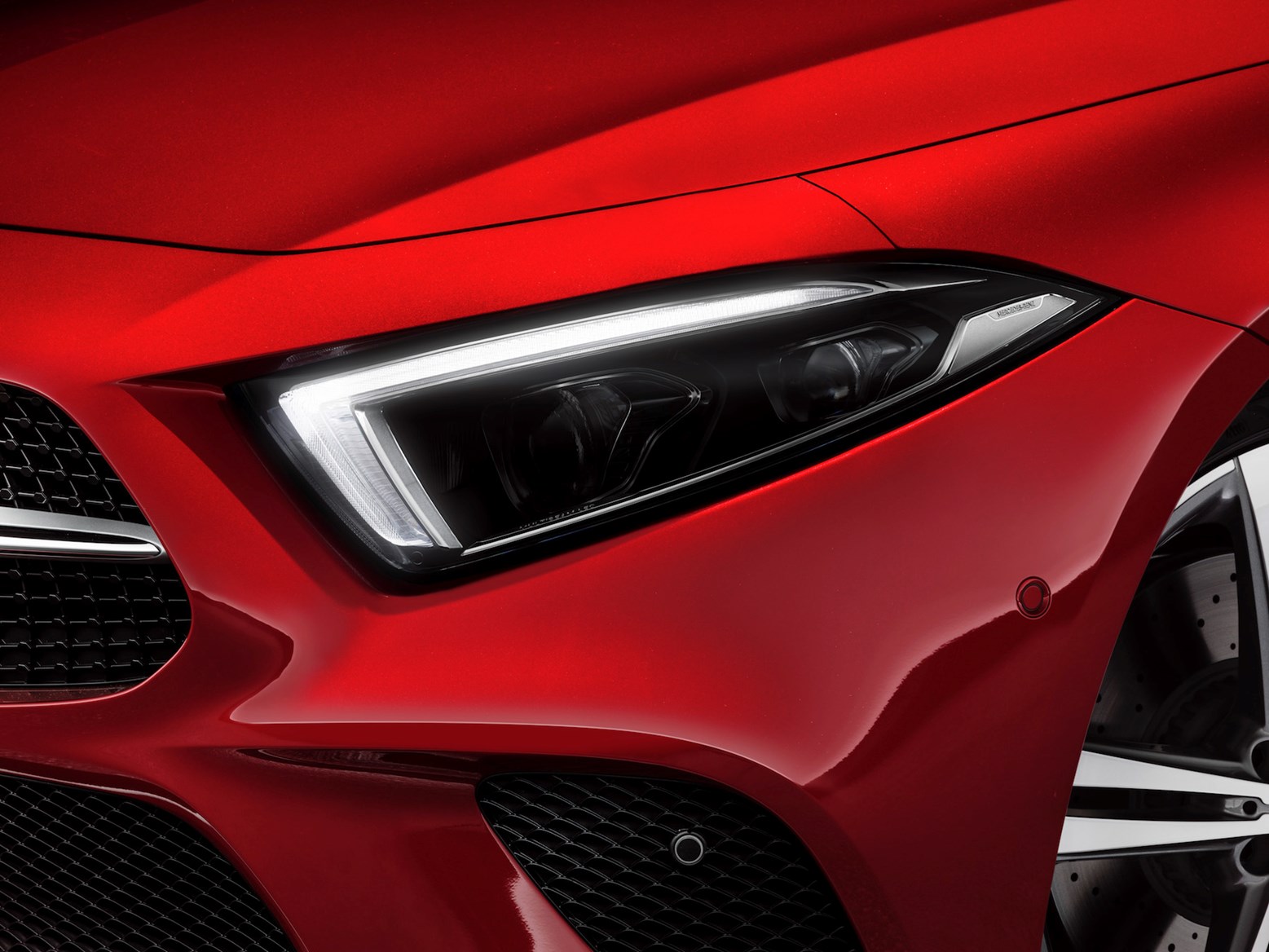 When the new Mercedes CLS arrives in the UK, it'll provide stiff competition to the Audi A7 Sportback, BMW 6 Series Gran Coupe and Porsche Panamera ranges - all of which have five doors with a tailgate. It's a shame the leftfield CLS Shooting Brake will be no more; the estate version is being pensioned-off on account of slow sales.
CLS prices and specs for UK buyers
At time of writing, prices for the new Mercedes-Benz CLS have yet to be confirmed. Parkers is anticipating an entry-level cost of around £57,000 for a CLS 350 d at launch, although over time additional engines and trim levels should shrink that down to below £50k.
When British sales begin in spring 2018, expect the following six-cylinder models to be available:
• CLS 350 d six-cylinder, 2925cc diesel, 285hp, 443lb ft, 50.4mpg, 148g/km CO2, 0-62mph in 5.7 seconds
• CLS 400 d six-cylinder, 2925cc diesel, 340hp, 516lb ft, 50.4mpg, 148g/km CO2, 0-62mph in 5.0 seconds
• CLS 450 six-cylinder, 2999cc petrol, 367hp, 369lb ft, 37.7mpg, 178g/km CO2, 0-62mph in 4.8 seconds
All models at launch will be available with 4Matic all-wheel drive for superior traction; many British buyers may prefer to select the cheaper, lighter, more fuel-efficient rear-wheel drive option unless they frequently encounter slippery roads.
CLS engines: a choice of frugal petrol or diesel
All powertrain options at launch hail from a new generation of modular 'straight six' engines. It means Mercedes is dropping V6 units in favour of in-line motors, where the cylinders are arranged vertically in a straight line rather than in a vee.
Why? Over time, every Mercedes-Benz engine will come from the same family - driving down manufacturing costs, improving refinement and optimising CO2 emissions and fuel economy on every motor.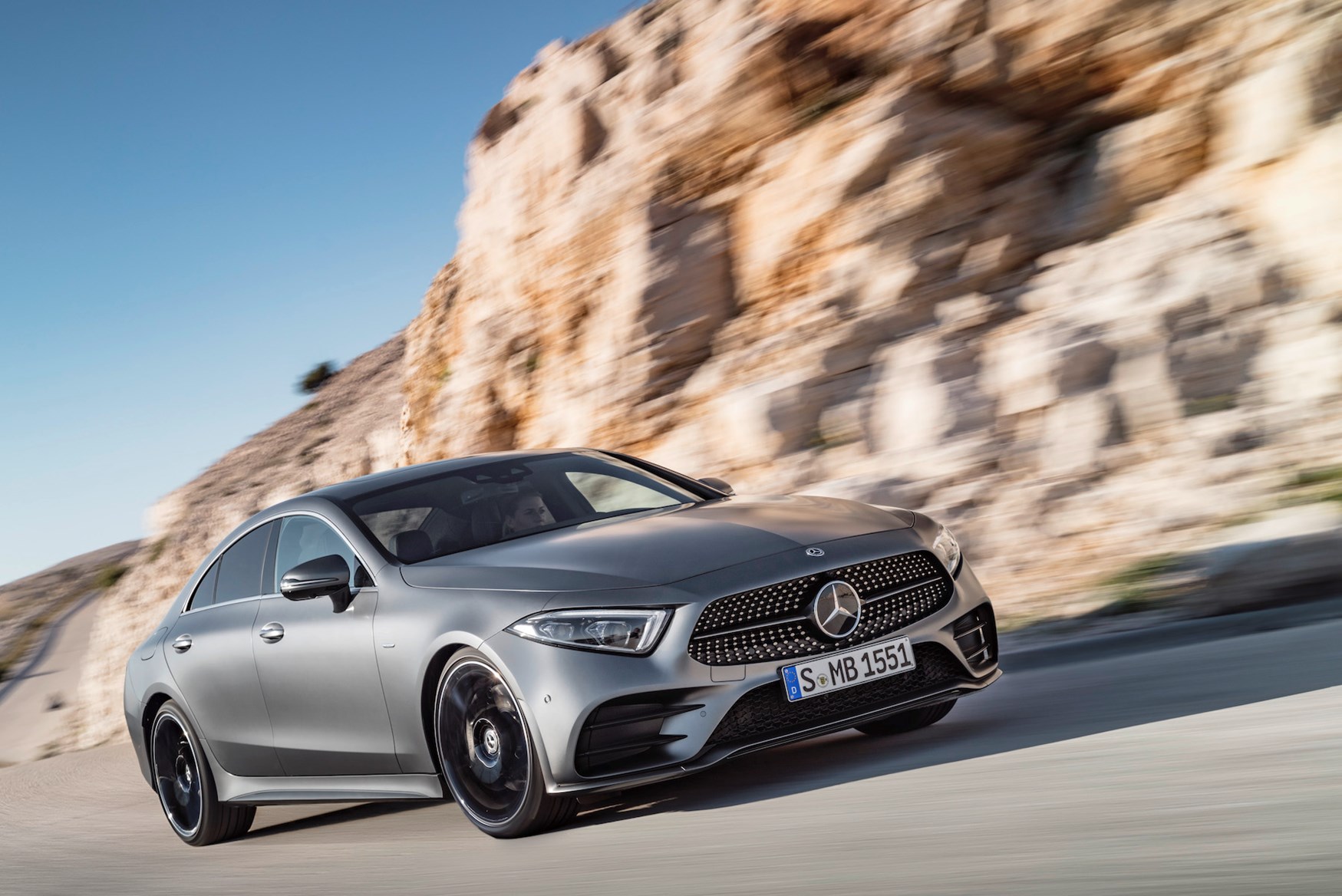 The CLS 450 is a mild hybrid: its new EQ Boost badge signifies a compact integrated starter motor is driven by energy recaptured under braking - providing an additional 250Nm of pulling power under full acceleration or while coasting letting the engine idle.
Rather than an all-out hybrid powertrain, this small electric motor helps provide a little extra performance when you need more go and less consumption when you're cruising. This car will not operate in silent EV electric mode (although full hybrids are being developed).
How roomy is the new Mercedes-Benz CLS?
Usefully bigger than before, it turns out: wider, longer and taller than its previous incarnation, creating 10mm extra headroom up front.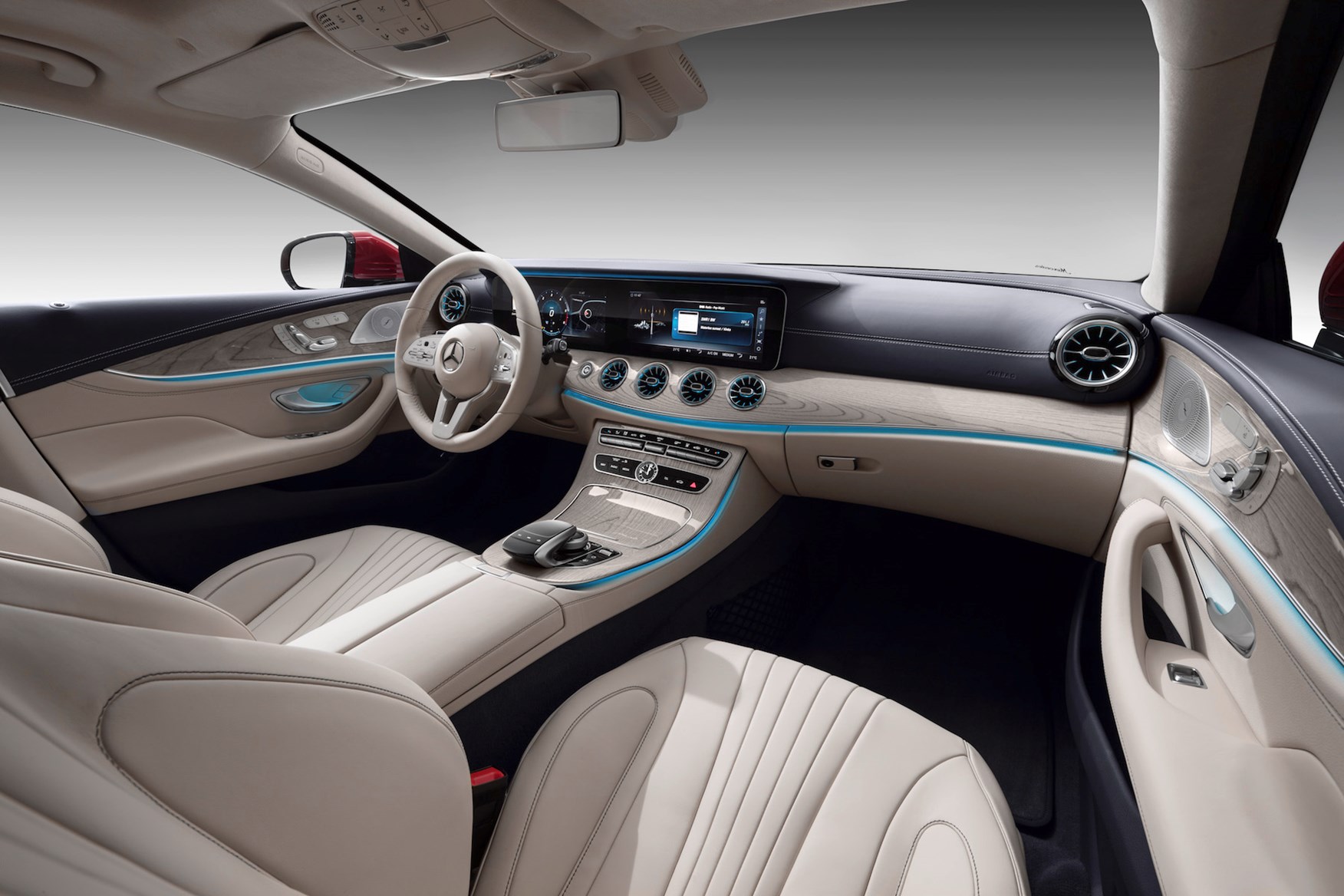 This is the first five-seater CLS, too - Mercedes has added an occasional fifth seat in between the two outer rear chairs. It's not a huge space, but the fifth pew provides useful extra versatility lacking in earlier models.
Boot space stands at 520 litres with the rear seats up; flipping three individual backrests down will increase the stowage space incrementally, letting you juggle space for bodies and baggage.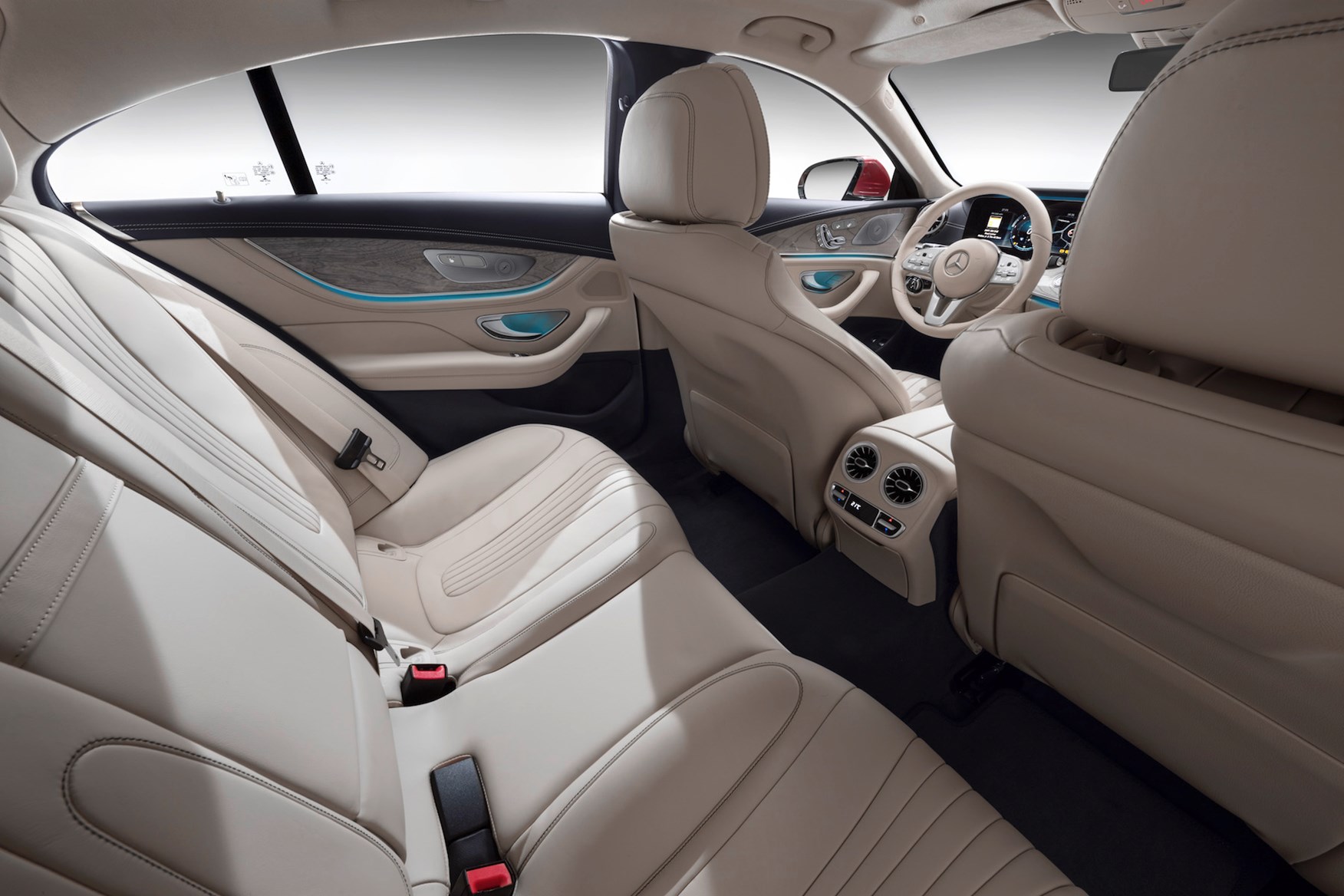 Gadgets aplenty in the CLS
Mercedes is throwing the full kitchen sink at the new CLS: it's positively dripping with technology. Much of it is familiar from the S-Class and E-Class (the two share the fundamental engineering architecture, remember).
So you'll recognise the giant twin 12.3-inch digital instrument screens hogging the dashboard, and semi-autonomous driving features that'll follow the car in front to a set distance, stop-start in congestion and adjust your speed automatically for speed limit changes and corners ahead.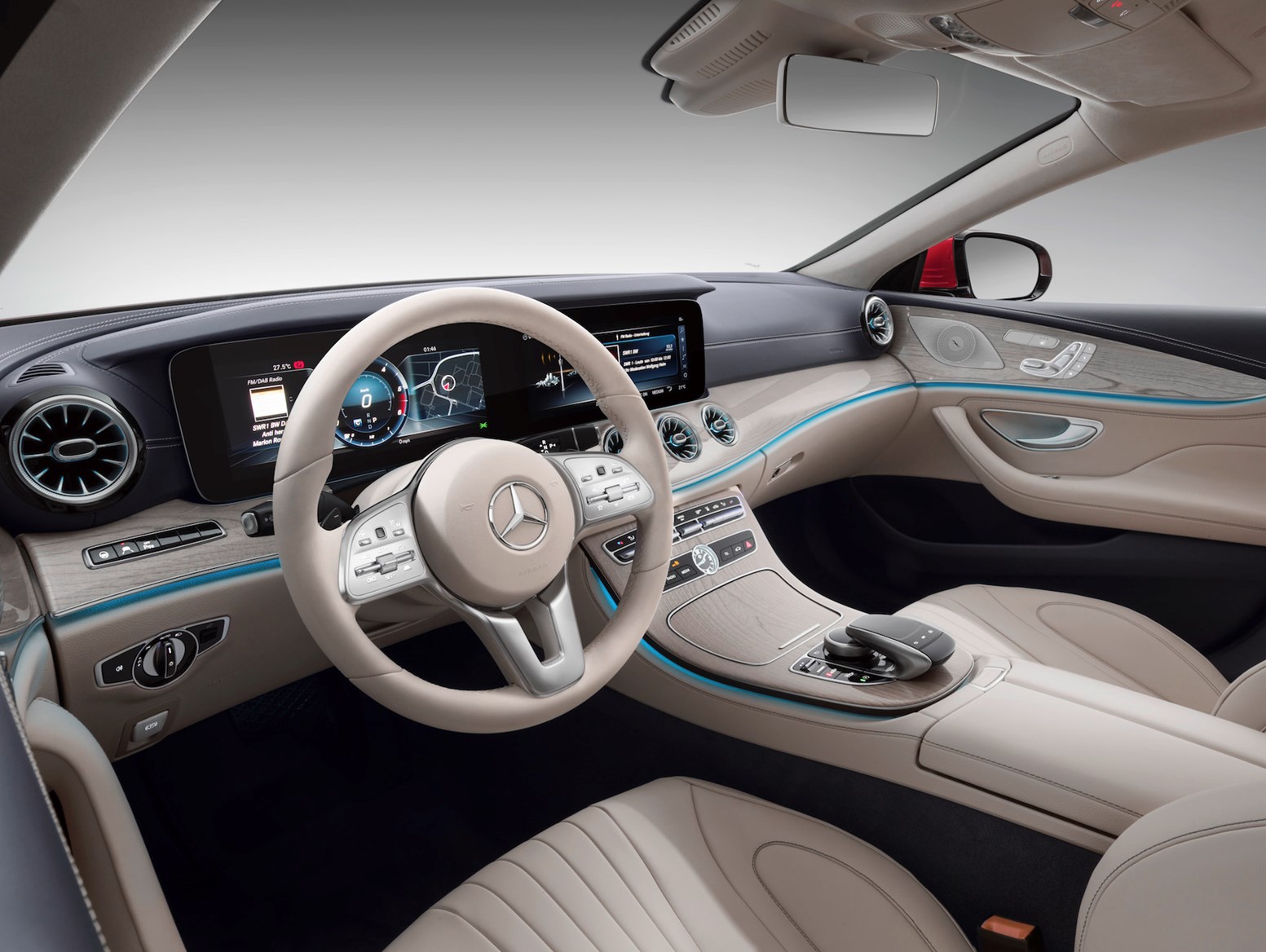 Notice also the illuminated air vents which pulse blue or red when you adjust the climate control, depending on whether you've chosen cooler or warmer. It's part of an ambient lighting package which lets you bathe the whole cabin in one of 64 colours.
What's it like to drive?
We've yet to drive it, but we have already ridden in a pre-production engineering prototype on UK roads, and from what we've seen so far, the CLS should pull clear of its most obvious rival, the soon-to-die BMW 6-Series Gran Sport.
The CLS 350 d's large diesel engine is particularly refined. At idle there's some background low-frequency noise, you certainly can't feel it. It punches well from low revs, with just a muted growl, and cruises exceptionally quietly at UK speeds.
The CLS we rode in was on air suspension which made light work of Yorkshire B-roads. In Comfort mode, ride was cossetting without any perceptible loss of body control. Despite the twisting nature of the roads, the Distronic active cruise looked perfectly capable of dealing with the task of following the car behind with minimal driver input.
And what about the petrol CLS?
After the brief ride in the CLS 350, we'd probably say yes, if the decision wasn't a purely financial one. The performance is noticeably better, and the handling is suitably sports car-like. It squats, grips and rushes forward in what feels like an extremely linear wave of creamy power.
Where as the diesel was a muted and refined machine, when allowed to stretch its legs, the petrol CLS is a sportier, more responsive beast. In Comfort mode its 48-volt system does a very good job of going about its business like a hybrid. It spends much of its time coasting, and the transition from engine off to engine on is imperceptible from the passenger seat – you only know when by watching the tacho.
---
The Parkers Verdict
It looks and feels impressive, so it's job done for Mercedes-Benz and the 2018 CLS. While we can guarantee that it won't ben cheap, it certainly feels and looks special enough to potentially warrant this price premium. In reality, we'll ave to wait to see how it drives on UK roads to truly know.
More than that, impressive technology and interior ambiance aside, the Mercedes-Benz CLS's sternest test will be how it compares with the 2018 Audi A7, which is due for launch in the UK a few months after the CLS.
But right now, the signs look very good for Mercedes-Benz.