MINI Countryman long-term review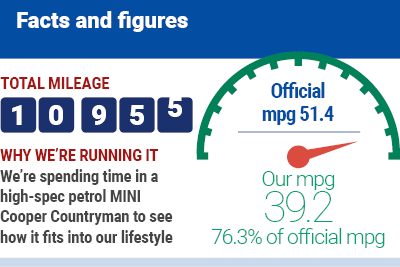 We ran a high-spec Countryman with entry-level petrol engine
Was it as economical as it should have been?
Should you have any concerns over reliability?

The story of our MINI Countryman...
---
Update 1: Welcome to Parkers
We welcome a MINI Countryman to the fleet

Let's get this out of the way: MINIs are no longer mini.
Yes, the name may bear little resemblance to the actual size of the cars produced by the British car company these days, but look past that initial horror and you'll see a growing range that still holds strong appeal, with retro styling across the range and an instantly recognisable look.
The latest model to join the MINI line-up is the new Countryman, and we've got our hands on one for the next six months.
Why the Countryman?
Not only is the Countryman MINI's most up-to-date model, it's also the largest. If we're being pedantic, in no way should the Countryman be badged a MINI (it's based on a BMW X1 for goodness' sake). But it is, so we're over it. End of discussion. For now.
Take one look at any kind of marketing material and you'll see that MINI expects buyers to have active, outdoorsy lifestyles.
With that in mind, can I emulate the models in the brochures and become the kind of person who just throws their bike in the boot and runs up a mountain on a Saturday morning?
Probably not, but having something like the Countryman could help inspire me to become a little more like that.
Or I may end being one of those 'all the gear, no idea' kind of people. Only time will tell, but I'm hoping it's the former.
What spec is it?
Ours is a MINI Cooper Countryman, which means it's powered by the entry-level 136hp 1.5-litre three-cylinder turbocharged petrol engine found in the regular MINI Cooper Hatch.

With a manual gearbox and front-wheel drive, it'll be interesting to see how it copes with any rough and ready terrain I may (or may not) encounter in my tenure with the car.
That's just half the story, though. Once you've picked the engine, you're met with what can only be described as a barrage of options (packaged and individual) to tailor your Countryman to your specification.
We'll go into greater depth in our next update, but our Countryman also features the Chilli Pack (most new models do), and a host of extras to bump up its £23,000 list price north of £30,000.
What have we got planned?
For the first few weeks we'll be getting under the skin of the Countryman, finding its quirks, seeing just how much it shares with its BMW relatives and sussing out whether it gives off good vibes as family car as we aim to get a good couple of thousand miles under its belt.
While I won't be taking on the role of family man myself with the Countryman, I'll be looking at it as an option for a young buyer with ambitions of an active lifestyle (key word there being 'ambitions'), and if the trademark MINI fun can be translated into something with genuine space for five plus luggage.
There will be time to see how it fares with different types of potential customer – so we'll be recruiting the help of young families, people who are more active and healthier than I am, and also if the MINI will come unstuck in poor conditions.
It is, after all, a front-wheel drive car with a small engine and big, 18-inch black alloys… not all car parks at the bottom of a mountain are going to be tarmacked.
What's next for the MINI?
I plan to pile on a few miles and get to know the Countryman, and see if there are any particular highlights appearing early on, or if there's anything that's likely to get on my nerves for the next six months.
Next time, I'll dive into the spec sheet and run through our car's extensive list of equipment which, unfortunately, you have to pay a lot for…
By Tom Goodlad

---
Update 2: What's the right spec?
Looking at the equipment count and finance costs

We all know that if you walk into a MINI showroom, you can personalise your new car until your heart's content.
But should you? After all, the amount of BMW-derived features on offer is baffling, and that only means one thing: money.
This week I'm diving a little deeper into the kit list of our Countryman to see what you should spend your money on, and if there's anything you really don't need (even if you really want it).
MINI Cooper Countryman: What comes as standard?
The way the Countryman's trim hierarchy is structured means you get largely the same standard kit no matter the engine is under the bonnet. It's what you add to it that makes a big difference.

This is what you get as standard:
It'll suit most buyers' needs, however 60% of Countryman customers will choose to add the Chili Pack, which our car features.

At £2,980 it's far from cheap, but it adds a lot of desirable kit, and we think it's worth the outlay:
Half leather/half cloth seat upholstery
Keyless entry (called Comfort Access)
Heated front sports seats
Adaptive LED headlights and LED foglights
17-inch alloy wheel upgrade
Storage compartment pack – adds a selection of nets to organise the cubby holes
What else does our car come with?
A lot. Even on top of what comes with the Chili Pack – so get ready for a comprehensive list…
The wheels have been upgraded to 18-inch gloss black alloys with run-flat tyres, matching the gloss black roof and door mirrors, and contrasting nicely with the Light White paintjob. There's a whiff of panda (not the Fiat, the animal) about it, but I think a MINI wouldn't be a MINI if it didn't have some kind of contrasting paint job.

There's the £850 Activity Pack, adding a larger capacity fuel tank, electric tailgate, nets to separate the boot from the interior when the seats are folded, sliding rear seats and a picnic bench that folds out from under the boot floor and sits over the bumper of the car.
Another pack fitted to our Countryman is the Tech Pack, which includes a reversing camera, Harman Kardon stereo upgrade and head-up display for £2,090. It also includes the Media Pack XL, which comes with an upgraded sat-nav system with online services, Bluetooth audio streaming and wireless phone charging.

That's not all! A range of individual options have been thrown at our car, too, including electric folding mirrors, black roof rails, black headlining, upgraded illuminated dashboard trim, extra chrome detailing inside the car, sun protection glass and preparation for a bike rack.
And the cost…?
With all of these options fitted to our car, it retails a few hundred quid shy of £31,000. Before you pass out and complain about a MINI being as expensive as this, just remember that it's a car big enough to fit five adults and the kit available on it also features in even more expensive BMW models.
However, you can also buy something like a Skoda Kodiaq with the majority of this equipment, more space and a more powerful engine for less money. No, something like a Kodiaq or a Kia Sportage can't match the appeal of a MINI badge or its character, but on a subjective level, there are far more sensible options out there than our 1.5-litre Cooper.
But do I actually need all this kit?
In reality, probably not. It's all nice stuff to have on a car, but already it's clear most people are unlikely to need the amount of kit that YL17 EUY has.
For example, you don't NEED to upgrade the alloys, you don't NEED illuminated dashboard trim and you don't NEED black rooflining. But a lot of people will WANT them, and that's how MINI sells its cars.
While they're expensive, the bundled packages make more sense in adding kit to your Countryman without going crazy. The Chili Pack is a must (and will likely help you sell it on), while the Media Pack XL is useful if you spend a lot of time using sat-nav on the road. Remember, though, a less-advanced version does come as standard.

The Tech Pack isn't essential because the head-up display doesn't necessarily add a great deal of convenience over the small display ahead of the steering wheel, and you can add the other bits like the Harman Kardon sound system individually.
The Activity Pack is an interesting one, and plays into the hands of those buying into the whole 'active lifestyle' thing.
The larger capacity fuel tank is genuinely useful, as are the sliding rear seats, but I imagine most people will be able to live without an electric tailgate and the picnic bench, no matter how many times you'll enjoy showing people that it folds out from under the boot.
Anything missing?
There are a couple of things I'd consider adding, though. A panoramic sunroof would brighten the dark cabin up no end, and electric seats – while expensive – would make adjustment much easier.
Normally I'm not too fussed about electric seats, but I'm finding it frustrating fiddling around trying to find the perfect driving position, more so than in other cars.

Some days I feel I'm sitting far too low in a tall car, and others I feel I'm sitting too high in relation to the dashboard. It's proving to be a fine balancing act. At least with an electric seat, I'd be able to save the position when I finally perfect it.
I also think a set of parking sensors at the front of the car would help, as it's quite hard to judge exactly how close you're getting to something, despite the bluff front-end.
And how much to finance it?
Over 47 months with a mileage limit of 10,000 miles per year, our car (with options) weighs in at £369 per month on a PCP deal.
At the time of writing, MINI is offering £1,450 deposit contribution, but you'll also need to stump up close to £5,000 out of your own pocket to bring the deposit up.
Take away some of the options to bring the overall cost of the car down, however, and so too will the monthly payments. Equally, if you don't want to put as much money down in the first place, a smaller deposit will mean higher monthly payments.
What's next for the MINI?
Having spent some time behind the wheel, I'll be giving some early impressions on what it's like to live with a Countryman, and if there's anything that's bugging me about it already…
By Tom Goodlad
Mileage: 4,010
Fuel economy: 37.6mpg
---
Update 3: The story so far
First impressions after just over 1,000 miles

I've been in charge of the MINI Countryman for a short period of time, and while it's not enough to properly get under the car's skin, it's enough to gain some insights into what it's all about.
The first thing you'll notice is that it's impossible to keep clean as we settle into winter... so I've faced the facts that it won't be bright white for quite a while to come.
The good things so far
One of the first things I notice when I jump in the Countryman is the power of its heated seats. They're tremendous. If you manage to travel with them on the highest setting for anything longer than ten minutes, you're made of tougher stuff than I am.
The seats themselves are good too – the materials feel tough but they're also interesting, with a huge amount of adjustment in all directions. They're quite firm though, but they're proving comfortable and supportive enough for long journeys.

Then there's the infotainment system. It's nicked straight from BMW (no surprises there), but with a few MINI flourishes to make things a bit more interesting. There's more animation to the icons and a lot more colour, but it's just as slick and easy to use with a bright, clear screen.
The not-so-good things
It's not all perfect, though. Said infotainment system is throwing a couple of wobblies and has a tendency to disconnect your Bluetooth device after a period of time. It's not difficult to reconnect, but annoying all the same.

It's also keen to continue guidance to a destination I've already been to every time I get in the car, so cancelling that each time I get in is a small annoyance.
I think it might have something to do with sending a destination to the car via the MINI Connected smartphone app, so I'll do some research to see if that's what's causing it. I also need to work out why it thinks I'm averaging 7.4mpg, as the picture below suggests...

Finally, it takes a long time to find a suitable driving position. At least it does for me. I'm finding it takes a long time to find the right balance – it can be easy to feel like you're sitting too low with the high window line and bulky dimensions feeling far away.
Equally, if you pump the seat up for a better view out, you then feel like you're sitting way higher than everything in the car and it feels a little clumsy.

Once perfected, though, it's a very comfortable place to be, but as soon as someone else jumps in and adjusts it, it has me wishing for a set of electric seats with memory function.
I realise there are worse problems to have in the world, but it's worth pointing out that you need to take quite a bit of time to set your perfect driving position.
What's next for the MINI?
Next time I'll be looking at just how much you can personalise the Countryman if you were to spec one up from new.
Ours is typical MINI with a contrasting colour for the roof and wheels, but how much can you do with different colour schemes and accessories? We'll also be scouring the accessories brochure, to see what we might like to add to our car in time.
By Tom Goodlad
Mileage – 4,773
Fuel economy – 35.7mpg
---
Update 4: A Christmas Cooper
Christmas in Devon means testing the long-distance ability and practicality

For many, the Christmas season means a time for relaxation and some much-needed time off. That's not been the case for the Countryman, as I've been piling on the miles visiting family all over the country.
Where's it been?
Over the last few weeks, I've been back and forward between my home in Hertfordshire and my family in Devon several times, meaning I've easily put more than 1,000 miles on the MINI when you take extra journeys around the West Country into account and the odd trip around London.
How does it cope with the journeys?
Rather well. The Cooper's 1.5-litre three-cylinder petrol engine is punchy enough on the motorway and keeps up with traffic fairly well, however you do need to make good use of the slick six-speed manual gearbox when you want to overtake slower-moving traffic.
It sounds quite good in the process, with a throatier-than-expected exhaust note and characteristic thrummy sound from the engine bay. It's all well-suppressed, though, and overall it's a quiet place to while away the miles.
What you do notice is the high amount of wind noise at speed. That's largely down to the Countryman's upright windscreen and large door mirrors, but the Harmon Kardon sound system in our car more than makes up for that noise with excellent sound quality.
And what about the luggage?
I've had a bike rack fitted to the car (which we'll learn more about in the coming weeks), but that means it occupies the large area beneath the boot floor when it's not in use, so some boot space has been lost.
It's not all bad news, though. The load space is wide and easily accessed via the electric tailgate with a low loading lip and some neat solutions to help keep things in place, such as elastic straps and nets to square off the space and keep loose items in check.
As is often the case at Christmas, I ended up coming home with much more than I arrived with and, despite my best Tetris attempts, couldn't squeeze it all into the load bay.


So, it spilled out onto the back seats but it's no big issue for me as the rear seats are rarely in use. For a family, though, some clever (and more efficient) packing methods will need to be employed.
I suspect this wouldn't be as big an issue if the bike rack wasn't fitted, and could make all the difference to those who don't travel lightly.

Also lurking in the boot is a picnic bench that folds out from the boot floor. With the sheer amount of grime on the roads that's now caked on the back of the car, it came into its own on a trip to the coast where I could change into my wellies and not be concerned about getting absolutely filthy from grazing the grubby bumper.
Any niggles?
The Countryman is actually quite an enjoyable crossover to hustle along thanks to tidy handling and its eager engine. Naturally, that's having an impact on fuel economy – sitting below 40mpg currently.
That's slightly disappointing, but also understandable as you have to work the engine quite hard. The good news is this particular car has a larger fuel tank than standard models, so it manages close to 500 miles on a tank of unleaded, which I'm happy with for now.
From driving family around, who are impressed by the amount of space on offer in the back, it's quite a dark car inside.

The black roof lining of our car adds to this feeling, as well as the tinted windows that are quite small. It's not the biggest issue in the world, though, and models in a different spec could feel completely different.
I am still enjoying the quirky cabin, though. Some have commented that it's fussy, but it's actually very easy to use and interesting to look at.
What's next for the MINI?
I'll detail the accessories we've had fitted and if they've come in handy yet.
By Tom Goodlad
Mileage – 6,023 miles
Fuel economy – 36.5mpg
---
Update 5: The choice is yours
Delving into the MINI Countryman personalisation process

Three months into MINI Countryman 'ownership', and I'm wondering what the rest of the range is like, and just how many combinations of Countryman you can conjure up.
If it's anything like other MINI models, it's a lot, and is therefore very tricky to put a number on it.
MINI Countryman engines

Let's start with engines, and it's easier to list these:
Cooper – 1.5-litre three-cylinder turbo petrol, 136hp, 220Nm, 0-62mph in 9.6 secs
Cooper D – 2.0-litre turbodiesel, 150hp, 330Nm, 0-62mph in 8.9 secs
Cooper S – 2.0-litre turbocharged petrol, 192hp, 280Nm, 0-62mph 7.5 secs
Cooper SD – 2.0-litre turbodiesel, 190hp, 400Nm, 0-62mph 7.7 secs
Cooper S E ALL4 - 2.0-litre turbocharged petrol plus electric motor, 224hp, 385Nm, 0-62mph 6.8 secs
Full range of MINI Countryman specs and engine details
The Cooper, Cooper D and Cooper S all come with the choice of six-speed manual or eight-speed automatic gearboxes, and the choice between front- or all-wheel drive in every combination.
The Cooper SD is auto-only, but with a choice of front- or all-wheel drive, while the plug-in hybrid Cooper S E ALL4 is auto-only and all-wheel drive.
There's also the John Cooper Works (JCW) at the top of the range with 231hp coming from the same engine as the Cooper S, with 350Nm of torque and a 0-62mph time of 6.5 seconds. There's a choice of manual and auto, with both powering all four wheels.
Extensive selection of colours, wheels and options
The good thing about the MINI range is that it doesn't matter which engine you choose, you get the same choice of colours, wheels and kit across the range.
When kicking off the ordering process, there's a choice of Chilli or John Cooper Works Chilli Packs. Pick the Chilli Pack like our car has (read more about what it comes with in an earlier update), and it opens up a few more options down the line.

There's a wide selection of colours for the body – as well as contrasting white or black roofs – and a bewildering array of alloy wheels. If you want bonnet stripes, add bonnet stripes – there's a choice of black or white.
Inside, pick between four fabric seat options and four leather options (two black, cream and tan), and from there you can pick from five dashboard trim fittings – some of which are illuminated in the rainbow of colours that bathe the rest of the cabin in ambient light.

Once you've agonised over the colour scheme, you'll then be met with a huge selection of options to pick from, but we've outlined all of these already, so we won't go through them again.
Is there a sweet spot?
The choice is yours when it comes to colour and wheel combos, but the Countryman looks smart with black roof and black wheels, in my opinion. It helps to disguise its heft.
I'm finding the interior of our car is really quite dark, so perhaps upgrading to the panoramic sunroof, or, cream leather would be a really nice touch, but of course both options are quite pricey.

Definitely spec the Chilli Pack, but from there it's a matter of preference when it comes to other luxuries. One option I would definitely spend money on is a set of parking sensors for the front. Ours doesn't have them, and it's hard to judge where the bulky front-end finishes.
And what about accessories?
We're not finished yet! Once you've got your Countryman, you can then dive into the accessories brochure, if you wish.
This includes things like roof racks and boxes, extra lights for the front (adding extra cool points), and many other lifestyle accessories such as an organiser that hangs over the back of the passenger seat, a coat hanger and a bike rack that's stowed away beneath the boot floor.
We've got the latter three fitted, and in the next update we'll be deploying the bike rack to see how easy it is to use, and if the Countryman is encouraging me to keep fit. It's the New Year, after all…
By Tom Goodlad
Mileage – 6,918 miles
Fuel economy – 36.2mpg

---
Update 6: Smart storage solutions
Staking out the MINI's impressive amount of storage

The amount of storage on offer in the MINI Countryman has impressed me so far. Up front, there are two cupholders, a big tray beneath the armrest, a small area in front of the cupholders and two big door bins, plus the glovebox.
Move to the back and the door bins are still big enough for a large bottle of water, meaning those who manage to accumulate all kinds of detritus when living with a car should be able to find a place for everything.
But if you like to be prepared for all eventualities (or have hoarders in the family who need to pack all kinds of things into the car for whatever reason), MINI will sell you an interior organiser from the accessories brochure for £60 that straps over the back of the passenger seat.

It doesn't take up too much space, and comes complete with a couple of spaces for drinks bottles or containers, a zipped section big enough for a small laptop or tablet, another smaller zipped pocket and a couple of handy elastic straps for random bits and bobs.
It's a great way of keeping everything organised in one place, especially with little ones on long journeys, and boosts the MINI's already-impressive storage a bitfurther.

It can be teamed up with a hanger (£59.50) that sits on the back of the driver's seat, but they can be interchanged depending on where you want things placed. There's a hook (£25.20) for the organiser as well, adding a few more options into the mix.
There have been a couple of complaints from rear-seat passengers behind the hanger, as it's not the most attractive thing to be looking at on a long journey, but you can quickly detach it and keep it elsewhere. Similarly, you won't want to stuff too much in the seat organiser in case of kicking feet in the back, but at least there's the option to put it on either seat.
Whichever one you attach it to, I can't imagine it'll take long for it to fill up with crumbs, drinks and wrappers…
Mileage: 7,597 miles
Fuel economy: 37.8mpg
---
Update 7: Bike rack boon
We go all active lifestyle putting the optional bike rack to the test

At the beginning of my time with the Countryman, I wondered if it would make me adopt a more active lifestyle like the pretty people in the brochures.
And while I've actually been taking the MINI to a few grubby car parks to go for a walk or to the beach for some winter surf, the big day has come. I've deployed the bike rack.
And what a bike rack it is. Before you leave this page thinking it's turning into some kind of bike-transportation-appreciation page, hear me out.

It's not cheap
The bike rack for the Countryman isn't a reaching-onto-the-roof job. To get our rear-mounted set-up, you'll need to spec 'Bike Rack Preparation' when ordering your car from new. It's a £170 option that simply allows a bike rack to be fitted later on by having the wiring ready and space for a tow bar.
The real cost will come when you buy the bike rack. It's a £499 option from the MINI accessories catalogue, which a dealer will fit for you for a charge. We headed down to MINI's HQ to have ours fitted.

Something like a set of roof bars and bike rack would likely be around £300 for comparison - our long-term Mazda CX-5's system cost £380.
But it's very clever
Once it's stored in the MINI, there's no clue as to where it might be. The bike rack folds up and sits beneath the boot floor (so you do lose a bit of underfloor space and it might get covered in dirt), but it's such a tidy set-up that it means you don't have to store it in the garage or anything like that – it's always available.

To install it, all you need to do is fit the towbar, and the whole rack perches on top. There's a big lever to lock it in place, with a reassuring thump as you do it. The U-shaped bar needs lifting up so you can fix the crossbars of your bike to it with a retaining arm. The extra set of rear lights fold out, as do the plastic supports for the wheels.
It all feels high quality, with a satisfyingly solid feel to it – it certainly feels like you get what you pay for.
What are the benefits of towbar-mounted bike rack?
Firstly, the neat way it sits in the boot is a very clever design, as is the ease with which you can fit it to the car. The thing that takes the longest, is working out which key releases which lock… there are four of them between the towbar, securing lever and two retaining arms (it can carry two bikes).

The second is that it's very easy to load the bikes onto. If the rack was on top of the roof, some may struggle to reach up and fit it without losing balance, or potentially losing the bike and it falling off the car.
Seasoned cyclists probably won't have a problem, but there's something very civilised about the way you simply lift the bike slightly off the ground and plop it straight onto the MINI's rack.
There are two wheel supports with ratchet straps to hold them in place, and a pair of retaining arms to secure the crossbar to the main bar between the bike and the car.
But what if you load the bikes and then forget to put something in the boot?

No matter! There's a plastic pedal just below the supplementary number plate that tilts the whole bike rack away from the car with the bikes still in place (just make sure you've secured them first…). It's a really clever system that goes back into place with a quality 'thunk' so you know it's back to its original position properly.

The other smart thing is that you can't open the electric tailgate when the bike rack is in place using the key. It must know it's on when you plug in the connector to the car. It'll only open if you tilt the rack back and use the actual button on the tailgate, so there's no risk of bumping your boot into your bikes.

Similarly, the rear parking sensors don't come on when you engage reverse, either. They'd normally be going mad with the bike rack in place, but they don't come on when the bike rack is fitted, although the reversing camera does. And that's where the first negative comes in…
Downsides?
While it's helpful to have a reversing camera to see where the bike rack is when backing up, the whole image displayed on the screen is of bike rack. It's not especially useful, and it's very hard to judge where the back of the car is.

Secondly, you get the same image looking through the rear-view mirror, whereas a roof-mounted oset-up would have the bikes out of sight for the driver – although there's much less restriction with this system. Height limits aren't a problem, nor is the whirring sound of a bike on the roof at motorway speeds.
Using this type of rack also proves to be an issue in car parks. Do you reverse in and spend ages faffing trying to work out where the back is before knocking into another car? Or, do you drive nose-first into a space and leave the rack and your bikes hanging out into the road to potentially be hit?

My only other issue with the rack is that I'll never be able to put it back in the polystyrene holder in the boot as well as the people at MINI did to start with… but that could be user error rather than the car's fault.
Other than that, it's an excellent, user-friendly way of transporting a pair of bikes around. It's certainly one that, if I were a regular cyclist, would be a no-brainer if I was thinking of buying a Countryman.
By Tom Goodlad
Mileage: 8,385 miles
Fuel economy: 36.4mpg

---
Update 8: Traffic-jam trouble
Queuing in snowy traffic highlights some niggling issues

It's all well and good building cars that are great fun to drive with a sporty feel and enjoyment at its core. I'm all for that in something like the regular MINI hatchback or a sleek two-door coupe.
When it comes to sensible SUVs, however, I don't think it should be a priority unless it has a Porsche or Maserati badge stuck to the front.
MINI has tried to inject its trademark fun into the Countryman, and while I appreciate that on a smooth bit of tarmac on a flowing road, I'm finding that using this car in some of the more frustrating everyday driving situations a little, well, frustrating…
Here's why

I've mentioned previously that it can take a little time to hone the perfect driving position in the Countryman, however it's entirely dependent on your size and shape.
New Cars Editor Adam Binnie, said: I'm a bit of an oddity on the Parkers team (for several reasons) but in this case because I really like the Countryman's driving position.
I'm not basketball-tall but at six feet and three inches I rarely feel hunkered down and cocooned behind the wheel in something as small as Tom's MINI - usually my head touches the roof, which isn't the same thing.

Here though I can extend the thigh pad to maximum stretch (instead of my gangly legs hanging listlessly off the end of the seat base like normal) and the pedals are so far away I can get the seat super-close to the wheel and pretend I'm in a 90s BTCC race.
Almost everyone on the team disagrees with me but I don't care. They're wrong.
I, however, spend a little more time fiddling with the seat, and it's largely due to the fact the pedals are so far away – especially if you want to press the clutch down all the way (I'm noticeably shorter than Adam).
In finding the right position for my legs, I'm then much closer to the steering wheel than I'd normally like, which doesn't feel the most natural fit.
The good news is there's a huge range of adjustment in both, but it takes some getting used to and once I've found the right seating position, there aren't any issues until you hit a traffic jam.

I discovered this after a recent trip home to Hertfordshire after visiting family in Devon. Normally a journey that takes just over three hours, in this instance it took six. Most of the time was spent crawling between the M4 and junction 21A for St Albans in snow (which the MINI isn't great at dealing with), sleet, rain, mist and misery.
During this time I found that the MINI's clutch pedal can be frustratingly springy in its action, giving little respite for your left leg. And as someone who suffers from a dodgy left knee from time to time, it highlighted something I haven't noticed as much on more relaxed, free-flowing journeys.
Five hours in and it became incredibly tiring as it aggravated the knee issue, but it's not all bad news.
Excellent seats and even better sound system claw back some points
I maintain the seats in this Countryman are some of the best out there. They're not the spongiest when you first jump in, but after six hours behind the wheel, there were no aches or pains in my back, and I like that you can adjust the length of the seat base to support your thighs.
What's even better is the Harman Kardon sound system, which comes as part of the Tech Pack. I'm no sound system expert, but the quality of the MINI's stereo seems to be up there with the best (at least on the sensible end of the spectrum).

Cranking up the bass doesn't make the whole dashboard and door cards start to rattle, either – the Countryman retains its solid feel.
Also, providing the road surface isn't that awful beige concrete stuff in the Surrey section of the M25, you can enjoy the radio without too much disturbance from noise being kicked up from the low-profile, run-flat tyres.
In most cases, any racket is well suppressed; it's just the wind noise around the upright windscreen and enormous mirrors that upsets the peace.
By Tom Goodlad
Mileage: 9,012 miles
Fuel economy: 36.2mpg
---
Update 9: Does more power make more sense?
Comparing our Cooper with the faster Cooper S
Before you lose yourself in the dizzying distraction of the MINI Countryman options and accessories list, you'll be tasked with picking an engine.
It's worth working it out early, as performance is variable across the range. You'll need to think about the kind of journeys you undertake most often to get the best Countryman for you.
Our Cooper's 1.5-litre three-cylinder engine is a buzzy little motor that encourages you to rev it out (you need to in order to make progress), meaning performance can be sluggish when there are more than two people in the car.
Does that mean you should plump for the more powerful Cooper S? We took one out for a spin to find out.

How do the figures compare?
Below are performance and economy figures for Cooper and Cooper S models (both front-wheel drive), while the model available to drive was an ALL4 model with all-wheel drive.
MINI Cooper Countryman
- 1.5-litre three-cylinder turbo petrol
- 136hp, 220Nm torque, 0-62mph 9.6 seconds, 51.4mpg (claimed)
MINI Cooper S Countryman
- 2.0-litre four-cylinder turbo petrol
- 192hp, 280Nm torque, 0-62mph 7.5 seconds, 45.6mpg (claimed)
MINI Cooper S ALL4 Countryman
- 2.0-litre four-cylinder turbo petrol
- 192hp, 280Nm torque, 0-62mph 7.3 seconds, 40.4mpg (claimed)
Does it feel much quicker in real life?

Slapping a Cooper S badge on the Countryman leads to some grand expectations of a properly agile and invigorating driving experience like the one you get in the regular three- or five-door versions.
Jump behind the wheel of the Countryman, prod the starter button and it lives up to this at first – you certainly know you're in a sportier version based on the noise it makes.
Hit the road, though, and the performance on offer isn't as immediate as you might expect. It definitely feels more eager than the regular Cooper, getting up to speed with a lot less effort and working of the engine, but the S badge does raise your expectations somewhat.

Once you realise it's not actually a hot hatch on stilts, the Cooper S impresses as a refined and rapid family car, that still has a fun side thanks to the occasional pop and crackle from the twin exhausts, and a choice of driving modes (now found via a toggle switch rather than the large dial around the gearlever).
It does feel like it makes more sense than the Cooper if you're not just nipping around town most of the time.
The extra power and torque make the biggest difference on faster roads and on the motorway, and you have to put a lot less effort into manoeuvres which does make for a more relaxed trip on longer journeys.

You might expect switching to Sport from Mid mode will liven things up, but in reality the gulf in performance and responsiveness isn't as big as you might have originally thought.
Does it cost much more to buy and run?
If you just look at the on-paper figures, the Cooper comes out favourably next to the more powerful Cooper S.
With claimed fuel economy of 51.4mpg, it beats the two-wheel drive Cooper S's figure of 45.6mpg.
However, we're finding you need to work the Cooper quite hard in most situations, unless you're just pottering about town, meaning we're struggling to even crack 40mpg due to the varied journeys the car is making.

With 56 more horsepower and a 40Nm boost in torque, a lot less effort goes into getting up to speed in the Cooper S, and as such it'll be easier to get close to those claimed figures. You don't need to thrash the Cooper S, meaning – in theory – it could use less fuel than expected.
In terms of buying the cars on finance, it's also much closer than you might expect.
MINI Cooper Countryman - £261 per month with a £3,000 deposit, £728 deposit contribution from MINI, based on 10,000 miles per year on a 48-month contract.
MINI Cooper S Countryman - £277 per month with £3,000 deposit, £398 deposit contribution from MINI, also based on 10,000 miles per year on a 48-month contract.
There's not much in it between the two cars, making the faster (and more usable) Cooper S a very tempting proposition.
If you like the idea of the power of the Cooper S but don't necessarily need all the space the Countryman offers, you could bag yourself a MINI Cooper S Clubman (below) for monthly payments of £260 on the same terms as the two Countryman examples above.

Is it worth the (small) extra outlay?
If you want a thrilling Countryman, you'll want to go for the JCW which offers a racier look and 231hp.
The regular Cooper S is more of a nippier version of the standard Countryman, and if you look at it in this way, you won't be disappointed as the 2.0-litre engine is punchy and refined, but does also provide a bit of enjoyment from the fruity exhaust and willing powertrain.

It still has the same sharp steering as our Cooper, and it even rode better on a set of undulating and broken roads, despite the fact it had the same size wheels and tyres as YL17 EUY. It was also noticeably less fidgety and not as prone to tugging at the wheel if the car found itself in any rutted pieces of tarmac.
What does pose another dilemma in the Countryman range is the Cooper D, sitting between the two cars for power, but offering more torque than the Cooper S. With 150hp and 330Nm, it's especially punchy and has no issues with a full complement of passengers and luggage.
If your Countryman is only going to be used around town, the Cooper is more than good enough, and you can still have a bit of fun in it on a country lane. If you spend more time out on the motorway and with a full car, either the Cooper D or Cooper S will be a more tempting proposition.
By Tom Goodlad

---
Update 10: Marmite MINI
Does the Countryman have universal appeal?
So far, the way the Countryman drives, the amount of kit on offer (whether it's standard or from the options list) and its quality, quirky feel have impressed me.
But as someone who rarely fills the rear seats and doesn't need all the space it has on offer, what do other members of the Parkers team make of it with their different lifestyles and preferences in new cars?
Read on to see what we all think…
Gareth Evans, Associate Editor
My first impression when I jumped into the Countryman for an airport blast is just how un-MINI it is. You're sat really high in the cabin and all the controls feel huge – the steering wheel is a seriously chunky bit of kit.
Unfortunately, this heft isn't translated into the drive, though, because with front-wheel drive (despite its SUV looks), a notchy gearchange and an engine that has to work hard to get it down the road with any sort of vigour, it just doesn't feel as cheerful as a MINI should.
Take the BMW multimedia system into account and it feels so grown-up I'm left wondering whether it's really going to appeal to the sorts of buyers that traditionally flock to the MINI brand.

James Dennison, Manager, Parkers Video
The first time I hopped into the MINI, I remember thinking how nice it was to be behind the wheel of something that had a genuinely individual-feeling interior.
All the switches and dials were different to anything you'd find on the Countryman's rivals, yet – thankfully – there wasn't a sense that the quirkiness was hiding poor build quality.
Aside from the funky cabin, the overall driving experience was pleasant enough, although a little more oomph certainly wouldn't have gone amiss.

Lawrence Cheung, Content Manager
First impressions go far and the Countryman has been one of those cars that made me rethink my opinion after driving it.
The looks were enough to put me off considering one, but after our stylish SUVs group test, the Countryman ended higher up in my rankings.
All the controls felt like they were in the right place and had a decent amount of weighting behind them. The clutch pedal is a tad heavy – enough to be a slight pain in traffic jams - but nothing will be worse than a Land Rover Defender.
What was most refreshing, though, was that it didn't feel as compromised as some of the contenders in that test – ranging from interior space to build quality.

The Countryman also manages a decent job of balancing a comfortable enough ride without swaying from side to side. The engine in our long-termer is by no means quick, and while I prefer the torquey diesel, this three-cylinder petrol is adequate to drive at a moderate pace.
Any negatives? I've no doubt you'd get used to the inversed iDrive rotary controller but it remains a major annoyance. Especially as it differs from BMW's version and you can't change it in the menu system.
Richard Kilpatrick
I'm not going to mince words. I don't find the Countryman attractive, and I didn't enjoy the driving experience; the blame for this almost entirely falls at the feet of the stylists.
Inside, the fabric trim details alleviate the black plastics, and the central infotainment system certainly looks futuristic without being too fiercely shoehorned into the past.
Controls felt light and direct, though the gearshift is more of an intrusion than an additional aspect of driving, largely due to the clutch weight and travel, which was tiring in city traffic. Mechanically, it feels well-engineered and secure, with a chassis that could handle more power and more aggressive treatment than a typical SUV.

Loading chunky items into the back, it was clear that despite the MINI name, there's plenty of space too. Legroom in the rear may not suit the largest child seats or very tallest passengers, but there are bigger crossovers if you need more space.
No matter how good the engineering, though, the bulbous, contrived looks, thick pillars and relatively small mirrors eat away at the benefits of a great chassis and high driving position.
I can see the appeal for buyers who love the MINI design ethos but need a larger car, but I think it would take much more than a couple of drives to begin to see charms, let alone fall for them, in the overall experience.
Marmite MINI
So it's a bit of a mixed bag, then. And I don't necessarily think that's a bad thing. People remember a car that divides opinion, and MINI has managed to create a car that makes people aware that it's different and interesting, but it's been created rather effectively as it feels high quality and is still quite user-friendly.
It's not perfect, though, as we've heard. Drive the Countryman back-to-back with a more conventional crossover and the heavy controls and driving position present some difficulties. There's also the recurring theme that the 1.5-litre three-cylinder engine just isn't quite enough to haul the MINI along…
Mileage: 10,424
Fuel economy: 36.2mpg
---
Update 11: Family-friendly
Is the Countryman a serious family car?
In all honesty, I've become bored of people complaining that the Countryman isn't a 'proper' MINI. Have your opinions on it, but don't assume that it's a bad car just because it's not your kind of thing. This rule applies to any new car.
Oddly, despite the big MINI's size, a lot of people have been surprised at how roomy it is inside. I've regularly plonked three adults across the rear bench with no complaints (other than from the car's engine going uphill).
But does MINI's largest model work as a family car every day? I deployed resident family man, Adam Binnie, to test the Countryman's child-carrying capabilities.
Starting with the boot…
At 450 litres, the MINI's boot is a generous size, although to free up the full amount of space on offer, the boot floor needs to be lowered, rather than sitting flush with the loading lip and having the sneaky bit underneath.
Our Countryman doesn't offer quite as much as this, due to the bike rack eating up that underfloor area. So while the loading lip is flush with the boot floor and the tailgate is wide for easy access, it doesn't take much for it to fill up.

There are a couple of nice touches that'll make a huge difference to family buyers. Our car's Activity Pack includes rubber floor mats in the car (and the boot) which makes cleaning the inside of the boot much easier when muddy pushchairs and wellies are thrown in.
Secondly, the electric tailgate makes life a lot easier, and it's not one you have to wait five minutes for it to open and close for, either.
How does it fare when you put in a child seat?
Rather well. While the rear doors aren't enormous (and child seats can be), the fact they open almost 90 degrees make loading a child seat easy, and the slightly raised ride height and high roof make access simple and stress-free.
The Isofix points are easy to get to as well, with plastic caps covering the points when they're not in use, making installation a quick and easy process.

And, thanks to the generous space on offer in the rear, there's still enough space for your little ones to swing their feet about and make the backs of the front seats nice and dirty.
Is there enough storage for bits and bobs?
One of the best bits about the MINI I've noticed in my time with it is the sheer amount of storage on offer.

Huge door bins front and back (large enough for a big bottle of water and other oddments), plus a couple of trays in the front and various nets and cubbies dotted throughout, mean that even the biggest hoarders can find a home for rogue toys, bottles, rattles and rubbish in the Countryman.
Will it stand up to the abuse of a young family?
I haven't really thrown much abuse at the inside of the Countryman over the last six months, however the outside has taken the hit (not literally). It's been caked in mud for a significant proportion of our time with it.
Pile the miles onto many cars and rattles will make themselves known in the cabin, but the MINI hasn't displayed any of this. Every person who drives it comments on how solid it feels, and when it's all scrubbed up and clean, the interior feels as high quality and fresh as it did when it first arrived.

As such, I imagine it would stand up well to life with children. The plastics are hard-wearing, but still pleasant to touch, and the materials used on the seats feel especially tough, but still appealing. The leather part of the half-leather seats is particularly impressive, and the backs of the front seats are covered in this, which will be easy to clean muddy footprints off.
The fabric part won't fare as well, but even so it's a tougher-feeling material that seems easy to clean compared with many others. If, however, you do have particularly messy kids, it might be worth paying for full leather upholstery so everything can be cleaned with a wipe.

That previously mentioned Activity Pack is worth a look, too, adding rubber floor mats. Granted, they don't look or feel as nice, but were a godsend over the winter months when I was getting in and out of the car with muddy boots, trainers and wet coats. So much easier to keep clean than a plush carpet set.
Mileage: 10,955
Fuel economy: 39.2mpg
By Tom Goodlad

---
Update 12: Farewell
Has the Countryman proven itself as a worthy crossover?
The time has come to say goodbye to the Countryman, and it's certainly left an impression on the Parkers office, splitting opinion pretty much down the middle after six months on the long-term fleet.
The big MINI leaves us with 11,450 miles on the clock, with £1,333 having been spent on filling the always-surprisingly-large fuel tank.
So, what's been good, and what's been not so good?

MINI Countryman: the good points
One thing the MINI always managed to do was bring about some kind of conversation about its looks. It's what's caused the most amount of debate. Some love the way it looks, others feel quite strongly the opposite. In my opinion, it works well, and it certainly looks more cohesive than its predecessor does.
Plus, something that gets people talking is better than something that flies completely under the radar, right? I do think the Countryman is very spec-sensitive, though. I've seen others on the road that don't look quite as good, so choose your options wisely!
The visual MINI-ness isn't all style over substance, either. Wrapped up in its quirky body is a well-built, solid-feeling car, and you can thank parent company BMW for that.

The amount of equipment available across the Countryman range is impressive – with advanced kit filtering down from expensive BMW models and fiddled with to give it a typical MINI look and feel, such as the more colourful iDrive infotainment system.
By no means does it feel the poor relation, and it's pleasing that everything you operate feels chunky and like it'll last. And as the car ticked over 10,000 miles in our care, there were none of the squeaks and rattles that you'll get with plenty of other cars.
What also impressed on several occasions was the amount of space on offer. Fitting five adults in proved no issue whatsoever, with many impressed with the amount of head and legroom on offer in the rear seats.

MINI Countryman: the bad points
It hasn't all been plain sailing, though. Living with the Countryman for six months threw up some niggles that most buyers will likely experience, too.
While the look of it brought about the most amount of criticism, looks are subjective so we'll leave that there. The second point of contention was the engine and its performance.
The 1.5-litre three-cylinder petrol packs a surprising punch in other MINI models, but it needs to work hard under the bonnet of the Countryman – it isn't a small car.

With just the driver in the car, there are few issues. Problems arise when you begin to load it up with passengers and/or luggage – it really starts to struggle getting up to speed, let alone maintaining it up hills.
That means you'll spend a lot of time working the engine quite hard, which in turn leads to a noticeable drop in fuel economy. We really struggled to get the car above 40mpg, which is some way shy of the car's claimed 51.4mpg figure.
And while it's one of the more enjoyable crossovers to drive, the combination of fidgety, firm ride and large alloy wheels wrapped in low-profile run-flat tyres means it's not the most relaxed small SUV. It's not a jarring experience, but something like a VW T-Roc or Audi Q2 will skip over bumps with much less drama than the MINI.

While these issues may be big no-nos for some, the biggest frustration I found in my time with the MINI was the intermittent Bluetooth connection over the first few months with the car.
While I was merrily singing (badly) at every opportunity, all of a sudden the Bluetooth media connection would drop and I'd have to reconnect my phone through the menus.
I found a method of doing it easily enough, but it was never clear why it suddenly decided enough was enough. And then, out of the blue, it stopped doing it altogether and was absolutely fine. No more embarrassing moments of singing/shrieking without a backing track.
What do its rivals do better?


A big problem the Countryman faces is the utterly bewildering number of rivals it's up against – the number of crossovers and SUVs seemingly growing in number by the week.
The list of crossover rivals is a lengthy one, but potential Countryman buyers are likely to be considering a premium small SUV (this ain't a cheap car), which helps narrow it down somewhat.
As I mentioned, there are plenty of rivals matching the MINI's price, but there are simply not enough hours in the day to scour through them all.
Group test: MINI Countryman vs VW T-Roc vs Audi Q2
Should you consider a MINI Countryman?
Chances are if you're even thinking about a Countryman as your next car, you're already sold on the looks, or at the very least, you're not offended or bothered by the whole 'it's not a real MINI' thing.
As a family car it's very impressive, with a genuinely roomy interior with space for five and all their odds and ends, and a boot that'll swallow more than you might expect (as long as you don't fill the bottom of the boot up with bike rack).

It's a high-quality product that feels robust and premium, but also interesting at the same time, and you can add all manner of options to make it feel every inch the upmarket product.
The biggest gripes are that it costs a lot to do this (pick your options carefully), and that the engine in the Cooper isn't really up to the job of hauling around a car of this size.
The good news is the jump up to a Cooper S is more of a small skip than a leap if you're purchasing the car on finance.
Mileage: 11,450 miles
Fuel economy: 36.2mpg