New-generation Suzuki Jimny arrives in 2019
New entry-level off-roader references previous-generation styling
Based on a rugged ladder-chassis and promises top off-road ability
Priced from around £12,000 when it goes on sale in January 2019
New entry-level off-roader references previous-generation styling
Based on a rugged ladder-chassis and promises top off-road ability
Priced from around £12,000 when it goes on sale in January 2019
Technical details of the 2019 Suzuki Jimny off-roader have been released, comfirming that it's going to be powered by a 1.5-litre petrol engine and will feature the part-time four-wheel drive system AllGrip Pro, shared with the Ignis and Swift city cars.
The looks follow the theme set by the ougoing model, inheriting its chiselled and tough, no-nonsense, back-to-basics SUV design. It follows the current fashion in off-roader design, retaining the squared-off, angular looks of its predecessor, the 1998 Suzuki Jimny.
This will no doubt please traditionalists who have also welcomed the arrival of the 2018 Mercedes-Benz G-Class and Jeep Wrangler, which both look very much like the cars they replaced. Let's hope Land Rover takes the hint as it prepares the final touches for the 2019 Defender replacement.
A new look inside, tough new underpinnings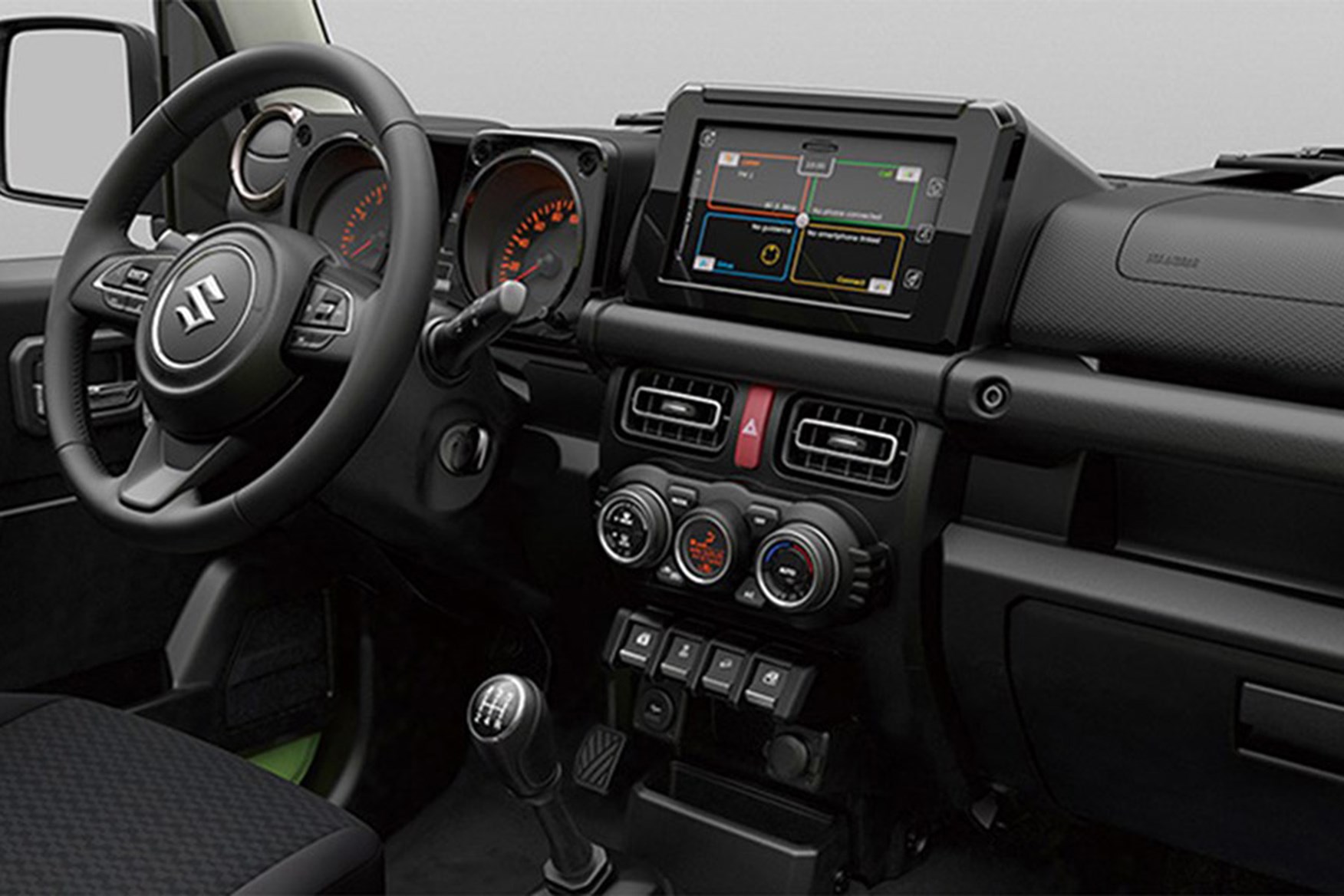 Suzuki is taking its off-road ability seriously, so it has 210mm of ground clearance, is underpinned by a tough ladder frame chassis, and a three-link set-up for its rear suspension set-up, which offers great wheel articulation. There's a with low-range transfer ratio for the AllGrip Pro transmission, which should give the Jimny the hill-climbing ability of a mountain goat.
In terms of tech, the Jimny moves straight into 2018, with a new 7.0-inch touchscreen infotainment set-up, allied with an agreeably boxy interior design in keeping with its traditional looks.
To make it relevant to today's roads, the Jimny also gets automatic emergency braking (AEB), lane departure warning and traffic sign detection – this is a first for Suzuki.
What else do we know about the 2019 Suzuki Jimny?
It will have its spare wheel is mounted on the perpendicular tailgate, and is due to make its public debut at the 2018 Paris motor show in October. It's short and high, with an overall length of around 3480mm, shorter than a Fiat 500, and a usefully large 377-litre boot.
We hear that UK sales start in January 2019, with prices starting at around £12,000, leaving it with few natural rivals. It's the fifth-generation Jimny, and Suzuki hopes that this one will build on the success of previous generations of the car.