Vauxhall Vivaro review (2020)
Practical and powerful third-gen Vivaro spoiled by poor ergonomics
PROS
Very high payload ratings
Strong and quiet engines
City-friendly dimensions
Impressive fuel economy
Pricing and value
CONS
Cramped cabin
Poor driving position
Standard safety kit could be better
Single roof height
Naff manual gearbox
Summary
Somewhat unusually, this all-new, third-generation Vauxhall Vivaro medium van – known within Vauxhall as the Vivaro C – arrived just five years after the launch of the previous model, the Vivaro B. The explanation for this short lifecycle is simple: Vauxhall the brand has changed hands, and is now owned by the Peugeot-Citroen PSA Group.
As a direct result of this, the Mk3 Vauxhall Vivaro is now based on the same platform as the Citroen Dispatch, Peugeot Expert and Toyota Proace, rather than arch-rival Renault's Trafic.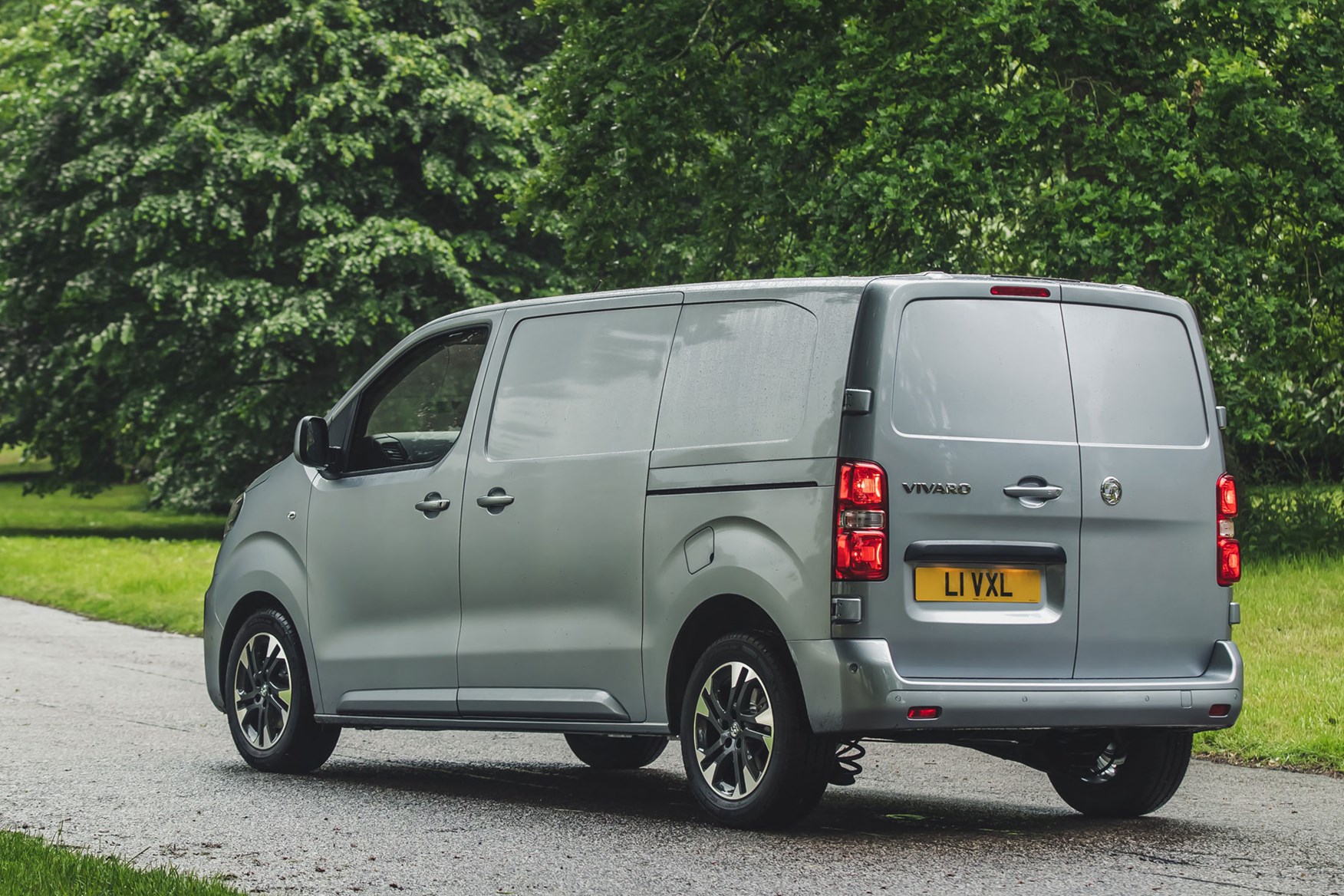 Despite this shake-up, the Vivaro continues to be proudly made in Britain (you'll see a badge on the back saying as much on every single one), following a major refit of the Luton factory where it's assembled – carried out in super-quick time following a significant financial investment.
And even with increased automation within the plant – there is no manual welding on this latest Vivaro at all, it's all done by robots – the new model has secured over 1,200 jobs. It's a really, really important van, for Vauxhall and the UK automotive industry.
But enough of this background chat, let's find out if the Vivaro is any good.
Is the Vauxhall Vivaro any good?
There are lots of good things about this third-gen model – although there are a couple of irritating issues as well, which we'll get to in a moment.
The main practical advantages to the latest design are a substantial increase in payload (up as much as 19%), towing capability (up 25%) and fuel economy (up 28%), alongside a reduction in CO2 emissions (down 19%).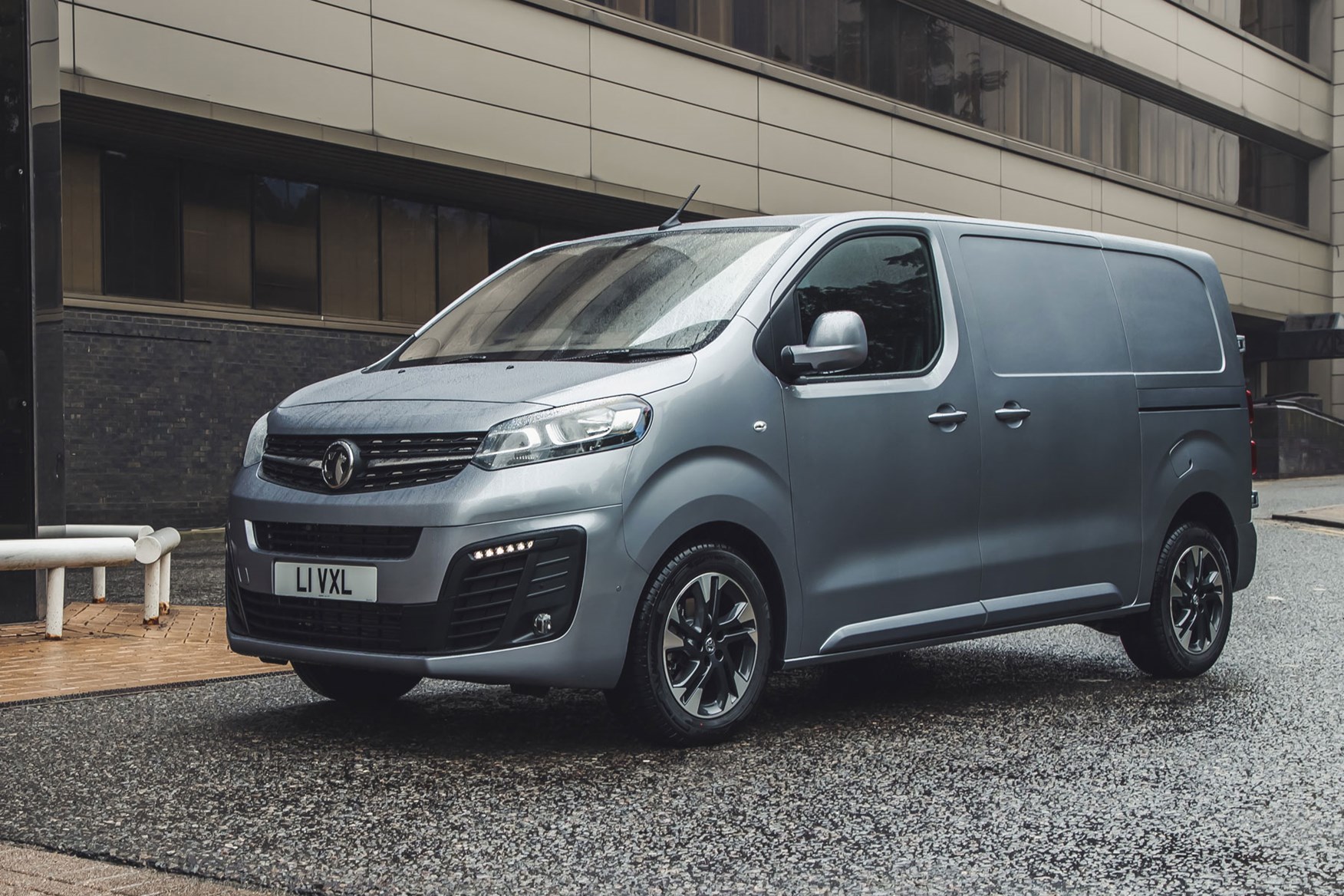 The payload increase takes maximum load up to over 1.4 tonnes – one of the highest ratings in the mid-size van sector. You'll find details on our dedicated dimensions page.
What's more, not only is the underlying PSA platform the most modern in the medium van marketplace, its basis – known as EMP2 – is the same as a number of passenger cars. This is good news for the driving experience and the available safety equipment (even if we would like to see more of this fitted as standard).
What's not so good, then?
As with its sister vans, the Vivaro suffers with a cramped cab and an off-set driving position, where the steering wheel sits to the left of your centre line and the pedals sit to the right.
This is almost unforgivable, as far as we're concerned. Especially for such a modern van.
Compared with the previous Vivaro, it's lost a little standard loading length, too – although overall load volume is up, and the FlexCargo load-through bulkhead is more practical than before.
There is also only a single roof height.
Vauxhall Vivaro trim levels and body sizes
The Vivaro comes in three trim levels: entry-level Edition, popular Sportive and new range-topping Elite. Full details of each can be found in the Costs section below.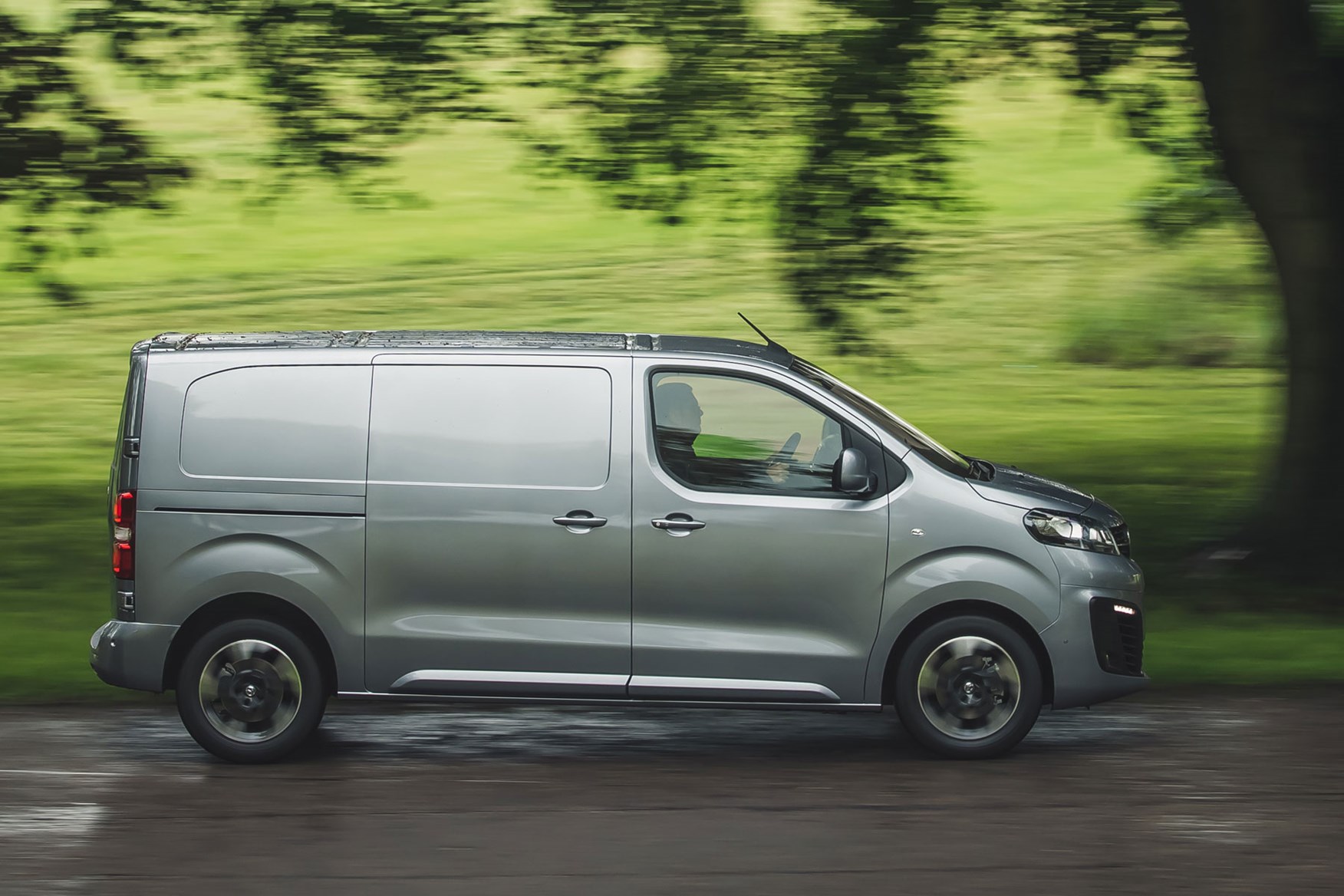 There are two body length options for the panel van – L1 and L2 – plus a double cab crew van and a platform cab for conversions. At launch Vauxhall is not offering the super-short compact body style available from Citroen, Peugeot and Toyota, but this may change in 2020.
Even without this, the Vivaro is one of the smaller mid-size vans in terms of exterior dimensions, with the single roof height option comfortably low enough to enter most car parks.
Vauxhall Vivaro engines and gearboxes
The Vivaro comes with a choice of two engines and four power outputs – one of which is duplicated on both engines, which is an interesting decision.
The engines are an ultra-modern 1.5-litre diesel, offering 100hp or 120hp, or a slightly older 2.0-litre with 120hp, 150hp or 180hp. All get a six-speed manual gearbox as standard except for the 180hp model, which comes fitted with an eight-speed automatic.
The auto is likely to become optional on the 120hp 2.0-litre model in 2020.
Will there be an electric Vauxhall Vivaro?
Yes, in fact an electric Vivaro called the Vivaro-e has now been fully confirmed for 2020, alongside electric versions of the Dispatch and Expert.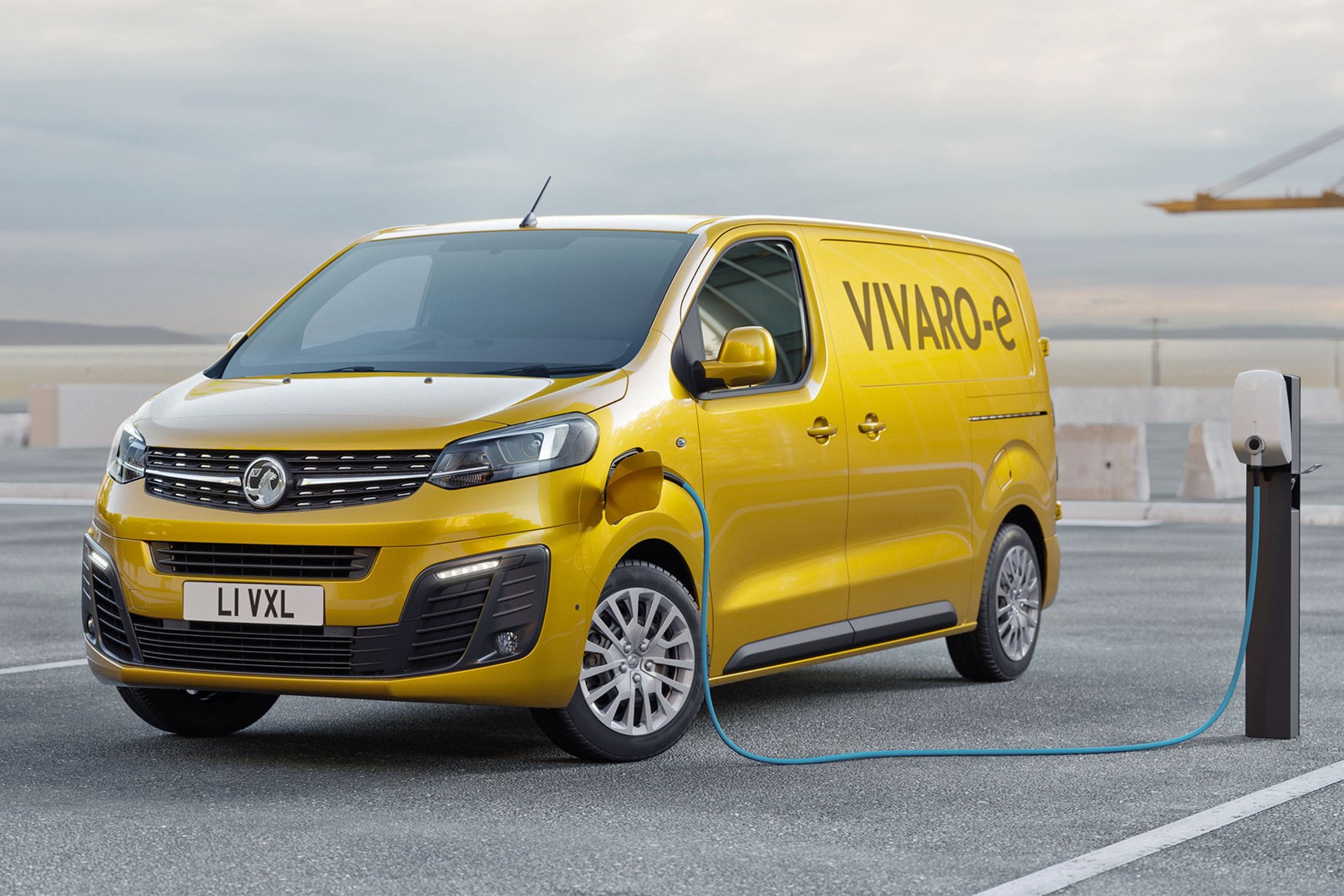 We've also been told that an electric version with sporty VXR badging isn't out of the question.
Vauxhall Vivaro rivals
The king of the medium van sector is indisputably the Ford Transit Custom, which considerably outsells every rival (and every other van of any kind) in the UK.
The Vivaro typically finds itself vying for second spot with the VW Transporter, though Vauxhall has ambitions that this model will firmly cement its position ahead of the Volkswagen.
---
Vauxhall Vivaro verdict
In many respects this is a substantial improvement over the previous Vivaro model, with plenty of high-tech features and those key practicality upgrades to load carrying capability and running costs. The engines are good, and this is a fine van to drive.
Or at least, it would be if it wasn't for the cramped cab and the poor driving position. Still, the positives are such that we voted it runner up in our 2020 Medium Van of the Year Award.
Keep reading for our full review of the Vauxhall Vivaro, or click the links below to jump straight to the section that most interests you.
Skip to our full verdict on...
Exceptionally quiet 1.5-litre engine impresses for light duty
But 2.0-litre offers more muscle and payload capacity
Tidy handling, good comfort – except for poor ergonomics
The Vivaro is a front-wheel drive van only, and engine choice is divided between 1.5-litre and 2.0-litre diesel engines, both badged Turbo D.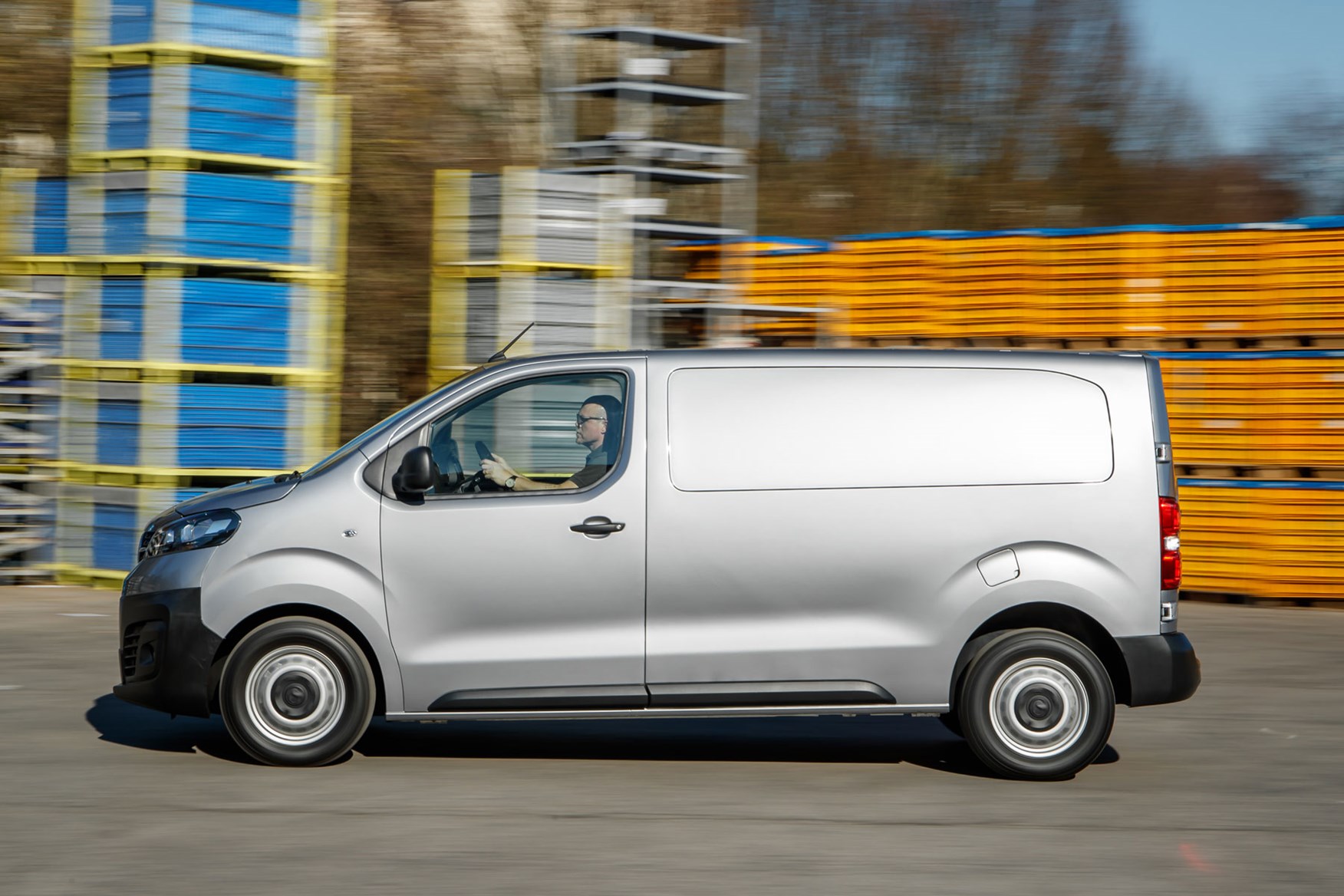 There are four power outputs in total:
1.5 Turbo D – 100hp / 270Nm
1.5 Turbo D – 120hp / 300Nm
2.0 Turbo D – 120hp / 340Nm
2.0 Turbo D – 150hp / 370Nm
2.0 Turbo D – 180hp / 400Nm
We have so far driven only the 120hp variants of each engine size – although we have also experienced the more powerful engines in the Vauxhall's sister vans, and can tell you you're unlikely to be disappointed by these.
Why buy a 1.5-litre Vauxhall Vivaro?
This is the newer of the two engines – though the 2.0-litre is hardly old by any means – and it is immediately impressive from the moment you turn the key.
Not only because it provides more than adequate performance for a medium van in 120hp specification, with plenty of immediate response and smooth acceleration right through the rev range, but also because it is stupendously quiet.
So much so that you're more likely to be bothered by road noise from the tyres rumbling over poor surfaces than the engine.
Tested with a 400kg weight in the back, we would have no issue recommending this motor for medium duty work, and its on-paper fuel economy is usefully better than the 2.0-litre's as well.
Why buy a 2.0-litre Vauxhall Vivaro?
The big advantage the 2.0-litre engine has over the 1.5 is torque. Tested at the same 120hp output level with the same 400kg weight in the back, the 2.0-litre's additional 40Nm of muscle made for more relaxed progress in every respect except for engine noise.
For the 2.0-litre is also noticeably louder – though still hardly shouty – with a much more pronounced diesel sound as well.
This aside, the mightier response makes the bigger engine better suited to heavier duty work, and indeed, only this 120hp version is rated to carry the full 1.4 tonnes that headlines the Vivaro's payload ratings.
What's the Vivaro C like to drive?
Pretty good. It still relies on hydraulically-assisted steering, rather than the newer electrically-assisted system some modern vans employ, so there's a good meaty feel to the wheel that helps you place the van confidently without it becoming overly tiring.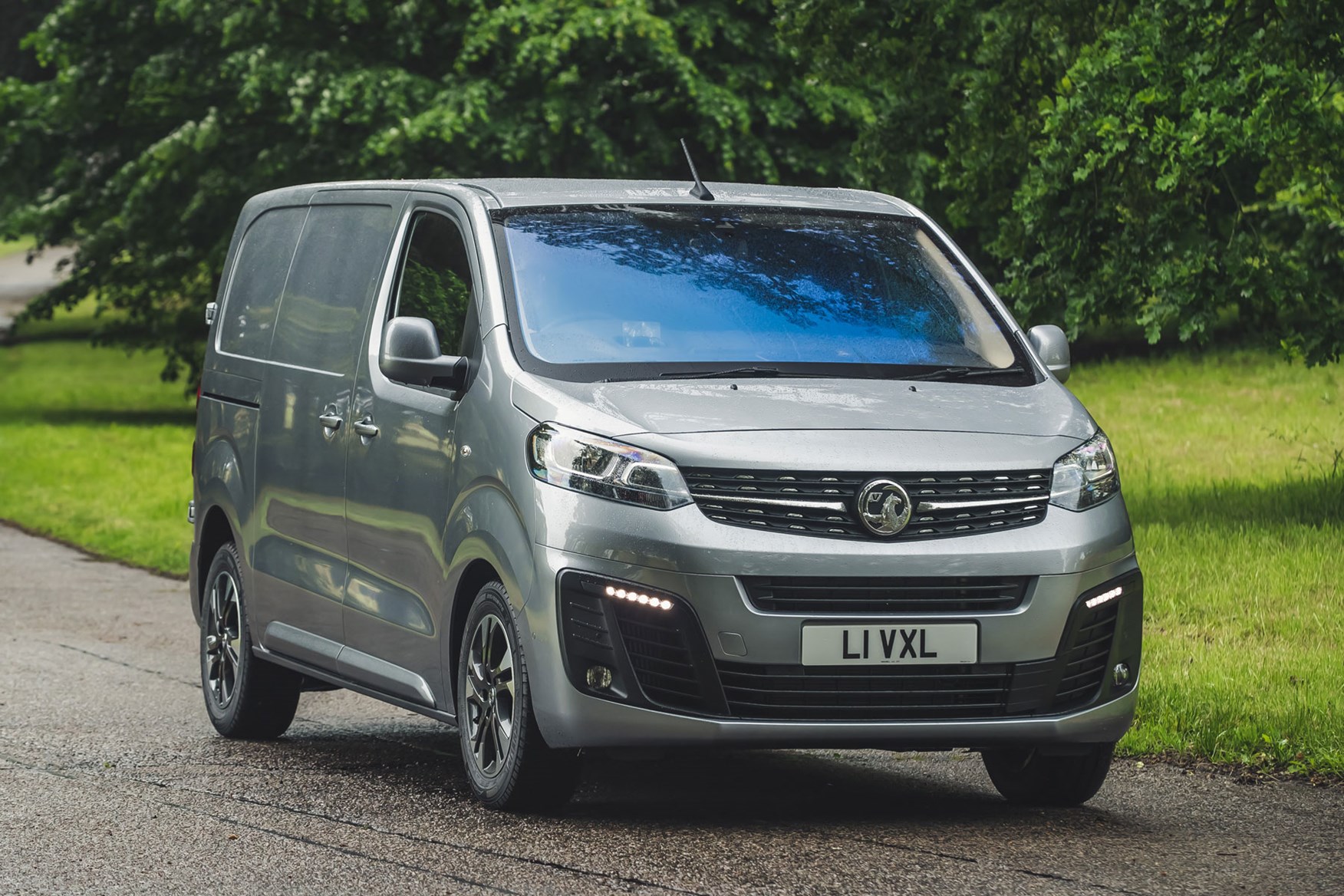 While we'd hesitate to suggest it handles just like a car – there's a little too much body roll in the corners for that – it changes direction with a keen eagerness and you can make good progress in safety.
Ride comfort is similarly a strong point, with little sign of the niggling pogoing you get from lightly laden Transit Customs, for example. The set-up is clearly quite soft, however, explaining the slightly wallowy feel over off-set bumps, the roll in the corners, and the amount the rear suspension appears to compress with even a modest 400kg load.
What's the gearbox like?
We've only tested the six-speed manual in the Vivaro so far, and it's perhaps the weakest area of the overall driving experience.
The change mechanism is vague and rather soft-feeling – especially in the 2.0-litre – and it's easy to imagine mis-selecting gears if driving tired or hurriedly.
What's more, for some utterly bonkers reason, Vauxhall has kept the awful square gearknob from that Peugeot and Citroen use.
But that's perhaps the least offensive ergonomic problem with these vans – as we'll detail in the interior section below.
Poor driving position
Cramped and claustrophobic
Lots of high-tech kit
This, we feel, will be the make it or break it area of this Vivaro for many customers. If you can accept the compromises that the cabin may demand in exchange for the high payload ratings, good fuel economy and pleasant engines, then you'll likely get along with this Vauxhall just fine.
What's the problem with the Vivaro's cab?
Compared with the previous version, and many other mid-size vans on sale, the Vivaro's cab feels instantly compact and enclosed.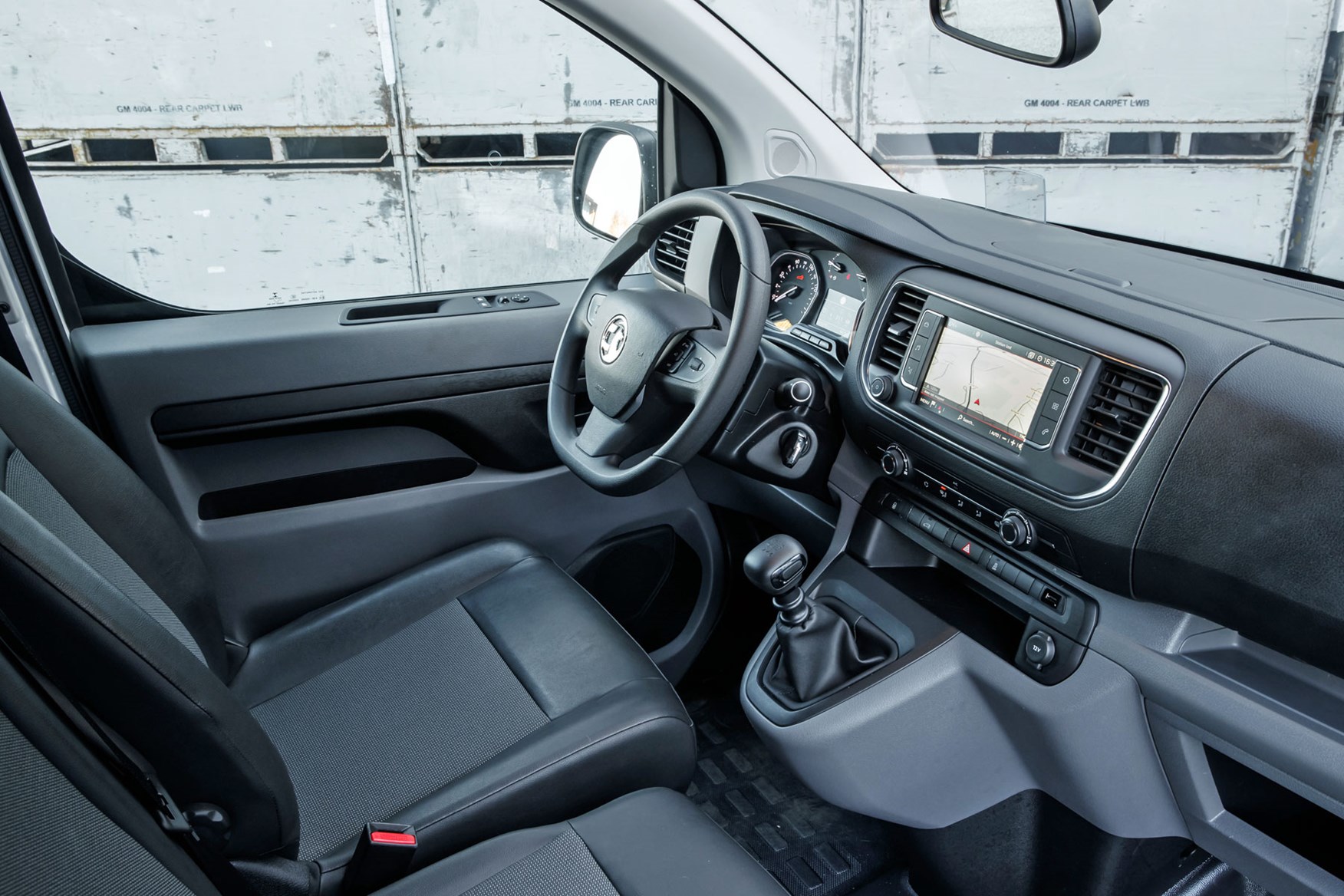 While headroom is unlikely to be an issue for most people, the small size of the windows and the height of the dashboard makes it seem very low, while simultaneously making the interior rather dark.
The closeness of the bulkhead may enforce a more upright driving position than some people would prefer, too, and if you regularly need to travel three-up in the cab do check that you can all fit comfortably – there is noticeable less shoulder room than in the previous Vivaro, and knee room for the centre passenger is severely restricted by the gearlever pod in comparison as well.
The driving ergonomics are the real killer here, though.
What's wrong with the driving position?
While there are plenty of vans guilty of not completely aligning the steering wheel, pedals and driver, the extent to which the Vivaro and its sister vans suffer with this is enough to put us right off them.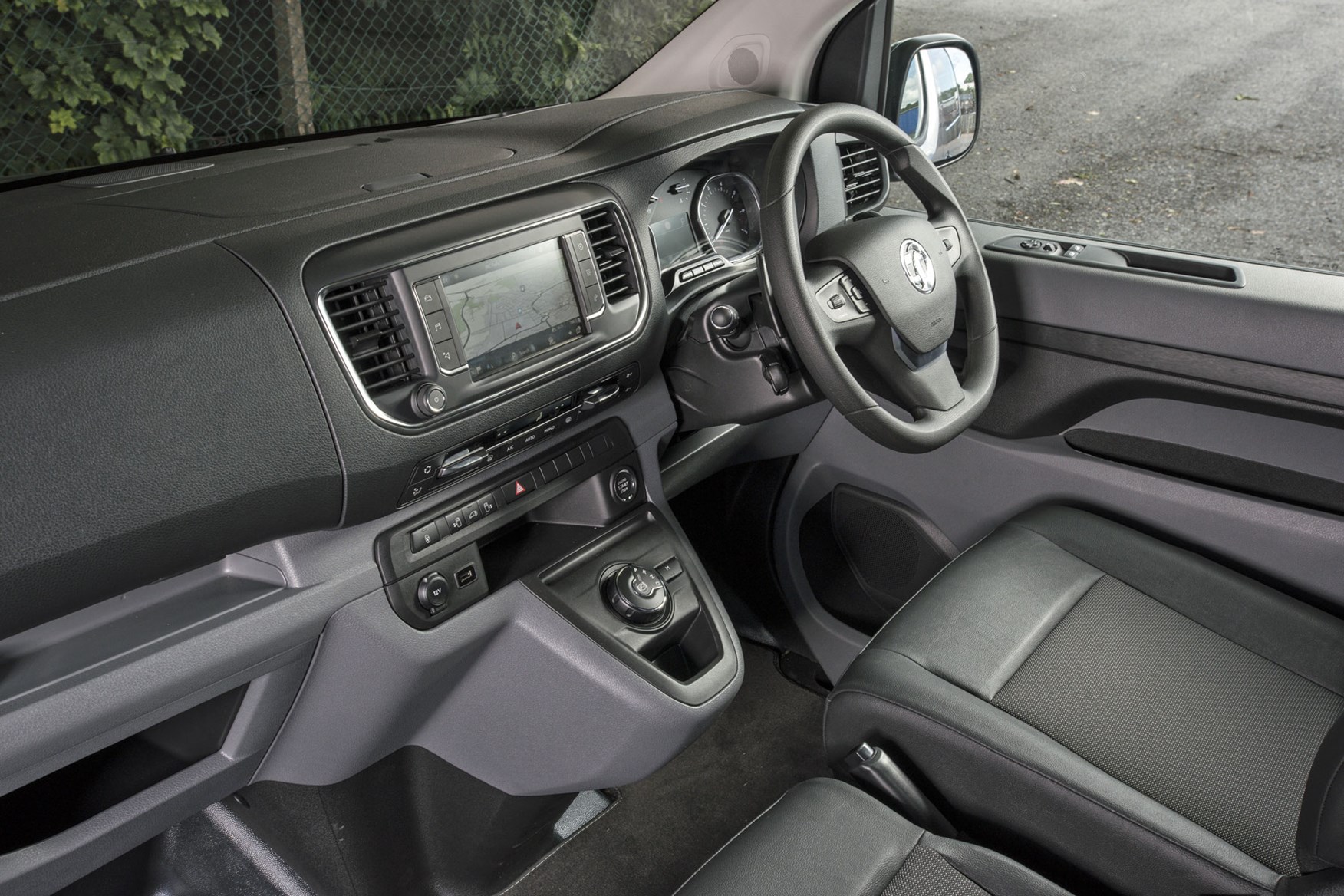 The steering wheel in particular is so noticeably off-set to the left (in right-hand drive vehicles) that it's hard to fathom in such a modern vehicle. That the pedals are then set to the right leaves you sitting in a twisted position, which although not immediately problematic is not something we would be comfortable with if we were faced with regularly covering long distances.
In other words, if you do mostly short journeys in your van, this probably isn't a problem. But high mileage drivers should think very carefully about choosing one of these.
Is there much storage in the cab?
The lower door bins are large, there's a proper glovebox, a couple of cubbies and a covered dash-top storage area. But no option of overhead storage bins, and the area below the radio that should be suitable for holding a phone (so you can plug it into the infotainment – see below) is too small for modern smartphones.
Models fitted with the FlexCargo load-through bulkhead (which is most Vivaros) get an outer passenger seat that folds up and out of the way, leaving additional in-cab storage for boxes if required when you're not taking advantage of the extended load length this also makes possible; a cargo net can be fixed in place for safety in this situation.
Modern infotainment systems, high-tech options
All versions of the Vivaro get DAB radio and Bluetooth, with the Sportive model – expected to be the bestseller – adding a touchscreen infotainment system with Android Auto and Apple CarPlay connectivity.
Top-spec Elite adds built-in sat-nav.
The Vivaro is available with a host of modern safety systems and some unusual gadgets – for a van. These include a head-up display (a little screen ahead of the windscreen in front of the driver that shows key info, so you don't have to glance away from the road to see sat-nav directions and speed, for example), plus electrically operated side doors that you can activate by swinging your foot under the rear bumper.
Handy, so to speak, if you've got your hands full.
All Vivaro vans get twin sliding side loading doors as standard, regardless.
Are entry-level models noisier than higher spec ones?
From the middle Sportive trim upwards, the Vivaro is fitted with an 'acoustic windscreen' and thicker side glass – both designed to reduce the amount of noise in the cabin.
This means the entry-level Edition is going to be a noisier and less pleasant place to spend time, even before you consider the lack of air-conditioning and other creature comforts.
60mpg claim (under out-going regulations)
Service intervals up to 30,000 miles
Lots of standard equipment
With good – if not class-leading – service intervals combined with impressive on-paper fuel economy, the Vivaro should prove inexpensive to run.
Standard equipment levels are such that you won't feel short-changed, either, especially given competitive dealer pricing.
Vauxhall Vivaro mpg
This third-generation Vivaro launched in June 2019, just ahead of the introduction of a new set of emissions regulations in September 2019 (known as Euro 6D Temp or Euro 6.2), which change the way fuel economy is measured. As such, two sets of figures are available: NEDC and WLTP.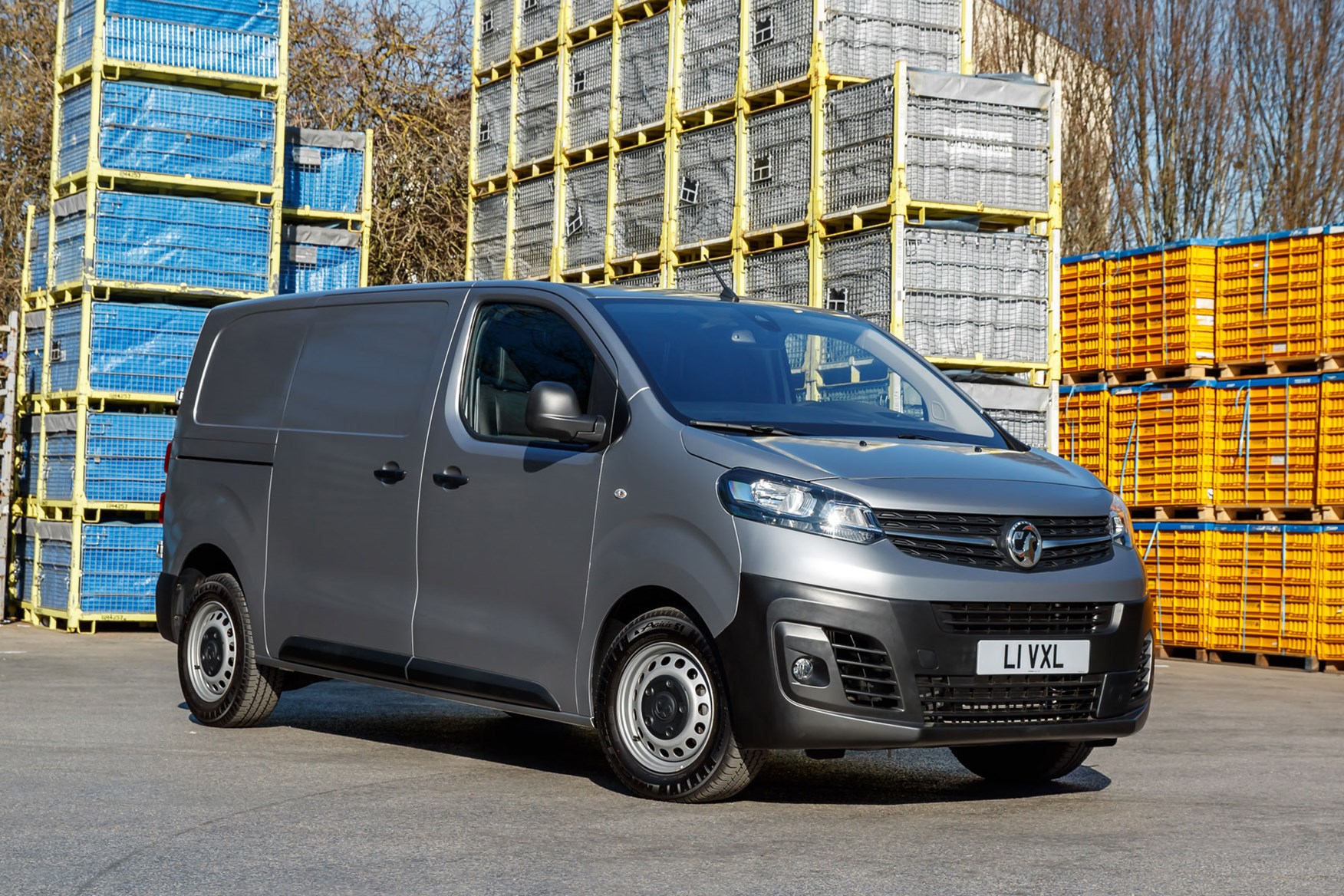 WLTP is the newer version, and you'll see that they're lower than NEDC as they're supposed to better reflect real-world driving.
As such, under the existing NEDC regulations, the most efficient Vivaro variant – the 120hp 1.5-litre – claims 60.1mpg. This falls to 47.0mpg under the WLTP Combined High test or 40.9mpg under WLTP Combined Low.
Still, even with the newer WLTP regs, every Vivaro claims over 40mpg for the High test, and at least mid-30s for Low.
Taking the most efficient versions, the 2.0-litre engine is said to return around seven or eight mpg less than the 1.5, though this situation may reverse in real-world situations where you're regularly carrying very heavy loads, as the 2.0-litre will be less stressed in those circumstances.
Vauxhall Vivaro servicing
The 1.5-litre engine requires servicing every 25,000 miles, while the service intervals for the 2.0-litre engine are every 30,000 miles – both should be seen at least every two years.
Not bad, but the Ford Transit Custom has 36,000-mile service intervals (unless prompted early by the on-board computer).
In 2019, Vauxhall launched its new Van Business Centres programme. These new business hubs not only offer a complete range of demo vans for test driving and dedicated sales staff, they also have extended servicing hours to better suit business customers.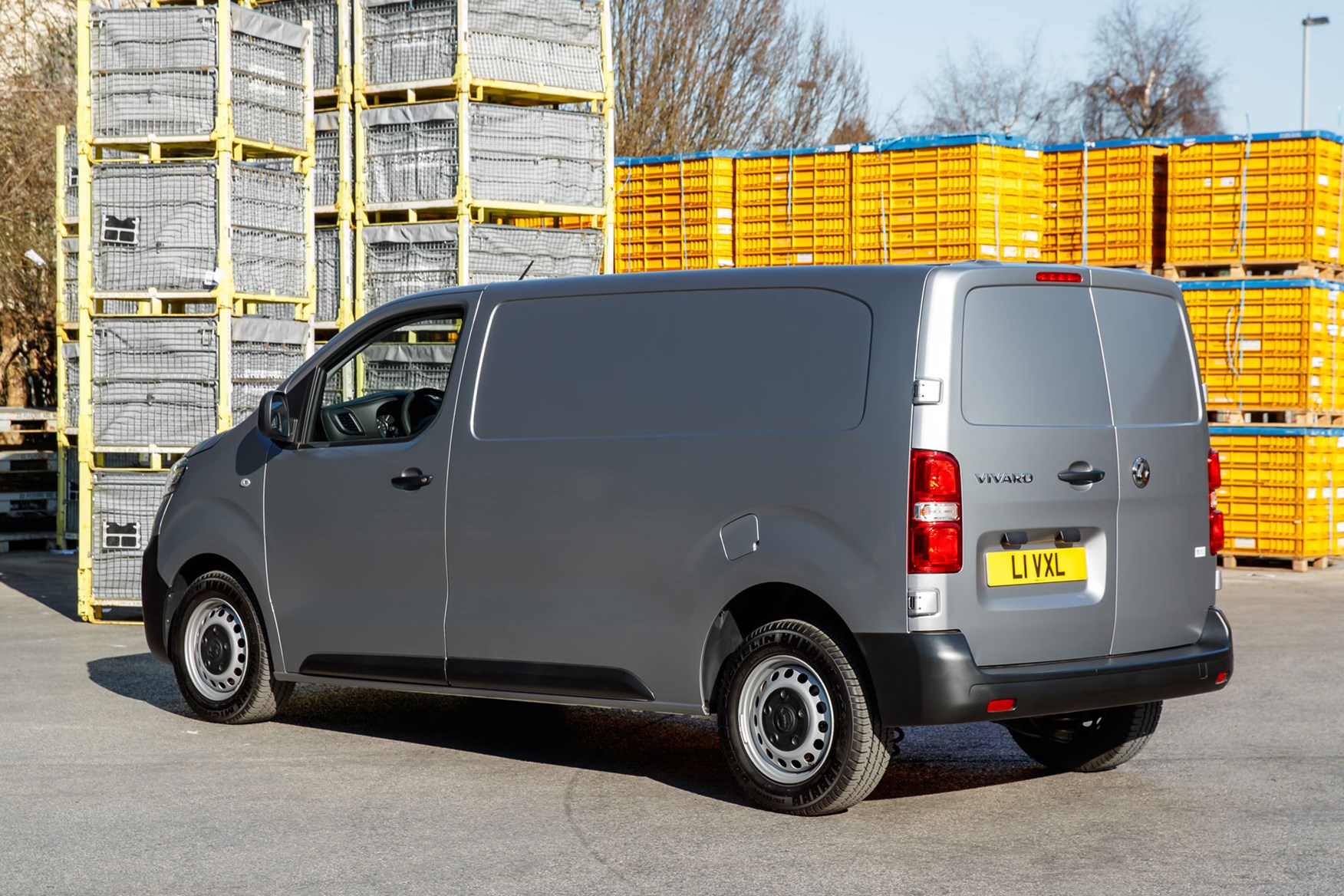 While the exact hours vary between centres, all of them must give you the option to drop a van off by 5pm and collect it with routine servicing completed before 10am the next day. Failing that you should be able to get a loan van so you can carry on working.
At the time of writing there are already 62 hubs in operation, and their performance is being monitored on a quarterly basis, all in the name of minimising downtime for van owners and operators. Good news.
Vauxhall Vivaro warranty
The Vivaro is covered by a three-year, 100,000-mile warranty.
Pretty standard, so no complaints – although you can get essentially the same van with a Toyota badge, and said Proace comes with a five-year warranty. Which may be worth thinking about.
Vauxhall Vivaro standard equipment
These are the standard equipment highlights for the three Vivaro trim levels – note that details of safety and security kit are covered in that section of this review, below.
Vauxhall Vivaro Edition standard equipment highlights:
DAB radio
Bluetooth
12v socket
USB connection
Remote locking
Electric windows
Electric, heated door mirrors
Twin sliding side load doors
Cruise control
Speed limiter
16-inch steel wheels
Full-size spare wheels
Vauxhall Vivaro Sportive standard equipment highlights (in addition to Edition):
7.0-inch touchscreen infotainment system with Apple CarPlay and Android Auto
Air-conditioning
Rear parking sensors
FlexCargo load-through bulkhead
Six-way adjustable driver's seat with centre armrest
Dual passenger bench seat with fold flat centre
Metallic paint
Body-coloured front and rear bumpers
Body-coloured door mirrors, door handles and side mouldings
Front foglights
LED daytime running lights
Automatic lights and wipers
Acoustic windscreen and thickened side glass for increased refinement
16-inch steel wheels with full trims
Vauxhall Vivaro Elite standard equipment highlights (in addition to Sportive):
Connected 3D Navi sat-nav
Front and rear parking sensors
Electric folding door mirrors
17-inch alloy wheels
Vast increase in standard safety equipment (see below)
While this Vivaro only launched in 2019, it's based on vans that have been on sale since 2016, and there are no significant reports of major issues. Besides which, the 1.5-litre engine is new for 2019, so that one is difficult to judge at this stage, regardless.
However, there are signs that build quality and engineering of the Citroen and Peugeot versions haven't been everything they could have been, as there have been a large number of safety related recalls since they were launched – something you can easily check via the UK government's Vehicle Recalls website.
These issues range from potential over-heating issues to suspension and steering problems, in other words, they really are quite serious.
The good news for Vauxhall buyers is that the Vivaro's comparatively late launch means most such issues should have already been worked out by now.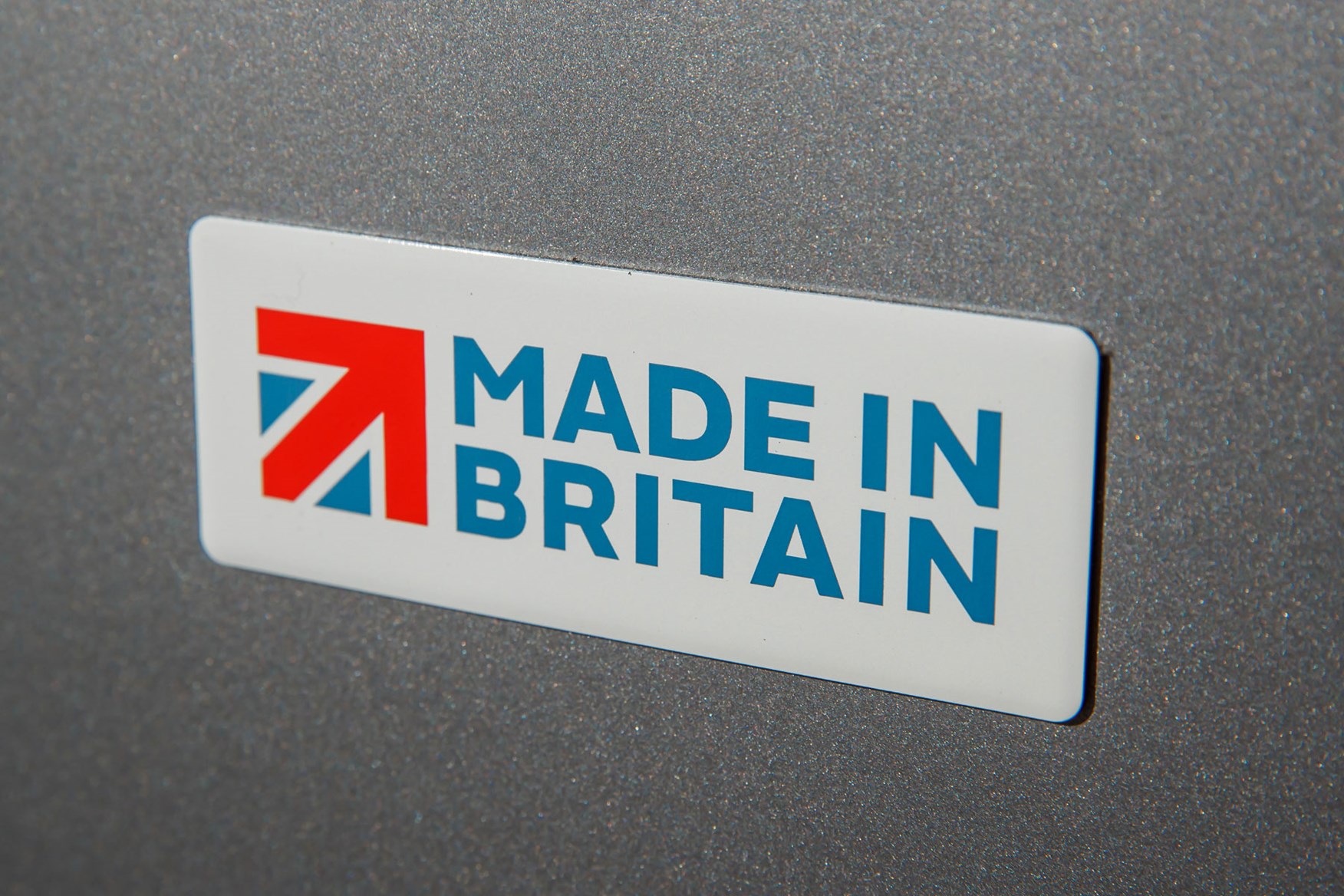 It may also be worth remembering that the Vivaro isn't built in the same factory as the French equivalents sold in the UK prior to its arrival – instead it's made in Luton at a plant with a strong reputation for quality work.
Plenty of safety kit available
Shame more of it isn't standard
The Vivaro is based on a platform that's also used for cars, and this is good news for the availability of safety equipment.
What safety equipment is fitted as standard?
All Vivaros get two airbags, electronic stability control and hill-start assist as standard, plus cruise control and speed limiter.
Step up to the Sportive, and there's also a time-based driver drowsiness alert (basically a system that automatically tells you to take a break), plus automatic lights and wipers.
Range-topping Elite goes way further, however, including lane departure warning, traffic sign recognition, Intelligent Speed Adaptation (which automatically adjust the cruise control to the legal limit), a Driver Attention Alert system (which monitors for signs of sleepiness), automatic high beam assist and blind spot monitors.
Is the Vauxhall Vivaro available with autonomous emergency braking?
It is, but it's only optional – which is a shame.
Similarly, adaptive cruise control, lane-keeping assist and a head-up display are all available as extra safety items, if you're prepared to pay the extra cost.
What is the Vauxhall Vivaro Intelligrip option?
This is an enhanced traction control system that, together with rugged all-season tyres and a few other modifications, is designed to make the Vivaro easier to drip in low-grip situations.
A dial located on the dashboard allows you to easily select settings for different kinds of slippery surface, from snow right through to moderate off-road work.
We're yet to test it in the Vauxhall, but experience with the same system in other vans tells us it should work surprisingly well.
How secure is the Vauxhall Vivaro?
All models come with remote locking and deadlocks, and the ability to unlock the cab and load area separately.
But the entry-level Edition trim misses out on an alarm, which is only standard from Sportive.
Which Vauxhall Vivaro is best for me?
We'll update this section with more info once we've had the chance to drive some more variants of the Vivaro, but we do have some useful intel already.
Which Vivaro trim level is best?
Most buyers are expected to opt for the Sportive trim, as this includes a really good selection of creature comforts, placing it at the optimum point of value for money in the Vivaro range.
Elite is a new range-topping trim for this version, and is also expected to be popular, especially with owner-drivers, who want even greater levels of car-like technology and safety.
The entry-level Edition is more geared towards large fleet buyers, though its unpainted bumpers and other elements may appeal if you spend a lot of time on rugged work sites where the chances of damage are increased.
Which Vivaro engine is best?
Most buyers are expected to opt for a 120hp engine, as this delivers enough power for a comfortable driving experience without threatening too much of an increase in insurance premiums and front tyre wear.
Whether the 1.5-litre version or the 2.0-litre version suits you better will likely be down to the weight of the loads you are regularly hauling – with the bigger engine's extra torque and increased gross vehicle weight naturally better suited to heavy duty work.
The refinement and fuel economy of the 1.5 mean it shouldn't be dismissed out of hand, however, and the sales split between the small and large motors is expected to be quite even.
Full Vauxhall Vivaro payload and load capacity details can be found on our dedicated dimensions page.