Mercedes eVito electric van review (2022)
Likeable Mercedes electric van, marred by limited driving range
PROS
Low running costs
No reduction in load area
Reasonable payload
Good driving experience
Not outrageously expensive
CONS
Short driving range per charge
Rivals go further for less money
Rivals offer higher payload
Usual Vito cab and kit issues
No rapid charging option for panel van
Summary
The Mercedes-Benz eVito was the first full production 100% electric van from Mercedes to go on sale in the UK. It was also the first medium-sized electric van of any kind to become available here - and though newer rivals now far exceed its driving range and payload capabilities there are still reasons to consider this Mercedes electric van, as our 2022 eVito review will explain.
With updates to the standard equipment and trim levels in late 2020, you wouldn't think there will be any major updates in 2021. But rumours persist that a larger battery version may appear at some point, which would dramatically improve the driving range.
What is the Mercedes eVito?
Based on the front-wheel drive version of the standard Mercedes-Benz Vito, the eVito replaces the diesel engine with an 85kW electric motor – equivalent to a modest 115hp – powered by battery packs mounted below the load floor.
This means it produces zero emissions in motion, making it suitable for ultra-low emissions zones and exempt from the London Congestion Charge, without any reduction in load space.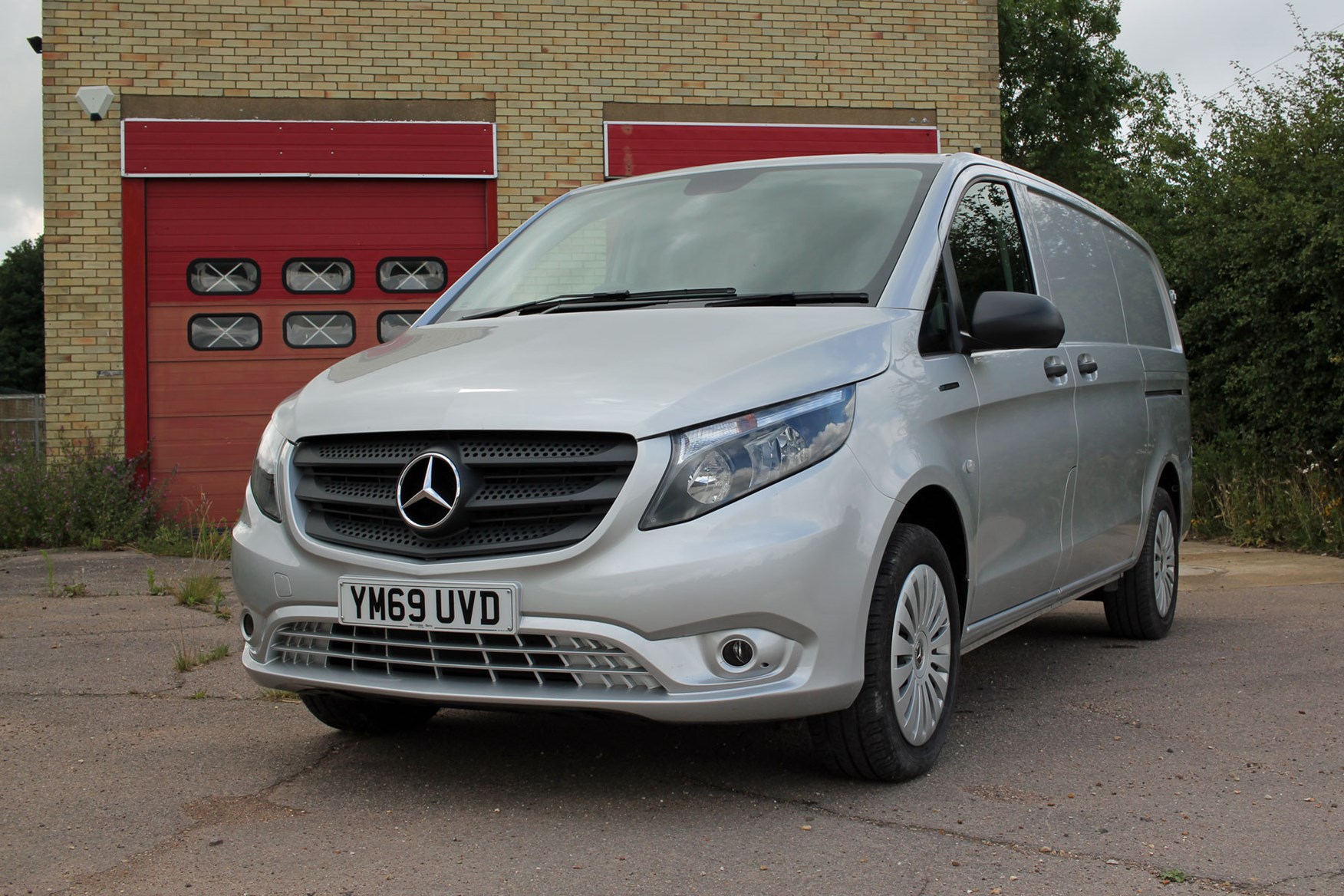 With a single-speed transmission it's as straightforward to drive as any van with an automatic gearbox, while a chunky 300Nm of torque means it's able to get a full load moving very easily – and even feels rather nippy at low speeds around town, which is where it works best.
That's the good news. The bad news is that it really doesn't give you much driving range per charge compared with the best electric van rivals. It also takes at least six hours to charge as it has no fast-charging capability and payload is more adequate than spectacular.
Changes to trim levels in late 2020
The eVito's arrival in the UK was swiftly followed by an update to the standard van - and changes have now made it to the electric version.
The eVito evolved (as Mercedes is calling it) has a slightly different front grille - look for the extra chrome - and revised trim levels, which although increasing the entry-level price actually represent better value.
We've added full details of the new spec to the costs section below; there are no changes to the electric motor, performance or driving range, but there is a slight reduction in payload.
What's the driving range of the eVito?
The official driving range of the present Mercedes eVito van is 92 miles per charge 'on average' – which Mercedes says can be shorter or further, depending on how you drive it. But given the six-hour minimum charging time, this really only makes it suitable for drivers who cover a compact area and are unlikely to ever need to divert and travel over a longer distance.
It will need to be charged between shifts – probably overnight – as topping it up on the move doesn't seem very feasible at all; charging on a regular three-pin plug is possible, but this will take 20 hours for a full charge. This despite the eVito having a relatively small 41kWh battery capacity, spread across three packs mounted under the load floor.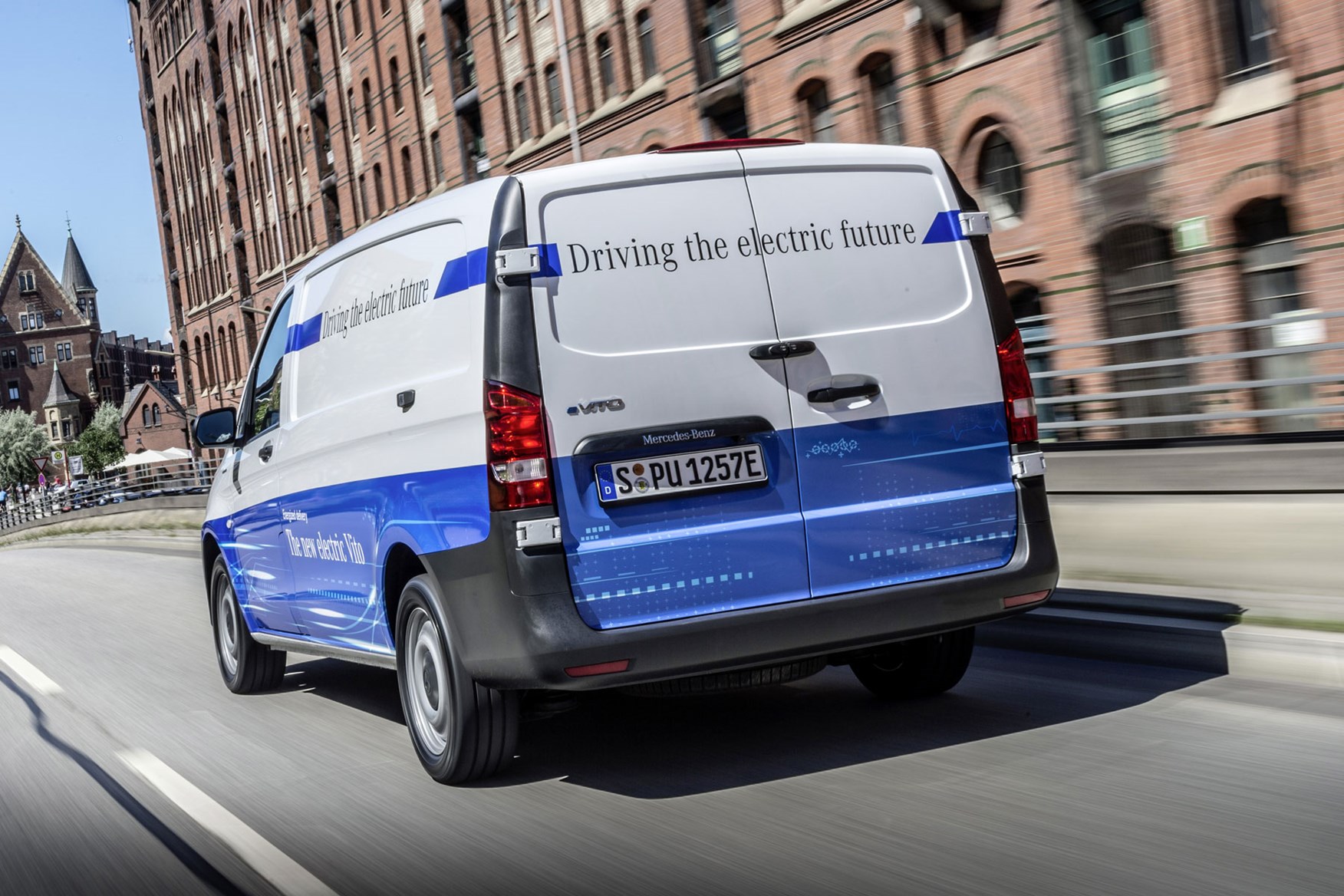 Mercedes has elected to fit fewer batteries in order to maximise payload for the van and keep costs down; the lithium-ion battery technology that powers electric vehicles is heavy – 125kg in this instance – and expensive.
You can, however, buy a version of the eVito Tourer passenger carrier with more battery capacity, a claimed 261 miles per charge and a rapid charging option. Industry rumour has it this package will make its way into the panel van at some point, but exactly when remains to be seen. Expect it to be much costlier and offer a reduced payload, too.
How much can the eVito carry?
The eVito comes in two sizes – L2 and L3, also known as Long and Extra-Long – and a single roof height. Both have a hefty 3,200kg (3.2-tonne) gross vehicle weight. This initially gave a 923kg payload for the L2 model and 898kg payload for the L3, but this has dropped slightly to 905kg and 890kg following the latest round of upgrades.
Full load area info can be found on our dedicated Mercedes-Benz eVito dimensions page.
How does it compare with rivals?
While Mercedes was first to market with an all-electric medium van in the UK, there are now several rivals - all of which deserve a closer look, as they challenge the eVito in different ways.
The Volkswagen ABT e-Transporter looks unspectacular on paper, as it costs more and has an even shorter driving range. But it feels better made and is really good to drive. Consider it if you don't travel many miles every day.
Meanwhile, the Citroen e-Dispatch, Peugeot e-Expert and Vauxhall Vivaro-e – which are all versions of the same electric van – are a much more serious headache for Mercedes. Not only are they offered with a choice of battery sizes including the option for over 200 miles of driving range, they can also carry up to 1,275kg. And the pricing is cheaper than the Mercedes as well.
There's also a high-volume conversion of the Nissan e-NV200 available if you simply need more room; the e-NV200 XL is officially supported by Nissan and offers as much as 8.0 cubic metres of load space, compared with the eVito's 6.6 cubic metre maximum.
Want a green image with some pure-electric capability but the flexibility to travel longer distances without worrying about charging times? Then there's the Ford Transit Custom Plug-in Hybrid to consider as well.
---

Verdict: is the Mercedes-Benz eVito any good?
It's great to see another van maker take the plunge and start selling an electric van. The eVito is easy to drive and unlikely to cause any real anxiety in terms of the learning curve…
…but it isn't going to do anyone's electric vehicle range anxiety any good. We fear that 92 miles just isn't enough for an electric van now if Mercedes has any ambition to shift more than just a few of these. Combined with the lengthy charging time and no rapid charging even as an option, the eVito panel van surely has only limited appeal to a very specific set of usage requirements involving short distances.
Mercedes does at least have a smartphone app called eVan Ready to help you figure out if it will meet your requirements before you buy. But with so much more capable-seeming rivals on the near horizon, it's hard to recommend you opt for one of these at this time unless you need an electric van of this size immediately.
Skip to our full verdict on...
Predictable and consistent electric driving range
As easy to drive as an ordinary Mercedes Vito automatic
Though there are some tricks to make the most of the batteries
The eVito electric van is not very different to drive to a regular diesel Vito with an automatic transmission. You get in, turn it on, select Drive using the usual Mercedes column-shifter, disengage the foot-operated parking brake, and then go. It has only a single-speed transmission, though, so there are no conventional gears at all.
Plus, due to the way the electric motor can function to slow the van as well as drive it forward, there are four different braking modes to get your head around. Fortunately, this isn't as complex as it first sounds, and worth doing if you want to maximise the driving range.
What's the eVito like to drive?
First thing that's struck us about the eVitos we've driven in the UK – which includes both panel van and small-battery Tourer – is that they've not been as quiet as you might expect of an electric vehicle.
While there's no diesel rattle, there is a loud electrical humming noise, and when empty the panel van sounds quite boomy and resonant on the move as well. Certainly not the quiet and refined oasis of calm you might expect if you've driven a modern electric car.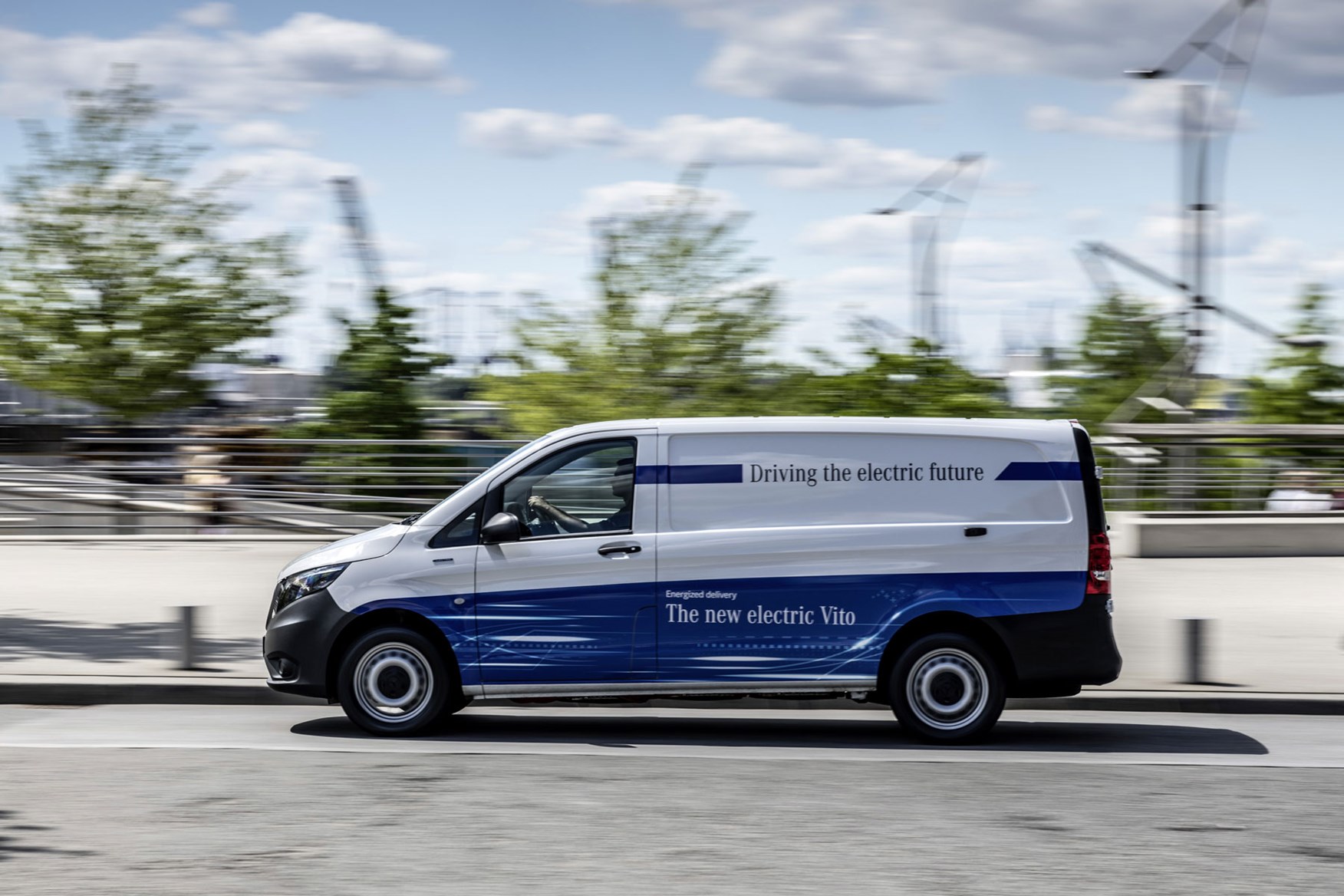 This aside, the eVito is very pleasant. The electric motor gives you all of its 300Nm of torque straight away – though Mercedes has tuned this to soften it a bit in order to stop it chewing through front tyres (you can still expect tyre wear to be quite high, especially compared with a diesel rear-wheel drive Vito) – which means it picks up from a standstill and low speeds very quickly.
Unlike some small electric vans – especially the Renault Kangoo ZE – the eVito also happily charges up to motorway speeds without any issue. The driving range will fall faster if you use full throttle everywhere, but there are three driving modes (in addition to the braking modes) that can help you manage this.
Steering, and stopping using the regular brake pedal, feels just as composed and comfortable as an ordinary Vito. The ride seems firm initially, but it actually deals with bad road surfaces better than any direct electric van rival, and there's not much lean in the corners, either.
What's more, the batteries under the floor boost the sensation of stability by lowering the van's centre of gravity, which means you can really press on when driving on country lanes - assuming you've got plenty of battery to spare, anyway.
What are the eVito's driving modes?
The driving modes are controlled by a button on the dashboard, which would usually control the response of the automatic transmission.
The three modes are E (Economy), E+ (Economy Plus) and C (Comfort), and they moderate accelerator response and motor power output, as well as dialling back the air-conditioning to help make the batteries last longer. The van starts in E, and we were happy to use this most of the time – only resorting to Comfort whenever we needed a little more oomph.
Driving predictable journey lengths, we have never really felt the need to activate E+. But the van remains perfectly useable in this setting (just a little lazier), and we can see how it might be useful if you're worried about running out of charge on the way back home.
Understanding the braking modes
Like many electric vehicles now, the braking modes are controlled by paddleshifters on the steering wheel.
When you start it, the default is D- mode. This is the most efficient setting, with maximum motor braking recuperation of -1.5 metres per second, meaning that you hardly need to touch the brake pedal when driving around town. Simply lifting off the accelerator slows the van as the electric motor becomes a generator to recover energy back into the batteries.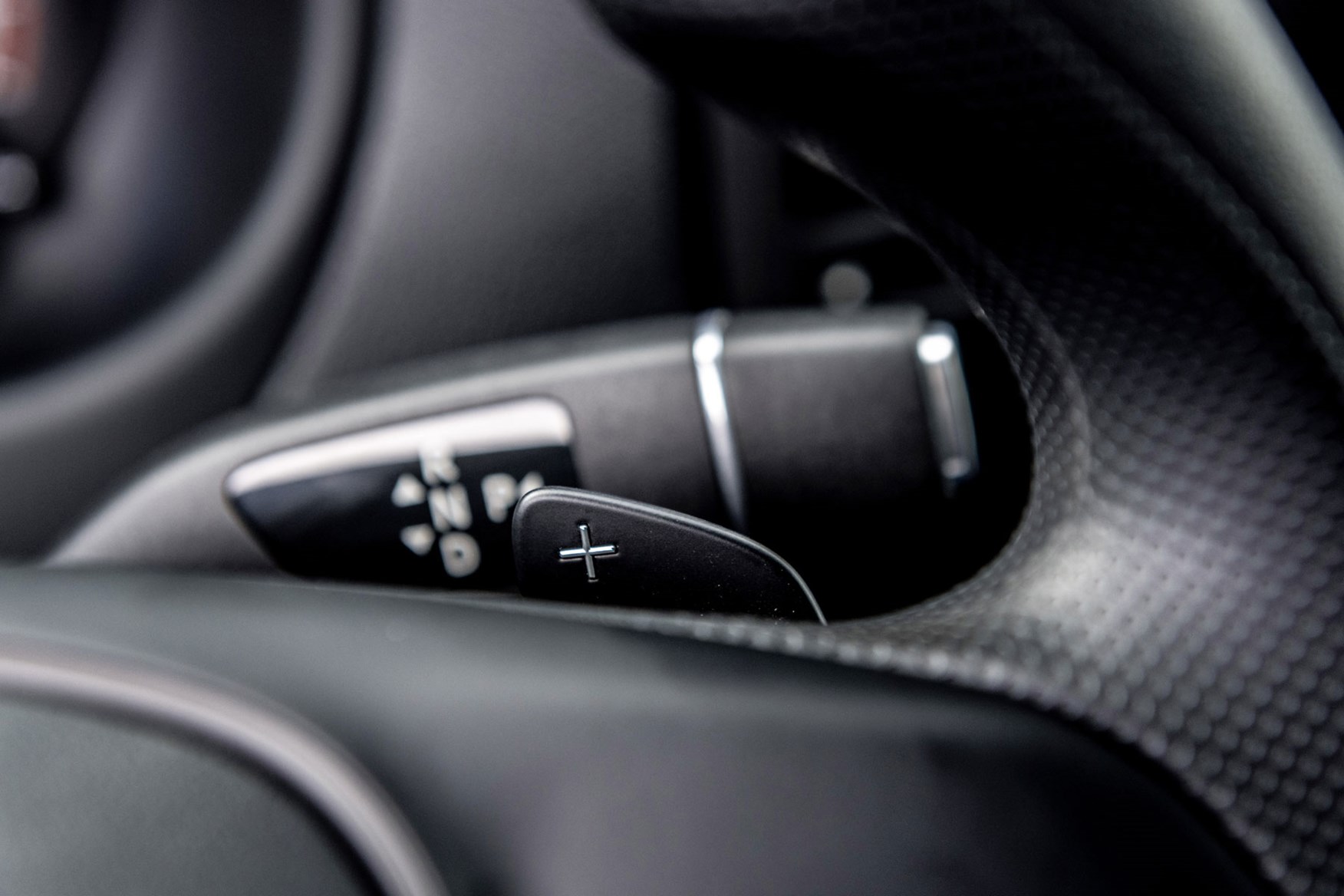 That might sound weird but it soon feels perfectly normal. Pull what would ordinarily be the change-up paddle on the steering wheel, and it switches you to D mode, with moderate braking-energy recuperation of -1.0ms, while another flick up to D+ reduces it to -0.5m/s.
A final change to D++ gives you no braking recuperation at all, meaning that the eVito will continue to roll along unchecked when you lift off the accelerator. You might wonder why you'd ever want to not recover energy back into the battery, but letting the van just roll on – also known as coasting or sailing – can be smoother and more efficient at motorway speeds.
What's the real-world driving range like?
Using the WLTP standard, Mercedes claims the eVito will cover 92 miles per charge. We've found this to be pretty accurate, though it will vary with the weather and the specification of the van. In winter, for example, you'll find the range perhaps significantly lower - but this is the same for all electric vehicles.
While we never had occasion to run the battery right the way down, at no point have we found ourselves worried that the van might leave us stranded, even when driving faster and for longer distances. It's easy to keep track of the remaining range via a display in the instrument cluster, and this doesn't jump about in the same way it can in other electric vans.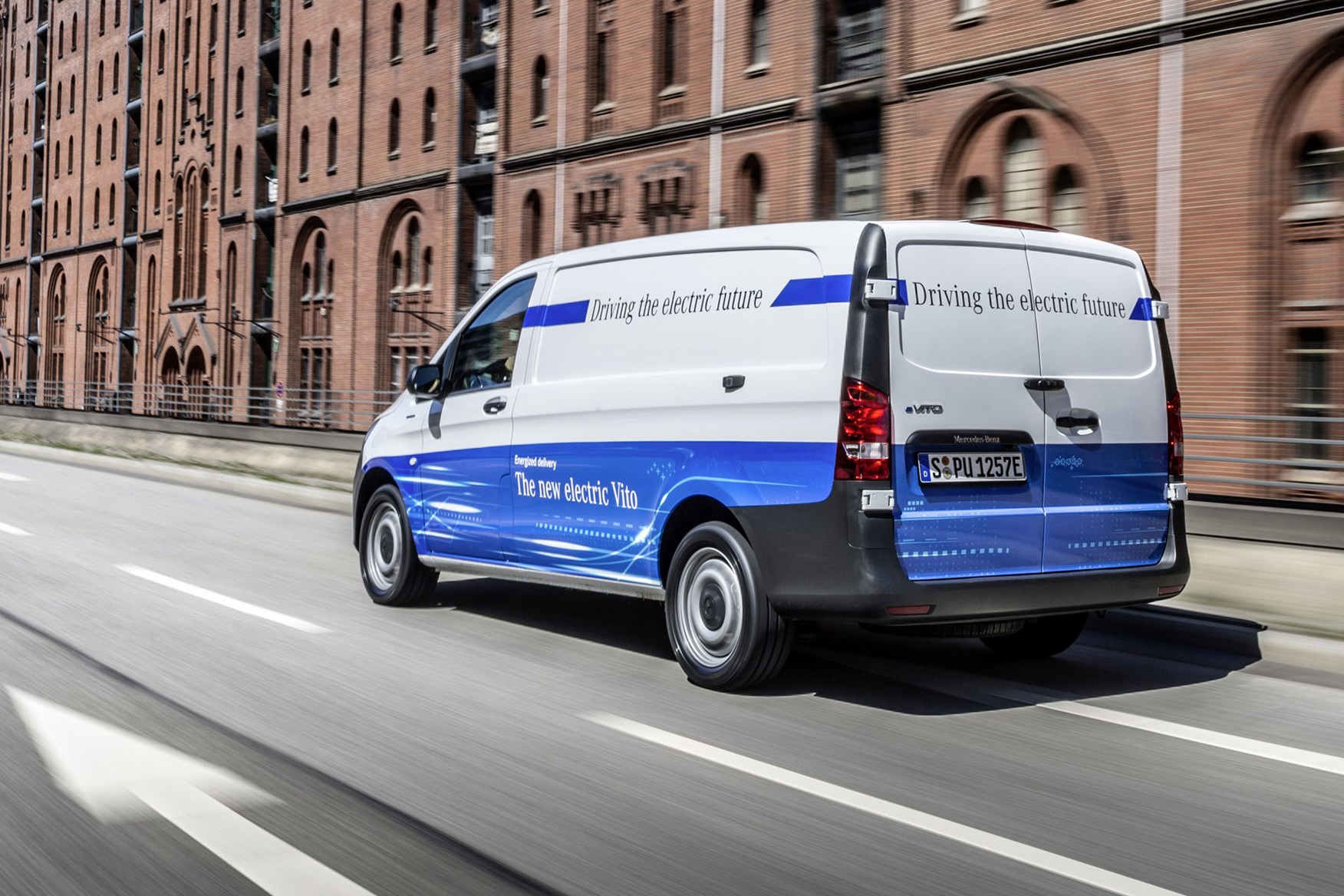 Basically, we have no reason to doubt the accuracy of the official range prediction. Running the heater in winter or the air-conditioning in summer will have an impact, however, so best to make the most of the pre-conditioning function, which will heat or cool the cab while the van is plugged in to charge.
This is controlled via the Mercedes Pro Connect smartphone app, rather than anything inside the van. Not a major problem, but perhaps slightly inconvenient under some circumstances, such as when a lot of different drivers need to use the vehicle. Better get friendly with the fleet manager if you have a preferred cabin temperature in those circumstances...
Little different to any other Vito inside
Which means the cab is a little cramped
And some of the controls take some getting used to
The interior is largely the same as a regular Vito, with the exception of some minor changes to the instrument cluster. So if you're after an electric van that gives you a very routine driver and passenger experience the eVito should suit you just fine.
Small cab, confusing controls
Shame, then, that the Vito's cab isn't the most inviting place to spend time. Build quality is solid enough, but the dashboard is very slabby and unattractive, it's not especially practical and the low roof can make it feel a bit cramped inside.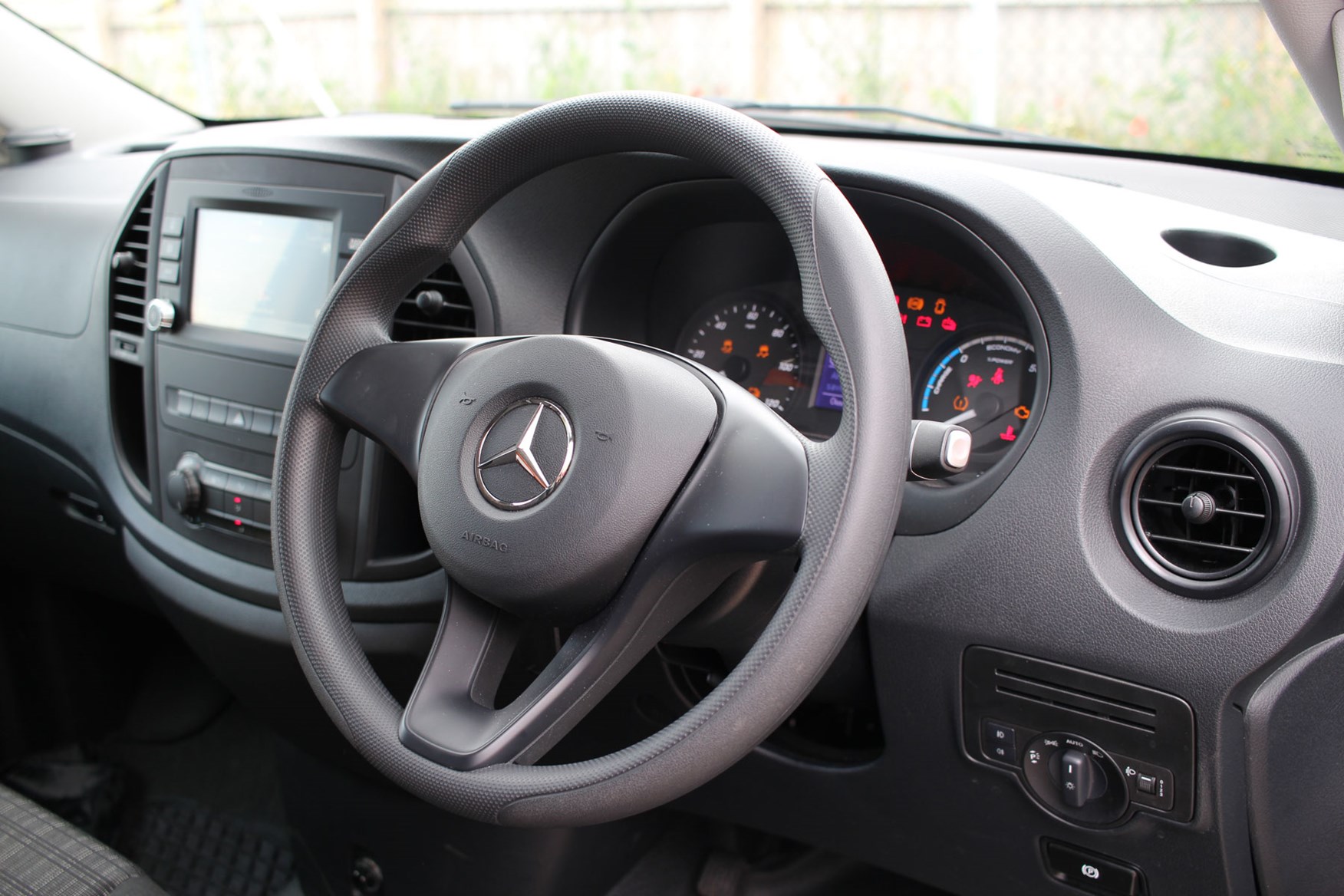 You also have to deal with Mercedes' slightly unconventional controls. The key slot – more of an electronic docking process than a conventional key, as in all Vitos – is on the left of the steering wheel, and you select drive and reverse via a steering-column-mounted lever that's positioned where every other van maker puts the windscreen wiper stalk.
If you jump into this fresh and it starts raining, do not be at all surprised if you knock it into neutral instead of turning the wipers on; the wiper controls are actually located on the indicator stalk.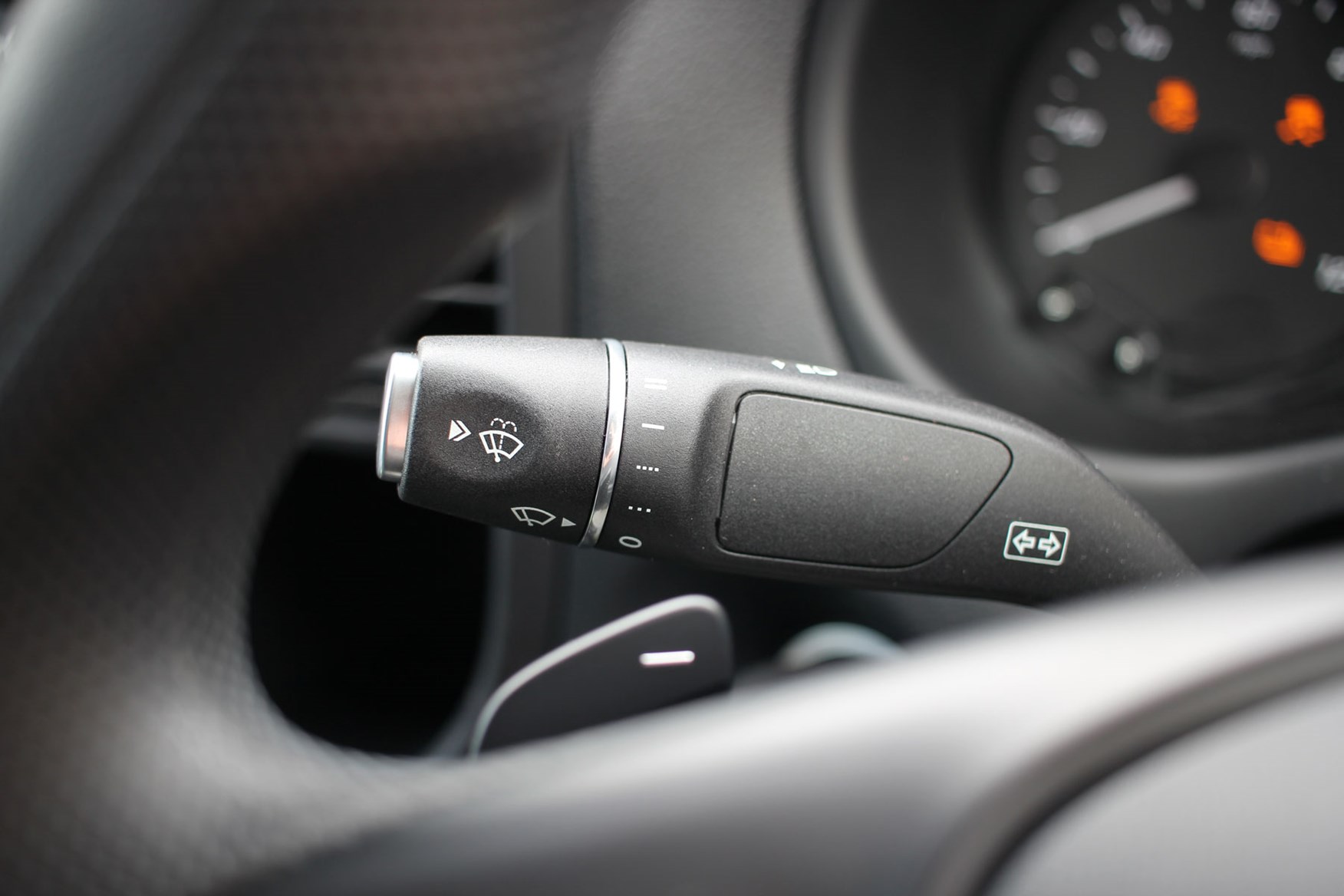 Then there's the foot-operated parking brake, which is released via a pull-handle on the dashboard. Fine once you're used to it, but certainly not a conventional set-up by other van standards, and something else for drivers to deal with if they're regularly hoping between different vans.
Poor infotainment initially
The Vito has long struggled to be competitive when it comes to basic creature comforts like a radio, and the eVito was no exception at launch. The standard Audio 10 (entry-level Pure models) and Audio 15 infotainment systems (higher-spec Progressive models) are pretty basic. They don't even have DAB.
But worse, one of the test vans we've sampled had the 'upgraded' Audio 40 infotainment system, which looks cheap and is unnecessarily confusing to use – like a poor-quality aftermarket system. It was the only way to get DAB, Apple CarPlay, Android Auto and sat-nav in the original eVito specification, unfortunately.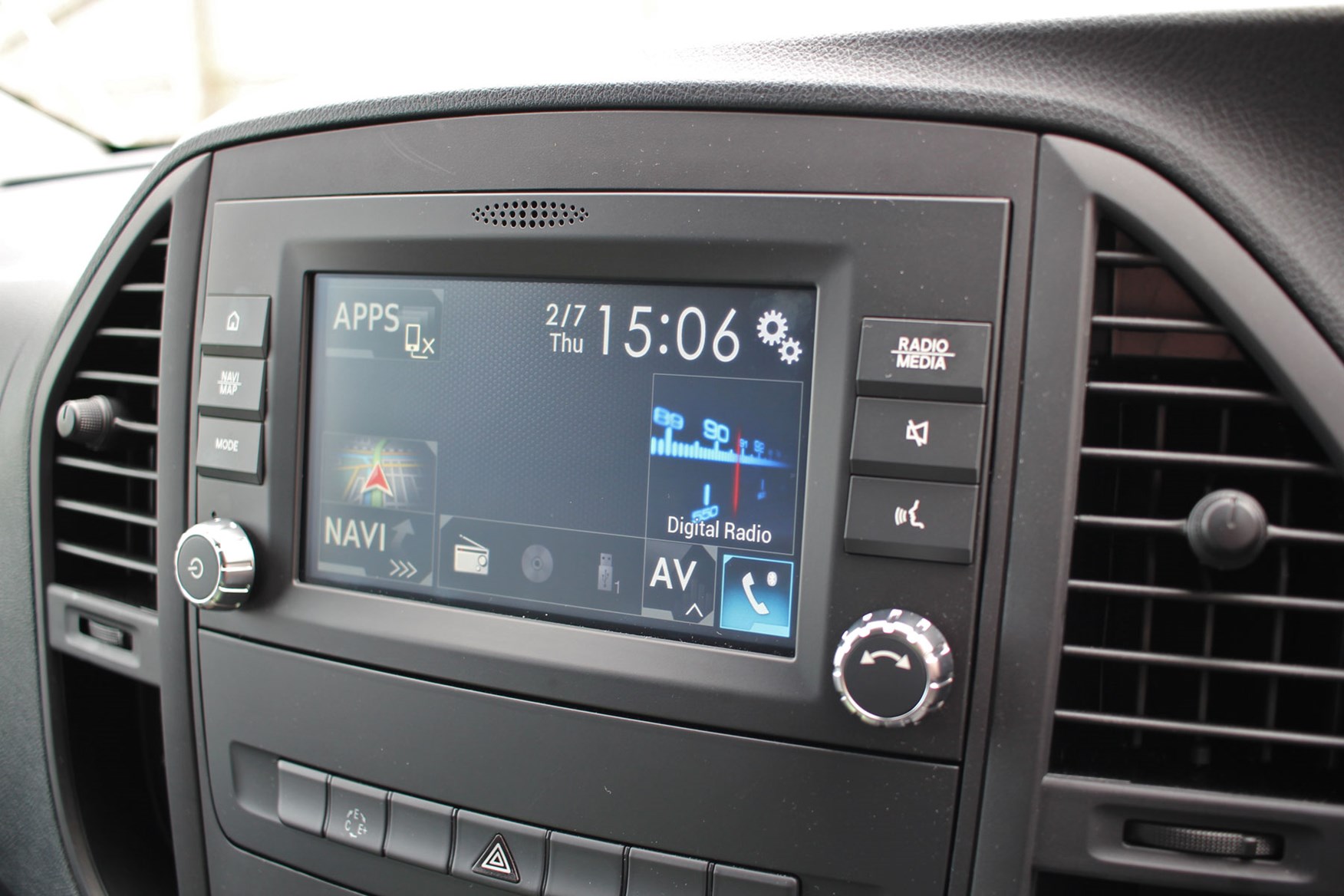 However, following upgrades in November 2020, which saw the trim levels change to Progressive and Plus Package (Pure being discontinued), the standard infotainment is now called the Audio 30.
While we've not tested this yet, it does include DAB, Android Auto and Apple CarPlay for no extra charge. You also get a reversing camera. Which is nice, and possibly even handy.
Low day-to-day running costs
Cheaper servicing
Missing some key items of standard equipment
While electric vans are more expensive to buy than equivalent diesel vans, they are cheaper to run and cheaper to service.
How much does it cost to charge the Mercedes eVito?
Charging costs for the eVito are going to vary with your electricity tariff or the type of public charger you are able to use. But to give you an idea, we charged the van on a domestic tariff with a unit cost of just under 13p per kW (kilowatt) and were able to measure the exact amount of electricity it required via a dedicated meter.
The maths shows the eVito costing just 3.8p per mile on this basis – which is considerably less than you can expect from a diesel model. Perhaps even half as much.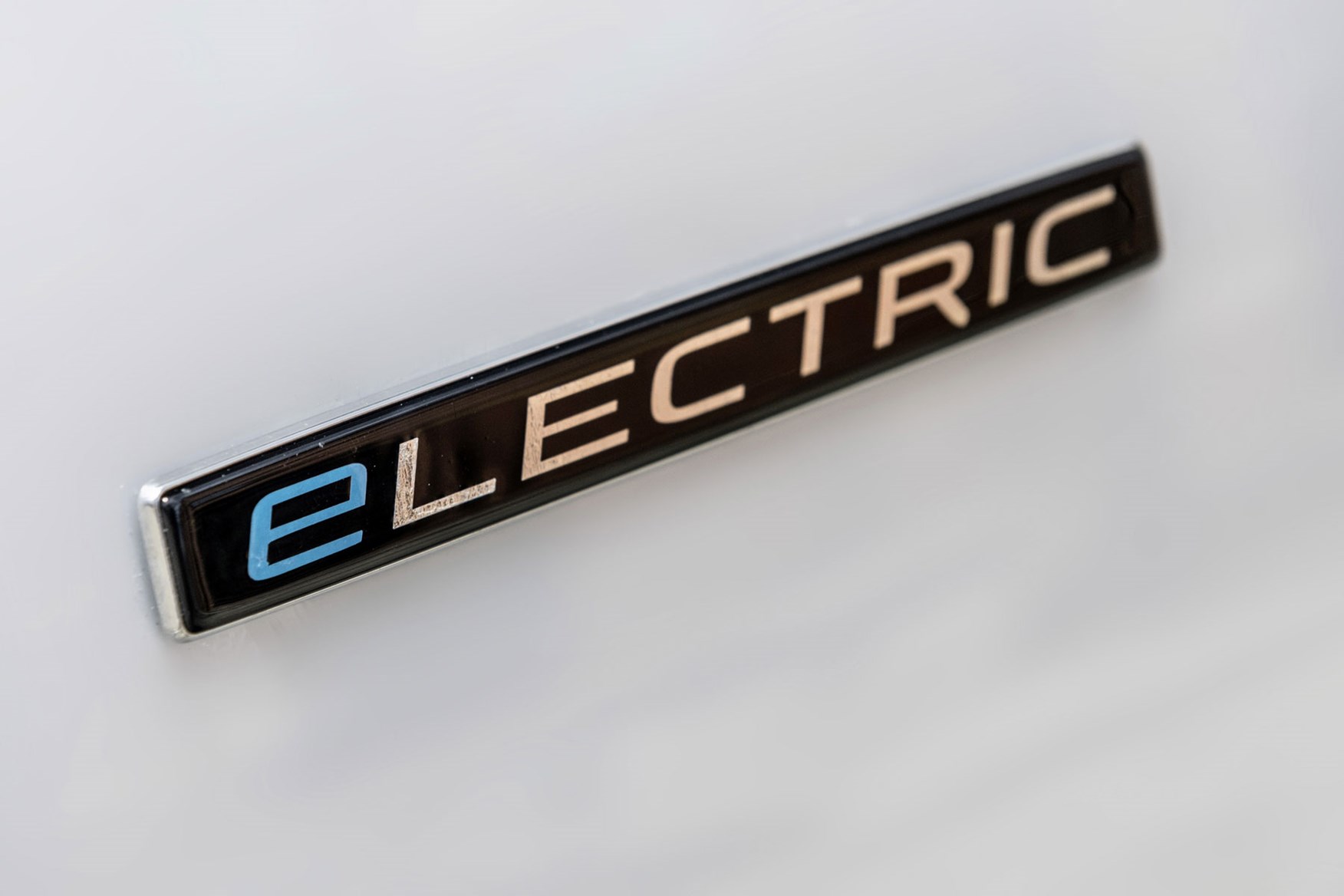 One slight thing to consider is that the charging port on the panel van is located under what used to be the fuel filler-flap, which means it's behind the door on the passenger side on right-hand drive vehicles. This sometimes makes plugging in the van more difficult than it would be with a charging port in the nose.
Mercedes is able to supply an excellent, self-coiling cable, though, which takes up little room and is easier to put away than those supplied by other electric van makers.
Are electric vans cheap to tax?
Electric vans are currently cheap to tax – there are no road tax (VED) or company car tax (benefit-in-kind or BiK) charges.
Plus the eVito is exempt from the London Congestion Charge, and should be allowed to enter other low and ultra-low emissions zones (ULEZ) that may start springing up around the UK without cost.
Mercedes-Benz eVito servicing
Servicing should be cheaper – and is cheaper, according to Mercedes – because there are fewer moving parts and fewer fluids to change.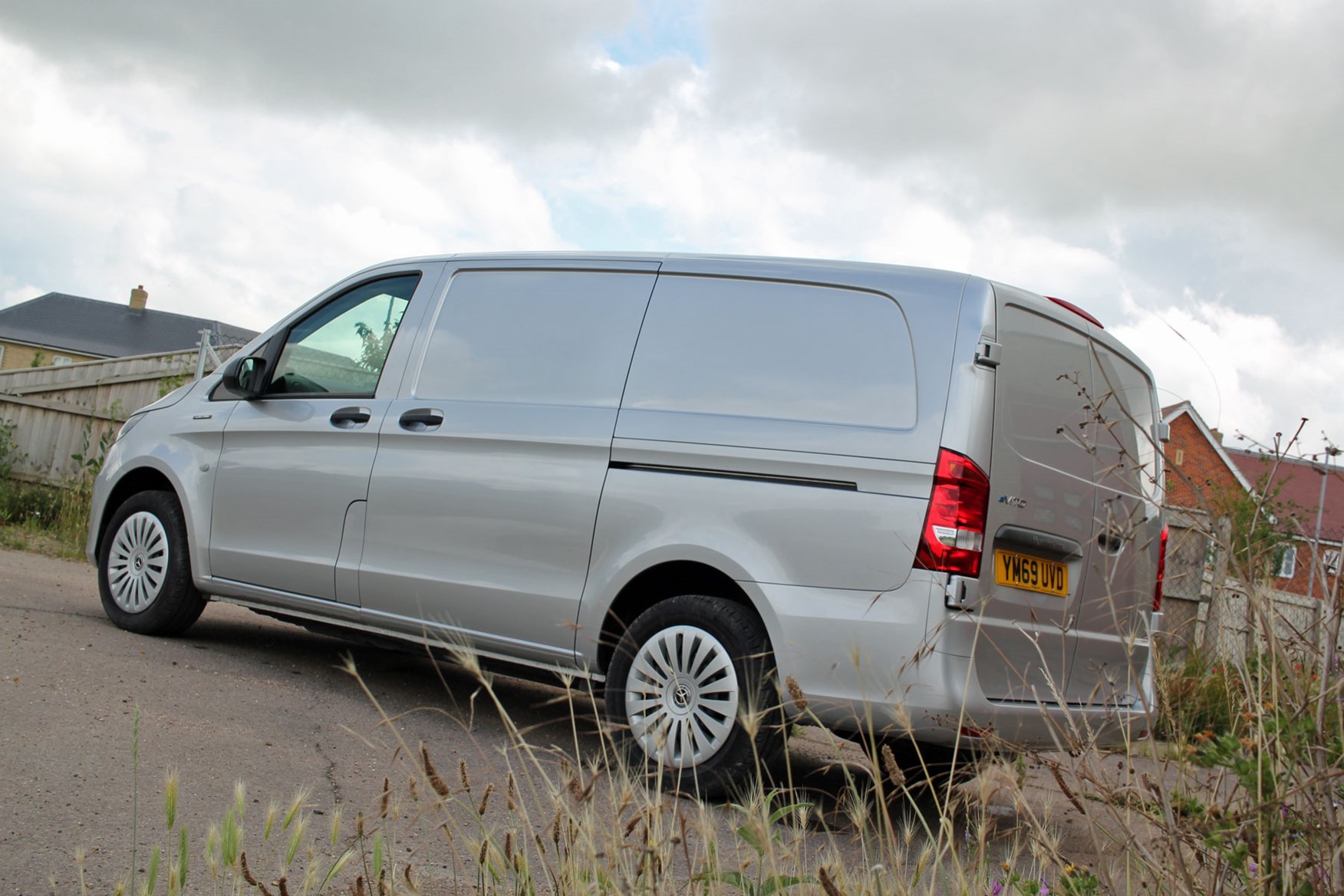 Mercedes says the eVito requires servicing 'once a year', but that's on the understanding you probably aren't going to do mega miles in one of these. If you do, you'll need to visit your nearest Mercedes Van Centre more regularly, the same as with any other van.
Mercedes-Benz eVito warranty
The eVito has the same three-year, unlimited mileage warranty as all Mercedes vans.
The warranty for the electric drive battery pack, however, is eight years or 100,000km – that's around 62,000 miles. This guarantees that the battery will still have 70% capacity at the end of this period. As with all lithium-ion batteries, performance does degrade over time, but we wouldn't expect there to be major issues until it's much more thoroughly used than that.
Mercedes-Benz eVito standard equipment
The eVito comes in two trim levels in the UK. Originally these were the Pure and Progressive models, but in November 2020 Mercedes changed things around a bit, dropping the entry-level Pure and adding a higher-specification Plus Package above Progressive.
This wasn't quite as straight-forward as its sounds, as standard equipment tweaks mean Progressive gains some items but loses others in the process...
These are the current standard equipment highlights at the time of writing (December 2020):
Mercedes-Benz eVito Progressive standard equipment highlights:
Height and reach adjustable steering wheel
Audio 30 infotainment system with DAB, Apple CarPlay and Android Auto
Reversing camera
Air-conditioning
Communications module for online services including Mercedes Pro Connect
Heated driver's seat with eight-way adjustment and lumbar support
Dual passenger seat
Full bulkhead partition
Interior panelling in load area
Wooden load area floor
Twin sliding side doors
Automatic headlights
Aerodynamic underbody panelling
Electric, heated door mirrors
Type 2 charging cable
17-inch wheels
Double locks
Thatcham Category 1 alarm
Items in bold above represent upgrades over the original Progressive trim level.
Mercedes-Benz eVito Plus Package standard equipment highlights (in addition to Progressive):
75mph speed limiter
Colour-coded bumpers
Electrically folding door mirrors
17-inch wheels with full covers
Parktronic parking sensor display
All but the Parktronic gear was previously part of the Progressive specification - but we'd happily trade the painted bumpers for DAB radio and an alarm system, so think that's fair enough - especially as the entry-level cost of the Progressive spec was reduced at the same time.
It's a little early to gauge the eVito's reliability in the UK. But as highlighted when discussing the servicing costs above, there are fewer moving parts in an electric van, so theoretically fewer things to go wrong. You shouldn't even use brake pads as fast if you make the most of the braking function built into the drive system.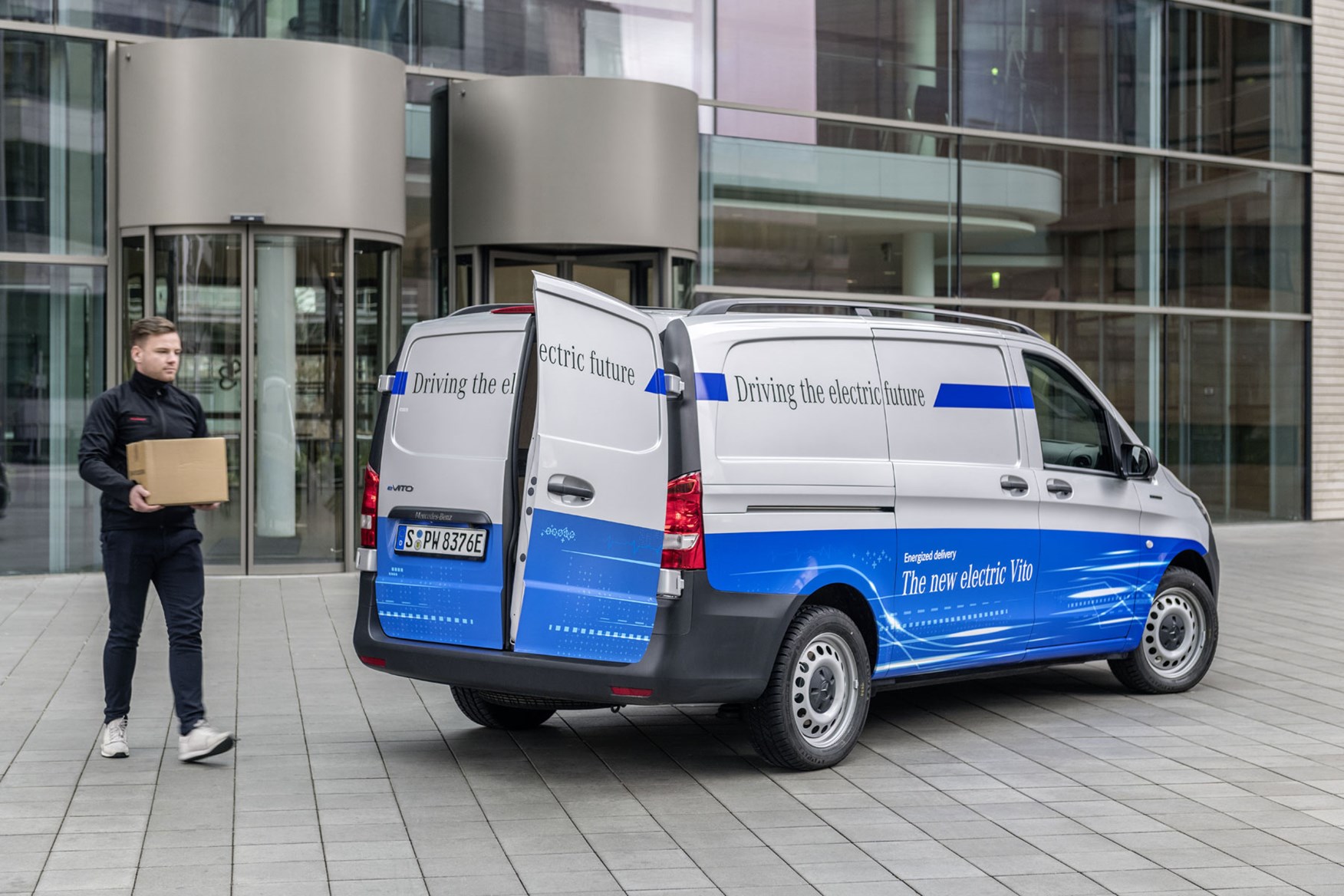 The batteries are guaranteed to maintain 70% capacity for eight years or 62,000 miles. They're also fitted in three packs that can be replaced individually, should they become damaged.
MobiloVan roadside assistance
All new Mercedes Vans come with MobiloVan roadside assistance, which is free for up to 30 years (!) as long as the van is serviced by a Mercedes dealer.
Limited safety kit
Alarm only optional
Safe to say (pun intended), the eVito could do better in this area.
Mercedes-Benz eVito safety equipment
Safety kit for the eVito is on the more basic side for a modern van. You get electronic stability control, hill-start assist and tyre pressure monitors, plus two airbags.
There are no active safety aids such as autonomous emergency braking (AEB), even on the options list.
Mercedes-Benz eVito security
As for security, all versions of the eVito are fitted with a CanTrack tracking module and are compatible with Mercedes Pro Connect - and you get a three-year subscription to this as part of the package.
This smartphone app can allow you to check the security status of the vehicle, lock it (and unlock it) remotely, find its location and geofence it so you get an alert if it travels out of (or into) a set area.
From the November 2020 upgrade, an alarm system is standard, too - though this was only available as an optional extra on earlier models.
Which Mercedes-Benz Vito eVito is best for me?
With the eVito it's not so much a case of which version is best for you – there aren't many to choose from – but whether an electric van is right for you.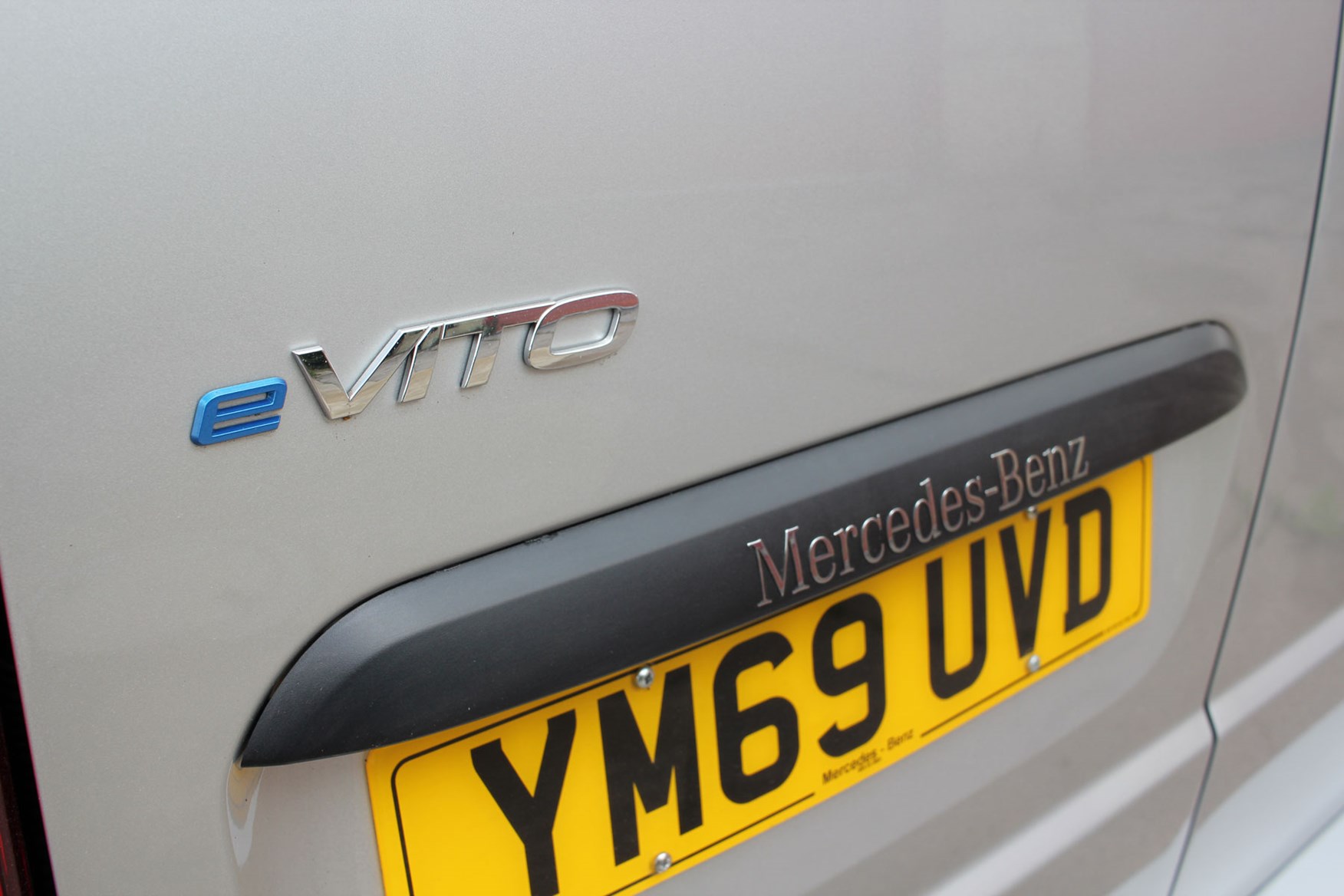 To try and help with this, the Mercedes eVan Ready app can be installed on drivers' smartphones before you buy. This logs every journey, including all the stops for deliveries, giving a clear insight into how many trips could have been covered by an eVito.
Mercedes can even advise on how best to future-proof a depot parking lot with charging points for electric vans.
Electric vans aren't for everyone, but that somewhat misses the point. What's important here is that the eVito adds an efficient, zero-emissions alternative to the medium-size Mercedes van mix that will suit plenty of van operators who predominantly work in urban environments.
Also read:
>> The Parkers guide to electric vans
>> The best electric vans you can buy now