Mitsubishi Shogun Sport Commercial 4x4 van review (2021)
It's a van based on a car based on a pickup – and very well equipped as standard
PROS
Lots of creature comforts as standard
Well-equipped for off-road work
Better to drive than an L200 pickup
Larger inside than an Outlander van
Doesn't look like a commercial vehicle
CONS
Quite expensive to buy
Even the claimed mpg is poor
12,500-mile service intervals
Warranty mileage not that high
Other commercial 4x4s drive better
Summary
The Mitsubishi Shogun Sport Commercial is a commercial 4x4 van version of the largest model in Mitsubishi's current SUV range. This means that in place of the usual rear seats there's a custom-built load platform that ends in a steel bulkhead behind the driver and front passenger. This 2021 Mitsubishi Shogun Sport review will take you through all the pros and cons.
On sale since 2019, this is a smart-looking thing and comes loaded with standard kit as it's based on the range-topping Shogun Sport 4 specification, offering buyers a lot more car-like luxury than most traditional vans.
It also comes with a five-year warranty.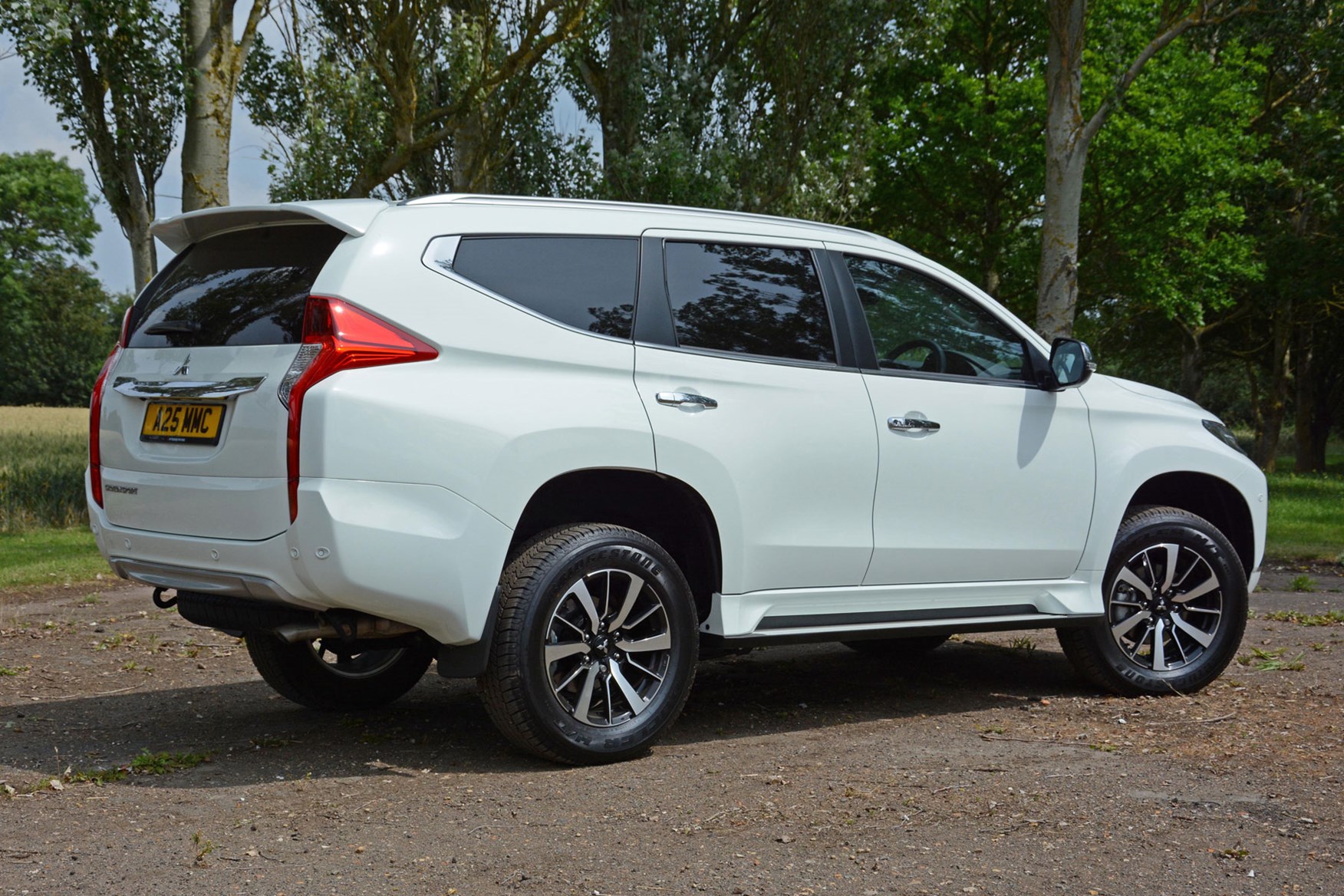 However, it provides a lot less load area and payload capacity than a conventional van, and may not be as sophisticated to drive as you were hoping.
Buyers should also be aware that Mitsubishi is exiting the UK market in autumn 2021. This should not make any difference to warranty coverage, servicing or parts, as UK importer the Colt Car Company will still be operating, as will most of the existing dealer network.
A van based on a car based on a pickup
The Shogun Sport is not based on a modern-style SUV structure, but actually uses the same fundamental chassis as the Mitsubishi L200 pickup truck – which makes it rather old school by the latest standards, as the chassis and the body are separate elements bolted together instead of being built as one.
This is good news for strength-related tasks, such as towing and off-roading, but not so good for on-road handling and refinement.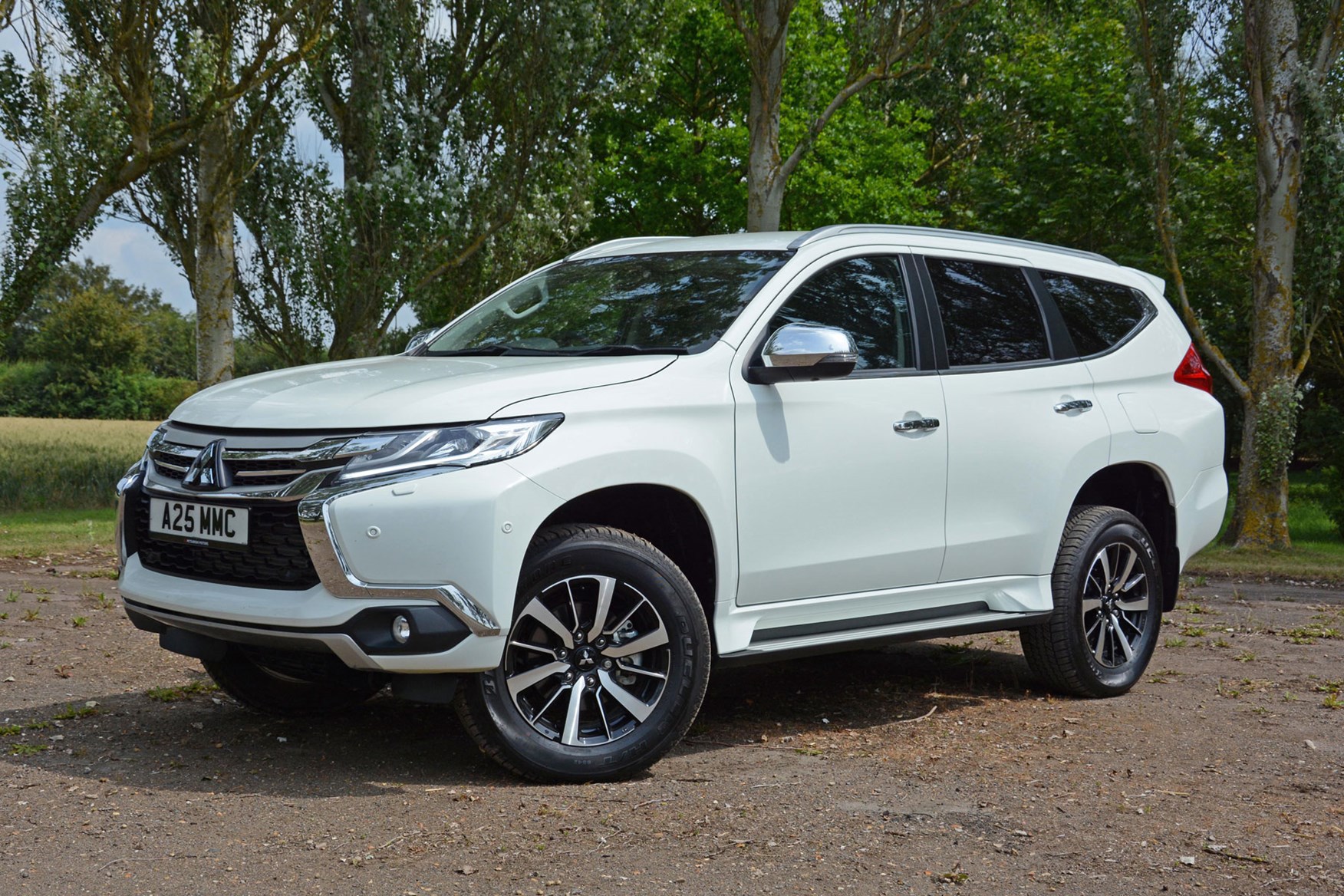 To be clear, it's not exactly the same chassis as the L200 – the rear suspension is upgraded to coil springs over the pickup's leaf spring arrangement. But compared with Mitsubishi's own Outlander SUV, which is also available as a commercial 4x4 variant, it's not quite as car-like to drive.
Similarly, while the Outlander has a very clever petrol-electric plug-in hybrid (PHEV) powertrain, the Shogun Sport makes do with an ordinary diesel engine.
Engine and transmission
The Shogun Sport may not have the ability to run on electric power for a few miles, but unless your business is mostly short journeys there's a good chance you're better off with a diesel anyway – the Outlander PHEV commercial only really makes sense if you can make the most of its electric range, and that means charging it on a regular basis.
The diesel fitted here is similar to the one in the L200 – an all-aluminium 2.4-litre with variable valve timing and a variable geometry turbocharger, it produces 181hp and 430Nm of torque.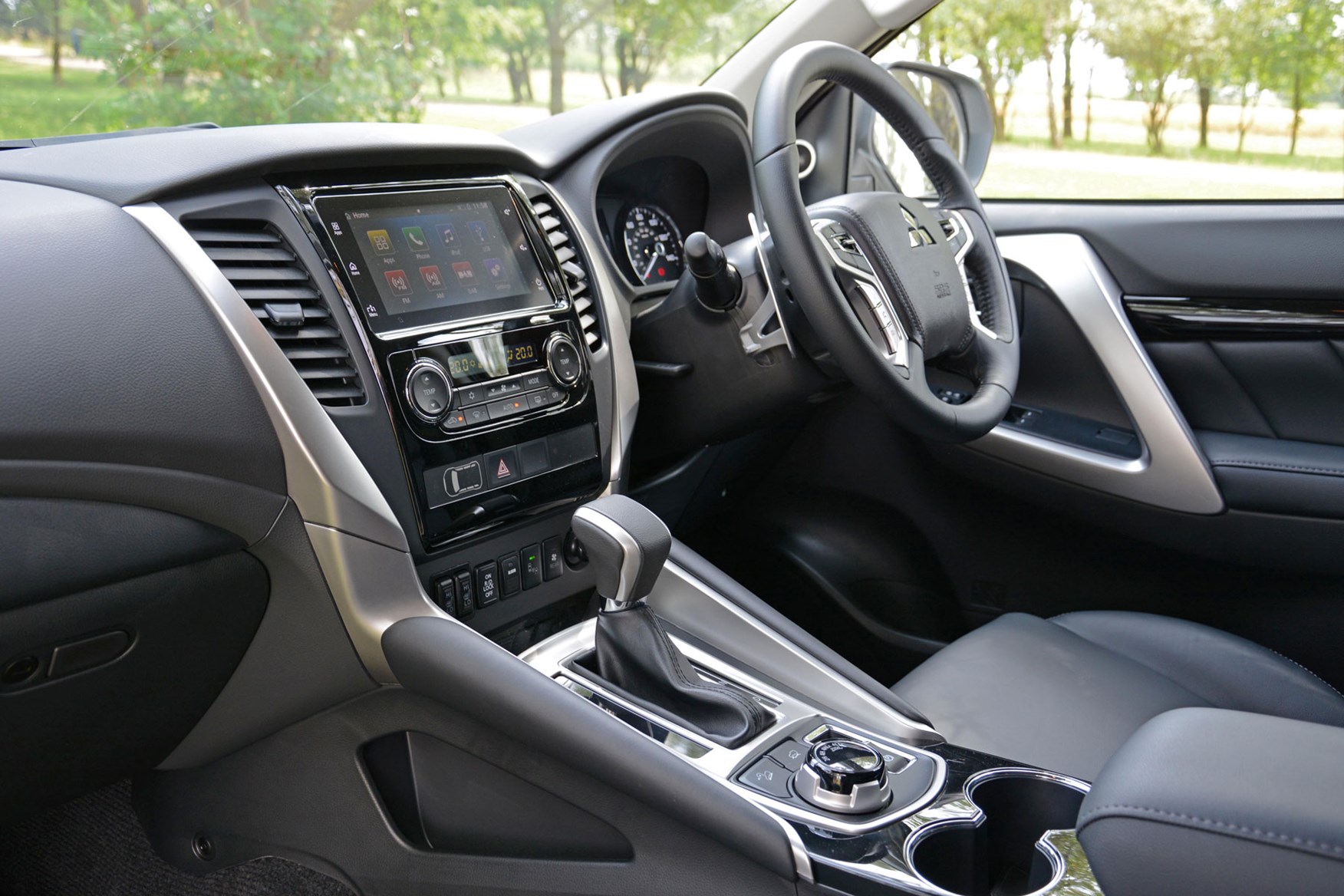 In the Shogun Sport, however, it comes as standard with an eight-speed automatic transmission (the contemporary L200 makes do with a five-speed auto), boosting fuel economy and reducing noise.
This is paired with Super Select II all-wheel drive, which can be switched from two-wheel drive to four-wheel drive on the move.
Mitsubishi Shogun Sport rivals
There's been a resurgence in commercial 4x4s over the last few years, as a number of vehicle manufacturers look to plug the gap left by the death of the old Land Rover Defender.
Mitsubishi at one point had three on its books – this Shogun Sport, the Outlander and the regular Shogun. Though it's taken such a long time for the Shogun Sport Commercial to go on sale (having originally debuted at the 2018 Commercial Vehicles Show) that it effectively replaces the Shogun.
Compared with the Outlander, the Shogun Sport is larger and has a higher payload, but also a slightly greater asking price (once the Outlander's electric vehicle government grant is taken into account).
Non-Mitsubishi rivals include the Toyota Land Cruiser Commercial (which is great fun and very capable but basic inside) and the Land Rover Discovery Commercial (which is flash but very expensive).
The Land Rover Defender Hard Top is a commercial 4x4 version of the new Defender, on sale in 2021.
---
Mitsubishi Shogun Sport Commercial verdict
This is undoubtedly a niche product, but you shouldn't be put off by some of the overly negative press the car version of the Shogun Sport has received. In van terms, this is exceptionally well equipped, comfortable and a definite upgrade over the L200 to drive.
But it's obviously not as practical as a conventional van or pickup, vans especially, given how far the load area is from the ground. Payload is limited to 605kg, and it's not an inexpensive purchase – though it can tow up to 3,100kg, which is impressive.
As such, it's best suited to buyers and businesses that don't want to advertise they're driving a commercial vehicle and don't need to carry particularly heavy equipment, but do perhaps want a little off-road ability and a nicer cab with extra standard kit.
We'd be very tempted to see if an Outlander Commercial would do the job, though - as while this is slightly smaller, it's better to drive on road, has outstanding eco credentials (increasingly important for business) and costs a little bit less to buy.
Skip to our full verdict on...
More comfortable than a pickup
But not as comfortable as a car
Lots of 4x4 hardware and tech
Surely one of the main reasons for buying a commercial vehicle that's based on a passenger car is that it should be nicer to drive than a purpose-built van. So how does the commercial version of a car based on a pickup fair?
Better to drive than an L200
First things first, the Shogun Sport is much less jittery and bouncy to drive than an unladen pickup truck – the changes to the rear suspension design have certainly calmed things down, and you're not likely to finish a journey feeling like you've been through a washing machine's spin cycle, no matter how poor the road surfaces.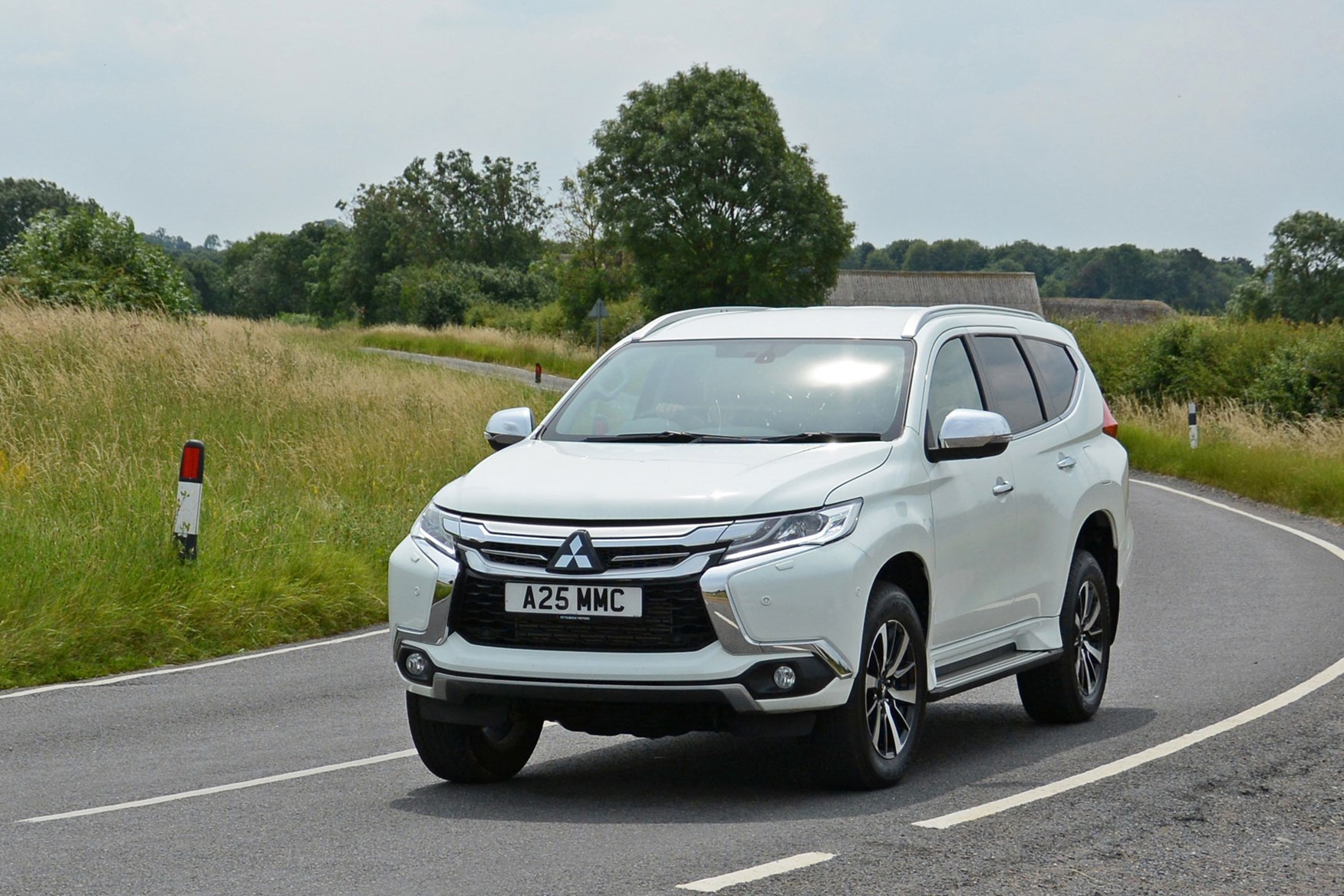 However, it is not as comfortable and compliant as purpose-built SUVs, including the Mitsubishi Outlander Commercial. Bumps are still felt as more than one movement through the chassis, the light steering lacks feel, and there's still quite a bit of body roll in the corners as well – enough that you'll think twice about really throwing the Shogun Sport into turns with abandon.
That said, some testers here still prefer the way the Shogun Sport drives to the Toyota Land Cruiser Commercial, which is less polished still, and there's little about the Mitsubishi that's actually offensive. It just feels a little rough and ready compared with most modern vehicles.
Powerful engine, responsive gearbox
Putting the slightly old-fashioned steering and suspension sensations to one side, we've no major complaints about the engine or the eight-speed automatic gearbox.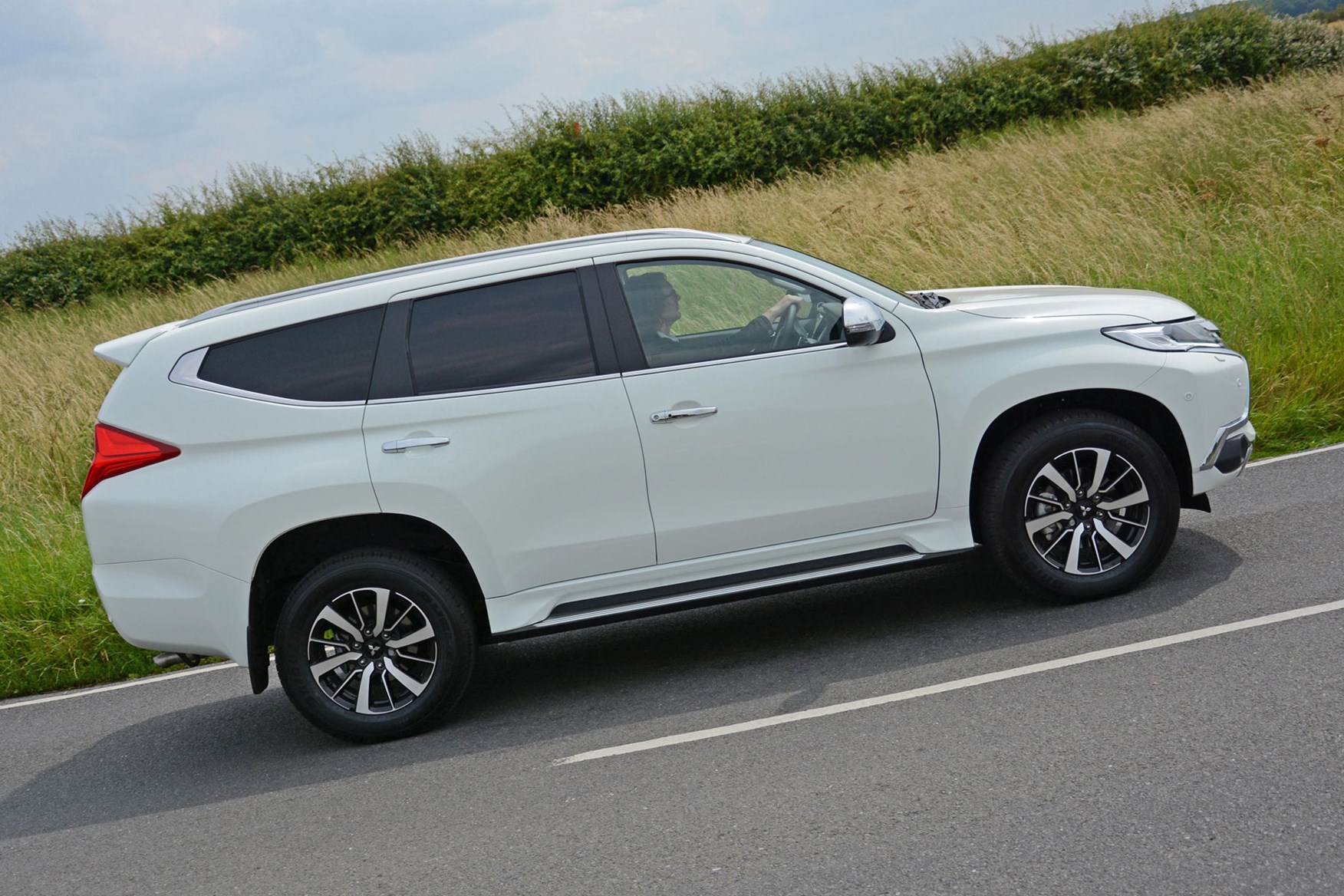 With 181hp and 430Nm, the engine is powerful enough to deliver satisfying performance whether you're pounding motorways or green lanes, and although the sheer number of gears takes some getting used to, the transmission is quick to respond both automatically and to manual command.
Noise and vibration are well suppressed, and though you will hear the engine if you rev it hard (especially when cold) it's never so vocal that it would put us off the vehicle altogether. Certainly, at motorway speeds you're more likely to be troubled by road noise, and there's not a great deal of that.
Four-wheel drive with Terrain Control System
The Shogun Sport is fitted with Mitsubishi's Super Select II four-wheel drive system, which has four standard settings plus four additional driving modes.
The four-wheel drive settings are:
2H – rear-wheel drive only, for most efficient on-road driving
4H – regular four-wheel drive, split 40:60 in favour of the rear wheels, selectable on the move at speeds up to 62mph
4HLc – this locks the centre differential, suitable for use on particularly slippery surfaces such as snow, or 'high-drag' surfaces such as sand
4LLc – low ratio with centre differential lock, used to maximise traction and control
In the 4HLc and 4LLc modes you can also lock the rear differential via a button on the dashboard. This forces the vehicle to split power evenly between the two rear wheels for even greater drive traction. This is only supposed to be used off road…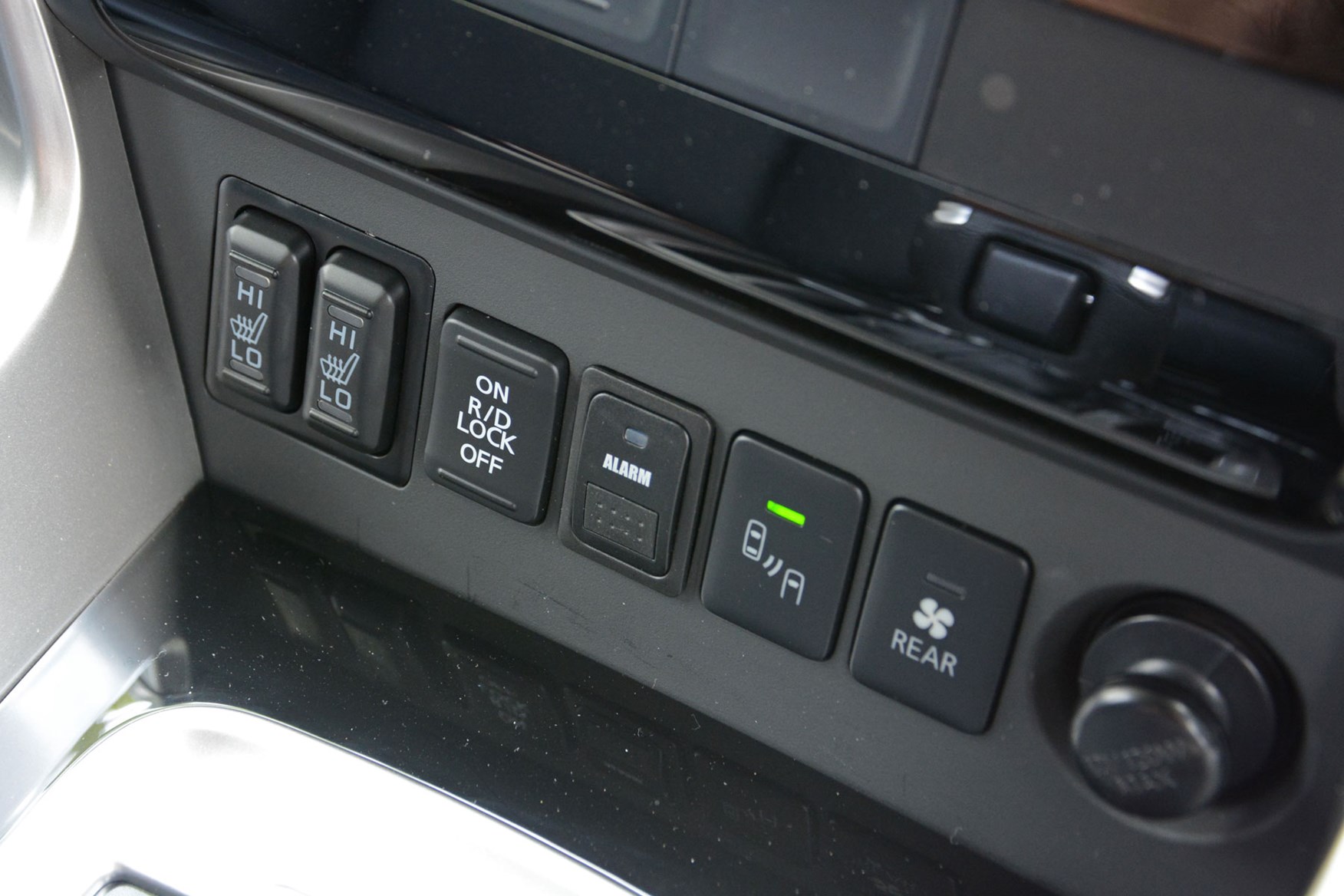 Helping make off-roading easier still, the Shogun Sport is the first Mitsubishi to come with a new Terrain Control System; similar to the electronically activated traction management systems used by Land Rover and others for a while now, this offers the following additional driving modes:
Gravel – controls wheel slip on loose surfaces to aid grip and cornering stability
Mud/snow – not just about traction but maintaining momentum, which is important on really slippery surfaces where if you slow too much you'll get stuck; softens accelerator response to avoid wheel spin
Sand – uses the differentials and a special shift pattern in the automatic gearbox to keep up momentum on soft surfaces; works at low and high speeds
Rock – all about low speed control, so changes the shift pattern to focus on lower gears and acts to halt wheel spin on steep slopes and occasions when a wheel may be off the ground
Even with the adoption of multi-link rear suspension in place of the L200's leaf springs, the Shogun Sport can't match the suspension articulation available from some particularly off-road orientated SUVs. So while all the above technology means you'll have to try quite hard to get it stuck, it's not going to be absolutely unstoppable.
That said, with a 700mm wading depth, it ought to cope with anything the UK's weather can throw at it, even in the most remote areas. So as a multipurpose, multi-surface vehicle for, say, support engineers, it should certainly prove capable.
Vast amount of standard equipment
Easy to drive, plenty of adjustment
Material quality could be higher but seems well built
Another major reason for considering a commercial 4x4 over a conventional van or pickup is a nicer passenger compartment – and although you can see the bones of the L200 at work inside the Shogun Sport, this SUV-based model is a generally a nicer place to be.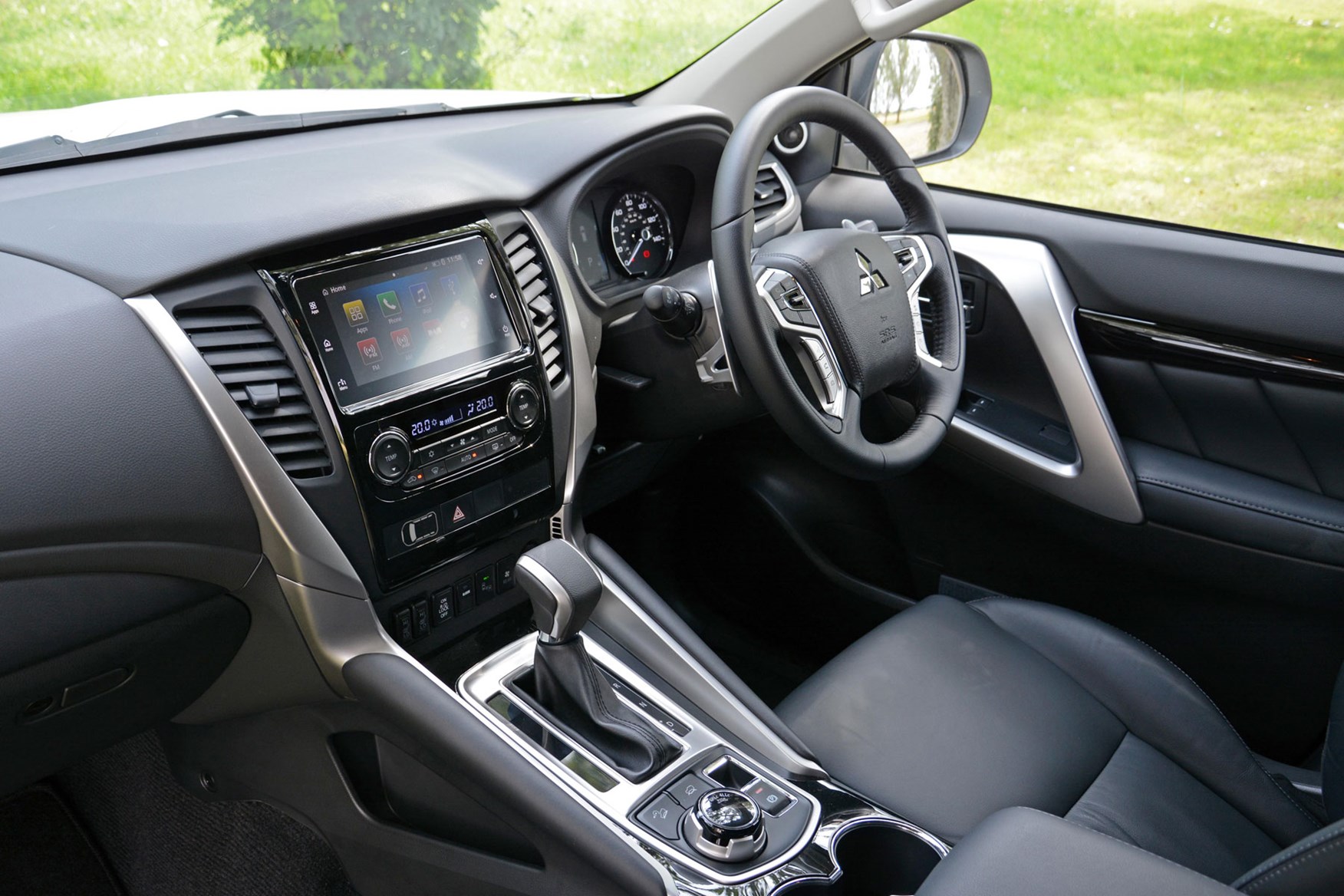 It also comes absolutely loaded with equipment.
Driving position and visibility
Forward visibility is fine - we had no trouble positioning the Shogun Sport on the road, despite the long bonnet.
The bulkhead behind the front seats is part mesh, which means you can still see out of the rear window – though the rear side windows are completely blacked out, so it is like looking back through a tunnel.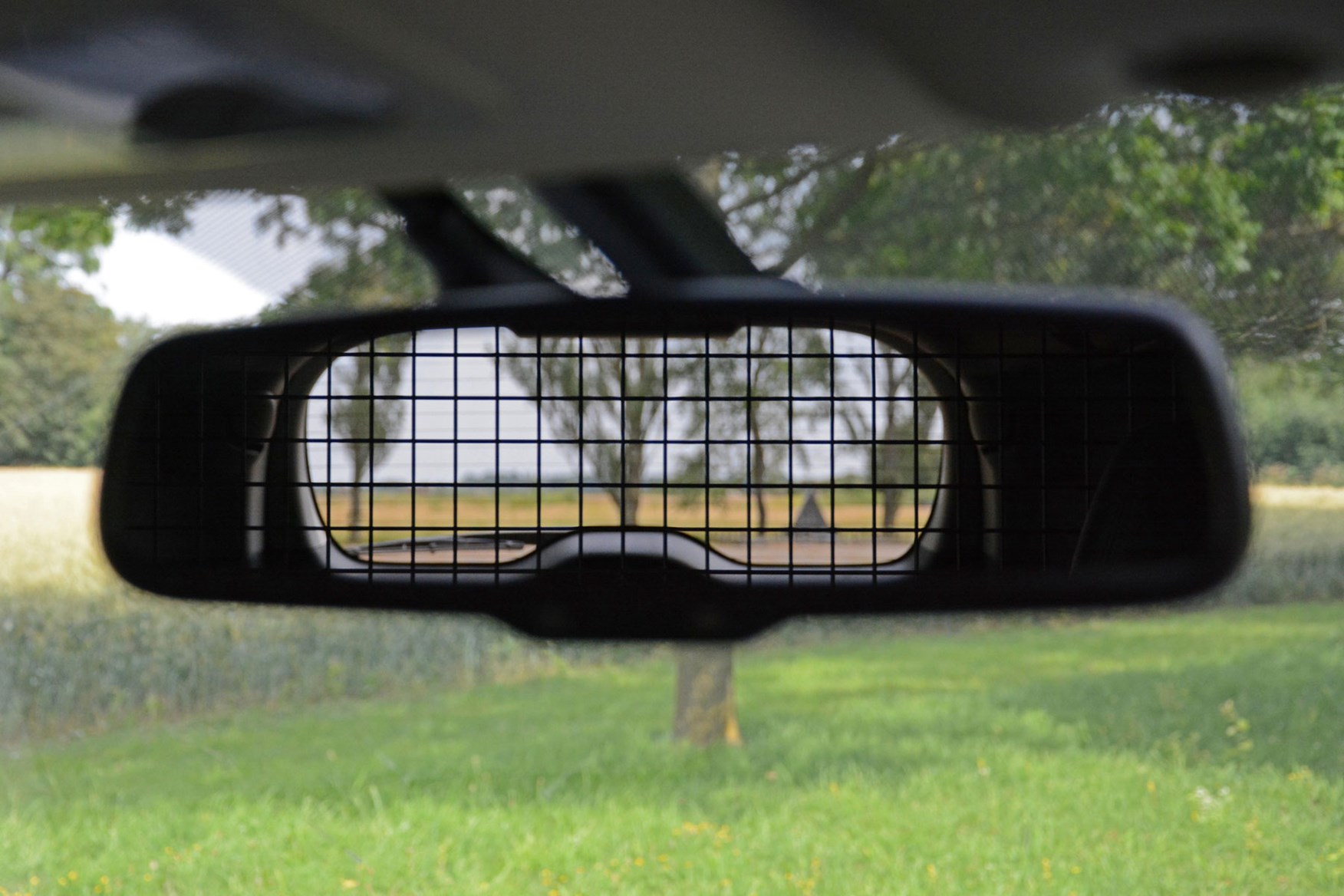 No problem if you're used to driving a van (even if the Shogun Sport doesn't have particularly large door mirrors), but might take a bit of getting used to if you're coming to one of these from a car, as there's no looking over your shoulders to check your blindspots.
Not that this is an issue, since blindspot monitors are fitted as standard.
We had no problems with the driving position, which is more car-like than van-like. The steering wheel adjusts for reach and rake, and there are paddelshifters for the automatic gearbox fixed to the column. The seats are power-adjustable. Very fancy.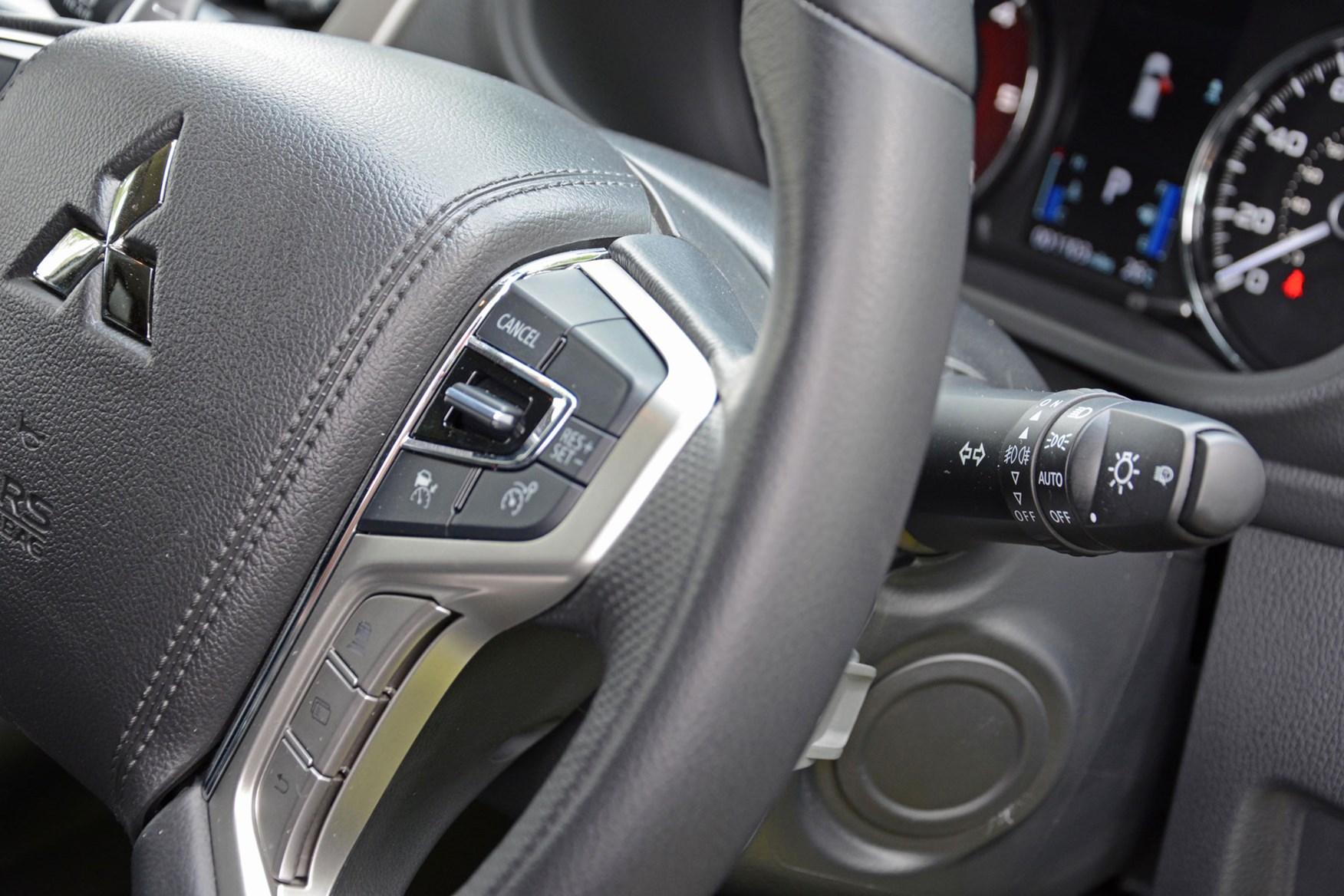 However there is one thing about driving the L200 that takes a bit of getting used to, and that's the indicator and windscreen wiper stalks being the opposite way round to nearly everything else on sale, including the L200.
Not a big deal, as you get used to it quickly. But if you're always swapping between vehicles it is probably going to be rather irritating.
Equipment and quality
There is no shortage of kit inside the Shogun Sport, with a large touchscreen dominating the centre console, parking sensors all around, and a reversing camera that's supplemented by a bird's eye view 360-degree camera system – something LCV drivers usually only see on high-end pickups.
The screen is Mitsubishi's latest Smartphone Link Display Audio (SDA) system, with Apple CarPlay, Android Auto and 510w of amplification, so the DAB radio sounds pretty good as well.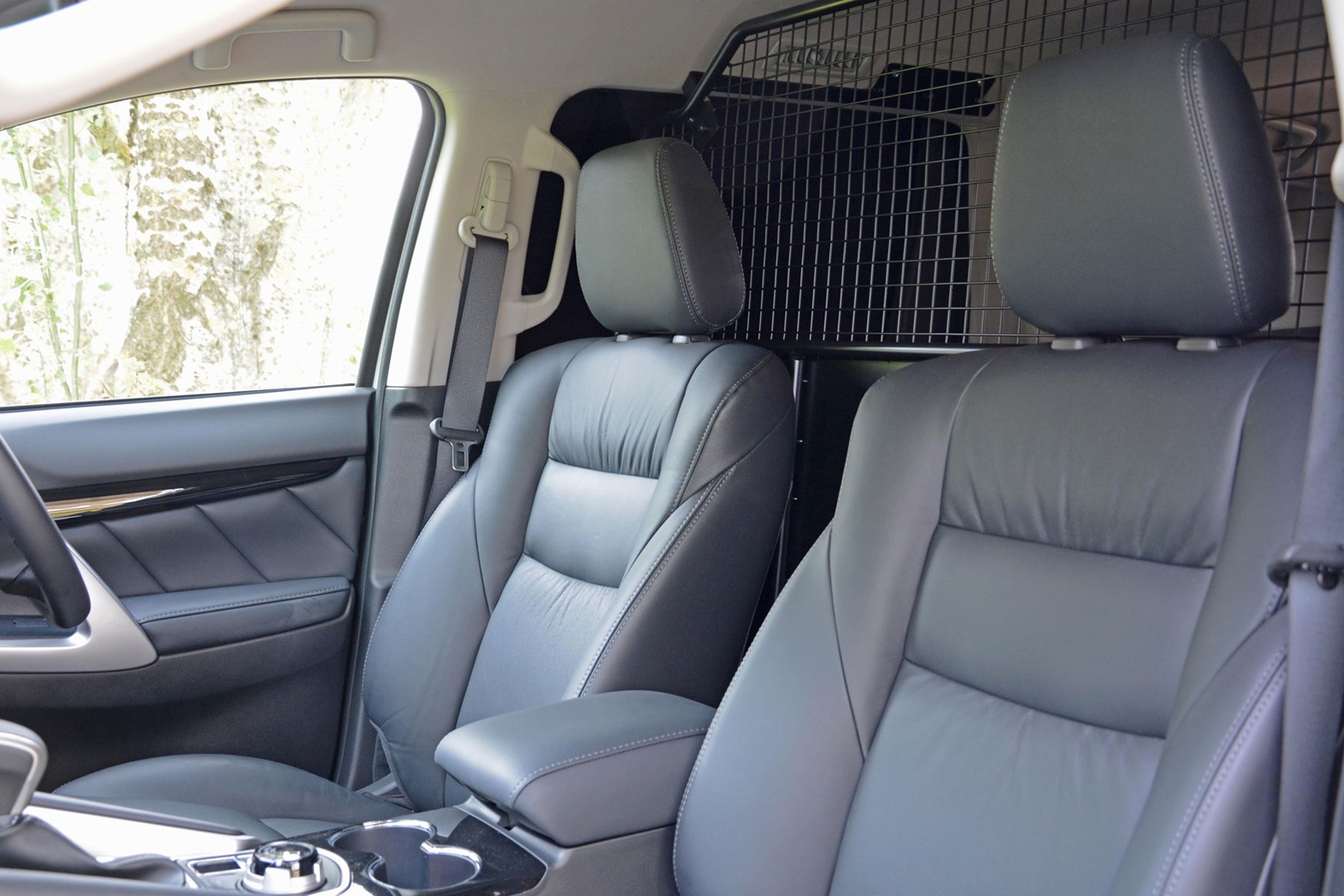 Other highlights include leather seats, dual-zone climate control, automatic lights, automatic wipers and active cruise control; full details are in the costs and value section of this review.
Quality is more acceptable than impressive, with some hard plastics in places. It's a step up from the L200, though, and much more homely than the Land Cruiser Commercial.
Load area
Removing the rear seats, Mitsubishi has replaced them with a simple load platform, finished with carpet rather than the hardwearing rubber you get in the Outlander Commercial – which is an interesting decision, but at least means you don't get any strong rubber smells in the cab.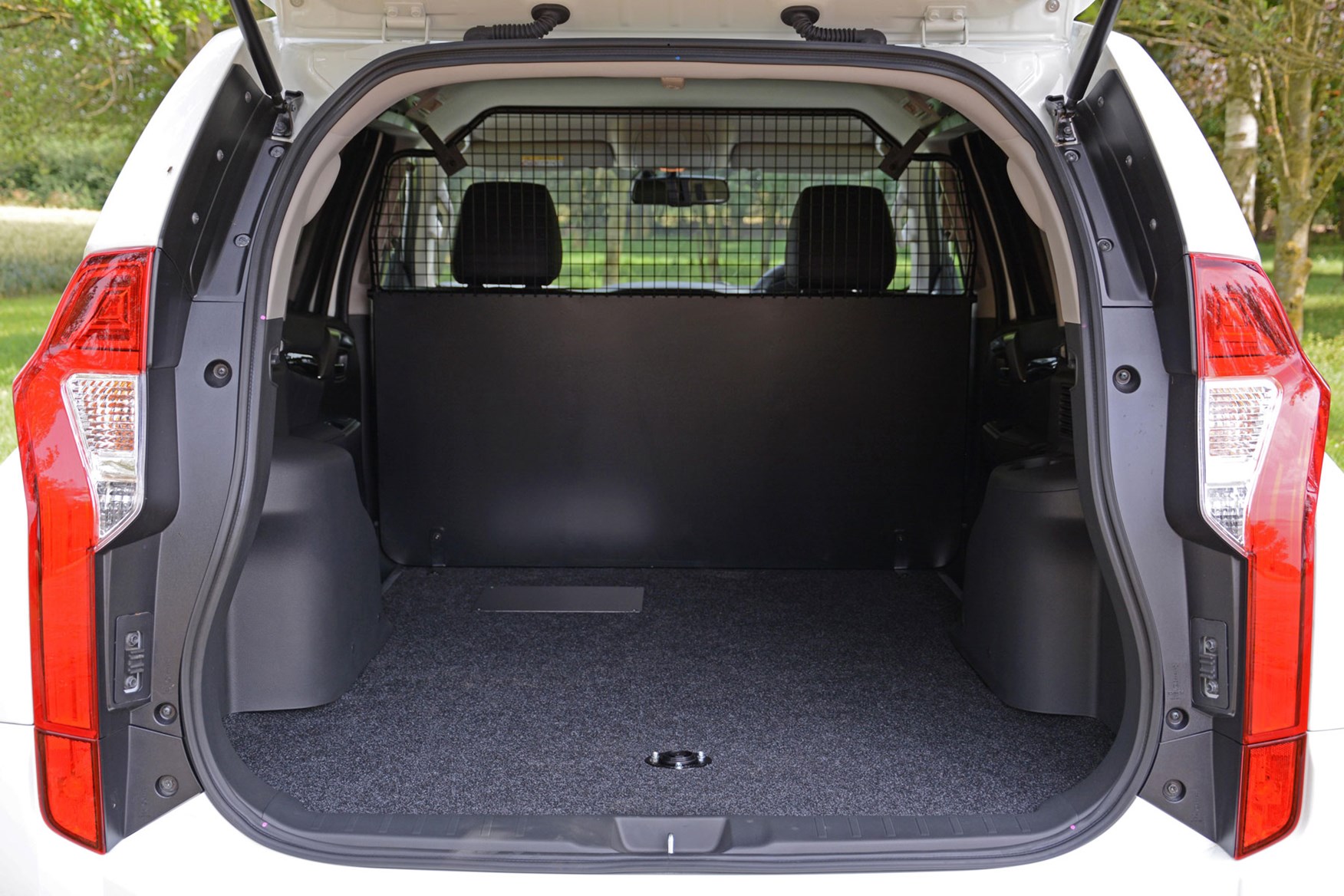 The way that the carpet on the load platform is aligned in the opposite direction to the carpet on the floor does rather trigger our OCD, though. The load area floor also has a couple of weird intrusions, in the form of a metal plate towards the front and a large bolt (for the spare wheel) towards the back, making sliding things in a little trickier than you might have expected.
Not cheap to buy – or run
But you do get a five-year warranty
Vast amount of standard equipment
While the list price is quite hefty – more than the high-tech Outlander PHEV commercial, once the government grant for that vehicle's electric drive is taken into account – the level of standard equipment goes a long way towards justifying it here.
And you do get a five-year warranty.
Just don't expect the Shogun Sport Commercial to be particularly cheap to run.
Mitsubishi Shogun Sport Commercial mpg
The official claimed fuel economy figure for this commercial 4x4 is 32.8mpg – which is pretty poor by modern standards, even with four-wheel drive.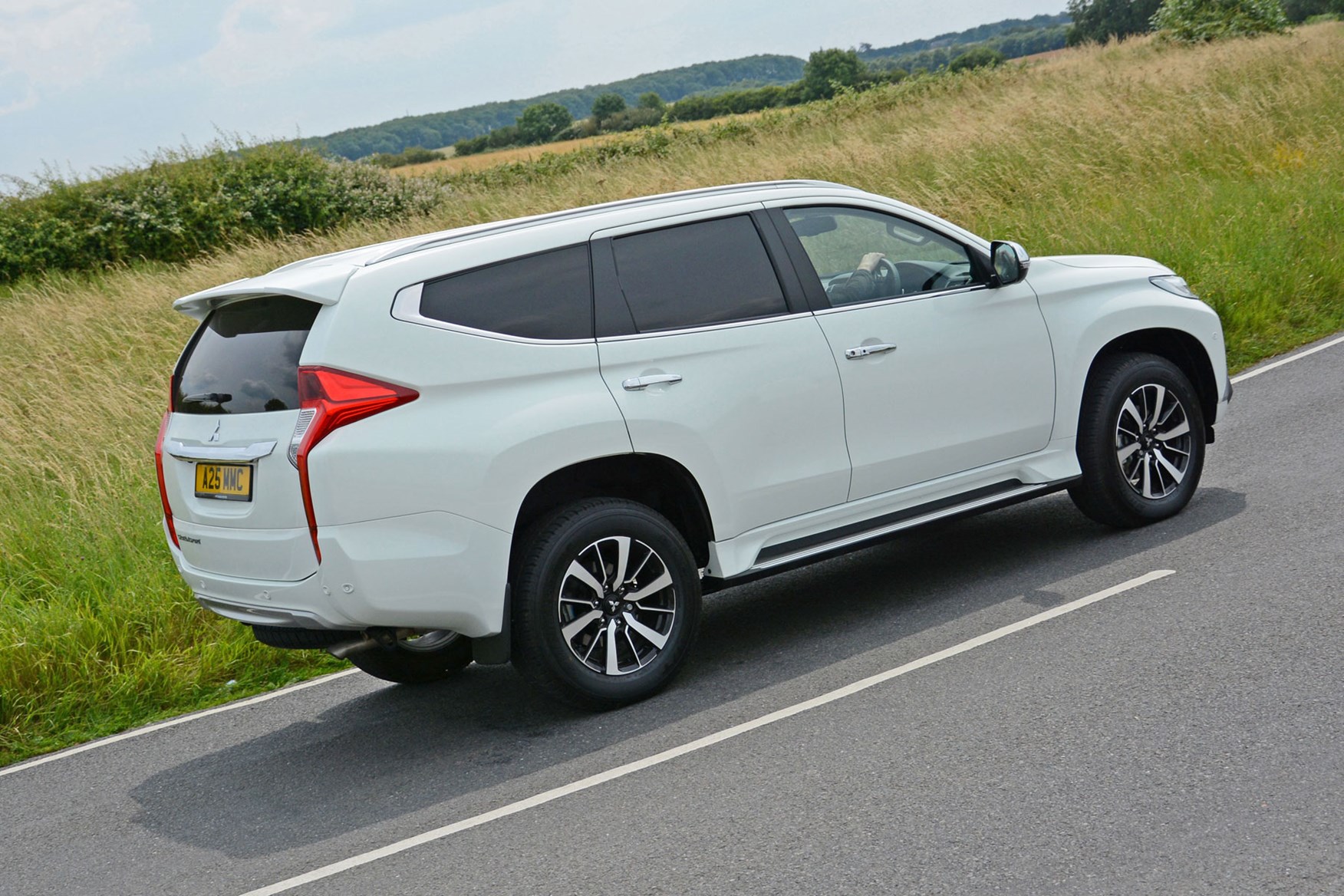 Remember, too, that this is the official figure, which typically works out rather optimistic compared with real life, where anything close to 30mpg will be a good effort in mixed driving (expect to do better on long journeys, much worse if you're mostly stopping and starting around town).
This disappointment comes despite stop-start technology, and an automatic gearbox that not only has a large number of gears but also a clever idle control system that's supposed to reduce fuel consumption when the Shogun Sport isn't moving.
Mitsubishi Shogun Sport Commercial warranty
This vehicle is covered by a five-year warranty; the first two years are unlimited mileage, the remaining three last until the five years is up or you hit 62,500 miles.
You also get a 12-year anti-perforation warranty, plus three years of roadside recovery that includes Europe as well as the UK.
Mitsubishi Shogun Sport Commercial service intervals
Servicing is another area where the Shogun Sport looks a little out-classed compared with conventional vans, as it will need to see the dealer every 12 months or 12,500 miles, whichever is sooner.
Many pickups – including the L200 – have similar service intervals, however.
Mitsubishi Shogun Sport Commercial standard equipment
The Shogun Sport Commercial comes in only one, very well equipped trim level, based on the Shogun Sport 4 specification of the standard passenger car.
These are the highlight items of equipment (for details of safety equipment see the safety and security section below):
18-inch alloy wheels
Leather upholstery
Heated seats
510w SDA infotainment system with Apple CarPlay and Android Auto
DAB radio
Bluetooth
USB and HDMI connectivity
Three-pin socket
Front and rear parking sensors
Reversing camera
360-degree camera system
Electric folding door mirrors
Adaptive cruise control
LED headlights with washers
Keyless entry and start
Dual-zone climate control
Part-mesh steel bulkhead
Carpeted rear load platform
Blacked out glass rear side windows
Funnily enough, there aren't many optional extras after all that – though you can opt to have the blacked-out glass replaced with steel panels. This will bring extra security at the expense of making it more obvious the vehicle is a van and not a passenger car.
Based on proven engineering – no signs of problems so far
There are no glaring signs of common fault or problems with the Shogun Sport so far – but since the passenger vehicle it's based on only entered the market in 2018 and the commercial version only joined this in 2019, it's still a little early to tell anyway.
The engine and much of the engineering is carried over from the L200 pickup, which is respected for its toughness – so this Mitsubishi should be well up for commercial work in a way that some other converted passenger vehicles may not be.
There have been rare reports of head gasket failures on the L200, however – so make sure you check the coolant level on a regular basis and look out for signs of leaks or radiator failure.
The Shogun Sport does feature different rear suspension, however, which may not be as suited for continuous heavy-duty loading as the simple leaf springs in the L200. That said, the Shogun's payload rating is considerably lower, and we've heard no reports so far of problems in this area.
Autonomous emergency braking and much more as standard
Doesn't look like a van, so may avoid becoming a theft target
Another major plus for car-based commercial vehicles is the high level of standard safety equipment they generally come with – and the Shogun Sport is no exception to this rule.
Mitsubishi Shogun Sport Commercial safety
In addition to the usual stability control systems and more common hill-start assist, this Mitsubishi comes with a Forward Collision Mitigation (a fancy name for autonomous emergency braking), blindspot monitors, adaptive cruise control and something called an Unintended Acceleration Mitigation System.
This last prevents sudden acceleration from a standstill when the vehicle detects there are things to hit nearby, using the front and rear parking sensors and 360-degree cameras to spot them.
On the off-road safety side you'll also find hill descent control, Terrain Control System and the four-wheel drive hardware itself, which includes two differential locks. Trailer Sway Assist is also standard, handy when the Shogun Sport can tow up to 3.1 tonnes.
Mitsubishi Shogun Sport Commercial security
Security kit includes remote locking with an alarm, plus speed sensitive locking that seals you in once you start driving.
Being based on a passenger vehicle means the Shogun Sport Commercial doesn't look obviously like a van, so should prove less of a target for tool and equipment thieves. However, the rear window is clear glass as standard, which means everything inside will be visible.
You could always get this tinted to match the side glass, however. That side glass can be replaced with metal, but you'll lose the stealthy passenger car vibe if you do this.
Which Mitsubishi Shogun Sport (19-21) is best for me?
There is only one version of the Mitsubishi Shogun Sport available, so this becomes more of a question of whether a commercial 4x4 is a suitable choice for your business.
We've touched on this a few times in the review above, but this is really a balance between the additional (mostly driving – especially off-road – and comfort) aspects of the Shogun Sport versus the greater emphasis on practicality you'd get from a true van or pickup.
For details of the load area, payload and other practical characteristics, take a look at our dedicated Shogun Sport Commercial Dimensions page.