Ford Mondeo - first drive
Prices start from £17,295
Cleaner and more frugal engines available
More upmarket feel
The new Mondeo is a premium product and the best part is that it has both substance and style. Some may be blinded by badge snobbery but this new Mondeo has quality written all over it and it is good enough to give its German rivals a few sleepless nights.
The new car has had a little cosmetic surgery on the exterior. The front-end has had a complete overhaul, this includes an enlarged lower grille and a smaller upper grille, while the rear receives new LED tail-lights, an all-new bumper, a reshaped valance and an integrated rear spoiler.
Jump in and you'll see the interior has had a little nip/tuck. There is now a one-piece central console, it is soft to touch and the plastics are of a higher quality.
Ford has also made more technology available on the model that is a favourite for fleets. This kit includes blind-spot alerts, lane-departure steering-wheel vibrators, an alertness assessor, a rear-view camera, automatic headlight dipping speed limiter and LED daytime running lights.
We tested two engines - a high-powered petrol and a diesel unit. Both were very impressive and weigh in at similar company car tax bands. The petrol unit tested was the 237bhp EcoBoost mated to an automatic six-speed PowerShift gearbox. There is plenty of pulling power and overtaking slower traffic on single-lane carriageways is completed with ease. Performance figures are good, on the sprint from zero to 62mph the hatch will take a time of 7.5 seconds to complete the dash and it has a top speed of 153mph, while the estate takes a little longer, 7.8 seconds to complete the benchmark time and has a top speed of 150mph. With 179g/km of C02 emissions this variant drops in to the 24% company car tax band.
The 197bhp 2.2-litre TDCi Duratorq diesel engine mated to a six-speed manual gearbox is quite something. The engine is very refined and quiet making journeys relaxing. The test car was in the Titanium X Sport trim - the flagship derivative of the Mondeo range. In this variant there are three driving modes to choose from, comfort, normal and sport. There is not too much difference between comfort and normal, however, switch to Sport mode and the car becomes a little more responsive and the steering weights-up a little.
The diesel engined hatchback will get from zero to 62mph in 8.1 seconds and has a top speed of 143mph, while the estate can complete the benchmark in 8.3 seconds and has a top speed of 140mph. Emitting 159g/km of CO2 means this derivative goes into the 23% company car tax band.
The Mondeo has always been a favourite for fleet car buyers for its accurate, intuitive steering, superb handling and the newest blue-oval challenger does not disappoint - the Ford engineers have proved that they can mix-it-up with their German rivals.
With more standard kit and less expensive starting prices than its German rivals, the Mondeo is certainly worth considering. The Mondeo is now on the coat-tails of BMW, Audi and Mercedes with this car.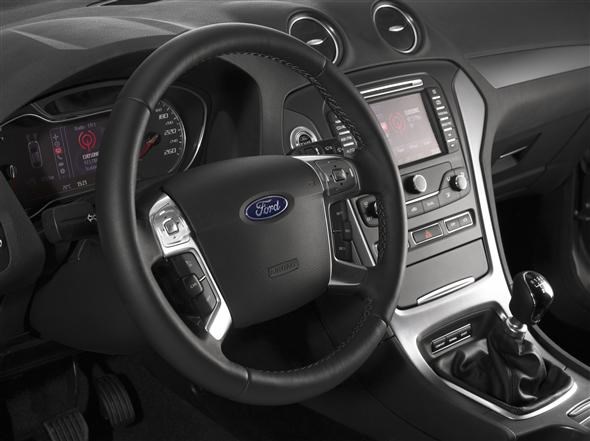 Also Consider
Great to drive while 'efficient dynamics' help with economy.
Refined and comfortable cruiser with a decent amount of standard kit
Superb ride and handling and comes with an excellent choice of engines