Nissan Navara 2.5dCi Tekna driven
Nissan's rough-and-ready pick-up tested
Double cab seats five with hard-wearing interior
Strong engine gives good off-road performance
Nissan has facelifted two of its workhorses and, after putting the latest X-Trail through its paces, it's time to give the Navara a thorough workout.
We tested the 2.5dCi Tekna double cab version, which is around £1,000 cheaper than the Nissan X-Trail we tested a few weeks ago, and it's fair to say that with this pick-up you are getting a lot of car for your money.
Space is limited if you have to carry anything that isn't weather-proof but the loadbay measures around 1.5 metres squared with 1.1 metres between the rear wheel arches. This leaves ample space for logs, reindeer or anything that doesn't mind getting wet. The Navara's competitors, the Mitubishi L200 and the Toyota Hilux, both have almost identical space on the rear deck.
The interior is hard wearing and functional with well laid-out and intuitive controls. Everything inside the cabin tells you this is built to stand up to the rigours of a trademan's working day.
The doublecab version we drove has space for five adults and there's also a useful selection of cubbies and cup holders to store myriad bits and pieces.
The 2.5-litre diesel engine is utilitarian. It's functional and pulls extremely well, but isn't as refined as some other Nissan models. It returns 33.2mpg, which isn't great, but it weighs more than two tonnes and will still hit 62mph in a not-too-shabby 11.1 seconds. The ride is bouncy when there's no load but we expect it to calm down when it has stuff loaded on the bed. As a workhorse it's pretty robust, but we'd still probably go for the Toyota Hilux if ruggedness is a priority.
It is fitted with a six-speed gearbox that feels rugged and industrial. Coupled with a system that switches between two-wheel drive and four-wheel drive and also betweent high- and low-ratio gearing. it will handle any terrain you want to throw at it. In fact, it'll even wade through 45cm of water.
The turning circle of the Navara is 13.3 metres kerb-to-kerb, compared to 12.2 metres for the Toyota Hilux and 11.8 metres for the equivilent Mitsubishi L200. Towing capacity is 750kg unbraked for all three pick-ups.
It does take quite a long time for the cabin to heat up, though. The seats don't get warm for at least 15 minutes and even the button that is supposed to get the engine up to temperature quicker doesn't really have much effect.
The car we tested costs £26,974 including optional metallic paint, carpet mats, sat nav and towbar with 13-pin electrical connections.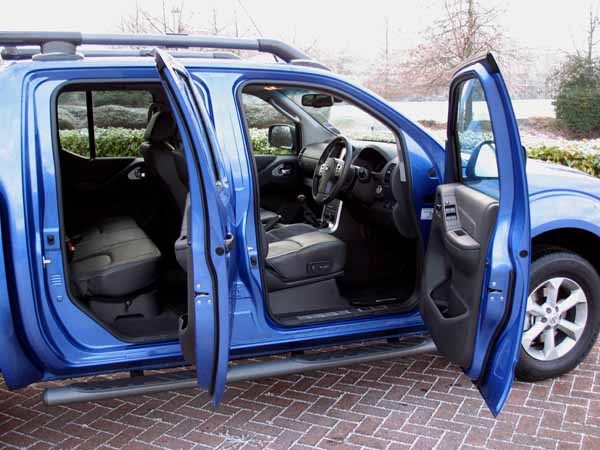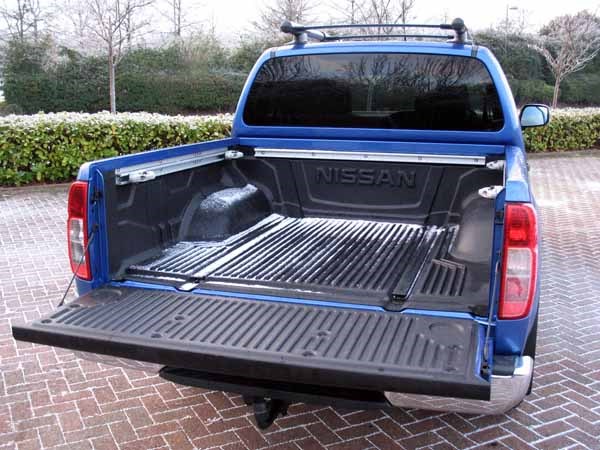 Also consider:
Despite the rugged looks the L200 is actually a drives more like a regular car plus it's a comfortable car for travelling and ideal for all the long-distance hauls.
Ford's attempt at a pick-up is pretty good. It's a tough workhorse, not bad to drive and is even available as a tipper.
The Hilux has been a mainstay of the Toyota line-up for more than 30 years now. The most current version gets good level of standard kit and, as you'd expect, offers fantastic reliability.