Suzuki Swift: first drive
Fun to drive with good body control and sharp steering
1.3-litre petrol makes way for new frugal 1.2 VVT petrol
On sale in September with prices starting at £9,995
The Swift is a stalwart of the Suzuki line-up. Forget the Splash or the Alto - when it really comes down to it the Swift and the Jimny are the cars that put Suzuki on the manufacturer map.
Since the launch of the second incarnation back in 2005, the Swift has gone on to become one of the most popular value-for-money small cars around.
Loved by grannies and first-time drivers in equal measure, the low running costs and cheap price have made it a great new or used buy. Factor in sharp handling and fun-to-drive nature and it's a great all-round package.
Now, if this latest version can carry on those traits, along with some slight improvements here and there, it's certain to be up there with the best small hatchbacks currently available.
At first glance of this updated version just looks like the current Swift, but there are some changes. Honest.
This latest model is around 90mm longer with and extra 50mm in the wheelbase. The body has been made stiffer which has also helped make it safer - it recently received a maximum five stars from Euro NCAP, while ESP is now standard on all cars too.
Engine improvements mean the Swift is now even better value-for-money. The new petrol engine emits just 116g/km meaning potential customers will pay only £16.66 each month if they're in the lower 20% company car tax bracket and £33.32 if they're in the higher bracket. Plus it will do 56.5mpg - up from 48.7mpg - according to Suzuki.
The new engine isn't that... swift, and it will take the best part of 12 seconds to hit the 62mph benchmark and you'll need to give yourself plenty of time to pull out of a junction ahead of anyone. There's also a little bit of wind noise and road noise at high speeds, but no more than some of its competitors, and the ride is surprisingly smooth.
Like its predecessor, this latest version handles beautifully and the steering is weighty enough at higher speeds and sharp and responsive in tighter corners. All this makes the Swift an enjoyable car to drive and, as a result it should continue to be a popular small hatchback for almost anyone.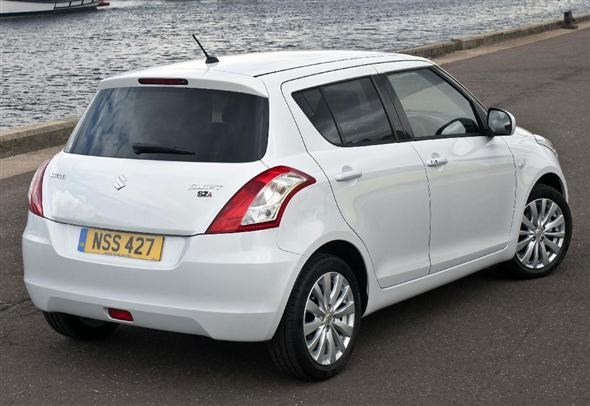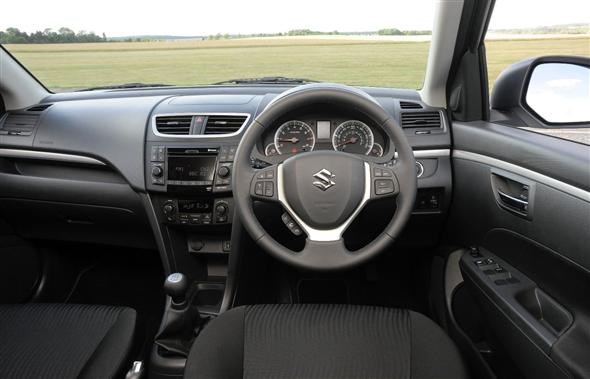 Also consider
It's packed with plenty of equipment and is reasonably priced too. For your money you also get a bit of fun factor with a car that is good to drive but also economical to run.
Gets the nod ahead of the Swift when it comes to style. The Ibiza offers up some stiff competition for the Suzuki thanks to a roomy and well-built interior.
The ultimate competition to beat if the Swift is to be one of the most popular small cars on sale. Swift matches it for handling and performance but is a little behind when it comes to interior finish.