If you're considering a Vauxhall Astra as your next company car it can be hard to know where to start. There are currently nine trim levels and a truly vast number of engine choices – which combination offers the best combination of tax costs, performance and equipment?
Parkers has delved into the Astra range to help you narrow your choice down.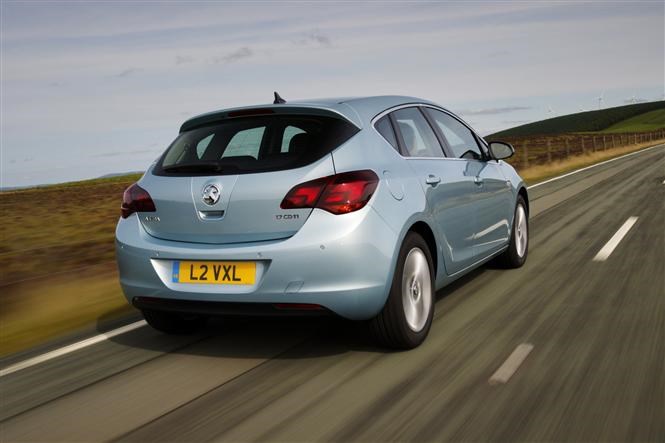 Which engine?
A good place to start is to look for a diesel engine with the phrase 'ecoFLEX' in its name.
That's the label reserved for Vauxhall's most fuel-efficient and lowest-emitting diesel engines. The majority of the Astra's diesel engine range comes under the ecoFLEX umbrella at the moment, including 1.3-, 1.6- and 1.7-litre engines, and almost all of them are fitted with a stop/start system as standard.
Confusingly (and confusion is something the widespread Astra range does pretty well), it's possible to buy the same-sized engine with different power outputs, or even with the same power output but different CO2 emissions.
For instance, the 1.7 CDTI engine is available with either 109bhp or 128bhp and both power outputs are available with different CO2 emissions of either 110g/km or 99g/km. As you'd expect, the lower emissions version is slightly more expensive.
Which engine should you choose, then?
It's probably best to discount the 1.3-litre diesel offerings as they'll feel rather sluggish on the road and, depending on spec, actually have higher CO2 outputs than some of their larger stablemates.
Lowest CO2 emissions belong to the 109bhp 1.6 CDTi engine at 97g/km, although if you're happy to take a greater hit on the P11d value the 128bhp 1.7 CDTi slots into the same BIK tax band and will offer a more comfortable performance envelope on the road along with identical claimed average fuel consumption of 76.3mpg and a theoretical range of more than 900 miles (although low-to-mid 60s are a more likely day-to-day fuel economy figure).
Although it's one of the more expensive offerings in the Astra diesel engine, it's the 128bhp 1.7 CDTi ecoFLEX that we'd recommend. Like the majority of the Astra diesel range it comes with a six-speed manual gearbox – if you want an auto you'll have to go for the larger and less efficient 2.0-litre diesel or 1.6-litre petrol engines.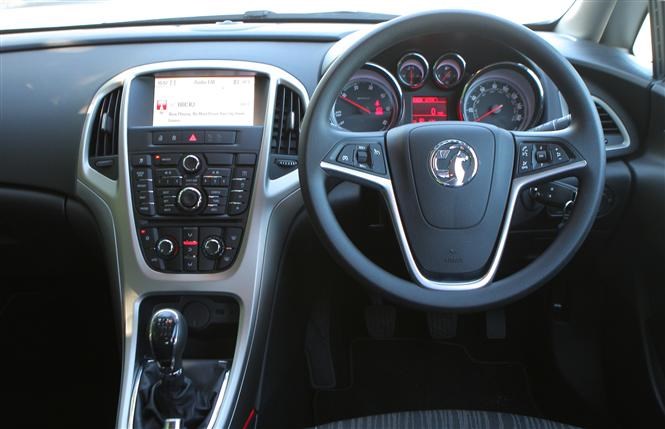 Which trim?
Further muddying the waters is the fact that certain engines aren't available with certain trims.
If you're happy to forego creature comforts you could simply opt for the most basic Expression trim which has the lowest P11d value of the range. It's availble only with an 87bhp 1.4-litre petrol engine and really is rather stark on trim – air-con, remote central locking, steel wheels with plastic covers and a CD player are the highlights.
Upgrading to the next-level-up Design spec adds steering-mounted audio controls, cruise control and 16-inch alloy wheels and increases the P11d value by around £1,900* engine-for-engine.
Really, however, the most suitable trim level for company car drivers is the Tech Line, which was created with business drivers in mind. Its lengthier spec list includes sat-nav, Bluetooth, DAB radio, USB and aux-in ports and 17-inch alloys, along with the cruise control, air-con and wheel-mounted audio controls of the Design grade. At current prices it costs around £1,175 more than the Design.
There's also a Tech Line GT trim line, which adds little more than cosmetic embellishments such as larger alloy wheels and isn't really worth the extra unless you want to stand out a bit more in the company car park. It has higher CO2 emissions, too.
For context the top Elite trim grade (apart from the standalone Bi-Turbo model) comes fully loaded with all sorts of kit but has a P11d value of more than £24,000*.
Conclusion
Certainly the Tech Line trim offers the best ratio of business-relevant equipment to cost but the engine choice is less clear. There are three diesel engines that dip under the 100g/km CO2 barrier and although we've recommended the most powerful and most expensive 128bhp 1.7 CDTi ecoFLEX unit, if you're happy to sacrifice a little performance you may also be well served by the cheaper 109bhp 1.6 CDTi ecoFLEX engine.
Vauxhall Astra Tech Line 1.7 CDTi (130PS) ecoFLEX: figures at a glance
P11D value: £19,980*
CO2 emissions: 99g/km
Official combined mpg: 76.3mpg
2014/15 BIK tax band: 12 percent
Monthly tax (20 percent rate, excluding options): £40
*Prices correct at time of writing (March 2014)