View all Ford Fiesta reviews

Ford Fiesta Hatchback
Review
Current Model
Still the best small hatchback for keen drivers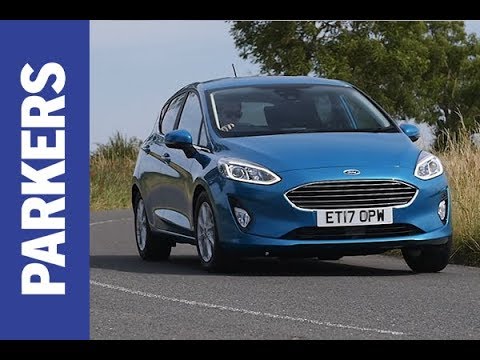 Enlarge
1

videos
Enlarge
106

photos
PROS
Great fun to drive
Cheap to run
Packed with the latest tech
Safer than ever
CONS
Some rivals are more practical
PCP competitive, but not class-leading

Some cheaper-feeling cabin plastics
Glass roof severely limits headroom
PROS
Great fun to drive
Cheap to run
Packed with the latest tech
Safer than ever
CONS
Some rivals are more practical
PCP competitive, but not class-leading

Some cheaper-feeling cabin plastics
Glass roof severely limits headroom
Verdict

The Ford Fiesta is now in its eighth generation, and holds an important place not only in Ford's line-up, but also in the UK, as it's the bestselling car in the country, and has been for several years.
And while it deserves this place due to its fun drive, spacious interior and solid build, it's all the more impressive when you consider the strength of the rivals it's going up against.
From the Renault Clio, Vauxhall Corsa, Volkswagen Polo and Peugeot 208 to the Nissan Micra, SEAT Ibiza and Mazda 2, the Fiesta has a tough fight on its hands to retain the supermini crown.
Ford Fiesta engines and specifications
There are plenty of trim and engine combinations to pick from if you're looking for a new Fiesta, with models taking in Style, Zetec, Titanium, ST-Line and Vignale and the hot hatch ST (plus a selection of B&O Play models spinning off Zetec and Titanium trims, as well as higher-spec 'X' versions of Titanium and ST-Line).
The most popular model in the line-up is the Zetec, with Titanium the next favourite among buyers powered by one of Ford's impressively capable 1.0-litre EcoBoost petrol engines.

This engine is available with a choice of 100, 125 or 140hp outputs, plus there's a 1.1-litre with 70 or 85hp available lower in the range.
If you prefer diesel power, there's a 1.5-litre TDCi diesel with 75 or 120hp (depending on the spec you choose), while Fiesta ST models come with a 1.5-litre turbo petrol producing 200hp.
As if there wasn't enough choice already, Ford also offers the Fiesta Active, a jacked-up version with slightly higher ride height, some external differences such as roof bars and some tougher interior trim for those with active, outdoorsy lifestyles.

We expect three in five Fiestas sold to be powered by the 1.0-litre petrol unit in its trio of power outputs.
Then there's the choice of three- and five-door body styles. Ford is likely to sell these in a ratio of 70:30 respectively.
What's the Ford Fiesta like to drive?
Very good indeed. It's as enjoyable to drive as the previous version but now comes equipped with some of the latest tech and driver assistance features – if you pay for them.

Sure, there are some cheaper-feeling materials in the cabin, and we'd give the glass sunroof (standard on Vignale, optional otherwise) a wide berth for its cabin headroom and wind noise penalties, but it remains among the class leaders for its drive and cabin.
Will the Ford Fiesta be cheap to finance and run?
From launch Ford's PCP finance deals are a bit off the pace. While many manufacturers offer enormous deposit contribution discounts on their small cars - which often more than outweigh the interest charges - Ford has refrained from doing this, at least initially.

Interest-free credit has been available on the Fiesta, however, and if you can find one of these deals, there's no cost penalty for financing a Fiesta compared with paying cash.
As this is an extremely competitive class, though, keep your eyes open for deposit contribution discounts in future, as it's possible that Ford will throw these in alongside 0% APR to boost sales after the initial fanfare has died down.
Insurance groups range from 2E up to 15E, so it's at the cheaper end of the spectrum here, and fuel economy and tax bills are very low indeed thanks to a recent range of high-tech engines.
Ford Fiesta ST and Active models launched in 2018

The Ford Fiesta ST is the fastest version in the range and builds on a reputation largely created by the excellent previous generation car. For 2018, the Fiesta ST debuts a 1.5-litre three-cylinder engine producing 200hp and 290Nm of torque, meaning 0-62mph in 6.5 seconds and a top speed of 144mph.
It's not all about the straight-line speed, however, as the Fiesta ST also displays superb handling ability right up there with the best hot hatches on the market.
Sharp steering, high grip levels and excellent overall feedback means the hot Fiesta is staggeringly rapid over a twisty country road, while still retaining much of the usability that makes the regular car so popular.
At the other end of the spectrum and widening the Fiesta's appeal further is the Active – a higher-riding version that aims to snag sales from the burgeoning SUV sector. It gets a separate review on Parkers:
The Parkers Verdict
The eighth incarnation of the Fiesta is as good to drive as ever, and features even more safety, driver assistance and infotainment kit. It does come at a price relative to the competition, both for outright buyers and those looking to finance, though.
It's not perfect – the interior isn't class-leading in terms of design or quality – and althought it's comfortable, it's not as polished dynamically as we'd like. But it's a very good effort, and given the previous-generation model was Britain's bestselling car, it's understandable that Ford stuck to the formula of refining what it had.
In conclusion, it's up there among the best small hatchbacks you can buy, but it's not decisively head and shoulders above them – as was the 2009 Fiesta when it was launched.

Read on for the comprehensive expert Ford Fiesta hatchback review