Honda Jazz review
Current Model
Jazz has all the right ingredients, but lacks sparkle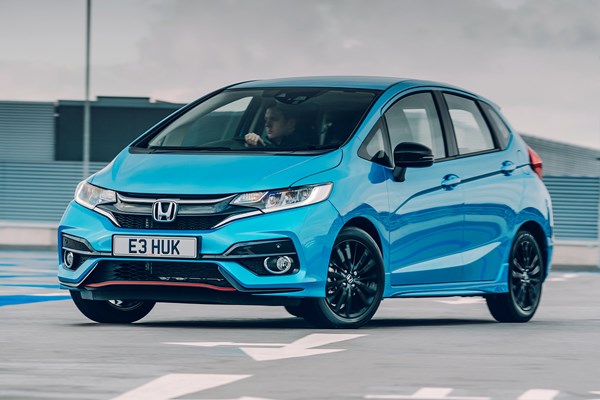 PROS
Excellent passenger and luggage space
Good visibility
Solid build quality
Tidy handling
CONS
Media system feels dated
Some hard interior plastics
Restricted engine choice
CVT transmission not great
PROS
Excellent passenger and luggage space
Good visibility
Solid build quality
Tidy handling
CONS
Media system feels dated
Some hard interior plastics
Restricted engine choice
CVT transmission not great
The Honda Jazz is now in its fourth generation (there was one sold briefly in the mid-1980s), and it's a city car that sells in huge numbers around the world. In fact, it's one of Honda's most important models, so it's no surprise that the winning formula of being easy to drive and very practical is still in force for the current version.
The Jazz attracts plenty of return custom, and that's no surprise considering that it's known for its reliability, practicality and excellent dealer service. But it does have a bit of a sleepy image, which we reckon is unjustified given its overall excellence, and Honda's policy of keeping it up-to date and on the pace.
Going up against traditional supermini rivals like the Skoda Fabia, Hyundai i20 and Citroen C3, there's also a whiff of mini-MPV in the way it looks. It's certainly popular – it's the fourth bestselling supermini in the UK after perennial favourites, the Ford Fiesta, Volkswagen Polo and Vauxhall Corsa.
Excellent space, efficiency and quality
A longer wheelbase (the distance between front and rear axle lines) than most rival small cars means more space for passengers – with similar interior dimensions to a Mercedes-Benz E-Class (seriously) despite being around a metre shorter in overall length, as Honda is keen to point out.
A centrally mounted fuel tank means the Magic Seats are present, with an additional 80mm of loadspace from front to back compared with the previous-generation Jazz. The front passenger seat can be fully reclined to fit long items in, including an 8ft surfboard, if you so desired.
A choice of two petrol engines is available in the Jazz – a 1.3- and a 1.5-litre – and both are naturally aspirated (they don't use a turbocharger). There's a choice of a manual transmission or CVT, too. There's plenty of technology on board, including a 7.0-inch touchscreen controlling the infotainment system, and a raft of safety measures including an intelligent speed limiter that reads road signs and changes the car's maximum speed, as well as standard-fit autonomous emergency braking.
Solid interior lacks wow factor

From behind the wheel of the Jazz is where you notice its MPV similarities, with a deep dashboard reaching towards the big, sweeping windscreen and large triangular windows ahead of the front doors. It's a bright and airy interior and it's very easy to see out of, making it a great car to nip around town in.
It's a doddle to find a comfortable driving position, although front seat passengers might find the lack of seat height adjustment a bit of a pain – you feel very high up in comparison with the driver.
Quality is good. There aren't any particularly special-feeling materials to speak of – but it is solidly built and and the majority of the car's functions are easy to operate.
Facelift for 2018
The facelifted Jazz was shown at the 2017 Frankfurt motor show, going on sale in the UK in early 2018. There weren't many many engineering changes, with the update limited mainly to styling and equipment. Spotters will be able to tell the later car as its bumpers were reprofiled with what Honda describes as more aggressive detailing, especially on new Sport models.
This range-topping Jazz now sports a chamfered look to the front and rear bumpers with red trimming, whereas the rest of the range looks a little less attention-grabbing.
So, is this underrated small car worthy of your attention, and is it a convincing alternative to a Ford Fiesta or SEAT Ibiza? Read on for the Parkers full review to find out…