View all Mazda 3 reviews


Mazda 3 Hatchback (2009 - 2013) review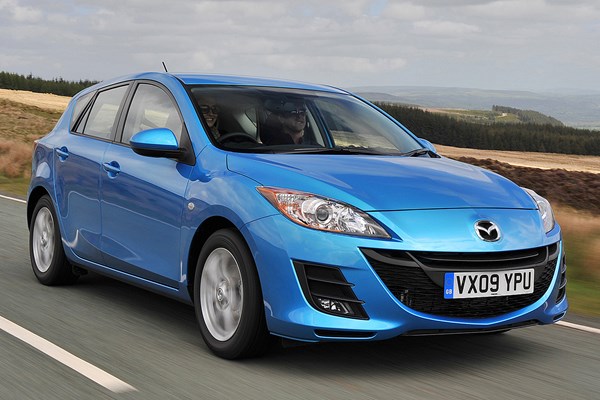 PROS
Sleek styling, excellent build quality, good refinement, responsive handling
CONS
Not as much boot space as many alternatives
PROS
Sleek styling, excellent build quality, good refinement, responsive handling
CONS
Not as much boot space as many alternatives
Mazda has taken the strengths of the original Mazda3 hatchback - namely build quality and driver appeal - and added some much needed refinement along with stronger performance and a healthy dose of style. The result is a great small hatchback that's now a real alternative to popular models like the Ford Focus. In fact, the Mazda3 is actually based on the Focus and shares many of its underpinnings.
That's the primary reason for the car's prowess through the corners and for its excellent ride comfort. This really is an engaging car to drive, and thanks to its excellent gearbox, not to mention a fantastic positioning of the gear lever, it could be even more rewarding when driving at pace than the popular Ford hatchback. More powerful diesel engines boost the car's high-performance credentials while at the bottom end of the range the engines are greener than before.
The fresh-look echoes Mazda's RX-8 and MX-5 sports cars, and adds a distinctive aspect to the car that makes it almost left-field yet a very attractive choice. It's safe, too; the 3 was awarded the maximum five stars in the EuroNCAP safety tests. Fuel efficiency was improved with introduction of stop/start technology in mid-2009, meaning the 3 is now more attractive to those looking for lower running costs.
Company car drivers are an example of this; they're after lower CO2 emissions to drive down their company car tax bills. Although based on the Focus, its boot is a significant 85 litres smaller and so those looking for the ultimate in practicality might want to look elsewhere. Performance-wise the Mazda3 is capable of a sprint to 62mph in between 8.2 and 13.1 seconds depending on engine and gearbox spec.
There's a range of petrol and diesel engines plus five- or six-speed manual gearboxes and a five-speed automatic can be ordered with the 2.0-litre petrol engine. So, if you're looking for a stylish, frugal and fun car then you could do a lot worse than choosing to buy this venerable Japanese car. Read on for our full and detailed Mazda3 hatchback review.
Other Mazda 3 (2009 - 2013) models: