Nissan Micra
Welcome to the Parkers Nissan Micra portal page. If you are looking to buy or lease and want to know more before deciding, you're in the right place. You'll find expert reviews, cars for sale and the latest lease deals.
Read our expert Nissan Micra reviews
Read the Parkers detailed new and used car reviews of all of the models in the Nissan Micra range. Here you'll learn all you need to know including practicality, running costs, performance, safety and handling plus lots more.
Discover cars for sale
If you're looking to buy a used Nissan Micra or are just looking to browse our cars for sale, you'll be able to choose from a wide selection here. In the Parkers cars for sale section, you can choose by price, location or specific model variation to tailor your choices.

What is the Nissan Micra?
Once the dinky darling of driving schools across the land, today this Nissan Micra has become an often overlooked supermini, despite being one of the more distinctive small cars on sale.
Fighting in one of the most competitive market sectors, the Micra's up against a slew of excellent rivals, including the Ford Fiesta, Peugeot 208, Renault Clio and SEAT Ibiza.
Top speed: 98-111mph
0-62mph: 11.5-15.9 seconds
Fuel economy: 53-68mpg
Emissions: 107-121g/km of CO2
Boot space: 300-1,004 litres
Which versions of the Nissan Micra are available?
Nissan's Mk5 Micra is the largest car yet to wear the nameplate and, for the first time in its approaching four-decade-long history, is only available as a five-door model, largely because it's based on the same platform as the Renault Clio, a supermini that also does without a three-door version. In fact, the K14-generation Micra as fans of the model refer to it as, is even built at a Renault factory in France.
Engine-wise, there's a relatively small range of petrol engines (a 1.0-litre non-turbo, plus a 0.9-litre turbocharged unit), plus a 1.5-litre diesel, with 100hp available from the punchiest version. Forget a hot hatch – the Micra's barely room temperature.
Not that this bothers Micra buyers if previous generations have been anything to go by as there's never been a truly performance-oriented version of the small Nissan.
Trim levels follow Nissan's usual hierarchy of Visia, Acenta, N-Connecta and Tekna, with a generous level of standard kit, along with a plethora of options including an upgraded Bose audio package.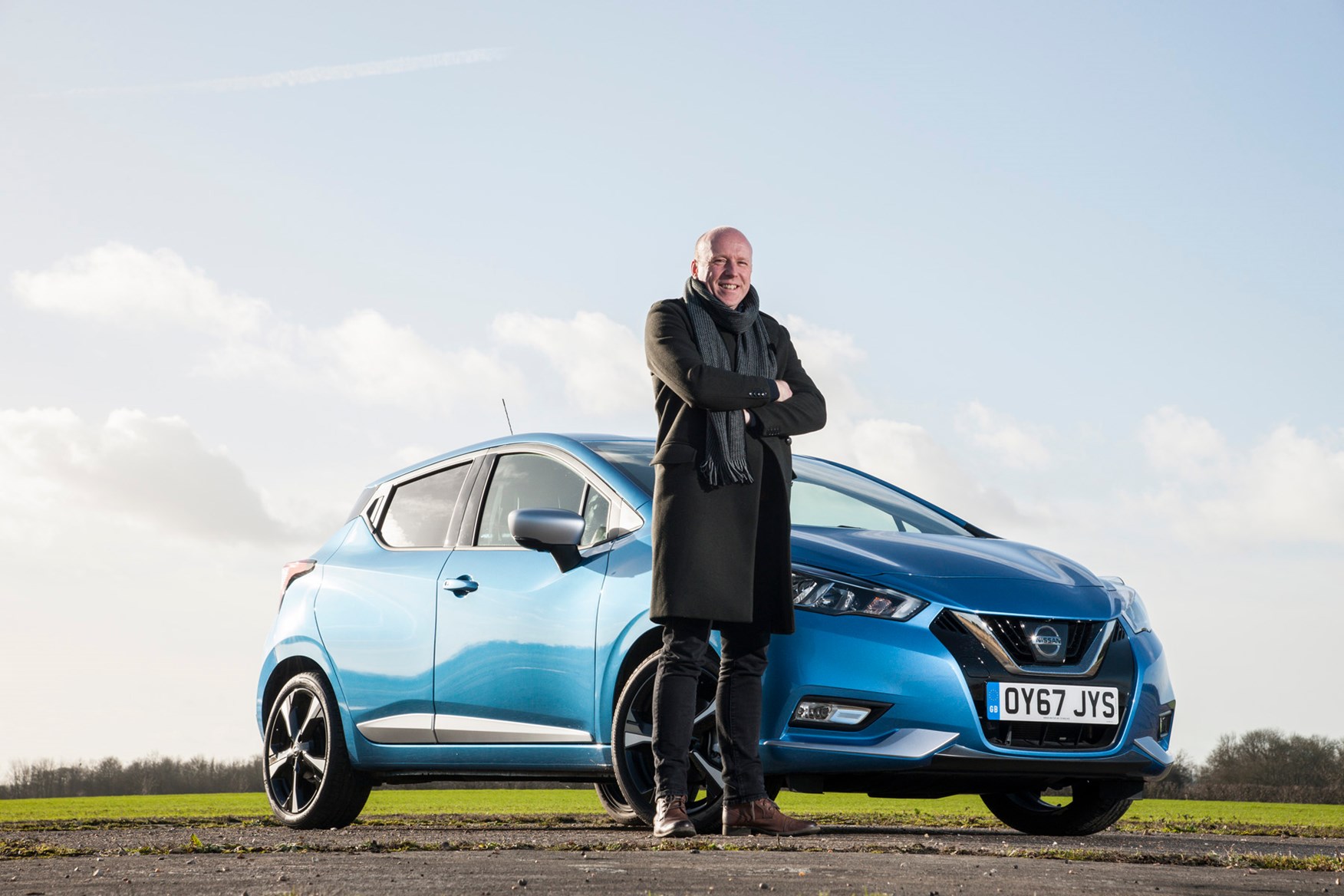 Nissan Micra styling and engineering
Certain previous generations of Micra have been notable for their bold styling and the Mk5 champions this approach again, although looks like none of the earlier cars.
Sharp, angular and longer than ever, the Micra's striking styling includes a swept-up line towards the rear that's reminiscent of the Vauxhall Astra, although the Nissan looks more sophisticated thanks to its hidden door handles in the darkened panel.

Inside, the Micra's far less adventurous, but the experience is blighted somewhat by swathes of cheaper-feeling plastics.
Is the Nissan Micra good to drive?
Unsurprisingly given the underpinnings, the K14 Micra doesn't feel all that dissimilar to the Renault Clio, although the lightness of its controls – something that won it many fans in earlier guises – is still present, if not to the same degree as before.
This is a supermini that's far happier being driven gently around town than it is plying motorways or being pounded along a winding B-road. Not that its handling and body control go to pieces in such circumstances, but more that its general lack of oomph is felt most obviously.
How much does the Nissan Micra cost?
Nissans aren't the bargain basement models they once were, and that includes the Micra. Higher-spec models are jam-packed with kit, but that cheap-feeling interior spoils the experience and makes it feel as though the value-for-money is being compromised.
That said, because sales have so far been lacklustre, Nissan dealers are keen to negotiate, so securing a substantial discount shouldn't prove to be too tricky. Our advice is if it's a Micra you want, spend time shopping around before signing on the dotted line.
Find out what Nissan Micra drivers think of their cars with our comprehensive owners' reviews.
Search 2,146 Nissan Micra cars for sale
Nissan Micra Model History
Current-generation Nissan Micra (2017-)
December 2016:Nissan Micra available to order, with first deliveries expected in March 2017. Five trim levels are available – Visia, Visia+, Acenta, N-Connecta and Tekna – with a choice of IG-T 90 turbo petrol and dCi 90 diesel engines.
May 2017:1.0-litre 71hp petrol engine joins the line-up as entry-point to the Micra range. It's expected to make up 15% of Micra sales in the UK.
July 2018: Upgrades to equipment including electric rear windows, LED front fog lamps and Apple CarPlay/Android Auto capability on certain models
January 2019: 1.0-litre engine replaces 0.9-litre with 100- and 117hp outputs. N Sport trim level added with lowered suspension and sharpened steering when fitted with 117hp engine
February 2019: CVT automatic introduced for 100hp petrol engine
Fourth-generation Nissan Micra (2010-17)

After the stylish and commercially successful Mk2 and Mk3 Micras, the fourth-generation model – the K13 as Nissan refers to it internally – was something of a disappointment.
No longer built in the UK, the Indian-sourced Mk4 Micra had lost much of its panache and felt several steps downmarket compared with its predecessor, with much lower-grade plastics about the interior. Three-and five-door hatchback versions were available throughout its lifecycle.
Its blandness and lacklustre 1.2-litre petrols engines – even when fitted with a supercharger to boost power – made the Micra feel like an unenticing car to drive, more like an appliance than a supermini to covet.
A significant facelift was ushered-in rapidly during 2013, which gave it a bit more personality visually, but it never escaped from being considered as an also-ran, rather than a contender.
Read our user-generated fourth-generation Micra owners' reviews and find examples for sale.
Third-generation Nissan Micra (2003-10)

Few cars are styled as distinctively as the Mk3 Micra, also known as the K12. High-set headlamps, strongly defined shoulders running the length of the car and an almost comically arcing roof made it impossible to mistake it for anything else. Divisive, perhaps, but in a world of cookie-cutter superminis it was a welcome breath of fresh air.
Although the interior styling was less whacky, it was nevertheless interesting and well-made, if plastic. Renault-sourced diesels were available for the first time, but most buyers stuck with the smooth selection of petrols, although this was no ball of fire – the punchiest version only produced 110hp.
Three- and five-door Micra Hatchbacks were the mainstay of the range, but at the end of 2005 Nissan expanded its offering with the Micra C+C – a hard-top convertible version, with a pair of tiny rear seats squeezed in for a modicum of normality. Buyers were less convinced and it was discontinued in 2009 a year ahead of the hatches.
Discover what drivers think of their third-generation MIcras in our owners' reviews and look at used cars for sale.
Second-generation Nissan Micra (1993-03)

If a single car put Nissan on the map it was the Mk2 Micra, or K11 if you will. After the worthy-but-dull Mk1, the second-generation car was a major step forward in every regard, so much so it was awarded the coveted European Car of the Year Award for 1993.
Its cutesy, rounded styling gave it instant appeal, while the cabin of both three- and five-door versions was usefully roomy. Build quality impressed, proving that a British plant could make well-assembled mainstream cars. The UK missed out on soft-top and estate versions – the latter amusingly called Box in Japan – but the hatches became driving school favourites, with a number of new drivers picking a Micra as their first car.
Refined 1.0- and 1.3-litre petrol engines were initially offered – the latter replaced by a 1.4 at the mild 1998 facelift – but again there were no sporty iterations, even if the Super S trim level hinted that there might be some oomph on offer. Even the limited edition Micra Wave wasn't hot…
First-generation Nissan Micra (1983-93)

Legend has it that the Mk1 Micra – K10 in Nissanspeak – was in fact the rejected design for the Fiat Uno. Whether it's true or not, the pair do share some detail similarities, although the Micra was far more conventionally styled – and less roomy as a result.
Launched in 1983 as a three-door hatchback – and initially marketed as the Datsun Micra before the Nissan name took over wholesale – it became a very popular choice. Not only was it low-priced and well-equipped, it felt like it was going to last forever (spoiler alert: they didn't). Such reliability levels were generally eluding European supermini makers.
More practical five-door versions arrived in 1987 and the whole range was facelifted with a bolder grille emulating larger Nissans in spring 1989.
This time around there was a sportier version, but it was only sold in Japan as the Nissan March Super Turbo. As the name hints, its 0.9-litre engine was supercharged and turbocharged, cranking out 110hp – not much by today's standards, but enough for a 7.7-second 0-62mph time.