Porsche Taycan review
Current Model
Electric sports saloon delivers engaging handling and speed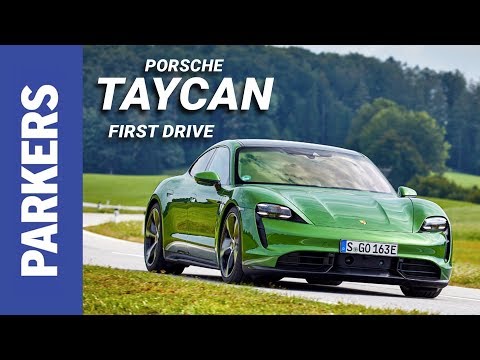 Enlarge
1

videos
Enlarge
3

photos
PROS
Seriously fast

Fun to drive

Speedy charging
Faultess interior
CONS
Weighs two tonnes
Expensive to buy

Few fast chargers
No flat-six noise
PROS
Seriously fast

Fun to drive

Speedy charging
Faultess interior
CONS
Weighs two tonnes
Expensive to buy

Few fast chargers
No flat-six noise
Porsche Taycan Saloon rivals
Porsche's fully electric Taycan saloon has been a long time in the works - what we first saw in the form of 2015's Mission-E concept is now a fully-fledged production model promising everything we've come to know and love from the German sportscar-builder.
Designed to spearhead Stuttgart's electric ambitions, the Taycan promises to deliver the Porsche driving and ownership experience through and through – maybe without the classic howl of the engines that are used in the 911 sports car.
Currently, rivals for the Taycan are few and far between: the established Tesla Model S appears to be its most obvious competitor, but buyers may well be swayed by the likes of the Jaguar I-Pace SUV and even Porsche's own Panamera plug-in hybrid.
As for the name, Taycan is derived from various Eurasian languages meaning something close to 'lively young horse'. No, we're not sure what the link is either...
How fast is it?
Very. Both the Turbo and Turbo S models use a 93.4kWh battery pack under the floor and all-wheel drive. Both also have 625hp but feature a launch control function that overboosts power to 680 and 761hp respectively. That means a 0-62mph sprint is over with in 3.2sec or 2.8sec, respectively, with top speeds of both versions topping out at 161mph. Expect cheaper and less powerful Taycan versions in the future.
And yes, you did read that correctly – both of the top-spec Taycans are badged Turbo despite not having engines to turbocharge. It seems Porsche's client base expects high-end performance-focused models to be named in that way and the firm sees no reason not to follow suit with its first battery electric vehicle.

Naming quirk aside, all of that urgency is generated courtesy of a pair of electric motors – offering 850Nm and 1050Nm of torque driving all four wheels. Unlike rivals the handling is superb too, partly because Porsche has mounted the batteries at the bottom of the Taycan's underpinnings, keeping the centre of gravity low, and reducing bodyroll.
Go for the high-spec Turbo S and equipment like rear-wheel steering is standard. Still, the Turbo isn't exactly devoid of performance-enhancing kit either; torque vectoring to sharpen-up cornering, adaptive air suspension and Porsche's Surface Coated Brakes (where the discs are coated for more friction and less brake dust than regular steel brakes) are all standard.
How long does it take to charge?
Porsche says the Turbo will manage up to 280 miles and the Turbo S up to 256 miles under the WLTP testing procedure. To do that distance regularly, you'll need to find an ultra-fast 800-volt charger. They're extremely scarce now, but with enough investment, the picture should change over the coming years.
That 800-volt system the Taycan uses does allow around 60 miles to be added to the car's batteries in just five minutes if the correct (and most powerful kind of) charger is used.
However, like with almost every other electric car, owners will be encouraged to have a wallbox installed at home for overnight charging on lower-rate electricity tariffs.
What's it like inside?
It's a mix of Porsche 911 and spaceship inside. Along with a widescreen infotainment display there is a central touchscreen for controlling auxiliary functions, plus a huge fully digital instrument cluster.
Porsche says you can seat five inside the four-door saloon's slinky shape and, due to the electric powertrain, there are two luggage areas – one at the front with 81 litres and 366 litres at the rear.
Read on to find out why we think the Porsche Taycan is the most exciting electric car to date
Find out more about all electric cars here