Iveco Daily review (2021)
Vast but easy to drive with a tough, truck-like build
PROS
Long service intervals and warranty
Great aftersales support
Largest panel van on market
Powerful engines, excellent eight-speed auto
Alternative fuel choices
CONS
Not the best for running costs
Limited UK dealer network
Interior quality could be better
Tough build reduces 3.5t payload
Not as good to drive as best rivals
Summary
The Iveco Daily is not like other large vans. For instead of an all-in-one structure, it uses a separate chassis with a body bolted on top, just as it has done since it was first introduced in 1978. This means that even this third-generation Daily on sale in 2021 is more closely related to trucks than to any rival van model.
So although this Daily was launched in 2014 and thoroughly updated in 2019, with more improvements in 2021, Iveco has stuck to this engineering solution, which draws on its background as a truck manufacturer. The advantages are strength and toughness – the Daily is available with gross vehicle weight (GVW) ratings up to 7.2 tonnes, far in excess of any other large van.
The 2021 improvements, which are not yet on sale in the UK, include the integration of Amazon Alexa, improved seats and a highly sophisticated all-round air-suspension option.
>> 2021 New Daily - Iveco Driver Pal and Air Pro suspension announced
Iveco Daily: the light truck of large vans
At its highest gross vehicle weights, the Daily's closest competitors are light trucks. Yet since the Daily still has the driving position and sizing of a van, it is potentially much more city-centre friendly.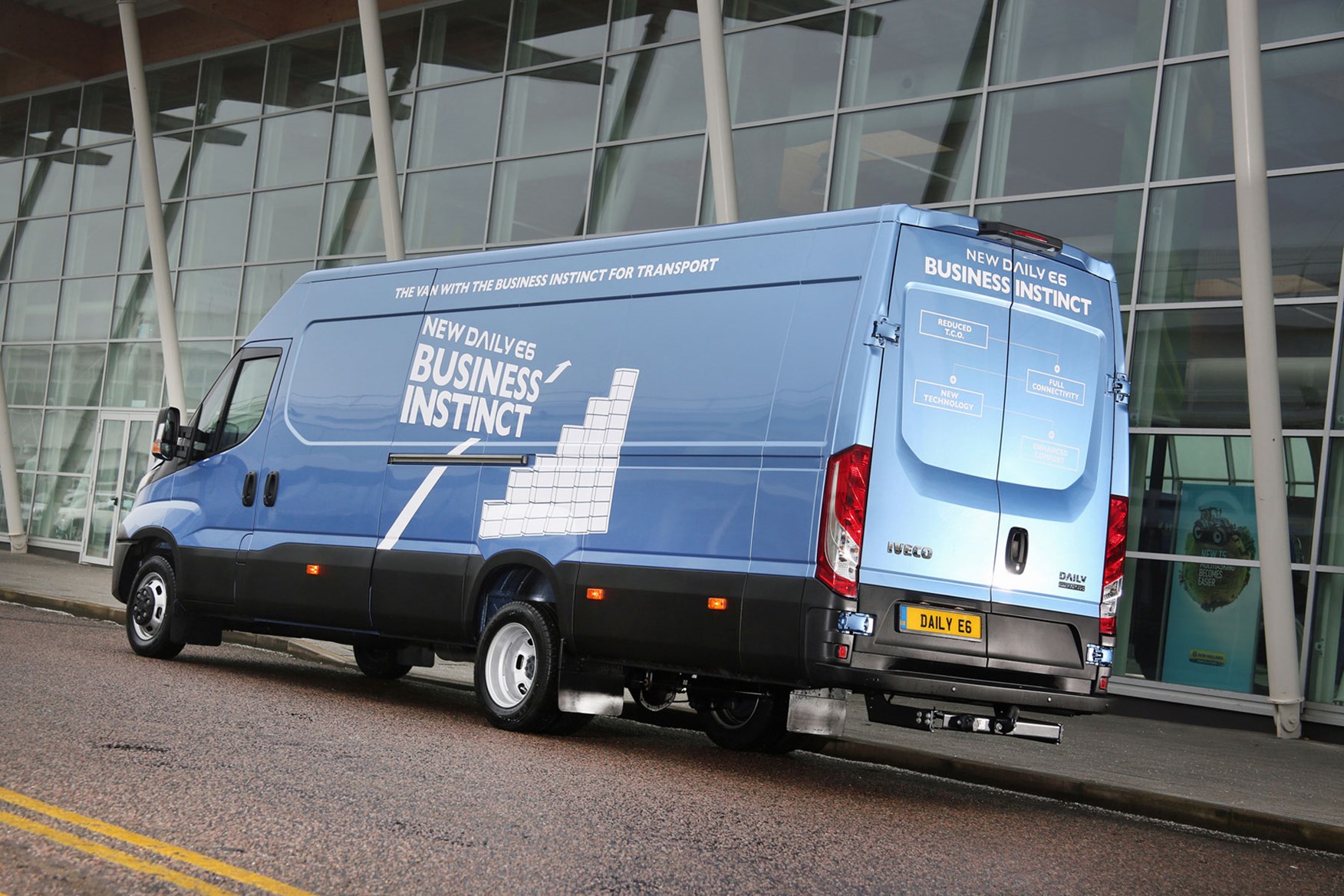 At the same time, the Daily's structure allows for some absolutely enormous body variants – particularly in terms of length. So if you need maximum space and some particularly high payload options, it's well worth considering. The separate chassis makes it very capable in heavy-duty towing use, too.
To take advantage of the higher GVWs, however, you'll need to have a suitable driving licence; those with regular car driving licences are restricted to a 3.5-tonne GVW maximum – at which point the Daily's very strength becomes a weakness.
Which is to say the tough build is so comparatively heavy that the available payload on a 3.5t GVW Daily is likely to be less than on any equivalent rival. This despite the current version being considerably lighter in build than previous generations.
Iveco Daily 2019 facelift - the New Daily
In the most significant overhaul since its launch in 2014, the 2019 Iveco Daily benefits from a new-look front end - including a new three-piece front bumper (for cheaper replacement costs) with built-in step - a revised interior, and a number of mechanical upgrades. Making this so-called 'New Daily' a substantial improvement over the preceding models.
We've driven it, and it forms the major part of this review.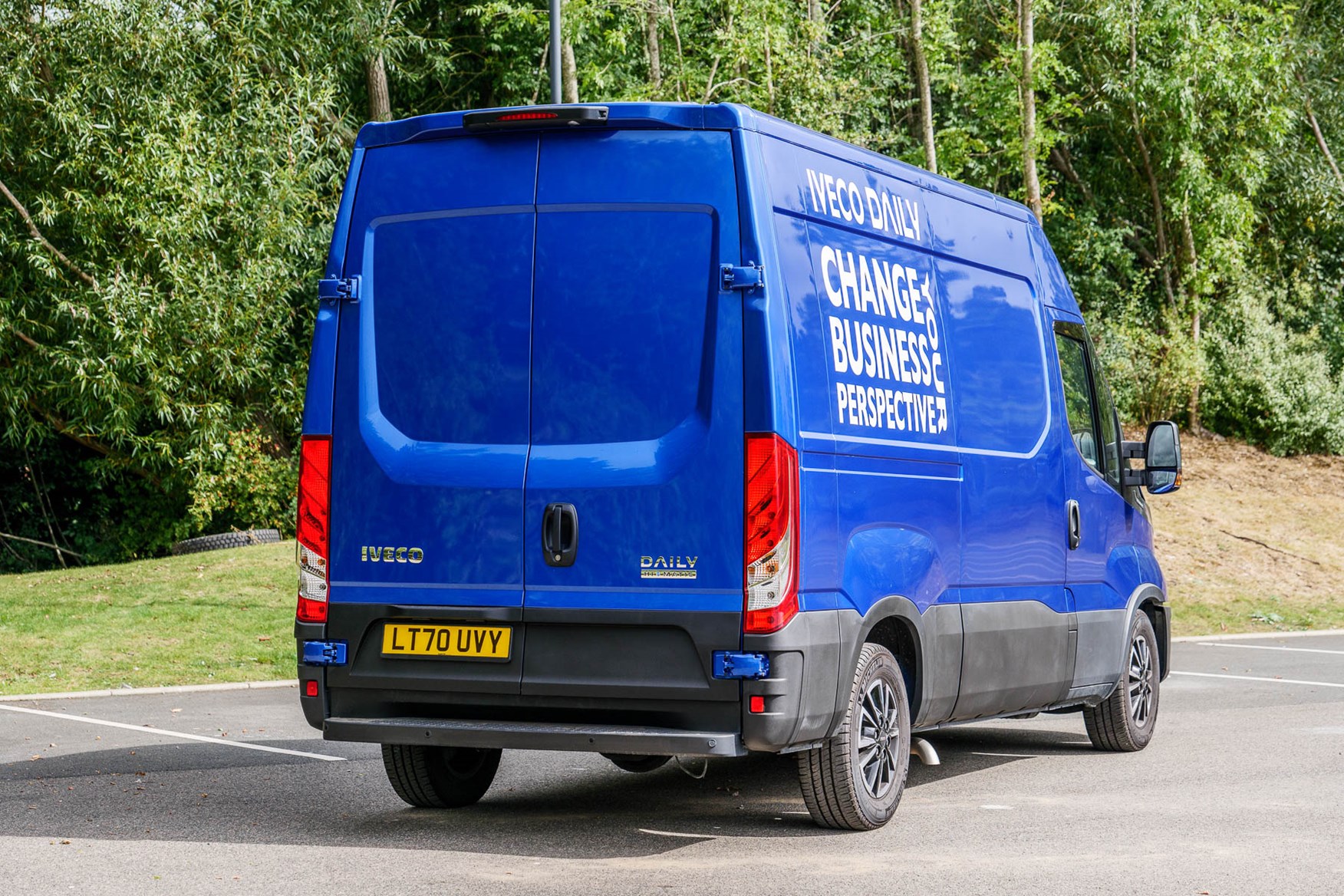 The 2.3-litre engines now feature an electronically controlled variable geometry turbocharger (e-VGT) for faster response and better efficiency, although no actual increase in power or torque. The two more powerful versions are now available in Heavy Duty spec as well as the standard Light Duty variants.
The top-spec 3.0-litre engine boasts an e-VGT, too, and this pushes power on that motor up to 210hp - making the Daily the most powerful van in its class. The other two 3.0-litre options stick with the standard pneumatically variable turbine. All the 3.0-litre engines are rated Heavy Duty.
Partly as a result of all this, the Daily was the first van in its class to meet the new Euro 6D Temp emissions regulations, and also the first to meet Euro 6D and Euro VI E with the 2021 New Daily.
Electric power steering, safety aids and new tech
The 2019-onwards New Daily also benefits from electrically-assisted power steering (EPAS), which brings it into line with the likes of the latest Volkswagen Crafter, Mercedes-Benz Sprinter and Ford Transit.
EPAS not only reduces the amount of effort needed to steer the Daily - especially at lower speeds, where a special City button increases assistance even further - but also enables a number of new active safety aids, including proactive lane keeping assist.
The New Daily is also available with adaptive cruise control, autonomous emergency braking and crosswind assist now, while Hi-Matic automatic versions can be fitted with something called Queue Assist, which automatically follows the vehicle in front during stop-start traffic.
Hill descent control and a Traction Plus grip-finding driving mode are available, too.
Other updates include the option of LED headlights, and a revised interior which finally offers a two-way adjustable steering wheel, improved instrument cluster and new-generation infotainment system with Apple CarPlay and Android Auto.
A new on-board connectivity box, MyDaily web portal and app, and Iveco fleet management software brings connectivity right up to the cutting edge as well - even offering remote diagnostics and, in some cases, repairs.
Iveco Daily variants and other upgrades
Prior to the 2019 upgrade, the previous round of Daily upgrades came in 2016, when the Daily Euro 6 or Daily E6 was introduced to meet the initial round of Euro 6 emissions regulations.
In late 2017 there was a further update introducing the Daily Blue Power range – an efficiency-focused family of models easily identified by their controversial blue detailing (it's the wheels that really make people raise their eyebrows…) and racy red seat belts.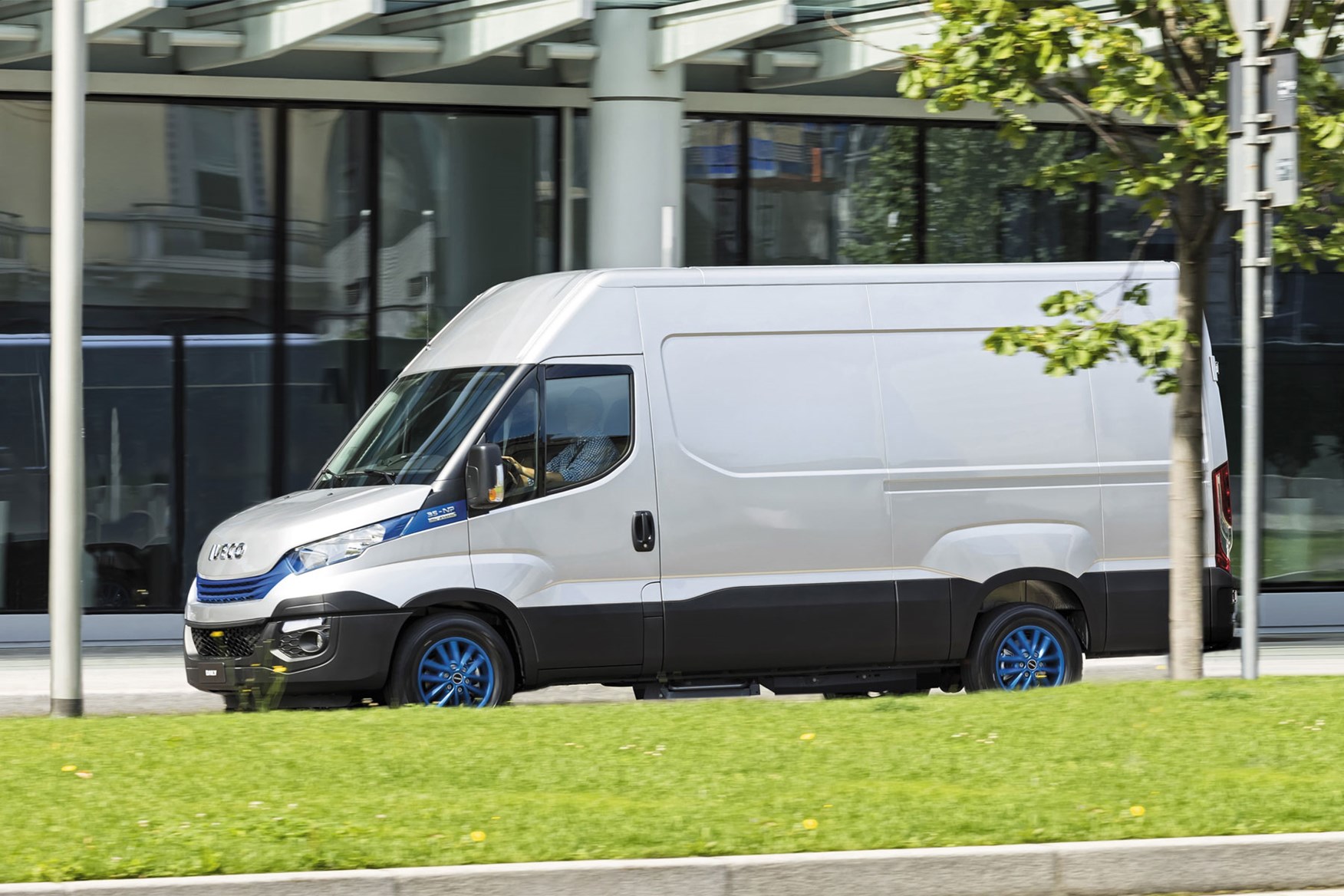 The first vans to meet so-called Real Driving Emissions regulations (which came into force in 2020), these are also known as the Daily RDE models.
As well as conventional panel vans, the Daily is available with various chassis cab conversions - including tippers and box vans - and in minibus variants. This review deals mostly with the panel van.
Iveco Daily engines – diesel power and alternative fuels
Regular Daily models have either 2.3-litre or 3.0-litre four-cylinder diesel engines, with power output ranging from 116hp through to 205hp (210hp from 2019).
However, Iveco also offers alternative fuel vehicles in the form of the 136hp Daily Natural Power, which runs on compressed natural gas, and the Daily Electric, although this is not currently available to order in the UK.
All conventional models are rear-wheel drive, though 4x4 versions of the Iveco Daily are available - which we've tested separately.
The excellent Hi-Matic eight-speed automatic gearbox is an optional extra that's well worth considering.
---

Verdict: is the Iveco Daily any good?
Keep reading for our full review of the Iveco Daily, but suffice to say this is an impressive vehicle – especially if your priorities stretch beyond 3.5-tonne gross vehicle weight.
Pick the automatic, and the driving experience is easy-going, too, with light steering and engines that provide plenty of power.
Payload at 3.5-tonnes is a weaker area, however, and even following the 2019 facelift the cab interior is outclassed by the best rivals for both quality and functionality.
As such, there are other large vans that may better-suit individual operators. But for heavy duty activities and towing, the Daily is definitely worth a closer look.
Skip to our full verdict on...
Powerful engines are smooth and responsive
Electric power steering from 2019 onwards
Good long-distance comfort and controlled handling
The Iveco Daily's engines are provided by Fiat Powertrain Technologies (FPT), which specialises in commercial and industrial power units. They come in either 2.3-litre or 3.0-litre four-cylinder turbodiesel configurations with the following output combinations.
Iveco Daily 2.3-litre (F1A) diesel engines:
Model designation 120 – 116hp / 320Nm
Model designation 140 – 136hp / 350Nm
Model designation 160 – 156hp / 350Nm (380Nm with the optional automatic gearbox)
Iveco Daily 3.0-litre (F1C) diesel engines:
Model designation 150 – 150hp / 350Nm (discontinued in 2019)
Model designation 160

– 160hp / 380Nm

Model designation 180 – 180hp / 430Nm
Model designation 210 – 210hp / 470Nm

(205hp / 470Nm pre-2019)
All engines are available with either a six-speed manual gearbox or an optional eight-speed Hi-Matic automatic gearbox at extra cost – except the 150/160 3.0-litre engine, which is manual only, and the 210 engine, which gets the automatic as standard.
All of the 3.0-litre engines are rated Heavy Duty (meeting slightly less stringent emissions regulations as a result), while the two more powerful 2.3-litre engines are available in Light Duty and Heavy Duty variants; the entry-level 2.3-litre 120 is Light Duty only.
Drive is sent to the rear wheels.
Iveco Daily diesel engine performance and gearbox choice
Even before the introduction of the electronically variable-geometry turbos (2019 onwards on all 2.3-litre Dailys and the 210hp 3.0-litre), we've always considered these to be lovely engines, with plenty of power from the entry-level upwards and reasonable refinement, too.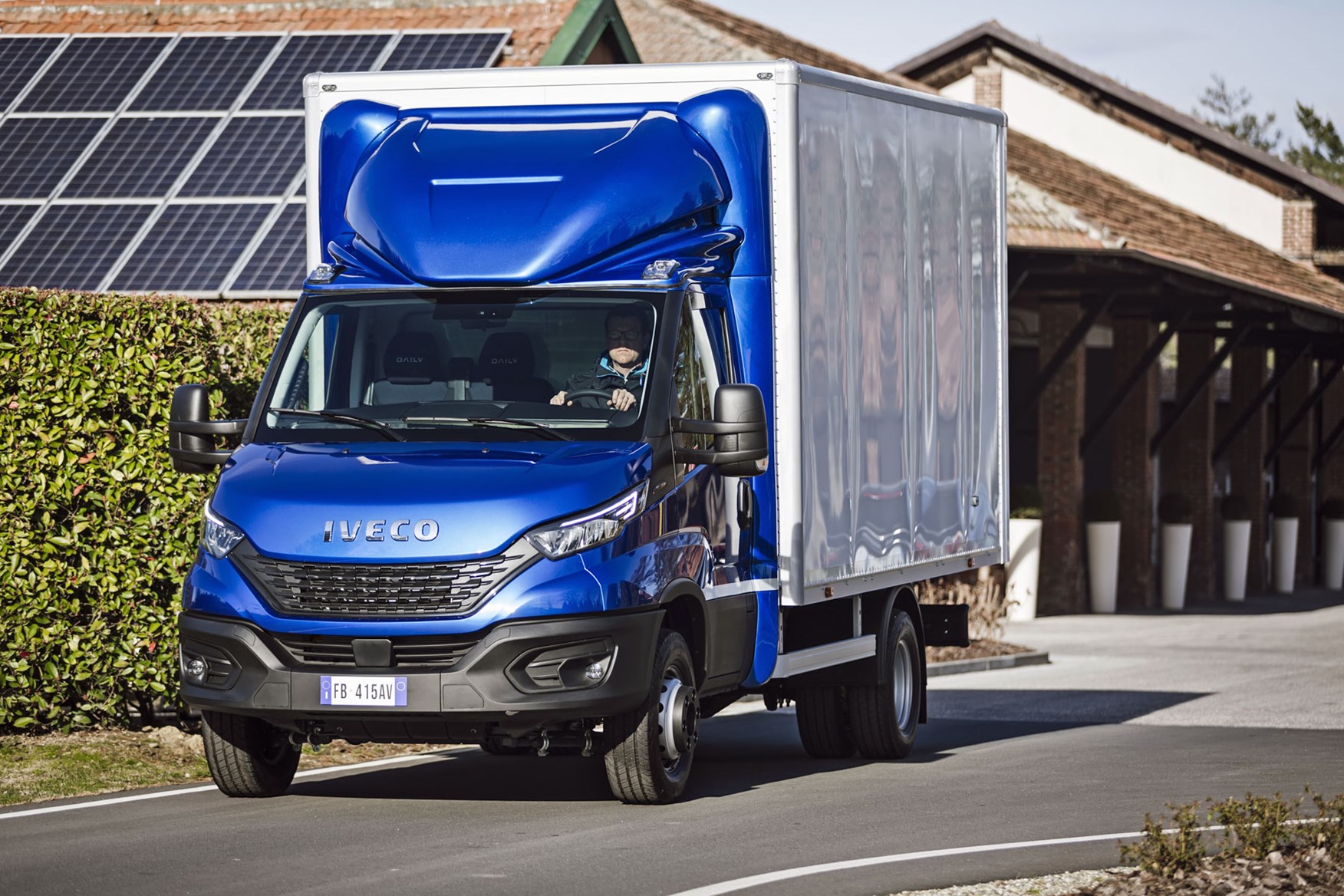 The move to e-VGT technology - a first in a van - only enhances the impression of effortless performance. The electronic control acts with far greater speed and precision than the previous pnuematically controlled variable-geometry turbos could manage, meaning you get quicker engine response and the promise of improved fuel economy.
Sampling a 156hp 2.3-litre model, we found this still took a short moment to get going initially (unless you're brutal with the accelerator pedal), but once up and running you can really tell there's more engine capacity here than you get from the increasingly common 2.0-litre rivals. The Daily just feels more instantly muscular. Even the 136hp version has sufficient poke in most scenarios, although it does take a while to accelerate up to 70mph with a hefty load on board.
The Daily is not absolutely silent at speed - there's a particularly curious, though not unpleasant, roaring noise that comes in towards the top of the rev range - but we weren't at all bothered by vibrations in the cab, and found the loudest element of the whole experience was wind noise at motorway speeds. There's really very little engine or road sound inside.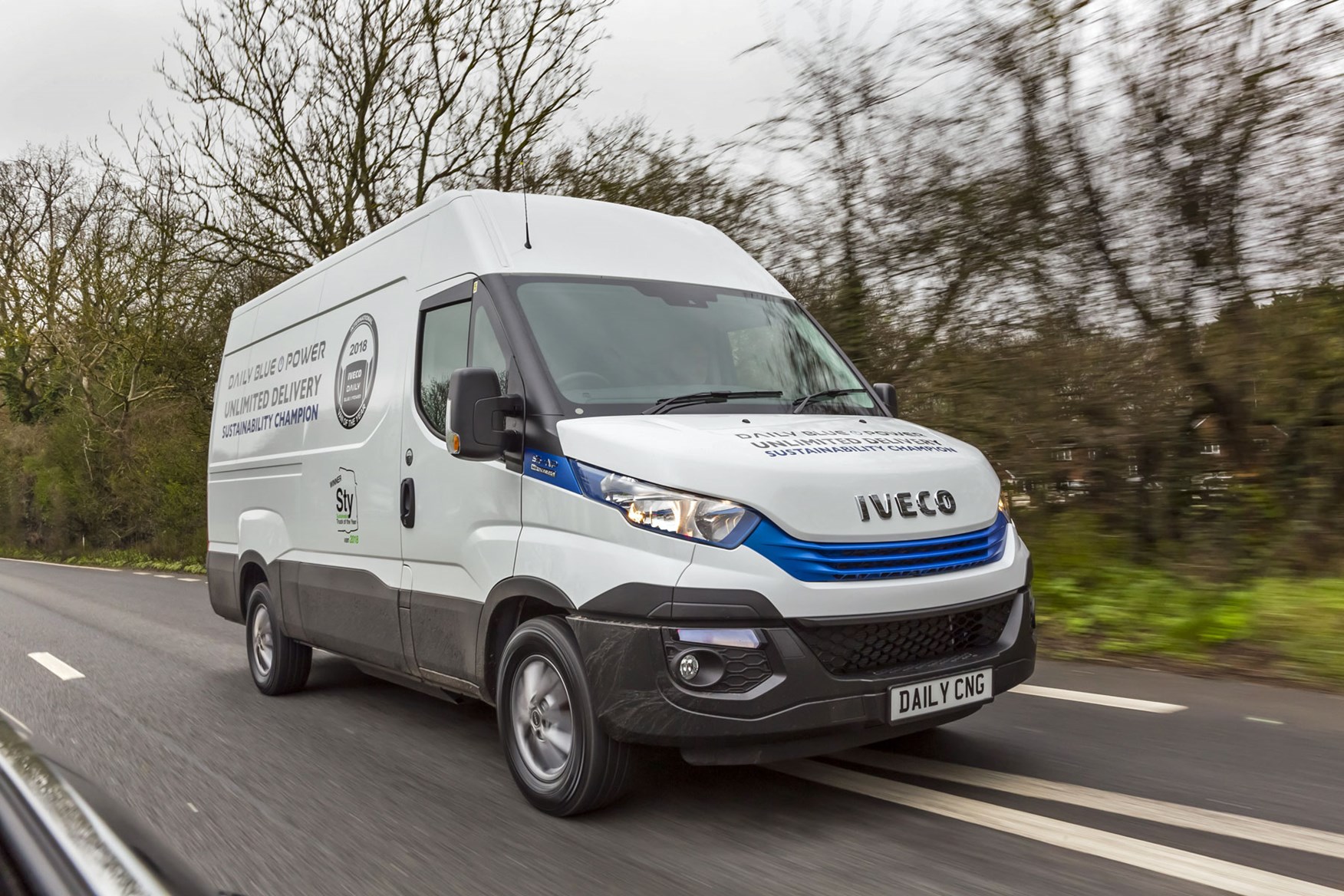 That said, the last 156hp Blue Power model we drove without the e-VGT system in 2018 effortlessly shrugged-off a test weight in excess of 1,000kg, so if you can't afford the latest Daily engine range you'll still be getting a potent van.
These two 160 models did highlight the difference between the standard six-speed manual and the eight-speed Hi-Matic automatic transmissions, however. Given the choice, the auto is by far the better option - the manual proving to have a lengthy and vague shift action that occasionally found us accidentally selecting too high a gear.
It is mounted pleasingly close to the steering wheel, however.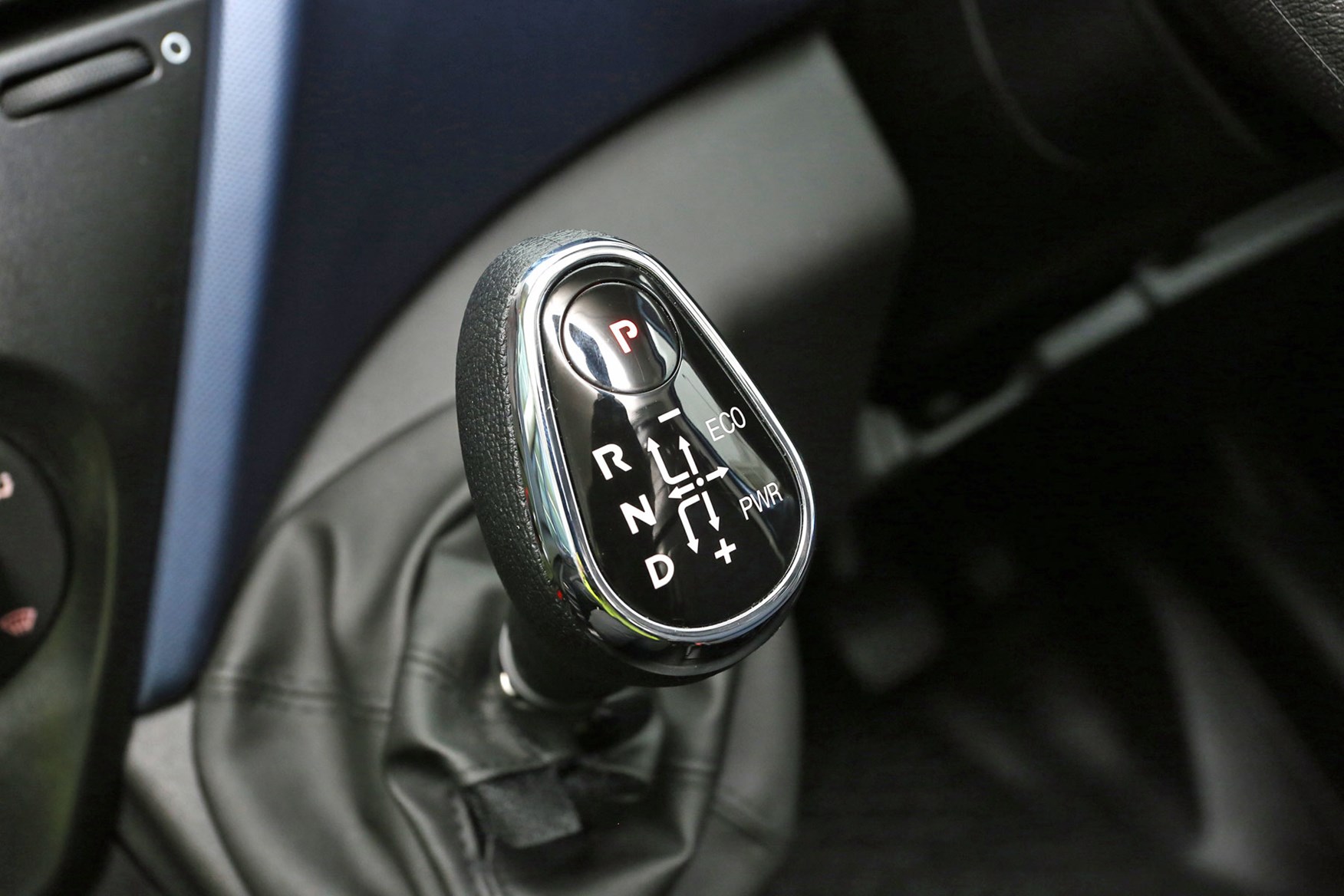 The upgrade cost to Hi-Matic is minimal, and it makes the Daily easier, quieter and more efficient to drive in the real world. It will also prevent clumsy drivers from prematurely destroying clutches, thus lowering your operating costs.
We've also previously driven the longest possible Iveco Daily body variant – which is truly huge at over seven metres long – with the 180hp 3.0-litre engine. An engine this size is something of an indulgence these days, but its smooth performance almost justifies the expense.
Iveco Daily ride comfort
This is a particularly heavy-duty van, and this is reflected in the unladen ride quality – which is bumpy, to say the least. This is especially noticeable over rippling B roads, with the traction control light flickering as the rear wheels occasionally skip over particularly vicious bumps.
Put a bit of weight in the back, however, and you'll find this substantially improved. In fact, the 2019-onwards versions we've driven with weight on-board felt very composed over some particularly bumpy road surfaces, with only the very worst ruts and lumps transmitting shocks through to the passengers in the cab.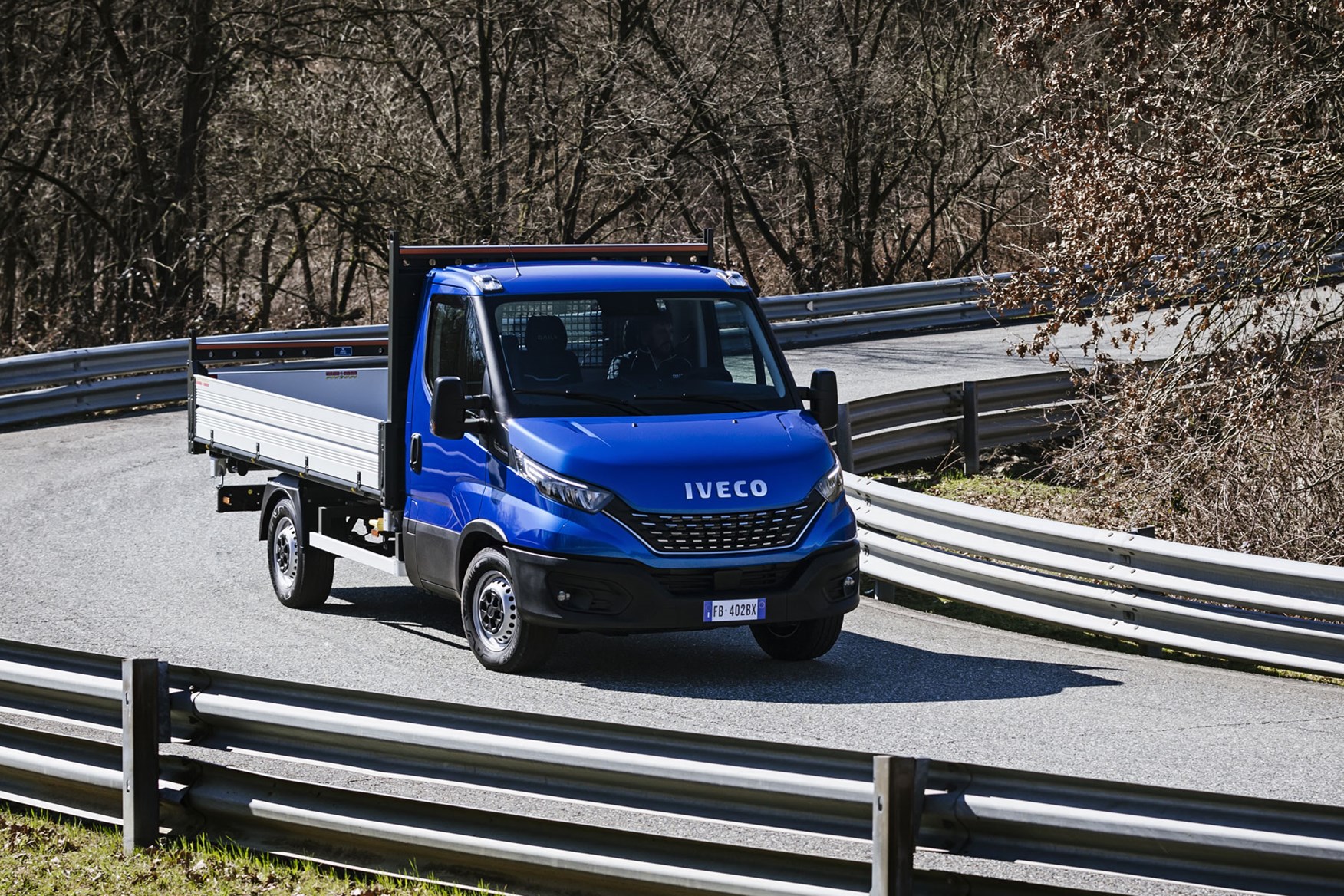 You can make life even better for the driver in this regard by specifying a suspensed seat to further soak up any surface disturbances.
So, despite the truck-like chassis, the Daily feels more than capable of delivering decent long-distance comfort, even though ultra-modern vans like the VW Crafter and Mercedes Sprinter still have the edge in this regard.
Iveco Daily steering and handling
The Daily's steering has always been light, making it surprisingly easy to manoeuvre for such a big vehicle.
The electrically assisted power steering takes this is a stage further by adding a City button to the dashboard. Press this, and it boosts assistance to the point that steering effort is reduced by 70%, making it even easier to palm this big van around in tight spaces.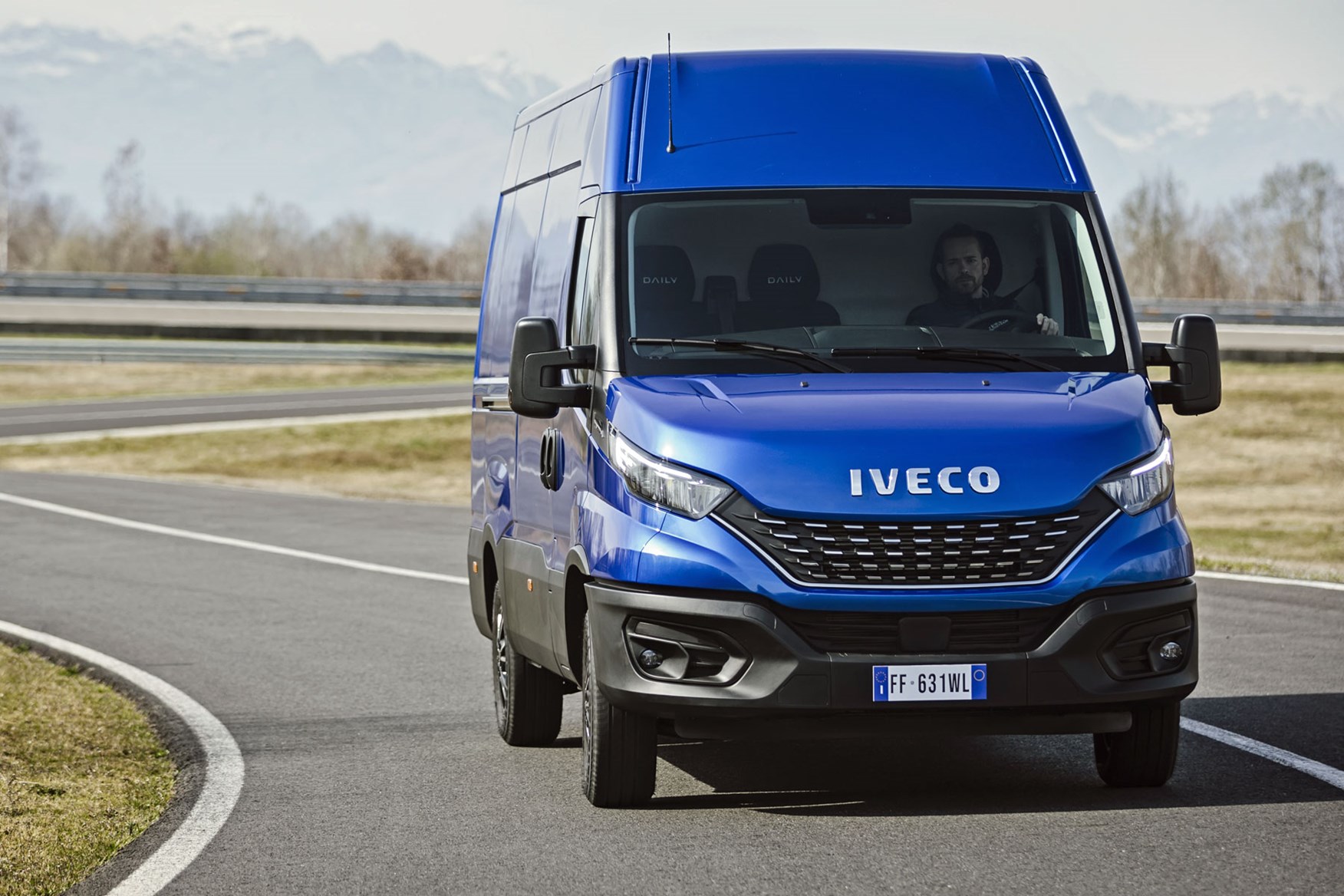 The flipside to this convenience is a slightly dead area around the straight-ahead position, which creates an odd sensation akin to a piston moving suddenly through oil as you push beyond this point to turn the van into a corner. It's not awful, but it doesn't quite have the consistency in response of the previous steering system.
Still, we found the 2019-on Daily straightforward enough to keep pointing in the right direction on the motorway - helped by the smooth and gentle intervention of the new lane keeping assistance system - and well-controlled when tackling high-speed slip roads.
It's not quite as car-like as a Sprinter or Crafter, but for a vehicle with a separate chassis it does very well indeed.
Iveco Daily RDE Blue Power range
In 2017, Iveco introduced a new Blue Power range to emphasise the Daily's environmental credentials.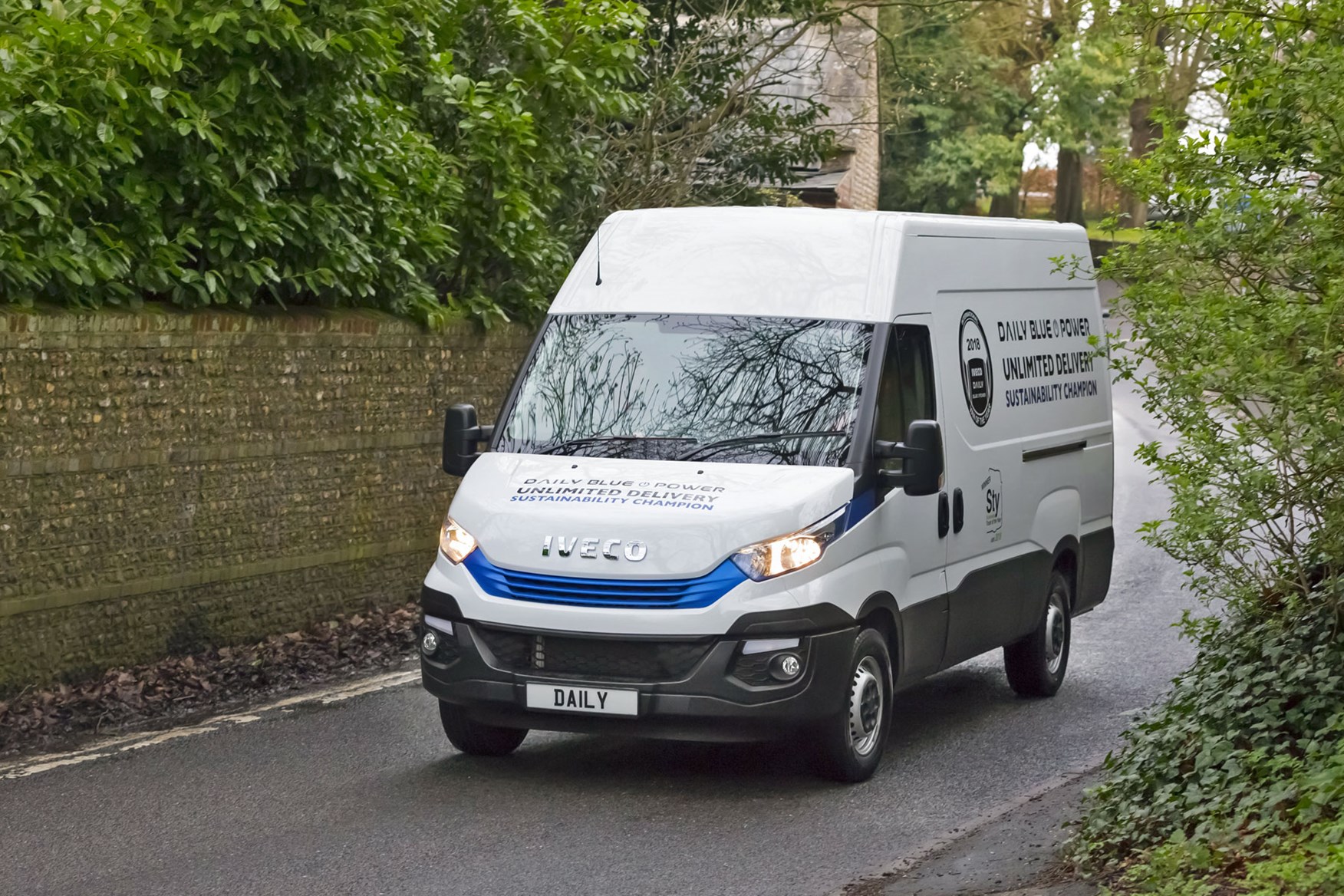 On the diesel side this adds a Selective Catalytic Reduction (SCR) system to recalibrated 136hp and 156hp versions of the 2.3-litre motor, cleaning up their emissions beyond what's necessary for basic Euro 6 regulations compliance and creating what's officially called the Daily Euro 6 RDE 2020 Ready.
Further enhanced with standard-fit stop-start technology and eco tyres these claim to reduce fuel consumption by up to 7% in real-world driving.
The Daily Blue Power range also encompasses the Daily Natural Power and the Daily Electric, which we'll deal with in more detail below.
Iveco Daily Natural Power performance
Iveco sells the Daily with a 3.0-litre CNG engine powered by compressed natural gas, called the Daily Natural Power and now part of the Daily Blue Power range.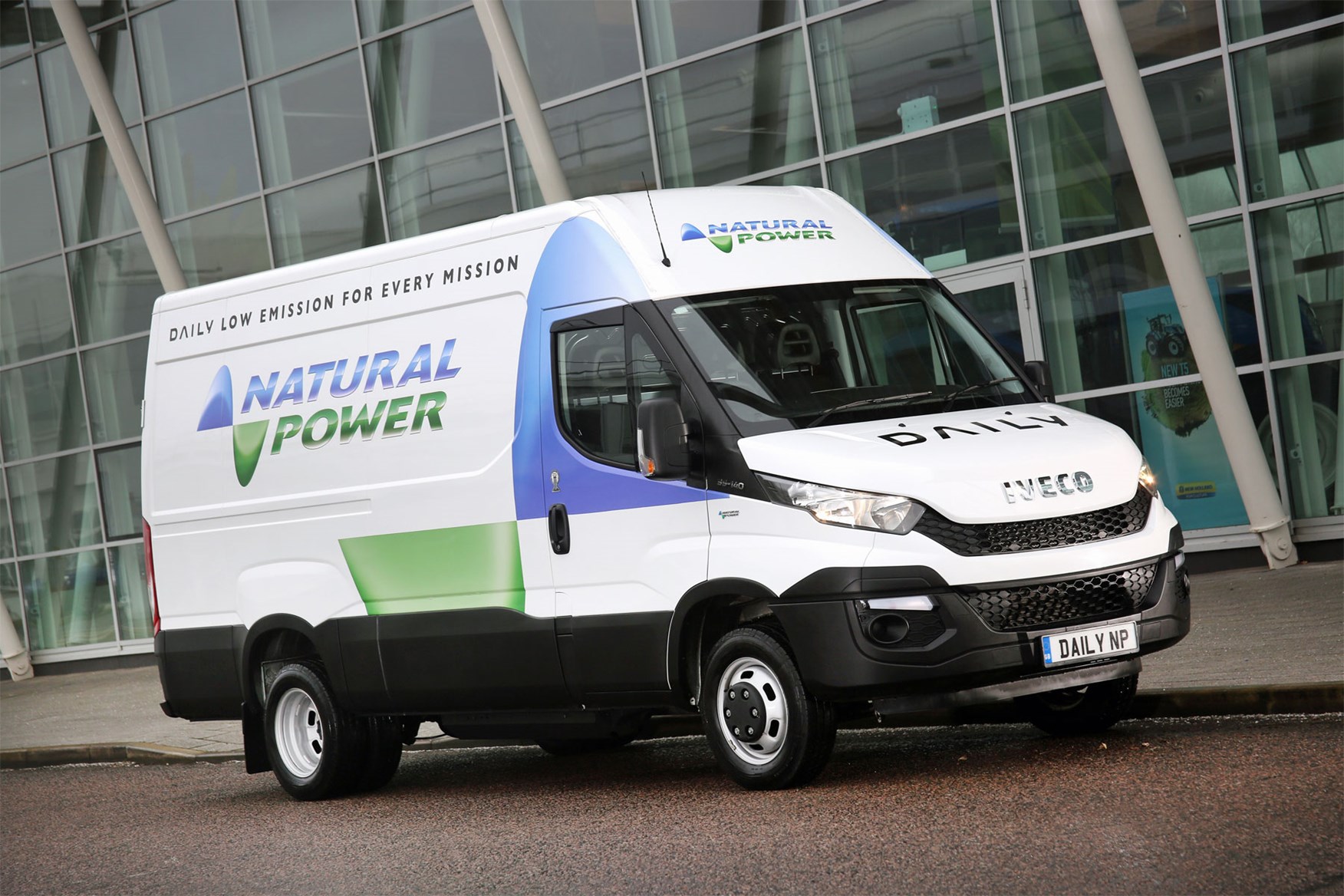 This produces 136hp and 350Nm of torque, so again is hardly lacking in get-up-and-go. Compared to the diesel alternative it's also quieter and more refined – and still capable of hauling a 7.2-tonne Daily loaded with over 3.0-tonnes in the back.
We've got a full review of the Daily Natural Power on a separate page.
Iveco Daily Electric performance
The final option in the Daily Blue Power range was the Electric model – which as the name suggests is powered by a zero-emission (in motion) electric drive system.
When available, this could be optioned with up to three battery packs, and was claimed to be capable of driving up to 124 miles between charges.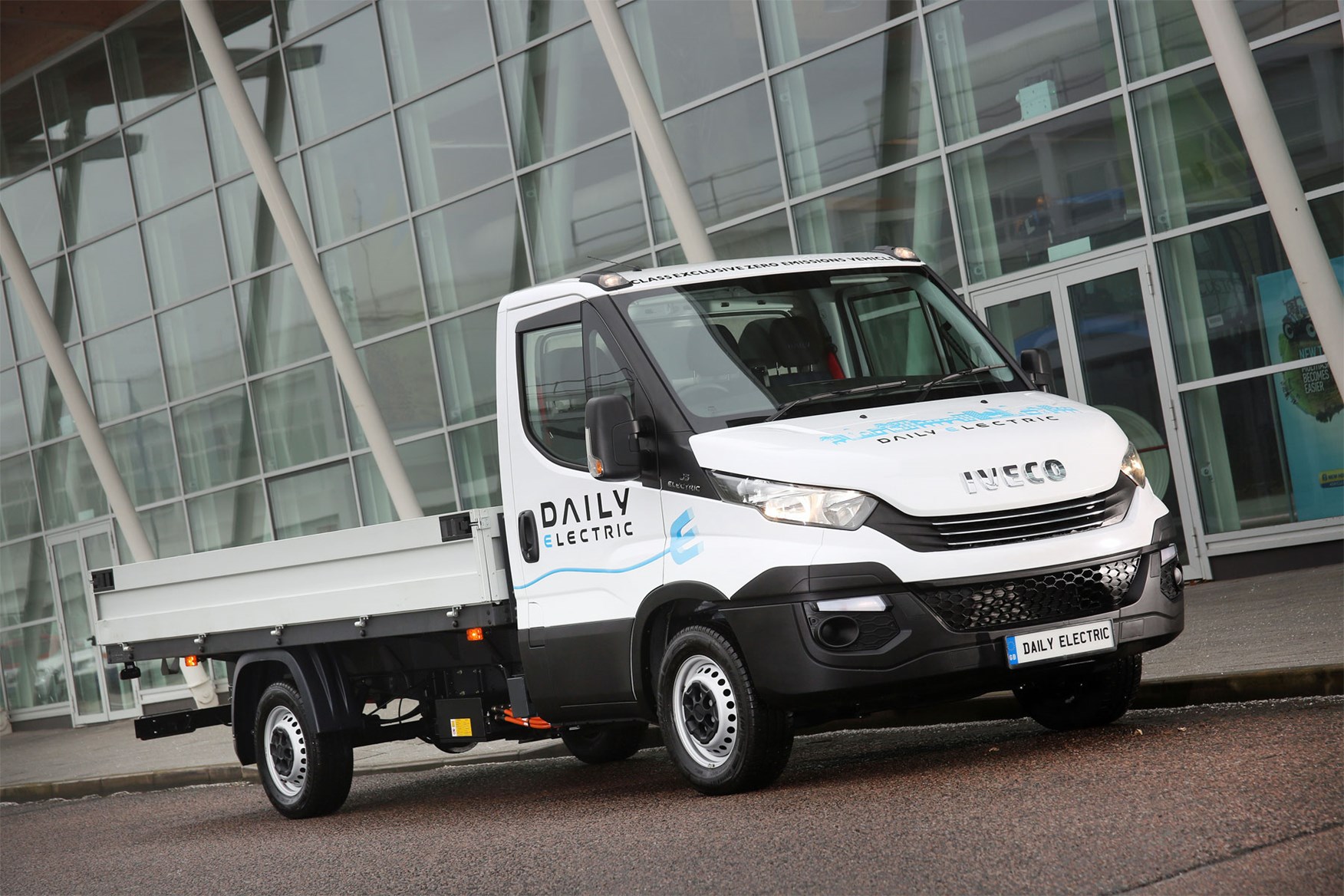 However, we've also found the Daily Electric to be painfully slow, and the additional weight of the batteries eats into payload. It's also very expensive.
There are much better electric vans on the market now.
Upgrades for 2019 include smaller steering wheel, more tech, electric parking brake
Plenty of in-cab storage, decent comfort levels
Build quality and plastics lag well behind the best in class still
Compared to the nearest monocoque rivals, the Daily retains an almost forward-control style of driving position despite the nose poking out front; the steering wheel is quite flat, the pedals need a bit of leg-lifting to operate rather than ankle-flexing, but nothing is heavy, or crude in operation.
The cab design of the Iveco Daily hasn't massively altered with the introduction of the facelifted models, but there have been some worthy and interesting modifications.
So while the basic shape of the dashboard hasn't changed - and neither, sadly, has the standard of fit and finish, which is average at best - Iveco has swapped in a smaller steering wheel, added a central TFT display to the instrument cluster, and added a new Hi-Connect infotainment system option.
Smaller steering wheel with increased adjustment for the 2019 Iveco Daily
Iveco says it's 'really proud' of the Daily's new steering wheel, which isn't just smaller but also no longer round...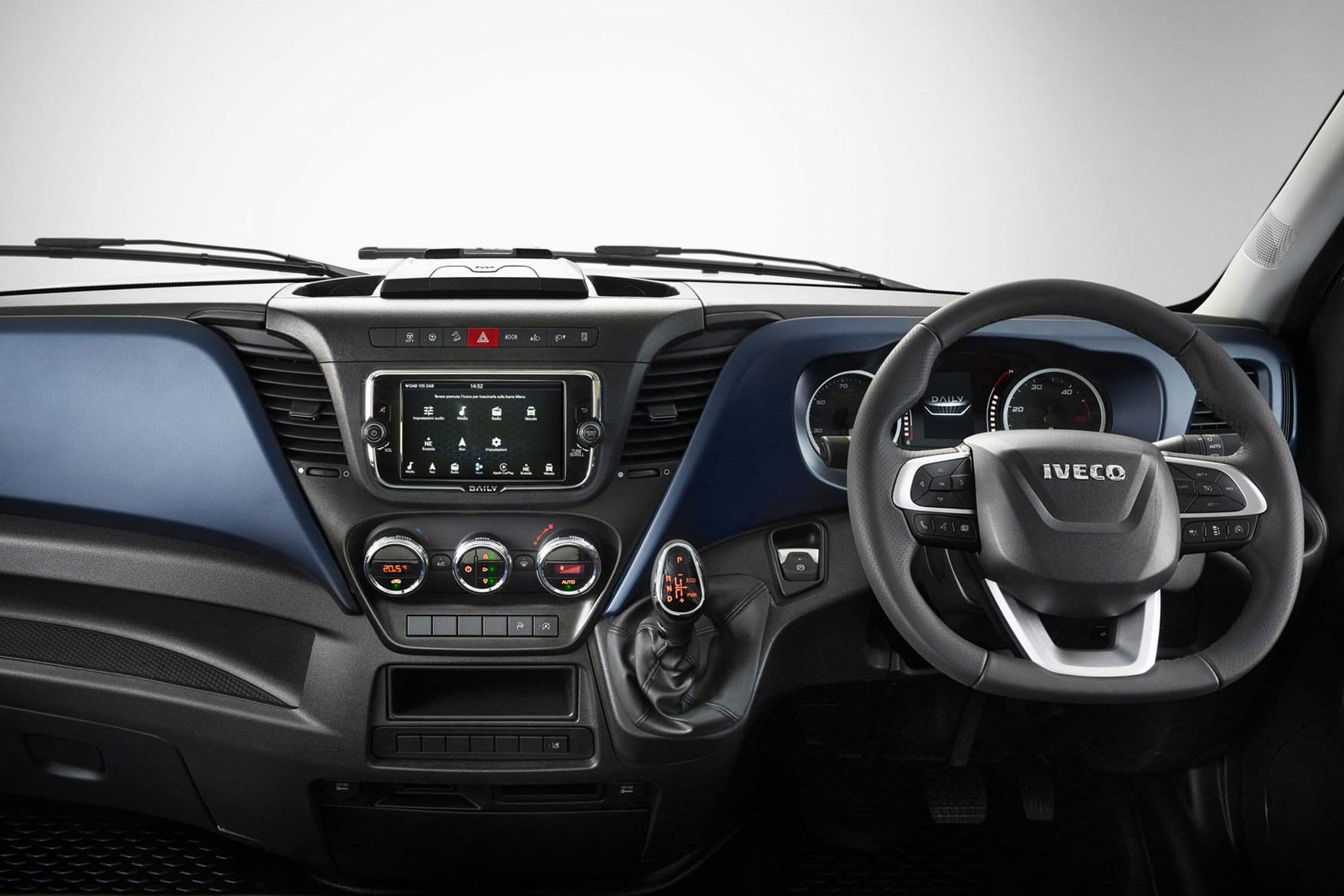 Squared-off at the bottom to increase legroom, flattened at the sides to increase grip area, some people will likely think this very odd indeed. But we found it easy to get to grips with (pun intended), while the smaller diameter made the steering itself seem more responsive.
Better yet, the new steering wheel is now double adjustable - meaning you can move it up and down and forward and back. Welcome to the 21st century.
Ditto, you'll find there are a load of button controls on the wheel itself now, many of which operate the new TFT display nestled between the main dials in the instrument cluster.
TFT instrument cluster for 2019 Iveco Daily
This is not especially innovative, as plenty of other rivals have used similar equipment for years, but this enhanced trip computer is commendably well designed, and gives you access to a lot of information in an easy to digest format.
As well as typical trip functions such as fuel economy and driving range information, it also allows you to view and tailor various safety parameters (depending on what equipment is fitted).
Hi-Connect infotainment and connectivity upgrades for Iveco Daily 2019
The new Hi-Connect infotainment option includes Apple CarPlay and Android Auto, and becomes the new top-spec choice above the existing basic radio and touchscreen media systems already available in the Daily.
It can be enhanced with TomTom's truck-spec sat-nav if you want it - the truck part meaning you can specify the vehicle's dimensions to avoid ending up stuck at a width restrictor - but the smartphone integration means you can easily use Google Maps or Waze, regardless.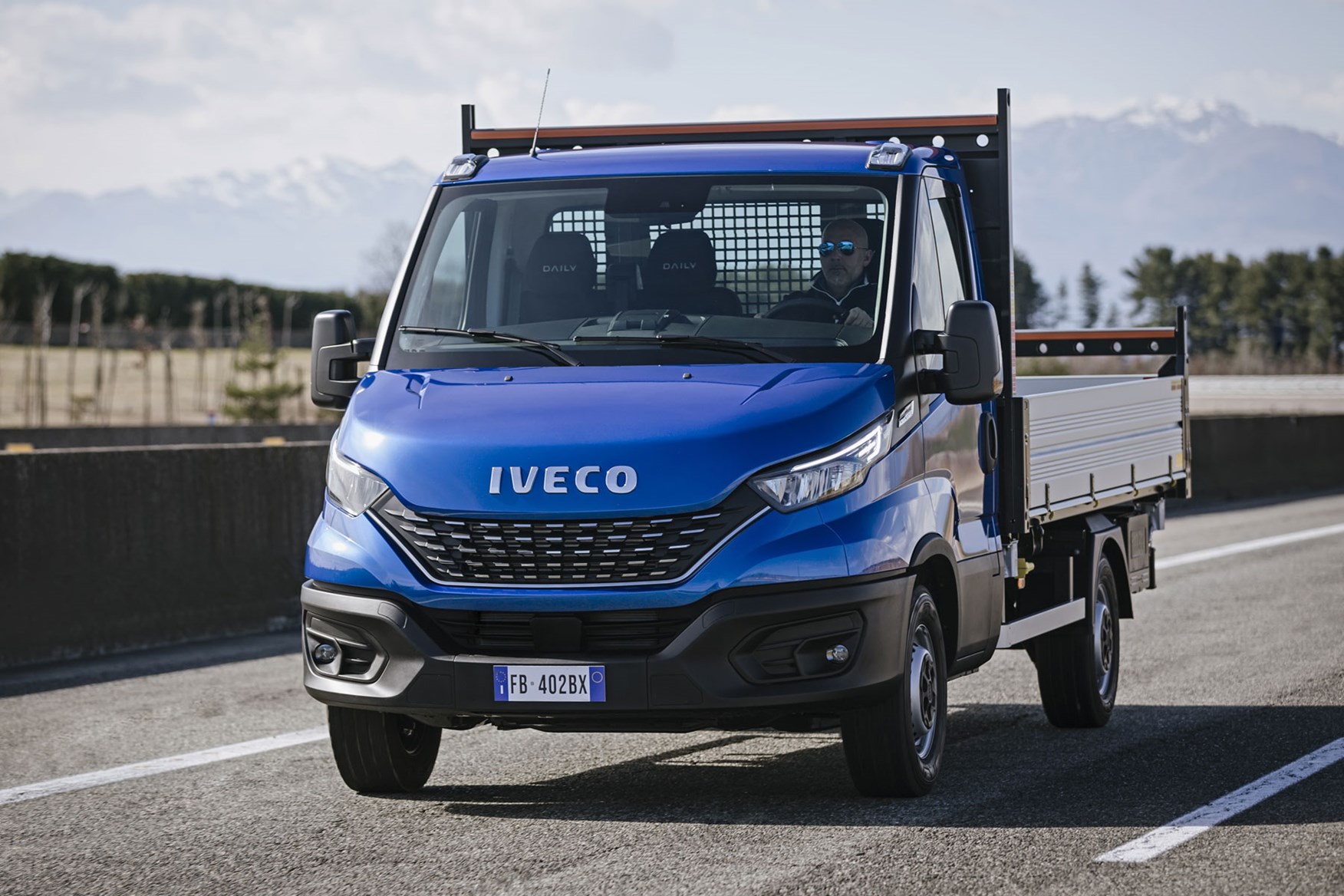 The new 'connectivity box' option, meanwhile, is Iveco's own take on a state-of-the-art telematics system, available with a range of services to suit the smallest operators to the largest fleets.
Iveco's even built itself a dedicated call centre to support this, as well as the MyDaily web portal and app, which can issue monthly smart reports to give you an overview of how your fleet is performing even if you don't have a fleet manager.
We've been given an extensive overview of the system, and it certainly seems very impressive, with real-time vehicle tracking, geofencing and predictive preventative maintenance functions all part of the package.
The connectivity box is able to interface with existing fleet management software, should you already have a system you'd prefer to stick with.
The Iveco Business Up app (see below) also continues, for those not interested in going down the full connectivity box route.
Iveco Daily in-cab storage and practicality
While it's not the most exciting dashboard to look at - the blue detailing and red seat belts of the Blue Power variants excepted - the Daily does have quite a few storage areas and other clever features.
You'll find twin lidded bins over the instrument cluster and the passenger side of the top of the dashboard, while the section in the middle can be customised from a slot that's handy for paperwork to a pop-up clipboard.
The glovebox isn't especially large, but there is a useful shelf above this, and three tiers of storage areas in the doors. We do wish the cupholders weren't angled as they make it far too easy to spill a fresh coffee.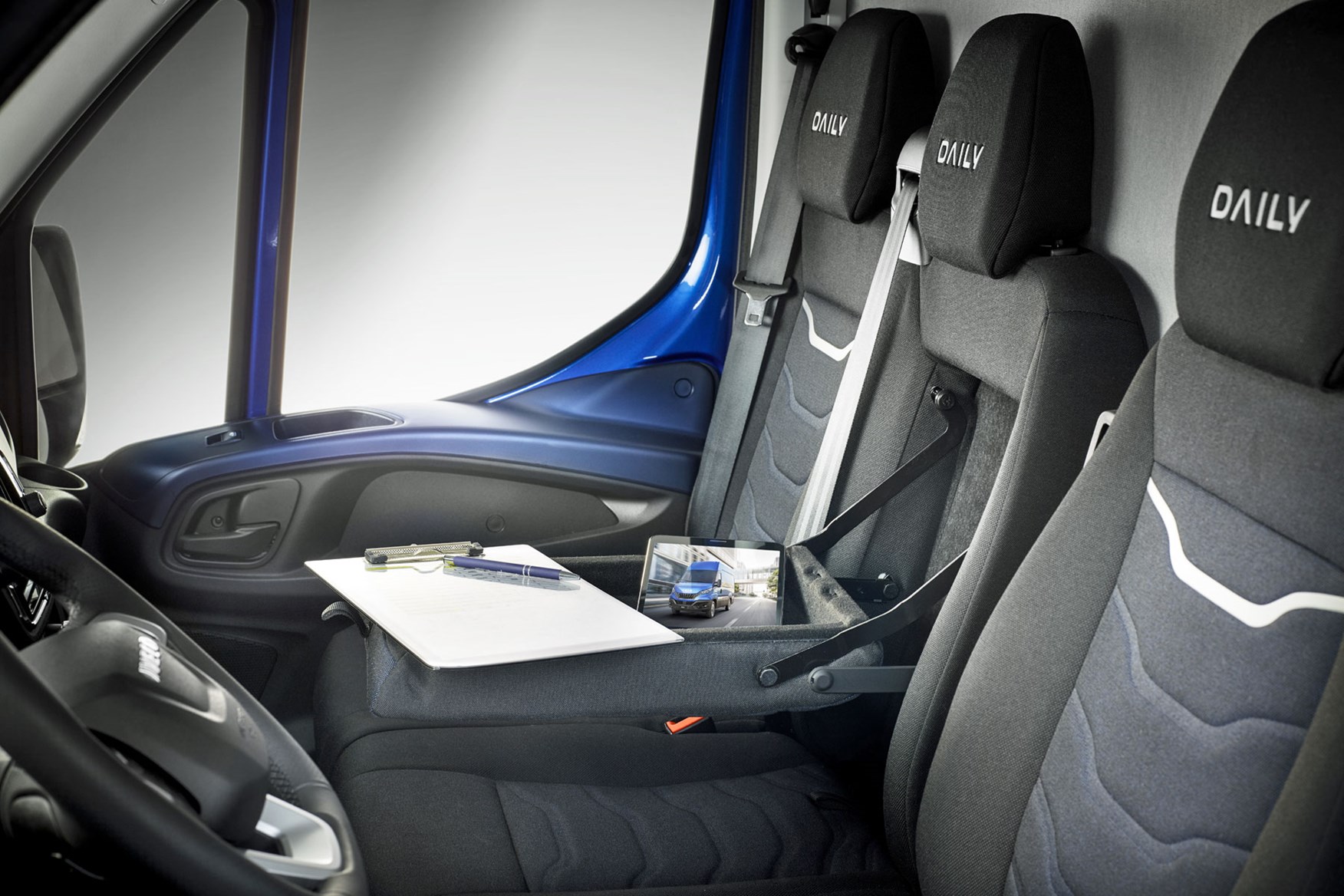 As well as underseat storage, you can spec the middle seat back with a fold out desk space that cleverly cantilevers outwards to retain storage space beneath it.
The seats themselves have surprisingly sculpted backs and are reasonalbly comfortable, with a good range of adjustment for the driver - though the base on the passenger side is a little firm and unyeilding.
Generally speaking, the buttons for the secondary controls, including the heating and ventilation system, are clear and easy to use; the basic radio is rather fiddly, however.
Forward visibility is good - though some may complain the dashboard is a little high, this didn't bother us - while large side mirrors help you keep track of what's going on around you.
From 2019, the Daily is available with an electric parking brake, which not only saves space in the cab (you can now fit a reasonaly large bag in the space between the driver and passenger seats) but also operates automatically.
Iveco Daily Business Up app
Iveco isn't shy of innovation, as the Business Up app demonstrates.
This allows you to sync your Daily with a smartphone or tablet application, which can then give you real-time driving advice aimed at improving fuel economy or finding the best driving route.
>> Details of the Iveco Daily Business Up app on Parkers Vans and Pickups
Not the best for fuel economy but claimed figures aren't too unrealistic
Truck-level servicing but limited UK dealer network
Advanced features include predictive maintenance and alternative fuels
It's all swings and roundabouts when it comes to Iveco Daily running costs, as the advantages of long service intervals, a five-year warranty and truck-based servicing provision attempt to balance out the fuel economy data and hefty basic weight of this vehicle.
Overall, Iveco claims the Daily is 10% cheaper to run in urban driving than the previous version, helped by features introduced in 2019 such as the new three-piece front bumper; only a single section will need to be replaced in 90% of bumper damage incidents.
Iveco Daily mpg
The Daily is always going to struggle to deliver fuel economy (mpg) that will challenge the top of the class, due to its heavy-weight, truck-style construction.
It's a price some heavy-duty users will be willing to pay, but compared with rivals the 27.5mpg official WLTP figure achieved by the 3.5-tonne van is well off the pace. Models equipped with Hi-Matic automatic transmission are marginally more efficient, at a quoted 27.6mpg.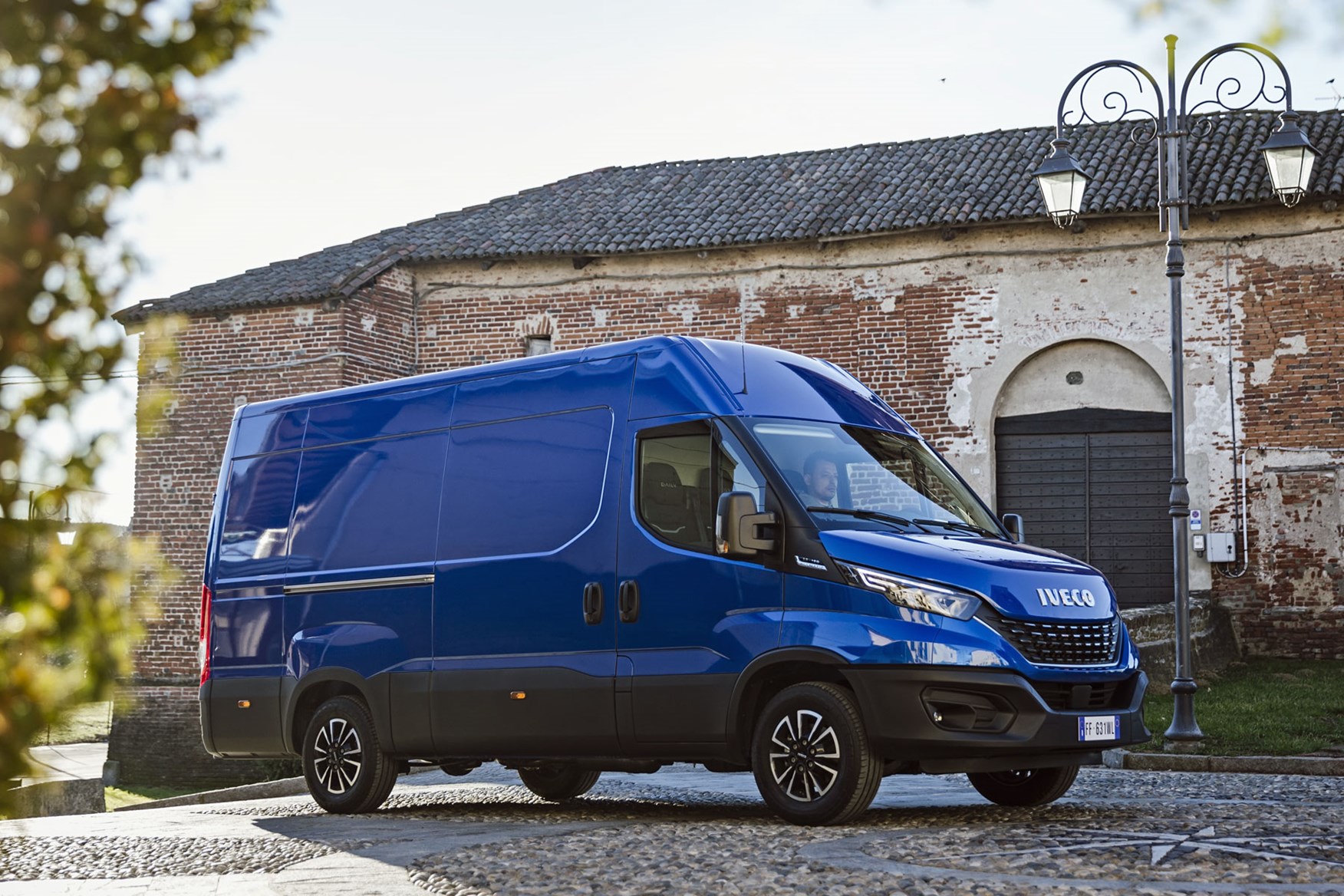 Tangible evidence that Iveco is trying to improve the Daily's real-world fuel economy comes from the adoption of ever more efficient low-rolling resistance tyres, those e-VGT engines – with all 2.3-litre versions fitted with stop-start as standard as part of the 2019 revisions – and the electric power steering, which saves weight as well as fuel.
There's also an Eco button in the cab, which optimises the engine to maximise efficiency at the cost of some performance.
We've driven the 3.0-litre, 7.0t model a significant distance and achieved over 25mpg in real-world conditions - bearing in mind it had a limiter so motorway speeds were restricted. Load seemed to have little impact on performance or economy in that specification, too. In comparison, we managed just over 27mpg from the 136hp 2.3-litre Hi-Matic, a number impressively close to the official figures. Again, a load didn't affect economy that much, although we noticed the drop in performance.
Iveco Daily warranty and servicing intervals
The Daily comes with a five-year, 100,000-mile warranty as standard, which is among the best in the van sector.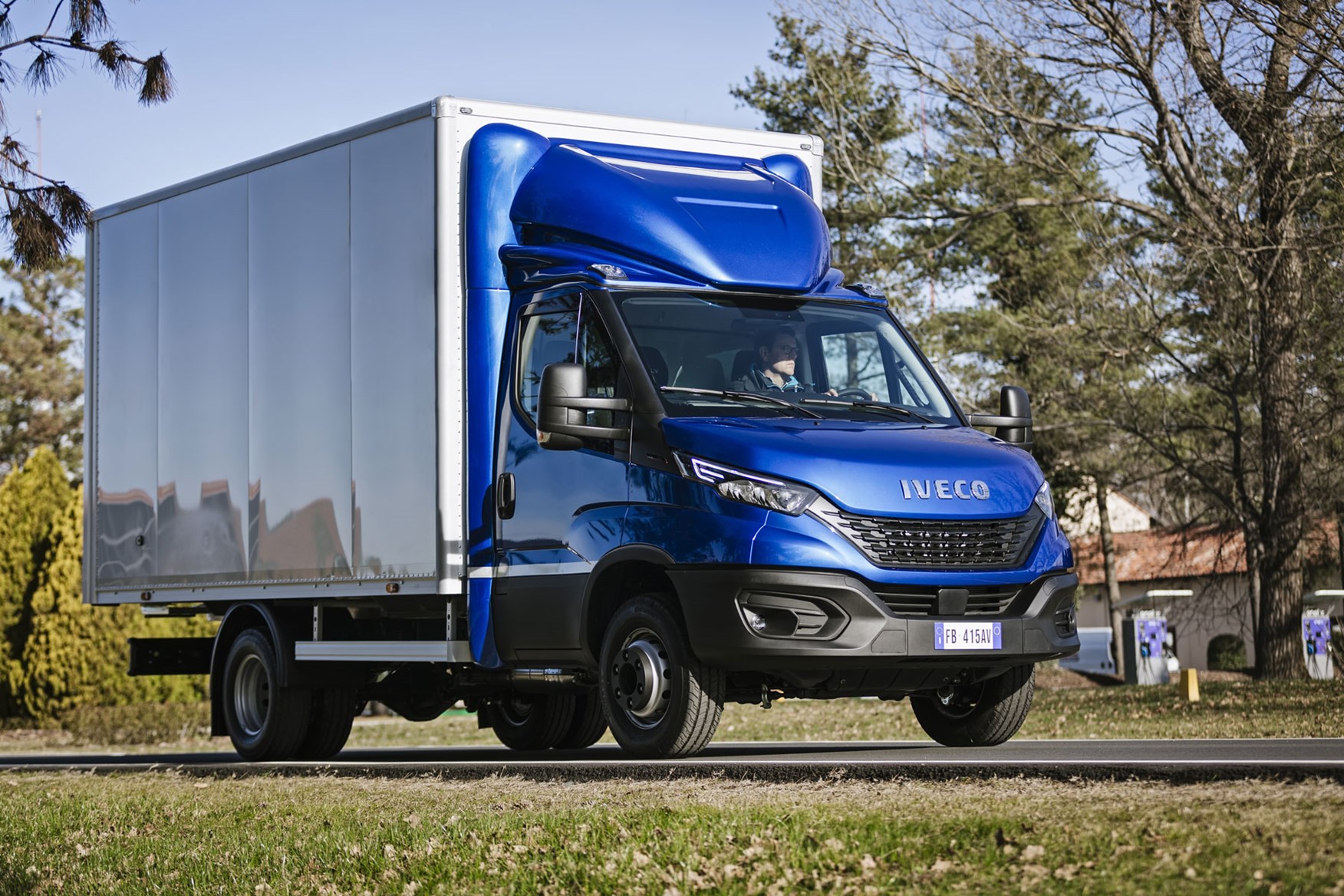 Upgrades in 2019 also extended service intervals up to 60,000km – the equivalent of just over 37,000 miles – which no other van maker can currently match. New gearboxes in 2021 extend clutch service life, and indeed, suggest a 350,000km (217,000 miles) expected lifespan for the manual gearbox.
Predictive maintenance for the Iveco Daily
Another innovation that comes as part of the 2019 update is the option to add a connectivity box to the Daily which puts it into constant contact with Iveco's customer service centre.
As well as enabling various fleet management functions, including the option to book regular servicing, this also allows Iveco to monitor the van for signs of impending maintenance issues. As data is collected, the system learns the early warning symptoms of potentially major problems – it can then give owners and operators enough notice to book the van in for pre-emptive repair at a time that minimises their downtime.
Very clever. Although quite how customers will greet a phone call from the local dealer that basically goes 'Your van is about to breakdown…' remains to be seen. Get over that psychological hump, however, and this is surely a very useful feature.
The same box of tricks also enables remote fault diagnosis, and in some cases even repairs. See the Reliability section below.
Truck-level servicing access for the Iveco Daily – but limited dealer network
Even without the fancy new connectivity systems, the Daily benefits from a dealer and servicing network that's geared up to support trucks.
This means extended opening hours, so it should be easier to find a time to get your van serviced that doesn't inconvenience your business.
There's also Iveco's Assistance Non Stop (ANS) breakdown service, which operates 24 hours a day, every day of the year.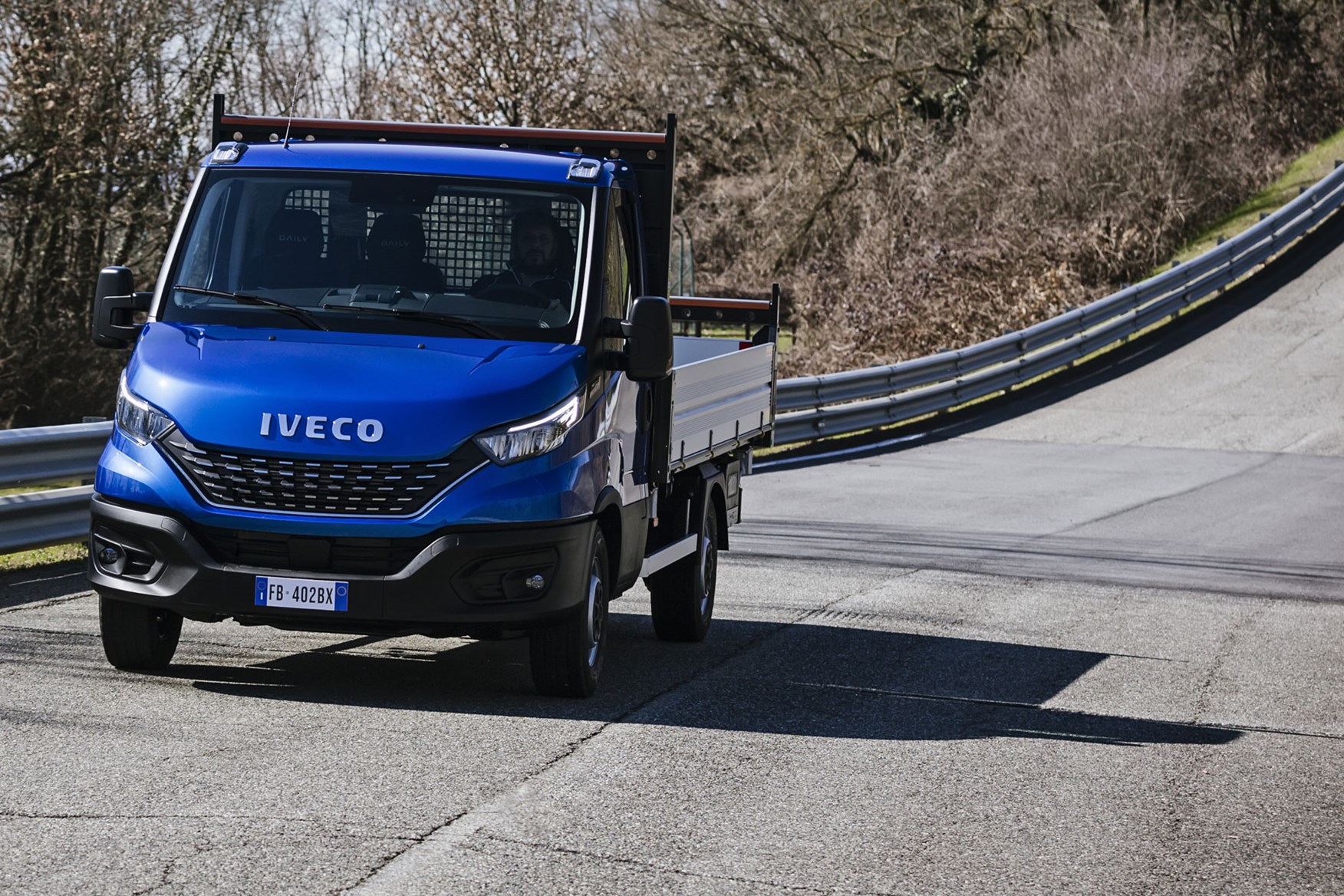 You'll find that Iveco offers various servicing and maintenance packages to help spread costs, but the actual dealer network is on the small side.
As of 2019, there are 18 main dealers in the UK, plus 35 satellite repairers and a further 34 authorised repairers.
Iveco Daily alternative fuels cost savings
Both the CNG-fuelled Iveco Daily Natural Power and the Iveco Daily Electric will offer running-cost advantages alongside dramatically reduced emissions.
However, these advantages have to be balanced against the purchase cost, which is generally higher - and especially in the case of the Daily Electric - and the complexities involved in keeping them fuelled.
We've reviewed the Daily CNG on a separate page, as there's rather a lot of specific information surrounding this fuel.
>> Iveco Daily Natural Power review
The Daily has a reasonable reputation for reliability historically, with the previous version only really bothered by less serious common faults - ball joints, binding callipers and injectors being the main worries.
As previously mentioned, Ivecos benefit from truck-level aftersales, which means thorough servicing and the dealers are usually well stocked on parts, which tend to be reasonably priced.
The 2.3-litre engine from Fiat Powertrain Technologies has been in use for years in the Fiat Ducato, and is also fairly well respected for reliability and efficiency.
Connectivity box for remote diagnosis and repair
The optional connectivity box available on 2019 Dailys allows Iveco's service technicians to remotely log into the van to perform diagnostics tests.
This means that if you see a warning light come on, you will no longer need to visit the dealer to find out what the problem is - at least in some cases.
If it's a software issue, Iveco reckons it will even be able to repair the problem remotely as well, assuming an update for the offending code is available.
Clever stuff, if it works, as it should save you the cost of unanticipated downtime. See also the predictive mainenance capabilty detailed in the Costs section above.
While safety equipment for previous versions of this Iveco Daily was limited to the mandatory driver's airbag, ABS and electronic stability control (ESC) system – plus optional lane departure warning – the 2019 facelift brought in a whole raft of extra features, making the Daily one of the most competitive vans for safety in its class.
However, you will have to pay more to maximise the Daily's abilities, as Iveco continues to offer only the bare minimum as standard.
Iveco Daily autonomous emergency braking
The most important new safety feature for the 2019 Iveco Daily is the availability of the Advanced Emergency Braking System and City Brake Pro.
This is an autonomous emergency braking system that works from 3mph upwards (a low speed, intended to prevent parking accidents).
Its ability to avoid accidents depends on the speed you're travelling at (and indeed the speed of the vehicle in front that you're about to hit), but it's very much a modern system, rather than one of the older type that only functions up to 30mph.
Shame it doesn't have pedestrian detection – for that you'll need a 2019 Ford Transit – and that Iveco doesn't include it as standard (unlike Volkswagen, Mercedes and Ford).
Iveco Daily crosswind assist
This uses the brakes to automatically counteract side winds. Seems to work well.
>> Vans fitted with crosswind assist
Iveco Daily lane keeping assist
Iveco's ProActive Lane Keeping Assist uses the electric power steering to gently stop you from wandering out of your lane on the motorway. This effectively means the Daily will steer itself for short periods.
Works smoothly and calmly in real life, unlike some rival systems which can prove rather aggressive.
Iveco Daily Queue Assist
This is an enhancement of the also new adaptive cruise control system, and allows the Daily to automatically follow the vehicle in front during a traffic jam – meaning the van will take control of accelerating and braking when stuck in a queue.
It only works with the Hi-Matic automatic gearbox, and is operated by a deliberate button press in the cab – so you won't find the Daily suddenly taking control unexpectedly.
Iveco Daily LED headlights
Optional all-LED headlights for the 2019 Daily – spot them via the unique daytime running light signature – are 15% brighter than the standard lights, and incorporate all of the front lighting functions, including the cornering lights and indicators.
This moves the lighting elements out of the lower bumper (reducing replacement costs should the bumper get damaged) and includes LED bulbs that are claimed to last the life of the van – lowering costs and avoiding annoying MOT failures.
Iveco Daily hill descent control and Traction Plus
The 2019 Daily is available with hill descent control to automatically maintain a steady speed when travelling down tricky slopes; this is designed for site work where surfaces may be treacherous, and is more commonly found in off-road vehicles than on vans.
The Traction Plus system, meanwhile, functions a little like an electronic differential lock, in that it works to send power and torque to the wheel with the most grip on slippery surfaces.
It's unusual to find these features on a rear-wheel drive vehicle.
Iveco Daily tyre pressure monitors – even for twin-wheel rear axles
The 2019 Iveco Daily also becomes the first van to offer tyre pressure monitors on twin-wheel rear axles.
Safety packages for maximum value
Adding all of this stuff as individual options is going to be expensive, but Iveco is keen to push the new tech so has come up with a number of packages that collect popular options into more affordable groupings.
You may still feel these add-ons are expensive, but compare the initial cost to the reduction in repair expense due to improved van and driver safety, and you may start to see how the extra kit balances out over the vehicle's lifetime.
Further Iveco Daily safety options for fleets
Much of the this new active safety tech has been added to meet fleet demands, based on exactly that cost equation highlighted above – reducing damage to the vans reduces downtime, which ultimately saves money (or at least, stops it being spent).
To make sure drivers can't then circumvent these measures by switching the active safety aids off or reducing them to their minimum setttings, the same optional connectivity box that used for fleet telematics can also be used by fleet managers to lock the Daily into its maximum safety settings.
Similarly, the electric handbrake can be linked to various safety features in the van – for example meaning that it won't release unless the driver is wearing a seat belt.
Other features on the Daily's comprehensive options list include an electromagnetic retarder, which provides a braking force of up to 470Nm and reduced brake wear, wider wheel profiles, rear reversing camera and rear air suspension, for ease of loading and unloading.
Which IVECO Daily is best for me?
The Iveco Daily offers an extensive number of body sizes - which you can learn more about on our dedicated Iveco Daily dimensions page - while its truck-style chassis means it's very suitable for a wide-range of conversions.
As such, you're very likely to be able to find a Daily variant to suit you.
Especially given the number of engine options, covering traditional diesel as well as CNG and electric power (though the Daily Electric is rather slow).
However, remember that payload at 3.5-tonne gross vehicle weight isn't especially high.
Whatever Daily you choose, we recommend the Hi-Matic eight-speed automatic transmission option, where available.
---
Iveco Daily version reviews
We've tested a number of particularly interesting Iveco Daily variants over the years. Here you'll find links to more detailed reviews of some of these.
Iveco Daily CrewVan review - tested August 2021
Iveco Daily 4x4 All-Road and Off-Road review - tested June 2021 (opens in new window)
Iveco Daily 7.0-tonne review - tested November 2020
Iveco Daily Natural Power review - tested October 2019 (opens in new window)
Iveco Daily 3.5t CrewVan review
Tested August 2021 by Alan Taylor-Jones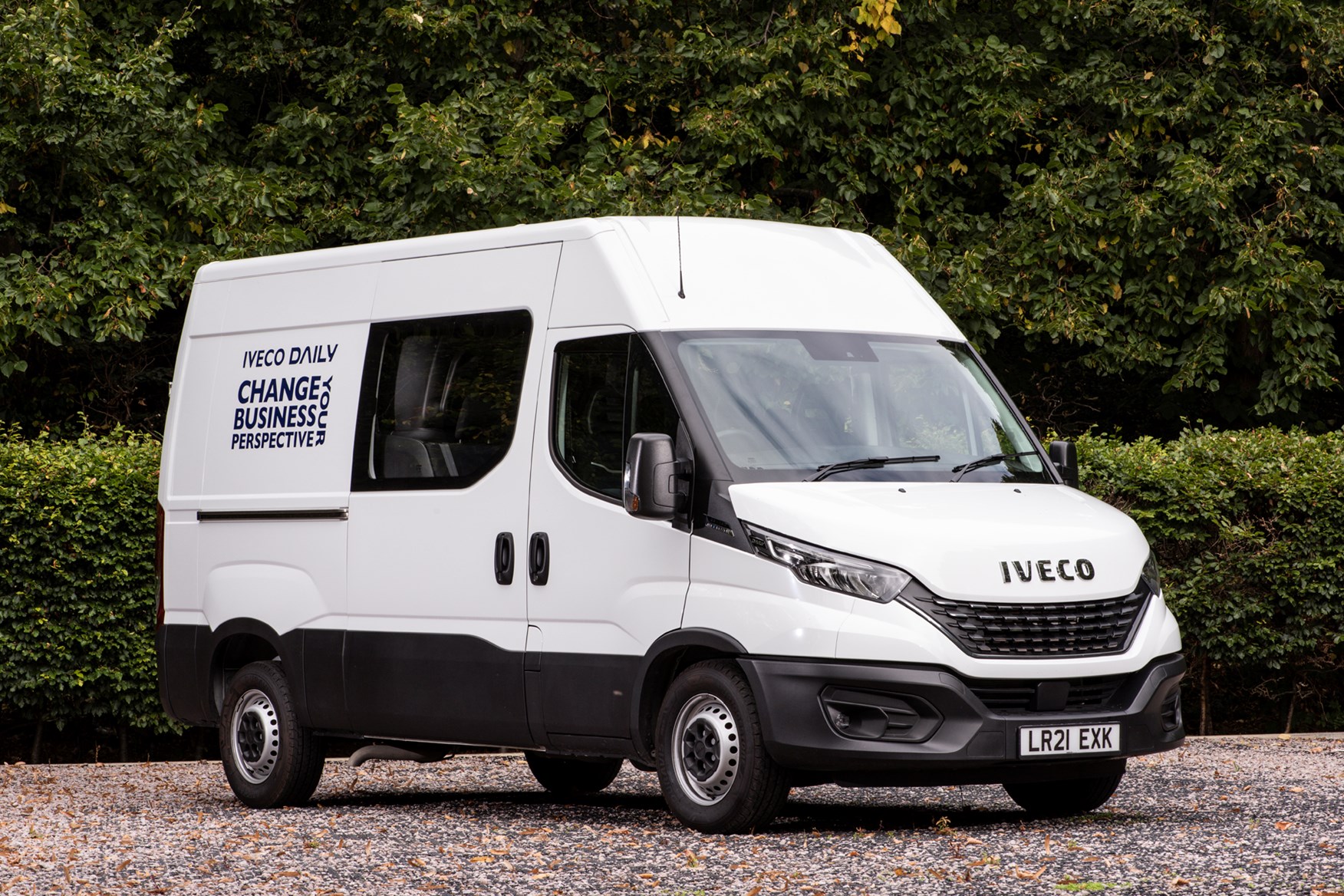 Multi-seater CrewVan conversion by Snoeks
Roomy for people and gear
136hp engine needs time to get going
To give you an idea of just how much choice there is in the range, we're taking a look at one of the smallest and least powerful versions here, the 3.5t Iveco Daily CrewVan by Snoeks. Open the rear doors and you'll find not just a load area, but three or four back seats, making this the perfect option for those or need to take both crew and equipment to a job.
Under the bonnet is the mid-range 2.3-litre diesel with a fairly tame 136hp coupled to our preferred Hi-Matic eight-speed automatic gearbox. A six-speed manual is also available for those looking to save a few quid, and this engine is sandwiched between a lesser 110hp 2.3 and a punchier 156hp version. There's also the 3.0-litre if you need even more.
Inside the Iveco Daily 3.5t CrewVan
Just because this is one of the dinkier Dailies doesn't mean it's cramped up front. You'll find a driver's seat with a good range of adjustment with a two-person bench to the side. Space is plentiful although the seats could do with a bit more padding to stop your posterior going to sleep.
The steering wheel adjusts for reach and rake to help comfort further and there's the option of plenty of useful kit. We'd certainly recommend the air-conditioning with such big windows, while the Hi-Connect infotainment system is fairly easy to use and comes with navigation and smartphone mirroring. It does take a fair while to load initially and isn't as user friendly as Ford's Sync 3 system, though.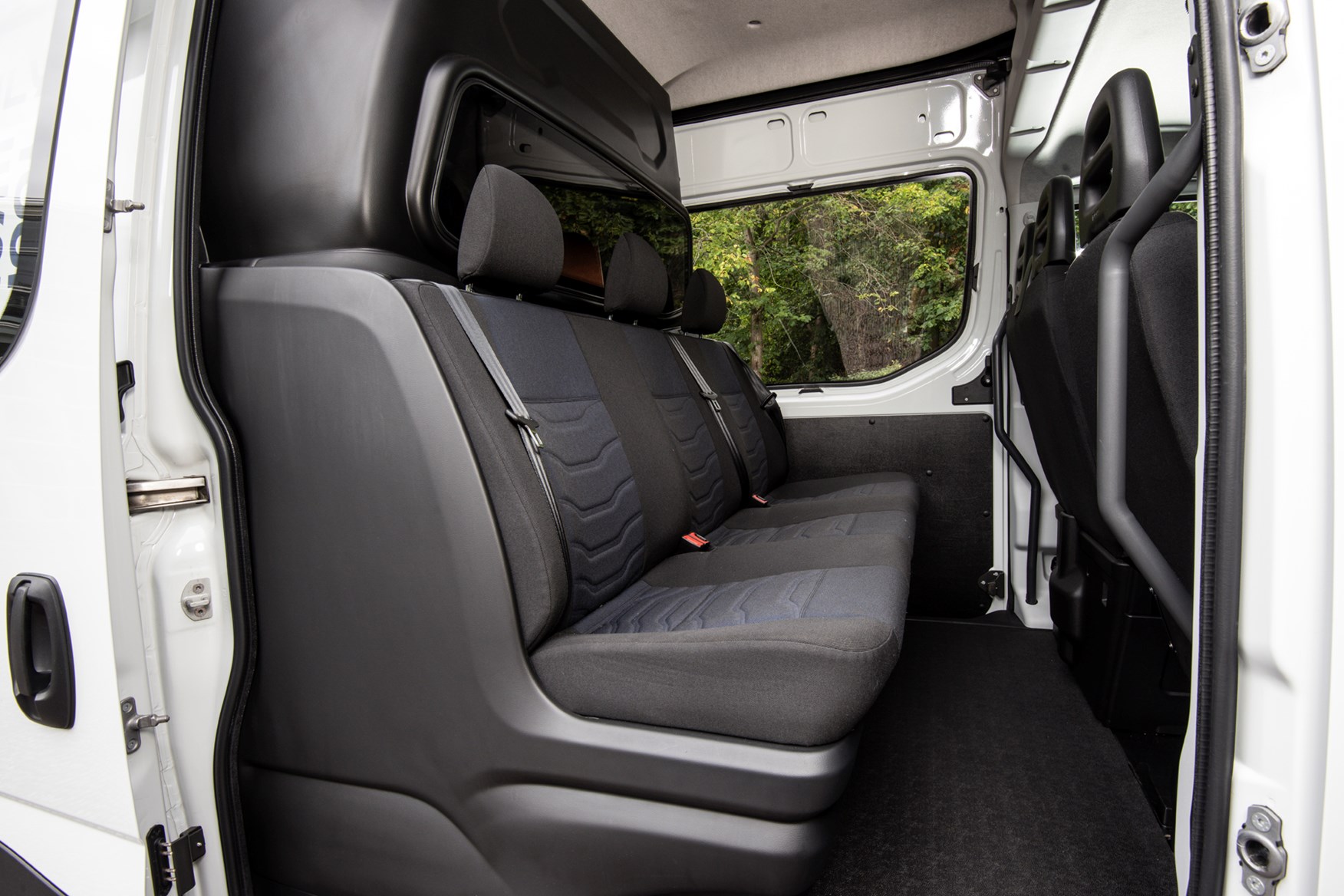 The steering wheel's odd shape won't cause any issues, although the hidden stereo controls on the back take a little getting used to. The other buttons are more conventional, making it easy to operate the optional adaptive cruise control and scroll through the digital information screen between the dials.
Quality is certainly not offensive with everything solidly screwed together, but this interior isn't as attractive as what you'll find in a MAN, Mercedes or Volkswagen. A few chrome highlights help lift things a little, but the blue panels are a little too cheap and cheerful for us.
Like the front, you'll need to clamber up into the rear seats – thank the Daily's hefty separate chassis for that. Once there the three-person bench has ample width and leg room would shame most luxury limos. As for head room, there's enough to stand up if you've got the H2 roof.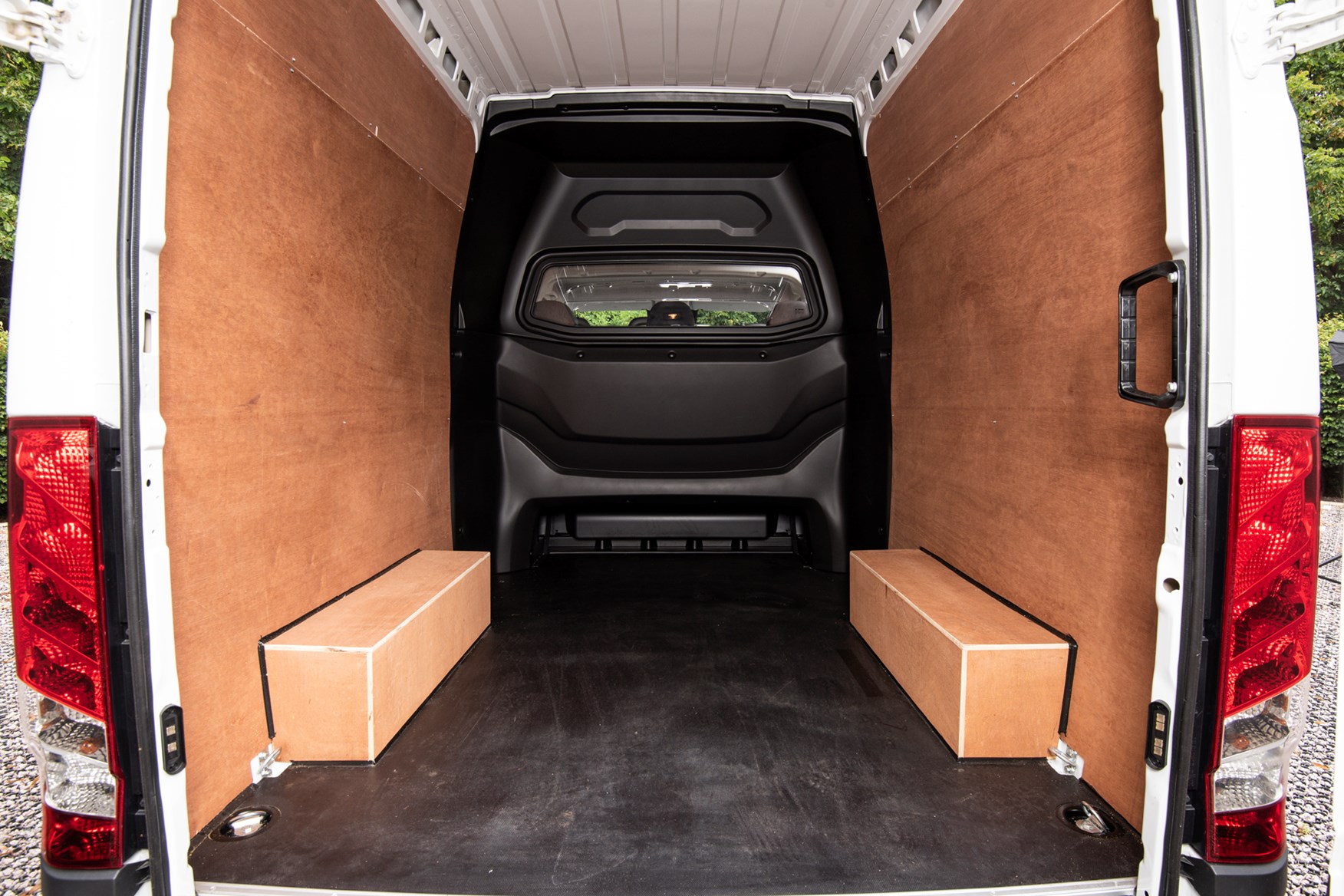 Of course, the addition of the bench and bulkhead does limit your payload, dropping from 1232kg in a regular panel van to 1001kg. It also reduces the length of the load area to 1,950mm (2,555mm if you go under the rear seats) from 3,130mm for the same size panel van. Still, this is a tall, wide area that even with some wheelarch intrusion, will still swallow an awful lot of stuff.
Driving the Iveco Daily 3.5t CrewVan
The 136hp output of the diesel engine is more than adequate in the majority of situations. Even with a hefty load on board, it'll sit at 70mph all day long with no drop in speed on the inclines we encountered. However, it takes its time getting from 60-70mph when loaded, suggesting one of the more potent engines is worthwhile if you regularly have to deal with a weighty cargo or fast-flowing motorway.
We've certainly no complaints regarding the eight-speed Hi-Matic automatic gearbox. As you'll read elsewhere in this review it changes gear exceptionally smoothly and is responsive when you put your foot down. If anything, it's better than many car gearboxes, while the tall eighth gear makes for a surprisingly quiet cruise. It also means we were able to virtually match Iveco's official economy figures, with over 27mpg achieved regardless of load.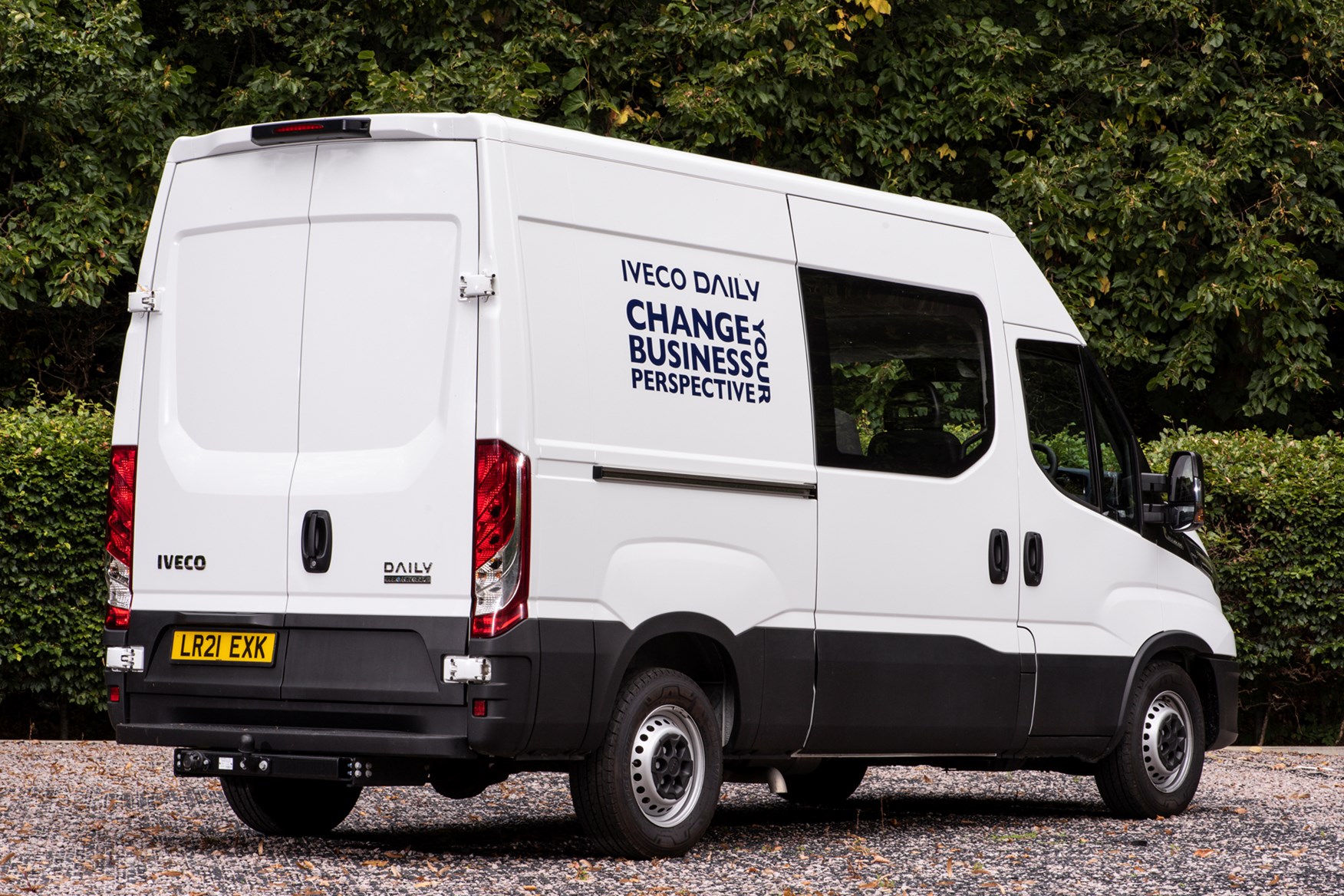 How the Daily rides depends entirely on how heavily loaded it is. With a few hundred kilos in the back it's actually quite comfortable, with only the odd thwack from a particularly vicious pothole or pimple really disturbing things. Unladen it's far bouncier, with the rear tyres skipping across undulating road surfaces, triggering the traction control regularly when you're trying to accelerate.
As for handling, it feels stable and doesn't sway around too much even with a bit of a gust. There's plenty of grip, precise steering that makes it easy to place and an acceptable amount of body lean.
Should I buy an Iveco Daily CrewVan?
How useful the CrewVan element of this is will depend entirely on your circumstances. In other words, if you need to carry up to seven and up to a tonne in the back, it's certainly worth considering.
Yes, it does have its downsides compared to less ruggedly constructed vans with the high floor and relatively low loading weight counting against it, but overall this is a van you can easily cover hundreds of miles in relative comfort.
The 136hp engine is sufficient if you're in no hurry and economy isn't terrible, either. We'd recommend the Hi-Matic gearbox, too.
---
Iveco Daily Business 7.0t review
Tested November 2020 by Richard Kilpatrick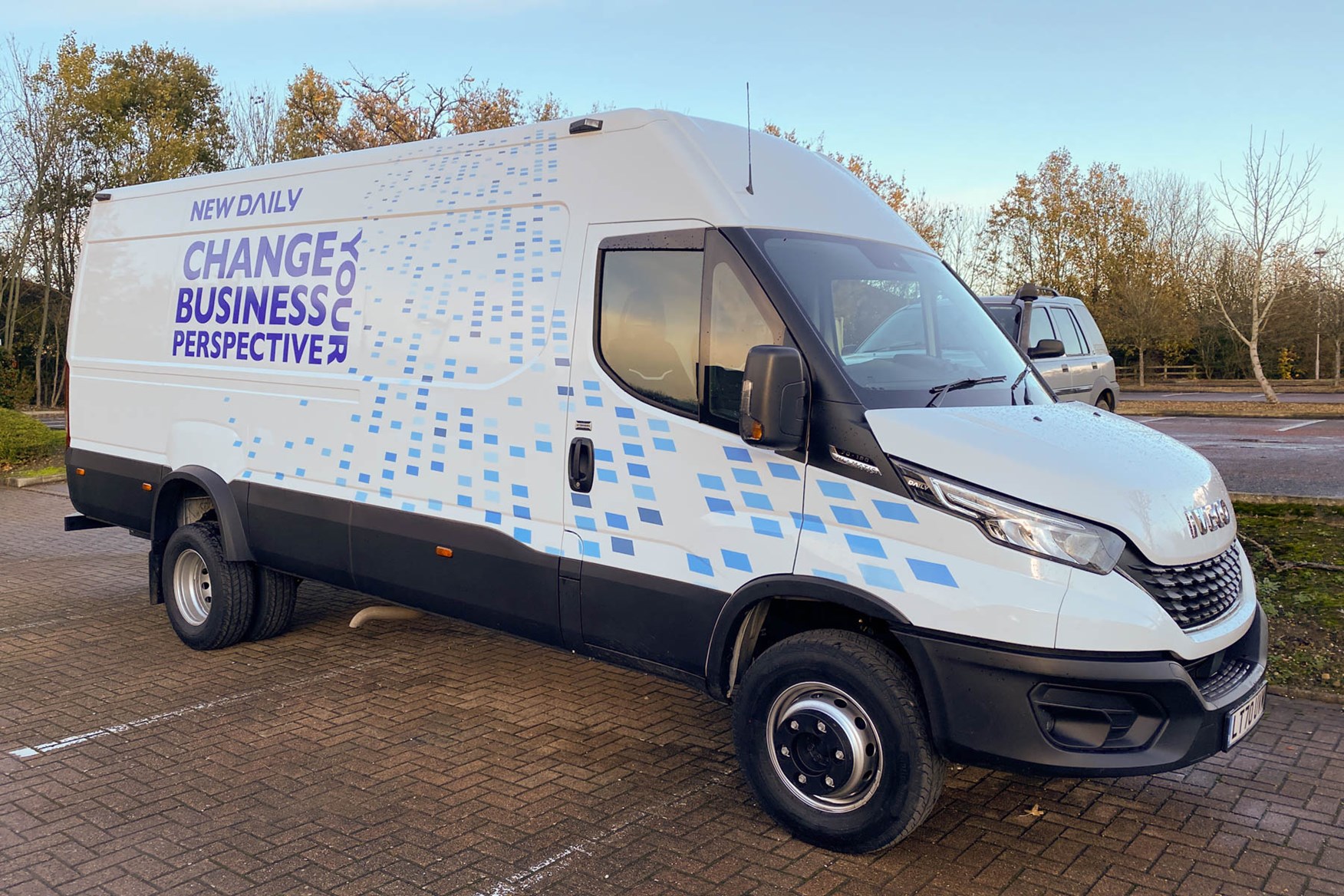 Massive 7.0-tonne Iveco Daily tested
As big as you can go without driving a truck
Impressively capable, with payload over 4.0 tonnes
This is the big one, the 70C18HA8 V - C70V in Iveco terms. For van drivers, it's not far off the biggest you can get and still call it a van and it's not so much the space, as the mass it can carry. Iveco's higher-GVW Daily chassis obviously has huge scope for conversions, but it's also offered with the same bodies as less-muscular Daily vans. In Business Plus form it the ability to carry over four tonnes, and a couple of nice bits of kit for drivers.
Everything about it is imposing – the incredible ground clearance, dual rear wheels (which include tyre pressure monitoring on all four rear tyres) and the 3.0-litre, 180hp engine that's cut of a different cloth to the 2.0-litre units found in vans such as the MAN TGE, Volkswagen Crafter or Ford Transit.
Iveco build the Daily on a proper chassis, so the first hurdle is the loading height – literally. With the rear bumper sitting around hip-height the floor is at a level convenient for just reaching in and grabbing things – no bending down required. Combined with a 1.9m internal height, this is a van for two operators to make short work of deliveries; one rearranging the stock, the other loading and unloading.
With this payload, the chances are you'll be carrying the sort of things that need two people to lift anyway.
Inside the Iveco Daily Business Plus
The cab's big enough for two with plenty of social distancing – the two-seater bench is generously wide, though not generously padded (the same criticism can be levelled at the driver's seat after a working day) and three adults.
There's a big footwell step and an A-pillar handle, and you'll need them unless you've been practising your parkour.
Having clambered up, the Iveco's interior is solid, functional but not unattractive or crudely finished. The controls feel car-like, delicate – from the heating system to the steering, there's even a Fiat 500-esque City mode for even lighter twirling of the wheel.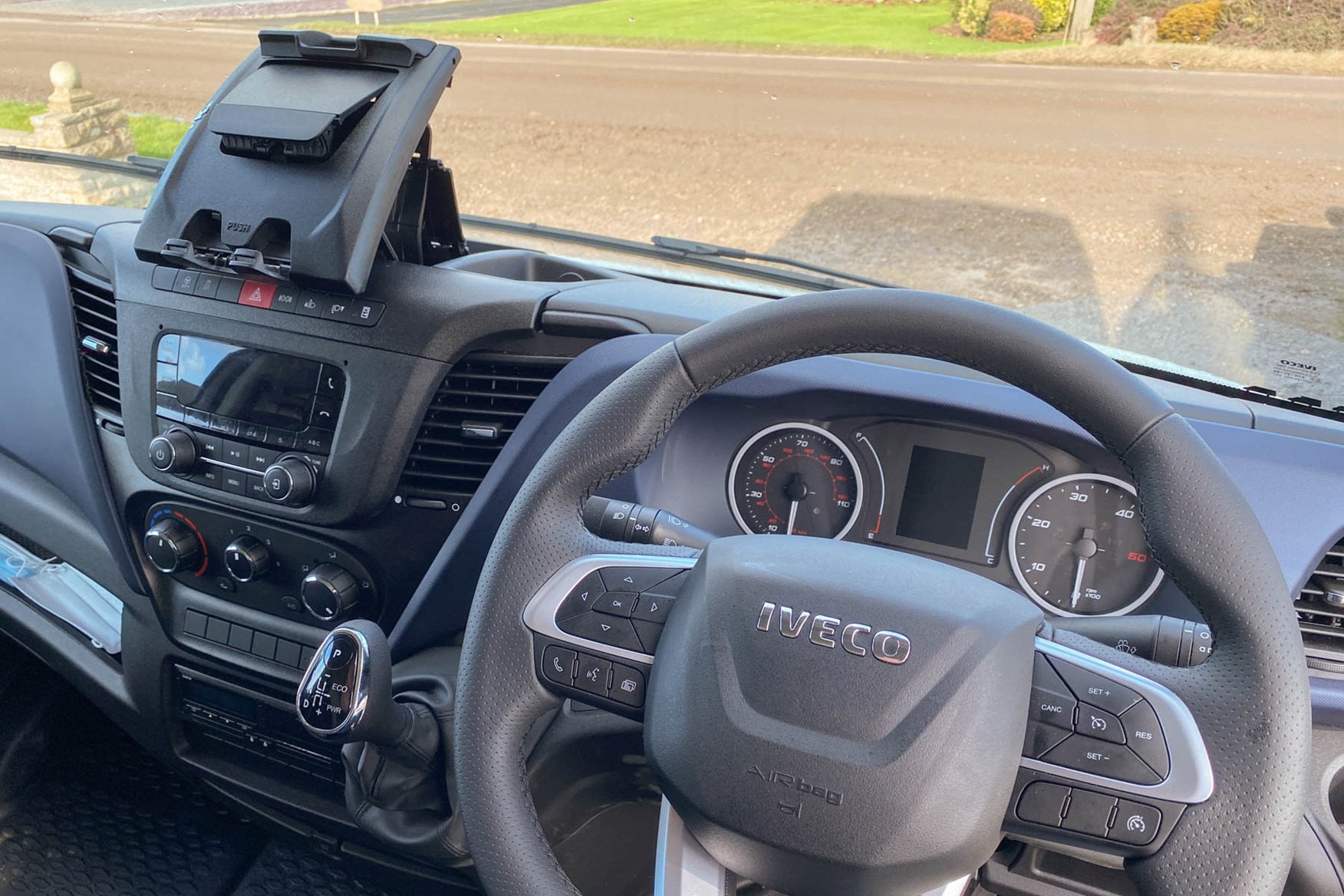 Even ignoring the City function the steering is remarkably precise and unflustered for a commercial vehicle. Never feeling remote, it nevertheless subdues most of the imperfections and disruption on the road. The flatter, truck-like wheel position is easy to feed through your hands, though the D-shaped wheel feels slightly at odds with this style of steering. Reach and tilt are adjustable, but it's never 'car-like'.
Getting a good driving position took a bit of time even for an average-height driver, though there's the usual range of adjustments plus lumbar support. Upgraded seat options – including a truck-like floating seat with suspension – may be worthwhile if you spend a lot of time in the cab.
The seat itself is a good shape, but the cushions are a little thin; if nothing else, you'll be meeting health & safety break requirements. Everything else is easy to set up, including the large mirrors – it's just the relationship between knees and pedals that takes some optimising.
The bulkhead also means there's little room for reclining the seat back, encouraging a leaned-forward driving position once again reinforcing the flat-wheel, truck-like attributes of this van.
Visibility from the cab is as good as you can expect, with large mirrors, but no driver assistance features on the Daily Business Plus to help with reversing. The A-pillars draw a straight line to the tip of the bumper, helping to judge distance at the front, but in town it can take a while before you're not always checking the mirrors for what those extended wheel arches and dual wheels are up to at the back.
Not helping visibility is the pop-up tablet holder. It positions an iPad or similar (it might grip a larger phone, but a typical one is too small) where many cars have a floating display, but the mechanism behind obscures vision to the pavement.
Given the higher-specification models come with Apple CarPlay, that would probably be a better investment; the integrated DAB radio with hands free works well enough but feels dated given the cost of the rest of the van.
Driving the Iveco Daily Business 7.0t van
Expecting the usual caveats around commercial vehicles? Sorry to disappoint – driving position aside, anyone could drive this and be comfortable with the experience.
The 3.0-litre engine is an incredibly good match for the eight-speed ZF gearbox, and barely stirs to get an unladen van underway swiftly. The gear selector is near the steering wheel, chunky and solid to use with a gated pattern rather than lock-out buttons. Swapping to manual (where you will find reassuringly effective engine braking) or between Eco and Power modes is completely intuitive, and fairly pointless when you've got a 56mph limiter.
That limiter ensures five hours of motorway driving feels akin to an aeroplane flight, with the constant note of the muted engine turning over at low revs, a pace shared with HGVs, and the gentle reminder of lane keeping if you are too slow to complete passing and the signal's gone off. There's no obvious override, so once you're committed to that elephant race you're at the mercy of the HGV you're passing finding an incline, where the ample power to weight reserves of the Iveco mean it just carries on as normal as they drop back.
Unladen, the trip computer reports 27mpg; with a full load of furniture, country roads and some city-driving that dropped to 25mpg.
The Daily's chassis may look agricultural, but the tech isn't – so in addition to the precise steering, there are disc brakes on all four wheels. Braking is progressive and smooth – ideal for approaching roundabouts with a loaded van, it makes it easy to measure out force and control pace, as well as providing the quick, effective response needed for city-safe braking. This driver assistant is subtle, and not over-sensitive, but it does work – intervening when someone stops abruptly in the middle of turning left, but without the violence some car-based systems display.
This is reflected in the lane-keeping assistance, which is subtle yet remarkably effective. It contributes to a relaxed environment building on top of already impressive refinement; the cab is quiet despite the spartan appearance of the trim, the engine muted and gearbox smooth as you could wish for. Even the doors shut with a reasonable thud instead of a clang, though it did get a lot of condensation inside the windscreen over a foggy night – suggesting more insulation, or at least, a good absorbent chamois pad, might be needed.
Directional stability is good, but the ride inevitably reflects the strength of suspension needed for a 7.0-tonne GVW; unladen the rear behaves very well on smooth roads, but bounces noisily over imperfections. Through Edinburgh's cobbled old town, it got a proper workout. The front, remarkably, absorbed the imperfections well - no doubt thanks to the quad-tor torsion bar setup employed on heavier-duty Dailys.
Laden, it's a different story. Little bodyroll, despite the height and wheel travel available, and a smooth ride with just the occasional thump or bounce (level crossings in particular), show that this Daily needs to be working hard to be at its best.
Should I buy an Iveco Daily 7.0t
Because the license restrictions over 3.5-tonnes now affect a large group of drivers, this is only of interest if you need the capacity – but it works exceptionally well, with remarkable refinement and ease of use for such a robust design.
If you're doing a lot of drops, though, the load height can be an issue if you're on your own. There aren't that many options for a van like this, but it's sufficiently accomplished that you won't feel you're losing out over 3.5t competitors.
We'd recommend upgrading to the infotainment system in place of the DAB radio though, and the effectiveness of the lane-keeping and overall refinement suggest you'll appreciate the traffic-jam assist cruise control.
>> Find new Iveco Daily vans for sale