Volkswagen Crafter van review (2022)
The Parkers Van of the Year three times in a row - enough said
PROS
Exceptionally easy to drive
Long distance comfort
Well thought-out load area
Class-leading safety
Brilliant cab design
CONS
On-paper fuel economy not great
Payload ratings not especially high
Electro-mechanical steering has quirks
Cab lacks covered storage
Rear-wheel drive not so refined
Summary
This VW Crafter has won the Parkers Van of the Year award in 2018, 2019 and 2020 as well as the Large Van of the Year award in 2020 and 2021. Great to drive, very well thought out and easy to operate, it's not hard to understand why we rate this van so highly. Our 2022 Volkswagen Crafter review will take you through all the pros and cons.
Launched in 2016 and on sale in the UK from 2017, the second-generation Volkswagen Crafter is unusual in light commercial vehicle (LCV) circles for being entirely new from the ground up.
Not only was the fundamental structure of the latest Crafter completely different from the vehicle that went before, the 2.0-litre TDI turbodiesel engines that power it were all brand new at launch as well.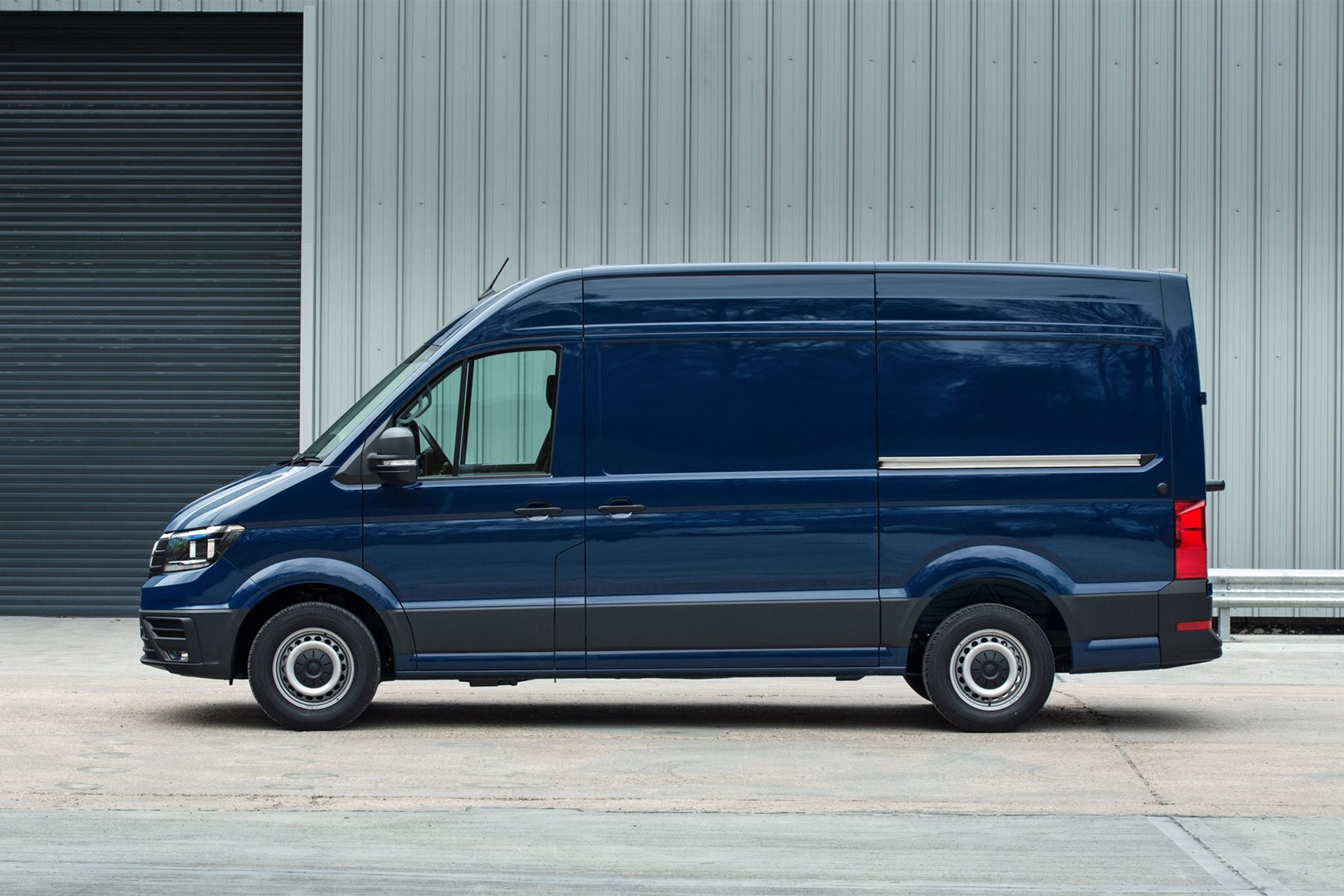 More than that, while the previous Crafter was built by Mercedes-Benz as a variant of its own Sprinter large van, this one is all Volkswagen's own work, and assembled in an equally brand new VW Commercial Vehicles factory in Poland.
The Mercedes Sprinter has also been replaced by a new model since this Crafter was launched - and we have a twin-test you can read to see how the two now unrelated German vans compare.
>> VW Crafter vs Mercedes-Benz Sprinter twin-test review
Designed with drivers and crew mind
Starting from scratch with this Crafter gave Volkswagen an opportunity to do things a little differently.
At launch this meant technical innovations, including a number of class firsts and unique selling points, but also the involvment of prospective customers in the development of this Crafter from the very beginning of the project back in 2012.
As such, Volkswagen made a particular effort to understand how different sorts of van buyers and operators use their vehicles, and sought to build the Crafter to suit.
As a result, VW has paid close attention both to the usability of the van – attention that can be seen in the ergonomics of the cab and the reduced height of the cargo area sills – and to the so-called 'total cost of ownership' (TCO), leading to what it claims are significant real-world improvements in fuel economy as well as service intervals extended to as much as 30,000 miles.
VW Crafter rivals and safety
VW Crafter's most obvious rivals are the Mercedes-Benz Sprinter and the Ford Transit, though buyers should also consider the MAN TGE, which is a re-branded version of the Crafter made in the same factory but sold and serviced through MAN's truck network.
Other large vans to consider are the Citroen Relay / Peugeot Boxer / Fiat Ducato trio and the Nissan NV400 / Renault Master / Vauxhall Movano triplets, but all are considerably older in design than the Volkswagen.
These older vans offer impressive payload and fuel economy, but miss out on many of the active safety systems available on the Crafter. Several of which are only made possible by the VW's electro-mechanical power steering (which is one of those class firsts).
The Crafter received a further safety boost when VW made autonomous emergency braking (AEB) standard across its entire van range in June 2017.
VW Crafter engines, drivetrains, bodystyles and trim levels
With three diesel power outputs plus manual and automatic gearbox options, three lengths, three heights and a choice of front-wheel drive, rear-wheel drive or 4Motion four-wheel drive, there were 69 basic variants of the Crafter at launch.
Add to that a number of body-builder derivatives available as direct factory and Engineered To Go conversions. There's even a VW Grand California campervan based on the Crafter platform.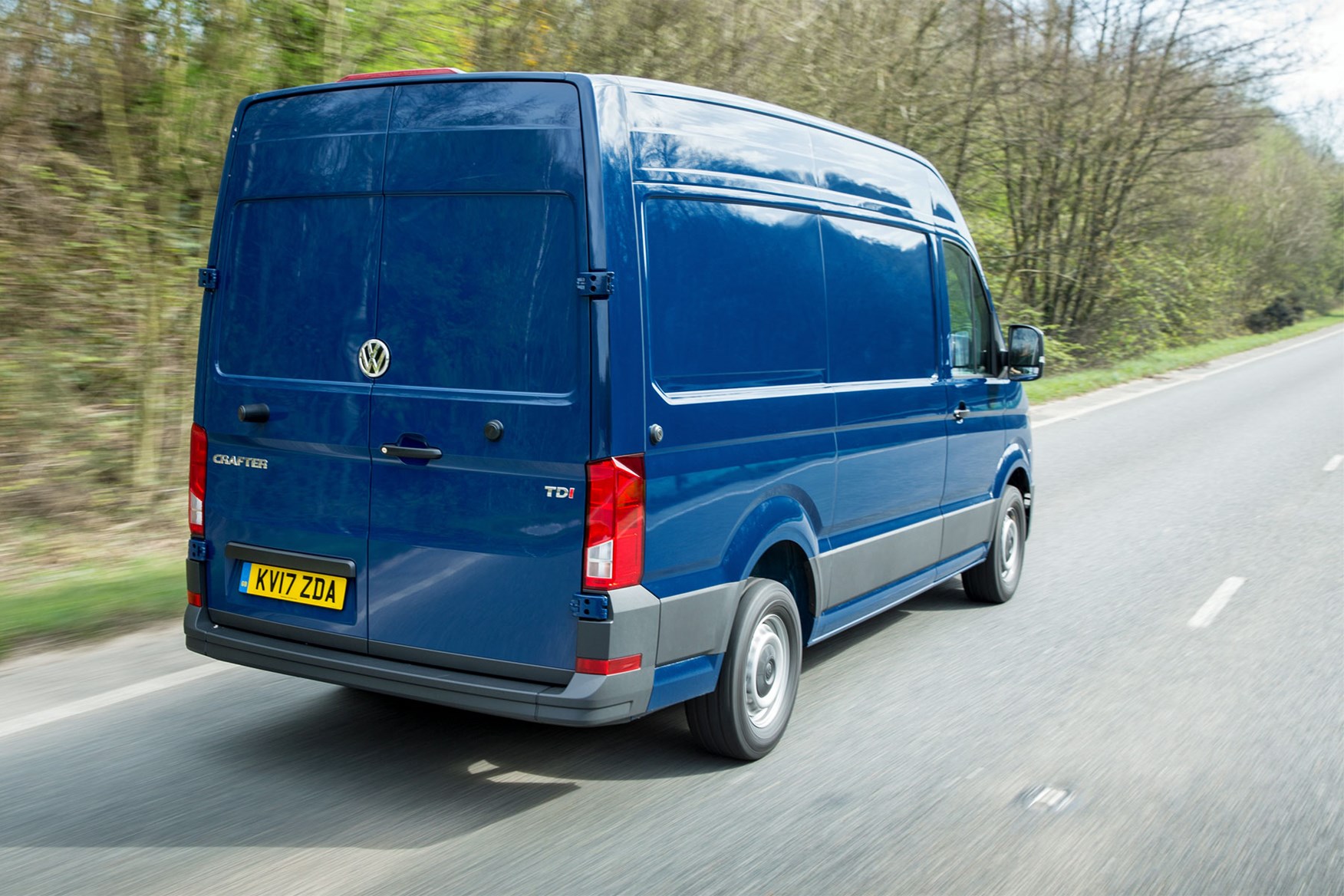 Here at Parkers we have driven examples of every drivetrain layout - front-wheel drive, rear-wheel drive and 4Motion four-wheel drive - as well as both manual and automatic transmissions.
UK versions of this Crafter were initially sold in three trim levels: Startline, Trendline and Highline. Standard equipment is good throughout, though the difference between Startline and Trendline in particular is well worth the extra outlay. However, Highline was dropped from the range at the beginning of 2019.
In late April 2018, this generation of Crafter was upgraded to a three-year / unlimited mileage warranty, matching the Mercedes-Benz Sprinter.
Full details of the load area and body variants can be found on our dedicated VW Crafter dimensions page.
VW e-Crafter electric van
In addition to all of the above, an e-Crafter electric van is also on the way. But while it is already on sale in some left-hand drive markets, production of right-hand drive models for the UK isn't due until 2021 at the earliest, and after this Crafter receives its first facelift.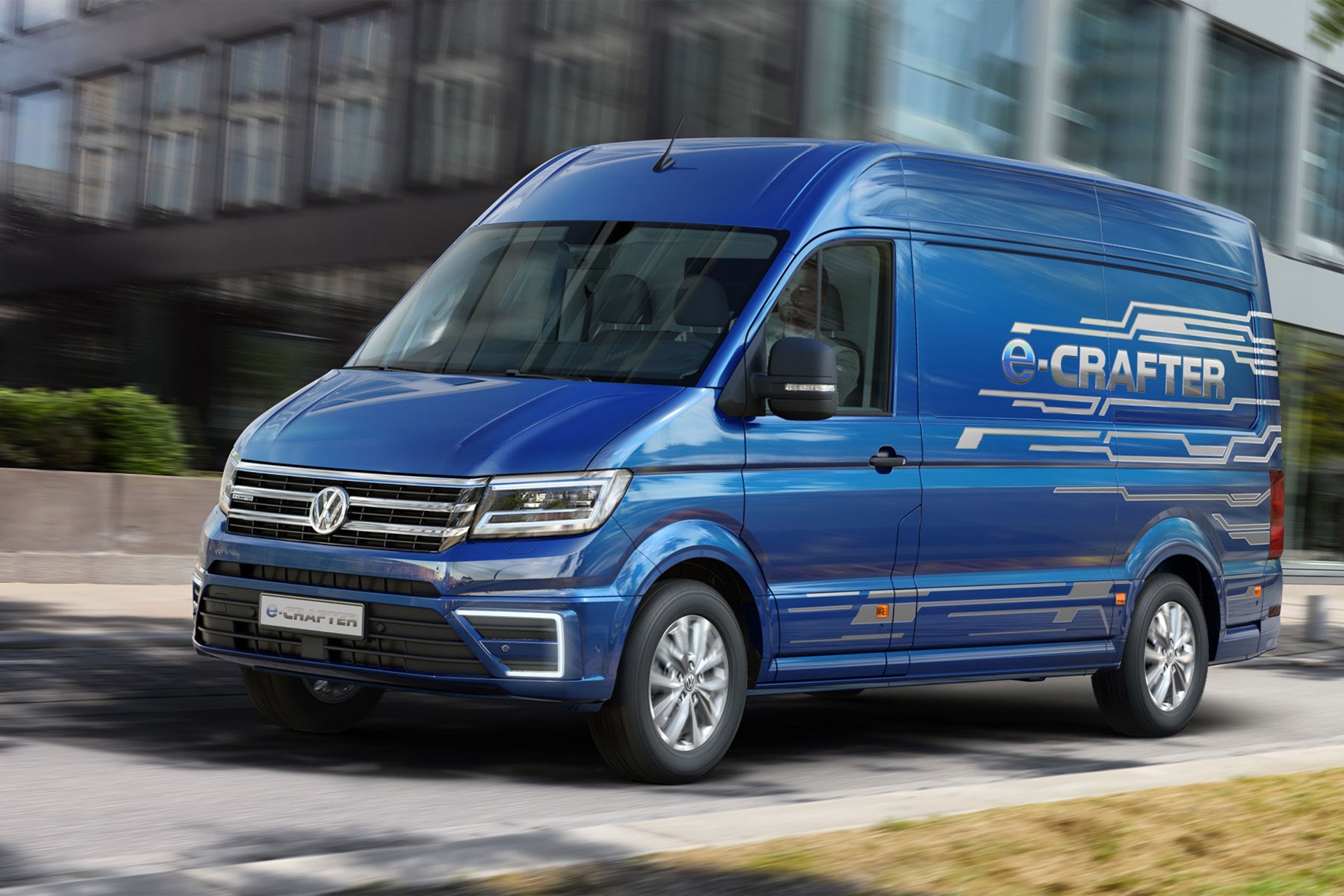 Depsite this, we have already been given the opportunity to drive this new electric variant, and you can read more about that in our early VW e-Crafter review.
---

Verdict: is the VW Crafter any good?
Here at Parkers Vans and Pickups we've covered thousands of miles in this generation of Crafter, in part thanks to a long-term test. We have a great deal of experience with this model.
Our verdict is simple: the Crafter is exceptionally easy to drive, comfortable with arguably the best cab enivronment of any van on sale, technologically advanced, and it offers a vast load area.
It's not the cheapest large van you can buy. Neither does it offer the greatest possible payload, nor the best on-paper fuel economy. But the impression of quality is exceedingly high, meaning you still feel like you're getting substantial value for money.
It swallows long distances with ease, yet is nimble enough to make urban driving a doddle. The Crafter was the clear choice for our 2018, 2019 and 2020 Van of the Year, winning the Best Large Van award in 2020 and 2021 as well.
Skip to our full verdict on...
Choice of four 2.0-litre TDI engines with 102-177hp
FWD, RWD and 4WD versions available
Light steering, great comfort levels, very easy to drive
The second-generation VW Crafter was initially launched in early 2017 with front-wheel drive (FWD) only, immediately distinguishing it from its rear-wheel drive predecessor.
The first 4Motion four-wheel drive (4WD) versions became available in September 2017, with the first rear-wheel drive (RWD) examples following before the end of the same year.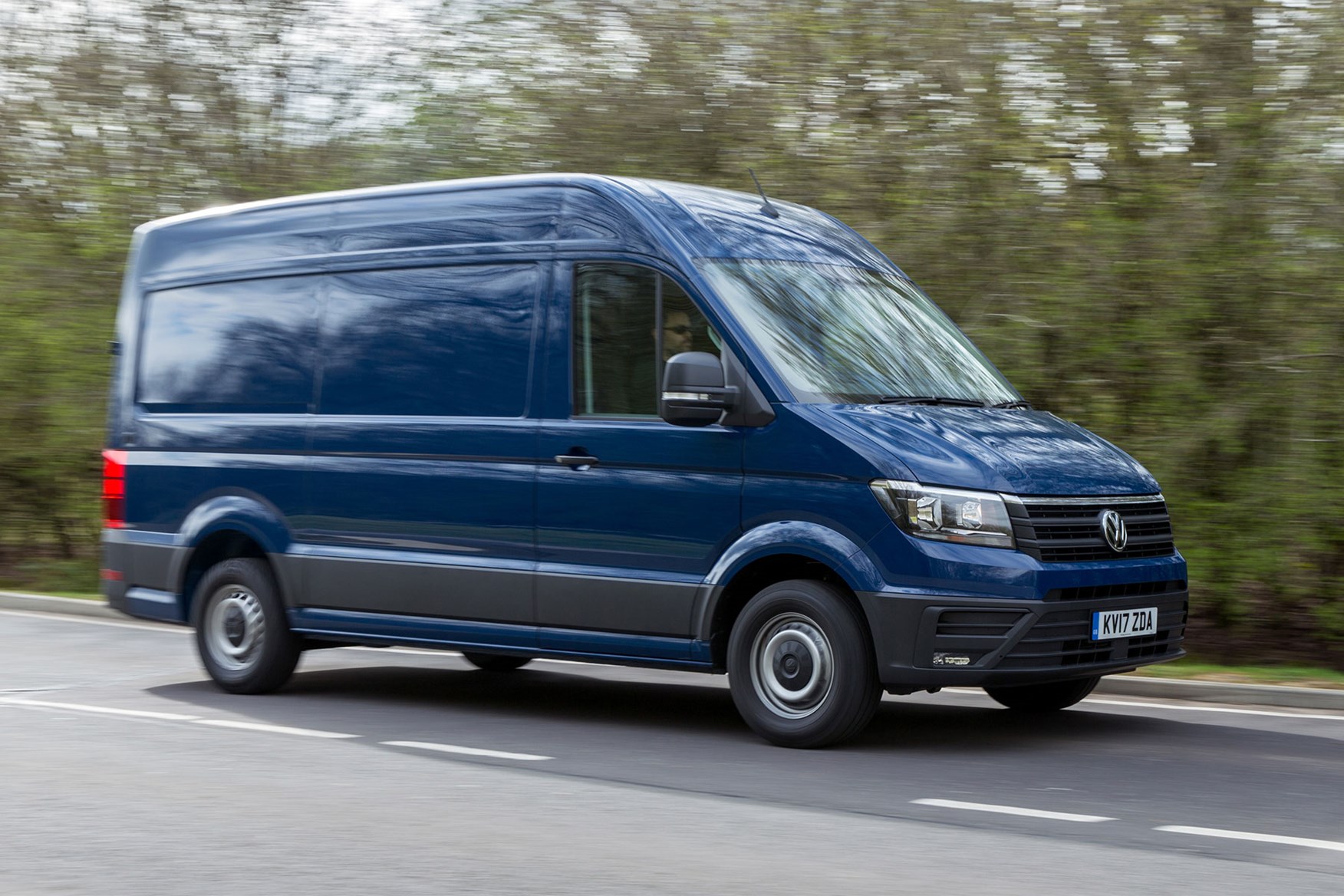 It wasn't until 2018 that the full range of engine and drivetrain variants became available, however.
VW Crafter engines
The Crafter comes with a choice of four 2.0-litre TDI turbodiesel engines:
102hp / 300Nm single-turbo
122hp / 300Nm single-turbo
140hp / 340Nm single-turbo
177hp / 410Nm twin-turbo
Not every engine is available with every bodysize and drivetrain layout; the 122hp version is only available on rear-wheel drive CR50 (5.0-tonne gross vehicle weight) versions with twin rear wheels, while the 102hp engine is limited to front-wheel drive variants.
We have driven examples of every format, as well as both the standard six-speed manual gearbox and the optional eight-speed automatic transmission.
Is a 2.0-litre engine big enough for a large van?
VW is not alone in using 2.0-litre engines in its large van range – the Ford Transit went down to 2.0 litres following the initial round of Euro 6 emissions regulations, as did the Citroen Relay and Peugeot Boxer (though this French pairing returned to 2.2-litre engines in 2019) – but should you be worried about it?
Our first impressions of the Crafter's new engine range weren't overly favourable. Around the mountain roads of Spain on the original launch we found the 140hp versions had to be worked hard, and while the 177hp version was unsurprisingly pokier, both sounded reedy and coarse under power.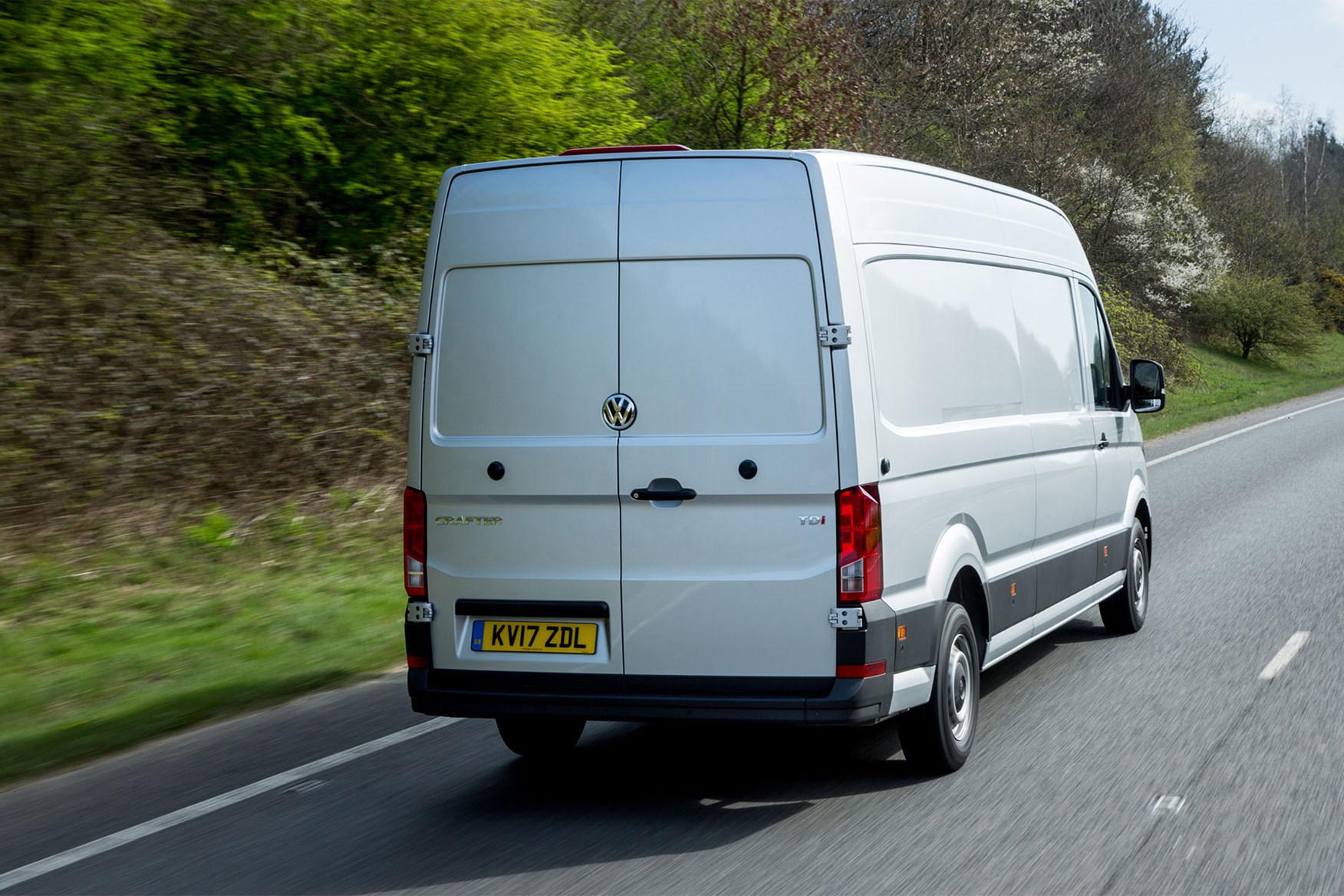 As we've spent more and more time with the 140hp model we've come to better appreciate the new motor. Once the engine has covered 1,000 miles or so, the noise reduces and the smoothness increases.
We're yet to test either of the less powerful 102hp and 122hp choices, but anticipate these will feel rather slow. And frankly we'd expect the bestselling 140hp variants to be more fuel efficient in the real world as well.
Improvements over time
The engines perhaps don't produce quite the same level of instant urge as Ford's 2.0-litre EcoBlue engine in the Transit.
But driven back-to-back with the previous-generation Crafter there's a clear improvement, and you soon come to appreciate how quiet the new model is on the motorway, with little wind or road noise in the cab.
Meanwhile, the manual gearbox action feels precise, and is so light and easy you could be driving a car.
Is the eight-speed automatic worth considering in the Crafter?
In van terms, the Crafter's eight-speed automatic is a really excellent gearbox.
The extra gears make the Crafter even quieter when cruising, and it will happily trickle along in eighth gear at low rpm on the motorway, which is good news for fuel economy.
The auto costs more, of course. But in exchange you get added convenience in traffic – reducing driver fatigue – and the potential for reduced servicing costs as the automatic transmissions prevent excessive clutch and tyre wear.
Choosing between FWD, RWD and 4WD VW Crafters
Front-wheel drive makes a lot of sense for most uses. This configuration is the lightest, which helps with payload, and the most fuel efficient. It also has a load area floor 100mm lower than the alternatives, which is easier on operators.
We've experienced no traction issue with FWD, either – though it is easy to imagine why front tyre wear might be higher.
The 4Motion four-wheel drive Crafters are based on the FWD models, but add a Haldex system that delivers power to the rear axle as well. This is an 'on-demand' setup, which means that in normal road driving as much power as possible is sent to the front wheels alone, in order to maximise fuel economy.
However, as soon as the front wheels start to slip, up to 60% of power can be sent to the back, making light work of low-grip situations, including modest off-road work. You can add an optional locking rear differential for additional traction, too, but be aware that ground clearance isn't significantly increased.
VW is spinning this as an advantage – making these new 4Motion models easier to get in of out of and much less expensive than the previous generation. But they aren't as suitable for hardcore countryside bashing. They weigh around 150kg more than an equivalent FWD Crafter, reducing available payload.
The rear-wheel drive Crafters are significantly different to both of the above. Though the basic 2.0-litre engine is the same, it's mounted longitudinally inline with the prop shaft, rather than transversely in the direction of the axles.
Having drive at the rear wheels is good for loaded traction, as the weight of the load helps push the tyres into the tarmac. But it's less efficient, and heavier, adding around 100kg to the weight of an equivalent FWD model.
We have to say, the RWD Crafters are also the ones we've enjoyed driving the least; they transmit noticeably more vibration and harshness into the cab, making what is an otherwise extremely pleasant large van to drive in all other guises, somewhat less agreeable.
Impressive ride, nimble handling, electric steering
Regardless of drivetrain, one of the Crafter's biggest strengths is its ride quality.
Both loaded and unloaded it deals very well with uneven road surfaces and bumps – regardless of whether you're in a suspended driver's seat or a regular item. This makes it an excellent long-distance companion.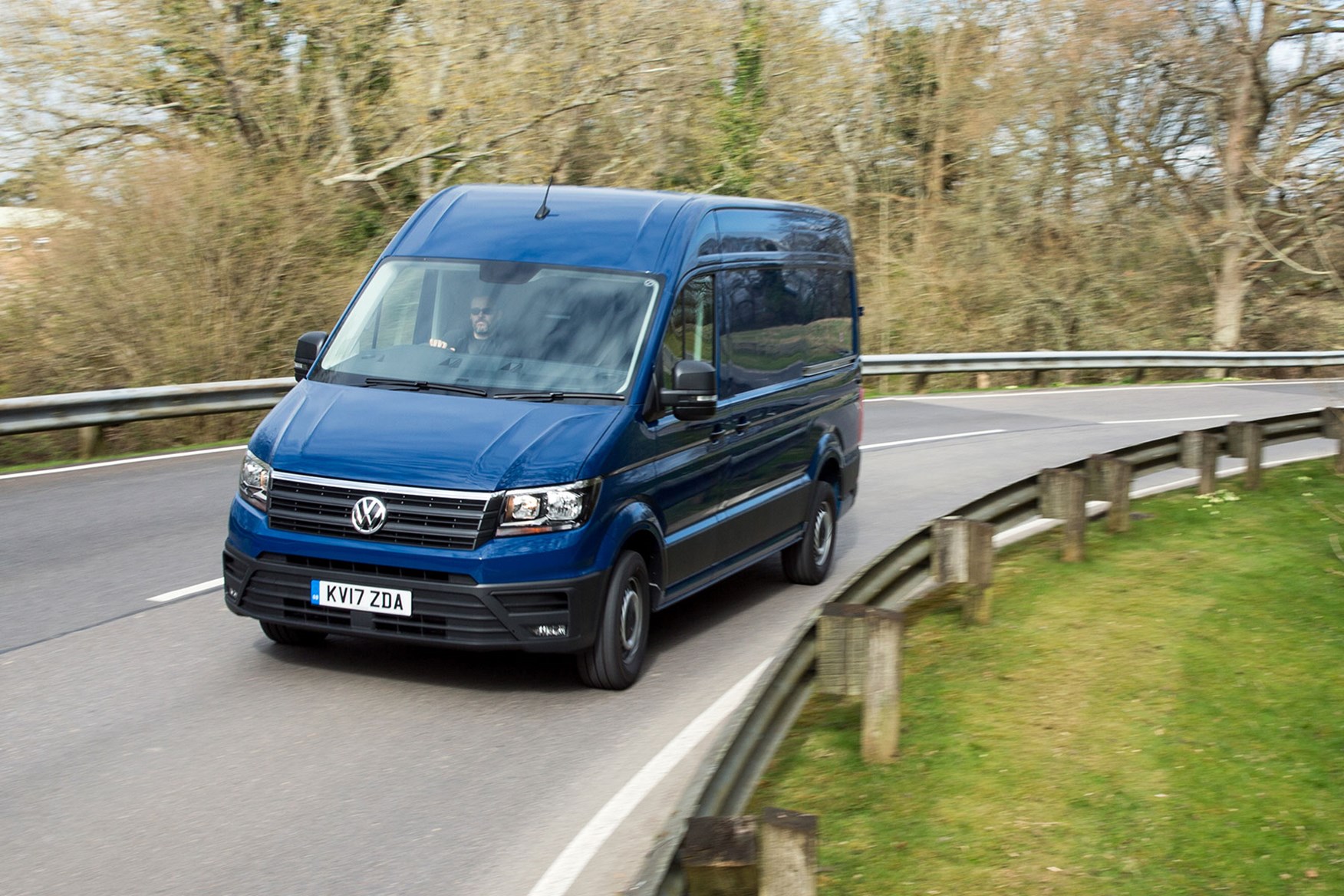 It's also nimble and responsive to steer, whether faced with narrow streets or winding country roads; though some owners have voiced disappointment with the turning circle we've never found this a glaring issue.
Even the highest roof variant resists rolling around too much in the turns, and the large, split-view mirrors make it easy to keep track of the rear overhang on the longest body length as well.
The electro-mechanical steering – which uses an electric motor in place of the traditional hydraulic pump – also allows a number of safety-related enhancements (see the Safety section below). It doesn't give masses of feedback, but it's light and accurate, and you quickly get used to it.
Overall, the Crafter is very fine large van to drive.
Excellent functionality and high quality in the cab
Storage space designed in conjunction with trades people
Lack of covered storage the only (minor) grumble
We're just going to go ahead and say it: the VW Crafter has, in our opinion, the best cab environment of any large van on sale.
In fact, from the quality of the plastics to the intelligence of the design, it's not even a close contest. The instruments are clear, there's a large touchscreen infotainment unit familiar from Volkswagen cars fitted as standard on all but the entry-level Startline model, and a vast amount of storage.
This last includes triple-decker door bins, large dash-top cubbies, sensibly-lipped overhead bins and a narrow shelf that runs across the front of the dashboard
There are four cupholders on the dash at different heights, too, and as is increasingly typical, the middle seat back folds down to reveal a secure storage tray that can function as a desk.
Add to this numerous power points ranging from 12v to USB to 230v, not to mention a wide selection of available creature comforts including air-con and not just heated seats but a heated windscreen and heated steering wheel as well, and you've got a van that's genuinely a joy to spend time in.
You can even add on-board Wi-Fi and various VW Car-Net online functions, should you wish.
Nobody's perfect
This is not to say the Crafter is perfect inside, however.
While there is plenty of storage, not much of it is lidded. Over-enthusiastic pilots may find their contents redistributed somewhat haphazardly, while anything lighter-coloured – such as paper and phone cables – placed in the open dash-top areas will reflect in the windscreen.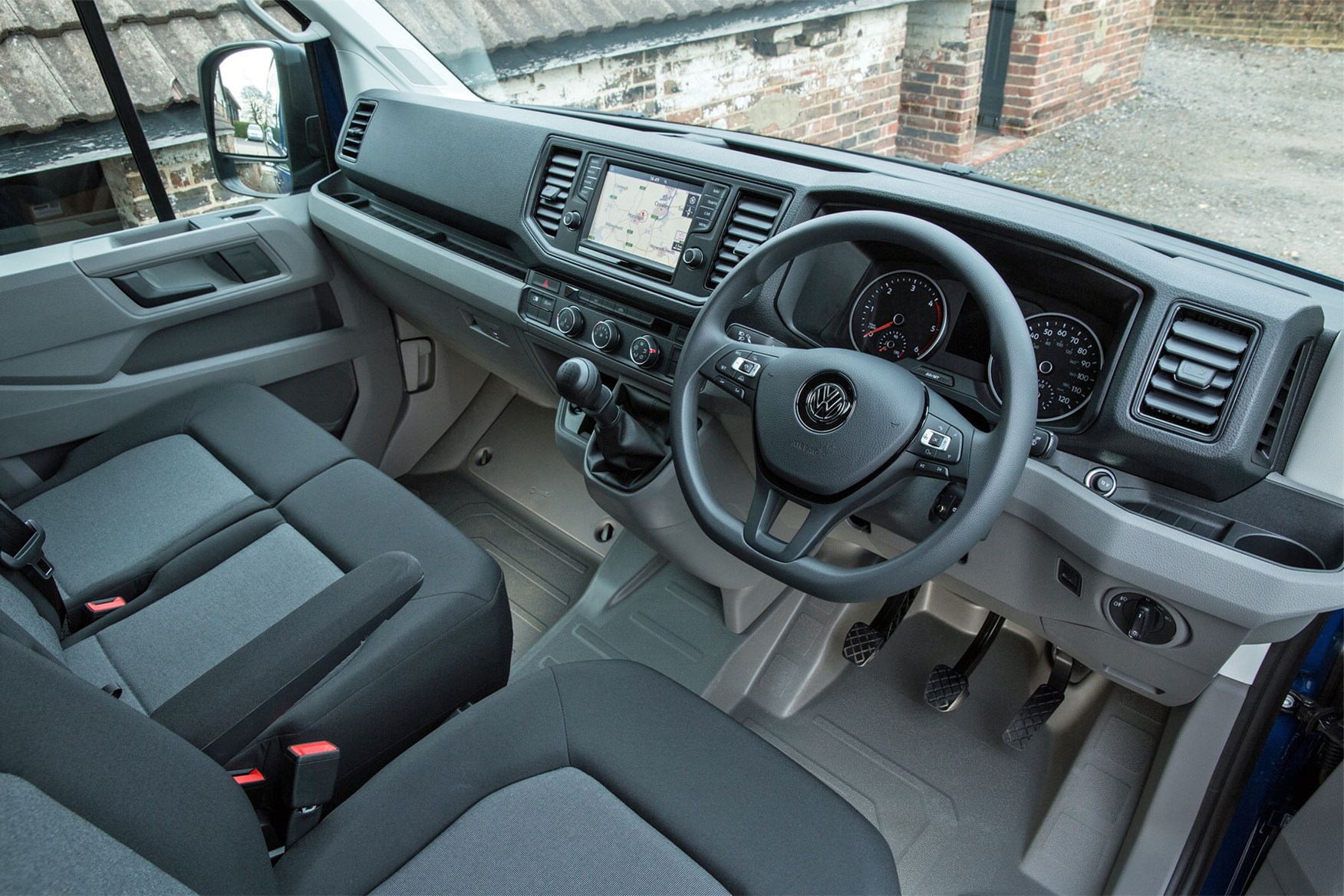 We also found the (optional) sat-nav to be a touch slow-witted and difficult to interpret at roundabouts, and although the Highline's heated windscreen is lovely on a cold winter's morning, at night the tiny elements in the glass tend to diffract oncoming headlights in a rather distracting way.
Bouncy seat option
VW offers a suspended driver's seat upgrade that's independently sprung like those fitted in trucks and buses.
It takes a bit of getting used to, as you'll find yourself moving in the opposite direction to the van when driving over rough surfaces. But it should save your lower back from the pain of constant repetitive compressions.
The ergoComfort version is weight-adjustable and comes with four-way lumbar support, while the ergoActive upgrade adds an electric massaging function. Indulgent, but a boon on particularly long journeys.
On-paper mpg unimpressive - but Crafter is efficient in the real-world
Unlimited mileage warranty as standard; 30k service intervals
Good value Business Pack upgrade well worth considering
This generation of Crafter offers fuel economy savings of 3% over the previous model.
Doesn't sound like much, but Volkswagen is also claiming that actual real-world mpg – rather than that generated by the artificial official test – should be significantly improved.
The 2.0-litre engines help here, and so do the Crafter's aerodynamics, which VW says are the best in the large van sector.
VW Crafter mpg
Despite the bold claims above, with maximum claimed fuel economy of 38.2mpg, the Crafter is disappointingly close to the bottom of the table when comparing large van mpg on paper.
This is a pre-WLTP figure, too. WLTP is a new testing standard that's supposed to be more realistic, but not every van maker has provided updated figures at the time of writing (October 2019) - including VW.
The original 38.2mpg figure applies to 102hp and 140hp variants of the Crafter. Out on the road, we'd expect the more powerful engines to be better on fuel, as they'll be under less strain at normal speeds.
We averaged 33mpg over 7,000 miles in our early-build (2017) 140hp long-term test vehicle, which we think is pretty good for such a large van.
Owners' groups report that travelling much faster than 60-65mph can see fuel economy plummet, however, and if you do a lot of short journeys you should expect it to prove thirsty, too - but this is the case with any diesel van.
VW Crafter AdBlue range
As with all large vans, the Crafter needs AdBlue to meet Euro 6 emissions regulations, adding to running costs. Expect to get around 5,000 miles per tank of AdBlue, depending on how and where you drive.
Drive fast or do mostly short journeys and AdBlue consumption is likely to increase.
VW Crafter service intervals
VW has extended service intervals from 25,000 miles to 30,000 miles for this generation of Crafter - meaning it requires one less visit to the dealer over 100,000 miles of operation.
However, that 30,000-mile figure is a theoretical maximum; as with most modern vans, the Crafter has variable intervals determined by the on-board computer, so it is much more likely that servicing will be requested at shorter distances.
This depends on how and where the van is being driven. For 2021, VW has gone further, and recommends an oil service at no later than 12,000 miles - though the 30,000-mile maximum limit remains.
VW Crafter warranty
At launch in 2017, the Crafter was offered with a three-year / 60,000-mile warranty.
The mileage cap was dropped from 24 April 2018, meaning that from this point on the Crafter has a three-year / unlimited mileage warranty.
It is probably no coincidence that this matches the warranty cover offered by the Mercedes Sprinter.
Free MOT insurance
VW also introduced a free MOT insurance scheme for all its vans and pickups in May 2018.
Whether this will still be available in 2020 when the first of this generation of Crafter will require the annual test remains to be seen.
Interest-free finance for servicing and repairs
In May 2020, Volkwsagen further expanded the options available to customers when it comes to covering the cost of servicing and repairs. Now, thanks to 0% finance from VW Financial Services, you can opt to split payments over six months, rather the face a sudden, single lump sum.
VW Crafter Side-Protection System
You can have additional sensors similar to parking sensors added to the exterior as an optional extra to warn against bashing the sides of the van against low-lying obstructions.
This Side-Protection System works well, and could save you considerable panel repair costs.
Other potentially useful cost reducers include the Crafter's all-round rubbing panels (the plastic cladding visible on the lower portions of all of the exterior panels).
VW Crafter trim levels and standard equipment
The Crafter was initially available in three trim levels: Startline, Trendline and Highline. However, Highline was discontinued at the beginning of 2019 as part of a range rationalisation process.
Each successive trim level builds on the equipment of the one before, unless otherwise stated.
For details of the extensive level of safety equipment, see the Safety and Security section.
VW Crafter Startline standard equipment highlights:
'Composition Audio' radio
Bluetooth and USB connection
Dual front passenger seat with storage box and folding tray
Reach and rake steering wheel adjustment
Remote central locking
Full-height steel bulkhead
Sliding side door (passenger side)
180-degree rear door opening
VW Crafter Trendline standard equipment highlights:
'Composition Media' 8.0-inch touchscreen infotainment system
DAB radio and App Connect
'Comfort' driver's seat with two-way lumbar adjustment and armrest
Cruise control with speed limiter
Multi-function steering wheel
Load area grab handles
Wooden load floor
270-degree rear door opening
Buyers of either trim level would do well to consider the optional Business Pack, which groups together a number of choice options into a more affordable bundle - including:
Air-conditioning
Front and rear parking sensors
Overhead storage in the cab
Alarm
For reference, when it was available the Highline model came with the following additional items of equipment over the original Trendline specification:
Adaptive cruise control
'Comfort plus' driver's seat with four-way electric lumbar adjustment and two armrests
Front and rear parking sensors
Heated windscreen
No signs of major or common faults
Rare electrical gremlins and oil seal concerns
Consistently finishes in the top 10 in the FN50 van reliability survey
Volkswagen doesn't have a reputation for making unreliable products. In fact, most of its light commercial vehicles command something of a cult following and generally perform well in the FN50 van reliability survey.
The Crafter is proving no different, consistently finishing in the top 10, alongside its Caddy and the Transporter relations.
>> The UK's most reliable vans and pickups
Is the new Crafter proving reliable over time?
As the van has now been on sale since 2017, we would expect any common faults to have emerged by now.
But we've checked the government recall site, owners' groups and forums, and can see no sign that there is anything major to worry about.
One or two people have reported some electrical gremlins (indeed, we had a slightly inconsistent AdBlue warning light during our long-term test), and a few others have mentioned problems with engine oil seals.
That sort of issue will need attention quickly, as you don't want to be driving around with low oil levels. But routine maintenance should make such a fault easy to spot.
As with some other large vans, the side panels are prone to dents and occasionally, apparently random distortions. Worth checking for if buying used.
What's more, in March 2020 VW added a new augmented reality process for solving complex repair problems right across its Van Centre and Authorised Repairer network. This should in theory mean that any big problems get solved more quickly, getting your van back on the road faster.
VW Crafter long-term test
We ran a long-term test on one of the first examples in the country, and the only issue we had was an occasionally inconsistent AdBlue warning light.
The VW Crafter set new safety standards in the large van class at its launch, though others are beginning to catch up.
VW Crafter safety
The Crafter comes with a number of safety innovations - including several that are only made possible by the new electro-mechincal steering system.
These systems include:
Other active safety systems on the Crafter include:
Everything marked with an * was unique to the Crafter in the large van segment at the time of launch.
In addition to all this, the Crafter is also available with up to six airbags, blindspot monitors and a heated windscreen.
Euro NCAP Silver award
European crash safety body Euro NCAP launched a van safety campaign in December 2020, where it has begun to list the best and worst vans for safety based on their available safety equipment. The Crafter is rated Silver, a reasonable performance.
VW Crafter security
For the first time you can lock and unlock the cab independently of the load area for increased security.
However, neither the Startline nor the Trendline get an alarm system as standard.
Its modern design should mean the Crafter is less easy to break into that older rivals, but even the best locks don't stop power cutting tools. So as ever, we recommend you avoid leaving valuable or irreplaceable items inside the van if you can.
Which Volkswagen Crafter is best for me?
Deciding which VW Crafter is best for you could be a bit of a challenge - there are a large number of standard variants, after all, even before you get to more specialist versions.
The good news about this is that there is almost certainly a Crafter to suit you - though if you're looking for maximum possible payload at 3.5-tonnes or the best possible fuel economy, then older rivals are probably a better bet.
>> VW Crafter payload and dimensions details
Which VW Crafter is most fuel efficient?
The most efficient Crafters on paper are the 102hp and 140hp mid-size versions, which claim 38.2mpg at their most efficient according to the older NEDC test.
This is still some way behind the best in the large van class, sadly. But we've always found the Crafter's real-world fuel economy to be more than acceptable. Our long-term test vehicle averaged 33mpg during its time with us.
Which VW Crafter trim level is best?
Trendline adds a lot of useful extra kit - including cruise control - for not much extra money over the entry-level Startline.
In either case it's well worth considering the Business Pack, as this is a cost-effective way to add air-conditioning and an alarm, among other items.
Which VW Crafter engine is best?
Biggest seller is the 140hp engine, which should be more than adequate for most users, and typically offers the same fuel economy as the 102hp model on paper - and is likely to better it in the real world thanks to its additional muscle.
Is the manual or automatic gearbox better in the VW Crafter?
Both transmissions compare well with rival options. The auto costs more, but improves refinement and should reduce wear and tear costs related to clutches and tyres. It's one of the best automatic options of any large van.
Should I buy a FWD, RWD or 4WD VW Crafter?
Depends on how you're going to use it.
Front-wheel drive (FWD) offers the highest payload and fewest in-cab vibrations.
Rear-wheel drive (RWD) is better for heavy duty use and towing, but is far less refined and has a higher step-in height for the load area and a lower overall loading height.
Four-wheel drive (4WD) Crafters are badged 4Motion, and have the same step-in and loading restrictions as the RWD models - but with better refinement and even more traction.
You'll find individual model reviews of each drivetrain type below.
---
VW Crafter individual model reviews
Still trying to decide? Then maybe these reviews of individual models will help you make up your mind (click the link to go to the review):
And don't forget, we've also run a six-month long-term test on a FWD model.
---
VW Crafter Trendline Business Pack 4Motion 177hp with eight-speed automatic review
Tested February 2019 by CJ Hubbard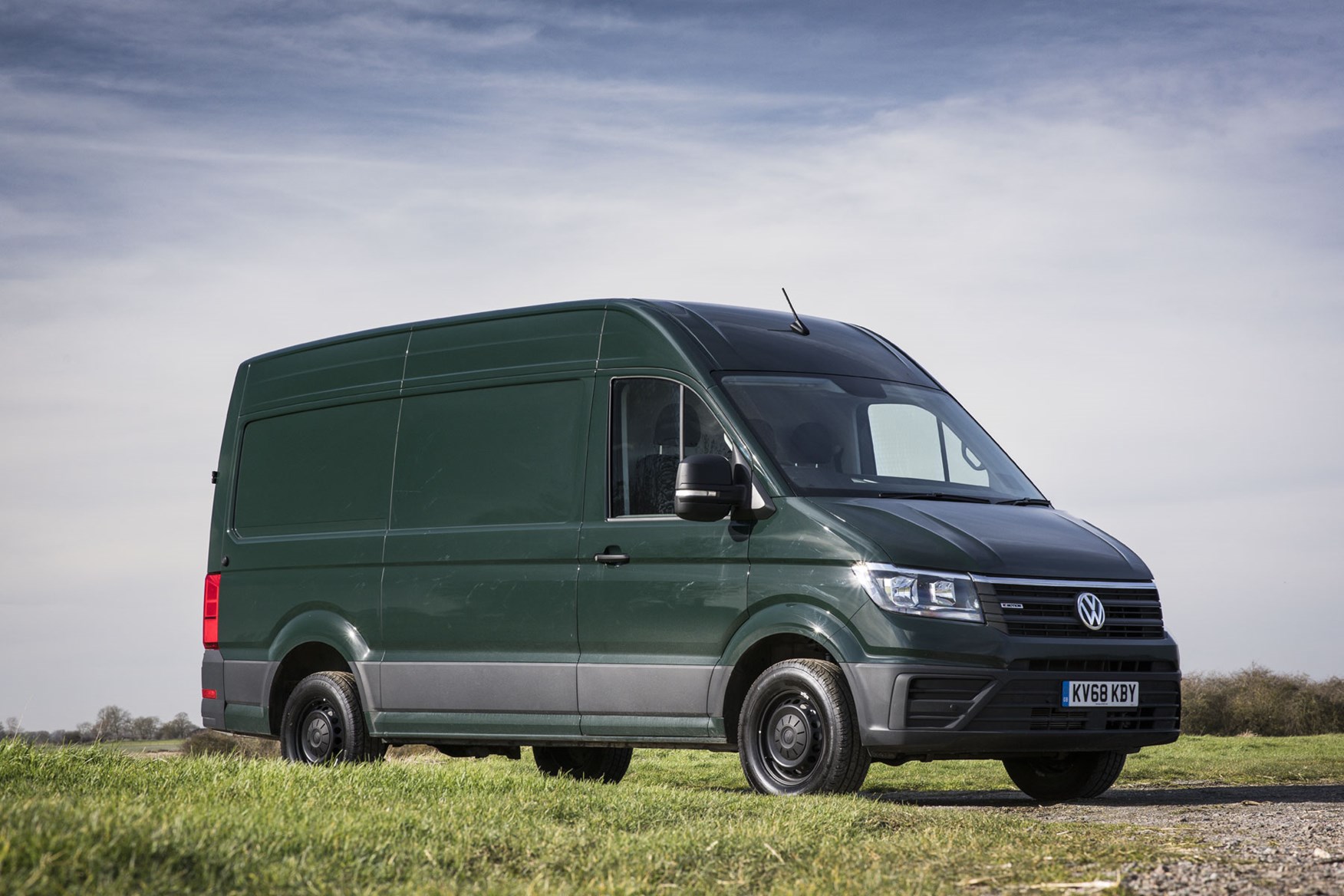 On-demand four-wheel drive balances traction and mpg automatically
Most powerful engine works well with smooth eight-speed transmission
Business Pack adds essential options for a single reasonably priced fee
Not so long ago, a vehicle like this would never have turned my head – and even having spent the last few years writing about vans, I'm still not someone who really goes 'cor!' at the sight of a Transit. But finished in dark Ontario Green over the black steel wheels of middle-ranking Trendline spec, this VW Crafter is a seriously good looking machine – something that's somehow psychologically enhanced by the knowledge that it's also a 4Motion model.
Four-wheel drive vans are just inherently cool, as they add yet another dimension to the practicality. The Crafter doesn't shout about its 4x4 status, however; there's no increased ground clearance here (4Motion models are no taller than FWD and RWD variants) and no obviously chunky tyres.
Instead you simply get a couple of badges, and the clear impression that this is about additional traction, rather than serious off-roading. So think more slippery site-work than cross-country to a power pylon.
What is the VW Crafter 4Motion like to drive?
This subtlety is reflected in the driving experience. This generation of 4Motion Crafter uses an 'on-demand' Haldex four-wheel drive system, which means it runs in front-wheel drive only for much of the time, only engaging the rear axle when grip begins to slip – although in such situations, as much as 60% of the drive can be directed to the back.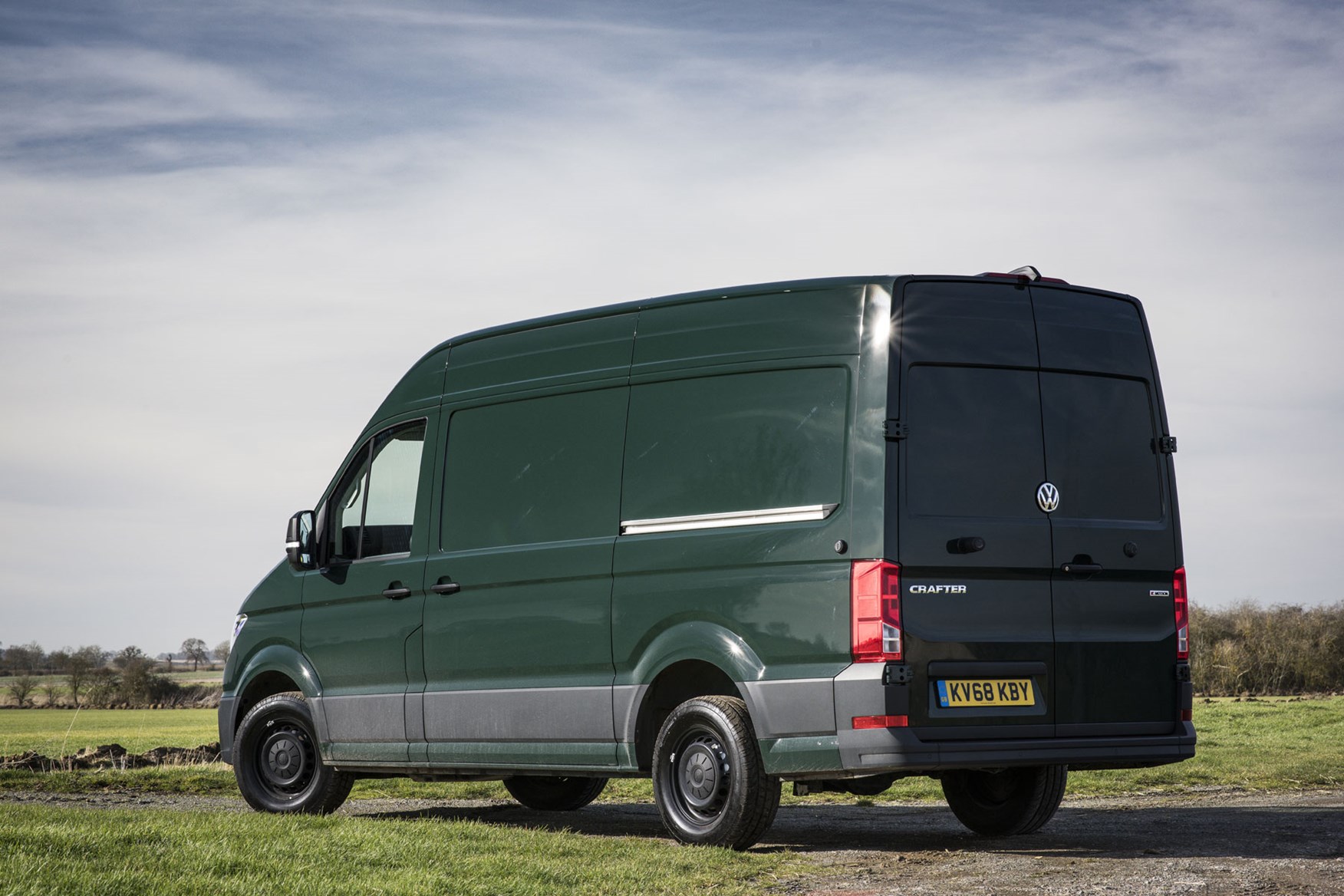 If you're worried that won't be enough to get you out of trouble, there's also an optional locking rear differential – £666 plus VAT (at time of writing), as fitted to this example – which helps to propel the Crafter forward as long as at least one rear wheel can find purchase.
The transition between front- and four-wheel drive is all but undetectable on the road. Although if you engage the rear diff lock you will certainly notice that, as it's noisy and restricts the turning circle; a price worth paying when extracting yourself from a sticky bit of mud, but not something you'd have switched on all the time.
This aside, the 4Motion driving experience is similar to that of front-wheel drive Crafters, which is the same as saying very good indeed. Light but accurate steering makes low speed town driving a dream, forward visibility is excellent and stability on the motorway is outstanding, making long distances easy to handle.
In fact, we were driving it on some of the windiest days 2019 has so far seen, and the standard-fit Crosswind Assist system really proved its worth – the Crafter feeling utterly rock steady as we blasted past all the HGVs as they were being buffeted.
How good is the VW Crafter's 177hp engine and eight-speed automatic?
Top of the range combo on this example – the 177hp BiTDI twin-turbo 2.0-litre diesel and the eight-speed automatic gearbox. As a result this is a fast, refined van.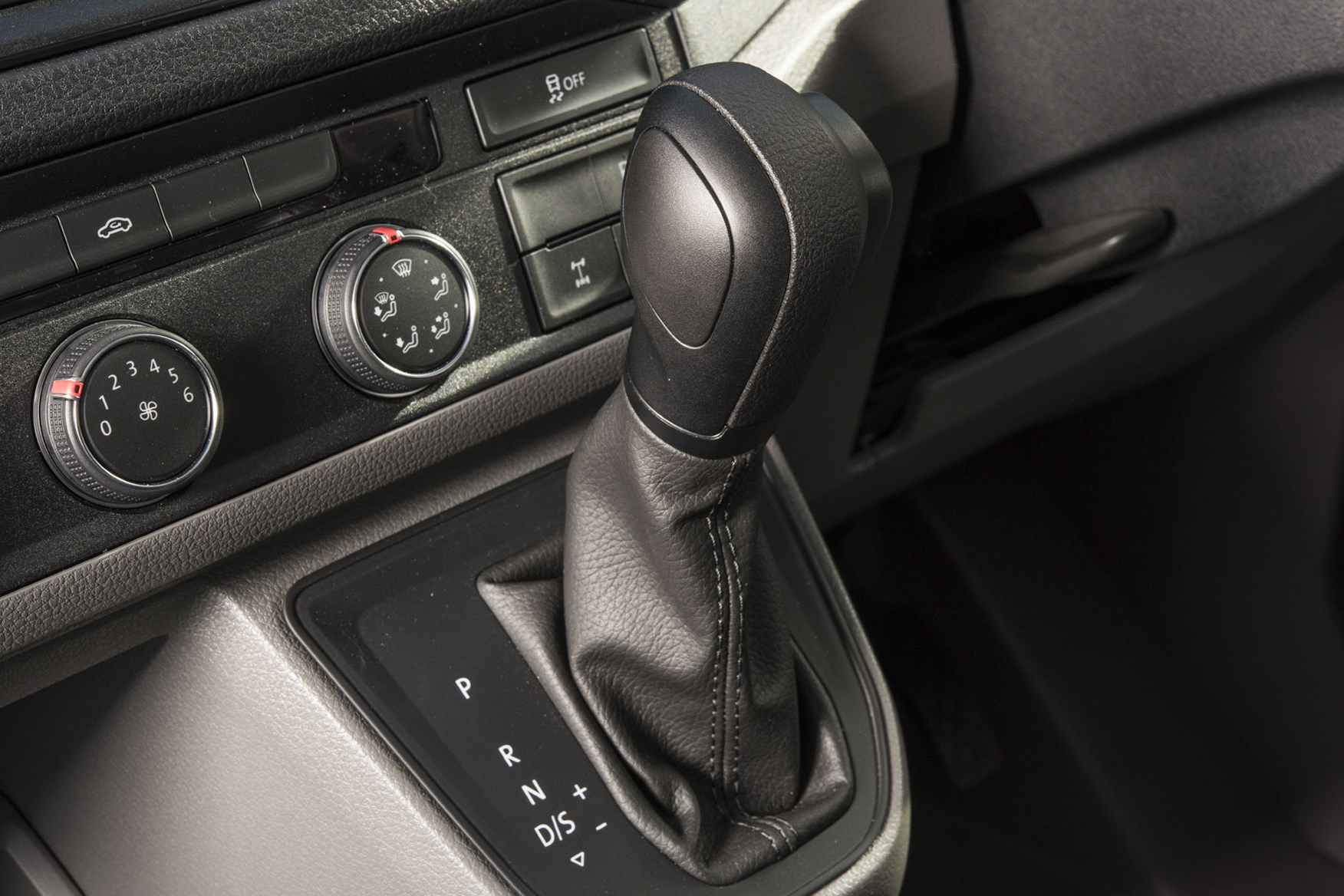 The two components work very well together. The auto 'box makes the engine's performance extremely accessible, changing between gears not only smoothly but rapidly, so you're rarely left waiting for it to make a decision.
At the same time, it allows the engine to cruise at such low rpm on the motorway that refinement is better than ever in this version of the Crafter. For the same reason, real-world fuel economy is more than reasonable for a large van with four-wheel drive, as the engine is making hardly any effort at these speeds.
The official claimed figure is 31.7mpg, and as long as you resist the temptation to boot it every time a slower vehicle moves out of the way (which isn't easy…), you should get pretty close to this at the pumps.
How practical is the VW Crafter 4Motion?
As with rear-wheel drive Crafters, the 4Motion Crafters have a 100mm reduction in outright load height inside in order to accomodate the rear differential. As a consequence you have to step 100mm higher to get in the back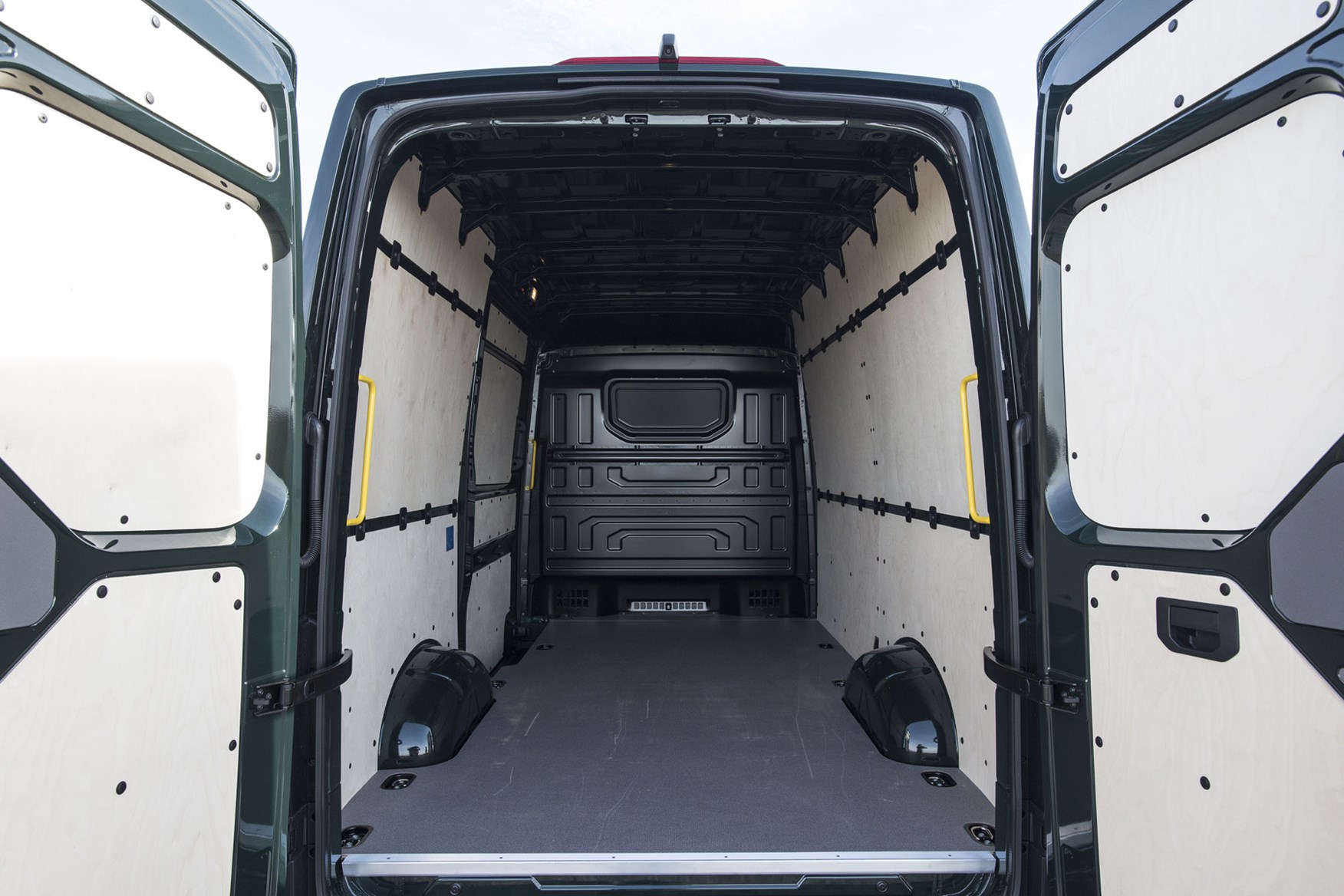 This aside, load dimensions are the same as every other model – and you can find full details of these on our dedicated VW Crafter dimensions page. The four-wheel drive gubbins do steal around 150kg from potential maximum payload, however.
As for other areas where practicality is important, like all Crafters the 4Motion gets a very pragmatic interior design, with loads of storage and what we believe is the best material quality in the entire large van segment. Some will rue the lack of style, but for us the Crafter's cab is everything we want from a van.
This particular Crafter is also fitted with the Business Pack, which groups a number of popular options together at a better value price – on the Trendline specification this includes an alarm, front and rear parking sensors, an overhead storage compartment in the cab, air-conditioning and two folding remote locking keys. Yours for £1,518 (plus VAT) at the time of writing.
We also appreciated the optional heated steering wheel (£234) – though oddly while this includes a lot of spoke-mounted buttons, the one to turn on the heating element is on the other side of the cab.
Should I buy a VW Crafter 4Motion?
If you need a four-wheel drive van but aren't fussed about additional ground clearance, the Crafter 4Motion is an excellent choice. You get the same easy-going driving experience and outstanding interior with added traction and little compromise.
If you don't need four-wheel drive, front-wheel drive Crafters do have more load volume and higher payload.
As for the 177hp engine and eight-speed auto combination, this is expensive, but top class. Much like the van overall.
---
VW Crafter LWB Trendline RWD 140hp review
Tested December 2018 by Gareth Evans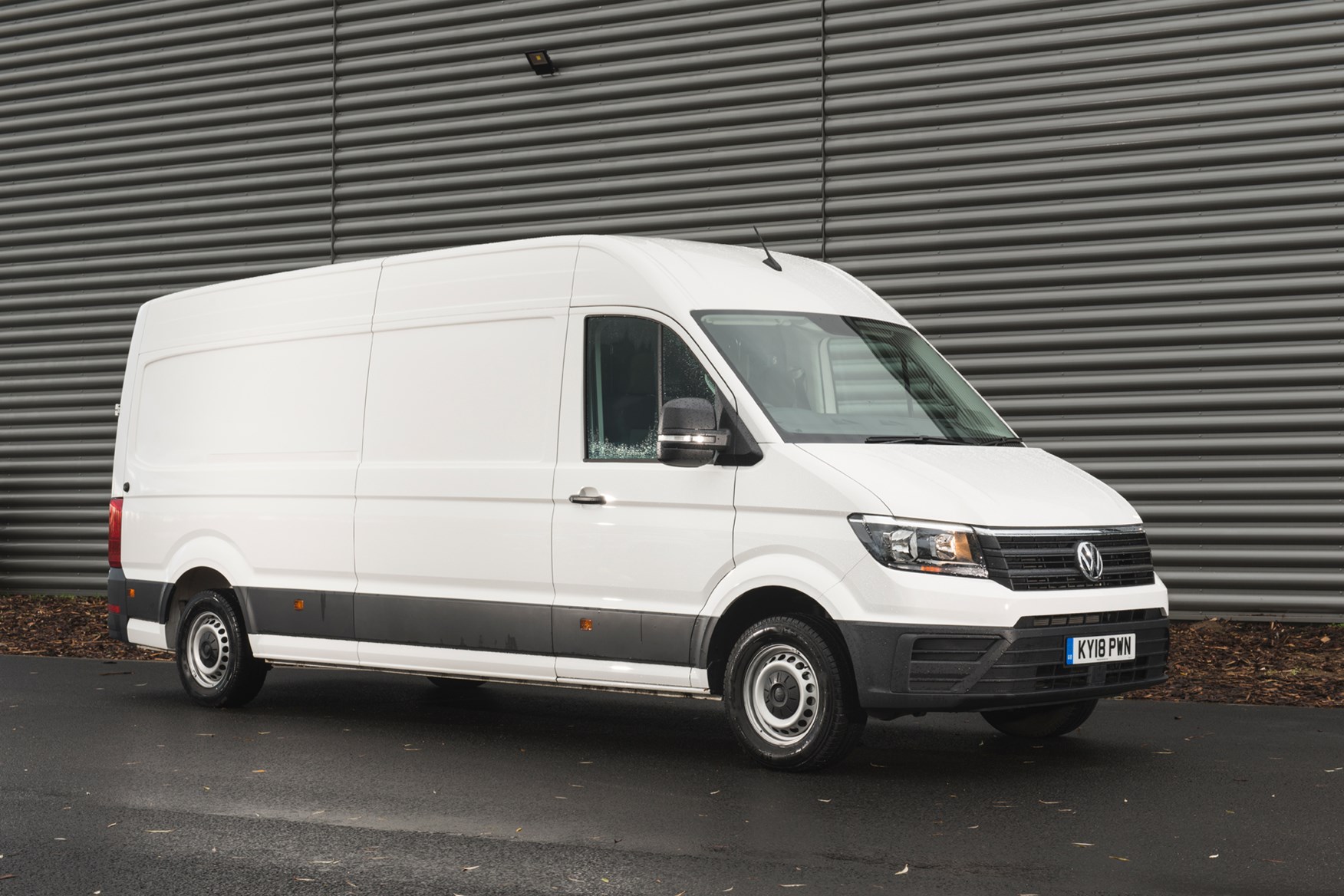 RWD good for heavy loads and towing
Not as refined as FWD Crafters
Costs more to run and carries less, too
You've got the option of front-, rear- and all-wheel drive transmissions for the VW Crafter, so clearly not all were created equal. Here we're sampling one with the back wheels powered – is this Trendline model the pick of the range, or should you be looking elsewhere for the right Crafter for you?
Why buy a RWD VW Crafter?
The primary reason buyers go for a rear-driven Crafter – or any van of this size where you've got a choice – is that they're better for loaded traction and towing. This is because the weight of your payload will be situated over the rear axle, which pushes the back wheels into the road and helps prevent them spinning.
However, this layout isn't without its drawbacks. For a start the vehicle is around 100kg heavier and thus less efficient than a front-driven van, and the longer propshaft means you get more transmission loss – where engine output is sapped, harming fuel economy and emissions.
It also makes the van worse to drive, because all that propshaft mass is spinning under almost the entire length of the van, so there's more vibration introduced as a result as well as being noisier and more expensive to run.
The engine is still mounted in the same place as the other Crafter derivatives, albeit rotated 90 degrees for the rear-drive layout, but it's still our favourite in the range – the BiTDI twin-turbo with 177hp is quicker, unsurprisingly, than the 140hp van we're driving here, but less refined and more costly to run. We'd stick with this one. Its 350Nm of torque means it'll tow three tonnes so it's more than adequate for most business uses.
What spec is this Crafter?
It also uses the excellent six-speed manual gearbox we've come to love following our six-month long-term test in the Crafter, though if you need or want an automatic then you're able to add VW's eight-speed gearbox for an additional £2,070.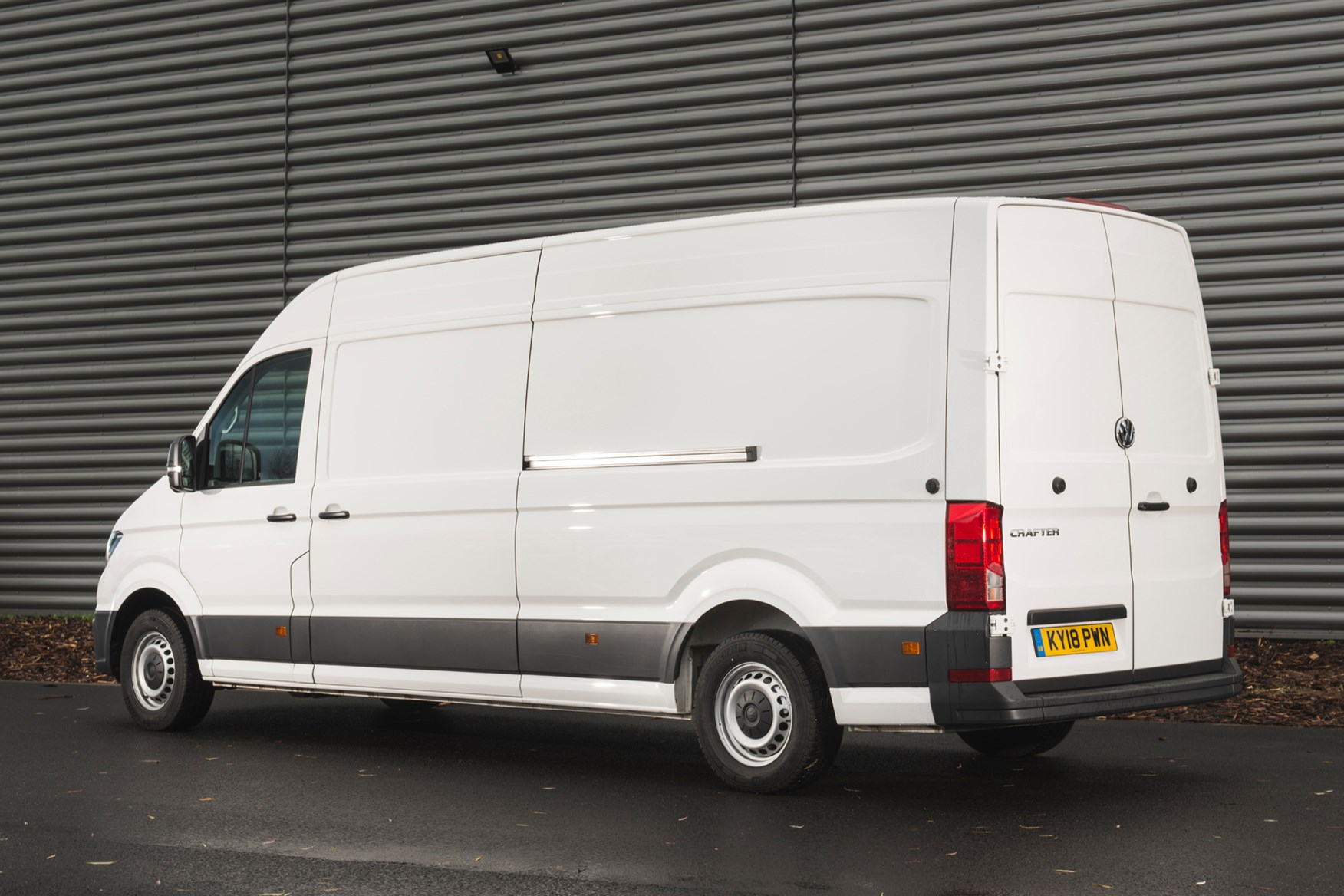 Other options on this Crafter include the Discover Media system that replaces the Composition one. This upgrade costs £876 and secures one-shot voice destination entry, a better screen with higher-resolution graphics, route prediction for the sat-nav and Car-Net Guide and Inform, which is an app-based system for streaming information like local weather and fuel pricing. Whether you think this is good value is up to you, but we'd advise trying out both systems to see if you can live with the cheaper one.
Another reason you may want to choose this system is as a fleet or business manager, though – because for a further £1,170 you can integrate full telematics to track and monitor the efficiency of the vehicle and suggest improvements where necessary. You could save quite a bit of cash this way.
We would go for the heated windscreen for £270 - you'll only need to use it once to realise it's a seriously useful feature on a cold morning.
We've also got a leather steering wheel, which is a £324 upgrade we'd go without if we were trying to save some cash. The £618 wooden load bay lining will be down to your requirements, but the rear-view camera seems good value for £270. This displays its readout on the multimedia screen, but it's worth noting this Crafter also has the Business Pack (£1,518) and that nets you front and rear acoustic parking sensors, alongside an alarm, tow-away protection, climate control, two remote folding keys and an overhead storage compartment.
Should I buy a RWD VW Crafter?
The rear-wheel drive Crafter won't appeal to everybody, but for a pretty specific group of buyers it'll match their requirements perfectly. If you're buying simply because you're used to a rear-wheel drive van, then we'd strongly suggest you try the front-wheel drive Crafter before taking the plunge because in almost every respect, it's a better vehicle.
---
VW Crafter MWB high roof Trendline FWD 177hp review
Tested June 2017 by Christofer Lloyd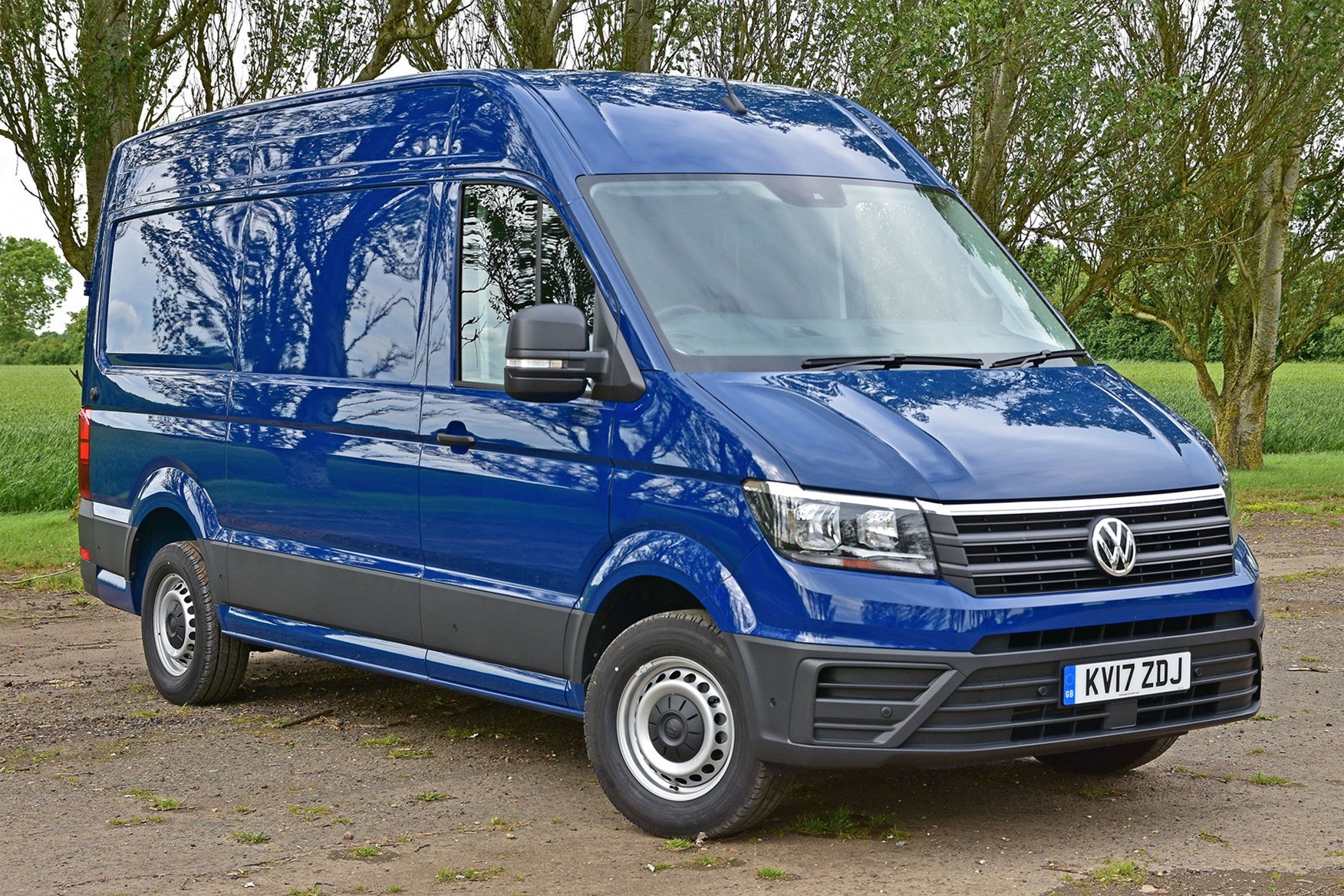 Crafter offers car-like interior
Payload stands at 1,235kg
30,000-mile servicing intervals
This VW Crafter isn't the biggest van on the market, with a total load volume of 11.3 cubic metres, and it can't carry the most weight, with a middling payload of 1,235kg.
However, with a comfy car-like interior, sharp, modern styling and the prospect of infrequent 30,000-mile servicing intervals, do creature comforts outweigh practicality as the Crafter's strongest suit?
We've driven the most powerful Crafter available – which has a 177hp 2.0-litre twin-turbo diesel engine and returns claimed economy of 37.7mpg, barely down on the 38.2mpg from the much less powerful 102hp and 140hp versions of the same van.
Before VAT this would set you back a substantial £31,755 (at the time of writing), so is it good enough at the practical stuff to be worthy of your cash over rivals?
You get a very wide sliding door on the passenger side, plus a very low – and completely flat – load area floor, as well as rear doors that fold back and magnetically latch to the side of the van. You'll find a little extra storage room under the front passenger seats, too.
Comfy cabin with super-slick sat-nav
Sheer space is not this Crafter's forte, but the cabin and on-road behaviour are much more impressive. Despite the steep climb to get in, it feels very similar inside this Crafter to many of Volkswagen's cars. The layout is clear, quality is good and the in-car tech is a huge jump over most vans.
The sat-nav system, for instance, has a large, very clear screen and easy to use controls, making it feel like a polished system compared with the basic unit available in the Vauxhall Movano, for instance. Bear in mind, however, that this is a hefty £840 option, so it should be good.
Strong engine, 30,000-mile service intervals
With 177hp on tap and 410Nm of pulling power the Crafter pulls hard from low engine speeds, comfortably shrugging off weight in the load bay. It still accelerates well at motorway speeds – with or without a load.
Refinement is good and the motor is smooth, even when worked hard, though the 160hp twin-turbo 2.3-litre engine in the Vauxhall Movano, if anything, feels even stronger. That's probably because the Movano dishes out more muscle at low engine speeds, so you don't have to work it as hard to make the same progress.
The Vauxhall also appears to have a more even spread of power, providing greater punch when pulling off, while the Crafter sometimes takes a second to respond to throttle inputs.
Where the VW stands out, however, is in its longer 30,000-mile service intervals, meaning that you shouldn't need to take the van off the road as often.
Claimed fuel economy stands at 37.7mpg. While not dissimilar to less powerful Crafters, this lags behind the 38.2-39.8mpg you get with an equivalent Ford Transit and 38.7mpg from the Renault Master and Vauxhall Movano; so expect to pay a little more to fuel this Volkswagen.
Large door mirrors, smooth ride and great gearbox
Helping to make the Crafter feel more carlike and easy to drive are tall, wide-angle mirrors that provide a very good view of the road behind you. Throw in a slick gearbox and a particularly easy-to-reach gear lever plus reasonably direct steering and the Crafter is a lot more civilised to drive than many vans of this size.
You'll remember you're driving such a tall vehicle when you get thrown off course by the occasional crosswind (this despite Side Wind Compensation being fitted as standard), but the grunt from the engine and satisfying gearshift mean that the Crafter shouldn't take much adjustment if you're constantly swapping between cars and vans.
Where you might get caught out is manoeuvrability; the Crafter's big nose means that you might find the occasional supermarket car park rather tight.
The suspension, meanwhile, is smooth enough and the Crafter doesn't get caught out by undulations. It's surprisingly agile around corners.
Should I buy a FWD VW Crafter?
The medium-sized Crafter in most powerful 177hp form is not cheap nor is it the best load lugger – in size or in weight terms – compared with rivals. However, it's unrivalled when it comes to its solid but plush interior and car-like driving experience.
It also looks very good in the flesh. If you want to make a good impression to demanding customers or run an upmarket business and need a similarly premium steed, no van can match the Crafter for cachet. As a result, if you're not put off by the price, this Crafter should be top of your list.