Land Rover Defender Hard Top review (2021)
An outstanding commercial 4x4 that blends on-road comfort with off-road excellence
PROS
Great to drive on and off the road
Comfortable and well equipped
Cleverly designed load space
Lots of high-tech features
Jump seat allows third passenger
CONS
Not cheap
Lower payload than a pickup
Relies on lots of electronics
Limited choice of 90 models
Will it be reliable?
Summary
The Land Rover Defender Hard Top is the commercial 4x4 van version of the latest Land Rover Defender passenger SUV. It is also unquestionably a triumphant return of a model name that dominated the off-road van market for decades – and though the new Defender couldn't be more different to the old Defender, it is a force to be reckoned with, and shoots straight to the top of the class.
Like all commercial 4x4s, the Defender Hard Top is essentially a passenger vehicle with the rear seats removed. However, unlike rivals, the adaptation goes beyond merely fitting a load floor and a bulkhead. Serious thought has gone into this product, and no wonder – Land Rover expects roughly one in four Defenders sold in the UK to be a Hard Top working variant.
It comes in two versions: the short-wheelbase Defender 90 Hard Top and the long-wheelbase Defender 110 Hard Top. Both are covered in this review.
What's in a name?
The Hard Top name refers back to early light commercial vehicle (LCV) variants of the Defender, which came with a removable roof. The only way the roof is coming off the new model is with an angle grinder, but the historic moniker is a useful distinction between the van and the passenger car.
As for the 90 and the 110 parts, these traditionally referenced the wheelbase in inches – now they're just arbitrary numbers with emotional meaning to distinguish between the three-door SWB version and the five-door LWB variant.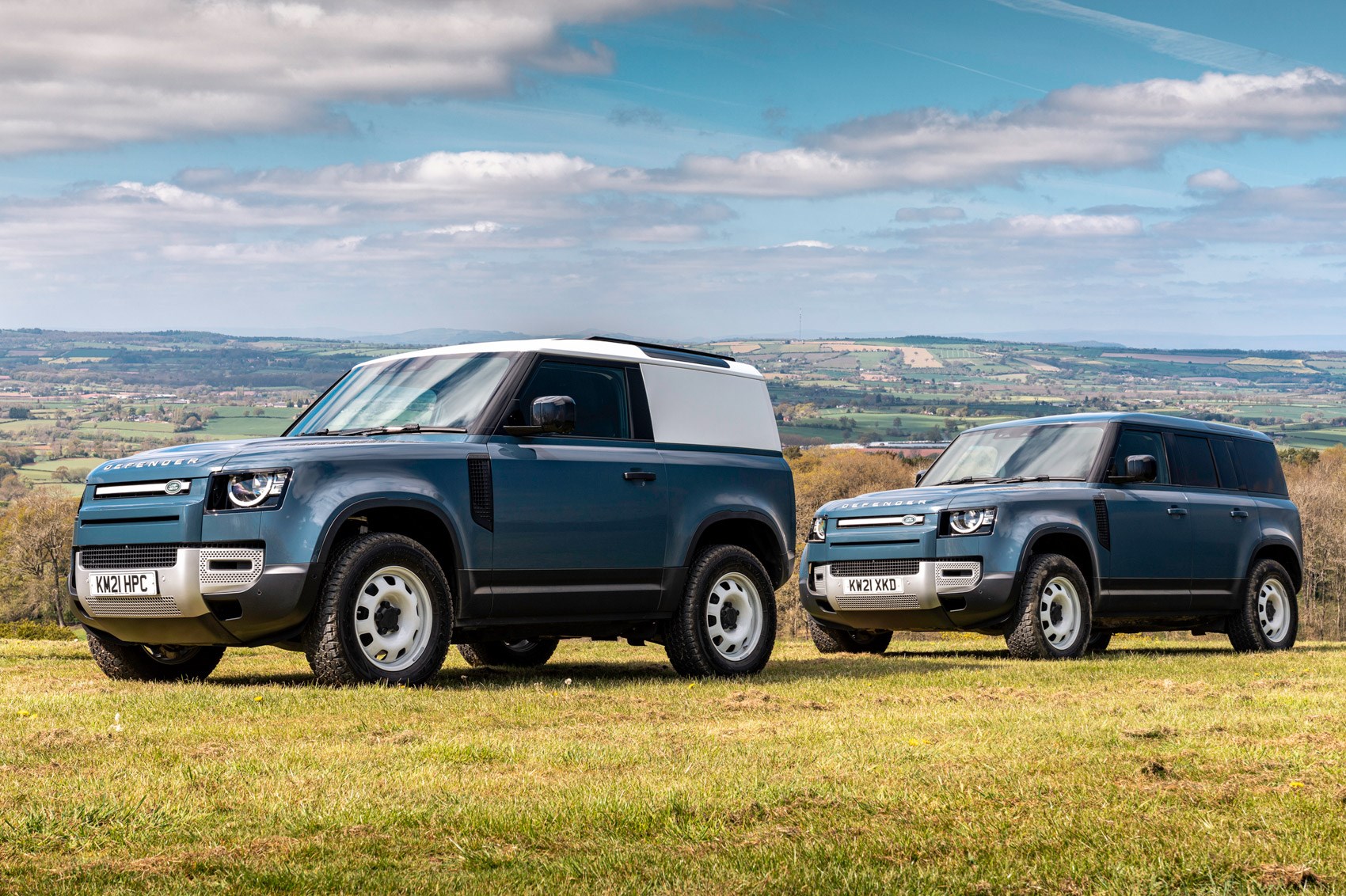 Still, the Defender 90 Hard Top is the more basic model in more ways than length and load capacity, as it's available with a single engine and trim level choice; the Defender 110 Hard Top comes in three additional trim levels (or 'Specification Packs', as Land Rover has it) and with two, more powerful, engine choices.
All Defender Hard Tops are four-wheel drive and fitted with an eight-speed automatic transmission as standard, complete with twin-speed transfer box for greater off-road driving control.
What makes the Hard Top different to the passenger car?
The Defender Hard Top has been converted for van life by Land Rover Special Vehicle Operations (SVO). On the outside it looks very similar to the passenger models, except that the rear side windows are replaced by solid panels – though this may only be obvious if you spec the contrast white roof finish, which also gives the new Defender a classic Defender appearance.
On the inside, everything behind the front seats is different. The rear seats are removed, and replaced by a tough, flat, load floor from the side-opening tailgate right through the full-height bulkhead behind the front seats.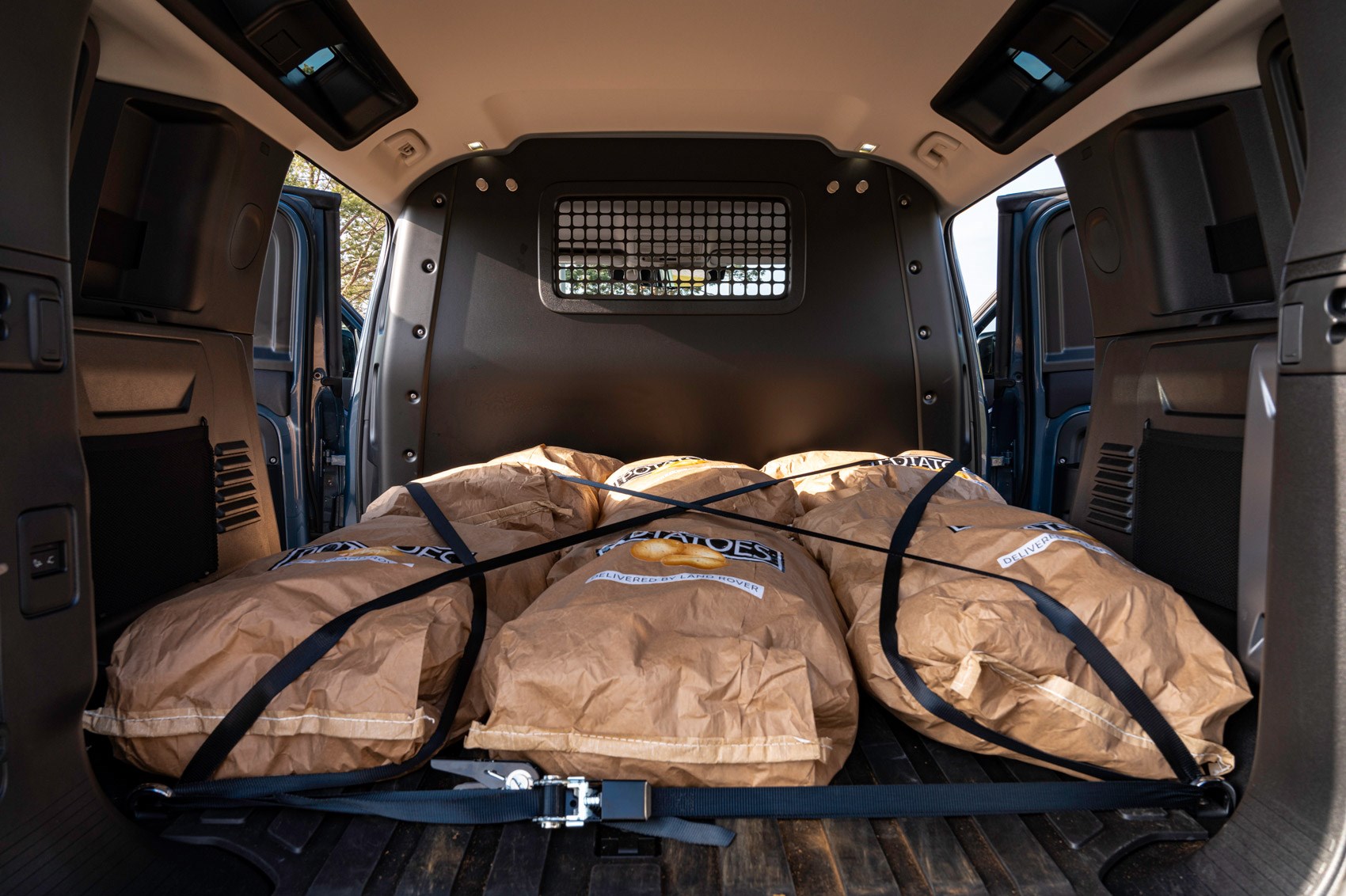 In addition to six load lashing points, SVO has added 58 litres of proper, lockable underfloor storage near the rear door of both models, and placed a further 155 litres of lockable storage into the rear footwell area of the longer Defender 110 Hard Top, accessed via the rear side doors (which carry over from the passenger version) and illuminated.
There are also load-bearing hooks (rated to up to 10kg), plus a huge range of accessories – including substantial roof racks with ladder access, and other external storage solutions.
Total load volume in the Defender 90 Hard Top is 1,355 litres (just under 1.4 cubic metres), while the 110 can swallow up to 2,059 litres (just over 2.0 cubic metres) and has enough space for a Euro pallet. Either will tow up to 3,500kg.
You can find out more about the Defender commercial's load carrying capability on our dedicated Land Rover Defender Hard Top dimensions page.
How many people fit in the Defender Hard Top?
The standard seating arrangements are for two people – a driver and front passenger, who are treated to the same experience as any other Defender passengers.
In stark contrast to the previous model, this means plenty of comfort, cutting edge technology and an attractive yet highly functional interior design.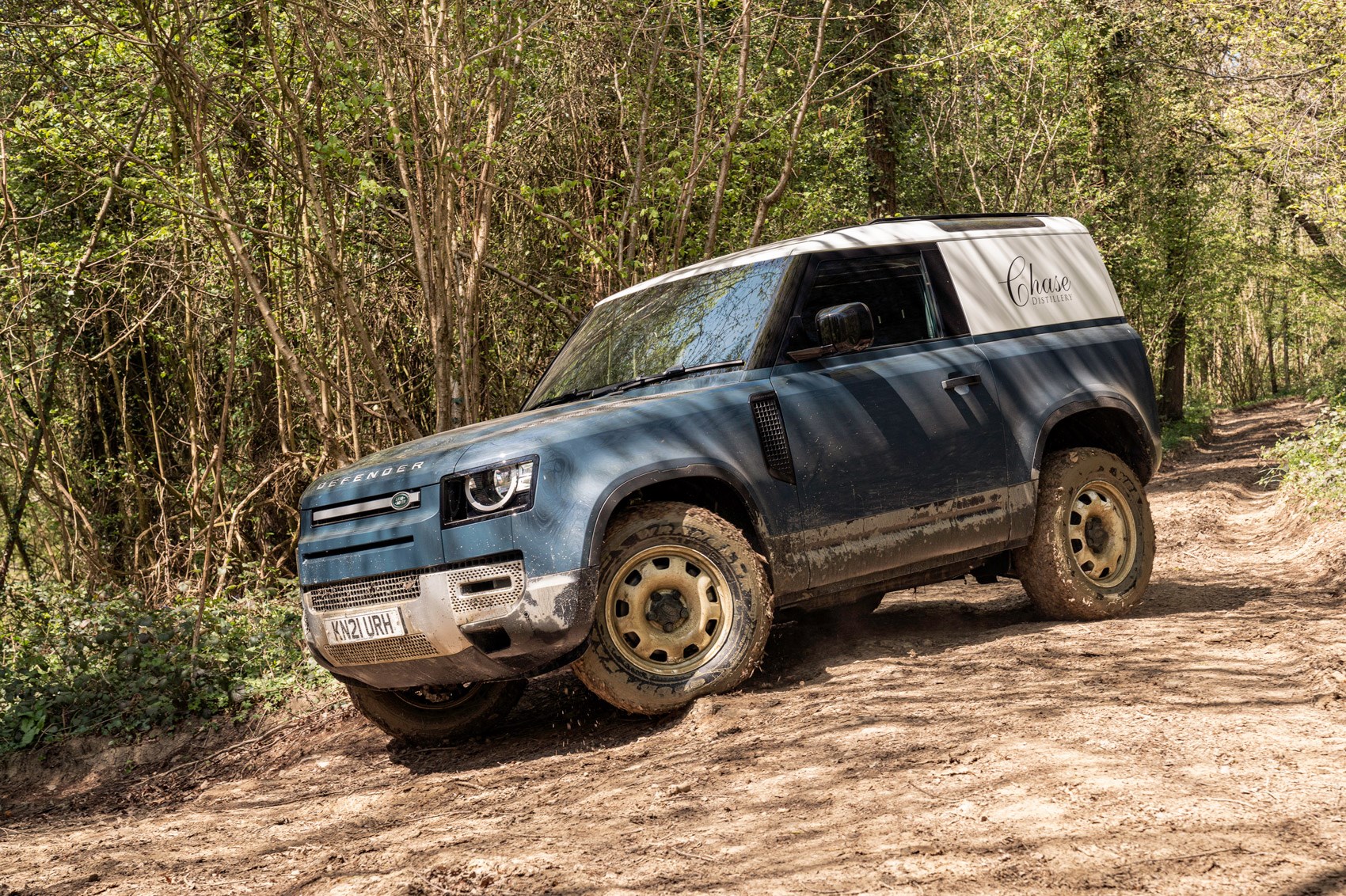 Unlike every other commercial 4x4 in the UK, however, the Defender Hard Top is also available with an optional central 'jump seat', allowing it to carry a third person if required.
Defender Hard Top rivals
The most obvious rival to the Defender Hard Top is the Toyota Land Cruiser Commercial. This also comes in short-wheelbase three-door and long-wheelbase five-door variants, and is based on a similarly iconic off-road vehicle.
The Land Cruiser is an excellent tool, very capable both on- and off-road, but can't hold a candle to the new Defender's design, technology and luxury. The van conversion is much less comprehensive as well, though Toyota's exceptional reputation for reliability means it still deserves plenty of thought.
Other competitors include the Mitsubishi Outlander Commercial and Shogun Sport Commercial – though both of these are set to be discontinued by the end of 2021 – and the Dacia Duster Commercial. The Duster is very much a budget choice, however, and most are only two-wheel drive.
Putting aside pickup trucks, which offer four-wheel drive, higher payload ratings and up to five seats, the closest rival in terms of luxury, capability and general feel is actually another Land Rover – the Discovery Commercial. This continues alongside the Defender as a slightly more road-focused choice.
---

Land Rover Defender Hard Top verdict
If you're considering one of these, you'll already know they aren't cheap. But if ever there was a commercial 4x4 that justifies its price it is surely this one. While it may look a little cartoonish at first glance, with detailing that verges on the gimmicky, you soon realise that this hasn't come at the cost of true utility.
As this review goes on to detail, the Defender Hard Top is good to drive, lovely to be in, easily copes with moderate off-roading and available with a great deal of useful technology. The load space, though not at the level of a purpose-built van, is well thought out, and overall the Defender gives you more solutions than any other commercial 4x4.
Skip to our full verdict on...
Powerful engines deliver smooth performance
Very comfortable on the road, very capable off it
Slightly wallowy in the corners but an enjoyable drive
Driving the Defender Hard Top is nothing like driving an old Defender. Land Rover's modern Ingenium diesel engines are smooth, refined and very powerful; there are no untoward vibrations, and everything is electronically controlled. In fact, it's hard to think of a greater overall contrast between two models with the same name that otherwise fulfil the same basic function.
The great news is that this means the Defender Hard Top is very easy to drive on the road, making mincemeat of long distances. The surprising news is that Land Rover claims it's also far better off-road as well.
We haven't been able to stretch its legs too much in this regard just yet, but it certainly proved effortless over some very boggy forest trails at the Land Rover Eastnor Castle off-road facility.
Land Rover Defender Hard Top engines and performance
There are three engines available in the commercial Defender, each based on Land Rover's latest Ingenium 3.0-litre six-cylinder turbodiesel, and driving all four wheels via an eight-speed automatic gearbox.
Defender 90 Hard Top buyers are offered only the D200, which produces 200hp and 500Nm of torque. This might be entry-level to Land Rover but it is by no means slow – the smooth, torquey performance and responsive automatic making it feel much livelier than the official 9.8 second 0-62mph time would suggest.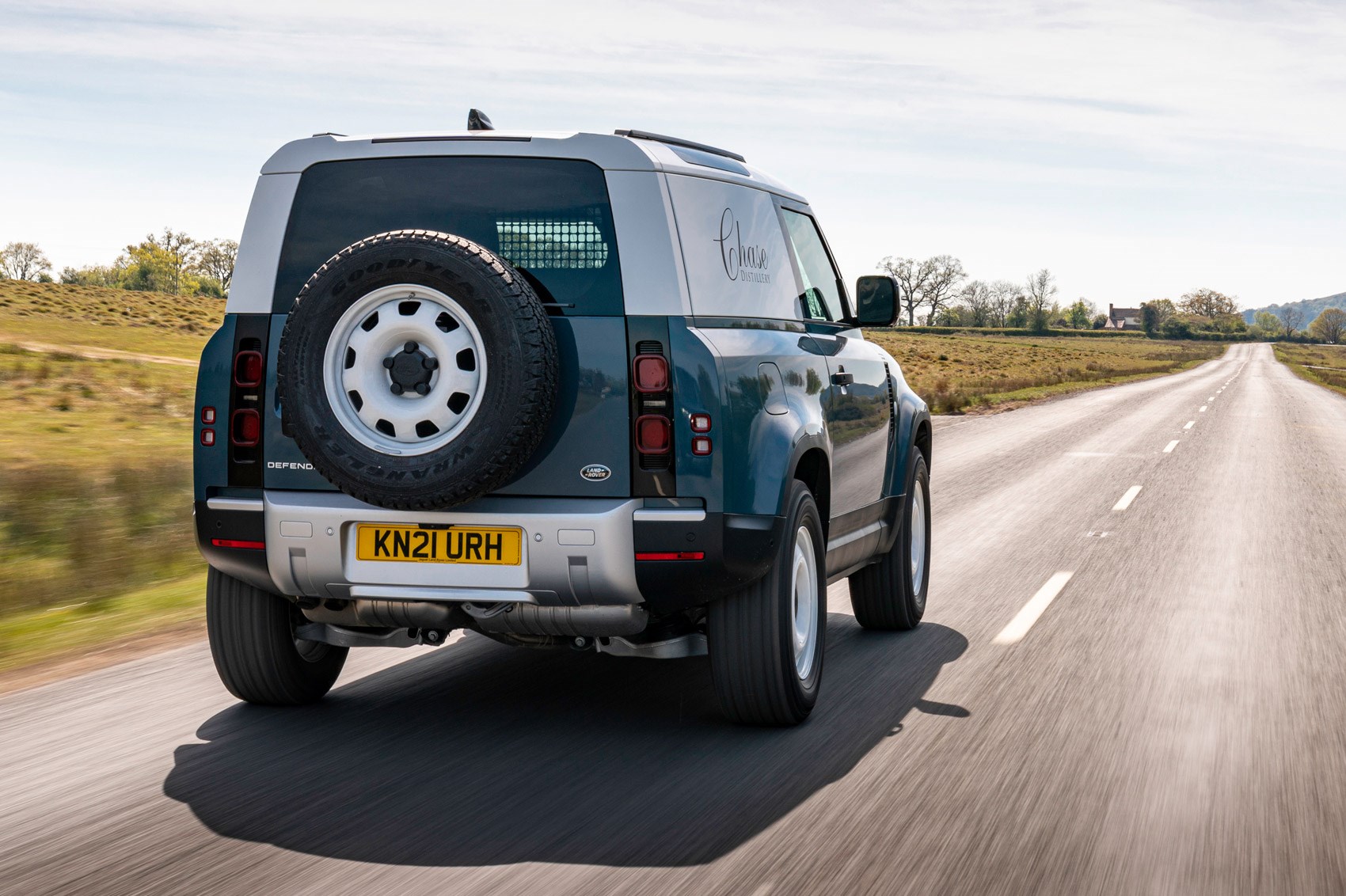 Defender 110 Hard Top buyers can choose between the D250 and the D300, with 249hp and 570Nm or 300hp and a massive 650Nm. Even the D250 is noticeably quicker, taking 8.4 seconds to do the 0-62mph dash, at which point you begin to wonder if Land Rover might have fitted slightly more positive brakes.
They do, in the end, stop the vehicle fine – but in typical Land Rover fashion they're not as immediate as some other vehicle makers would tune them. Perhaps useful in this case for preventing sheep or dogs being flattened against the bulkhead.
We haven't been able to drive a D300 Defender Hard Top just yet, which does 0-62mph in 7.0 seconds, but we have sampled this engine in the Discovery Commercial. Suffice to say it's got all the performance you could possibly want and more. Especially in a vehicle restricted to van speed limits.
The engines all feature mild hybrid (MHEV) technology to save fuel and provide a little extra instant muscle (they cannot run on electric power alone).
What's the Defender Hard Top like to drive?
For something that not only looks but also feels rather big – you sit quite a long way in-board towards the middle of the vehicle, increasing your sensation of vehicle width – we found ourselves quickly comfortable with the Defender and had no trouble placing it precisely on and off the road.
That off-road capability remains a major part of the Defender's purpose is clear in the softness of the suspension, which soaks up bumpy roads at the expense of quite a bit of body roll in the corners – the amount of grip the chassis generates only adding to the comedy value of this.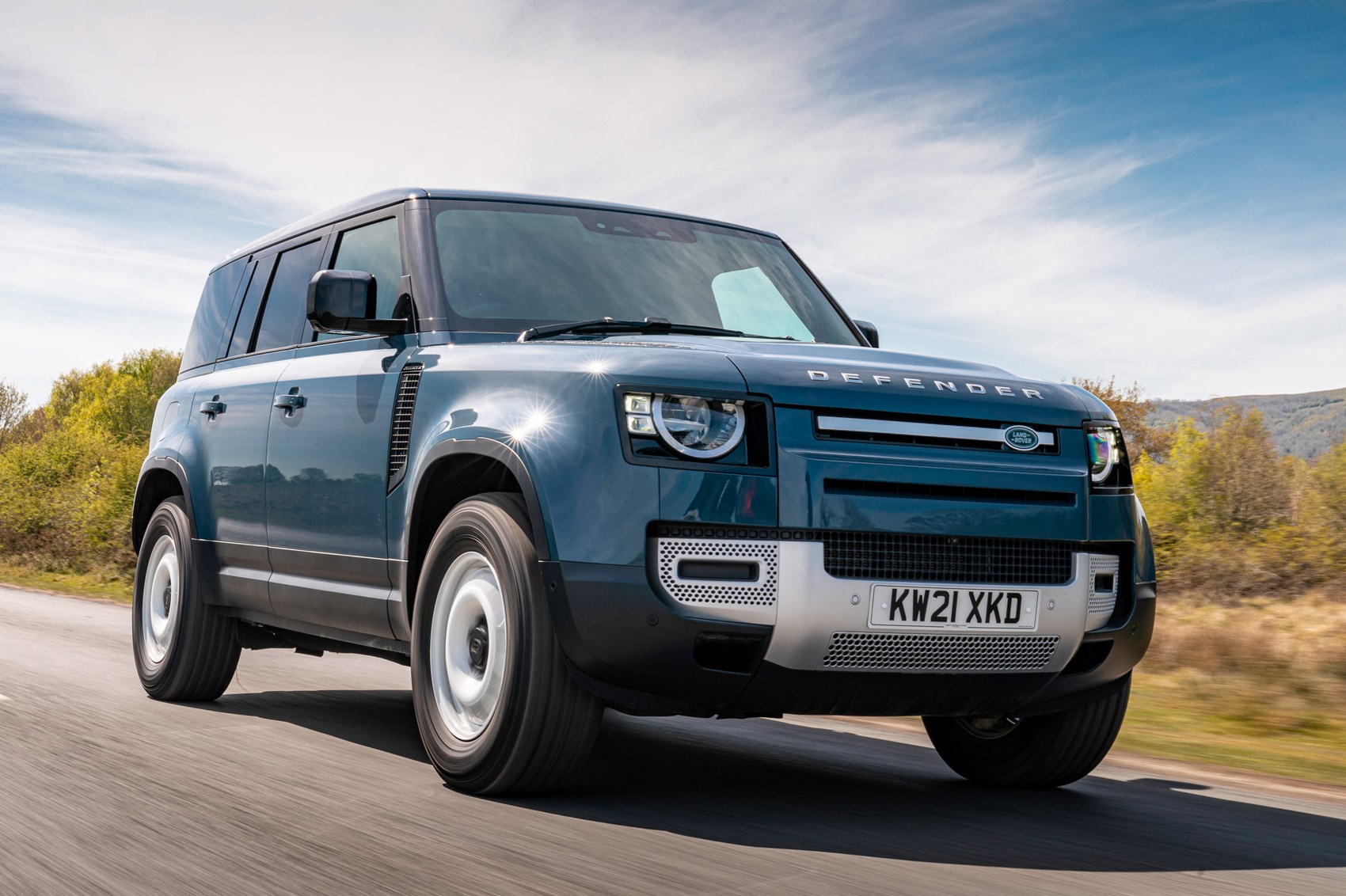 If you go for a 110 you can get more control over this with the optional electronic air suspension, which comes with 'adaptive dynamics' self-adjusting shock absorbers as well, but the 90 is conventional coil springs only. This wouldn't put us off, but is worth keeping in mind before you go barrelling into the first roundabout.
For all that, the steering is beautifully weighted and the Defender is keen to be driven, proving friendly and on your side. The eight-speed auto is like manna from heaven compared with old manual gearbox Defenders but if you want to change gears yourself you'll have to use the selector lever as there are no paddleshifters on the steering wheel; Sport mode is effective if you want to get a little more out of the engine without the hassle.
What about going off road?
Land Rover has done everything it can to make this as straight-forward as possible – so long as you can cope with the digital controls, anyway. These include one of the air-conditioning knobs doing double-duty as the control for the Terrain Response system that allows you to set up the Defender for different kinds of surfaces and obstacles.
In addition to this you'll find buttons to switch on the hill descent control and set the twin-speed transfer box into low-range mode, gearing the eight-speed automatic transmission to give you better control over treacherous ground. There are no manual levers at all.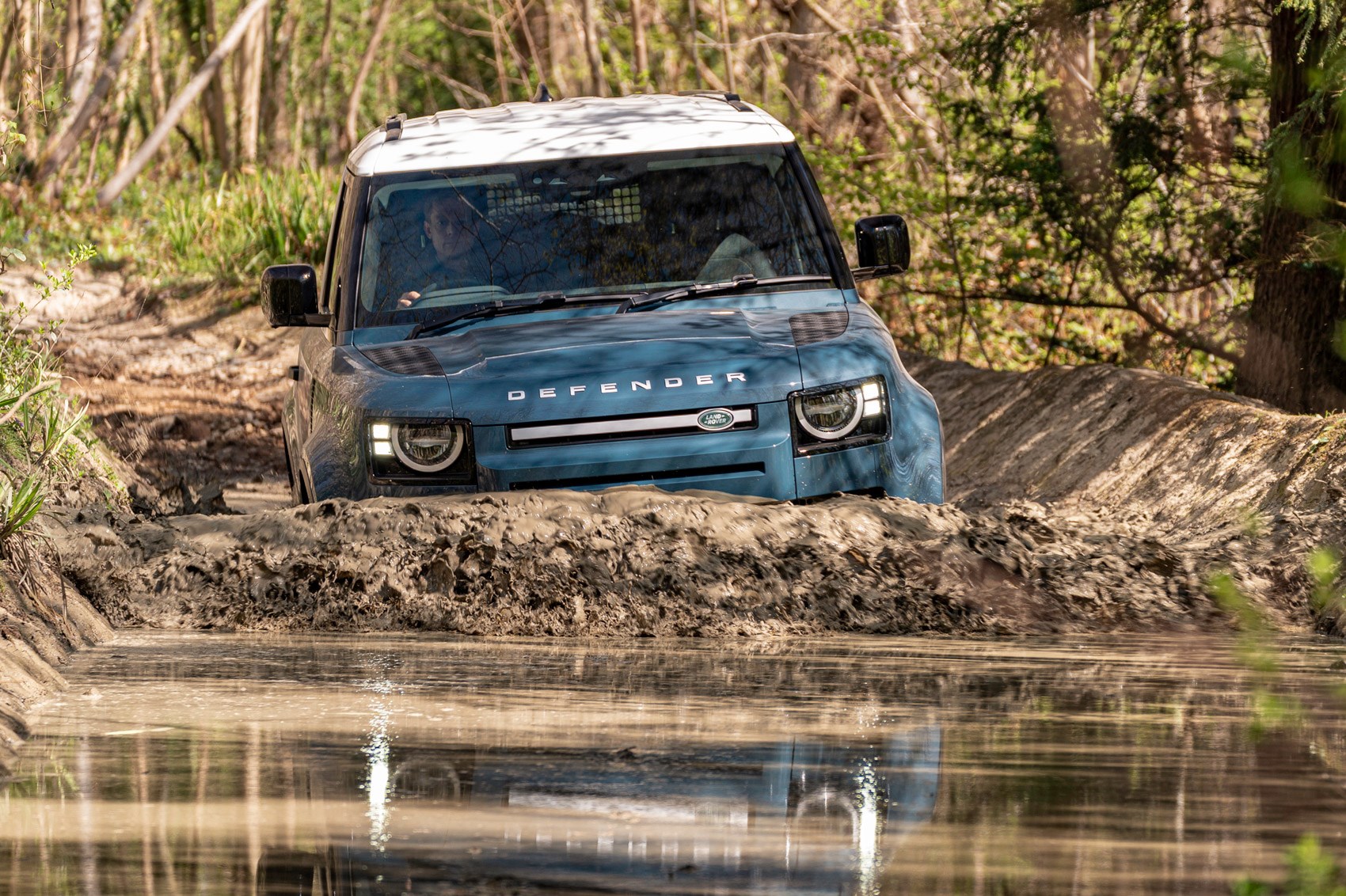 What's more, 3D surround view cameras are fitted as standard on all Defender Hard Top models, and these include an off-road setting that can help you to position the van correctly. Wade sensing and a Wade setting in the Terrain Response sees the Defender capable of fording 900mm of water without modification.
With every piece of electronics set accordingly, the commercial Defender swanned around the Land Rover Eastnor 4x4 Off-Road Experience Centre without breaking sweat. The optional off-road tyres are probably still worth it if you plan to get really muddy, and there are further off-road upgrades if you require them – including more sophisticated Terrain Response 2 and configurable Terrain Response electronics.
Nicely made, quirky but practical
Lots of on-board technology
Genius jump seat for third passenger
If you've got a grab-handle fetish, the inside of the Defender Hard Top will certainly appeal to you – as if in an effort to emphasise this is the latest in a long line of rough and tough off-roaders, Land Rover has gone to town on the detailing.
This is actually quite handy for a working vehicle, as there are loads of places to stash stuff. It's a big cabin, too, with plenty of shoulder room and a high roof that's further scalloped out in the centre so that anyone subjected to the optional jump seat won't have to stoop.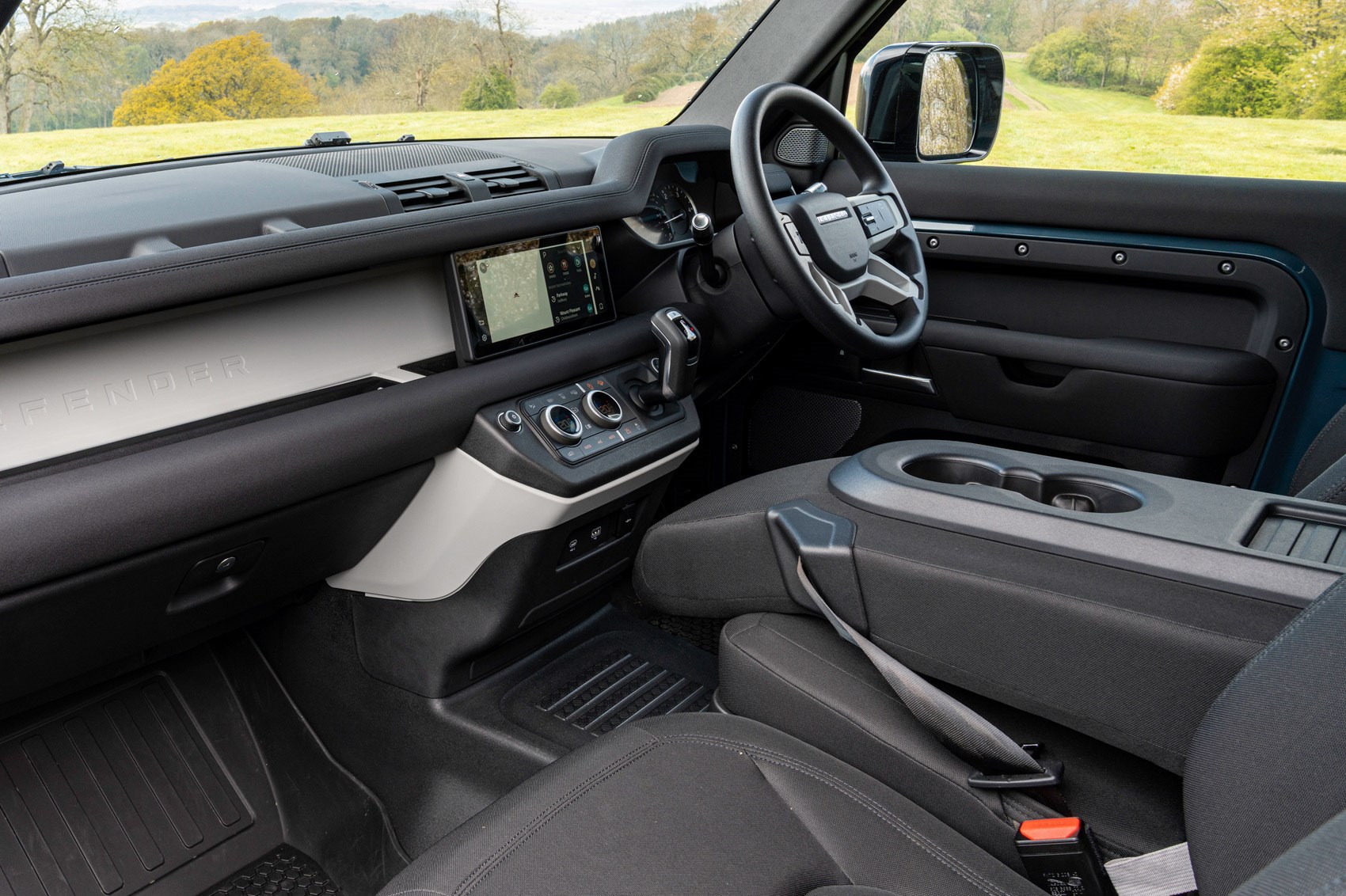 The steering wheel and seats offer a wide range of adjustment, so you shouldn't have any trouble getting comfortable, and even the most basic Defender 90 Hardtop is well-finished inside, with a solid feel to the build and high-quality materials throughout. Available in a single specification, the 90 also has easy-clean rubber flooring throughout.
The 110 is available similarly equipped, though most buyers will choose one of the three higher trim levels: S, SE or HSE. These add ever fancier fittings – as outlined in the Costs section below – but to us the standard Defender 90 still felt just fine.
It's certainly not short of equipment, as all models come with climate control, part-digital instrument cluster, 140W audio, stacks of safety kit, 3D Surround Cameras and Land Rover's Pivi Pro infotainment system, installed on a 10.0-inch touchscreen in the centre of the dashboard.
Pivi Pro is is a little confusing at first, but reasonably powerful so doesn't lag much, and we think you'll quickly get used to it. And it's fitted with two built-in mobile Wi-Fi sim cards – twin eSIM as Land Rover calls it – which means it can handle multiple online tasks at once, including Software-Over-The-Air (SOTA, also known more simply as OTA for over-the-air) updates that may even reduce downtime at the dealership.
How does the jump seat work in the Defender Hard Top?
This is installed between the two standard front seats, positioning the third passenger slightly higher than the others (hence the cut-out on the inside of the roof). When folded flat you might think it simply a chunky centre console, as there's a pair of cupholders in the back as well as a pair of additional USB ports, joining the pair already available below the infotainment system (there's a picture of this in the main gallery above).
When unfolded, the jump seat is narrow, the backrest slotting into between the bulky bolsters of the standard seats. An integrated three-point seatbelt maintains proper safety levels.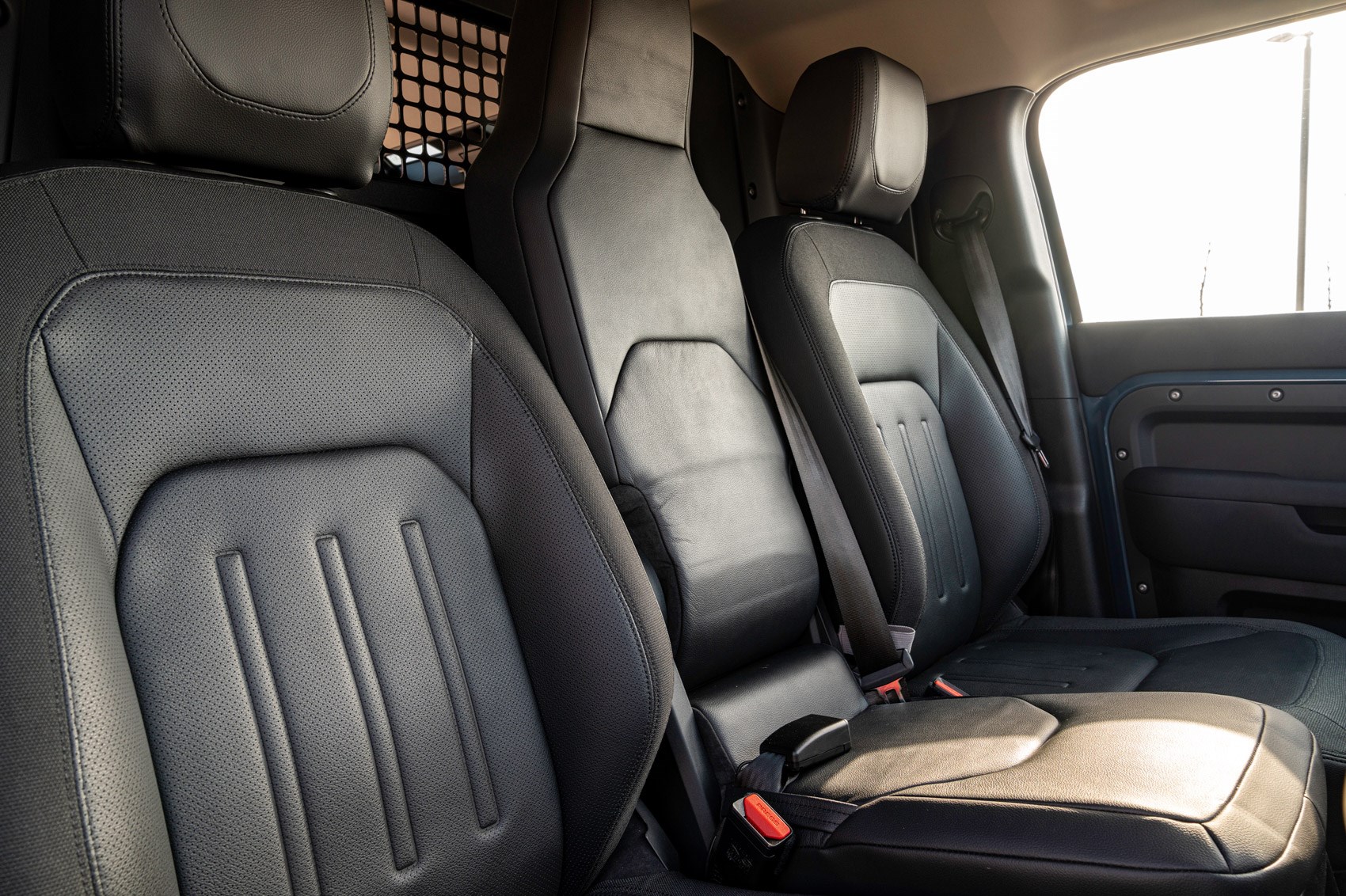 With three adults on-board it's going to be cosy, and we're not sure how much fun that would be on a really long journey – the arrangement is tight enough that it's surely only made possible by Land Rover opting to fit every Defender with an automatic transmission, the lever for which being mounted on the dashboard.
But it is still a potentially extremely useful feature, especially among a set of rivals that have no such three-seater functionality. While it's not a particularly costly option on its own (just over £800 at the time of writing), it does limit elbow room for the regular seats ever-so-slightly.
When folded, the back is comfy enough to use as an arm rest, and Land Rover has thoughtfully set this at a similar height to the door handles.
How's visibility?
Looking forward we had no issues at all generally, and if the Defender's sheer size suggests it's going to be a problem you can always switch on the 3D Surround Camera system at low speeds to check for clearance. This has various settings, including one specifically for off-roading.
Like all commercial 4x4s, the Defender Hard Top comes with a glass rear window – which together with the part-mesh bulkhead means you can still see out of the back using the interior mirror. However, Land Rover goes further than this by offering the ClearSight Rear View Camera system.
This is a permanent rear-view camera that turns the traditional rear-view mirror into a full-width screen. It has an excellent wide angle field of view, but although this appears very natural we found that it always took our eyes a moment to focus correctly on it – something to do with it not quite being the same as simply looking in the mirror.
It's well worth the expense (just over £500 at the time of writing), regardless, as it means you get a view out of the back that's not limited by the mesh, the window opening or anyone in the jump seat.
What about refinement?
Refinement is basically excellent, with only pleasant noises from the engine reaching the cabin and no vibrations from under the bonnet transmitted at all.
We did experience some creaks from the interior fittings, perhaps related to the bulkhead or the passenger seat rubbing against it.
Not cheap to buy but great value and good on finance
Lots of standard equipment
Don't expect mega fuel economy
Land Rover does not build low-price vehicles, and though the Defender Hard Top is cheaper than other models – in part because it has a lower entry-level specification – it's still an expensive investment for a working vehicle.
Despite this, we feel you're getting great value. It's fitted out as a commercial 4x4 in a way that's better than any rival – except perhaps the Land Rover Discovery Commercial – it drives well, has immense off-road capability, huge charisma and, as we're about to see, lots of standard kit.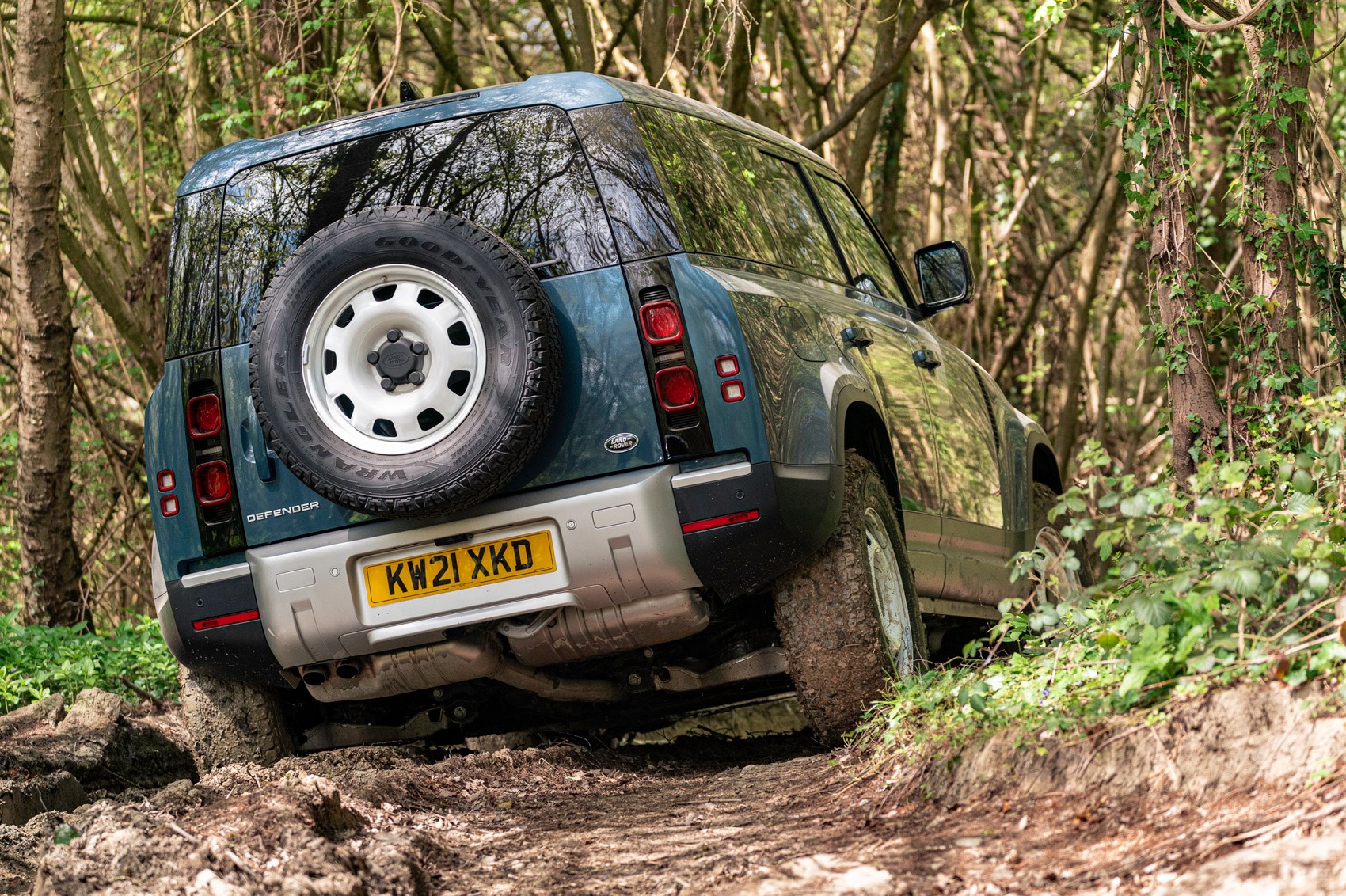 What's more, it's a highly desirable vehicle, which means used values are predicted to be very strong. This not only means it should still be worth plenty when you come to sell it on, it also helps with monthly finance pricing, so you could find finance or leasing much cheaper than you expected.
Land Rover Defender Hard Top mpg
Official claimed fuel economy for the Defender Hard Top is 29.4mpg, for all versions. Which seems nuts, but that's what Land Rover is telling us.
That's according to the latest Euro 6D WLTP emissions testing standards, so should be reasonably accurate if you don't drive full-loaded and flat-out absolutely everywhere, especially as every Hard Top comes with MHEV technology as standard in the UK.
Land Rover Defender Hard Top standard equipment
The commercial Defender is offered in four trim levels: standard Defender, S, SE and HSE.
The standard Defender spec is available on both 90 and 110 versions, while all of the other specification packs are limited to the 110 only.
All 90s are fitted with the D200 engine, while the 110 is available with the D250 in standard, S and SE spec, or the D300 in SE and HSE.
Land Rover Defender Hard Top standard equipment highlights:
LED headlights
Heated, electric, power-folding door mirrors with auto-dimming
Exterior signage panel (replaces rear side windows)
18-inch steel wheels with all-season tyres and full-size spare
All-wheel drive with eight-speed automatic transmission and twin-speed transfer box
Terrain Response
Auto-dimming interior rear-view mirror
Heated windscreen
Lockable underfloor storage
Rubber mats
Analogue dials with central TFT screen
Eight-way adjustable seats, part-electric
10.0-inch touchscreen infotainment system with Pivi Pro
Connected Pro navigation
Apple CarPlay and Android Auto
140W sound system with four speakers, DAB radio
3D Surround Camera
360-degree parking aid
Wade Sensing
Cruise control with speed limiter
Land Rover Defender Hard Top S standard equipment highlights (in addition to standard):
LED headlights with auto high-beam assist
Keyless entry
Black roof rails
19-inch alloy wheels
Leather steering wheel and gear selector
Centre console with arm rest
Part-leather upholstery
Heated seats – 12-way adjustable, part-electric
Interactive Driver Display digital instrument cluster
Land Rover Defender Hard Top SE standard equipment highlights (in addition to S):
Matrix LED headlights
Front fog lights
20-inch alloy wheels
ClearSight rear-view mirror
Electrically adjusted steering column
Isofix child seat mounting for the front passenger seat
Full leather upholstery
Heated seats – 12-way electrically adjustable with two-way manual headrests
280W Meridian Sound System with seven speakers plus subwoofer
Blind Spot Assist Pack – which includes electronic air suspension, adaptive dynamics and automatic headlight levelling
Land Rover Defender Hard Top HSE standard equipment highlights (in addition to SE):
Different 20-inch alloy wheels
Extended leather interior package
Twin front cupholder with cover
Windsor leather seats – heated and cooled, 14-way adjustable with four-way manual headrests
Driver Assist Pack
On top of all this there is a huge options list, allowing you to tailor the Defender to your exact needs. Highlights here include the Explorer Pack, Adventure Pack and Urban Pack.
Details of safety equipment are below.
It's too early to call how the latest Defender is going to cope with working life. Sadly, Land Rover doesn't have the greatest reputation in this area. You can always send us an email to the Parkers feedback address if you've got useful info to impart that might help other prospective owners.
All the latest driver aids
Not every model has ISOFIX
12-month tracking service subscription
All Defenders come with electronic stability control, front airbags, tyre pressure monitors and a load of modern driver assistance features, including:
Traffic sign recognition with adaptive speed limiter
Driver condition monitor
Lane keep assist
Cruise control with speed limiter
3D Surround Camera
However, you'll have to pay extra for blind spot monitoring and Isofix child seat-mounting on anything below the SE spec, and only the HSE gets rear traffic and collision monitoring as standard.
The 90 is not available with Isofix at all.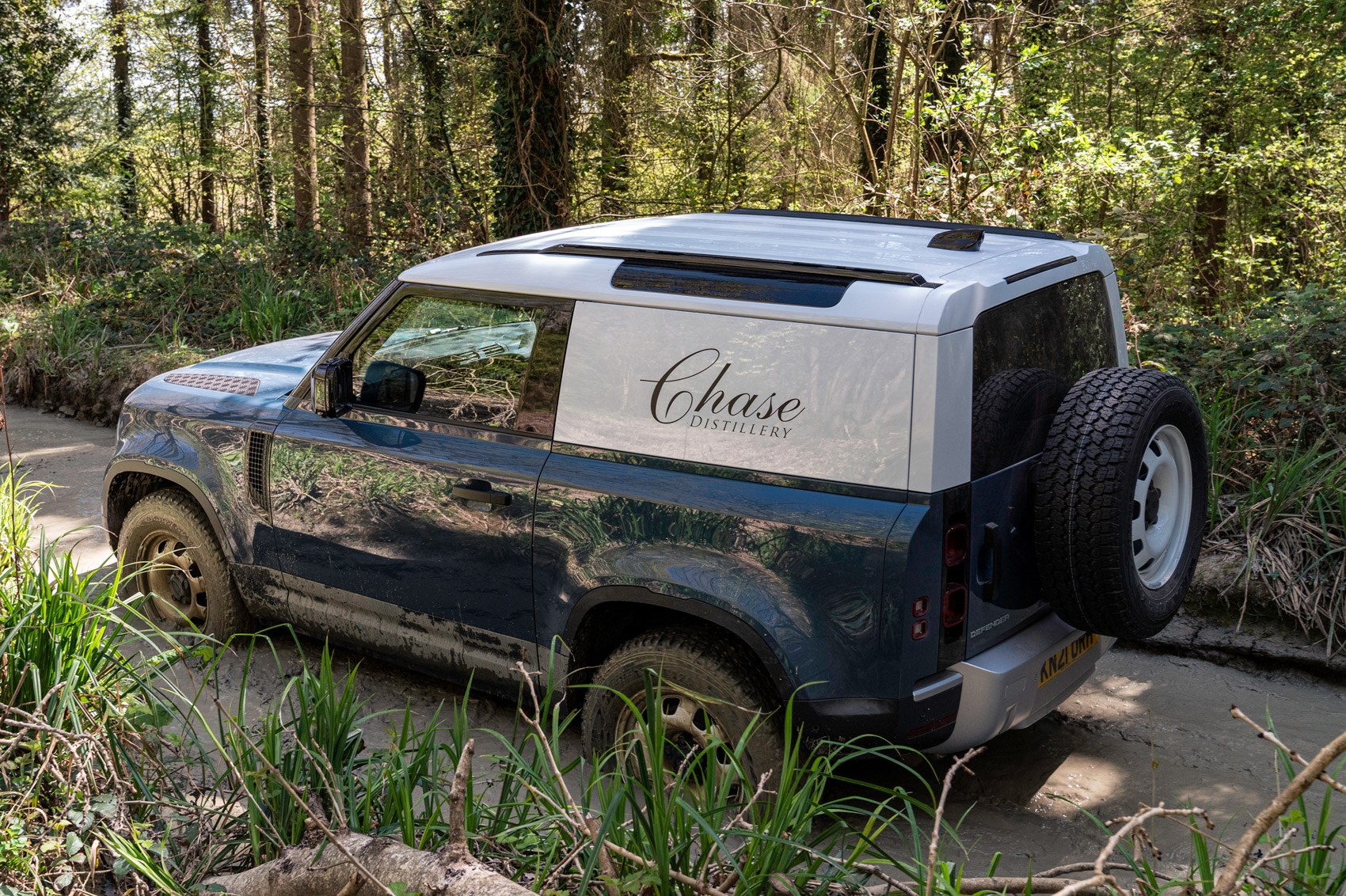 Security kit includes remote locking with immobiliser and alarm, plus a 12-month subscription to a tracking service – it's an additional annual fee to continue this after the first year.
The Land Rover 'Remote' smartphone app also offers some tracking and security functions.
Which Land Rover Defender Hard Top is best for me?
The Defender 90 Hard Top is loads of fun and the cheapest model, but has the more limited practicality, fewer optional upgrades and is likely to be the smallest seller – it's designed to be a working vehicle and aimed at people who have a specific need for a nimble, highly capable off-roader.
The Defender 110 Hard Top is this and lots more, as in top spec HSE grade it's a very luxurious vehicle that happens to have a large, practical load area instead of rear seats. Most buyers will be just as well served by the SE if they want plenty of toys, though, and the S isn't short of kit, either. So set your budget, consider the options you need and spec accordingly.
Also read:
>> Land Rover Defender Hard Top dimensions, payload and towing info
>> What is a commercial 4x4 - and which are best?