Low cost large van with a five-year warranty
PROS
Cheapest large van on the market
Reasonably well-equipped
Acceptable driving experience
Five-year warranty, road-side assistance
Also available as an electric version
CONS
Limited model range
Payload and volume are poor
Very small dealer network
Lacks latest safety equipment
Not very fuel efficient
Summary
Looking for the cheapest-possible entry into brand-new large van ownership? Then you've found it – the LDV V80 is by far the lowest-cost choice in the large van class.
Although the price has gone up somewhat following a facelift in 2018, so it isn't quite the bargain it once was.
Still, the V80 comes with plenty of standard equipment – including air-conditioning, cruise control, an eight-way adjustable driver's seat, rear parking sensors and, since the 2018 update, a touchscreen infotainment system, too.
You also get a five-year, 125,000-mile warranty and five years' roadside assistance, sweetening the deal.
Which presumably leaves you wondering…
What's the catch?
While the V80 name dates back to 2011, it's actually a rebadged version of the original LDV Maxus, which was first launched in late 2004.
This makes it the oldest large van design you can still buy new, beating the Citroen Relay and Peugeot Boxer, which date from 2006.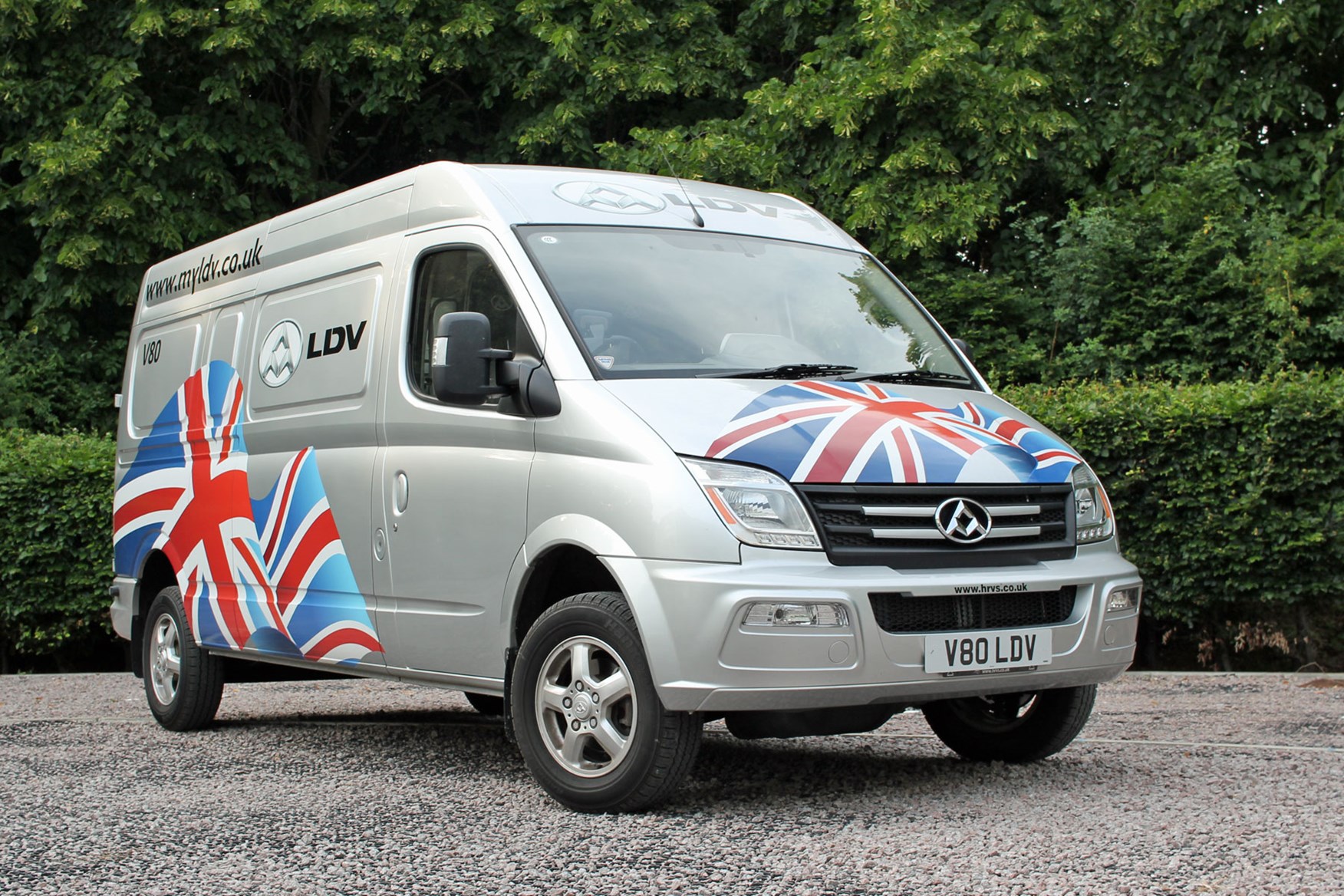 While this is good news for LDV buyers from a cost perspective, it's bad news for engineering sophistication. Which has implications for fuel efficiency, strength and safety.
Further helping to control pricing, the V80 range is also limited to just three individual panel van models and a single engine choice. None of them have particularly massive load areas by class standards, and payload ratings are well below the best in the sector.
On top of which, the dealer network is very limited compared with any rival.
So despite the low-cost pricing, the V80 has never sold in very high numbers – Ford typically registers more than twice as many Transits in a single month than LDV sells V80s in an entire year.
And since the price increase you'll find you can get an awfully tempting amount of nearly new Transit van for the same money.
What types of LDV V80 are available?
Initiailly all versions of the V80 were powered by a 2.5-litre turbodiesel engine, which produces 136hp and 330Nm of torque, but in late 2017 LDV introduced the EV80, an all-electric version, which is covered in detail in a separate review.
The diesel is not an especially up-to-date motor – it's a version of an engine that's also seen service in old London taxis – but it feels pokey enough from behind the wheel, even if you do have to put up with a bit of noise.
It remained Euro 5 only for quite some time after the original deadline, but has now been upgraded to Euro 6 emissions standards.
The three available V80 panel vans are:
Low roof SWB (short-wheelbase)
Medium roof LWB (long-wheelbase)
High roof LWB (long-wheelbase)
These all come in a single specification, so there are no trim levels to choose from.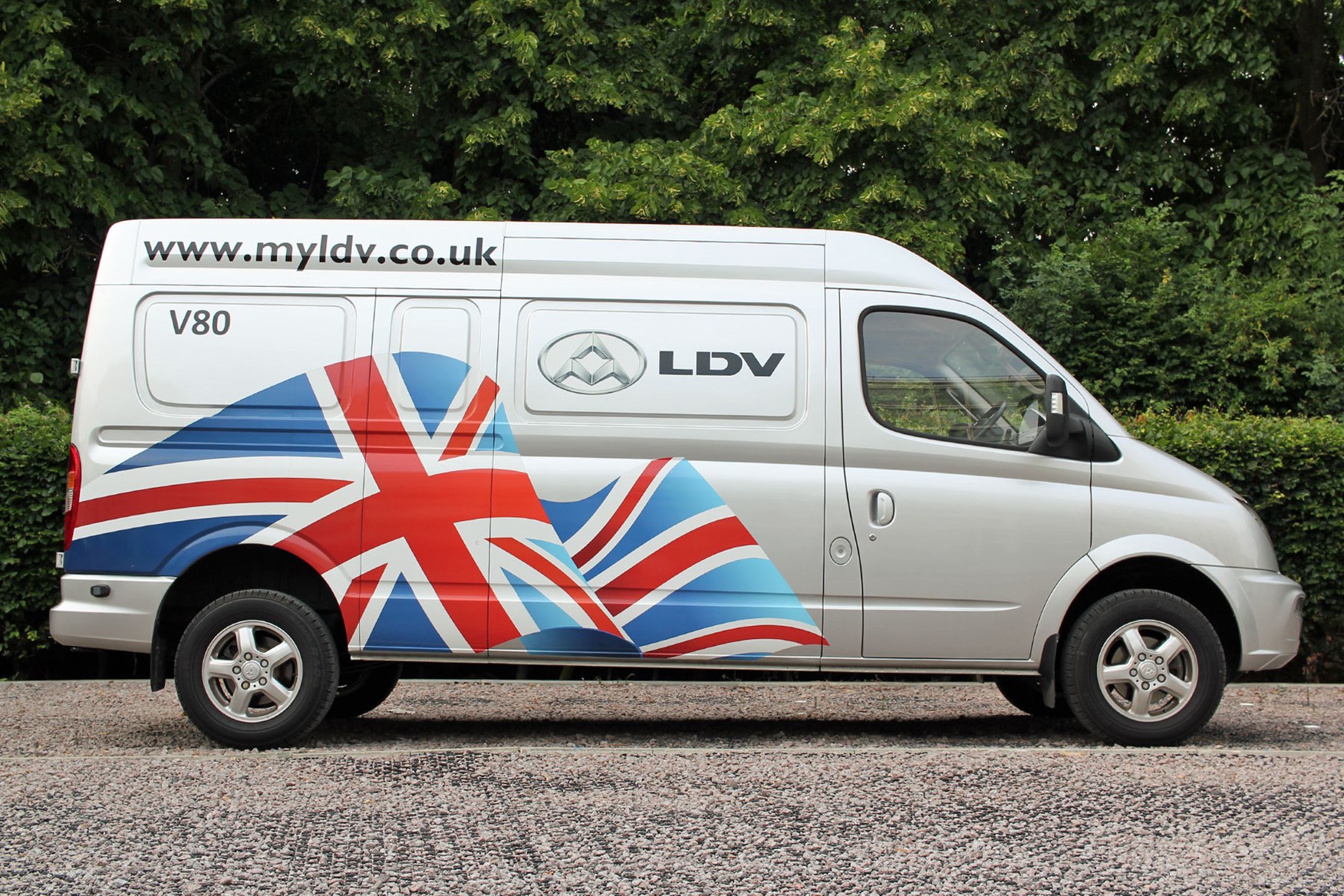 In addition to the regular vans, LDV in the UK also offers a number of body conversions based on the V80 chassis cab – including a dropside, a tipper and a Luton van. These are often available from stock, cutting down waiting times for customers seeking something out of the ordinary.
The EV80 electric model is limited to the medium roof, long-wheelbase van and the chassis cab.
What's the history of LDV?
The LDV brand started out building vans in Britain back in 1993, but subsequently fell on hard times and eventually folded in 2009.
The rights to the name – and licence to build the V80's Maxus predecessor – ended up in the hands of SAIC Motor, a Chinese manufacturer based in Shanghai.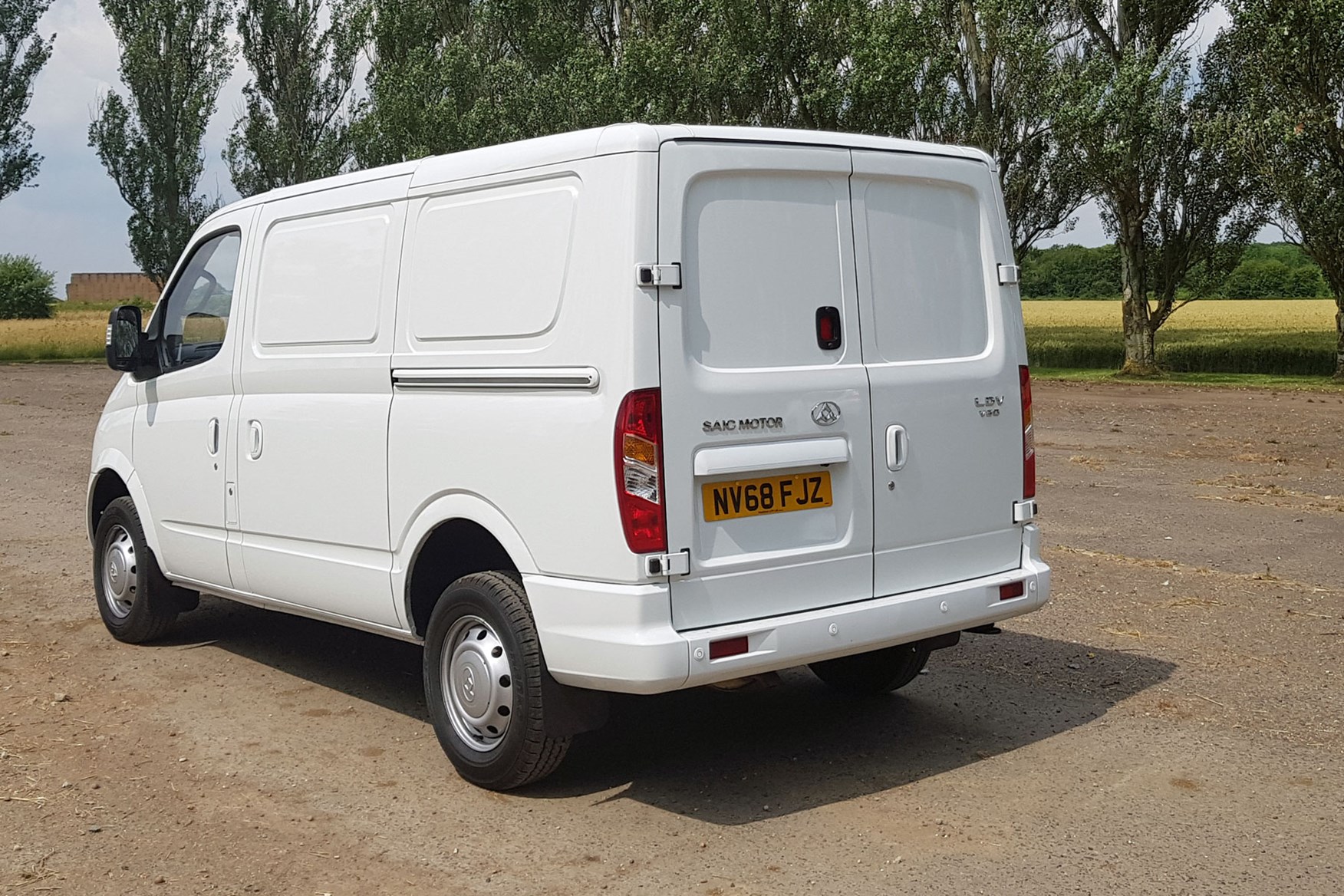 SAIC relaunched LDV in 2011, and the Maxus was reborn as the V80. This is now sold in the UK and Ireland by importers Harris Automotive Distribution UC, part of Ireland's Harris Group.
All-new model due in 2020
An all-new LDV V80 is set to go into production at the end of 2019, with UK sales expected to start in 2020.
The new van will feature an equally new 2.2-litre twin-turbo diesel engine with 214hp, and should prove a big all-round upgrade over this old outgoing model.
Exact UK on-sale timing and specification is still to be confirmed, however.
Keep reading for our full review of the current LDV V80, or for infomation on load space and payload see our dedicated LDV V80 dimensions page
Skip to our full verdict on...
Old but quite pokey engine
Not as nice to drive as modern rivals
Noisy but not too bumpy
The 2.5-litre engine's 136hp and 330Nm performance figures might seem modest by the latest standards, but the V80 gets itself along the road quite happily, pulling well from low speeds in a manner that rival smaller-capacity turbo engines in this sector would do well to emulate.
This muscularity presumably comes in part from the relatively short gearing in the V80's six-speed manual gearbox, for even at motorway speeds you'll find the engine is still revving rather high.
This isn't good news for long-distance fuel economy - or your ears, as you'll also find it's very noisy, with lots of whooshing sounds for the turbo as well as quite a bit of diesel rattle.
We found the gearbox on the most recent Euro 6 test version to be surprisingly positive in its gear selection action, however, though some testers were concerned that it didn't feel overly robust.
Competent if not outstanding to drive
You can tell that some effort has gone into tuning the chassis, as both reasonably stable and reasonably comfortable, if sometimes badly effected by crosswinds or passing trucks.
The suspension is a little fidgety but rarely outright harsh – the squeaks and rattles from the load area will trouble you more. Short-wheelbase (SWB) models do tend to feel less stable than long-wheelbase (LWB) versions, however.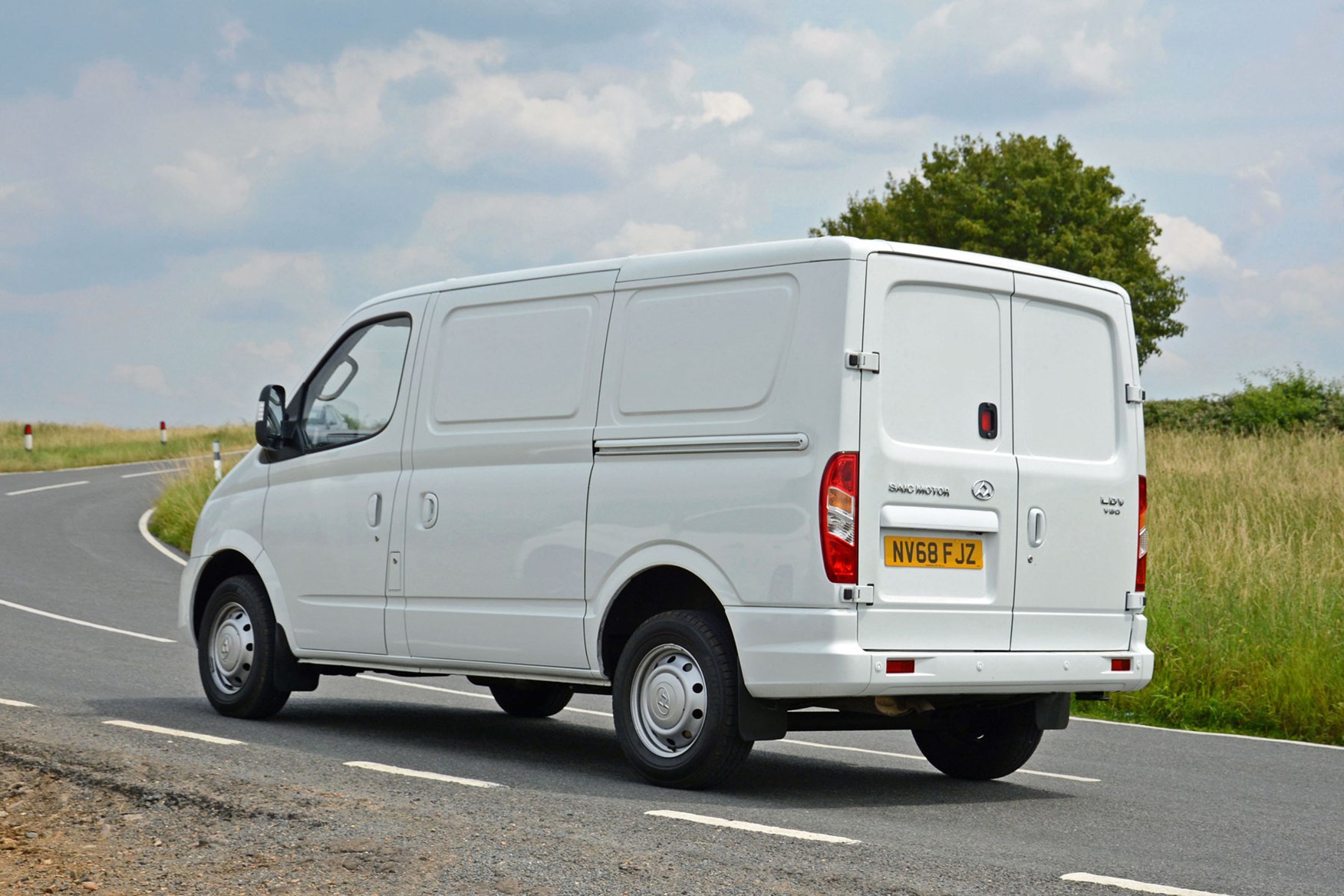 Compared with the very latest rivals, such as the Ford Transit, VW Crafter and Mercedes-Benz Sprinter, it does roll around a lot more in the corners, and the steering is relatively slow, so more arm movement effort is required turning the wheel.
It's not the most manoeuvrable large van as a result, and there's not a great deal of feedback through the steering. Together with the limited amount of electronic safety aids, we'd be wary about what would happen if you suddenly needed to take evasive action to avoid an accident as a result.
So while in day-to-day driving its responses are consistent and predictable, this is certainly an area where the V80 is showing its age.
Driving it is by no means a total chore, but you are likely to find it more tiring than you would a more modern vehicle.
Cab lacks style and quality
Bum-numbing seats
Good air-con but poor radio reception
If it wasn't already obvious from the LDV's boxy exterior, the age of the V80's design is made plain by the cab.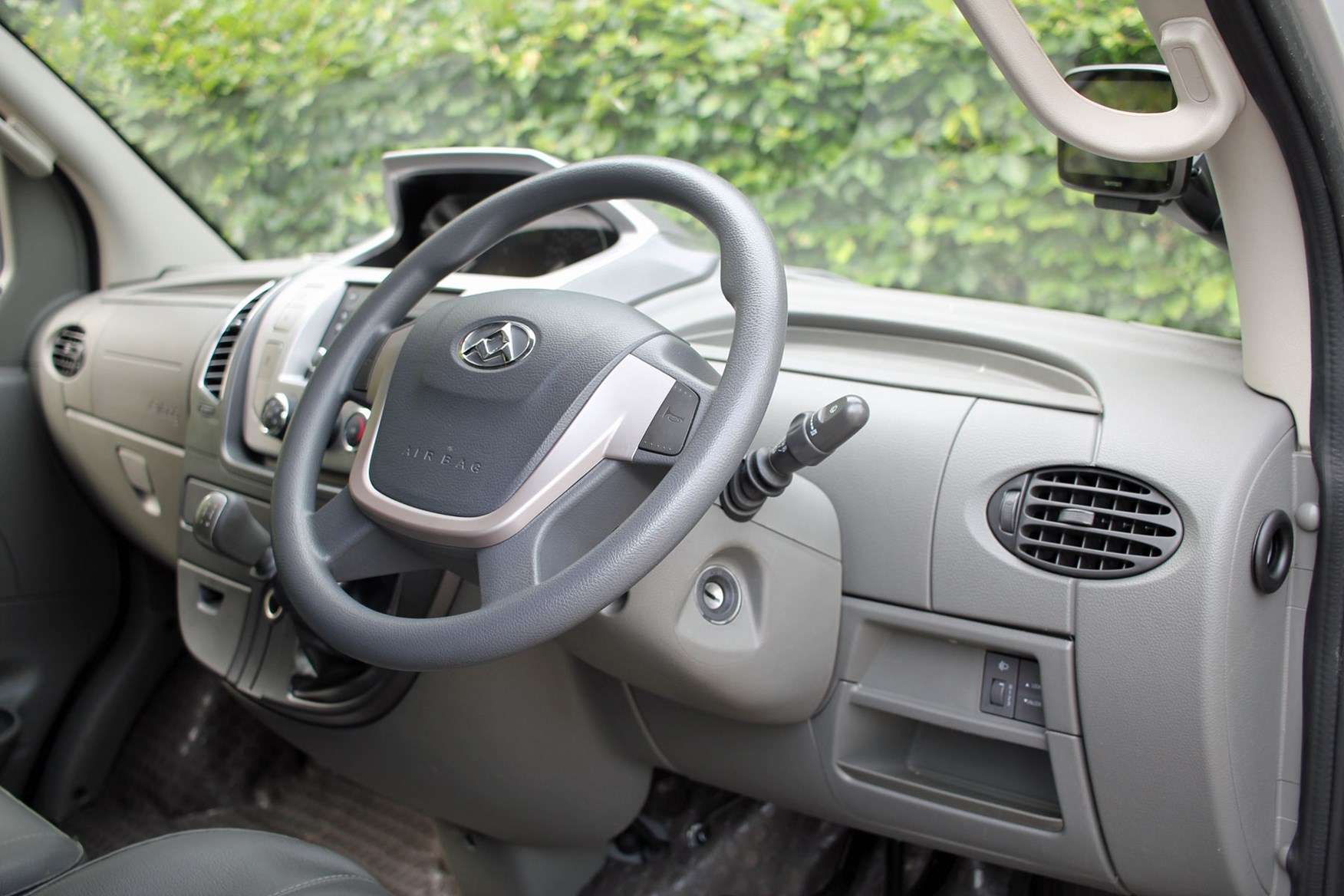 Although there have been changes as part of the facelift introduced in late 2018, the dashboard design is basic, storage is limited and the vast expanses of light grey plastic clearly place cost-control ahead of luxury.
That said, you will find air-conditioning fitted as standard, and after the facelift the old-school radio was replaced by a surprisingly large touchscreen media system - on which more below.
Unsual features
Somewhat unusually, the instruments are centrally mounted – which is good for LDV, as it makes the conversion between left- and right-hand drive cheaper. It does mean you have to look away from the straight ahead to check your speed, though.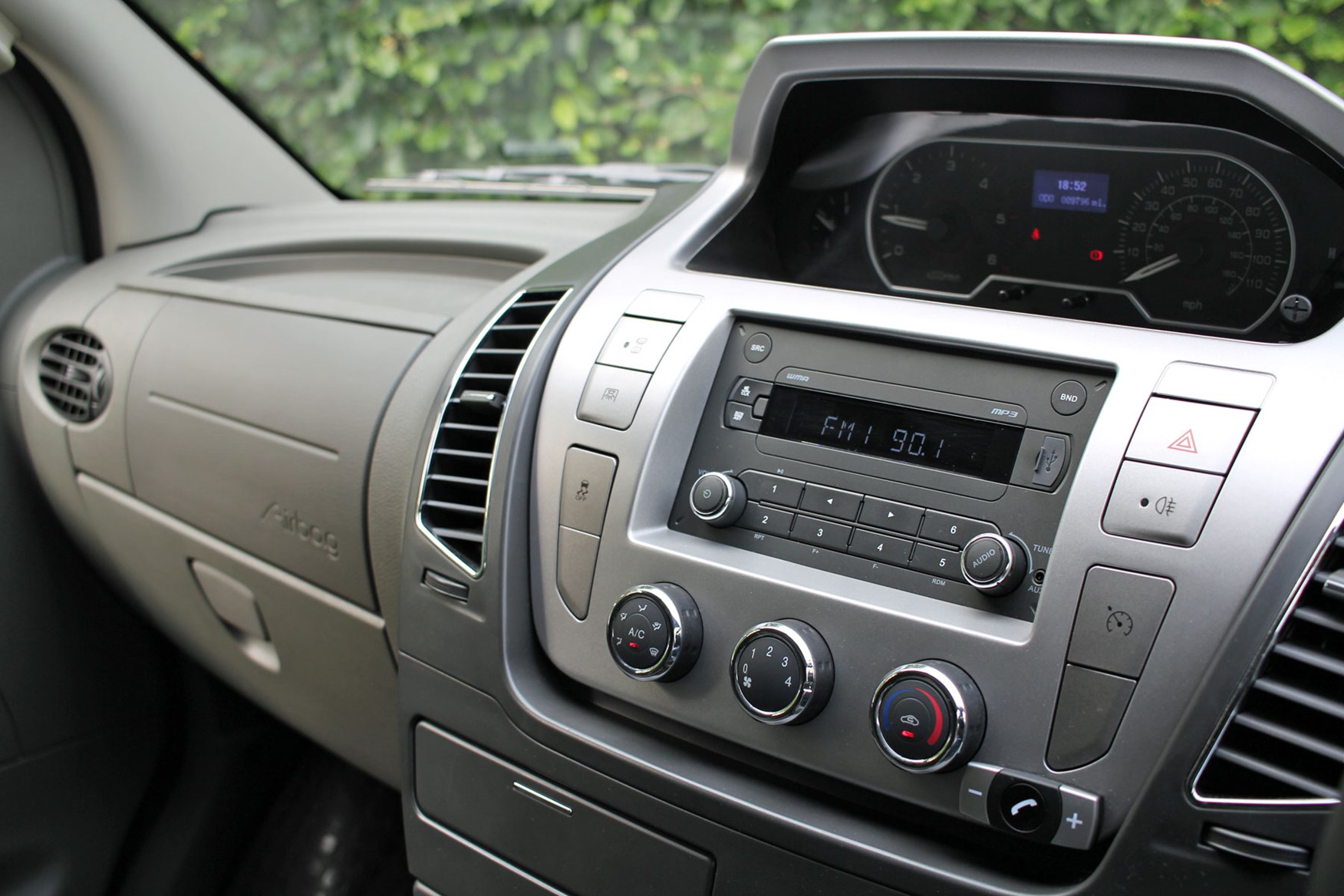 Prior to the facelift, some of the secondary controls are a little rudimentary. The cruise control, for example, consists of a single button, to switch it on and off, with no means to incrementally adjust the set speed. But hey, it worked.
More recent models have an updated cruise control that does allow you to adjust the speed.
Disappointingly, there is no DAB radio, and reception for the FM signal is quite poor - even on post-facelilft models with the fancy touchscreen (FM reception is very poor on these, it seems).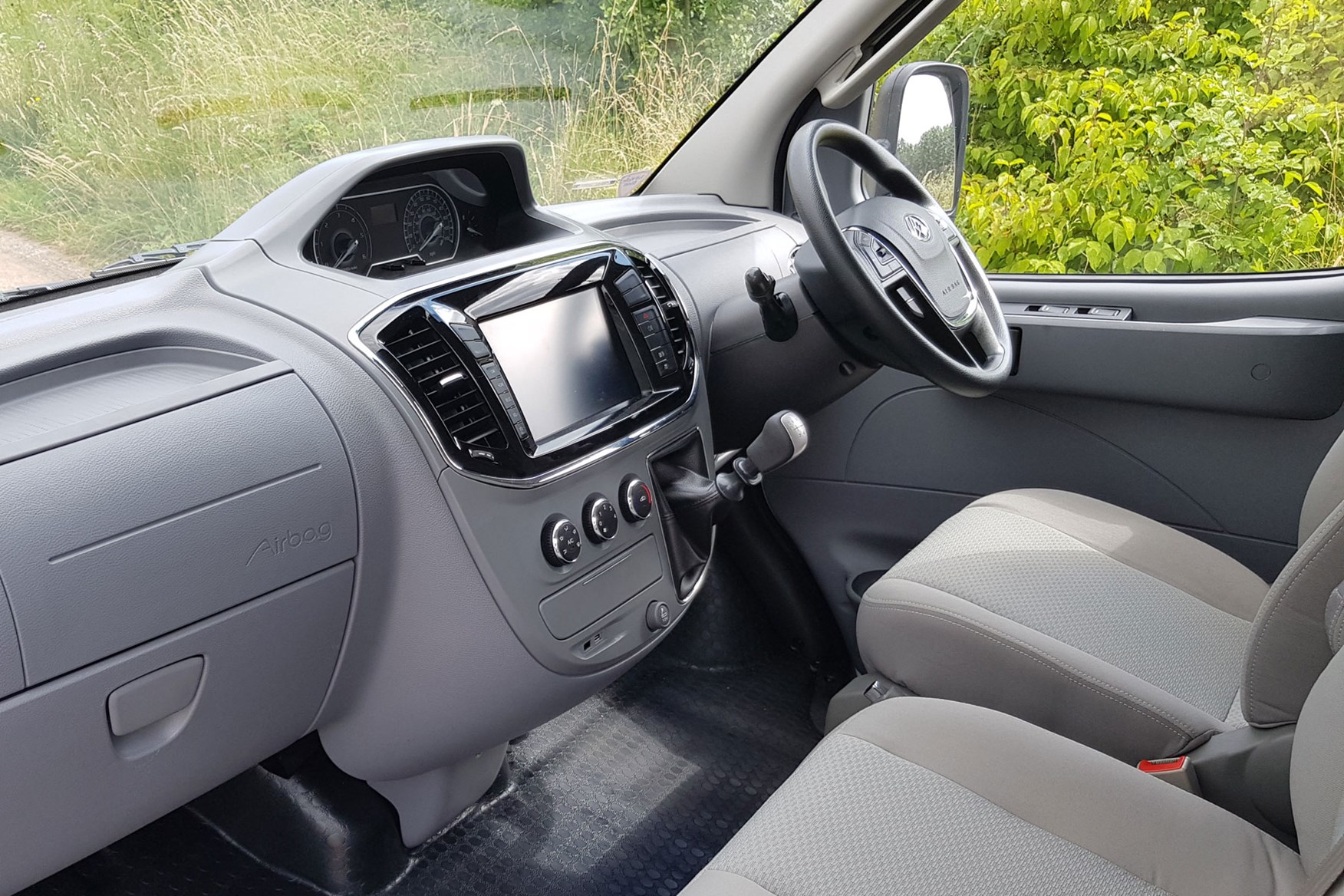 Despite its size, the touchscreen is also rather crude by European standards. It claims to feature Apple CarPlay and Android Auto, but the Android integration is via a third-party application rather than the one built-in by Google.
However, it does feature a reversing camera, helping you to avoid parking bumps.
Driving position and seating
The actual driving ergonomics are fine, as the gear lever is close to the steering wheel and we were able to get reasonably comfortable with the range of adjustment available from the seat and steering wheel.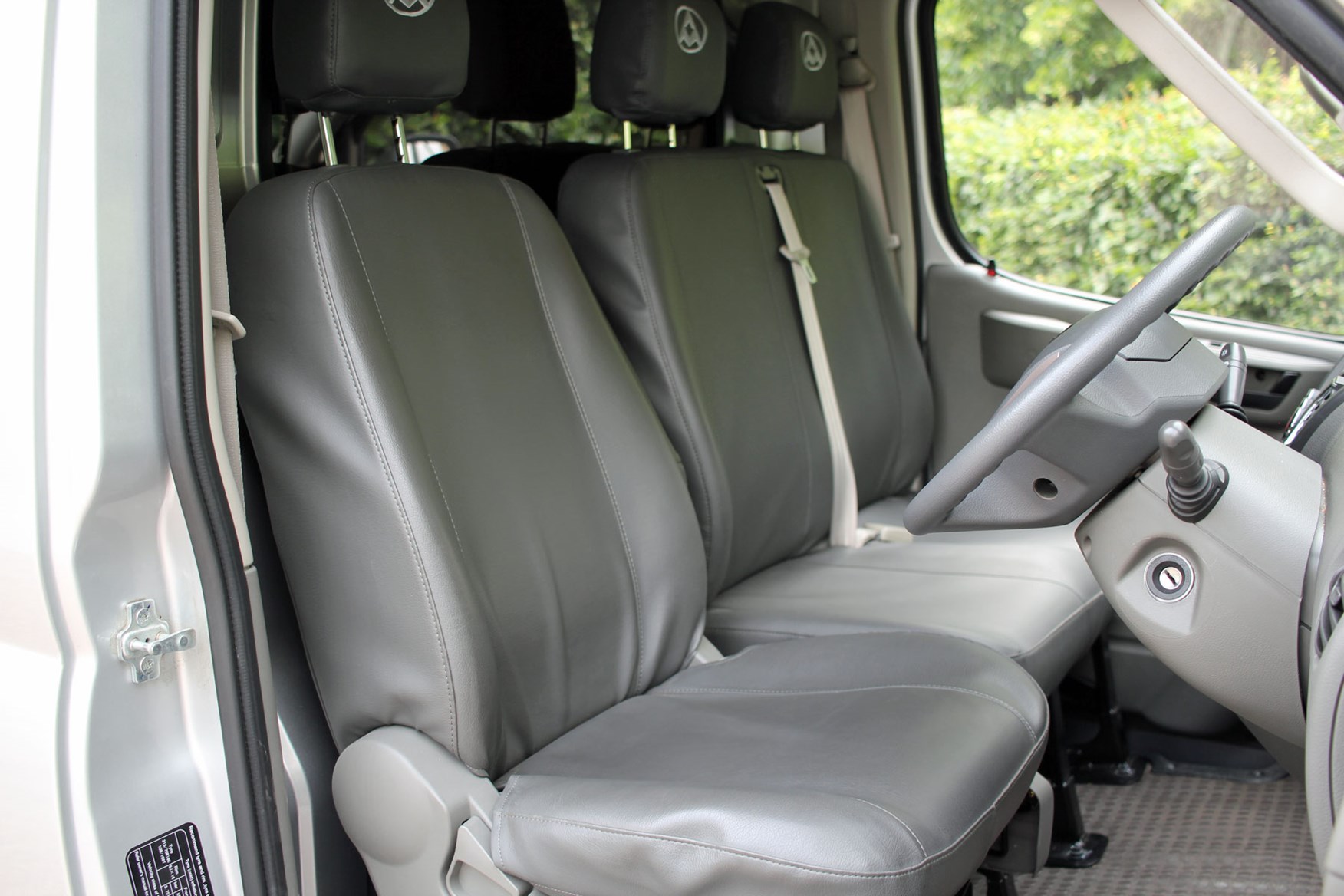 The seats are rather flat, however, which numbs the bum over time, with adjusters that are fiddly to use and feel flimsy. But there's a decent amount of space for all three passengers and the floor is flat right across the cab – something that very few rivals manage.
Five-year, 125,000-mile warranty
Not many dealerships or service centres
Poor mpg compared with rivals
This is a cheap van to buy – especially considering the included five-year warranty and roadside assistance. LDV often offers low cost five-year finance packages as well.
We'd expect the bargain basement approach to extend to highly competitive servicing costs, but that is likely to vary between LDVs widely spread dealerships.
Small dealer network, short service intervals
However, there are few dealers (around 30) so you'll either need to be nearby or prepared to travel to take advantage of this van's pricing.
Service intervals are not that long either at 15,000 miles or one year - although the Euro 6 version also requires a service at 3,000 miles (as we discovered when a maintenance warning flashed up during our test loan).
Fuel economy not great
The 2.5-litre engine is not particularly modern, which also means it's not particularly efficient. We got 29.5mpg over 278 miles of mixed-road driving – which sounds OK, but we weren't carrying anything in the back.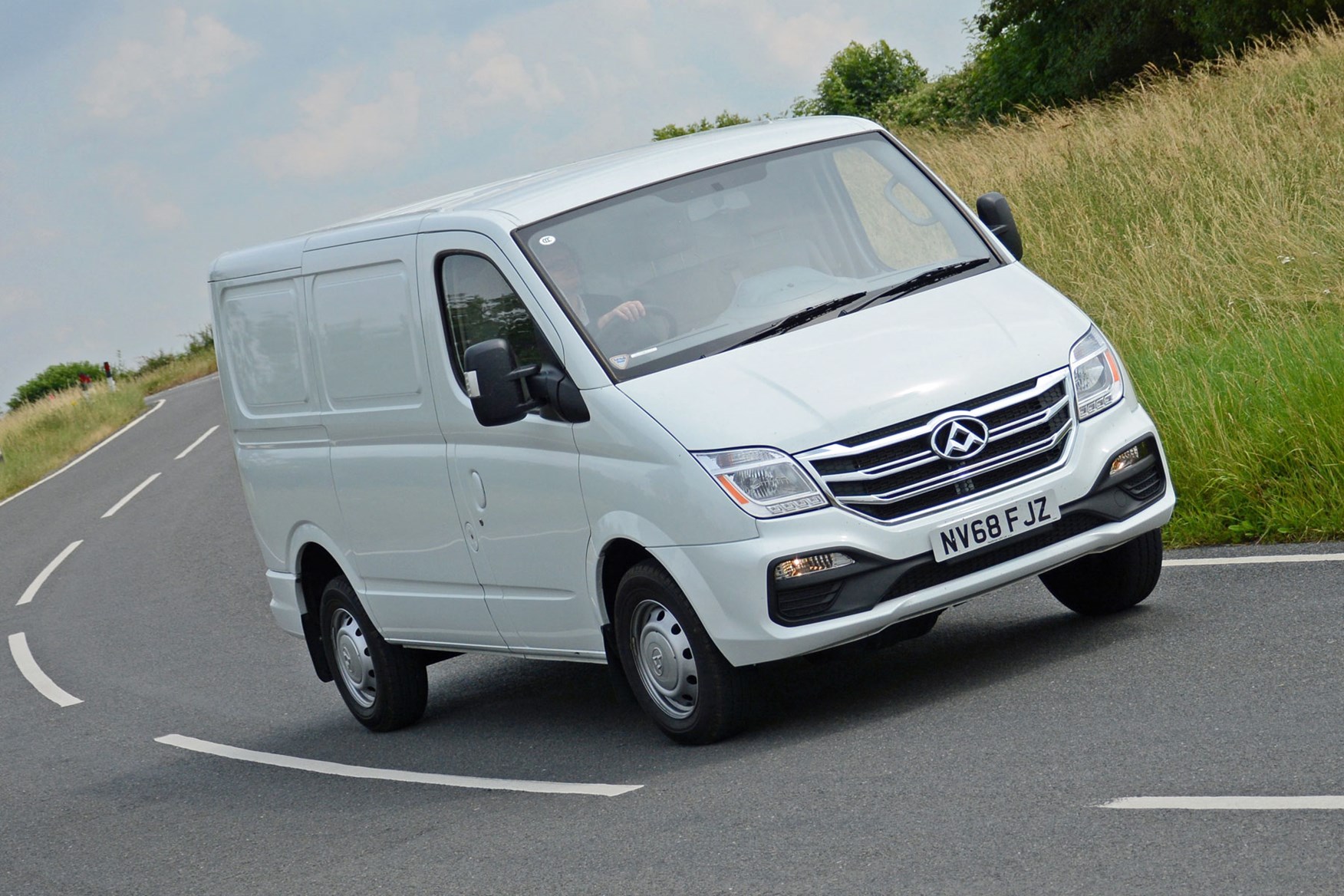 There are much more fuel-efficient vans in the large van sector.
Euro 5 vs Euro 6
A bargain Euro 5 version of the V80 might seem tempting, as you won't have to keep it topped up with AdBlue. However, with Euro 6 already a requirement to avoid additional charges when driving into some cities, avoiding the latest emissions standards for much longer is soon going to prove a false economy.
We strongly suggest you opt for a Euro 6 van now.
Don't stray too far from the dealer network
Not traditionally an LDV strong point – and low UK sales numbers mean there's not a great deal of data to go on with this newer V80 model.
But the five-year, 125,000-mile warranty offers reassurance, and the accompanying five-year roadside assistance package promises support should the worst happen.
There have been no official recalls on the LDV V80, and the preceding Maxus that's largely the same van beneath the badging was only recalled twice (once for a seat belt stalk issue, and once for a potential problem with the rear hub assembly).
Very little safety kit
No alarm as standard
After the latest safety and security kit in your van? Then look elsewhere.
You do get a driver and passenger airbag as standard, and remote locking. But only the bare minimum of electronic aids are fitted, and there are no active driving aids at all.
Plus while the Chinese crash test agency C-NCAP rated the V80 four stars for crash safety in 2014, the Australian ANCAP equivalent gave it only two stars in 2015.
There is no Euro NCAP score, and we don't expect it to be tested before it's replaced in 2019/2020.
Which LDV V80 (16-20) is best for me?
LDV V80 verdict
Pretty much any large van rival is going to be more sophisticated and offer a higher standard of build quality than one of these, but that's not to say the V80 is completely without merit.
If you're not too far from one of the dealerships, the low cost and lengthy warranty will give you good peace of mind. Just be prepared to visit the dealer more often than you would in most other vans, as the service intervals for that aging engine are rather short.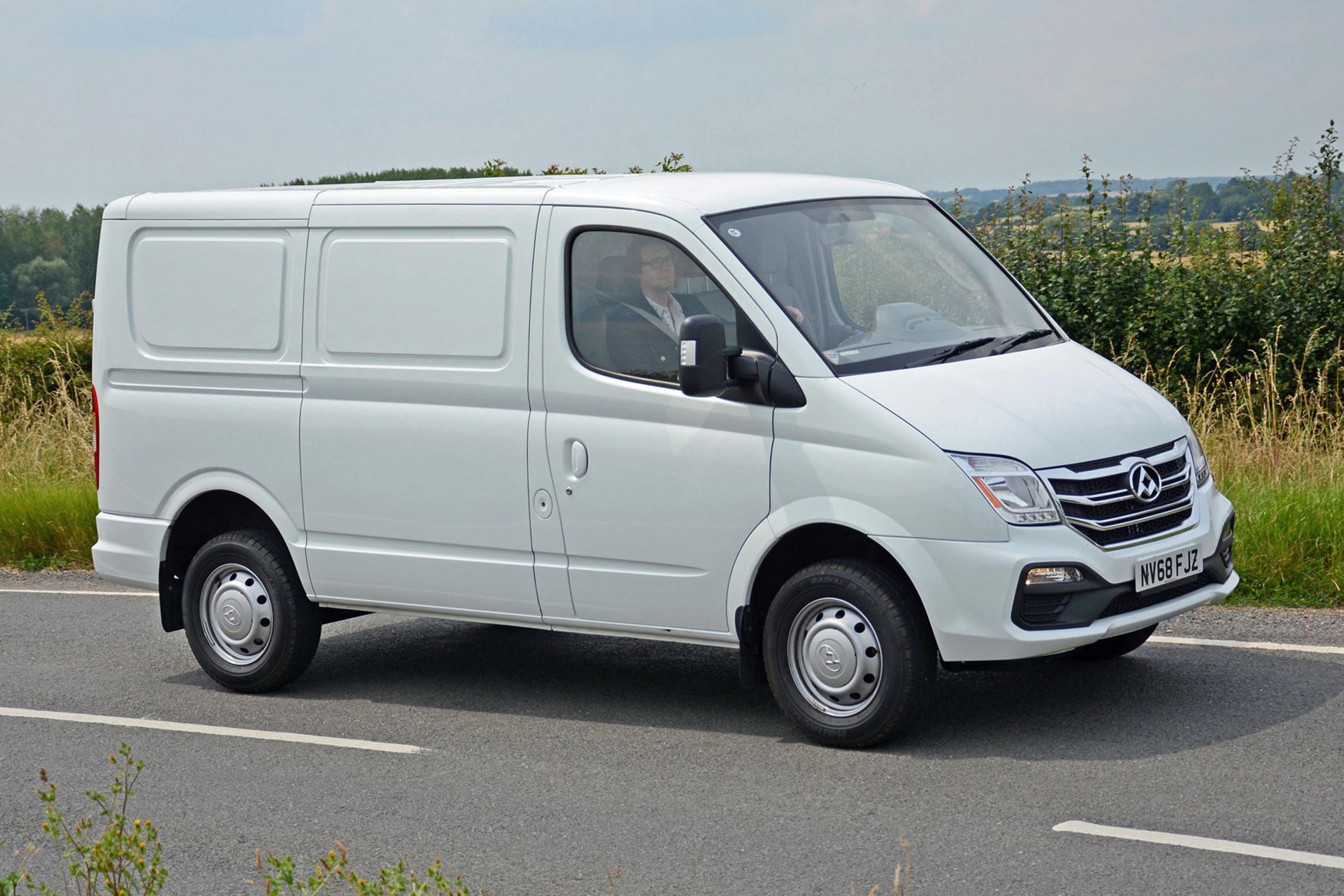 With air-con and cruise control as standard there is a reasonable degree of everyday comfort, though the seats aren't particularly enjoyable during longer journeys. The engine is unignorable, too - especially if the radio reception is as poor as it was in our most recent test van.
When it launched under £14,000 (excluding VAT), it was easier to make the case that the V80 was budget bargain. But it's now over £18,000 for the smallest version, and you can get a lot of barely used Transit for that.
This means the LDV is best suited only to those budget buyers who insist on a brand new vehicle.