Peugeot Boxer review (2020)
Big, practical and efficient but getting ancient now
PROS
Big payload capacity
Large load area
Available in many variants
Euro 6 engines highly efficient
Good value
CONS
Starting to feel its age
Noisy on the motorway
Tiring to drive
Lacks latest safety options
Model designations can confuse
Summary
This is the fifth generation of the popular Peugeot Boxer large van, and it is closely related to the current Citroen Relay and Fiat Ducato.
When it was introduced in 2006, it represented a big step forward in driver and passenger comfort, with an improved driving experience and ergonomics. However, it's now well over a decade later and it's still on sale – while much of the rest of the large van sector has been refreshed.
So though the Boxer has been updated several times - most recently in July 2019 - it does feel rather old now.
However, it remains right at the top of the class when it comes to payload and fuel economy, and at the 2019 CV Show Peugeot even announced an electric version.
New 2.2-litre BlueHDi engines in 2019
From July 2019 production, the 2.0-litre BlueHDi was scrapped in favour of a new 2.2-litre BlueHDi engine.
This boasts more power across the range (and more torque at the very top), comes with stop-start as standard and complies with the Euro 6D Temp (or EUro 6.2) emissions regulations introduced in September 2019.
>> 2019 Peugeot Boxer update - full details
New 2.0-litre BlueHDi engines in 2016
Following a cosmetic makeover in 2014, September 2016 saw the Boxer officially switch over to a new 2.0-litre BlueHDi turbodiesel in compliance with the then current Euro 6 emissions regulations.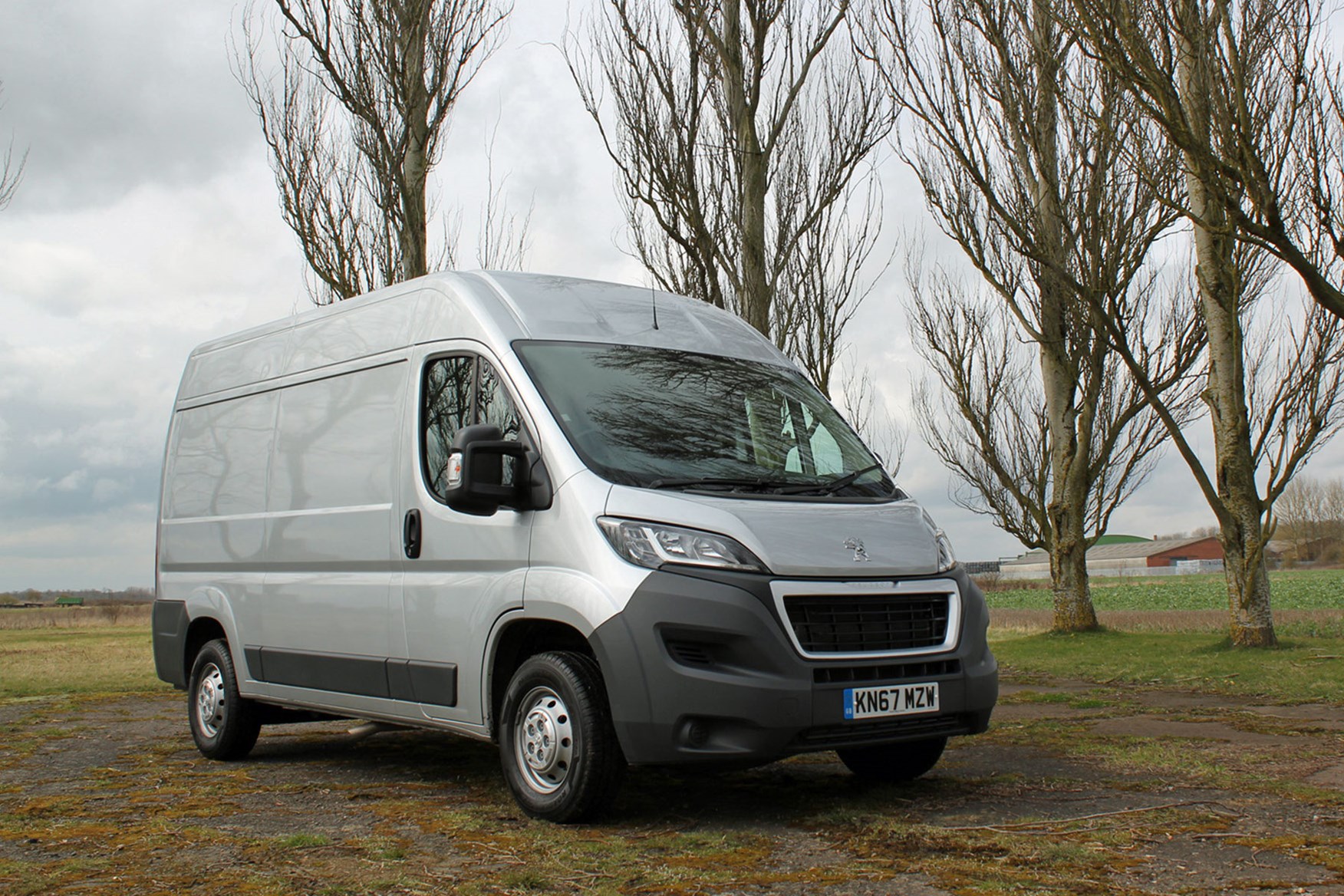 This replaced the previous 2.2-litre HDi and 3.0-litre HDi Euro 5 engines - though the Boxer is so old it actually launched with 100-160hp Euro 4 diesels.
The new 'downsized' 2.0-litre BlueHDi engine is a revised version of a motor already familiar from Peugeot's cars, uprated to cope with commercial vehicle work. It comes in three power outputs:
110hp and 300Nm
130hp and 340Nm
160hp and 350Nm
Each represents a slight performance upgrade over the outgoing Euro 5 equivalent, as well as an improvement in official fuel economy that makes the Boxer one of the most efficient large vans you can buy. But Euro 6 does also require operators to use an AdBlue tank, adding to expense and eating into maximum payload capacity.
As you'll have seen above, these 2.0-litre engines didn't last long before they were replaced by newer 2.2-litre units in 2019.
Plenty of variants
The Boxer van – which comes in panel and window versions – is available in four body lengths, three wheelbase lengths and three heights. It comes in two trim levels, standard and the better-equipped Professional, while the larger variants can be had with a heavy-duty suspension option for better axle-distribution of the load capacity.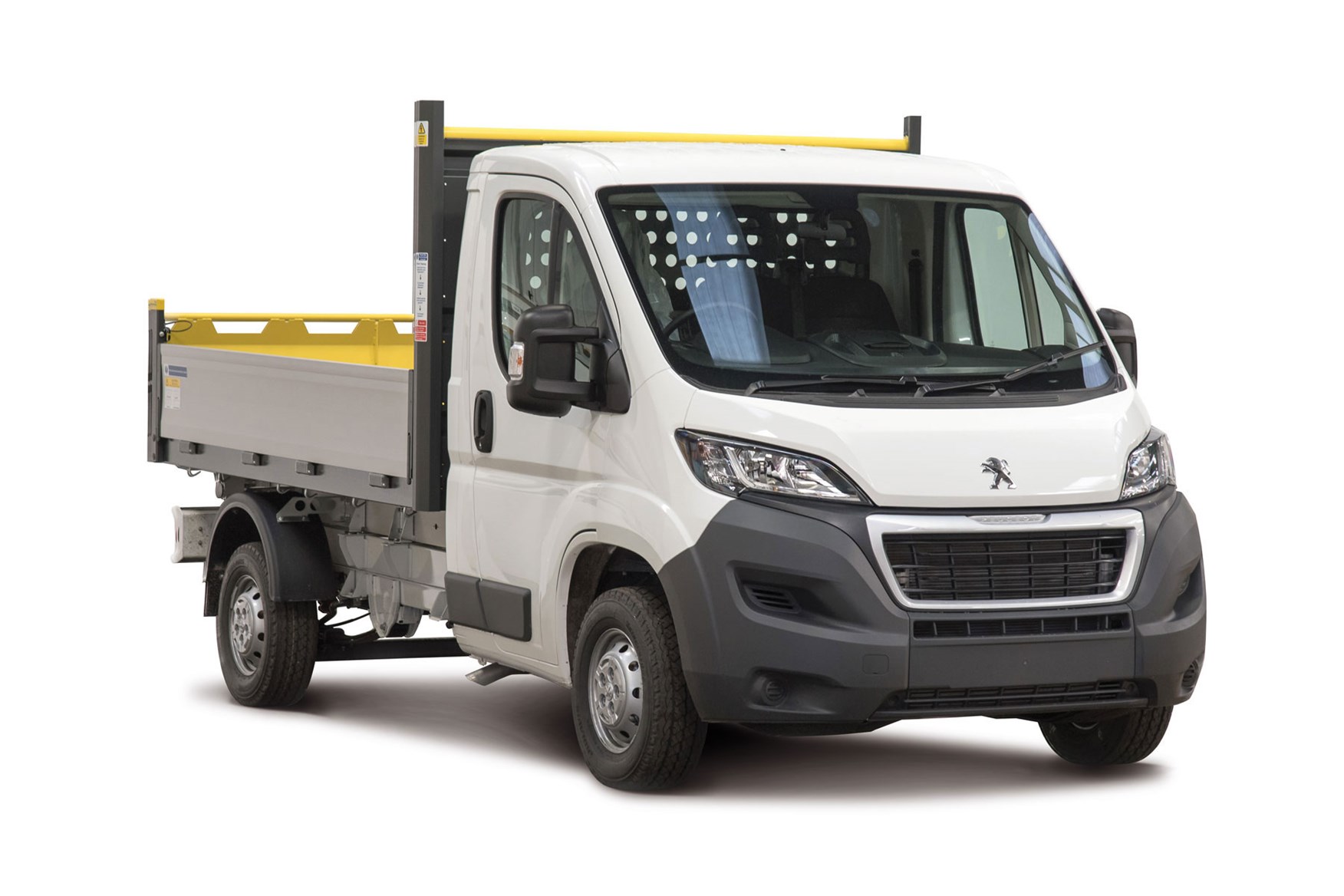 A range of 'Built for Business' ready-made conversions was launched in 2018 to further boost customer choice.
>> Peugeot launches Built for Business conversions range
Peugeot Boxer rivals
As one of the oldest vans in the large van sector, the Boxer struggles to compete in terms of easy of use with the latest premium rivals, such as the 2018-on Mercedes-Benz Sprinter and 2017-on Volkswagen Crafter - and to some extent the latest Ford Transit as well.
So it's better to think of the Peugeot as a competitor to the aging Renault Master family, which also includes the Vauxhall Movano and Nissan NV400.
WIll there be an electric version of the Peugeot Boxer?
Despite the Boxer's age, at the 2019 CV Show Peugoet unveiled an electric version, which is set to be called the e-Boxer.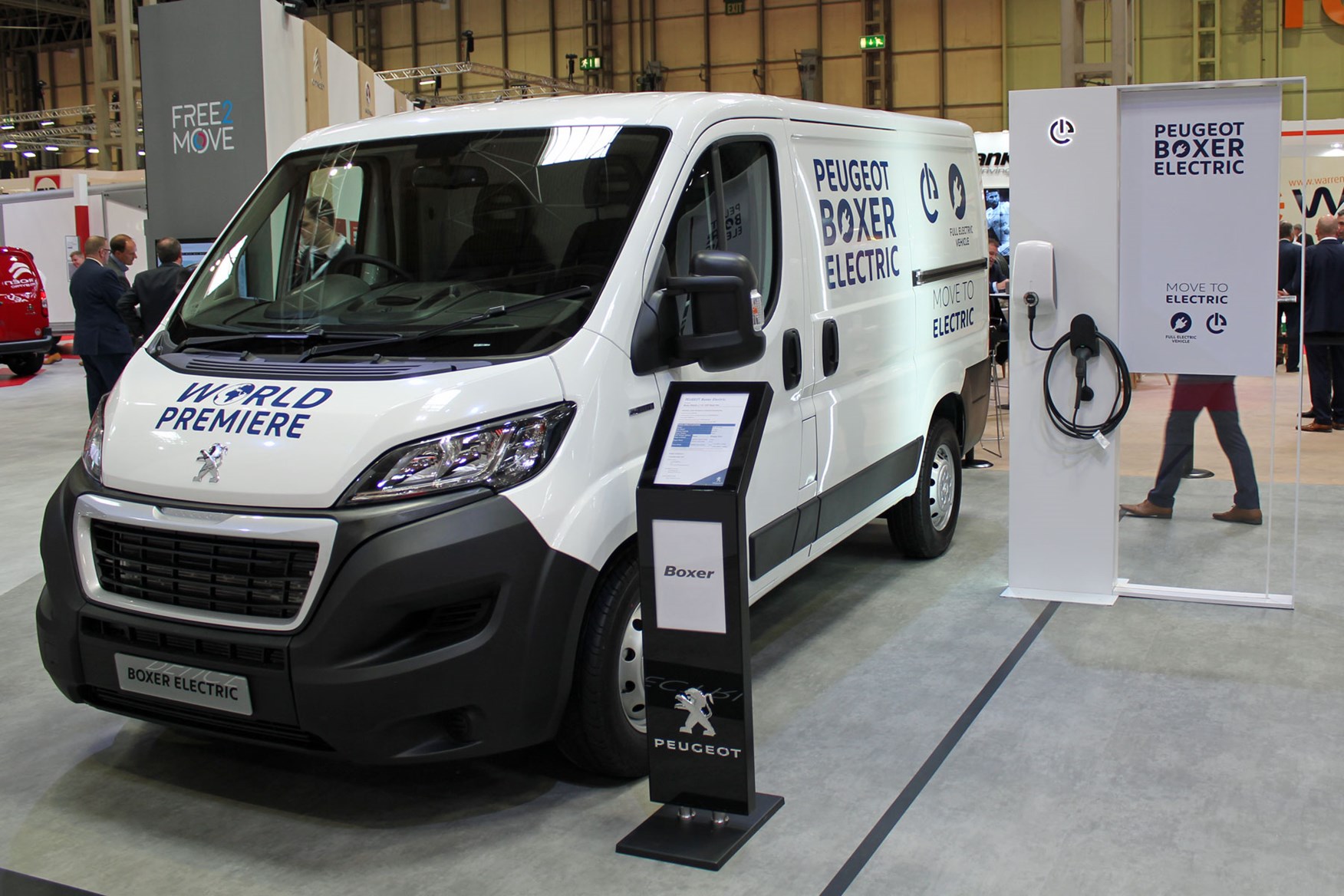 Exact details of when the Peugeot Boxer electric van will go on sale - and how much it will cost - are still to be confirmed, but it's promising impressive an impressive driving range and payload ratings. See our seperate story for more details.
>> Peugeot Boxer Electric world debut at CV Show 2019
---
Peugeot Boxer verdict
This is a van that is fundamentally strong value. Its payload ratings are among the best of any 3.5-tonne van, fuel economy is genuinely impressive and you'll get a good deal if you shop around.
But, compared to more modern rivals such as the Ford Transit, Mercedes-Benz Sprinter and VW Crafter, you'll find the Boxer is noisy and tiring to drive.
Keep reading for our full Peugeot Boxer review, or see our dedicated Peugeot Boxer Dimensions page for dimensions and payload info.
Skip to our full verdict on...
Euro 5 and Euro 6 engines provide plenty of power
Uncomfortable on longer journeys
Noisy and not good to drive compared with modern rivals
You shouldn't have any trouble getting the Boxer up to speed – whether it's an older 2.2-litre HDi turbodiesel or the newer 2.0-litre BlueHDi turbodiesel, the engines are willing and easily able to keep pace with motorway traffic.
You will also find the turning circle and general manoeuvrability impressive, even in the Boxer's larger sizes.
Note: we'll bring you details of the new 2.2-litre engines coming in 2019 as soon as we've had the opportunity to test them.
Noisy and tiring to drive
However, refinement is not very good. Lots of road and engine noise fills the cab when travelling at even a moderate pace, making it feel cheap and basic compared to more recently released alternatives – the Volkswagen Crafter and Ford Transit in particular.
Worse still, the Boxer tends to follow ruts in the road quite heavily, to the extent that at motorway speeds you may find yourself with a bit of a fight on your hands just to drive straight. It certainly isn't very relaxing over longer distances, also being rather susceptible to side winds.
When travelling unloaded the suspension is harsh and bounce – particularly with the 400-series' heavy-duty suspension. This should settle down once there is some weight in the back, but you're unlikely to find the Boxer especially comfortable to drive.
Visibility is a mixed bag
There are large, split-view door mirrors, and you can option both parking sensors and a reversing camera.
But the side windows are obstructed by a dividing quarter-light panel, and you need to be careful to judge the length of the Peugeot's front bumper, which extends quite a long way forward and is out of sight from the driver's seat.
Spacious and reasonably equipped
Some unusual ergonomics
Poor refinement and long-distance comfort
When first launched we praised this generation of Boxer for its car-like driving environment, and it remains spacious for all three passengers.
Middle seat passengers will be particularly glad to see that the gearlever is very close to the steering wheel leaving them loads of knee room. Drivers will find this positioning makes it easier to manage the slightly reluctant shift mechanism, too.
Creature comforts have included one-touch electric windows and a CD/radio system right from the start; all 2016 Euro 6 variants also include DAB digital radio as standard, though you have to move up to the Professional trim level to get satellite-navigation and air-conditioning in the cab for the basic asking price.
The driver's seat has plenty of adjustability, but the steering wheel is mounted quite low and flat.
Unusually, the handbrake is on the right side of the driver. Again this is a boon for the middle passenger - just watch you don't catch yourself on it getting in and out if you're the driver.
Peugeot Boxer in-cab storage
In-cab storage looks generous at first. But most of the cubbies are open rather than covered, and the door pockets aren't as user friendly as some rivals. The availability of an overhead bin varies with model.
Build quality is generally acceptable; where the Boxer starts to struggle compared to more modern rivals is in terms of refinement and the physical driving experience.
Fuel economy among the best in class
30,000-mile service intervals for Euro 6 engines
Reasonable standard equipment and value
Not being as modern as many rivals does at least make the Peugeot Boxer light, which is good news for running costs.
Peugeot Boxer mpg
The 2.0-litre BlueHDI engine should provide a useful boost to running costs when it comes to fuel economy. Official claims are as high as 47.1mpg, and while you're unlikely to see that in the real world this should still be one of the most frugal vans of this size.
Counterpoint to this is the 15-litre AdBlue tank, which Peugeot expects to need refilling every 6,200 miles or so – though the exact rate of consumption will depend on how the Boxer is driven.
Earlier 2.2-litre and 3.0-litre Boxers don't have an AdBlue tank, but then they drink diesel at a faster rate, too.
Peugeot Boxer warranty and servicing
The Boxer comes with a two-year, unlimited mileage manufacturer's warranty, which is extended to three years up to 100,000 miles – assuming that you stick to the correct service intervals.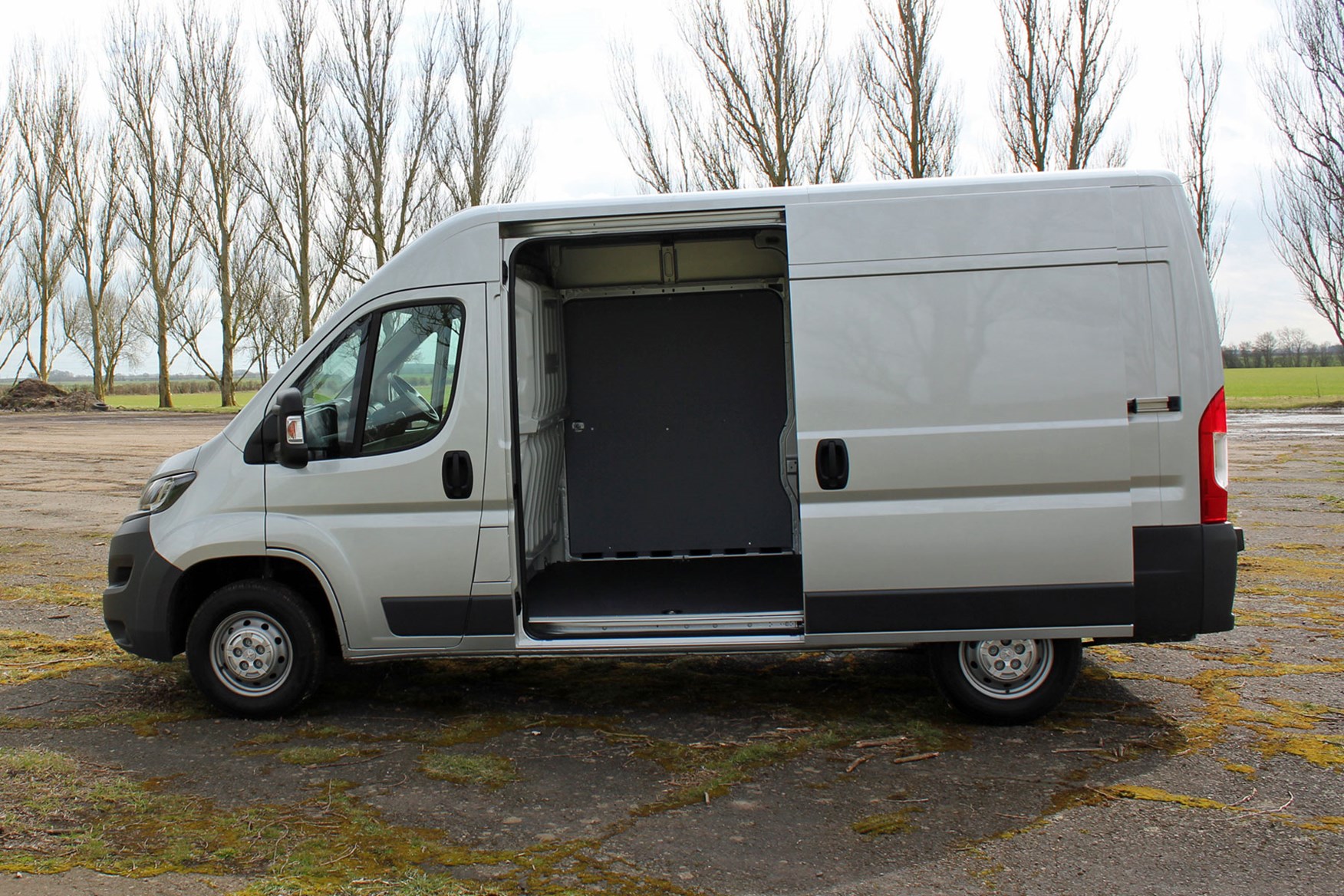 Service intervals for the latest 2.0-litre BlueHDi engines are now up to 30,000 miles or two years - though we'd recommend an annual check for safety.
This is an improvement over the 24,000-mile intervals of the Euro 5 2.2-litre engines, themselves a significant improvement over the Euro 4 models, some of which require servicing every 12,500 miles.
Peugeot Boxer standard equipment
These are the current standard equipment highlights across the Peugeot Boxer range (at time of writing in May 2019).
Peugeot Boxer standard equipment highlights:
Telematics box for Free2Move Connect Fleet Services
Height-adjustable steering wheel with audio controls
Height-adjustable driver's seat
Electric windows
Heated twin-lens door mirrors (with electric adjustment on the passenger side)
Rear doors with 180-degree opening
Sliding side door on the passenger side
Full steel bulkhead
Half-height load area protection
Peugeot Boxer Professional standard equipment highlights (in addition to standard specification):
For more details of safety and security equipment, see the Safety and Security section of this review.
Previous generations of the Boxer van have proved largely reliable with no reports of any significant issues or problems.
The older diesel engines in this model have a proven track record, and the newer 2.0-litre motors have undergone an extensive testing programmed to make sure they're up to the task of hauling a heavy van; since they are also a development of an engine that's been in use in Peugeot's cars since 2013, they should prove dependable.
Peugeot Boxer Recalls
This model of Boxer has been subject to a number of recalls – with the most serious concerns relating to braking efficiency, steering stiffness and the handbrake not working correctly.
Other issues include spare wheels becoming detached, indicators not working properly, engine stalling problems and – most recently – instrument displays switching themselves off.
If you're buying new all of these troubles should have been corrected on the production line, but if you're buying used it's worth making sure any applicable recalls have been completed.
Not much in the way of the latest safety kit
Alarm standard on Professional trim level
A driver's airbag is fitted as standard with the option of passenger airbag (which can be deactivated via a key), side airbags and curtain airbags. The three-point seat belts are fitted with pre-tensioners and load limiters.
The door locks can be operated independently with the key fob able to unlock only the cab doors or unlock only the load space doors or unlock all doors. Standard deadlocks also means that even if a window is smashed the door cannot be unlocked via the interior door handle.
Electronic aids are few and far between
All Boxers are fitted with an immobiliser as standard, while the Professional model is fitted with an alarm – as well as cruise control with a speed limiter to make it easier to avoid exceeding the legal limit.
Electronic stability control and Bluetooth hands-free telephone connection are also standard, too. But the Boxer is too old to be offered with many of the latest active safety aids that are starting to appear in the van world such as blindspot monitors and lane-keeping assistance.
Automonous emergency braking and lane departure warning have been made standard on the heaviest 4.0-tonne gross vehicle weight versions, however, and are available as options on the rest of the range.
Which Peugeot Boxer is best for me?
There are plenty of different Peugeot Boxer variants to choose from - it's available in four body lengths and three roof heights, in one of two trim levels and with a choice of three engines. Here are the variants we've tried out.
Peugeot Boxer Professional (L2 H2) 130hp 2.0-litre BlueHDi review
Tested in July 2019 by Tom Wiltshire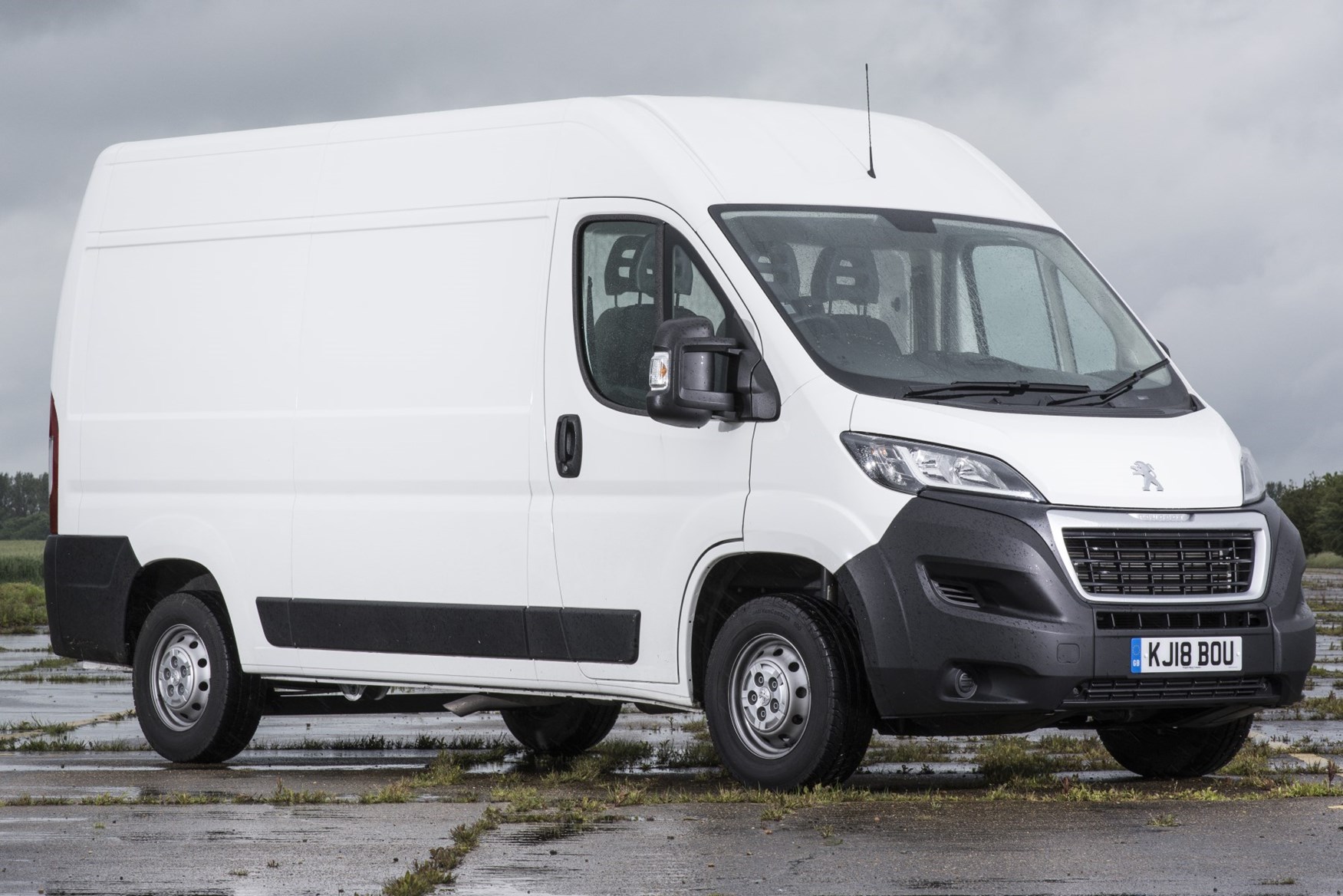 Mid-spec 130hp engine in for review
L2 length and H2 height is best combination for payload
Plush (ish) Professional trim offers some creature comforts
The Peugeot Boxer's been around for quite some time – the current variant was last updated in 2016, when it received a glut of Euro 6 diesel engines. In terms of styling and interior fittings, though, it's been business as usual since 2014, but does that leave this big French box feeling outdated?
Driving experience isn't up there with the best
There's no hiding the Peugeot's age – together with its Citroen and Fiat siblings, it's been on sale in the same basic form since 2006. This means it can't hold a candle to rivals such as the Ford Transit or the Volkswagen Crafter in terms of driving experience.
The Boxer is available with a downsized 2.0-litre diesel, available in 110hp, 130hp and 160hp variants. All are paired to a six-speed manual gearbox – those who need an automatic are out of luck, though Fiat does offer one in the mechanically similar Ducato. The Ducato's own-brand engines are also more efficient for their power output.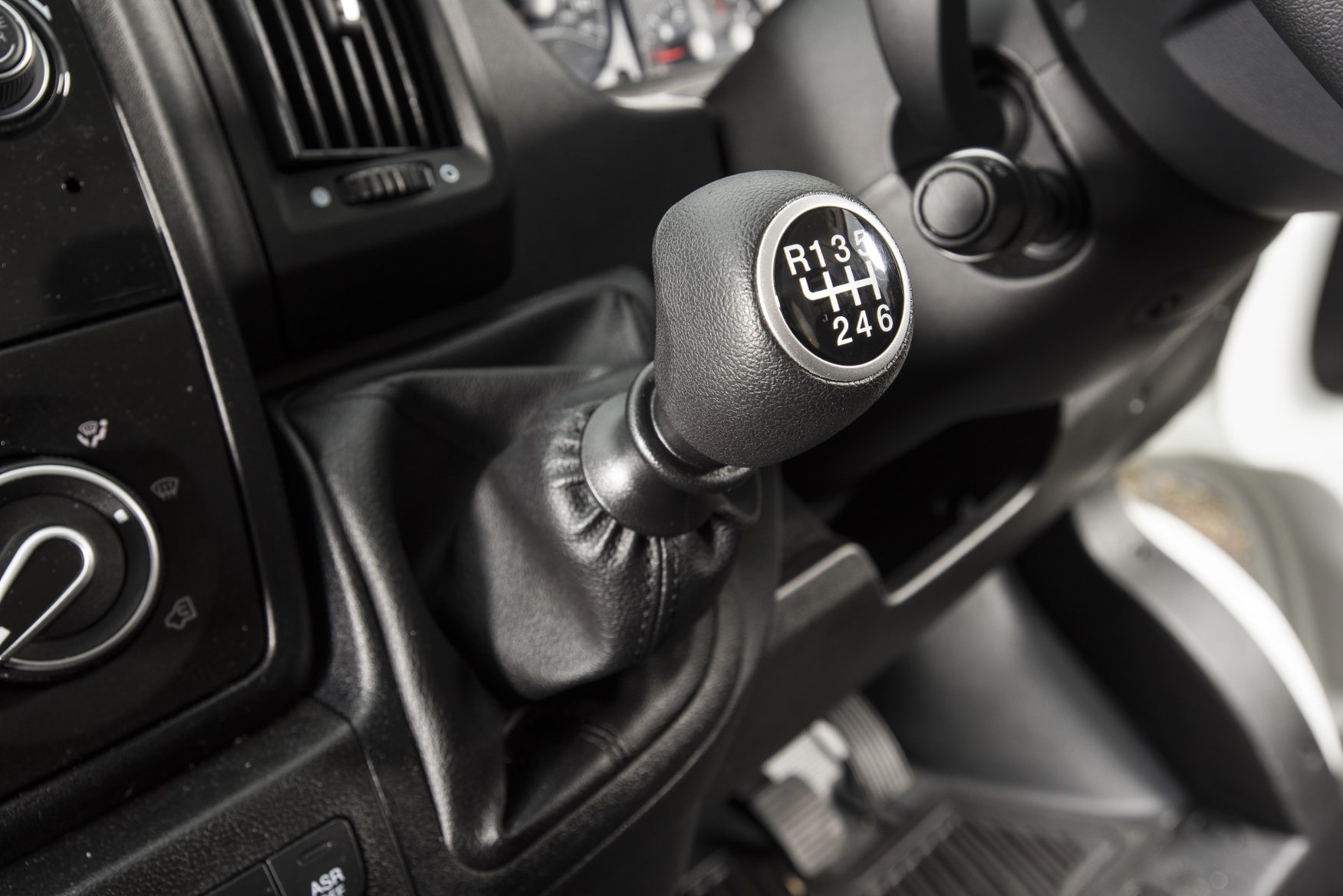 Our 130hp model pulled well even when fully laden, and unless you're regularly travelling with a full payload – or perhaps a motorhome conversion – we don't see the need for the top-spec 160hp engine. The gearbox is ideally positioned high up on the dash, but its action is a little notchy.
It's in the ride and handling stakes where the Boxer loses out to newer rivals, though. The steering is over-light and a little inaccurate, and the unladen ride less compliant than the Mercedes Sprinter.
Dated-feeling cab
In contrast with the huge touchscreens offered in more modern rivals, the Boxer uses a Fiat-derived infotainment system with a 5.0-inch screen. It's not as up-to-date as it could be, not offering any form of smartphone connectivity like Apple CarPlay or Android Auto, and though it offers a slick TomTom sat-nav system it can be hard to see on such a small display. All models do get DAB radio, Bluetooth and USB inputs, though – however it's worth mentioning that the latter is only a 1.0A output, rendering it incapable of keeping a modern smartphone topped up if it's being used for navigation.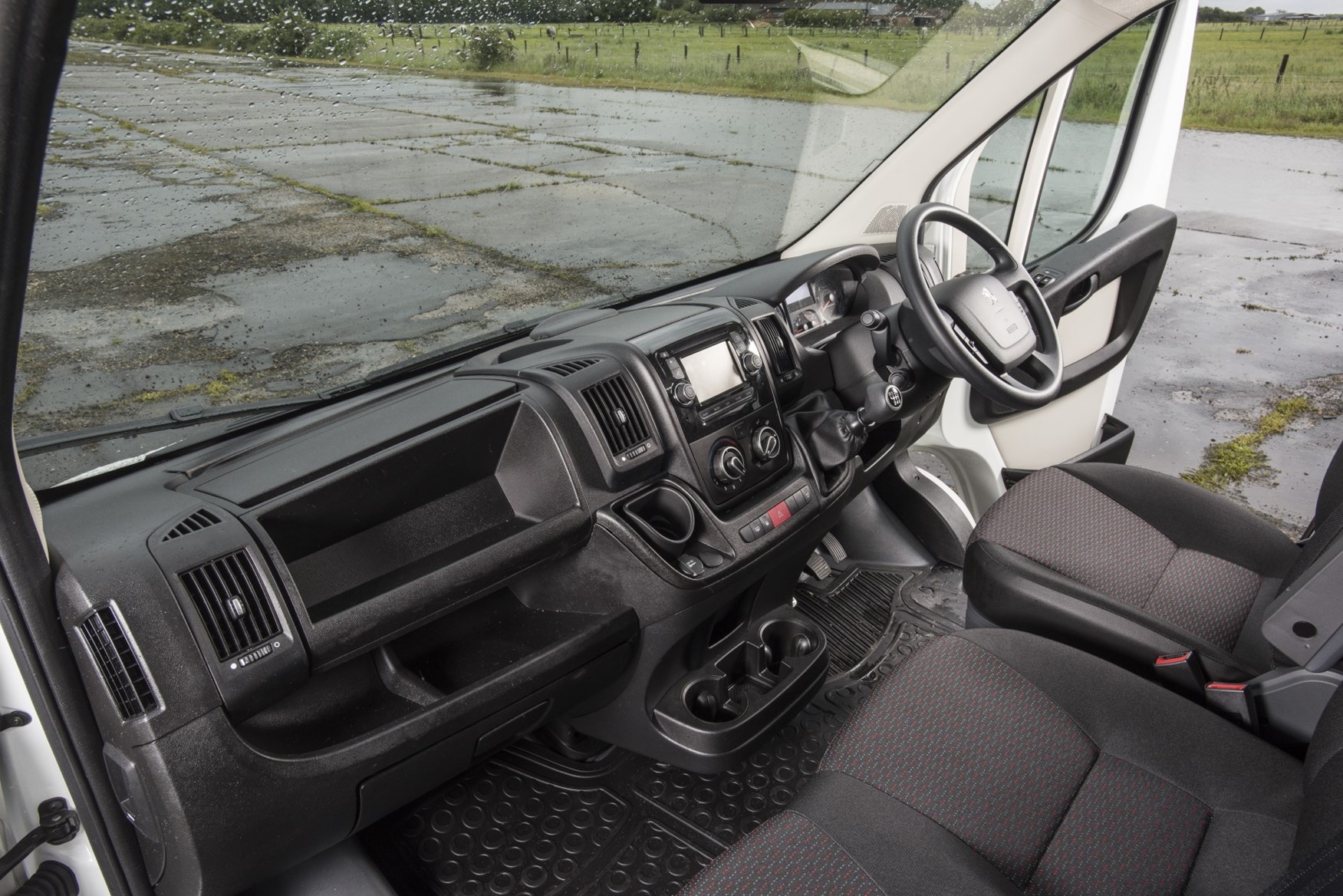 The dual passenger seat is upright but reasonably supportive, and the dashboard leaves plenty of knee-room. If travelling with nobody in the centre seat, its backrest flips down to become a clipboard. A further clipboard folds out from above the infotainment screen.
Storage spaces are more than adequate, with two large glove boxes, cubbies above the windscreen and storage space under the seats. However, the double cupholder – added in the 2014 facelift – is positioned virtually on the floor, meaning it's not very easy to reach on the move.
Our test van was in 'Professional' trim, bringing with it over the standard model an alarm, cab air-conditioning, cruise control and rear parking sensors. On the options list are folding door mirrors, a useful rear parking camera, air suspension and a lorry-like suspended driver's seat.
Stellar payload and impressive load space
All Boxers come as standard with a full-height bulkhead, and the load area is one of the most practical in its class. There's a choice of three roof heights and four body lengths, and all are among the most roomy in their class. The tallest H3 vans offer more loading height than the Ford Transit, while there's room between the wheelarches to load a Euro pallet sideways. There's also ample width in the sliding door to load through there, though short-wheelbase models have a slightly smaller opening.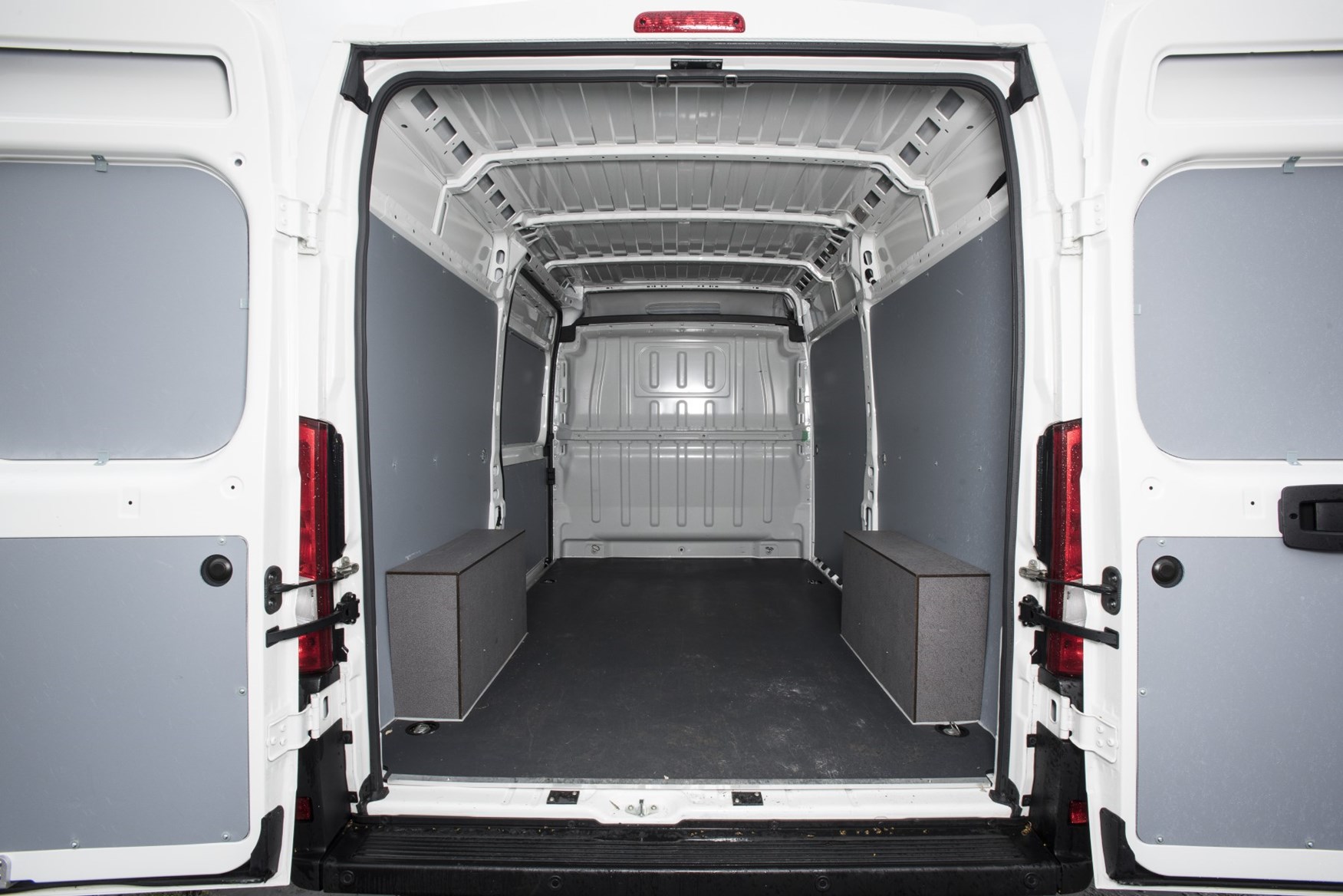 The Boxer's load area is lit and fitted with at least eight lashing points as standard, though it's slightly stingy of Peugeot to not include even a lined floor as standard. The rear doors open to 180 degrees as standard, and to 270 degrees as a cost option.
Payloads are among the highest in this class of van. Though payloads dropped a little with the addition of an AdBlue tank in 2016 (necessary to meet Euro 6 emissions standards) our L2 H2 model could still carry up to 1,575kg – a seriously impressive amount, and more than 100kg more than a comparably-sized Ford Transit.
You can read more dimension and payload info on our dedicated page by clicking here.
Should I buy one?
The Peugeot Boxer feels dated and unrefined compared to the latest slew of deeply impressive vans on offer from Ford, Volkswagen and Mercedes. A small update later in 2019 may go some way to fixing this, but we wouldn't bank too much on it – the van's basic design dates back to 2006, after all.
However if your main priority is efficiency and payload, the Boxer takes some beating. With some of the highest ratings in this class of van and a superbly practical load area, it's very good at carrying stuff – and in the end that's what a van's all about.