Peugeot e-Expert electric van review (2022)
An incredibly good electric van - with enough range, payload and ability to rival diesels
PROS
Great range for an electric van
Rock-bottom running costs
Performance remains as good as a diesel
Lots of comfort and safety kit
High payload
CONS
Cramped cabin
Not much interior storage
Large battery takes a long time to charge
Diesel can carry and tow more
Expensive to buy
Summary
It took a long time for a decent electric van to come along – and like magic, three appeared all at once. Well, three versions of the same van. On sale since late 2020, the Peugeot e-Expert and its sister vans, the Vauxhall Vivaro-e and Citroen e-Dispatch are the first models to offer both a competitive payload and a driving range in excess of 200 miles.
These two factors mean e-Expert electric van (and its relations) could very genuinely fill the needs of many businesses with little to no compromise. It's got the potential to be an industry gamechanger, and that's why we collectively named them the 2021 Parkers Electrified Van of the Year.
In 2021, Toyota joined the fray as well, with its own version of the same vehicle, the Proace Electric van, which also benefits from a 10-year warranty.
Electric powertrain borrowed from Peugeot's passenger cars
The e-Expert uses a 136hp electric motor that you'll also find in Peugeot's e-208 and e-2008 electric cars. That's paired up to a choice of battery packs – with capacities of either 50kWh or 75kWh.
Both of these offer a really impressive range, among the highest available in electric vans at this time. The smaller pack has a rating of 143 miles WLTP – a testing procedure which is more indicative of real-world conditions than that which came before.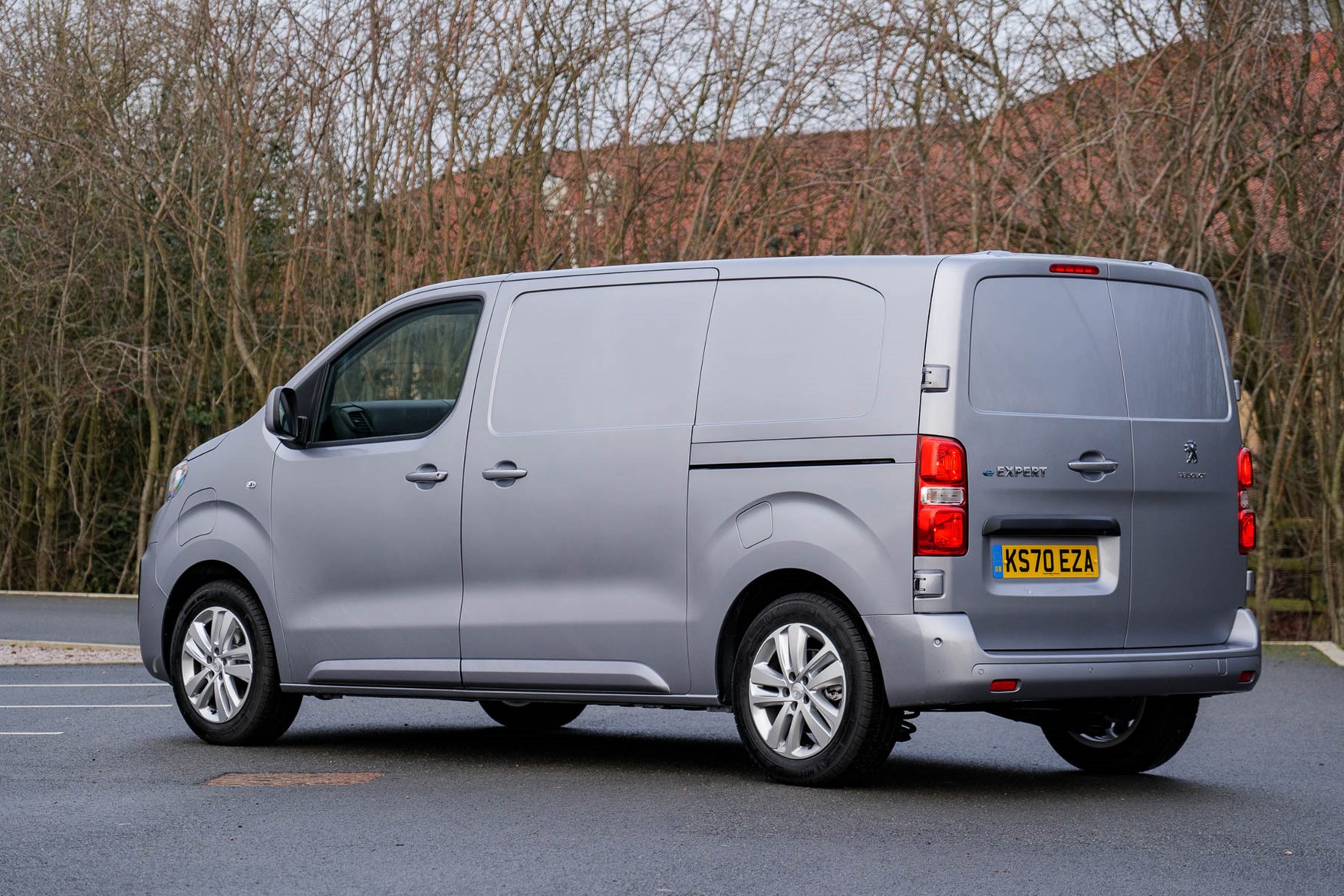 The larger battery pack, meanwhile, claims up to 211 miles of range, which would be impressive in an electric car let alone a big, heavy van.
And it's encouraging that, during our testing, we found the range to live up to those claims if driven carefully – around town especially, you'll be able to make the most of regenerative braking to maximise the mileage you get off a charge.
Over a tonne of payload
That's right – despite the huge weight of battery packs, Peugeot's managed to give all versions of the e-Expert over a tonne of payload – ranging from 1,001kg up to 1,226kg. The highest payloads are available with the smaller battery pack, but the ability for the larger-battery models to carry over a ton is a fantastic selling point.
Better yet, all models have a 1,000kg towing capacity and the load space itself is unchanged, so the e-Expert is almost as good at carrying things as its diesel counterparts – and better than just about every medium-sized electric van out there.
Peppy and fun to drive
Of course, driving dynamics don't come much into play if you're making a fleet purchase – but those who have to drive these vans will enjoy how they drive. The instant response inherent to an electric motor has been dialled back a little to make smooth driving easier, and it works wonders. This would be a great van for those who need to move fragile or unsteady loads.
There's still loads of performance available when you want it, though, with the e-Expert leaping to 30mph at a pace that's likely to startle many at the traffic lights. It's less suited to high-speed work, and responses at motorway speeds or when fully laden are rather more lethargic, but there's plenty of pace in reserve to keep up with traffic.
The performance gulf between the e-Expert and electric van rivals is huge, too – rivals such as the Mercedes-Benz eVito or Volkswagen ABT e-Transporter feel far more sluggish.
Minor trim-level change for 2021
From August 2021, Peugeot added 'Premium' to the name of the Professional and Asphalt trim levels for the e-Expert, while also slashing £1,000 from the basic asking price.
The previous S entry-level model has also now been discontinued.
---
Verdict: is the Peugeot e-Expert electric van any good?
A stunningly good electric van which along with its mechanically identical siblings sets the standard for this class going forward.
Keep reading for more detail on driving dynamics, running costs or specs of this van, but suffice to say we're highly impressed by it.
It's not free from issues, of course, and many of our complaints with the diesel model stand for this EV – mainly the cramped cab and lack of a high-roof variant. But with plenty of load area and payload it's not limited by its powertrain like most of its rivals.
Skip to our full verdict on...
Electric powertrain works very well
Ride comfort and handling not compromised
Less suited to inter-city routes than diesels
Driving the Peugeot e-Expert is likely to be a particularly pleasant surprise if you've only driven diesels before. Electric motors are inherently smooth, responsive and nippy, and these qualities shine through even in a vehicle as bulky as the e-Expert.
Helpfully, the e-Expert and its siblings were designed to be electric vehicles right from the outset, so the integration of batteries and components is accomplished rather better than some rivals, such as the ABT e-Transporter.
Though there are two battery packs to choose from, all e-Experts are powered by the same electric motor. It produces 100kW, or 136hp and puts out 260Nm of torque. That's pretty similar to the mid-range diesel, so doesn't sound particularly powerful – but the way an electric motor responds is totally different to a diesel.
What's the Peugeot e-Expert like to drive?
Instead of producing peak power at a set point in the rev range, electric motors produce all of their get-up-and-go available from a standstill. This endows the e-Expert with off-the-line performance to shame even much more powerful vans.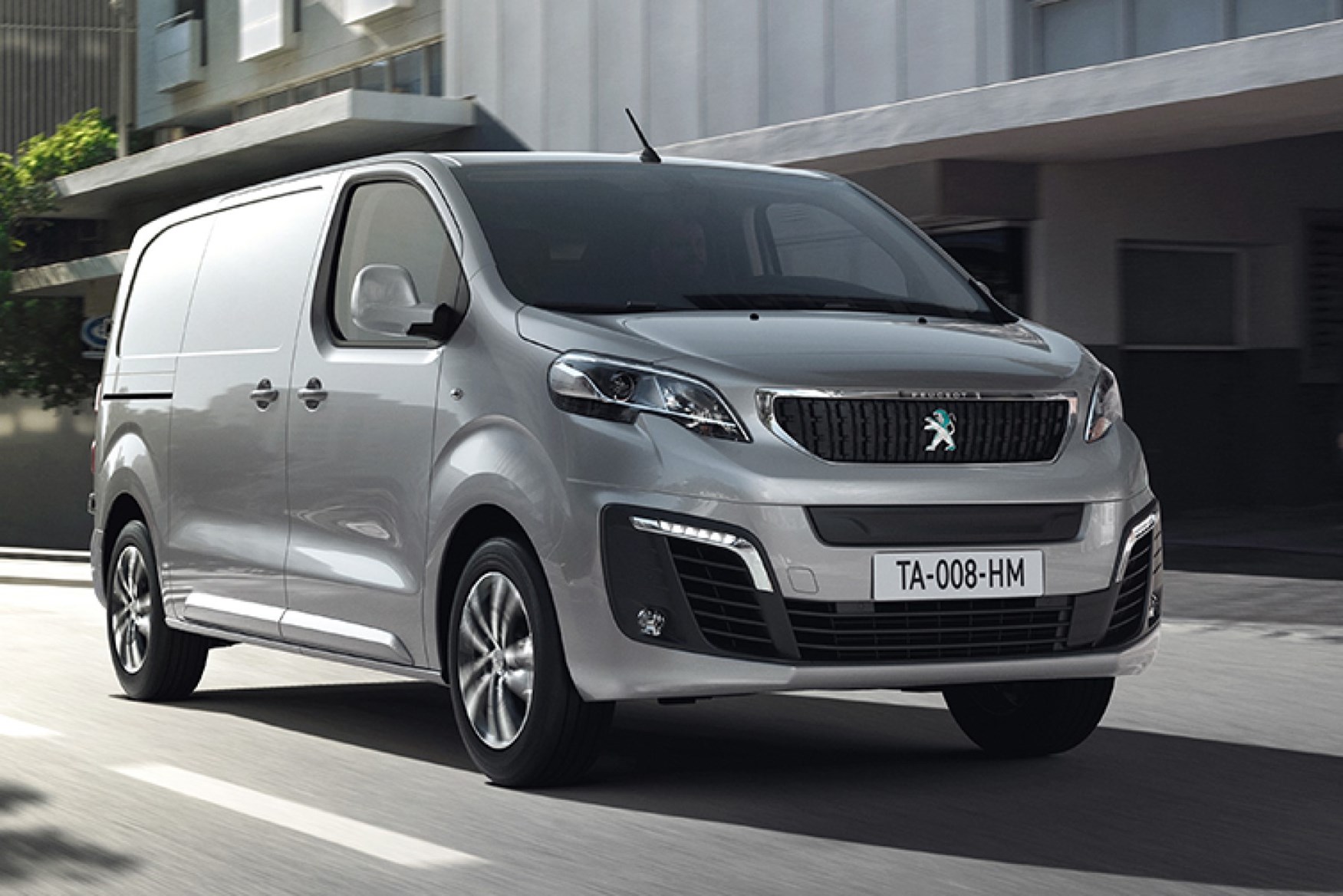 Unlike in some electric cars though, where this can be unwelcomely sudden, Peugeot's engineered enough of a delay to make smooth driving around town much easier.
There's a choice of three driving modes. The least powerful is called Eco, which limits the top speed, cuts off the air-conditioning and throttles power back to just 82hp in a bid to extract as much range as possible from the battery. This does make the e-Expert feel very sluggish, though, so we didn't end up using it very much.
The default mode, and the one you'll be using the most, is called Normal. In this mode the e-Expert's produces 109hp, so off-the-line performance is impressive and there's still plenty of power left in reserve for faster roads, though at motorway speeds you'll see the predicted range remaining tumble.
The final mode is called Power, and as the name suggests it unlocks the electric motor's full performance at the expense of range. In this mode the e-Expert feels genuinely fast – surprisingly so, in fact.
Acceleration in all modes is of course totally smooth and very hushed, with no gearbox to worry about. In fact, apart from the power setting, the only controls you have to worry about are Park, Neutral, Drive and Reverse – selected by a toggle switch rather than a more traditional gear selector.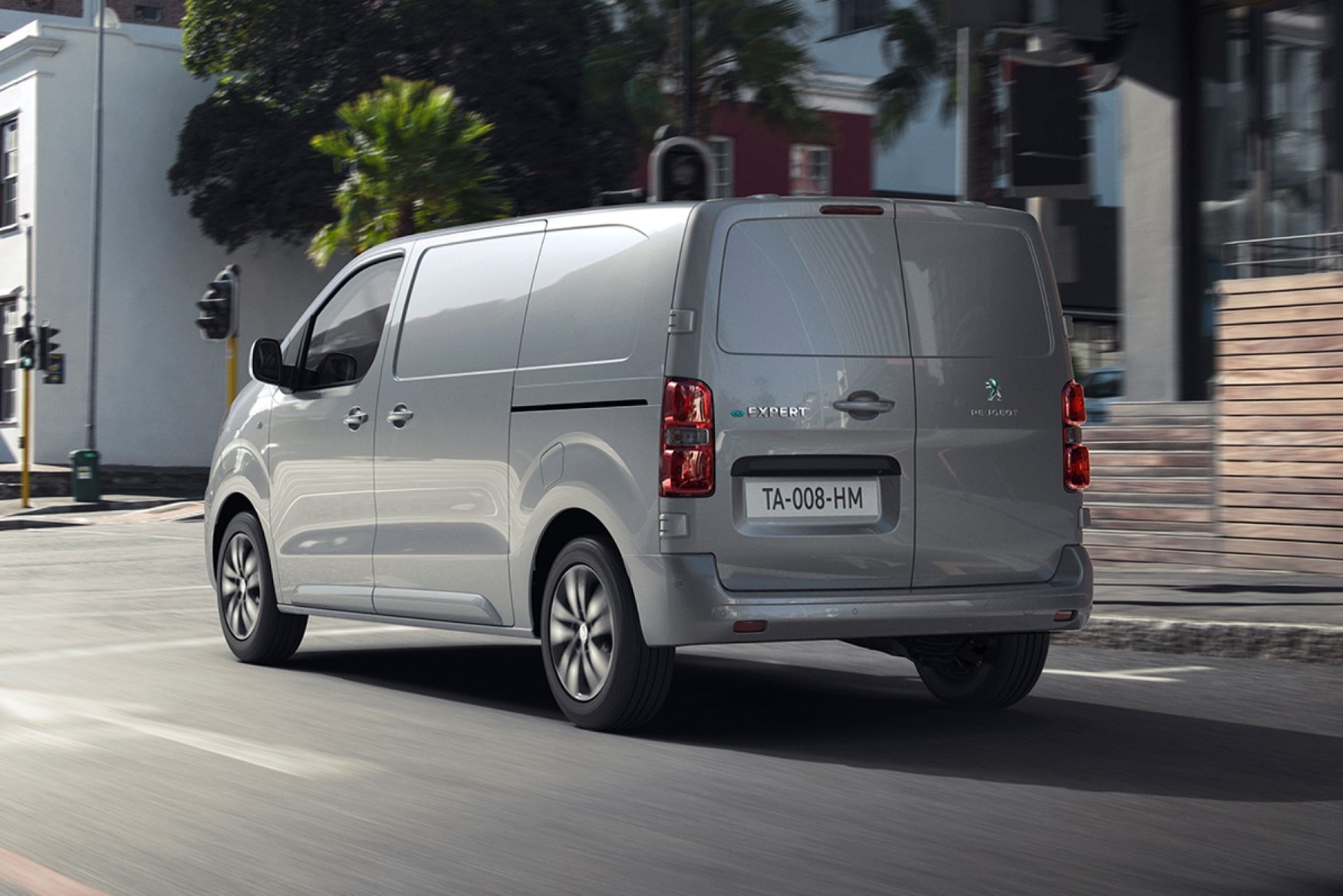 There's also 'B' mode, which amps up the regenerative braking for a more pronounced slowing when you lift your foot off the accelerator. It's not a true one-pedal driving mode, but it minimises the amount you need to brake and maximises the amount of battery you can regenerate. We drove with this on most of the time.
How does the Peugeot e-Expert handle?
Ride and handling isn't bad at all – with this van and its sister models being heavily related to Peugeot cars under the skin, it feels far less industrial than some rivals.
It rides reasonably well over all surfaces, even when unladen, and the light steering is reassuringly accurate. The van responds to inputs well, though it lacks the last degree of finesse you'd find in a Ford Transit Custom or the solidity of a Volkswagen Transporter.
Rather cramped cab
Minor alterations for electric model
Not a lot of storage for smaller items
The e-Expert's cabin is very similar to the diesel models with only a few alterations made for electric power.
The first of these is the instrument cluster, which no longer has a rev counter – instead, you get a power gauge which shows how much energy you're using at any given time. Accelerate hard and it'll move into the 'Power' section of the gauge, while decelerating will see it dip into 'Charge' indicating regenerative braking is working as it should.
Instead of a fuel gauge, you get a battery charge gauge, while the information screen in the centre of the instrument cluster displays EV-specific information such as miles-per-kWh.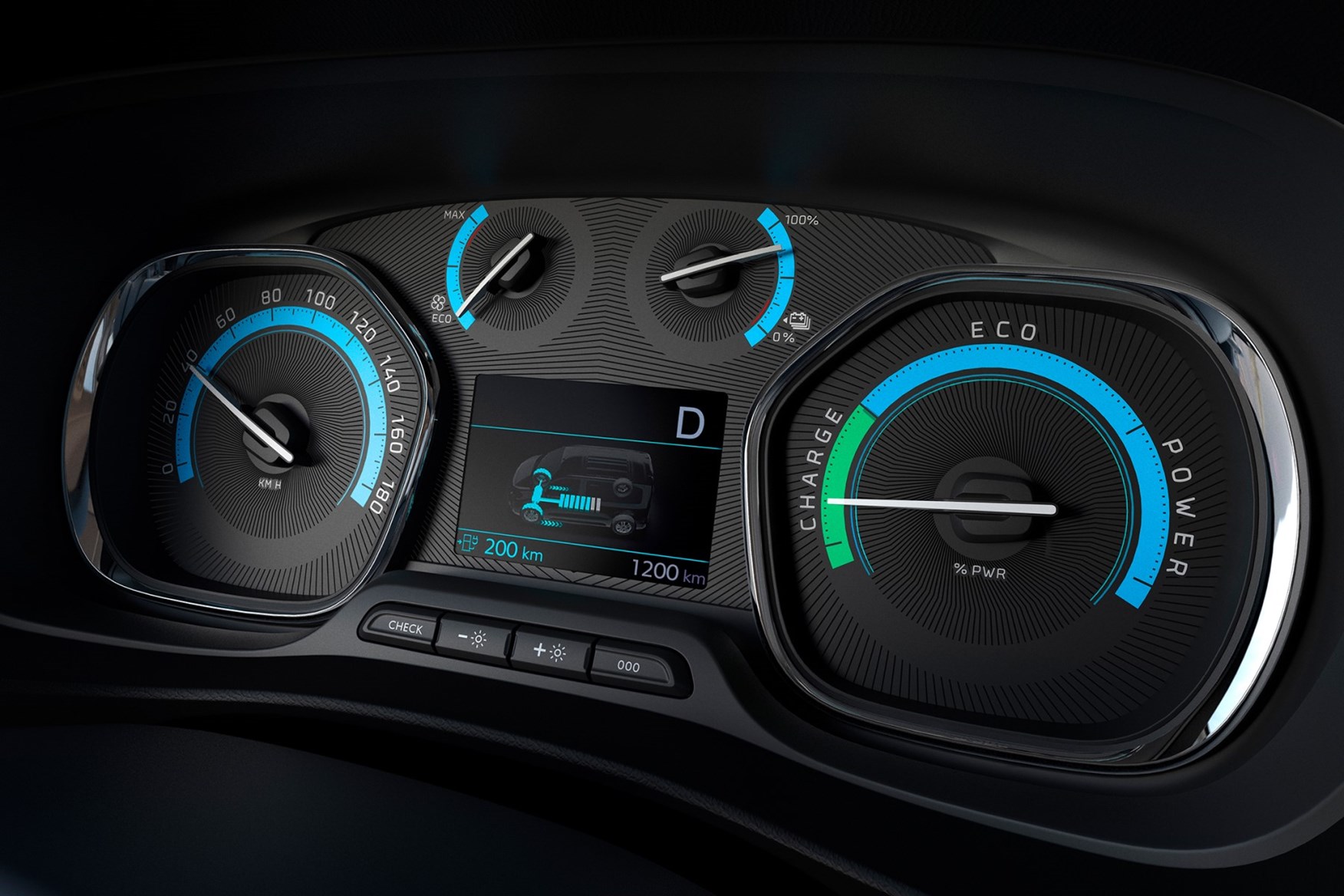 Elsewhere, you'll find an electric handbrake, curiously positioned on an oddly shaped protrusion between the seats, and a toggle switch for a gear selector. This sits on the same 'pod' as the standard manual or automatic shifters – we would have liked to see Peugeot delete this to give the central passenger more legroom, but it's understandable that a full dash redesign wasn't on the cards due to expense.
Not particularly roomy
Speaking of passengers, this is where the e-Expert begins to let itself down. The cab is cramped, with a high-set dashboard and narrow windowline making it feel even more claustrophobic. The relatively narrow interior means it's a squeeze for three passengers, and the driver's seat doesn't move very far back. Our 6'2" tester had to have it in its rearmost position, pushed right up against the bulkhead where the leather squeaked.
Storage is limited, too. The doors offer twin-level bins, with the lower ones large enough to accommodate plenty of kit, but there's no lower glovebox – just a hole in the dash. The upper glovebox and dashtop storage bins are poor substitutes, and the only cupholders are shallow ones on either end of the dash. Not really suitable for a huge bucket of Starbucks' finest.
Some testers also find the driving position to be offset and uncomfortable.
Low running costs but high purchase price
Eight-year battery warranty
Comes well equipped
Choosing between an electric van or a diesel van usually comes down to maths – mainly, whether the lower cost of fuelling and maintenance outweighs the purchase price.
It's true that charging up an electric van is far, far cheaper per mile than filling up a tank of diesel – but if you don't do many miles, or change your vans pretty regularly you may not make back that money versus the higher purchase price of the van.
Charging is cheapest at home
The most cost-effective way to charge the e-Expert (or indeed any electric vehicle) is overnight on a off-peak reduced rate electricity tariff. For owner-operators with off-road parking, that's an ideal scenario, as it's simple enough to install a 7kW wallbox at home and wake up each morning to a fully charged van.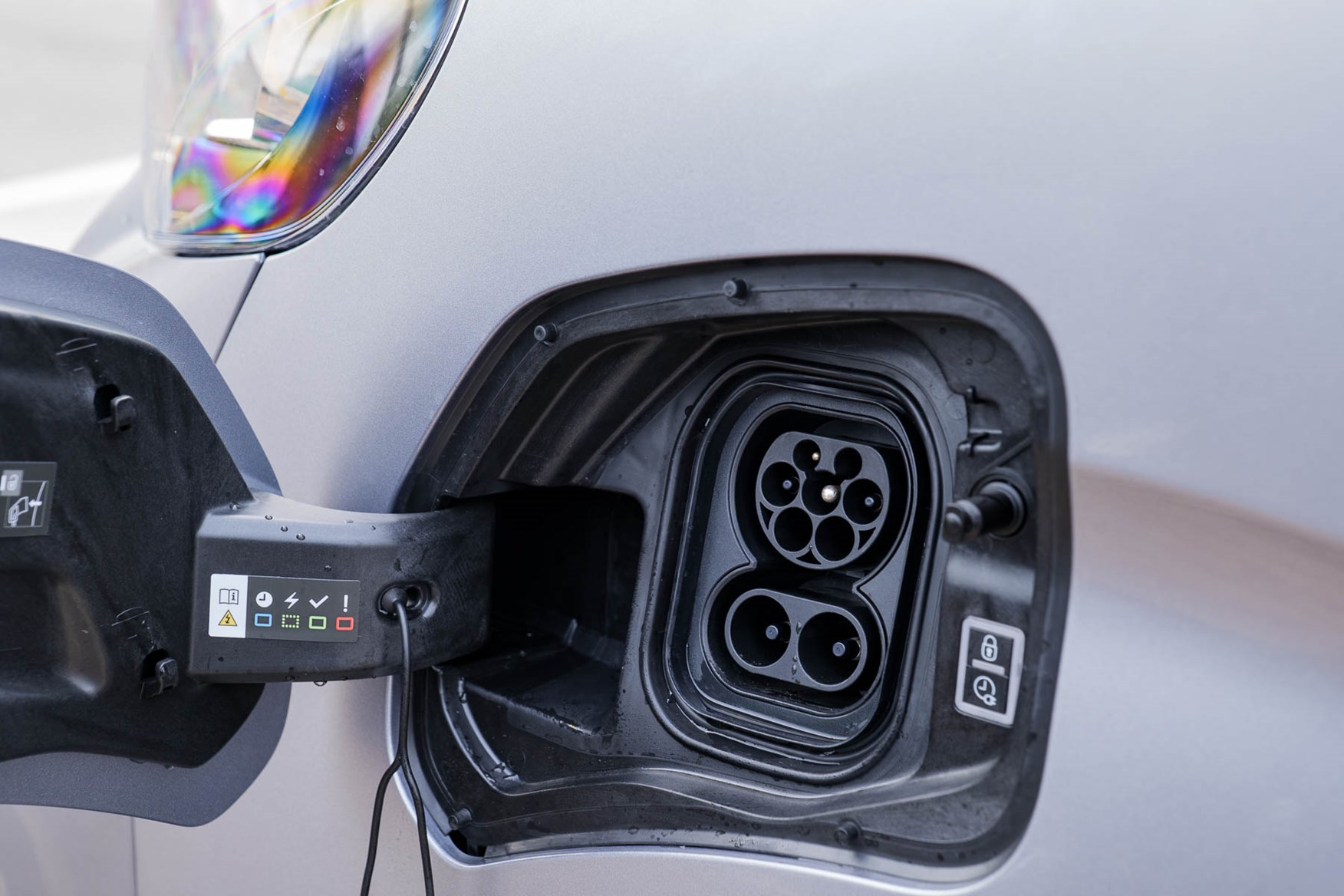 The slower but cheaper option is to use a three-pin charger, but these aren't recommended except in an emergency. For starters, they tend to get very hot with repeated and extended use and also, a full charge could take as long as two days.
Faster charging is available publicly, and the e-Expert will accept up to a 100kW fast charger – that's enough to top the larger battery back from 0-80% full in around 45 minutes.
Public charging is much more expensive, though, and not very cost-effective to do regularly.
Tax costs are also reduced for electric vehicles.
Peugeot e-Expert service intervals
Electric vans are simpler than diesel vans, with fewer moving parts. In theory that means less maintenance and cheaper servicing, while regenerative braking should mean less wear on brakes and tyres. The lack of a transmission means there's no clutch to replace either.
After the first service is completed at one year or 12,500 miles, service intervals revert to two years or 25,000 miles.
Peugeot e-Expert warranty
The whole van gets standard coverage of three years or 100,000 miles, with the first two years being unlimited mileage for real road warriors.
Battery components are covered by a reassuring eight-year, 100,000 mile warranty, though, while secondhand vans will be offered with battery certification to assure buyers they can still cover a good distance.
Peugeot e-Expert standard equipment
Initially, three were trim levels available for the Peugeot e-Expert: S, Professional and Asphalt. In August 2021, the range changed to be available in Professional Premium and Asphalt Premium specifications only.
These are the current standard equipment highlights.
Peugeot e-Expert Professional Premium standard equipment:
Full steel bulkhead
Twin side sliding doors
Air-conditioning
Bluetooth
DAB radio
Peugeot Connect SOS & Assistance
7.0-inch colour touchscreen infotainment system with Apple CarPlay and Android Auto
Cruise control with speed limiter
Automatic lights and wipers
Moduwork load-through bulkhead with dual fron passenger seat
Daytime running lights
Remote central locking
Peugeot e-Expert Asphalt Premium standard equipment (in addition to Professional Premium):
Peugeot Connected 3D navigation with voice recognition
Three-year subscription to TomTom Live and SpeedCam / Danger Zones
180-degree parking camera system with front and rear sensors and reversing camera
Safety Pack
Driver Assist Pack
Security Pack
The Peugeot e-Expert and its sister vans are still too new to have a lot of reliability data.
However, it's impossible to ignore that its diesel siblings already have a long trail of official recalls, which relate to items such as the suspension and brakes which are common to both electric and diesel variants.
Electric powertrains are less complex and typically more reliable than combustion engines, however, as they don't have anywhere near as many moving parts.
Plenty of safety kit on offer
Alarm fitted as standard
All models of the Peugeot e-Expert get a driver's airbag and electronic stability control, plus remote central locking – but you need to step up to Asphalt trim for the more sophisticated active safety aids such as autonomous emergency braking, blindspot monitors and lane-departure warning.
An alarm is standard equipment.
In a set of tests performed by Euro NCAP, the diesel Expert's driving assistance systems - where fitted - scored a silver award, with tests evaluating its performance as slightly better than its Citroen Dispatch sibling.
Which Peugeot Expert e-Expert is best for me?
The e-Expert range is more limited than its diesel counterpart, and the biggest choice you have to make is whether you value the 60-ish extra miles of driving range the larger battery pack gives you in exchange for its reduced payload.
Peugeot expects most customers to opt for the larger battery pack, with the promise of 200+ miles of range being too good to resist.
As for trim levels, we'd be tempted to step up to the top trim level purely for the additional safety equipment that it brings, but no Peugeot e-Expert is left sorely wanting on this front.
Also read:
>> The Parkers guide to electric vans
>> Best electric vans on sale now
>> Future electric vans coming soon