Toyota Proace Electric van review (2021)
Ace medium electric van with big warranty and 200-mile range
PROS
Excellent driving range
High payload for an electric van
Cheap to run
Up to 10-year warranty
Smooth and quiet to drive
CONS
Cramped cab
Poor driving position
More expensive to buy than diesel
Only one body size
Only one trim level
Summary
The Toyota Proace Electric joins the ranks of medium-sized electric vans we're happy to thoroughly recommend. As with the diesel version of this van, the Proace Electric is built for Toyota by Stellantis, making it a carbon copy of the Vauxhall Vivaro-e, Peugeot e-Expert and Citroen e-Dispatch. No bad thing, as these took home the 2021 Parkers Electrified Van of the Year award.
Opting for the Toyota will be a slightly different experience to the Stellantis vans, however. The Proace Electric comes in just one body size and only in the popular Icon trim level – though you can still choose between two battery pack sizes.
Perhaps of greater interest is that Toyota gives you up to 10 years of warranty, whereas its cousins only come with three-year warranties.
What's the driving range of the Toyota Proace Electric?
As with those other vans, the Proace Electric is offered with a choice of two battery pack sizes: 50kWh or 75kWh.
Even the smaller option is good for a claimed 142 miles per charge according the WLTP standard, while the larger battery is said to manage 205 miles – and, indeed, that's what was showing on the range indicator of our fully-charged test vehicle.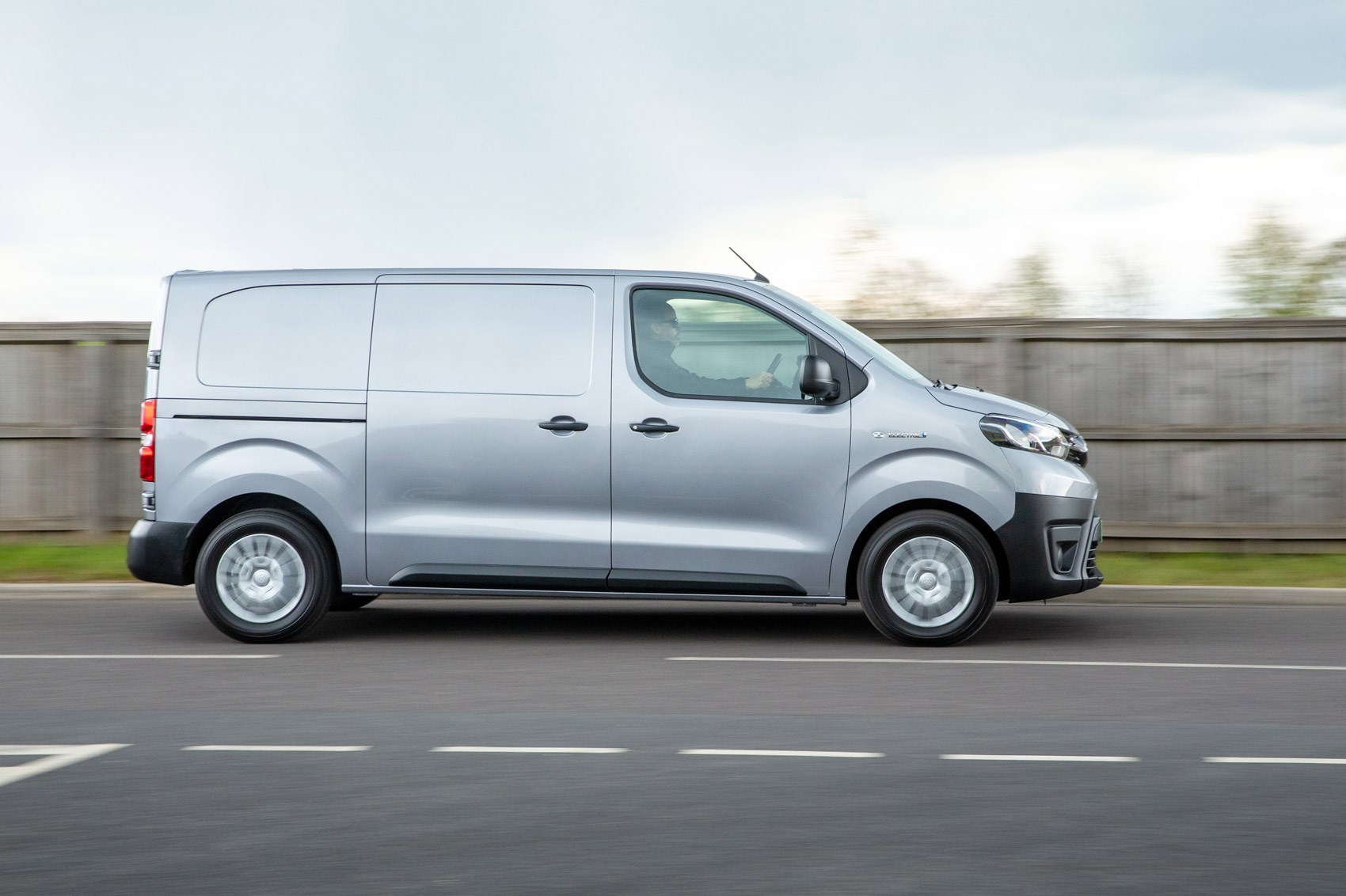 Most buyers will probably opt for the bigger pack, though it is more expensive, and the smaller one offers a higher payload – able to carry up to 1.2 tonnes compared to the still impressive 1.0-tonne payload the larger battery option can handle.
You can find out more about this and the size of the load area – which exactly matches the Proace diesel van – on our dedicated Toyota Proace Electric dimensions page.
How long does it take to charge?
The Proace Electric comes with 100kW charging capability, and plugged into a suitable charger this means an 80% charge in as little as 32 minutes. That's for the smaller battery, but the larger one does the same in 48 minutes.
This is an expensive way to recharge, and we'd expect most customers to use a wallbox charger at home or workplace instead – an 11kW one of these will give a full charge in four hours 45 minutes for the smaller battery and seven hours for the larger battery.
The more common 7.4kW type will take longer (up to 11 hours) but should still give you the option to recharge fully overnight.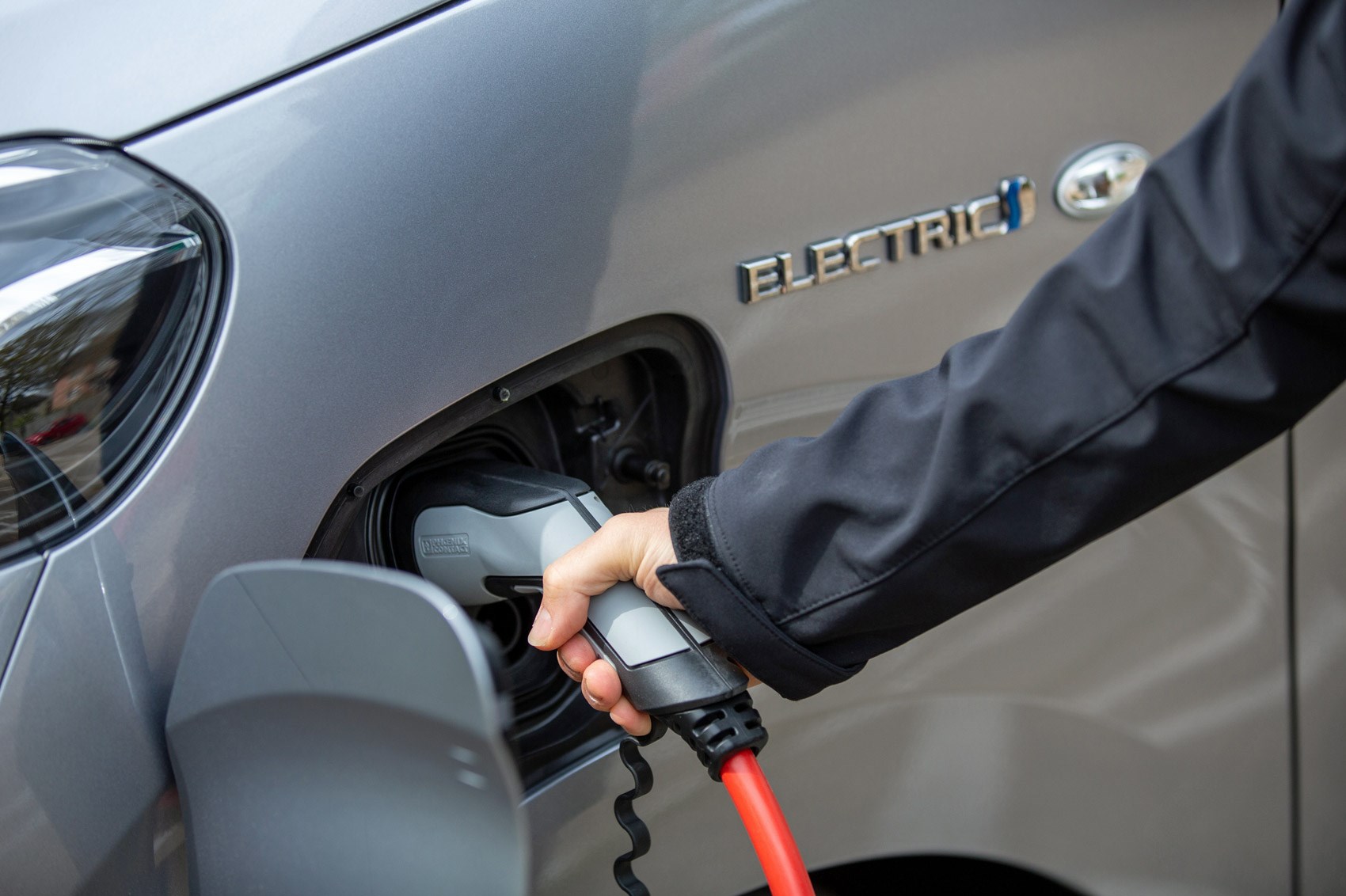 You can plug the Proace Electric into a regular three-pin socket, but you'll need at least 14 hours on that to refill the batteries.
Lots of standard equipment, great to drive
While there's no variation in the electric Toyota van you can choose at launch, the Icon equipment grade is at least loaded with kit. Shame there aren't more safety features.
With an electric motor that delivers up to 136hp and an instant 206Nm of torque via a single-speed gearbox, the Proace Electric is also easy and refined to drive, with plenty of performance to match the van's loading capability.
It will even tow up to 1,000kg (with a braked trailer).
Toyota Proace Electric rivals
Aside from the basically identical Citroen e-Dispatch, Peugeot e-Expert and Vauxhall Vivaro-e, there are also medium electric vans available from Mercedes-Benz and Volkswagen.
The difficulty for these German rivals is that they offer very much shorter driving range, with the Mercedes eVito claiming just 92 miles per charge and the VW e-Transporter managing just 82 miles per charge.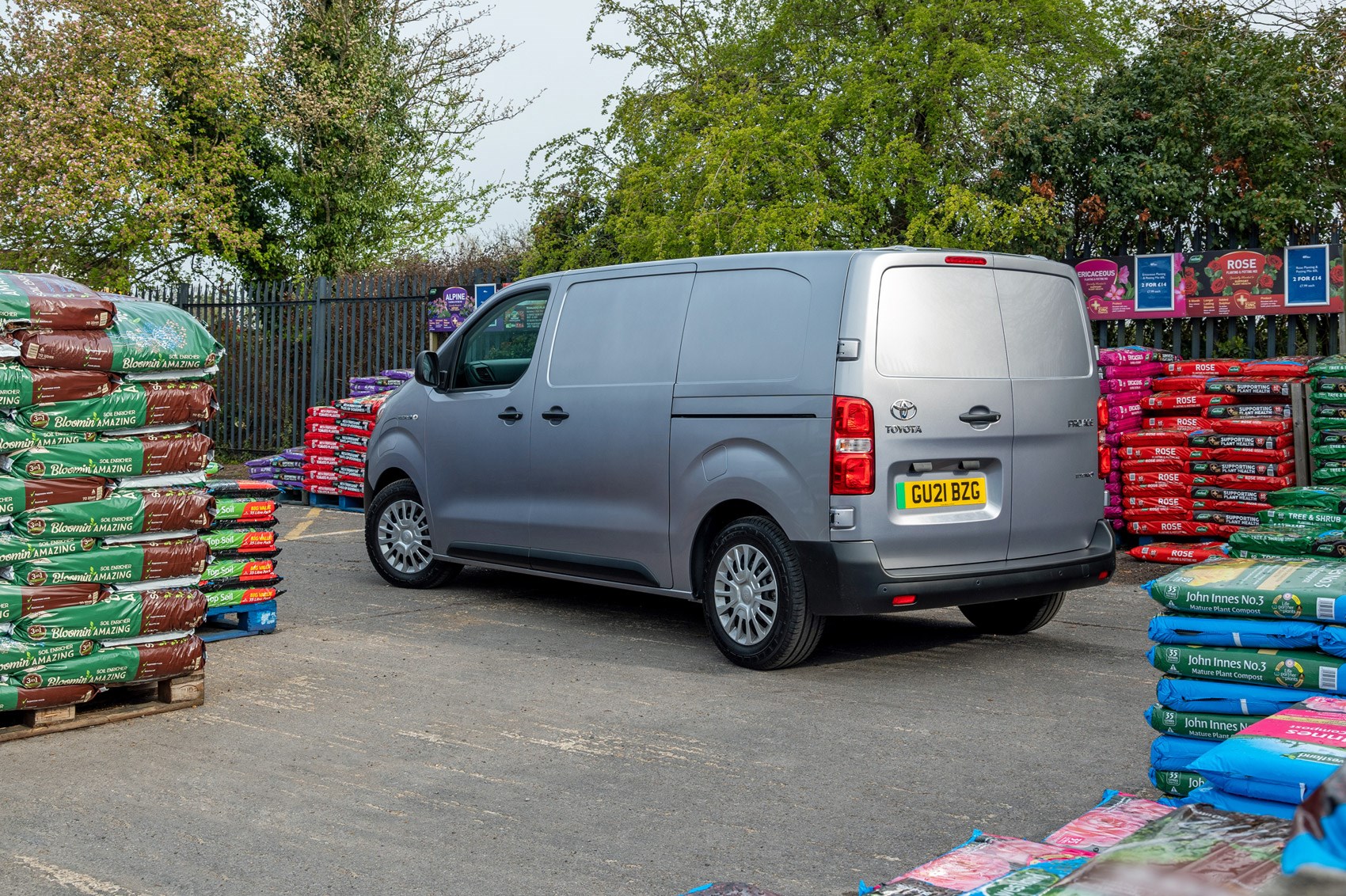 With broadly similar pricing, the Toyota and its cousins are excellent value by comparison.
Have your doubts about going full electric? Then you could also consider the Ford Transit Custom Plug-In Hybrid or the LEVC VN5, which both use plug-in hybrid electric vehicle (PHEV) range-extender technology to combine a decent slug of zero-emissions driving capability with a near 300-mile total driving distance.
They aren't cheap, though, and feel a little bit like a halfway measure now that the Proace can offer over 200 miles of 100% electric driving range. You can compare the best electric vans in our dedicated guide.
---

Toyota Proace Electric verdict
Another really good electric van on a now familiar platform and built to a familiar standard.
While the Toyota offers only limited choice, the exceptional warranty and strong levels of standard equipment mean that the Proace Electric is well worth investigating if its single body size fits your business – especially since Toyota has been actively investing to bring its van aftersales offering right up to speed with the best alternatives.
Keep reading for further details of every aspect of this Toyota electric van.
Skip to our full verdict on...
Smooth and responsive performance, easy to drive
Choice of driving modes to balance power and range
Quiet and largely comfortable, no vibrations inside
If you're used to a rattly old diesel van, driving a modern electric van such as this Toyota Proace is going to be something of a revelation.
Front-wheel drive with a single speed transmission, there are no gears to change or clutch to wear out. You simply turn it on (by twisting a conventional key unless keyless start is fitted), select D for Drive (or R for Reverse) with the larger of the two rocker switches on the lower centre console, step on the accelerator – and go.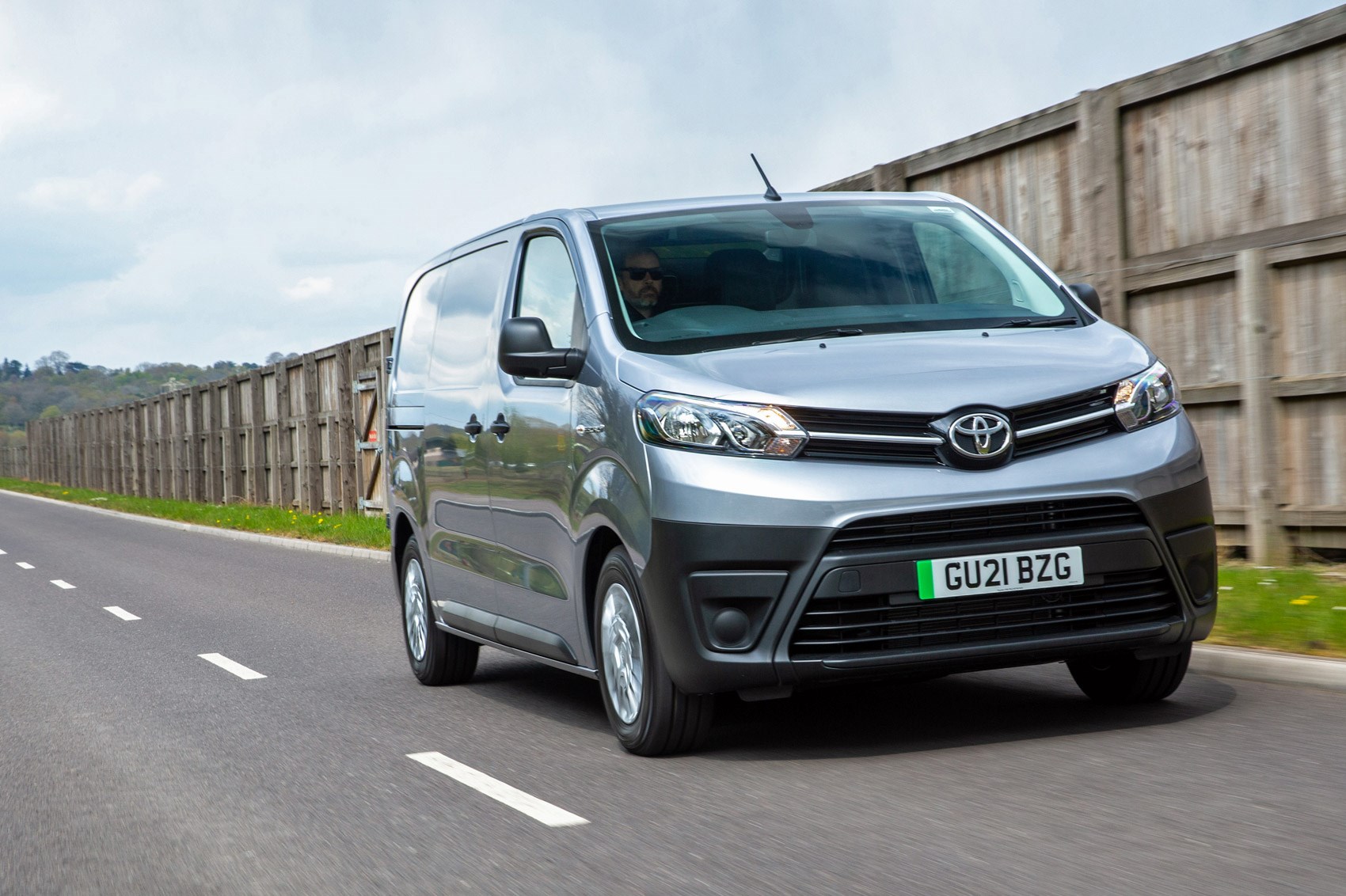 The electric motor is almost silent in operation, and totally free of vibration. Although the 136hp and 260Nm it produces doesn't sound like much when you can get a diesel Proace with as much as 180hp and 400Nm, because electric vehicles deliver maximum torque as soon as the motor starts spinning, the van's response is very quick and very smooth.
You'll certainly surprise a few cars away from the traffic lights.
Three driving modes
As the above suggests, driving a Proace Electric is extremely simple at a basic level. But if you want to get the most out of it, it's worth knowing what all the driving modes do: Normal, Eco and Sport.
It will always start in Normal mode. This restricts the motor to 109hp and 210Nm, in order to best balance performance with efficiency – which ultimately impacts driving range. We have always been perfectly happy driving these vans in Normal mode, scarcely worrying that Sport mode sits above it.
You use the second, smaller rocker switch on the centre console to change driving mode. Sport mode gives you the maximum 136hp and 260Nm, and enough oomph to see off 0-62mph in 12.1 seconds (13.3 seconds if fitted with the heavier 75kWh battery pack). Top speed is limited to 80mph.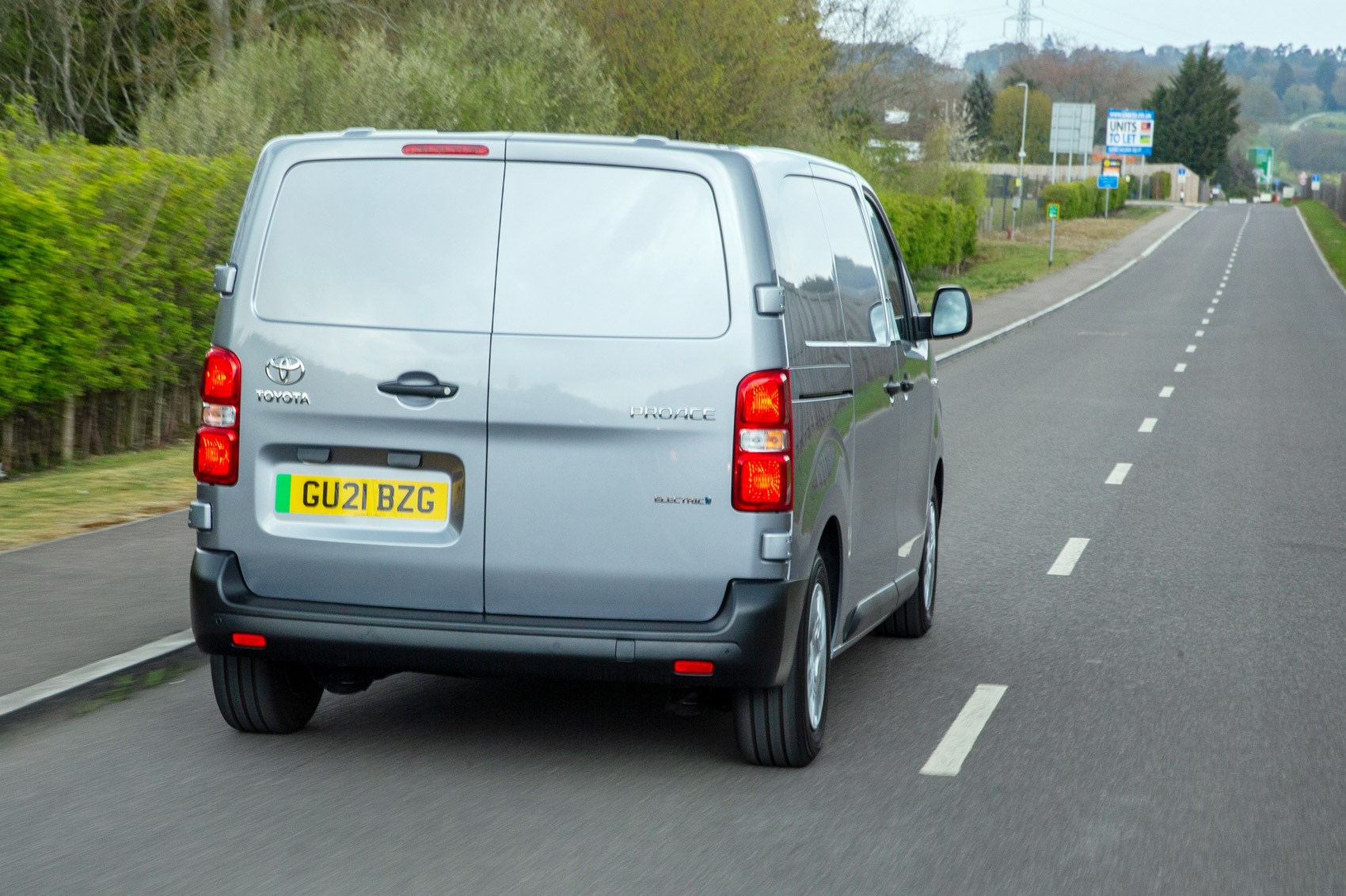 Sport mode does make the van noticeably quicker, useful for safely overtaking slower traffic, but also disrupts a little of the initial smoothness that Normal mode offers. As such it can feel a little too enthusiastic when pulling away; use Sport mode all the time and we expect you'll get through a lot of front tyres.
Eco mode is the opposite of this. It limits the motor to 82hp and 190Nm, softening responses to the point the van starts to feel decidedly lethargic.
The idea here is to help you achieve the maximum driving range from the batteries – useful if you're a little marginal for some reason, and don't want to have to stop to charge before you get home. To this end, Eco mode also limits the amount of energy used by the air-conditioning.
Driving in a regular fashion, we typically find that switching to Sport mode will knock around 10 miles off the predicted remaining range compared with Normal, with Eco adding about the same. However, you will probably find that extended use of Sport will see the range fall much more quickly than in Normal mode, so that can prove a deceptively small margin of difference.
What does the B button do in the Toyota Proace Electric?
Adding to the Proace Electric's efficiency arsenal is the B button by the main drive selector switch. This stands for Brake, and activates a more aggressive energy recuperation programme in order to maximise driving range.
This means that whenever you lift off the accelerator in B mode, the van will slow down more dramatically. Not quite to the extent that you'll never need to use the conventional brake pedal, but enough to reduce its necessity – saving wear and tear on the brake pads and discs.
It works by using the drag on the electric motor to slow the van, regenerating electricity in the process – and therefore sending a small amount of charge back into the battery pack.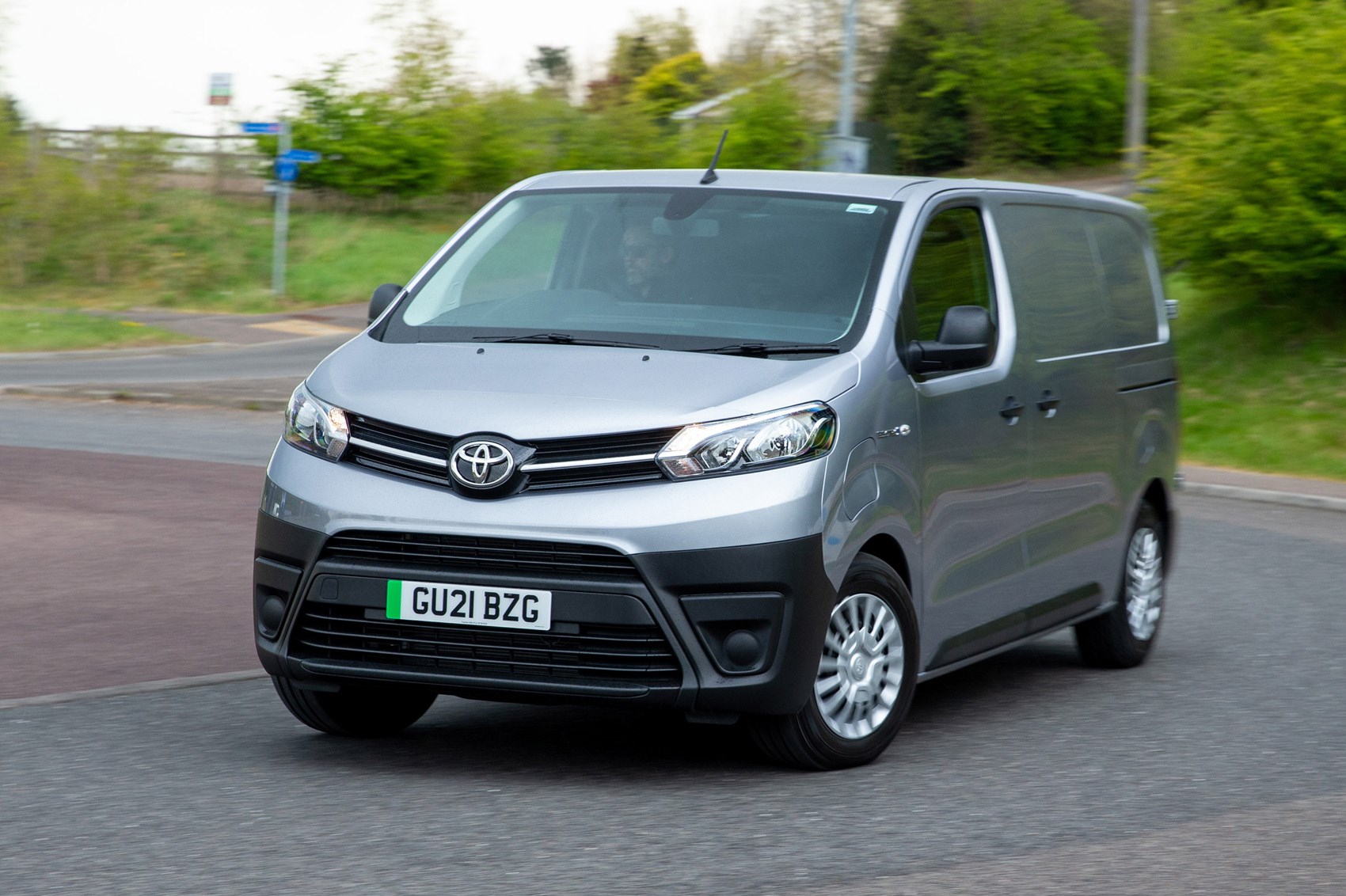 We generally drive with it switched on all the time, but be warned that if the battery is full – as in just after a full charge – B mode doesn't do anything as there's nowhere for the recovered electricity to go. Which also means it won't slow the van, which might catch you out first thing on a sleepy morning if you're not careful.
How does the Proace Electric ride and handle?
Generally, very nicely indeed. Because the battery pack is mounted below the load floor, there's a lot of weight low down nearly in line with the axles, which helps with cornering stability. Like all vans it still leans a bit in the turns, but with keen, car-like steering you can press on quite effectively if you need to.
The suspension can get a little muddled over sudden repeated bumps such as you find on particularly bad road surfaces, but as with the drivetrain the word that most immediately springs to mind is 'smooth'.
This is a not a tiring vehicle to drive or be in at all. Rather, it's punchy, quiet and impressively comfortable – although, as ever with this particular van platform, it is a shame about the off-set driving position…
Small, cramped feeling cab
Poor driving position
Simple dedicated electric van instrumentation
The cab is not the Proace Electric's strongest area. Oh, sure, the overall look of it is fine, material quality is more than high enough and there's a reasonable amount of storage throughout.
But with small windows and a low roof, it feels cramped inside – and that's on your own, let alone with two other people. And with a steering wheel off-set to the left and pedals off-set to the right, you are forced to adopt a slightly twisted driving position.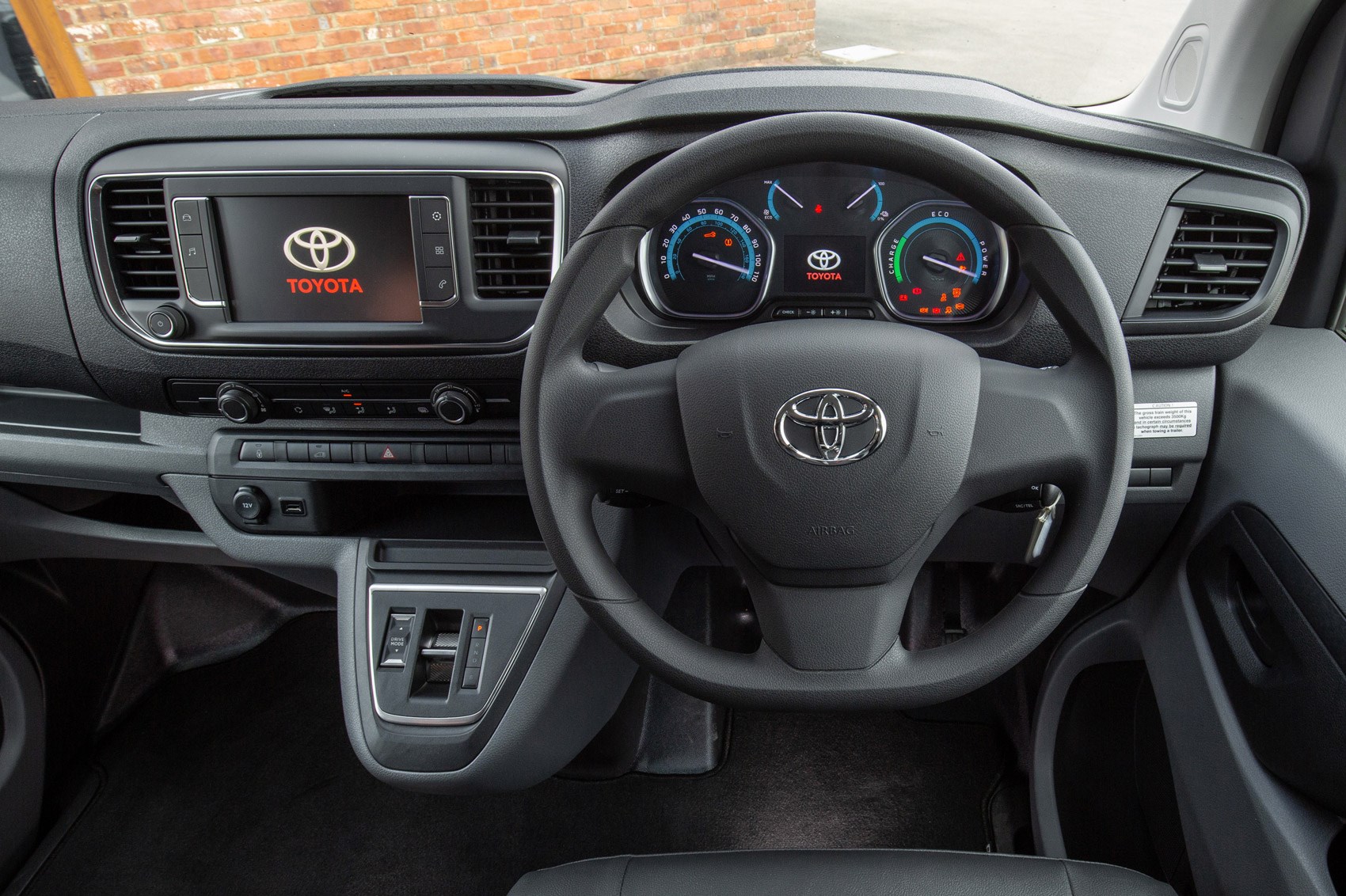 This may not be something you notice immediately. But over time and miles we'd be concerned about the unnecessary strain this was placing on our back.
Anything special inside for the electric version?
You get a slightly different instrument cluster, which replaces the rev-counter with a gauge split between Charge, Eco and Power to show you instantly how hard the motor is working. There's also a smaller gauge dedicated to the power consumption of accessories such as the air-con, showing you how that might be reducing your driving range as well.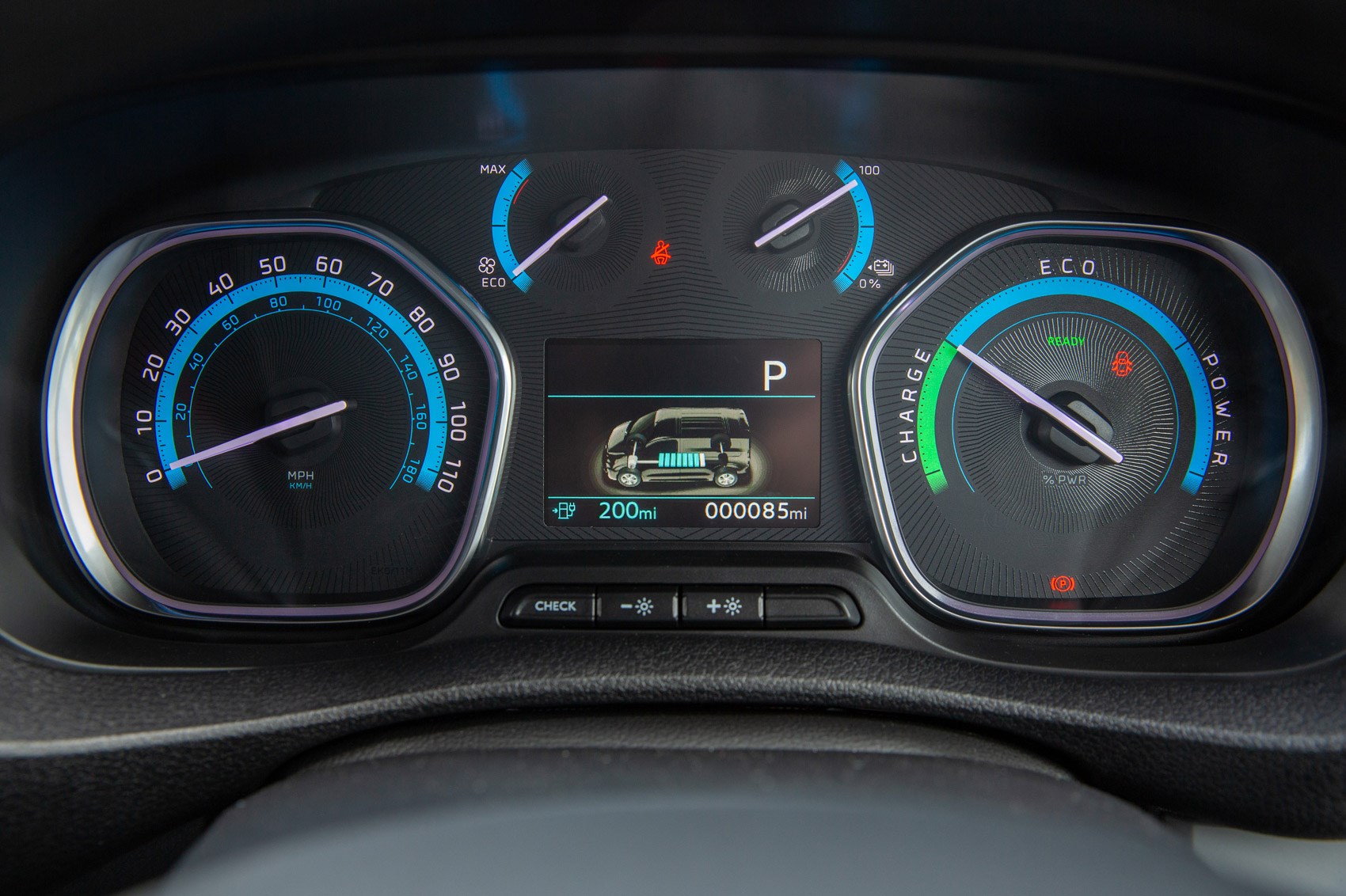 The remaining range is indicated by a battery level dial similar to a diesel gauge as well as a digital display of the predicted number of miles left.
As with all electric vehicles this can fluctuate depending on factors such as the weather, payload and how you're driving. The van should soon learn to show you a figure accurate to your usage, though with refuelling more complicated than stopping for diesel you're best to play this reasonably safe.
Still, the good thing about these vans is that even the smaller 50kWh battery option has a theoretical range of over 140 miles while the larger 75kWh one can top 200 – that should be more than enough for the daily use of most businesses. The simplest way to run an electric van is to recharge overnight.
Expensive to buy but cheap to run
Up to 10 years of warranty cover
Enhanced standard equipment
If you're looking at these the list price won't have escaped your notice – electric vans are expensive, even with the government discount available via the Plug-In Van Grant.
Electric vans compensate by being far cheaper than diesel vans to run. As long as you're able to avoid the most expensive public chargers – the high-speed ones – the cost per mile for electricity is way lower than diesel, even as low as 2.5p per mile on some electric vehicle friendly domestic electricity tariffs.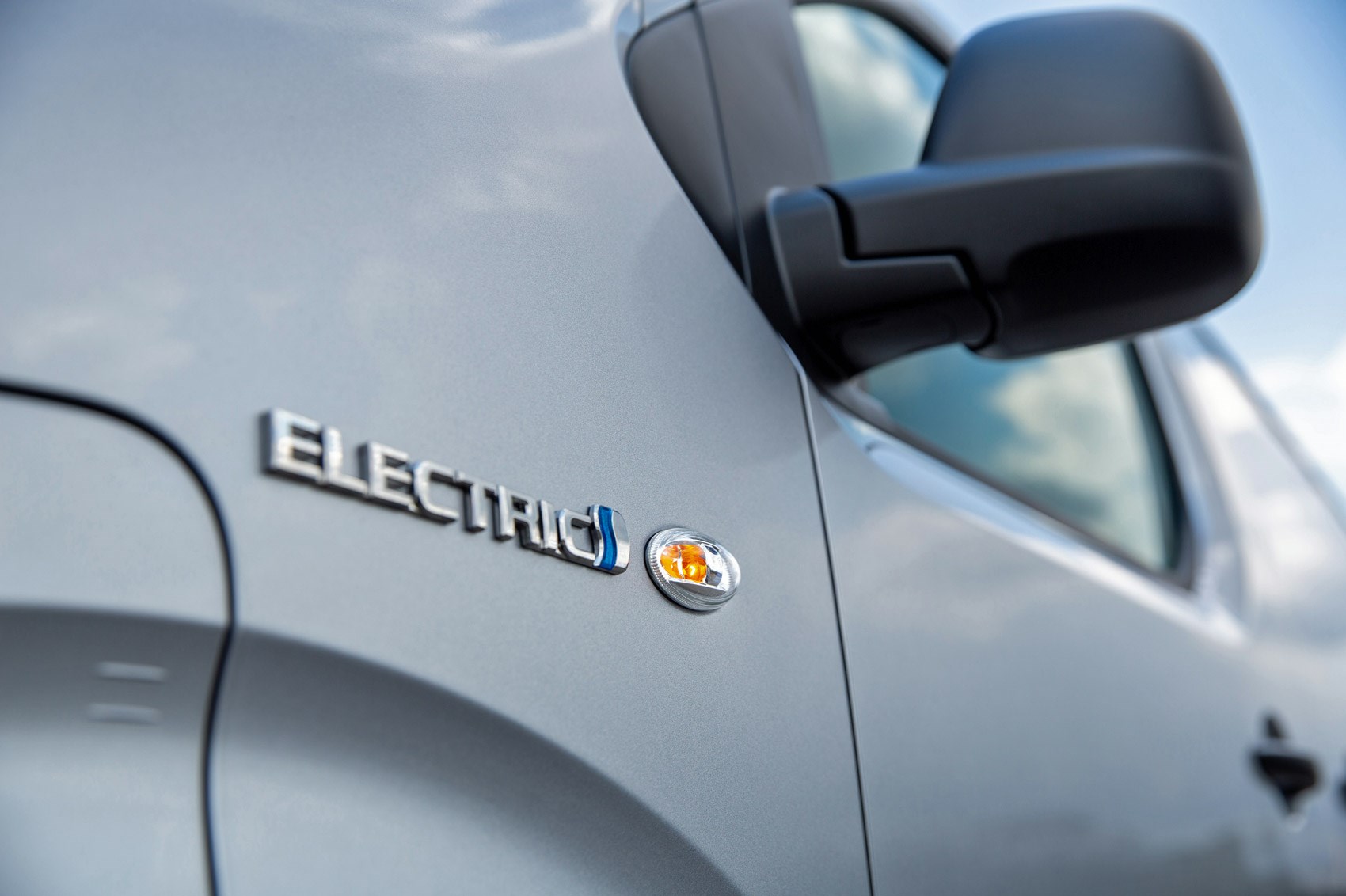 Servicing costs are also lower, as there are fewer moving parts.
You will need to think about when and where you charge, for cost and convenience reasons, but whole-life cost should be at least on par with the cheaper-to-buy diesel alternatives.
Toyota Proace Electric warranty
Up until 1 June 2021, the Proace Electric was the only medium-sized electric van with a five-year / 100,000-mile warranty. The best rivals can offer is three years of cover – though the Mercedes eVito does combine that with unlimited mileage over that period.
From 1 June 2021, however, the Proace Electric is available with up to 10 years / 100,000 miles of cover - the standard warranty is actually reduced to three years / 60,000 miles, but as long as you keep getting it serviced this will be topped up until that 10-year / 100,000-mile limit is reached.
You can find out more about this on our Toyota Relax warranty information page.
The Toyota's battery warranty is eight years or 100,000 miles, in common with most competitors. Except the eVito, as it turns out, which offers eight years or 100,000km of cover – 62,000 miles.
Toyota Proace Electric service intervals
The Proace Electric requires servicing every 25,000 miles or two years, whichever comes sooner.
Toyota Proace Electric standard equipment
At launch, all Proace Electric models are based on the Icon trim level but include an enhanced amount of standard equipment suitable for an electric van.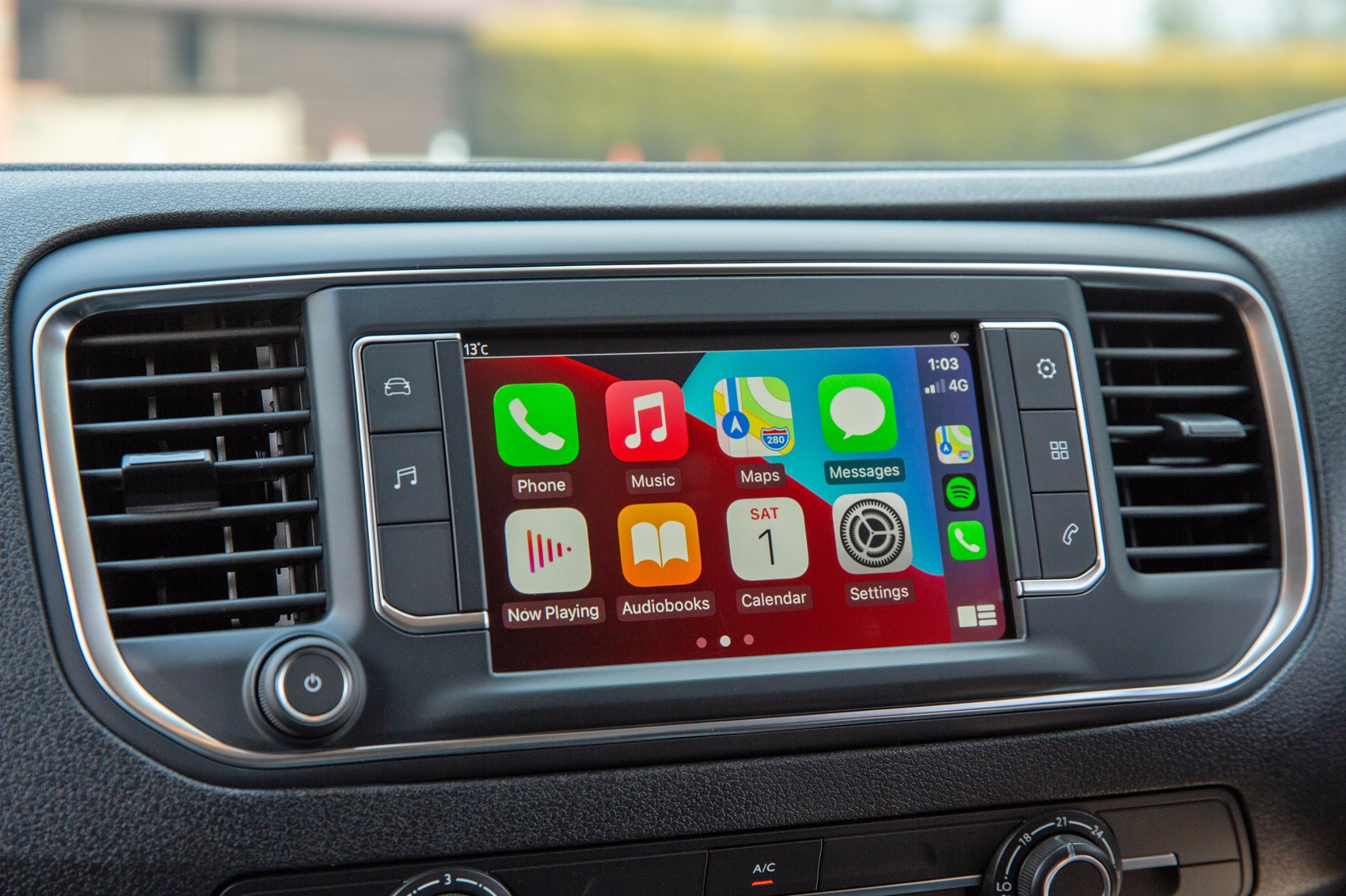 The main difference is the standard fitment of an electric parking brake and a 7.0-inch touchscreen infotainment display – which in turn means all of these electric Toyotas come with Apple CarPlay and Android Auto smartphone connectivity, plus on-board Wi-Fi.
Here's the full rundown of the Toyota Proace Electric Icon standard equipment highlights:
Manual air-conditioning
Cruise control and speed limiter
Automatic lights and wipers
Acoustic windscreen
Rear parking sensors
7.0-inch touchscreen with DAB, Bluetooth, Wi-Fi, Android Auto and Apple CarPlay
Drive mode selector
Electric parking brake
Height-adjustable driver's seat
Electric, heated door mirrors with auto-folding function
Twin sliding side doors
Home charging cable
Wallbox cable
13-pin trailer connection
Note that the 11kW onboard charger required to make the most of more powerful wallbox chargers is an optional extra. Beyond this, in an effort to keep things simple, Toyota is offering very few factory upgrades.
Safety equipment is covered in the Safety section of this review.
Toyota's excellent dealer network should take care of any issues swiftly
As with the rest of the Proace range, the Electric model is built for Toyota by Stellantis, in the same factory that turns out the e-Dispatch, e-Expert and Vivaro-e.
The base van has not exactly been trouble-free since its introduction in 2016, with a lengthy list of official recalls that rather hints at some inconsistent build quality issues.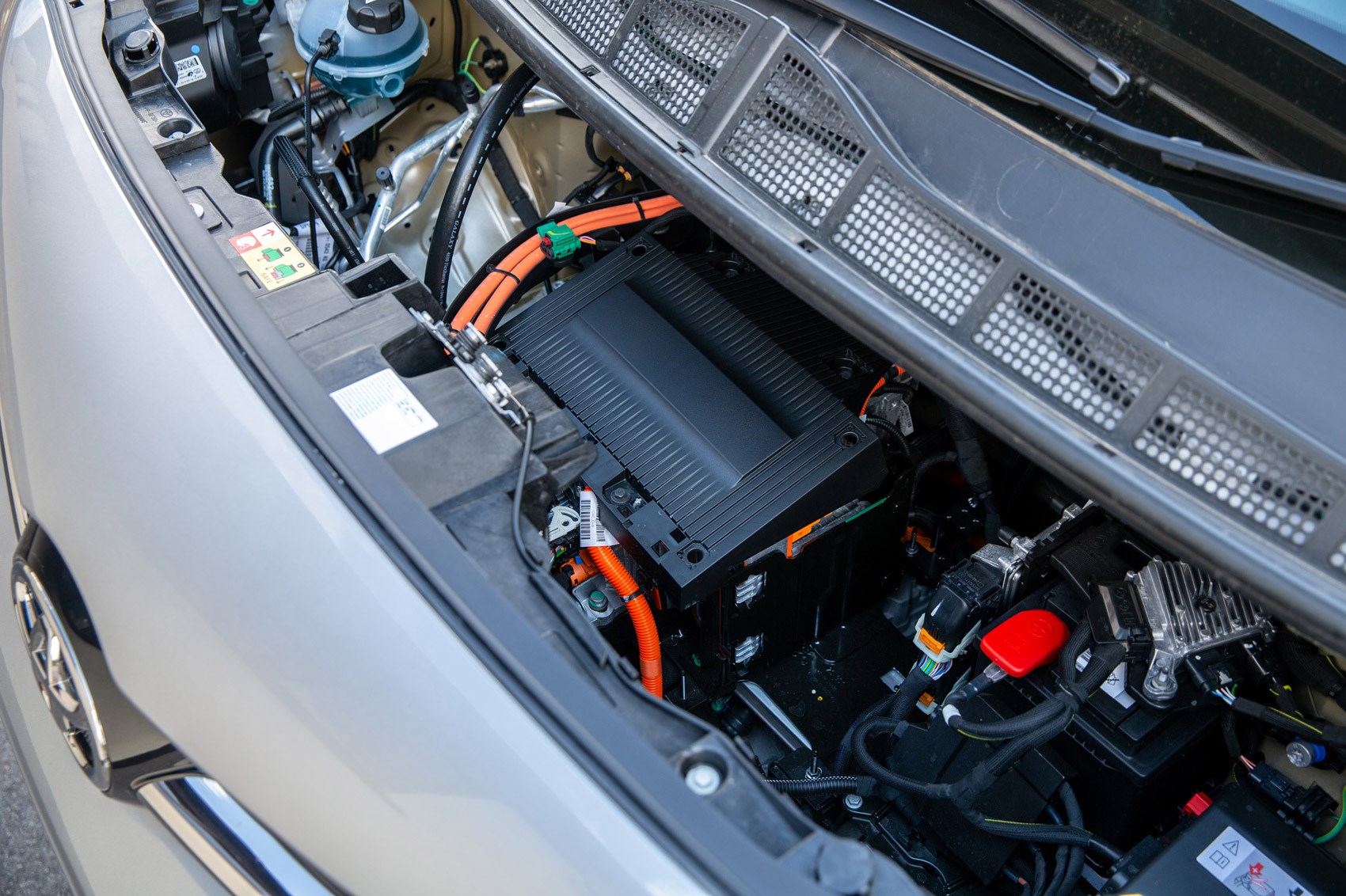 This, however, is a good reason to choose the Toyota. Not only do you get greater warranty coverage, the firm also has an outstanding reputation for dealer service and aftercare.
The increasing focus on the needs of van buyers through the burgeoning Toyota Professional network also speaks well of its intentions to do the best it can for its commercial vehicle customers – an approach that would seem to be going down well given a steady increase in Toyota van and pickup sales.
Alarm as standard
No active driver aids
Safety equipment on the Toyota Proace Electric isn't what we'd call stunning. Here's what is included:
Driver and double passenger airbags
Tyre pressure warning system
eCall automatic emergency calling system
What you're not seeing on this list but should increasingly be looking out for is autonomous emergency braking (AEB) and other advanced driver assistance systems. AEB is available as standard on the Vivaro-e, e-Expert and e-Dispatch, if only on more expensive trim levels, but it's not even an option for the Proace Electric.
As for security, you do get an alarm as standard.
Which Toyota Proace Electric is best for me?
Since Toyota is only selling the Proace Electric in one body size and one equipment grade there's not a huge amount to decide on here – except to consider whether maximum driving range or maximum payload is most important to you and your business.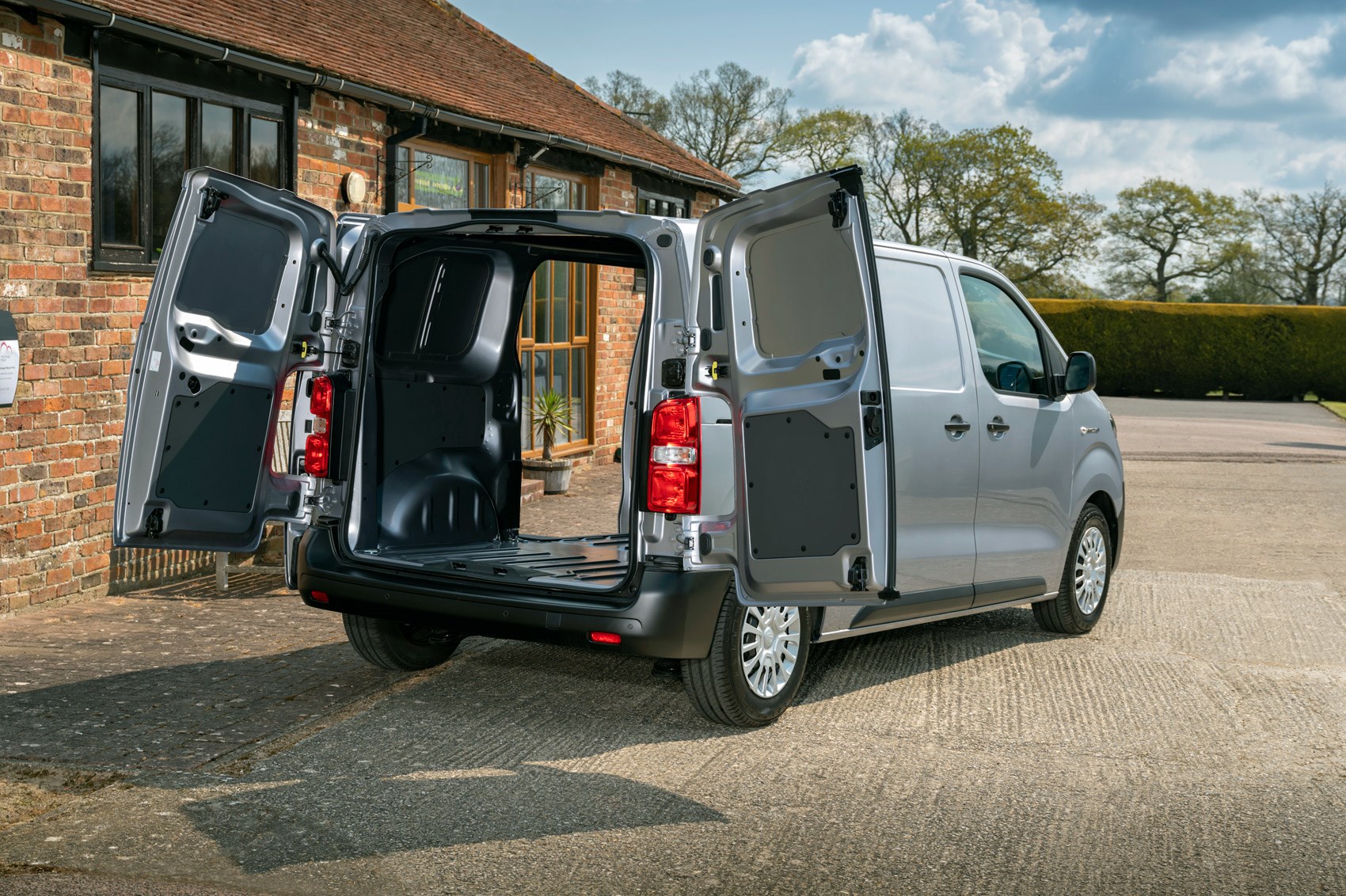 Given even the 205-mile 75kWh battery pack still offers 1,000kg of carrying capacity, we suspect most customers will choose this. However, if the 142 miles available from the 50kWh battery pack is enough for you, the 1,226kg this can manage is certainly a useful payload upgrade.
Also read:
>> Toyota Proace Electric dimensions, payload and towing capacity info
>> The best electric vans in the UK
>> The Parkers guide to electric vans