Nissan Navara dimensions (2016-on)
On this page you'll find full dimensions, payload and towing info for the Nissan Navara pickup truck, which is available in King Cab and Double Cab body styles, with a stripped back chassis cab variant also available for specialist conversions.
To find out how this pickup drives, what the standard equipment is like and whether it's good value, check out our main Nissan Navara review page.
The Navara comes in a choice of King Cab and Double Cab body styles. The first gives you a slightly longer load area in combination with small rear doors and 'occasional' rear seats; the second has four full doors, full-size rear seats, and a slightly shorter load area.
But even in Double Cab terms, the Navara still offers one of the largest load-bed areas, albeit with relatively low side walls.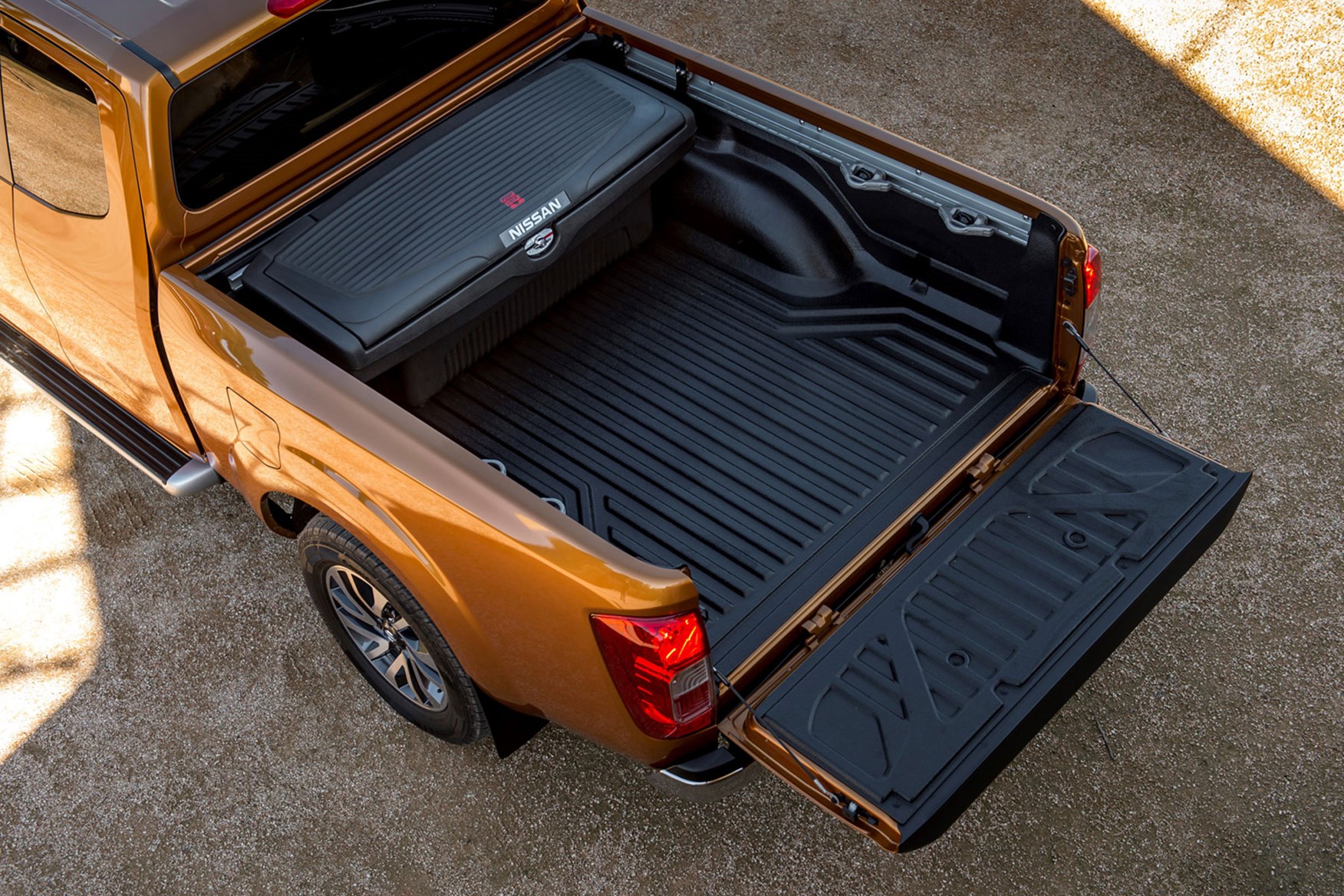 The King Cab is also available as a chassis cab for specialist conversion; a Double Cab chassis cab is also available following a major overhaul of the Narava range in July 2019.
We've got full dimensions and load area details for all versions listed right on this page.
Nissan Navara exterior dimensions
The two versions of the Navara are similarly sized on the outside but not identical, as the Double Cab is around 100mm longer, helping it to recover some of the loading length it loses through its larger cab size.
Similarly, higher spec models are a little larger in most directions due to having different wheelarches, bumpers and standard equipment. But we doubt this minimal difference is likely to cause operators any serious problems.
That said, we have listed the measurements for the extra-special Off-Roader AT32 separately, due to it's particularly enlarged bodywork and suspension.
Nissan Navara body size
King Cab

Chassis Cab

Double Cab
AT32
Exterior length (mm)
5,225

Varies with body

5,300-5,330
5,330
Exterior height (mm)
1,780-1,790
1,790
1,805-1,840
1,880
Exterior width without mirrors (mm)
1,790
1,790
1,850
1,890
Exterior width with mirrors (mm)
2,075
2,075

2,075-2,085

2,085
Wheelbase (mm)
3,150
Front overhang (mm)
870
Rear overhang (mm)
1,205-1,235

Varies with body

1,280-1,310

1,310
Nissan Navara load bay area size and dimensions
At 2.46 metres square, the load area on the Navara Double Cab is one of the largest in class, although that 474mm side wall height is also among the lowest.
The King Cab's load bay provides an extra 210mm of length over the Double Cab.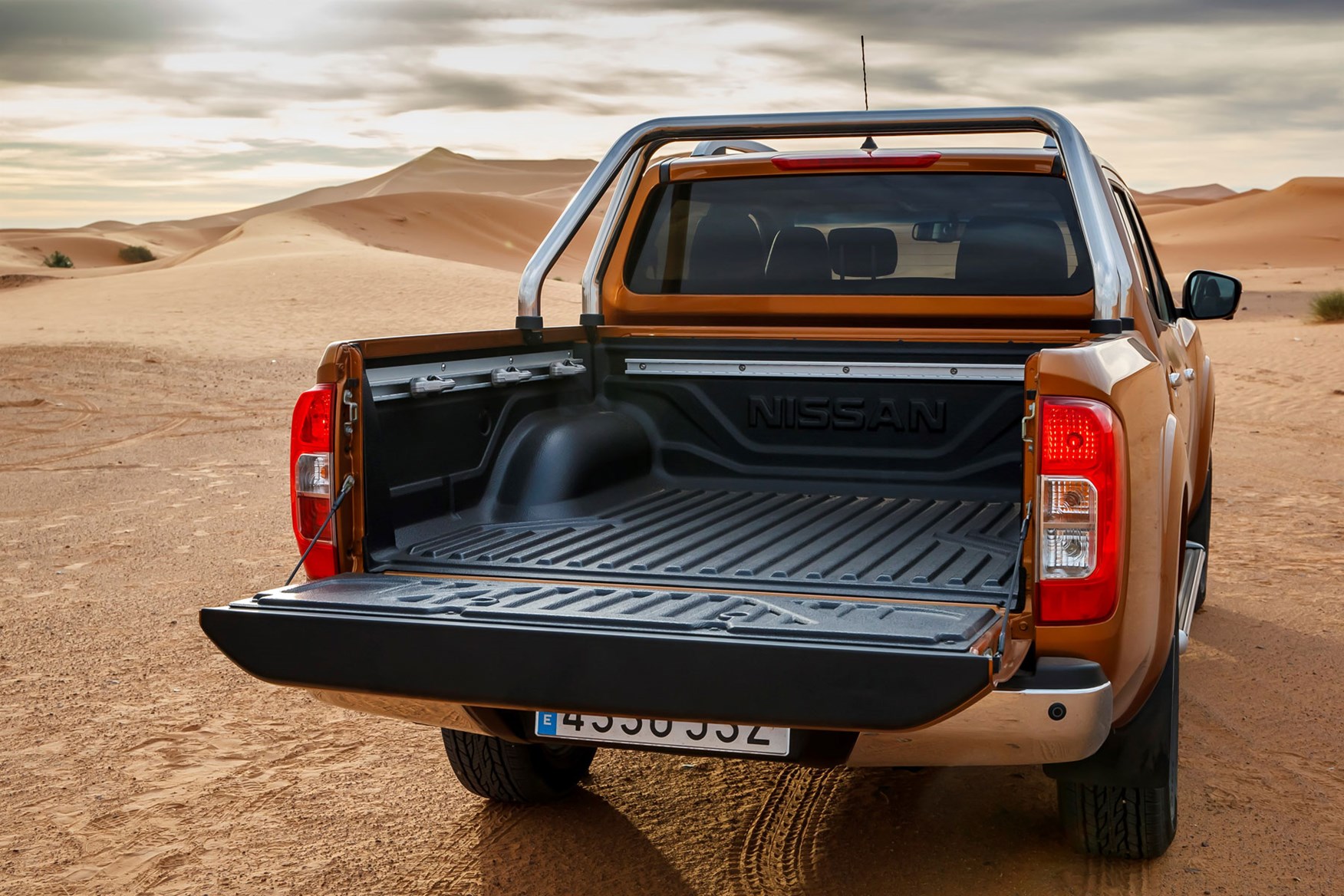 Helping keep everything steady in the back, the Navara also boasts clever sliding C-clamps, which are standard from the Acenta trim level upwards.
These sit in rails that are fixed to the side of the load area, and can be adjusted to clamp and hold loads in place. An additional set of rails is also available for load floor, and you can add a load divider system as well.
Nissan Navara load bed dimensions table:
| | | |
| --- | --- | --- |
| Nissan Navara | King Cab | Double Cab |
| Maximum load length (mm) | 1,788 | 1,578 |
| Maximum load width (mm) | 1,560 | 1,560 |
| Width between wheelarches (mm) | 1,130 | 1,130 |
| Sidewall height (mm) | 474 | 474 |
| Loading height from ground (mm) | 795-810 | 805-815 |
A few things to note here. Obviously we haven't listed the space for the chassis cab, as this will depend on the conversions type; meanwhile, the Off-Roader AT32 version's load area is exactly the same size as regular Double Cab, and is said to have the same 815mm loading height as some standard variants as well (we're slightly dubious about this, given the upgraded suspension, but that's the figure Nissan quotes).
Nissan still quotes the 815mm figure after the July 2019 MY20 range update, too, despite this raising the rear suspension by 25mm.
While concerns remain in some quarters about the capability and longevity of the Navara's coil-spring rear suspension when it comes to handling heavy loads, Nissan continues to have no qualms at all, and as part of the July 2019 update has moved the King Cab over to this rear suspension system to join the established Double Cab.
That said, it has also made some modifications - not only a 25mm increase in unloaded rear ride height but also a change to new dual-rate rear springs, which are said to better cope with heavy loads.
Maximum Double Cab payload rating goes up as part of this update as well, and the Navara continues to offer 3.5-tonne (3,500kg) towing capacity.
Nisssan Navara payload ratings
Since the introduction of the original Euro 6 engines in September 2016 until the July 2019 range update, the Navara's payload ratings ranged from 1,047kg for a mid-spec four-wheel drive Double Cab version to 1,156kg for the entry-level two-wheel drive King Cab.
The highest payload rating for a Double Cab model during this period is 1,059kg, in Visia and Acenta spec.
Where available, on these versions the seven-speed automatic increases payload capacity by 7kg, thanks to being lighter than the six-speed manual.
After the 2019 update, however, the very highest Double Cab payload rating shoots up to 1,180kg - with most models seeing a useful increase. Manual gearbox models and automatic models now weigh the same.
Here's a full comparison table between the previous model and the July 2019 onwards Navara payload ratings (at time of writing in March 2020):
| | | |
| --- | --- | --- |
| Nissan Navara model | Pre-2019 payload | Post-2019 payload |
| Visia King Chassis Cab | 1,221kg | 1,310kg |
| Visia Double Chassis Cab | n/a | 1,315kg |
| Visa King Cab 2WD* | 1,156kg | n/a |
| Visia King Cab | 1,074kg | 1,165kg |
| Visia Double Cab | 1,059kg | 1,180kg |
| Acenta King Cab | 1,074kg | 1,160kg |
| Acenta Chassis Cab | 1,059kg | n/a |
| N-Connecta Double Cab** | 1,047kg | 1,135kg |
| Tekna Double Cab** | 1,047kg | 1,115kg |
| N-Guard Double Cab** | 1,047kg | 1,115kg |
| AT32 Double Cab | 1,025kg | TBC |
*All other models listed are 4WD
**Pre-2019 models are manual gearbox figures; automatic gearbox versions have an extra 7kg in payload capacity. For post-2019 models, both versions have the same payload rating.
Nissan Navara towing capacity
The 2016 Navara was the third pickup truck to offer a 3.5-tonne towing capacity, after the Ford Ranger and Isuzu D-Max – though with the Toyota Hilux, SsangYong Musso and Mitsubishi L200 following suite, this is rapidly becoming standard fare, so don't necessarily make that a deciding factor.