Volkswagen ABT e-Transporter electric van review (2022)
Short driving range but a great driving experience from VW's first electric van
PROS
Great to drive
Well equipped
Cheap to run
50kW rapid charging
1,500kg towing rating
CONS
Short driving range
Limited payload rating
Expensive to buy
56mph speed limiter
Outdated AEB system
Summary
The Volkswagen ABT e-Transporter 6.1 is the first Volkswagen electric van to go on sale in the UK. Look beyond the limited driving range and this electric Transporter deserves some serious consideration – for it has one of the nicest driving experience of any electric van we've driven.
Our 2022 VW e-Transporter review aims to help you work out whether this 100% electric van will work for you and your business. Keep reading.
That name is a bit of a mouthful…
Yes. The ABT part – pronounced Abt, as it's a family name – indicates that although the e-Transporter is sold via Volkswagen Commercial Vehicle dealers and fully supported as an official VWCV product, it's actually a third-party conversion. Created on VW's behalf by ABT e-Line in Germany.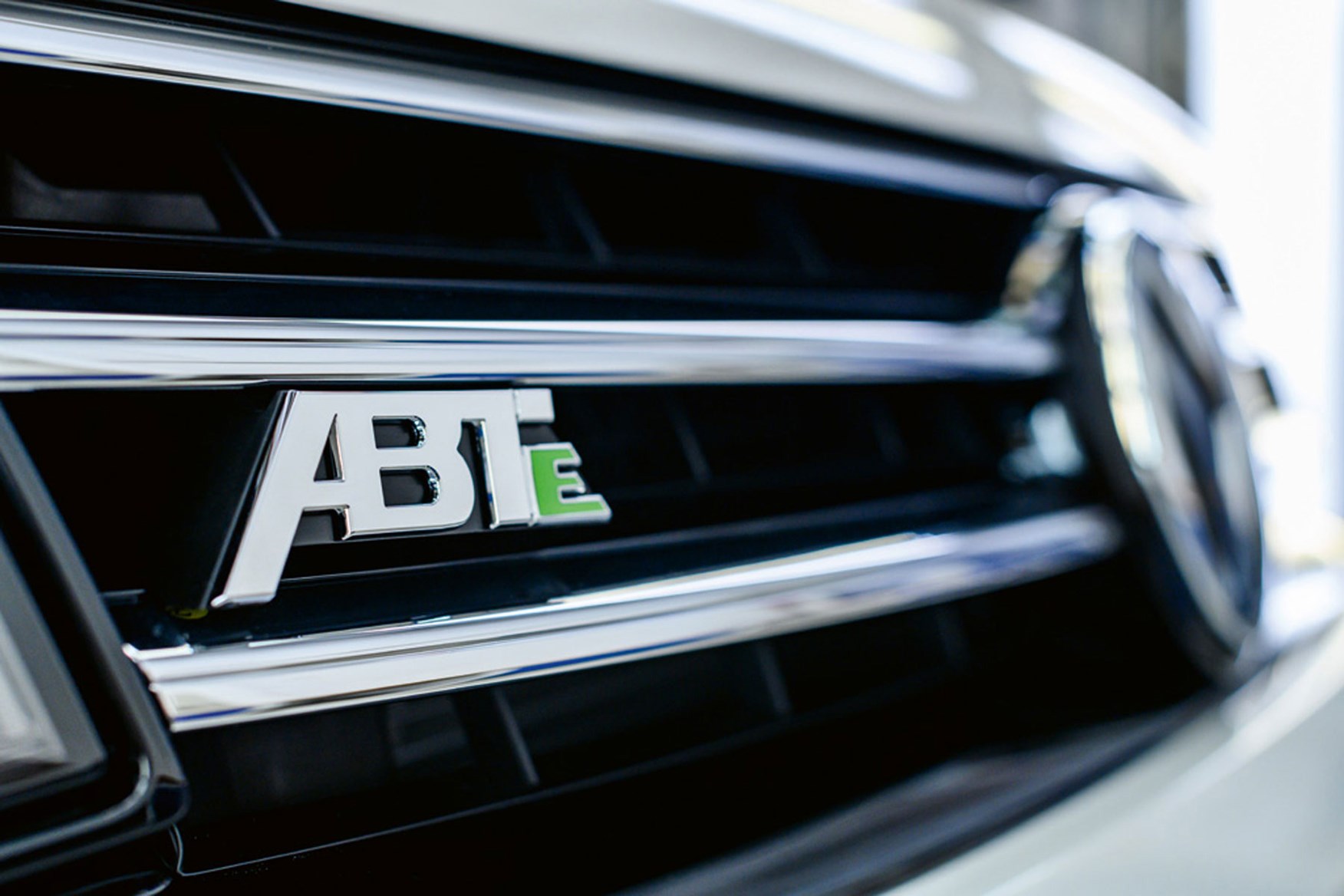 Part of a larger ABT company that includes a globally successful racing division, which runs the Audi Formula E team among many others, ABT e-Line has been specialising in electric vehicle projects for over a decade.
In the case of the electric Transporter, ABT takes a standard production vehicle and replaces the diesel engine under the bonnet with an 83kW (110hp) electric motor and the fuel tank with a 37.3kWh lithium ion battery pack.
Aside from a smattering of bespoke ABTe badges, our experience so far suggests you'll spot little sign that the result is any different to a true factory-finished product
The 6.1 part? That refers to this electric model being based on the facelifted version of the sixth-generation (T6) Transporter.
But the driving range?
This is going to be the biggest problem VW faces when trying to sell the e-Transporter – the official WLTP-certified driving range is just 82 miles.
At launch in 2020, that's less than any other electric van on sale in the UK – including all the rival medium electric vans that have come to market in the same year. For instance, the Mercedes-Benz eVito has a 92-mile official range, while the Vauxhall Vivaro-e, Peugeot e-Expert and Citroen e-Dispatch (all versions of the same van) can travel over 200 miles between charges according to the WLTP figures.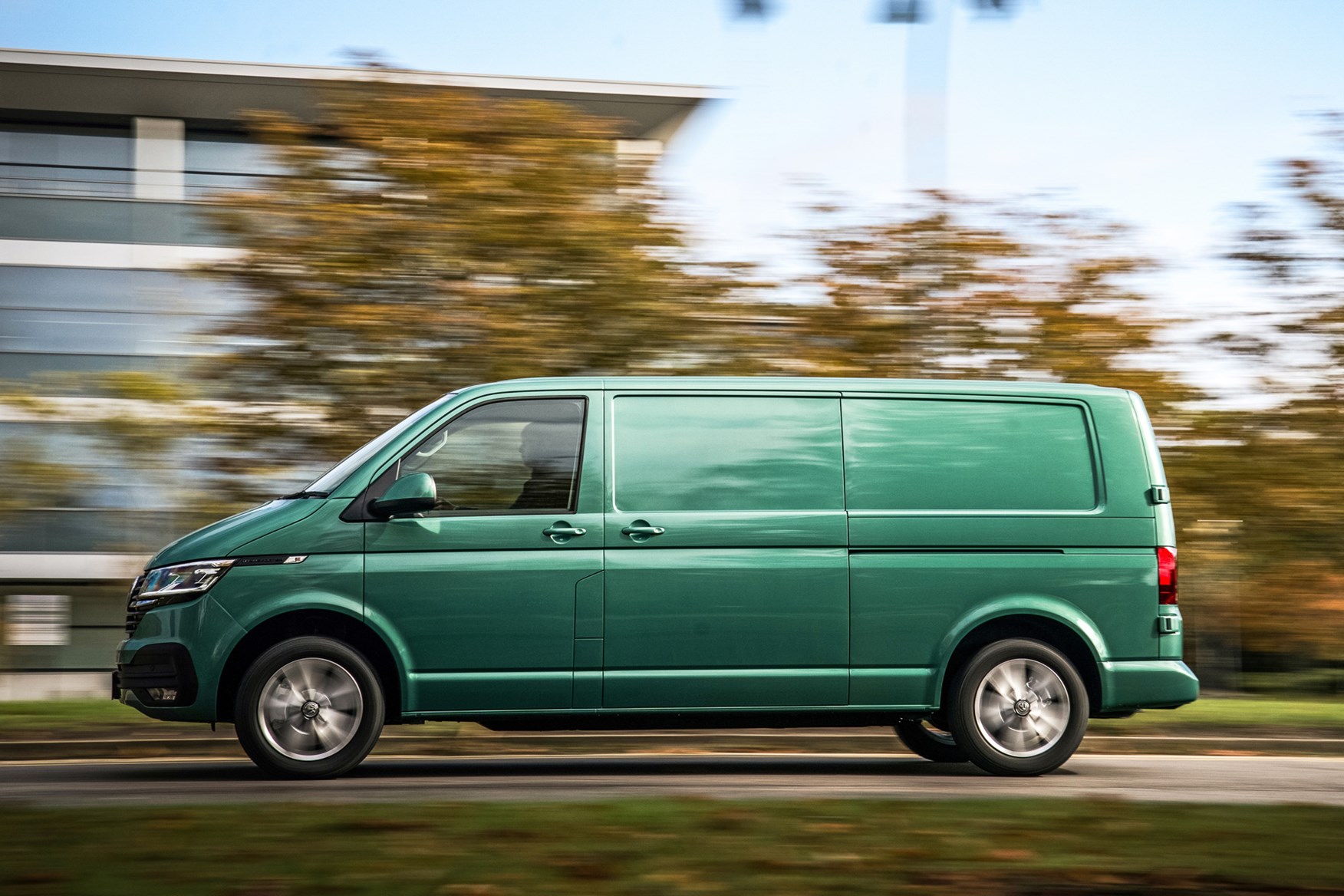 Part of this is down to VW's decision to only offer a single battery pack version of the e-Transporter at this stage. When originally announced there was set to be a second, large battery version, but for the time being at least this isn't coming.
Volkswagen's bigger argument is that the majority of its customers who are actively considering an electric van have a daily mileage of 60 miles or less – which the e-Transporter will comfortably cover.
Certainly, the electric Transporter is really only suitable for buyers and drivers who cover an entirely predictable route or distance every day, or those who are prepared to explore the capabilities of the UK's rapid charging network.
Rapid charging?
The e-Transporter is equipped DC charging capability, as well as the more common AC charging (which is all most older electric vans bother with). The DC part means it can cope with 50kW rapid charging, which will take the battery pack from empty to 80% in around 45 minutes.
How long does it take you to load your van? With a rapid charger in the right place, this might make the electric Transporter more useable – and useful – than you think.
AC charging is compatible with typical wallbox chargers, of the sort you might have at home or office. At a 7.2kW charging rate, these will give the Transporter electric a full charge in around 5.5 hours.
The charging port is located under the flap by the passenger door where you'd find the diesel filler on a conventional Transporter.
Aside from all this, it's just like any other Transporter?
Basically, yes. There's no reduction in load volume, as the batteries are under the floor, and aside from some changes to the instrument cluster there's nothing different about the interior, either – which means you get a high-quality, car-like look and feel, as with any other Transporter 6.1.
The e-Transporter even retains a modified version of the DSG automatic transmission used by other Transporters. This is unusual for an electric van – most use a single-speed transmission – but works very well. Better, in fact, than it does in many diesel models.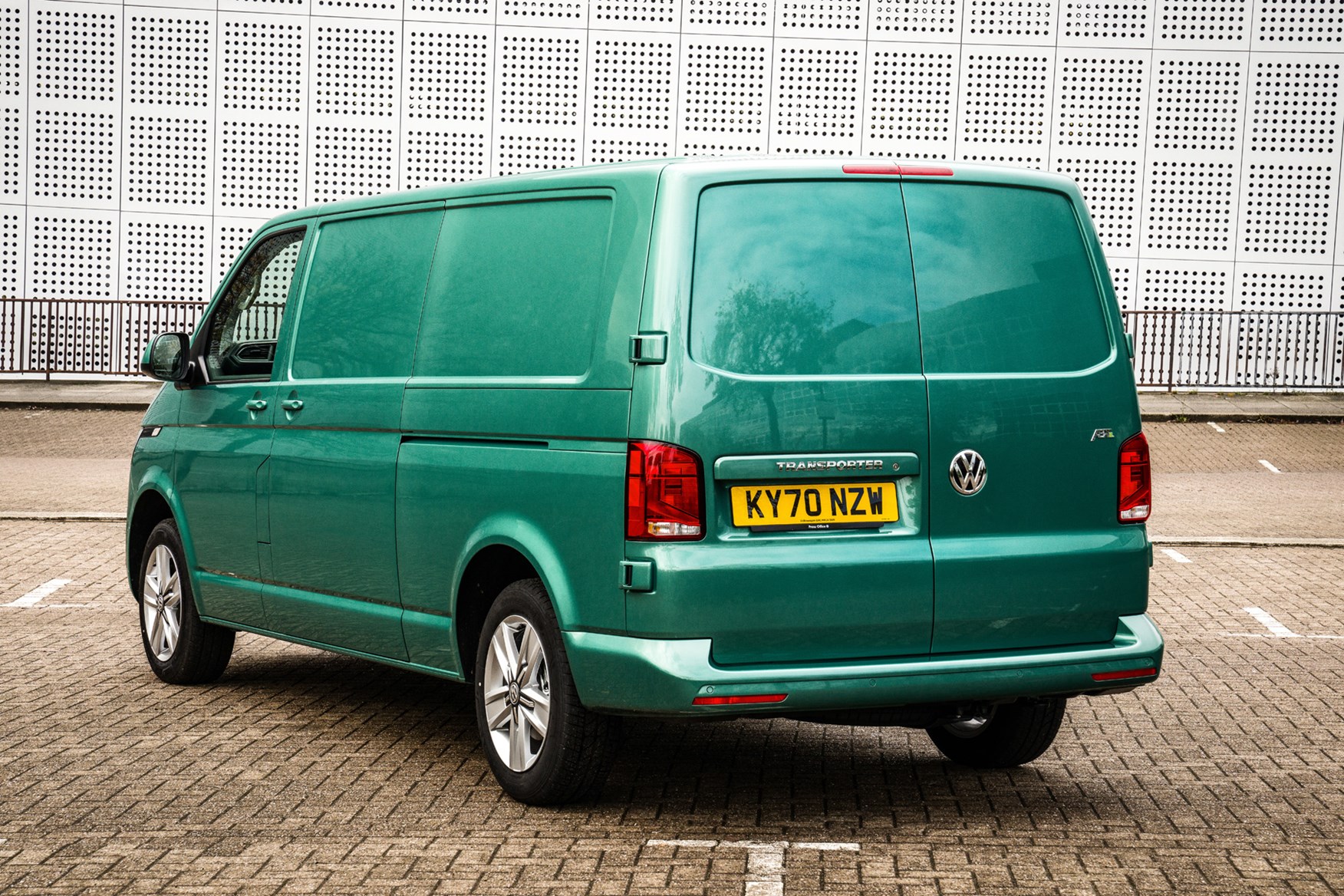 However, while there is a choice of two trim levels – standard and Advance – and the e-Transporter is available as a panel van or a kombi (with second row of seats), it only comes in the long-wheelbase (LWB) bodysize.
The other thing to consider is that, due to the weight of the batteries, payload is reduced to 996kg at most – someway short of not only conventional Transporters but also the best electric rivals (which is to say the Vivaro-e and family). That said, the e-Transporter has been homologated to tow up to 1,500kg, which is impressive for an electric van, many of which aren't rated to tow at all.
---

Verdict: is the VW e-Transporter any good?
If you want an electric van with a lengthy driving range, clearly the e-Transporter isn't for you. And for the moment, this means Citroen, Peugeot and Vauxhall have the medium-size electric van sector all tied up – most people would be mad to consider anything except for one of those.
We were fully expecting to write-off the e-Transporter on this basis. But then we drove it. The smoothness, the refinement, the quality of the cabin – this all adds up to a thoroughly convincing product, and certainly one we would consider as an alternative to the eVito, which has only a small range-advantage at the moment and a feels like a much less high-quality vehicle inside.
So despite the disadvantages, the electric Transporter deserves some serious contemplation.
Keep reading for the full Volkswagen ABT e-Transporter 6.1 review on Parkers Vans and Pickups.
Skip to our full verdict on...
Outstandingly quiet and refined
No-nonsense, high-quality driving experience
Not sure about the 56mph speed limiter…
This is the part that really impressed us about the Volkswagen e-Transporter – it is really nice to drive.
Sure, like all vans it rolls a bit in the corners, and with the weight of the batteries and just 110hp from its 83kW electric motor, it's not the quickest thing in the world. But ABT e-Line has done a really great job of integrating the electric drivetrain, which only serves to highlight all the Transporter's other strengths.
Very refined
At low speeds, the e-Transporter makes a faint artificial dopplering noise to warn pedestrians that it's approaching – so faint that you almost have to double-check with yourself that it's actually happening. The subtlety of this is like a flag-bearer for the rest of the driving experience.
This van is really quiet inside. Diesel Transporters can be a boomy at speed, but the electric version just cruises along with only a very moderate electric humming sound that only ever gets louder when accelerating hard – and even then it's hardly more than a slightly raised voice (and nowhere near a shout).
There's very little in the way of road or wind noise, either, which can plague some electric vans. The VW is perhaps helped in this regard by its low 56mph speed limiter (on which more in a moment), but this sense of refinement makes it feel like a particularly high quality product – it's as quiet inside as a luxury car, and relaxing to travel in as a result.
Is the e-Transporter easy to drive?
Very. VW – or perhaps ABT – has chosen to make the driving experience as simple as possible. In direct contrast to the likes of the Mercedes eVito, there are no driving modes or recuperation settings to worry about, you simply pull the DSG lever down to Drive and go.
What you do get, however, is a multi-stage accelerator pedal. There's a point quite a distance from flat to the floor that serves as a natural stopping point for your right foot when driving routinely. Sounds weird, but helps make the driving smoother and extend the driving range.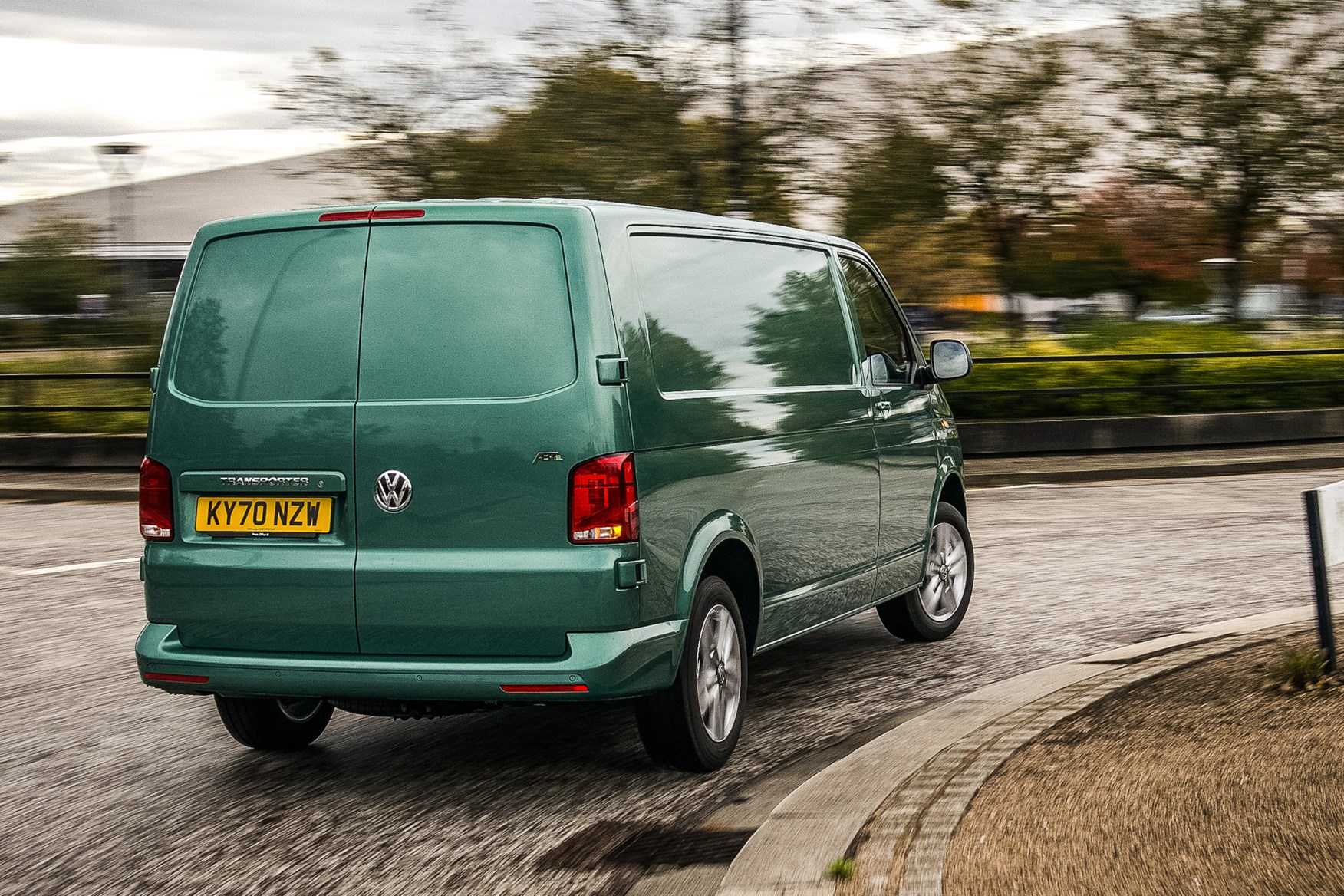 How so? Well, in normal driving, the van is actually only using 75% of its maximum performance – you have to actively 'kick down' by flattening the pedal to the floor in order to get the full 100% of power and instant 200Nm of torque. Easily done, should you need to pull away quickly or overtake slower traffic.
Reducing the motor performance most of the time helps the battery last longer. It's more than able to cope with ordinary driving at 75%, and this management of power and torque should help the front tyres last longer, too.
The DSG transmission is an interesting addition. Power delivery is much more predictable than it can be with diesel DSG models – which tend to bog down or give you too much oomph at once – and you should quickly have the measure of which gaps you can go for when pulling on to a roundabout, for example.
Anything you don't like about the way it drives?
We did wonder whether the recuperation level of the electric motor could be a little higher.
This would see the motor slow the van more quickly when you release the accelerator, sending more charge back to the batteries in the process (it still recovers some energy this way, but not at an especially high rate).
Most other electric vans have at least a B mode (for Brake) to help boost this, whereas it seems VW has decided to make the e-Transporter as similar to a regular model as possible.
Then there's the speed limiter.
The e-Transporter has a speed limiter?
This is not unusual for electric vans – capping the speed helps the batteries last longer, as the faster you go the quicker you use up energy.
But in the Transporter electric this is set to just 56mph. That's the same maximum speed as a lorry, which makes overtaking them on the motorway a tedious affair. Even raising the limiter to 60mph would make a useful difference here (though it would presumably also see the WLTP driving range fall).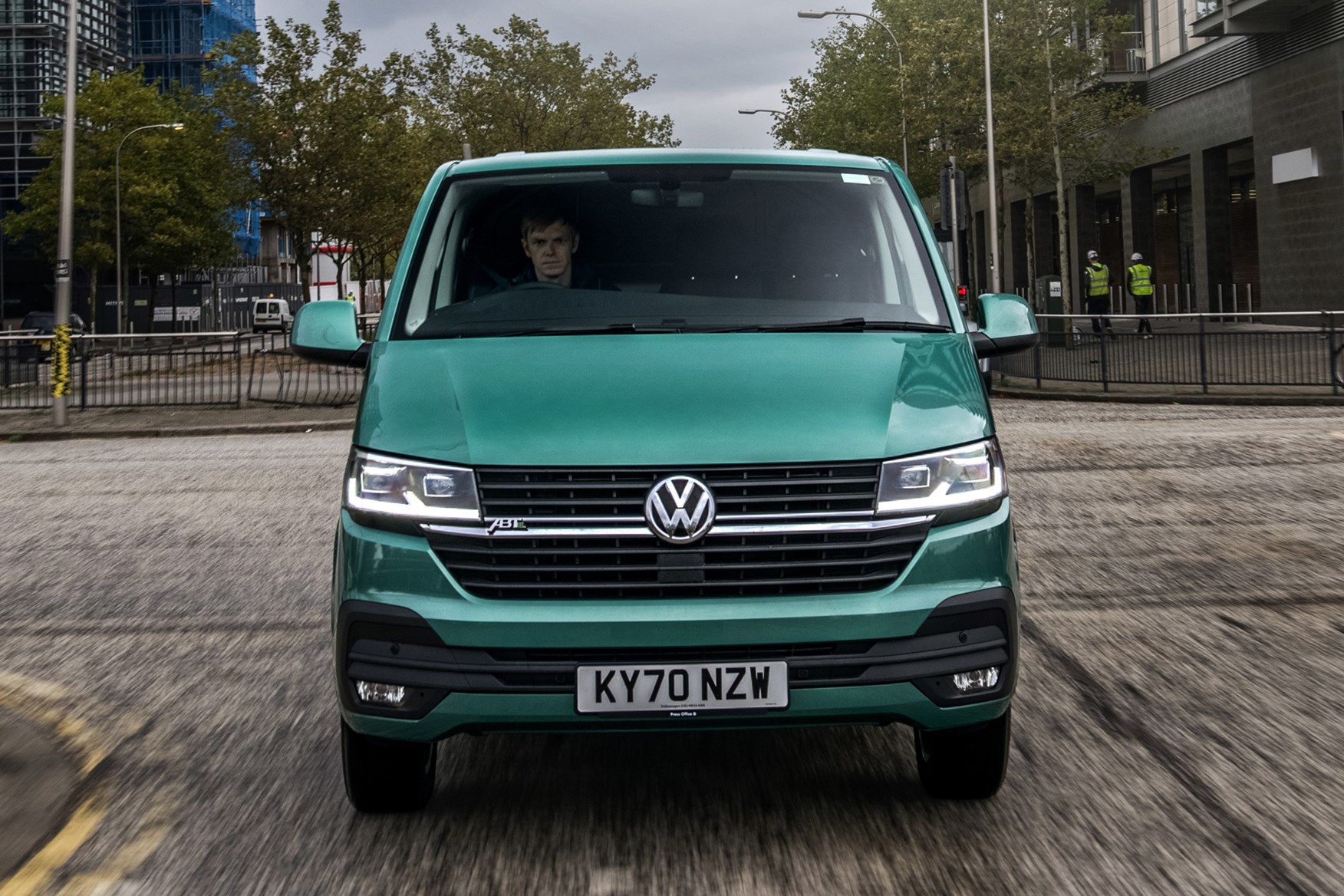 You do have the option to have the limiter raised to 75mph, but you should expect the driving range to suffer accordingly if you make the full use of this.
Is it comfortable?
Yes, if anything, more so than regular models. We weren't particularly troubled by poor surfaces, though you will still notice them. The e-Transporter's ability to deal with them perhaps isn't quite as good as the eVito's, though it is better at absorbing bumpy bits than the Groupe PSA vans.
The quietness helps with the sense of comfort. But so too does the carefully-judged electrically assisted power steering – which is lightly weighted yet still allows you to feel properly connected to the front wheels.
Did you get range anxiety?
Strangely, no. The remaining driving range displayed in the instrument cluster seems to accurately relate to rate you use up the batteries in the real world – so even though that driving range is never particularly high, you're always confident it's going to go as far as it says it will.
It is much more reliable in this sense than the range indicators fitted in the Vivaro-e and its siblings. But it's probably also helped by the speed limiter, as higher motorway speeds really sap the driving range of almost all present electric vehicles.
Just like the standard Transporter 6.1 inside for the most part
Quality feel, modern design, decent practicality
Revised instrument cluster aims to help you drive efficiently
The only point of difference between the cab interior of the e-Transporter and any other Transporter 6.1 is the instrument cluster.
This is good news, because the Transporter 6.1 has one of the best van interiors around – smart, modern-looking and pretty practical with plenty of useful storage touches on the dashboard.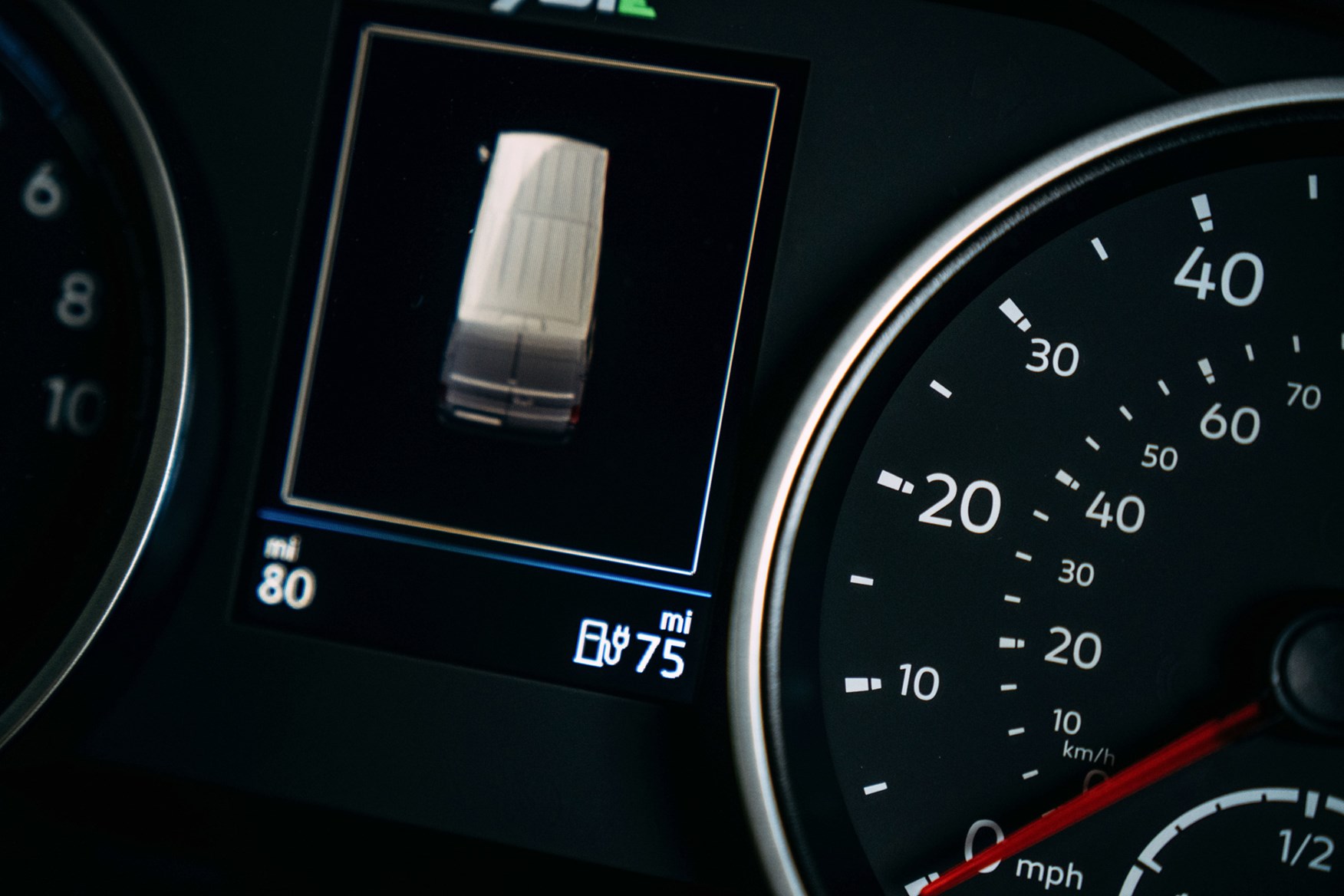 Though do note that knee room on the passenger side can be a little tight – so if you've got taller mates you might want to make sure they can fit in comfortably.
What's different about the instruments?
Instead of a conventional rev counter there's a power-use meter, intended to give you a sense of how heavily you're using energy when you're driving. Pay attention to this and you'll help the batteries last longer.
Its 'Ready' position is 12 o'clock – the needle pointing straight up – and it moves to the right as you accelerate, but also to the left as you slow down. Whenever the needle is on the left side of the gauge energy is flowing back into the batteries, showing you that backing off early rather than braking late will improve your driving range, as more energy is recovered rather than simply lost.
You get used to this very quickly. Most electric vans have a similar instrumentation, but the Volkswagen's is particularly clear.
Pricey to buy but very cheap to run
Servicing should cost 30% less
Lots of standard equipment
In the context of its driving range and payload, the e-Transporter is an expensive van to buy, even if you can get a discount via the government's Plug-in Van Grant (PiVG); there are further savings available on the cost of a home or office wallbox charger, too.
Where the e-Transporter regains the advantage over the diesel alternatives is in its reduced daily running costs. Electric vehicles (EVs) already represent significant savings over diesel vehicles in terms of cost per mile, but as they're becoming more popular so energy firms are responding with dedicated EV charging tariffs.
On this basis, Volkswagen reckons a full charge for the e-Transporter could cost you as little as £1.60 (at time of writing).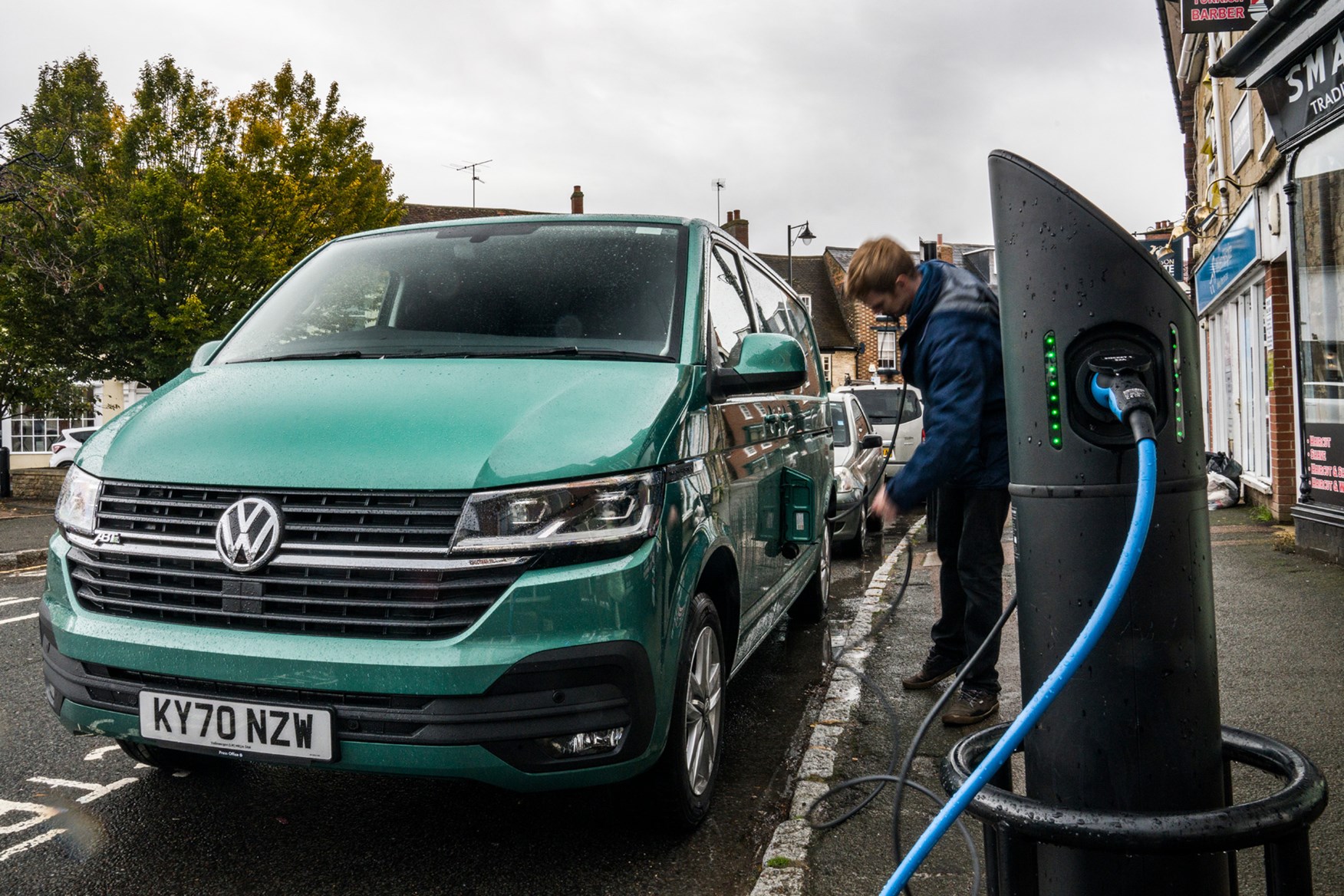 Add to that fewer consumables under the bonnet (there's no oil to change, for example), and you should find there are big savings to be had – VW says servicing costs should be 30% cheaper, for example, and is offering specialist servicing plans for the e-Transporter as well.
Volkswagen e-Transporter service intervals
Service intervals for the electric Transporter are one year or 24,900 miles – whichever comes sooner.
An 'extended inspection' is required in the third year, then every other year after that.
Volkswagen e-Transporter warranty
The majority of the van is covered by the standard VWCV three-year / 100,000 mile warranty.
However, the battery pack is covered for eight years (or 100,000 miles), with Volkswagen guaranteeing it won't fall below 70% capacity in this time.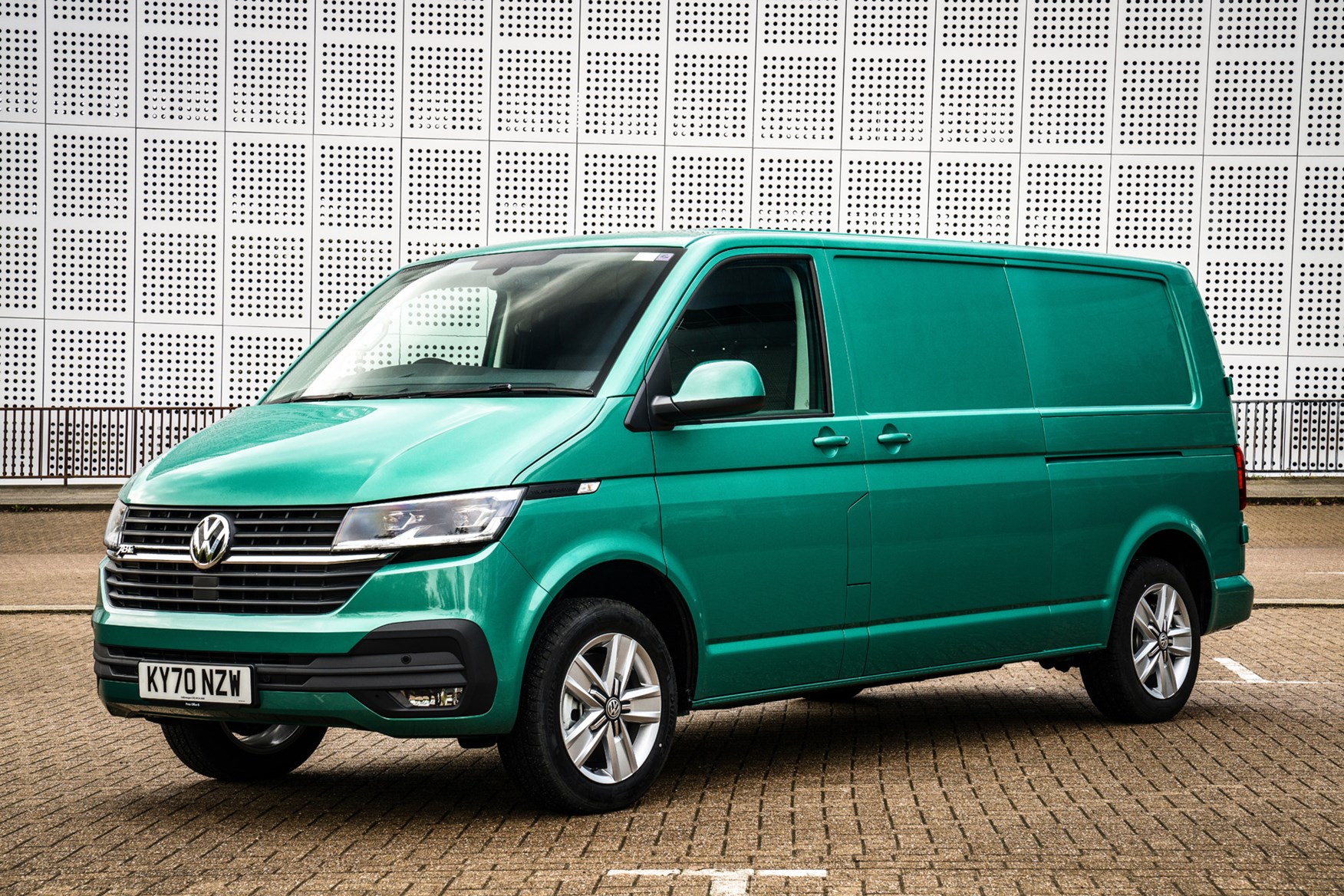 As this tells you, lithium-ion electric vehicle batteries do lose some of their capacity over time – just like the similar-technology battery in your phone does. In practice, we would expect only very extreme examples see battery capacity fall anywhere near to 70% in this amount of time.
Volkswagen e-Transporter trim levels and standard equipment
The e-Transporter comes in two trim levels: standard and Advance.
The standard model is a basic-looking van with unpainted bumpers and steel wheels, though even this is well equipped; the Advance model comes with alloy wheels, painted bumpers and full-LED headlights, and thus offers a slightly more sophisticated appearance.
Both are available as a standard panel van and as a kombi with a second row of seats. The e-Transporter only comes in LWB size.
Volkswagen e-Transporter standard equipment highlights:
16-inch wheels
Air-conditioning
Heat-insulating cabin glass
Heated front seats
Driver's seat with height-adjustment, four-way lumber support and arm rest
Dual passenger bench seat
Rubber flooring in the cabin
Electric windows
Electric, heated door mirrors
Multi-function steering wheel, leather trimmed
LED interior lighting
Lockable, illuminated glovebox
Single 12v socket
6.5-inch touchscreen infotainment system with DAB radio, Bluetooth and USB C connectivity
Multi-function 'premium' instrument cluster display
Volkswagen App-Connect compatible
Rear parking sensors
Remote central locking
Additional items for the kombi model:
Dimmable interior rear-view mirror
Illuminated side steps
Two individual seats in the front
Three-person rear bench seat with two Isofix (including top tethers) positions
Heated rear window with wiper in rear tailgate
Rubber load flooring
Tyre pressure monitors
Volkswagen e-Transporter Advance standard equipment highlights (in addition to standard):
17-inch alloy wheels
Body-coloured bumpers, door mirrors and door handles
Full LED headlights
Front foglights
Automatic lights and wipers – with automatic high-beam control
Electric folding door mirrors
Heated windscreen
Second 12v socket
Auto-dimming interior rear-view mirror
Single waste bin for door pocket
Front and rear parking sensors
Alarm system
Additional items for Advance kombi model:
Armrests for both front seats
Manual height adjustment for both front seats
Manual lumber support for both front seats
Heat-insulating glass at the front, privacy glass at the rear
All e-Transporter models come with an extensive array of safety equipment, which we've detailed in the safety section below.
None of them, however, come with standard-fit sat-nav, Apple CarPlay or Android Auto.
At the time of writing, the e-Transporter is a brand new product, so there's not yet much data to go on.
If it helps, electric vans have fewer moving parts than conventional models, and the battery pack is covered by an eight-year / 100,000-mile warranty.
Volkswagen also always typically does very well in the FN50 van reliability survey.
We have experienced a few clunks from the gearbox in the various examples we've driven so far, but not to the extent that it sounded genuinely alarming.
We also had an incident with an e-Transporter that locked itself with keys inside, while the power was on and it was plugged into a charging point. We believe the major cause of this was not opening the driver's door (most Volkswagens relock themselves after a short period if you don't), but it doesn't strike us as brilliant thinking to allow this to happen while the key is inside and the vehicle is switched on... So perhaps a reliability blip, after all.
Plenty of safety equipment, even if some is a bit limited
Only top-spec Advance gets standard alarm
No surprises here – the Transporter gets plenty of safety kit as a standard van, and the e-Transporter carries on this tradition.
Volkswagen e-Transporter safety equipment
Every version of the e-Transporter includes all of the following safety items:
Worth noting about this is that the AEB on these is not especially sophisticated and only works up to 18mph. More modern systems work all the way up to motorway speeds.
Volkswagen e-Transporter security equipment
All models get remote central locking and an immobiliser but only the Advance trim comes with an alarm as standard.
Which Volkswagen Transporter e-Transporter is best for me?
Not a great deal of choice here to confuse matters – all e-Transporters have the same battery size and electric motor power output.
Whether you need a panel van or a kombi model comes down to your loading requirements; do you need more space in the back for goods or people?
The differences between the standard and Advance trim levels are substantial enough to justify the extra cost, but even the basic van comes well equipped with useful items such as air-conditioning and a lot of safety kit.
Also read:
>> The Parkers guide to electric vans
>> Volkswagen e-Transporter dimension, payload, load area and towing information