Citroen e-Dispatch electric van review (2021)
One of the most credible electric vans you can buy
PROS
Genuine potential for lower costs
Reasonable range, performance
Competitively priced, as electric vans go
Predictably good refinement
Distinctive looks, flexible specifications
CONS
Cabin is a bit small
Offset driving position
Highest payload costs extra
Driving range falls short of expectations
Still expensive if you're unsure if an EV will work for you
Summary
Electric vans are arguably, more important than electric cars for reducing local pollution – and this new market presents a potentially profitable opportunity for manufacturers to stake a claim with their loyal customer base. Citroen's e-Dispatch offers an affordable entry-level to running an electric van, with sufficient range to challenge traditional technology.
As such, it's one of the most credible electric vans you can buy now.
Stellantis – the group created by PSA and FCA's merger – has three brands to tempt you with, and they're so good, this van is the 2021 Parkers Electrified Van of the Year. There will be a fourth option in the form of the Toyota Proace, too.
Whether you choose the e-Dispatch over the Peugeot e-Expert and Vauxhall Vivaro-e may as well come down to which one you like the look of most. These identical siblings aren't entirely equal though, with each brand having subtle differences in pricing, equipment and specification. Considering all four marques as one van, with many trim levels, makes it easier to shop for the best deal and support package.
Citroen e-Dispatch: short, strong or long?
Sharing technology with three vans isn't that unusual, but more significantly the Citroen e-Dispatch shares a core engineering challenge with almost every electric van on the market; it's an evolution of a conventionally-powered van, with the added weight of a battery pack. This, plus the standardised vehicle licensing weights that have yet to be adapted for 21st-century problems, means that you swap battery size for payload.
Citroen gives you the most flexibility here, offering three lengths of e-Dispatch (XS, M, XL), and two battery packs – 50kWh and 75kWh. Unlike the 50kWh Vivaro-e, which is rated for 1,226kg, the payload rating for all versions is between 1,000kg and 1,002kg. Where's the extra gone? It's a £500 option – which returns the maximum of 1,226kg to 50kWh small and medium vans.
Opt for the 75kWh, XL body style and you can carry 1,001kg in a 6.6 cubic metre space. The Moduwork load-through bulkhead allows loads up to 4.0 metres as well.
There are three trim levels. The basic X is only available in the standard M length; you can go for Enterprise in all three body styles, or have the upmarket Driver with the larger battery in a medium-length van. There's only one roof height available, keeping the whole range around 1.9m in height.
That's the model range – how's the driving range?
Citroen claims the 75kWh model will achieve 211 miles, with the 50kWh dropping to 148 miles under WLTP conditions. Until the GVW changes, this meant the highest payload van had the shortest range, but that's not a factor for 2021's models as they've all got the same payload (worried about that extra kilo? Leave the handbook in the office).
In practice we simply weren't able to achieve that, but our review was in winter conditions which have a disproportionate effect on electric vehicle performance. Even so, attempts to coax a sensible range out of a 75kWh van fell far short of the 211 mile claim, with displayed range after a full charge closer to 170 miles and real-world, unladen range hovering around 140 miles.
However, our test routes generally involve more high-speed, 50mph/60mph roads than ideal for an electric van. The benefits of these vans come to the fore in congested cities and towns, where there's a lot of stop / start or idling, and speeds rarely exceed 40mph. There's no reason to doubt the larger capacity battery will deliver an impressive range compared to rivals in these circumstances.
Based on Ctiroen's modular electric car platform, the electric motor is the same proven 136hp, 260Nm package you'll find in its electric cars, and the single-speed gearbox means turbine-smooth progress everywhere combined with near silence. The controls are simple and easy to understand, and the biggest difference is the appearance of an electric handbrake switch tacked onto the driver's seat side. If you're moving into an electric van from a conventional Citroen Dispatch you'll find it all reassuringly familiar.
Citroen e-Dispatch practicality and charging
Citroen, and every other electric van manufacturer, and probably the government and local councils too, all want to make sure you adopt a zero-emission vehicle as soon as you can. So living with it and fitting it into your business should be a priority.
The good news is that the e-Dispatch is, to all intents and purposes, identical to a regular diesel van in terms of load area, flexibility and cargo accessories. Not only is the space unchanged including the flexible load-through facility on Enterprise and Driver versions, there are no weird little quirks to prevent panelling and load-carrying accessories being installed.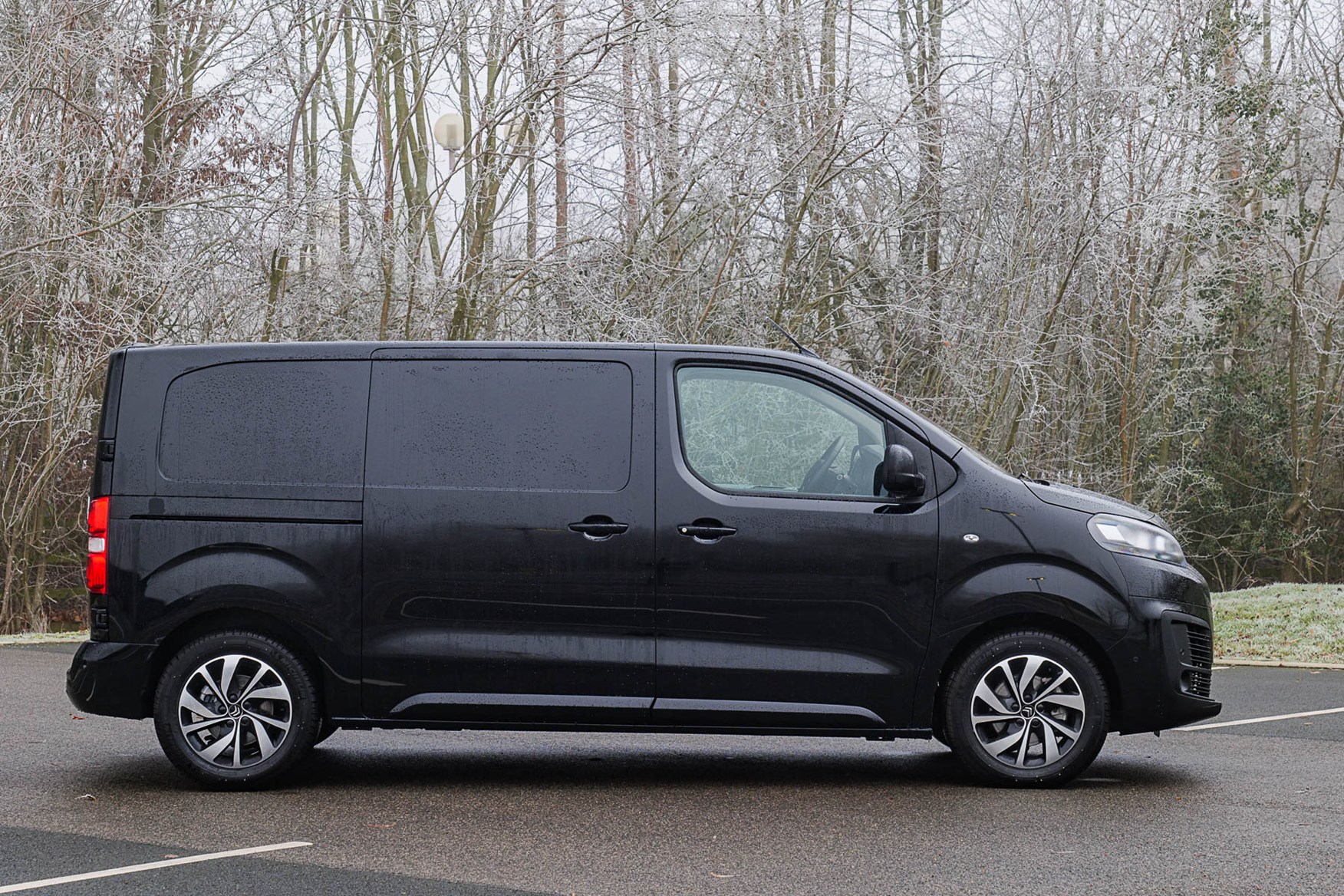 The payload, at 1,000kg across the board, is acceptable rather than class leading (a diesel version will carry quite a lot more), but the benefits of the low roof and low loading floor still give the e-Dispatch a competitive edge for door-to-door deliveries and bulkier loads.
Charging at home or work with a readily-available wallbox allows up to 7.4kW from a 32A charger. If you have three-phase you can install an 11kW wallbox and upgrade the on-board charger to support it, and for larger installations and public charging points up to 100kW DC is supported as standard, giving a reasonable 100 miles of range in around 30 minutes.
Charging on a domestic socket is possible, taking up to 30 hours to fully replenish the 75kWh model, but more realistically, recovering a 100 mile range overnight.
Citroen e-Dispatch rivals
The strongest competition for the e-Dispatch comes from the technically identical Vauxhall Vivaro-e and Peugeot e-Expert. In all honesty, which of the trio is better comes down to your dealer network and the deal you can secure at the time.
Alternatives are otherwise surprisingly few and far between. The Volkswagen ABT e-Transporter and Mercedes-Benz eVito are the closest technically, yet they cost more, carry less and simply cannot go as far on a full charge.
The real competition comes from Transit Custom Plug-In Hybrid and LEVC VN5, which both offer urban-friendly electric range with long-distance hybrid capability as well. You may not be spoiled for choice, but there's plenty to think about.
---
Citroen e-Dispatch verdict
Where Citroen grabs your attention is in the price – a whisker over £25,000 for a new electric van, with the associated reduction in running costs, is hard to ignore. This isn't just a list-price trap either, the leasing costs for the e-Dispatch are very appealing, and HMRC looks kindly upon such vehicles.
What you get isn't exactly spartan or unpleasant to drive, either. We've come a long way from the earliest electric vans with crude trim, miserable range and no soundproofing. It's refined, capable of being quick, quite well-equipped in Enterprise or Driver spec, and has a pleasingly comfortable ride too.
However, the offset driving position shared with this entire family of vans can be quite tiresome on longer-journeys, and the rate at which the displayed available range can plummet does nothing for range anxiety even if you do have the capacity to finish your journey.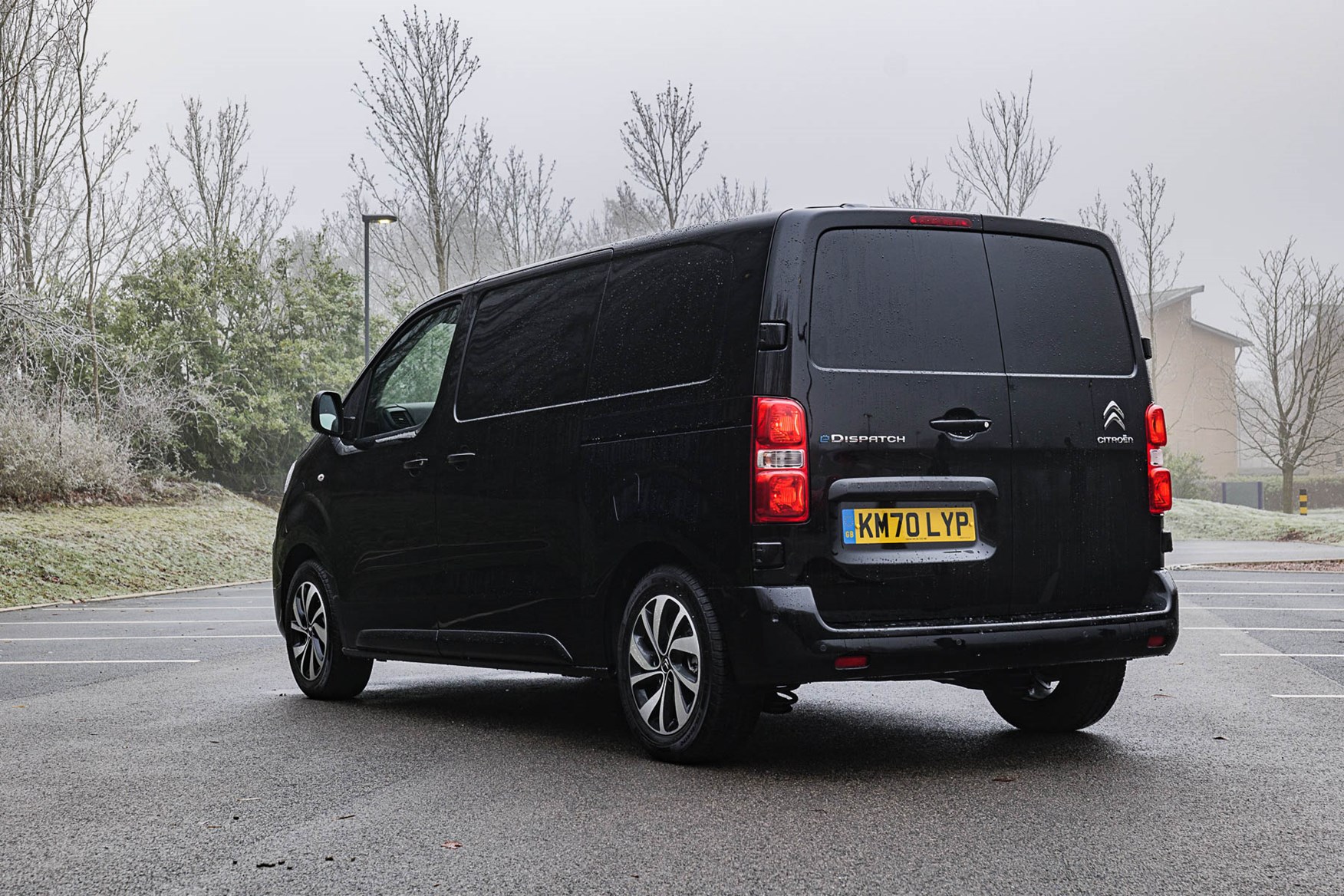 Small flaws aside, it's ultimately a very user-friendly and pleasant van for urban deliveries and even slightly longer trips. If you do less than 150 miles a day, it could be the easiest route into showing your firm's green credentials, saving money and enjoying a refined working environment.
Skip to our full verdict on...
Calming refinement and ride quality
Immensely easy to drive
Aggressive driving hits range hard
Many of the benefits of an electric van aren't felt at (absent) exhaust pipe, but from behind the wheel. The e-Dispatch is particularly pleasant, with a middle-of-the-road 136hp electric motor and single-speed gearbox that compares well against the diesel versions. Without a clutch or automatic transmission, power delivery is smooth and easy to control, and that 260Nm torque is on offer from the first touch of the pedal.
What's the e-Dispatch like to drive?
In short, you can move very slowly and precisely, or you can get away from the lights with remarkable speed and little effort. Selecting forward or reverse is accomplished with a space-efficient toggle switch on the dash, and in lieu of gears you have a 'B' for brake regeneration which has a similar effect to changing down a few gears and recharges the battery, too.
Three drive modes (Eco, Normal and Sport) limit the power of the motor to conserve range. It's worth making use of them, too.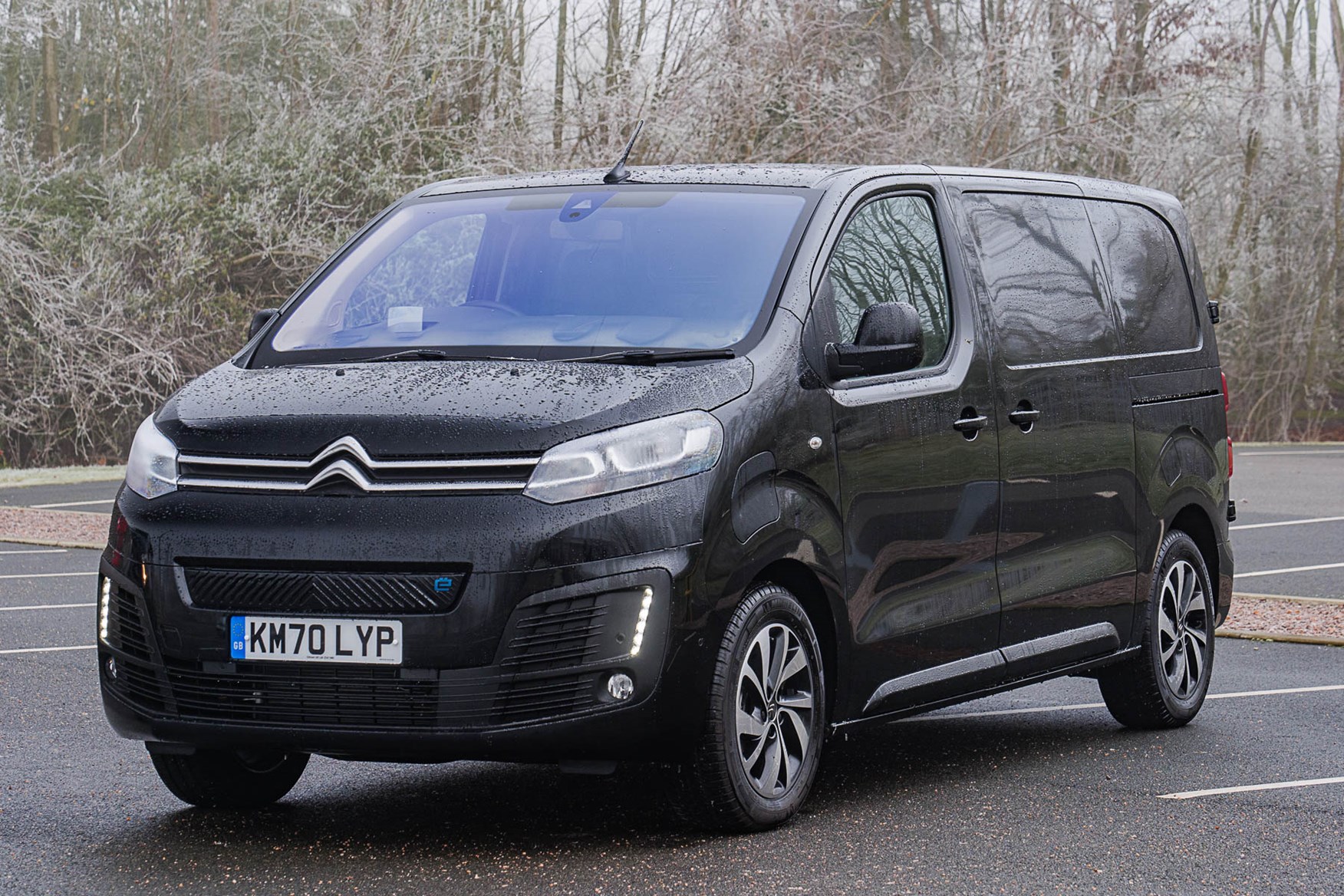 Regardless of how you're driving, or where, the Citroen e-Dispatch is rather impressive in terms of comfort and ride quality. The batteries improve the unladen ride quality compared to the diesel, and the steering lives up to the car-like behaviour implied by the engineering and the cabin design. It's more like driving an MPV than a van in some regards.
With no engine noise, the worst sound you'll contend with is some booming from the steel bulkhead – and that also contributes the second significant annoyance of the e-Dispatch cabin (the first being the offset driving position shared by all of these vans). The bulkhead is rather shiny, and there's a mirror on the windscreen, meaning the headlights of oncoming traffic reflect off the panel behind you and occasionally, into the mirror. If you drive a lot at night, you may want to trim it or remove the mirror.
In Sport mode, the van can get away from the lights very rapidly when unladen, but as expected the range suffers accordingly. The pedal travel isn't particularly long, and it's easy to request more than you need at first – but then, it's also rather fun.
Eco mode keeps everything in check and calms that aggressive pace of driving we're so acclimated to in city-centres; with 20mph limits becoming commonplace, the e-Dispatch in Eco mode contributes to a safe, quiet and clean environment somewhat effectively.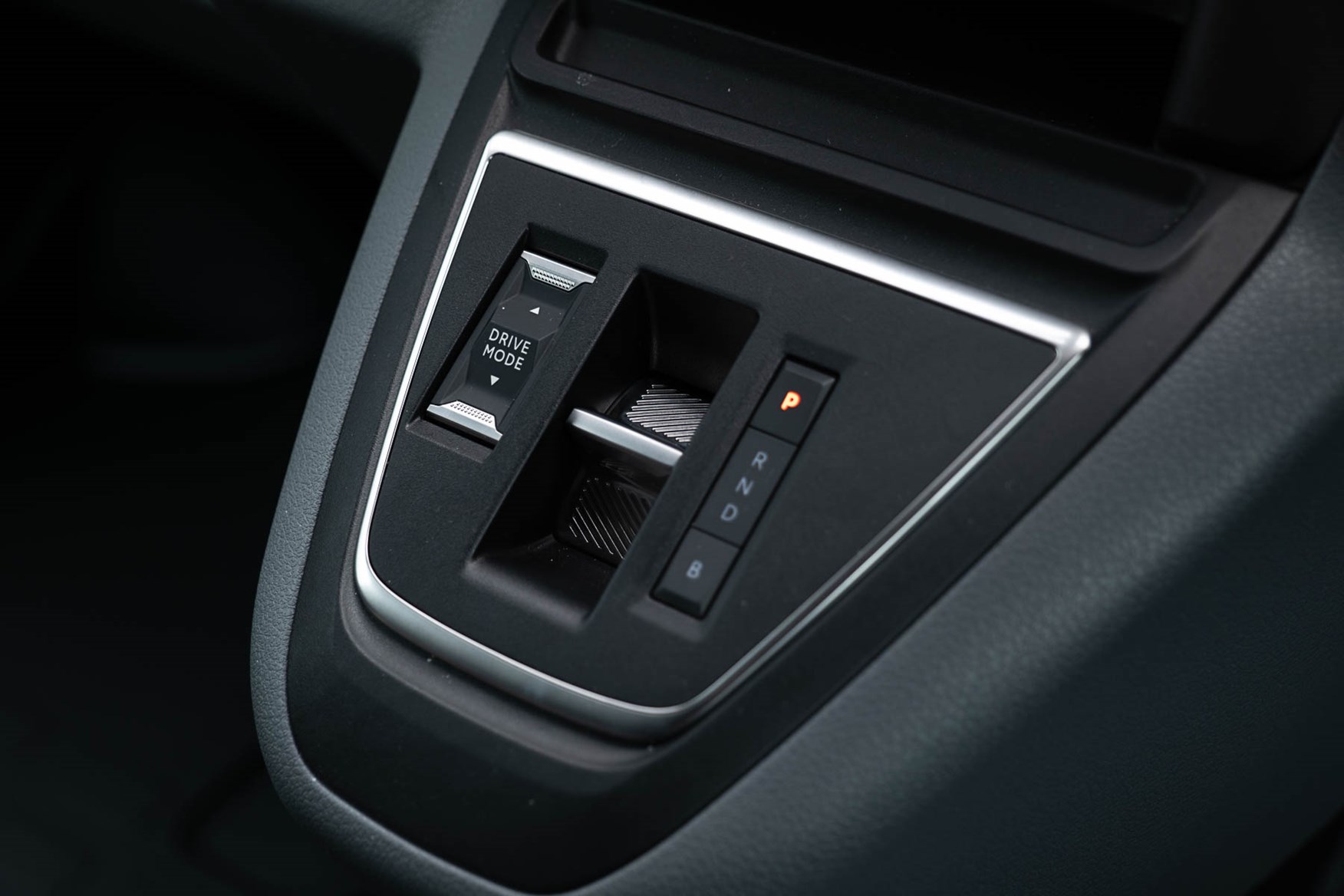 Normal mode is the default setting, and it's perfect for extra-urban routes, letting you get around roundabouts without feeling ponderously slow or annoying everyone else, but trimming those 'whee' moments of unbridled electric power from your progress. There's enough power to pass vehicles on dual carriageways, but if you need to get around a tractor on an A-road you'll want to switch to Sport or wait for a very long, clear space.
How does the electric range hold up?
Only Eco mode will let you approach the claimed range figures. Driving within the speed limits on A-roads and dual carriageways, in Normal mode, you could start with a displayed 170+ range on the 75kWh and find it's dropped to around 120-130 after 20 miles. Using regenerative braking - B mode - is quite effective, and on a long downhill can easily give you a couple of extra miles, but switch it off on flat roads if you're just cruising as it stops the van from coasting.
A drop in pace to regain range means a drop in pace for deliveries compared with a diesel van.
Even so, the e-Dispatch is one of the best electric vans in this regard, and equipped with the 75kWh battery pack can easily handle a 100-mile round trip on mixed roads, without having to change your driving style. When rivals simply can't deliver that range or have to resort to speed limiters, you realise how normal the e-Dispatch is by comparison.
Charging is easy with a readily accessible socket on the front wing and space to store cables under the front seat.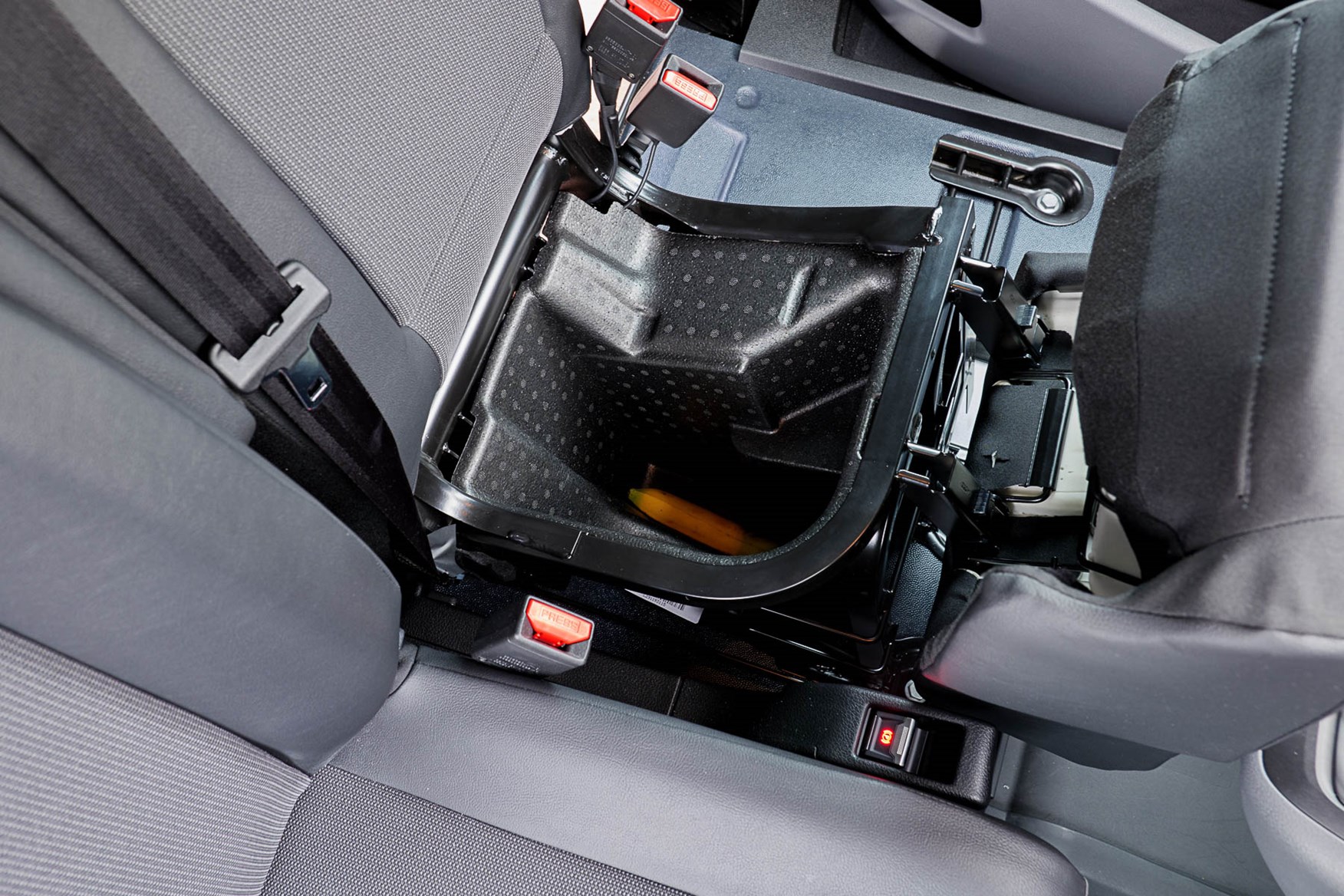 With a typical 7.4kW wallbox you'll be able to replenish around 25 miles of range during a half-hour load or break; premises with three-phase can choose an 11kW option which can bring the time for a full charge down significantly. If you plan routes and breaks to use fast chargers, a 100kW point will give you 100 miles in around 40 minutes.
Relatively cramped cabin, nothing fancy for electric version
Instruments simple, legible and effective
Offset driving position remains
Clever as the Citroen e-Dispatch is, it inherits the Dispatch interior with only the most trivial of changes. That means an offset driving position where the steering wheel, seat and pedals don't really line up, so you twist a bit without noticing until there's a curious new ache to ponder, and not much space for passengers despite the optimistic two-seater bench.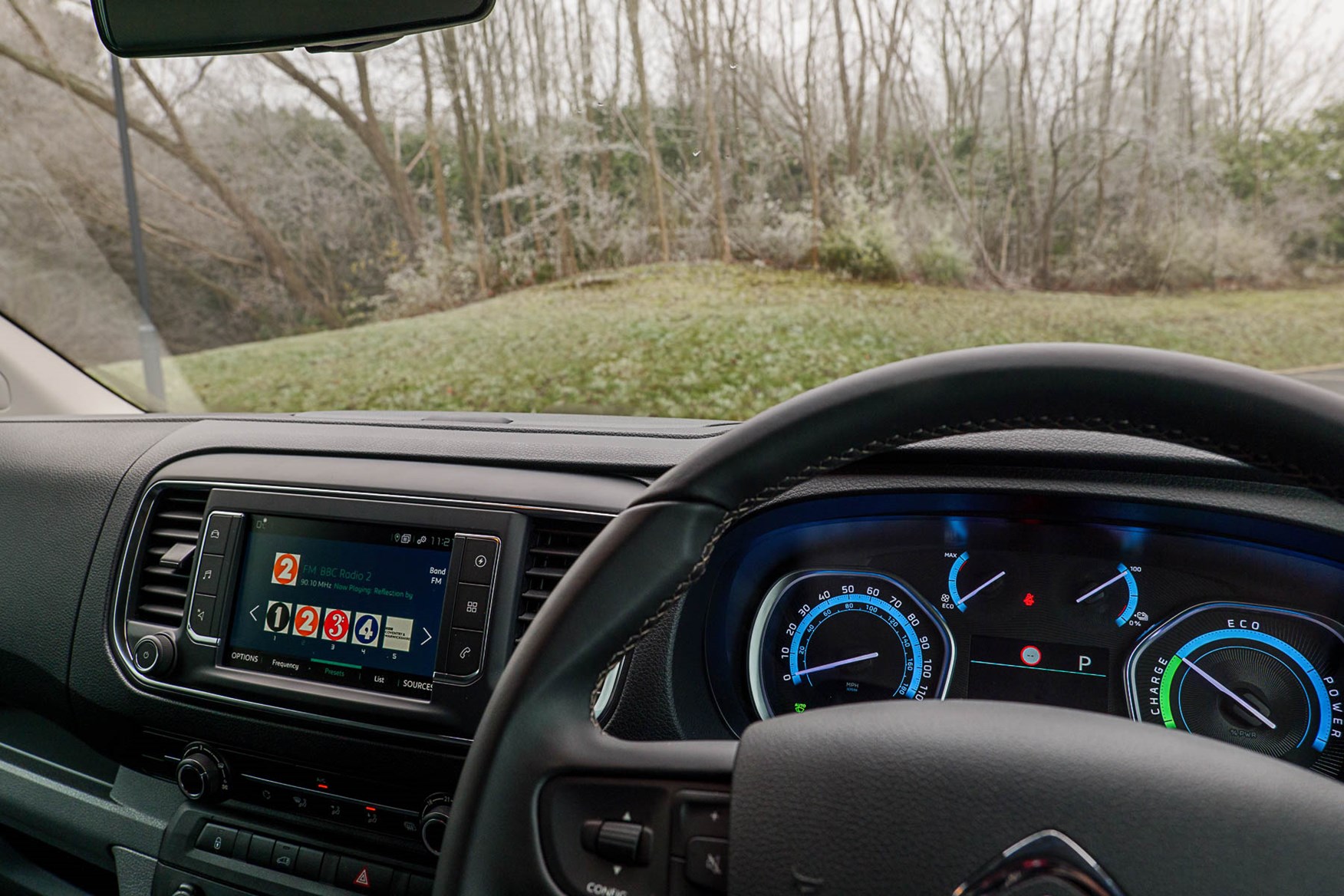 On X models this flips up to reveal a large storage area, on Enterprise and Driver, it's split – allowing the Moduwork load-through flap and providing a space big enough for a packed lunch under the centre seat.
There are a couple of useful storage boxes in the dash, though if you go for the also rather useful head-up display, you lose one of them, and the door bins are generous - unlike the cramped, barely usable leg room on the centre seat.
Despite the parking brake now being electric and the gear selector being a simple switch, no effort's been made to take advantage of this space-saving engineering to free up room for passengers. It's one of the areas where bespoke electric van designs (rather than adapted existing models) will begin to edge forward as they join the market.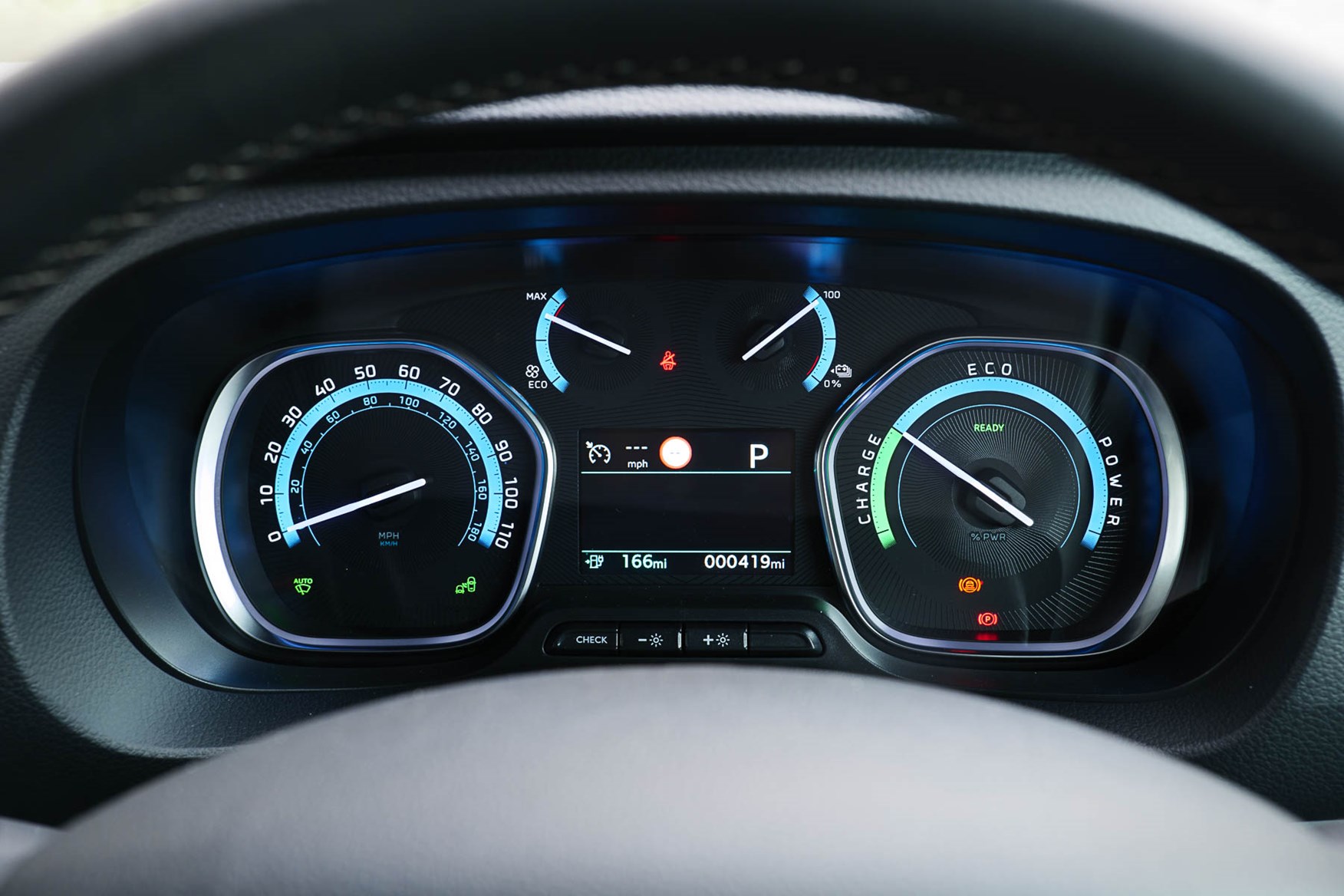 Apart from the switches for gears and handbrake, the only other clue to your new power source is a different instrument cluster. It displays how much power you're using (including how much power heating or cooling the cab is taking), how much range you have, and how much power you're regenerating when you slow down as well as how fast you're going. It's easy to read and understand.
The driver's seat has a reasonable range of adjustment, but overall, this is the weakest area of the e-Dispatch.
Here's where your investment in an electric van pays off
Low cost per mile, lower servicing costs, competitive price
Fair equipment, but payload and convenience cost more
After the government grants for electric vehicles are taken into account, the Citroen e-Dispatch is astonishingly good value. With a list price below £33,000 ex VAT, the grant brings it down to just over £25,000 – the same ballpark figure as the 120hp diesel equivalent. There are other tax advantages to running an electric van as well, and of course there's little risk of it being regulated out of city centres, unlike older diesels.
This is before you've considered the difference in fuel costs. Electricity rates can vary wildly, but you can safely assume you'll spend around a third of the cost per mile compared with diesel, before crunching the numbers.
Demand for used electric vans is likely to be high, and brokers are already competing for your custom with very tempting low deposit, affordable lease deals. It's very likely that you'll be able to spend the same, or marginally more per month on an e-Dispatch as you would a regular diesel model. Which means all those fuel savings are real, rather than just offsetting the cost from fuel to van.
Citroen e-Dispatch servicing and warranty
Servicing is easier, and service intervals are 25,000 miles after an initial 12,500-mile check. Most electric vehicles require less frequent replacement of consumables. It's not just engine oil (there isn't any), other parts such as such brake pads and discs tend to last longer due to regenerative braking.
Without emissions, there are also no particulate filters and or exhaust soot to contend with, and the van stays cleaner visually and mechanically.
There's no AdBlue to deal with, either.
The standard Citroen warranty of three years/100,000 miles is supplemented with an eight-year/100,000-mile battery warranty. Citroen provide a certificate of battery condition with each service, which may help resale value in the future.
Which e-Dispatch is the best value?
All models of e-Dispatch are well-equipped for the cost, but the entry-level X manages to be so affordable by losing the Moduwork load-through facility, 7.0-inch colour infotainment system and the sound-reducing 'acoustic windscreen'.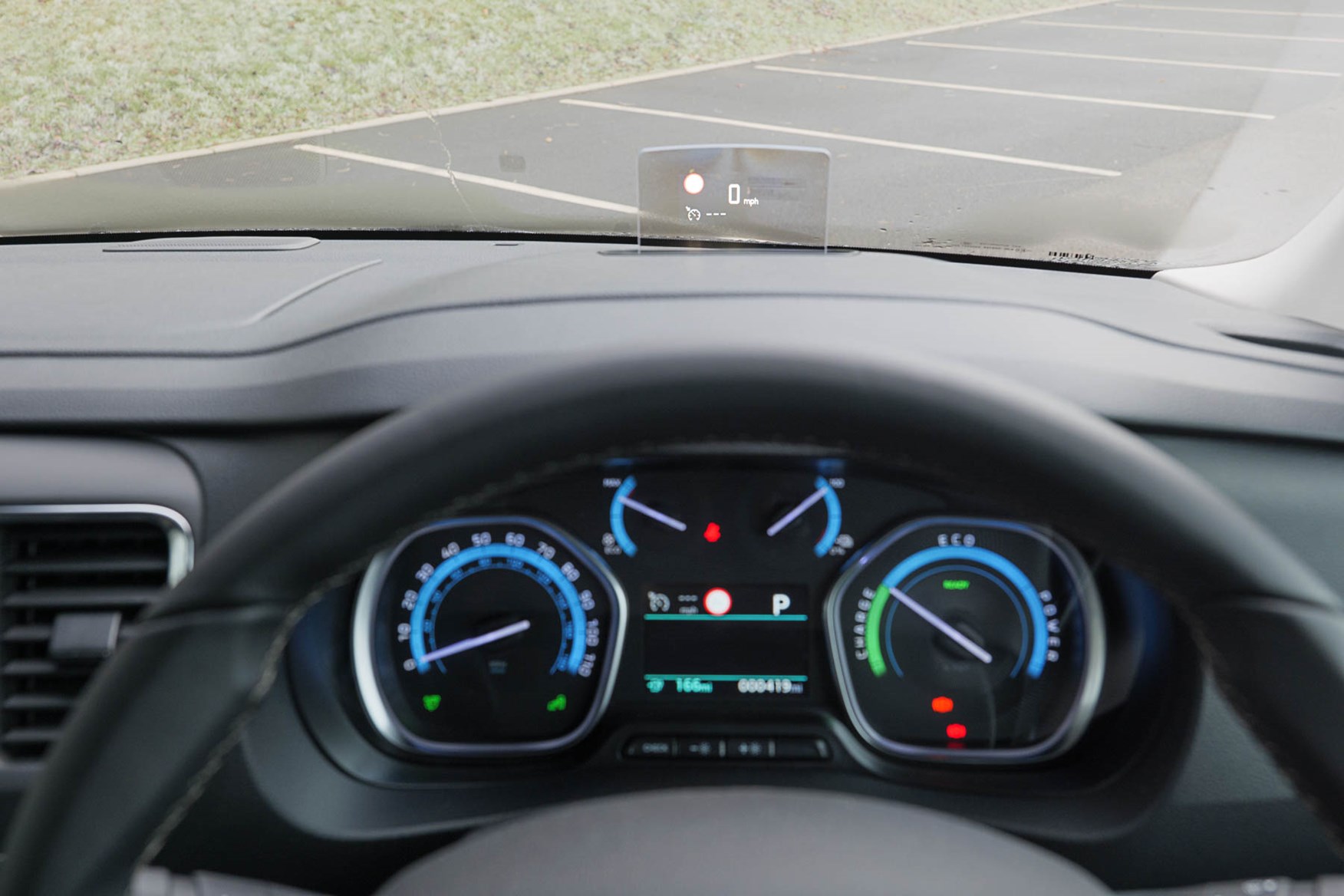 Highlights of Citroen e-Dispatch X (only available in M length):
Air-conditioning (an upgrade over the regular Dispatch X)
Cruise control with speed limiter
Bluetooth hands-free and DAB radio
Citroen e-Dispatch Enterprise adds:
Citroen e-Dispatch Driver includes:
Note that on the XS and M with 50kWh battery, if you want the maximum payload it's an extra £500 to get an additional 225kg, a quirk shared with the Peugeot e-Expert but not the Vauxhall Vivaro-e.
The Citroen e-Dispatch is not offered as a double cab / crew van. If you want more seats, you'll need to look to Peugeot or Vauxhall.
Despite being a relatively new design, the Dispatch (and related Expert and Vivaro) has had a fair number of recalls, which could indicate build quality or production issues or a very proactive approach from the manufacturer.
At time of writing the e-Dispatch is so new, any problems in running are yet to show up. As a rule, electric versions of cars or vans have proven more reliable than their conventionally-powered counterparts.
We'll update this section when there's more data from drivers and specialists.
Entry-level X has no alarm
City-friendly safety features optionally available
Euro NCAP Bronze award
The e-Dispatch Driver has all of the relevant safety kit – including autonomous emergency braking and lane departure warning – as standard, plus the benefit of a head-up display to help keep your attention on the world outside and not the dashboard.
However, these advanced safety features are optional on the entry-level e-Dispatch X, meaning Euro NCAP has given it a Bronze award – unlike the technically similar Vivaro-e, which was awarded a Silver award because it doesn't offer a bare-bones model equivalent to the e-Dispatch X. If you choose an Enterprise, it would also have received a Silver award..
Ultimately the core safety aspects of the van in terms of handling and crash performance are the same, so the lower award does not necessarily suggest an inferior van. It remains one of the newer platforms and designs on sale.
If protecting your van and contents is as important to you as protecting your occupants and pedestrians, you'll want the Enterprise or Drive; the X does not come with an alarm as standard.
Which Citroën Dispatch e-Dispatch is best for me?
Choosing the most suitable e-Dispatch depends entirely on your intended use, but for city-bound deliveries the entry-level, cheapest X in medium (M) length, 50kWh form is hard to beat. You will need to pay extra for an alarm and, if you want it, autonomous emergency braking, and unlocking the full 1,226kg payload will cost, too.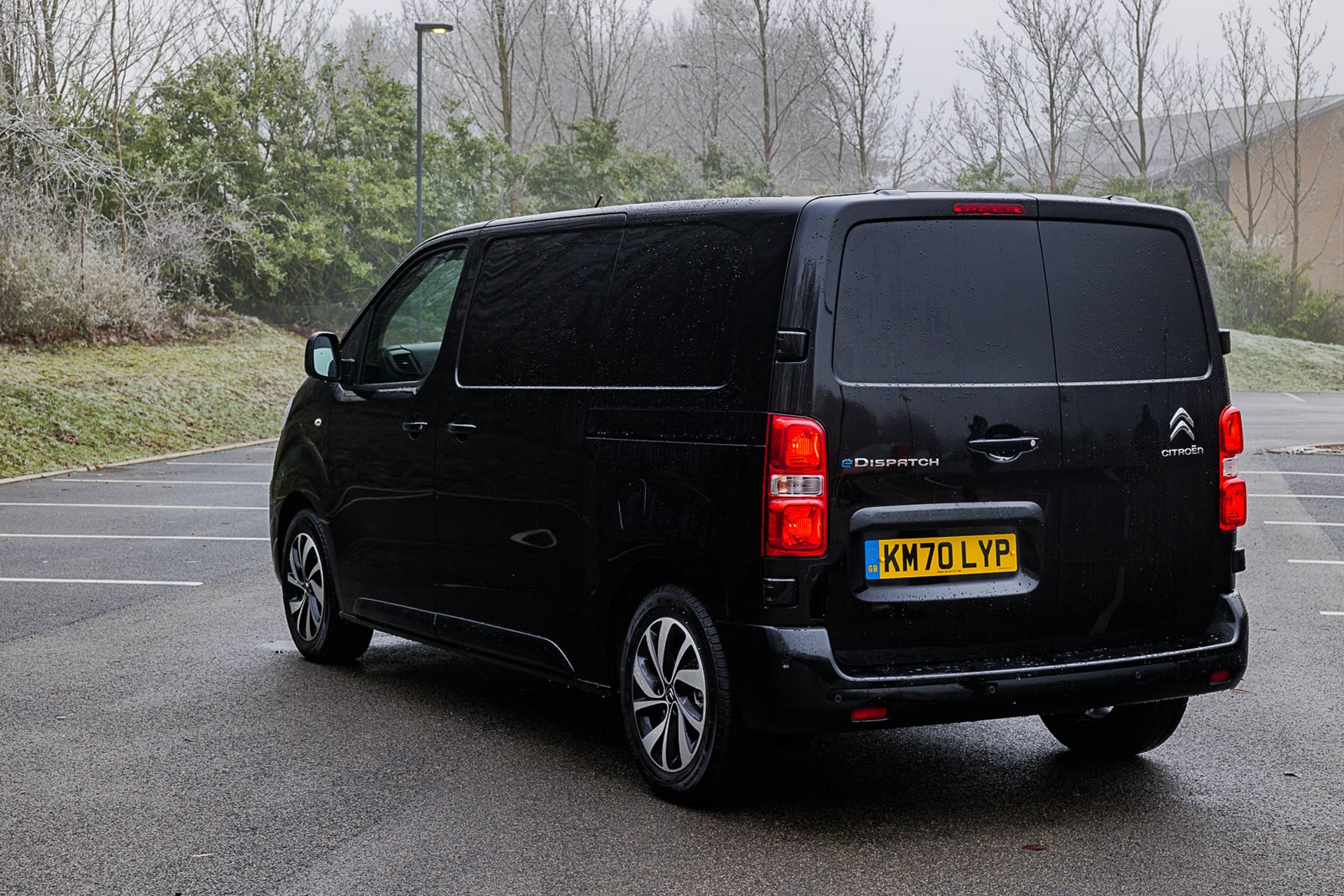 If you're remotely concerned about range, the 75kWh battery does offer the furthest distance between charges of any currently available electric van - well, along with its identical siblings anyway.
Ultimately, the best e-Dispatch for you may be an e-Expert or Vivaro-e. There's little, if anything, to separate these vans based on specification, so it comes down to the best, closest dealer and the best deal for you.
Also read:
>> The Parkers guide to electric vans