Choosing a family car is always a tricky business and making sure you choose the right fuel is more important than ever. As well as petrol, diesel, or electric, you may find hybrid power is on your shortlist – and that's no bad thing, as the best hybrid cars on sale today are a really excellent bunch from which you can choose a selection of excellent family cars.
Hybrids come in all shapes and sizes these days, from hybrid estate cars to hybrid 7-seaters and even hybrid luxury cars. Hybrid power is no longer the reserve of virtue-signalling Californians and weird little eco-boxes – now, it's applied to a vast array of great cars.
We've compiled this list of self-charging and plug-in hybrid cars. All are ideally suited to family life, with some hefty seven-seaters for those with large broods and some smaller for young families, single parents, or generous grandparents. Read on to find out what we recommend.
The best hybrid family cars 2023
Editor's choice: Honda Civic
Parkers award-winning hybrid hatchback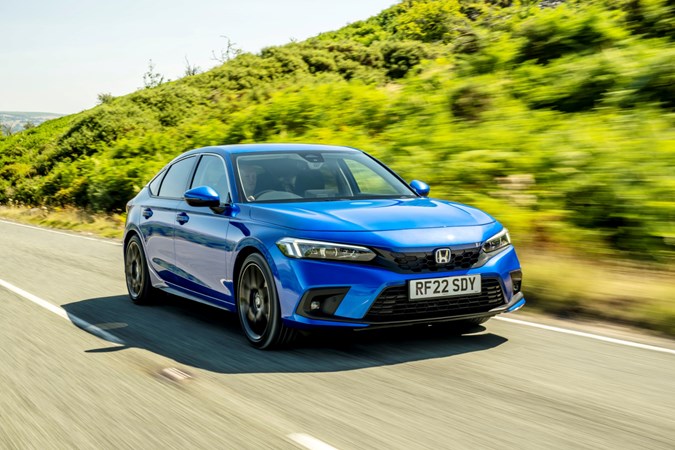 Pros:
✅ Great to drive
✅ Efficient hybrid powertrain
✅ Practical, well-built interior
Cons:
❌ Small fuel tank
❌ Not so efficient on the motorway
We like the Honda Civic. As in, we really like it. So much so that we awarded it our top honour – Car of the Year for 2023.
The Civic makes a great family car if you don't need the space a people-carrier or large SUV provides. It has a large boot suited well enough to pushchairs or other family detritus, and there's lots of room for passengers or child seats in the back. Better yet, the Civic is great to drive, expertly blending comfort and handling with an excellent and very efficient hybrid powertrain. It's better suited to country lanes or city driving than long motorway slogs, but we can't hold that against it too much.
Read our full Honda Civic review
Honda Civic lease deals | VIEW OFFER
Volkswagen Multivan
Plug-in hybrid people-carrier with a versatile interior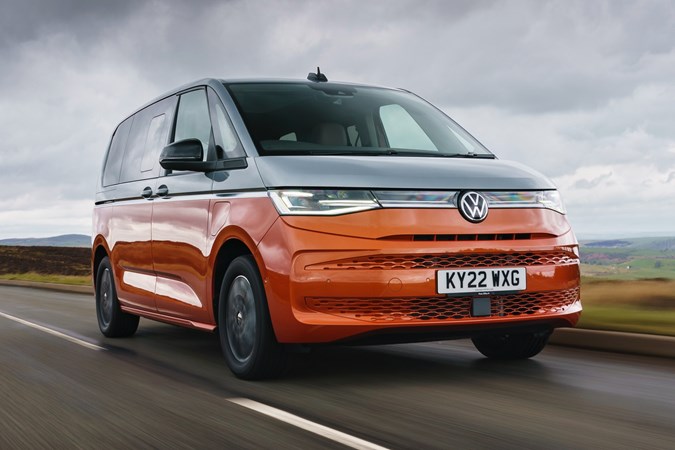 Pros:
✅ Up to seven seats
✅ Powerful plug-in hybrid option
✅ Drives more like a car than a van
Cons:
❌ Rubbish infotainment
❌ Expensive
The Volkswagen Multivan replaced the Caravelle as VW's 'posh people carrier' offering. Whereas the Caravelle was based on the Transporter, giving it van-like handling characteristics and refinement, the Multivan is an all-new model more closely-related under the skin to the Golf – which means it's comfortable to drive, refined, and has access to VW's latest engines including an excellent plug-in hybrid variant.
Combine that with seven seats that slide and rotate every which way plus a really premium-feeling interior and the Multivan's a great choice for large families. It is pricey, though, especially as a PHEV, though reasonable running costs make this a bit more palatable.
Read our full Volkswagen Multivan review
Volkswagen Multivan lease deals | VIEW OFFER
Kia Sorento
One of our favourite seven-seat SUVs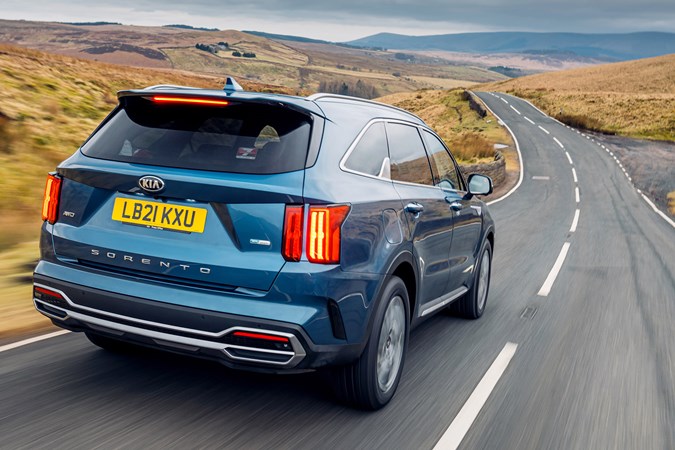 Pros:
✅ Seven-year warranty makes for painless ownership
✅ Comfortable, spacious interior
✅ Choice of self-charging hybrid or plug-in hybrid
Cons:
❌ Only one pricey trim level
❌ Not entertaining to drive
Kia's Sorento's long been a favourite among families thanks to its practical three-row SUV body. The latest model adds more strings to its bow with a choice of hybrid powertrains – both self-charging and plug-in are available, depending on your needs.
The Sorento's comfortable to drive and has a solidly-built interior. Plus, Kia's seven-year warranty remains a big draw, showing the faith that the brand puts into its products.
Read our full Kia Sorento review
Kia Sorento lease deals | VIEW OFFER
Ford S-Max
Aging people-carrier is still a great steer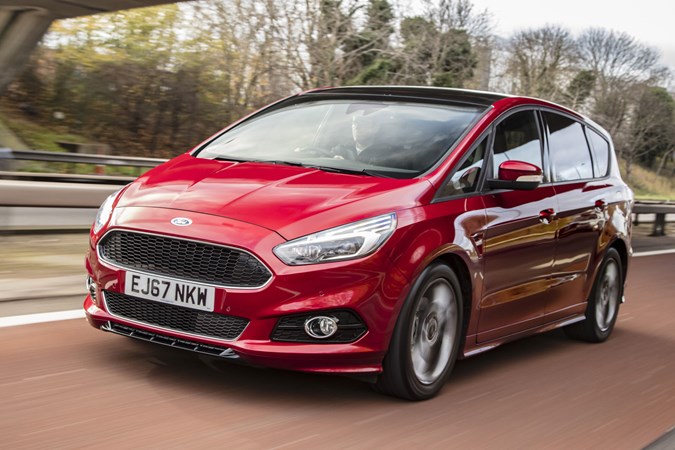 Pros:
✅ Handles brilliantly
✅ Efficient hybrid
✅ Seven seats in a compact package
Cons:
❌ Cramped third row
❌ Lacks some modern tech
The S-Max has been around for quite a while now but Ford has kept it up-to-date with its latest 2.5-litre self-charging hybrid powertrain. This gives the S-Max reasonable performance and really good fuel economy. Combined with the excellent handling the S-Max has always been endowed with, that makes for a satisfying driving experience.
The S-Max is spacious inside for five, though the third row of seats is better suited to children or teens than it is burly adults. And though the dashboard's solidly built, it is definitely showing its age with regards to the tech on offer.
Read our full Ford S-Max review
Ford S-Max lease deals | VIEW OFFER
Mercedes E-Class Estate
Posh wagon comes with a brilliant diesel hybrid option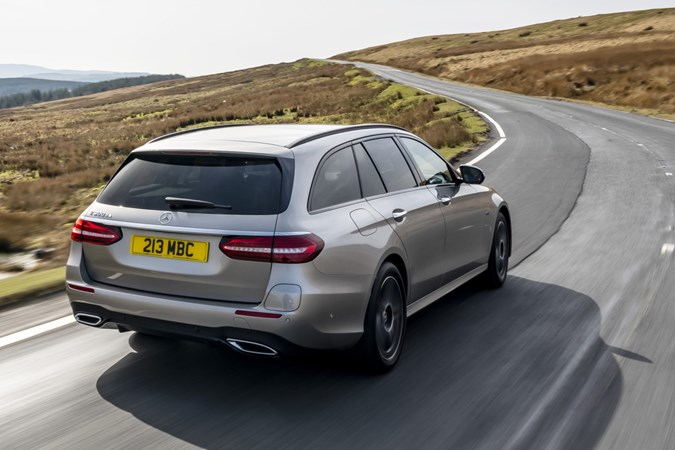 Pros:
✅ Superb diesel hybrid with excellent economy and long range
✅ Massive boot
✅ Premium interior
Cons:
❌ Doesn't feel as well-built as the pricetag suggests
❌ Some tech is overbearing
The Mercedes E-Class Estate has long been a popular choice with those who want a massive boot in a premium package, and by and large it's always delivered. We like one particular variant more than most, though, and that's the diesel plug-in hybrid – a rare machine that combines the convenience of around 30 miles of all-electric range with the 60+mpg of a really well-sorted 2.0-litre diesel.
The result is smooth, powerful and hugely efficient, and suits the E-Class perfectly. There's a lot else to like too, from the huge load capacity to the comfortable ride. The dashboard can be a little confusing and there are some areas of creaky plastic that somewhat spoil the experience, but these are small niggles.
Read our full Mercedes E-Class review
Mercedes E-Class lease deals | VIEW OFFER
Nissan Qashqai
Top-seller is available with a really smooth hybrid system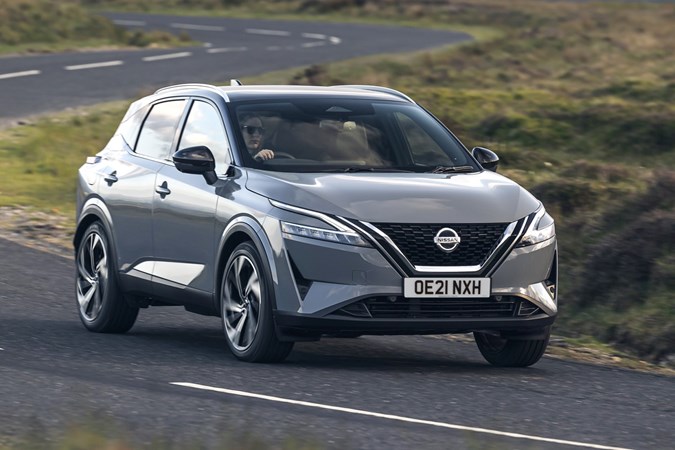 Pros:
✅ Interior well-suited to family life
✅ Clever e-Power hybrid system
✅ Nissan's best interior yet
Cons:
❌ Not particularly exciting
❌ Rivals are more spacious
Nissan's Qashqai has been a huge seller for the brand ever since it replaced the Almera – ditching the family hatchback class altogether and essentially creating the demand for mid-sized, family SUVs that drove like hatchbacks. The third-generation model was released in 2021 and is more spacious, more premium and better to drive than ever before.
We like Nissan's e-Power hybrid system, which has no physical link between the engine and the wheels – instead, electric motors drive the wheels while the engine acts purely as a generator. It makes the Qashqai very smooth, especially round town, and adds up to an altogether relaxed ambiance.
Read our full Nissan Qashqai review
Nissan Qashqai lease deals | VIEW OFFER
Toyota Corolla Touring Sports
More powerful facelifted Corolla is a great option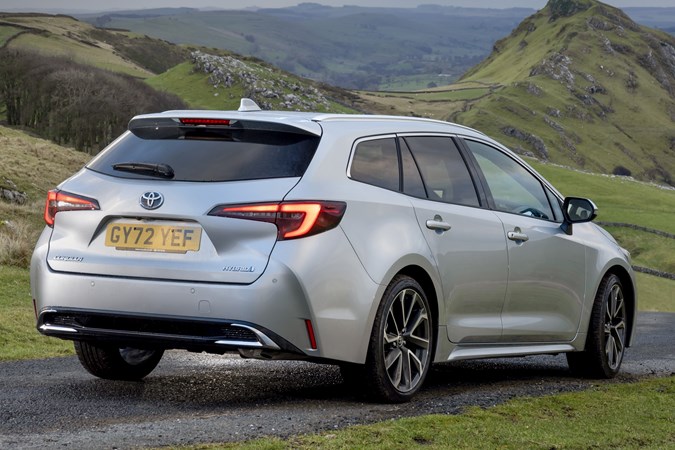 Pros:
✅ More space than Corolla hatch
✅ Super-efficient 1.8 hybrid
✅ Genuinely rapid 2.0-litre hybrid option
Cons:
❌ Dull interior
❌ Not the largest boot
Who should know hybrids better than Toyota? Its Prius was one of the first self-charging models to gain real popularity, and now it offers hybrids in almost every vehicle it sells. The Corolla is the brand's family hatchback, and Touring Sports is slang for estate – so this Volkswagen Golf Estate rival has some big names to compete with.
After a 2022 update the Corolla comes with an incredibly efficient 1.8-litre or a pretty powerful 2.0-litre engine. They're both self-charging hybrids, and with Toyota's years of experience prove smooth and powerful enough for a fully-loaded Corolla.
Read our full Toyota Corolla review
Toyota Corolla lease deals | VIEW OFFER
Dacia Jogger
The value champ, now available as a hybrid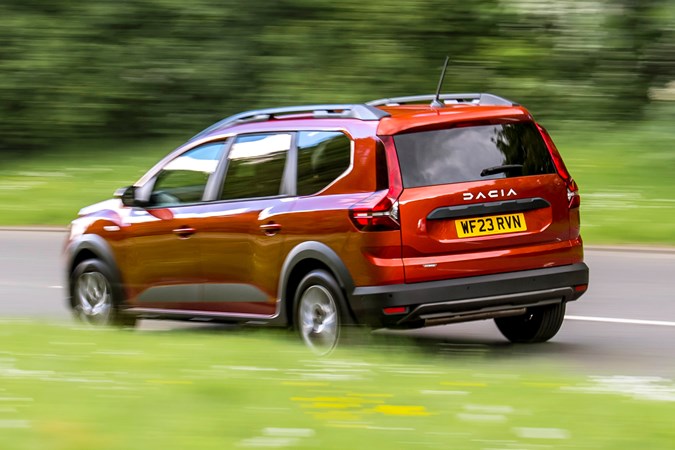 Pros:
✅ Seven adult-sized seats
✅ Amazing value
✅ Hybrid system works well
Cons:
❌ Feels its price in places
❌ Not exactly stylish
Dacia's Jogger is a hybrid in more than one way. Not only does it have the requisite petrol-electric drivetrain, which provides decent fuel economy, a fair lump of power and the only automatic gearbox available on a Jogger, but the bodystyle itself is a fusion of estate, people-carrier and SUV that provides space for seven adults in fairly compact dimensions.
The real story with the Jogger is its value, with prices well under £25,000 even for a top-spec model. That's unbeatable in this area of the market and makes the Jogger one to consider instead of a slightly leggier used model.
Read our full Dacia Jogger review
Dacia Jogger lease deals | VIEW OFFER
Honda Jazz
The most spacious small car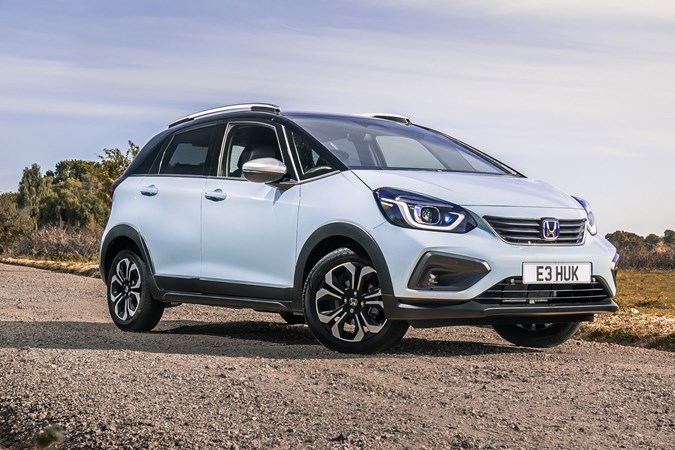 Pros:
✅ Loads of space in flexible back seats
✅ Tall, uncluttered interior
✅ Solid and easy-to-use functions
Cons:
❌ Not the largest boot
❌ Not big enough for growing families
The Jazz is an inclusion on this list for those families who have less demanding needs – perhaps single parents, or young families with only one child. Even grandparents who sometimes help out with their grandchildren would be well-suited to the Jazz, which has loads of space in the back seats but would struggle to fit in the detritus of a large family like massive buggies or luggage for a family holiday.
The Jazz's hybrid powertrain has good performance and great fuel economy, and because it's a Honda you can be sure it'll be dependable.
Read our full Honda Jazz review
Honda Jazz lease deals | VIEW OFFER
Vauxhall Astra
Much-improved family classic, with an excellent PHEV option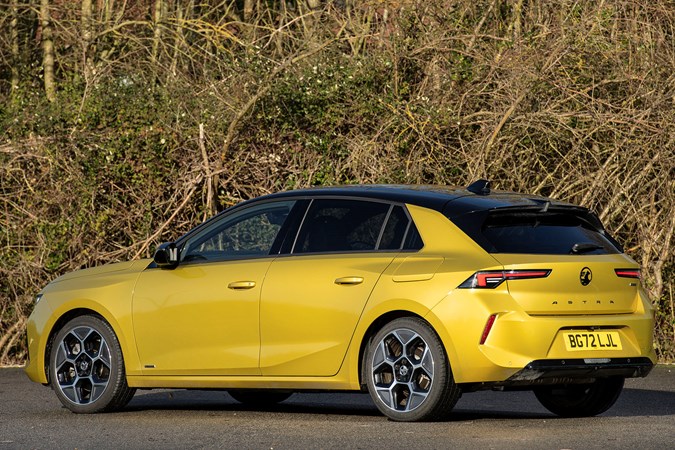 Pros:
✅ Looks great inside and out
✅ Comfortable to drive
✅ Spacious estate model available
Cons:
❌ Not the biggest electric range
❌ Gets pricey – for a Vauxhall
The Astra's never been a car to stir the senses but the latest model does a much better job than before – it's good-looking, drives well, and has a spacious and posh interior that feels every bit as good as a Volkswagen Golf's.
The rear bench is big enough for adults or child seats, and if the hatchback's boot won't accommodate the trappings of family life you can opt for a roomy Sport Tourer (estate) instead. The plug-in hybrid model doesn't have the longest electric range, but it's still usable and efficient.
Read our full Vauxhall Astra review
Vauxhall Astra lease deals | VIEW OFFER
What is the most economical hybrid family car?
This is hard to answer as there isn't a definitive definition of a family car. The most economical car on this list is the Vauxhall Astra PHEV, which will officially do up to 256.8mpg. As ever, official mpg figures for PHEVs are largely irrelevant unless you drive short journeys and plug in religiously. During our long-term test of the Vauxhall Astra, we achieved around 80mph.
What is the biggest hybrid family car?
The largest hybrid family car question is hard to answer as there's no clear definition on what constitutes a family car. The Mercedes GLS is certainly one of the largest cars on sale and is available with mild hybrid diesel and petrol engines.
What hybrid family car is the best for child seats?
We like the Volkswagen Multivan. It's available with the same eHybrid plug-in powertrain as many of VW's hybrid passenger cars and there's seating for up to seven. All seats in the second and third rows get Isofix for securing child seats too.
Tom Wiltshire 
Tom Wiltshire is a Senior Staff Writer on Bauer's Digital Automotive Hub. He's written for numerous outlets, including Auto Express, evo and the Press Association, and now divides his time between Parkers and CAR. Tom's a committed Peugeotist but buzzes off almost any car that's tiny and silly.