Vauxhall cleans up Insignia's act
Cleaner engines for Insignia models cuts costs
2.0-litre diesel tweaked, new 1.4-litre turbo petrol
Priced from £20,345 for 2.0-litre diesel ecoFLEX
Vauxhall has updated the Insignia range with an improved low emission ecoFLEX diesel version that's designed to appeal to business and private users alike.
Emissions have dropped from 129g/km of CO2 to 115g/km of CO2, meaning the new 2.0-litre ecoFLEX diesel hatchback model now falls into the lowest 13% company car tax band for 2011/2012.
Thanks to the changes, private buyers also benefit from cheaper road tax, dropping from £95 to £30, while the hatchback, saloon and Sports Tourer are all exempt from showroom tax.
These improvements have been achieved by fitting a stop/start system, low rolling resistance tyres and improved underbody aerodynamics.
The Euro 5 compliant 2.0-litre diesel engines are available with either 128bhp or 157bhp - which offer 300Nm and 350Nm of pulling power respectively. The lower-powered 128bhp engine allows the Insignia ecoFLEX to accelerate to 129mph, while 0-60mph takes 10.4 seconds. The 157bhp version has a top speed of 137mph while 0-60mph takes 8.9 seconds.
A new 1.4-litre turbocharged petrol engine has also been introduced which offers 138bhp and 200Nm of pulling power, while being capable of averaging 51mpg and emitting 129g/km of CO2, in saloon and hatchback models. This means the 1.4-litre petrol sits in the 16% band for company car tax.
The revised Insignia models also benefit from new 18-inch five-spoke alloy wheels and the introduction of upgraded sat nav systems, the Navi600 and Navi900. The Navi600 features full UK and Ireland mapping, along with main road networks across Europe, while the Navi900 features detailed European mapping.
Prices for the revised diesel models start from £20,345 and rise to £29,385 for top-spec models. The 1.4-litre turbocharged petrol is priced from £18,680 to £27,110.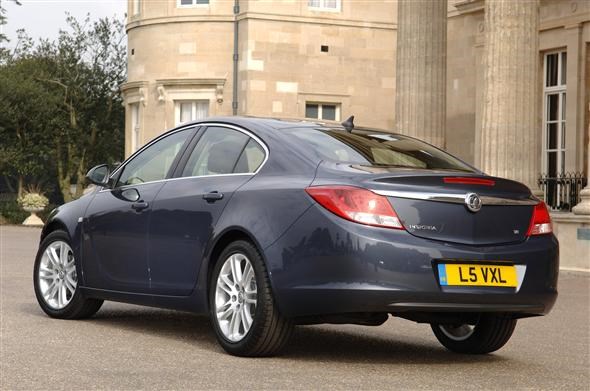 Parkers Top Tip:
For more information about company cars visit our Company Car Driver Advice section - and don't forget to keep an eye on the Parkers Company Car News page for all the latest updates and guides.