Citroen e-Berlingo electric van review (2022)
Impressive small electric van promises low running costs without sacrifice
PROS
Good performance from electric motor
Usable range
Fast charging available
Excellent payload, large loading area
Plenty of choice in model range
CONS
Cabin is cramped for three
Expensive to buy
Payload still not as good as diesels
Only one battery and motor
Functionally identical to three other vans
Summary
Small electric vans are set to become big business before long, and the 2022 Citroen e-Berlingo is one of the vehicles leading the charge (pun intended). With low and ultra-low emission zones increasing, rising fuel prices and the continuing growth of online shopping, electric van sales are on the up for so-called 'last-mile' applications.
The e-Berlingo is one of four closely-related sister vans. The family comprises the e-Berlingo, Peugeot e-Partner, Vauxhall Combo-e and the Toyota Proace City Electric, and all four vehicles are mechanically identical.
That means they all benefit from the same battery and electric motor, giving up to 171 miles range – enough, Citroen reckons, for nearly all of its customers to cover a full day's motoring on.
Several variants available
The battery pack and electric motor take up no more room in the e-Berlingo than a diesel engine would, and as a result it's available with a full range of two trim levels, two body lengths and either a panel van or a five-seater crew van.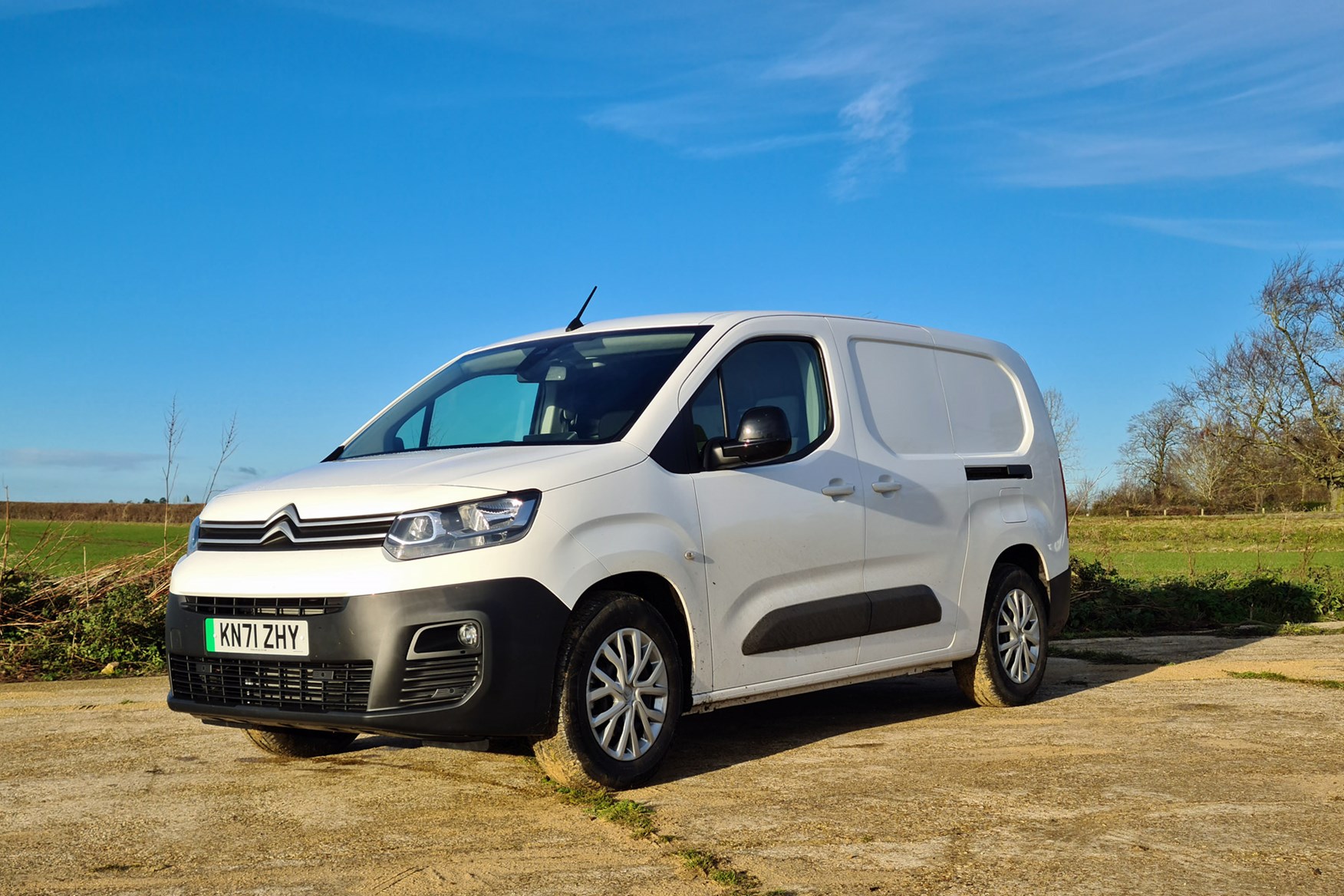 You can even opt for a full passenger car variant, making choosing an e-Berlingo just like selecting a different engine rather than going for a totally standalone model.
Performance and payload
Citroen claims the e-Berlingo is an electric van with no compromise. Largely, that would seem to be correct. As already mentioned there's no reduction in the choice you get within the model range, and neither is the load area any different.
Better yet, the e-Berlingo's payload is still up to an impressive 800kg – not quite as much as in the diesel van, but still the equal of a Volkswagen Caddy Cargo, and plenty for most uses.
Performance, too, is a strong point of the e-Berlingo. It has 136hp on paper, which is slightly more than the most powerful diesel model. But in terms of performance around town it's night and day, with the instant torque of the electric motor making it incredibly smooth yet nippy.
Full details of the load space and carrying capacity can be found on our dedicated Citroen e-Berlingo dimensions page.
Increasing number of electric van rivals
The e-Berlingo, of course, has to compete with its sister vehicles from Peugeot, Vauxhall and Toyota, and may have a difficult job doing so – while they're actually identical vans, Toyota is unique in offering up to 10 years of warranty cover. In reality, it'll likely depend on who your local dealer is and which van you can negotiate the most favourable ownership proposition on.
Other rivals are coming thick and fast, though. The related Renault Kangoo E-Tech, Mercedes-Benz eCitan and Nissan Townstar look to be strong challengers, from what we know so far – they'll arrive in 2022. There's also a glut of Chinese brands looking to muscle in on the action, from BYD to DFSK to Maxus, which already offers the intriguing e Deliver 3.
Citroen e-Berlingo driving range and charging
The e-Berlingo uses a 50kWh battery pack, which on a full charge Citroen says will go for up to 171 miles according to the latest official WLTP standards.
That's an impressive figure – slightly higher than the range Renault claims for the forthcoming Kangoo E-Tech, though a little less than Mercedes claims for the eCitan. However, neither of those vehicles are on sale yet – and the e-Berlingo offers a much greater range than existing models like the 124-mile Nissan e-NV200 or the 151-mile Maxus eDeliver 3.
However, in real-world testing in the UK, we've struggled to replicate that level of efficiency. There's more on this in the Driving section below.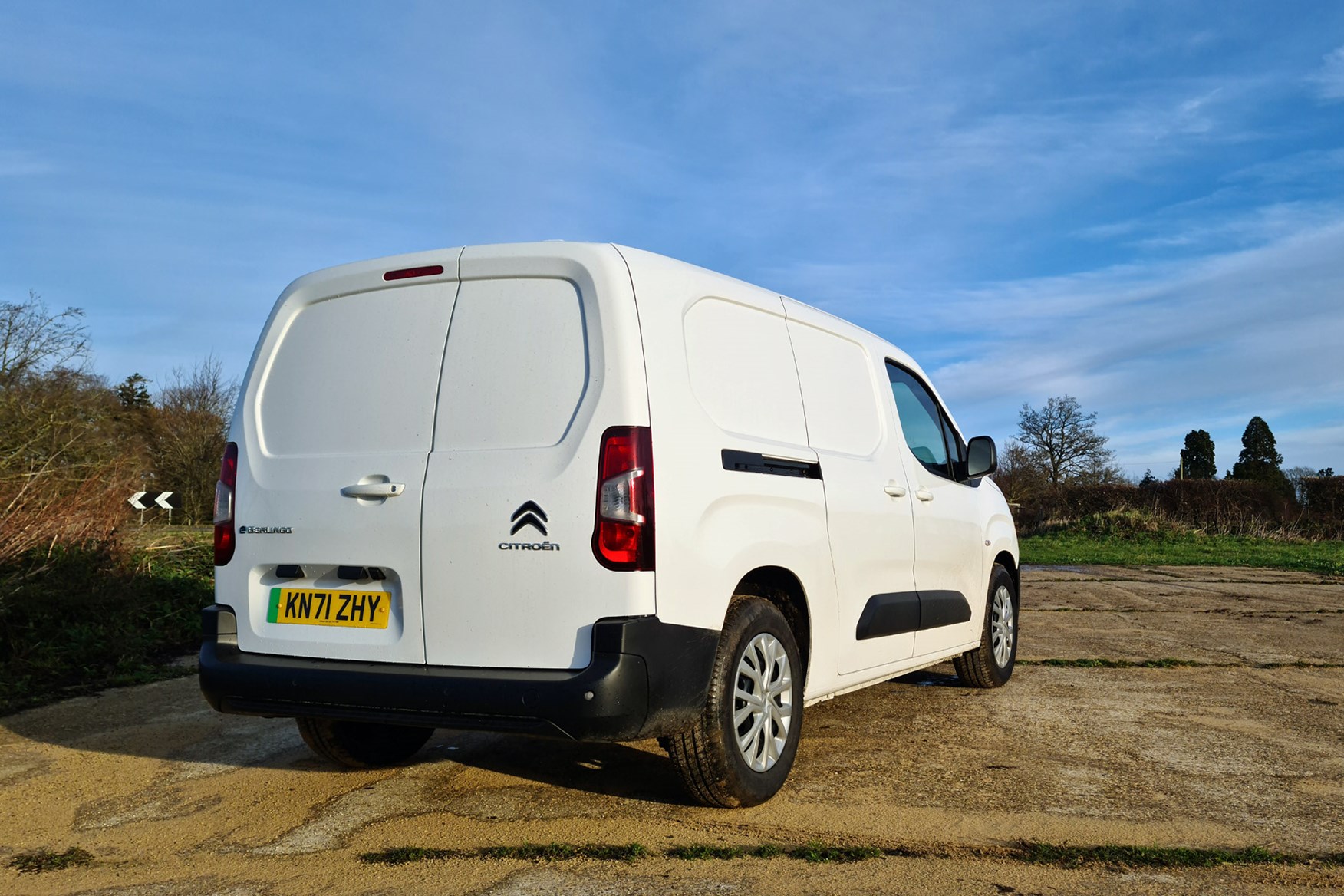 Still, fast charging is included as standard, which is a nice touch – it means in a pinch every e-Berlingo can top up at a 100kW rapid charger, taking the battery from 0-80% in just 30 minutes.
Charging up at home or work takes 7.5 hours from a standard domestic wallbox. If your home or business is fitted with the appropriate electricity supply, you can option an 11kW charger, which brings that figure down to five hours.
---

Verdict: is the Citroen e-Berlingo any good?
Yes – in fact, it's excellent. Good driving range, good payload and an even better driving experience than the diesel model mean the Citroen e-Berlingo is about as compromise-free as electric vans come right now. If you're capable of charging it, and your regular daily usage falls within the capability of its battery, then opting for an e-Berlingo could potentially save your business lots of money while sending all the right 'green' signals.
As with any electric vehicle, it doesn't suit every scenario – such as buyers who can't charge privately and would have to rely on the expensive public charging network, for example. Or any business that regularly covers long distances. And the purchase price is expensive in comparison to even the top-spec diesel model.
For more in-depth info, keep reading for our full Citroen e-Berlingo review.
Skip to our full verdict on...
Almost complete silence from powertrain
Great performance, especially round town
Three driving modes change the experience
As electric vans go, the e-Berlingo offers an excellent driving experience. Just beware that the real-world range may not be as impressive as it looks on paper.
What's under the bonnet of the Citroen e-Berlingo?
The Citroen e-Berlingo uses a 100kW electric motor paired up to a 50kWh capacity battery pack that lives underneath the load floor. In layman's terms, that means it produces 136hp – slightly more than the most powerful diesel variant.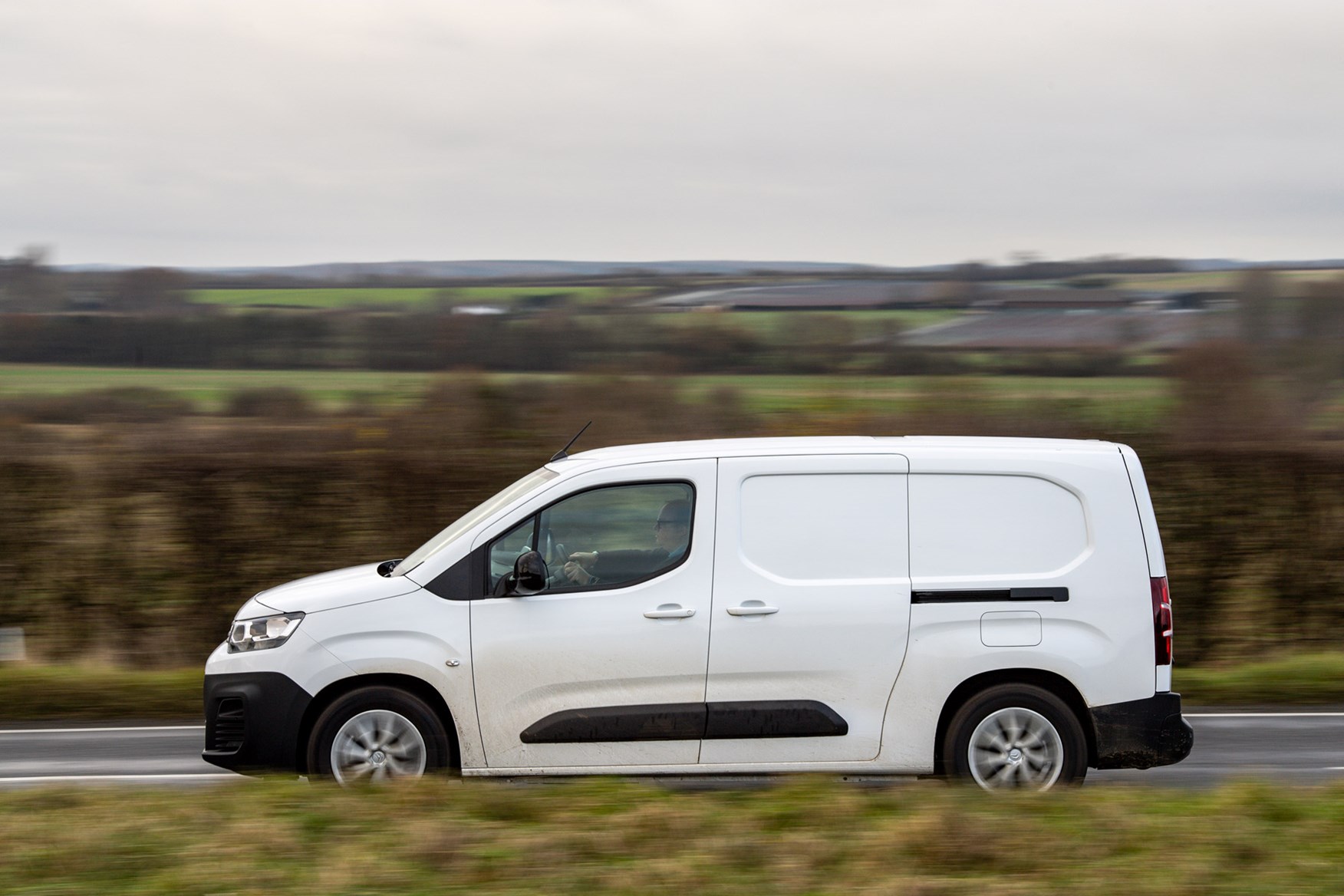 The difference between driving the diesel and the electric, though, is night and day. Even though the former is available with an excellent eight-speed automatic gearbox, it doesn't even come close to the smoothness and responsiveness of the electric motor. With an impressive torque figure of 260Nm available instantly, the electric model is very quick up to town speeds – you can nip into and out of traffic with ease.
The official 0-62mph time is 11.7 seconds, and top speed is 81mph, so it's not as good as the diesel for prolonged motorway runs – but given high speeds will really run the battery down, it's best if the e-Berlingo stays in town most of the time anyway. If you do need to head onto the motorway, there's just enough power to not feel overwhelmed at 70mph.
Drive modes to tailor the experience
There are a few ways to change the experience of driving the e-Berlingo, controlled by a switch on the dashboard.
You can choose between Eco, Normal and Power modes. Eco mode restricts the electric motor to 60kW (82hp and 180Nm), and also throttles back the air-conditioning in a bid to eke every mile possible out of the battery.
Normal mode is what the e-Berlingo defaults to on startup, and provides 80kW (110hp and 210Nm). If you want the motor's full 100kW, switch into Power mode – Citroen recommends using this for long uphill stretches, when you're fully laden or if you're towing.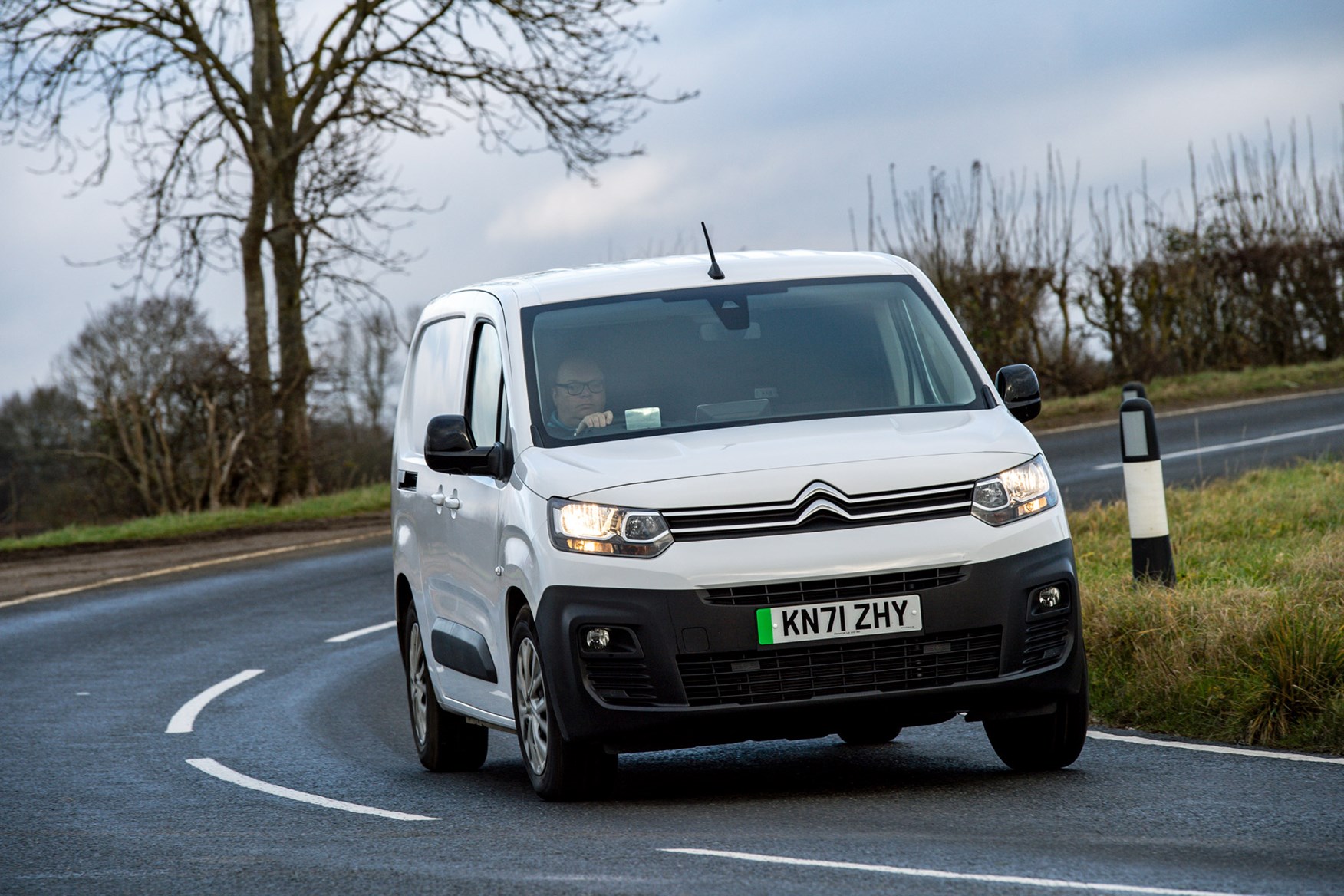 You can also select 'B' mode from a button next to the gear selector. This activates the regenerative braking, which uses the motor to slow you down when you lift off the accelerator and re-captures some of that energy that would otherwise be lost.
It's easy enough to get used to, feeling rather like engine braking, though we'd like it to be a little bit stronger. Some systems fitted to cars can take you down to a complete stop, allowing for one-pedal driving.
What's the ride and handling like?
Almost identical to the diesel Berlingo – which is to say, rather good. Comfort is a highlight, as it's both settled on the motorway but cushioned on pockmarked roads around town. Particular bumpy surfaces can unsettle it slightly, but it never becomes harsh or annoying.
The light steering makes parking and manoeuvring in tight spots easy as pie. Some of us found it a little twitchy on faster roads as a result, though blasting along UK B-roads is remarkably good fun in one of these.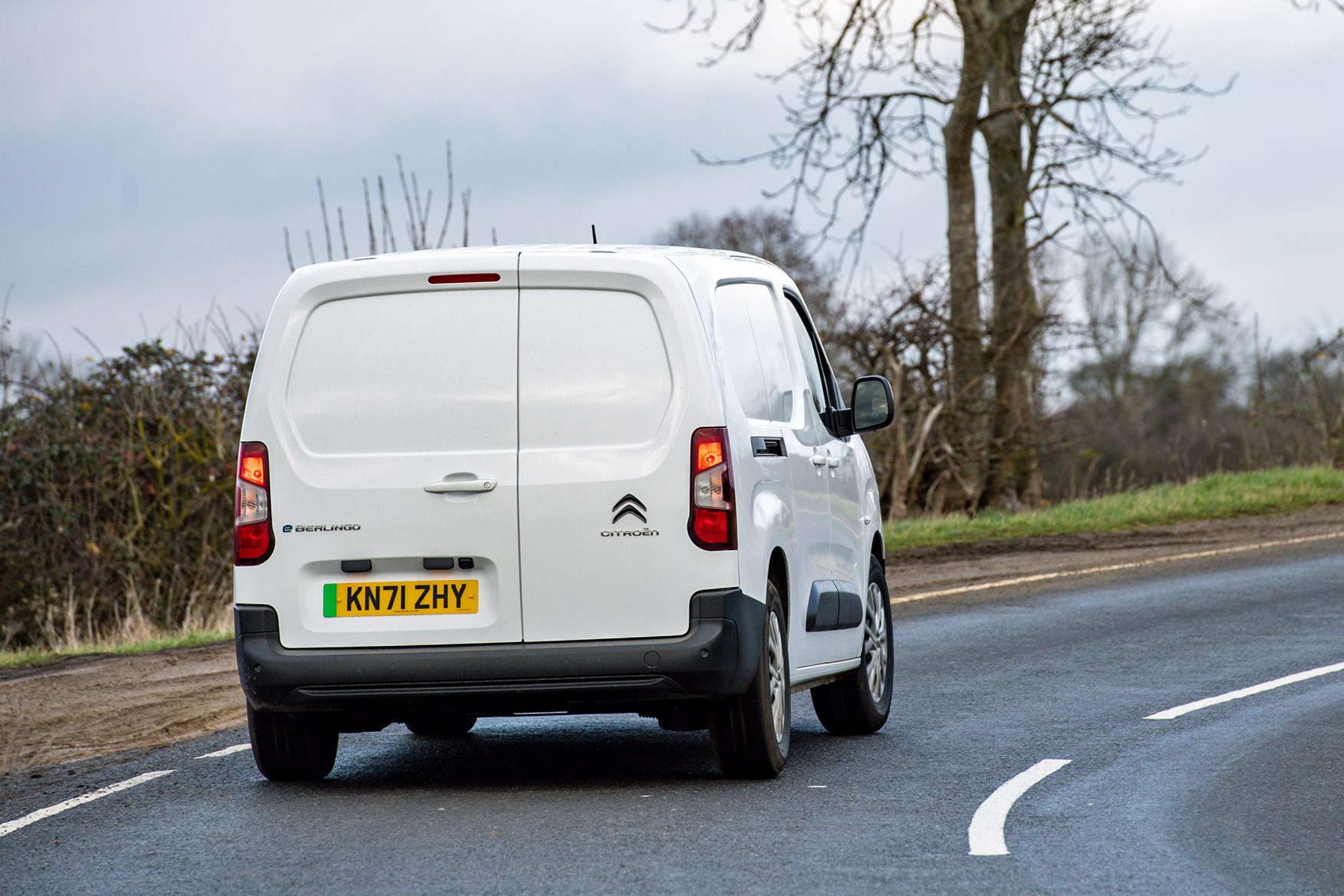 Certainly, the additional weight of the heavy battery pack doesn't appear to have affected the way the e-Berlingo drives compared to its combustion-engined counterparts. If anything, it leans less in the corners as a result.
How's the real-world driving range?
We've driven a few of these small electric vans now across all four brands that sell them, and can safely say they're most range-comfortable in urban environments. Stop-start driving around towns and cities really suits the way electric motors work, and helps the battery keep going for longer. That's the good news.
The bad news is that any extended high-speed driving - such as travelling between two towns on a motorway or dual carriageway - can see the range plummet like a stone going over the edge of a cliff. If you need to go quickly in one of these, they seem to work out about 50% as efficient as they claim.
You can adapt your driving style to suit, but the weight of the van and the weather (electric vehicles lose driving range in the cold) will also have an impact. So consider carefully how you use your van before opting for one of these.
Nicely trimmed cockpit…
… if a little cramped
Digital dials are a nice touch
The e-Berlingo's interior is almost identical to the very likeable standard model, so we'll simply cover the differences here.
First of all, the protruding pod that comes from the dashboard no longer contains a traditional gear selector but a toggle switch and a drive mode selector. It's a shame these couldn't have been relocated elsewhere and freed up some legroom for the centre passenger, but that would involve a restructuring of the dashboard so we can understand why Citroen didn't.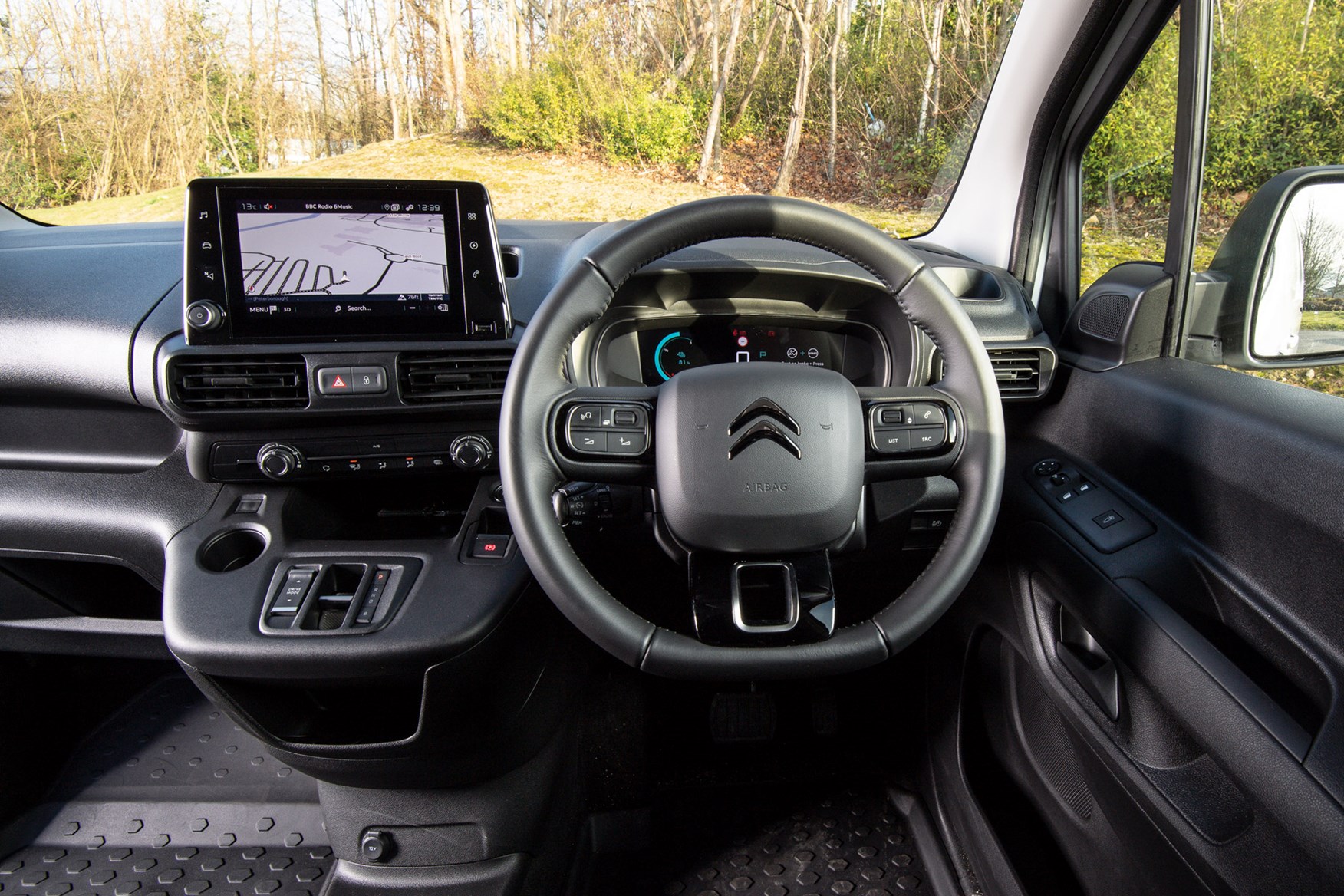 Models in the higher of the e-Berlingo's two specs come with a 10.0-inch digital instrument display in place of the traditional dials. This is a really nice touch, making the van feel more futuristic - it's also clear and easy to read, and displays useful info such as sat-nav directions - but hardly feels essential.
Quiet inside - mostly
These small vans are quiet as petrol and diesel models, but even more so with electric drive. Remarkably, the lack of engine noise doesn't make the road or wind noise seem louder - the e-Berlingo is simply a very pleasant place to pass time.
The only slight exceptions to this are the crew van models. These have an extra row of seats and repositionable metal-mesh bulkhead in place of the standard solid item. As a result, they are rather louder inside than the standard panel van.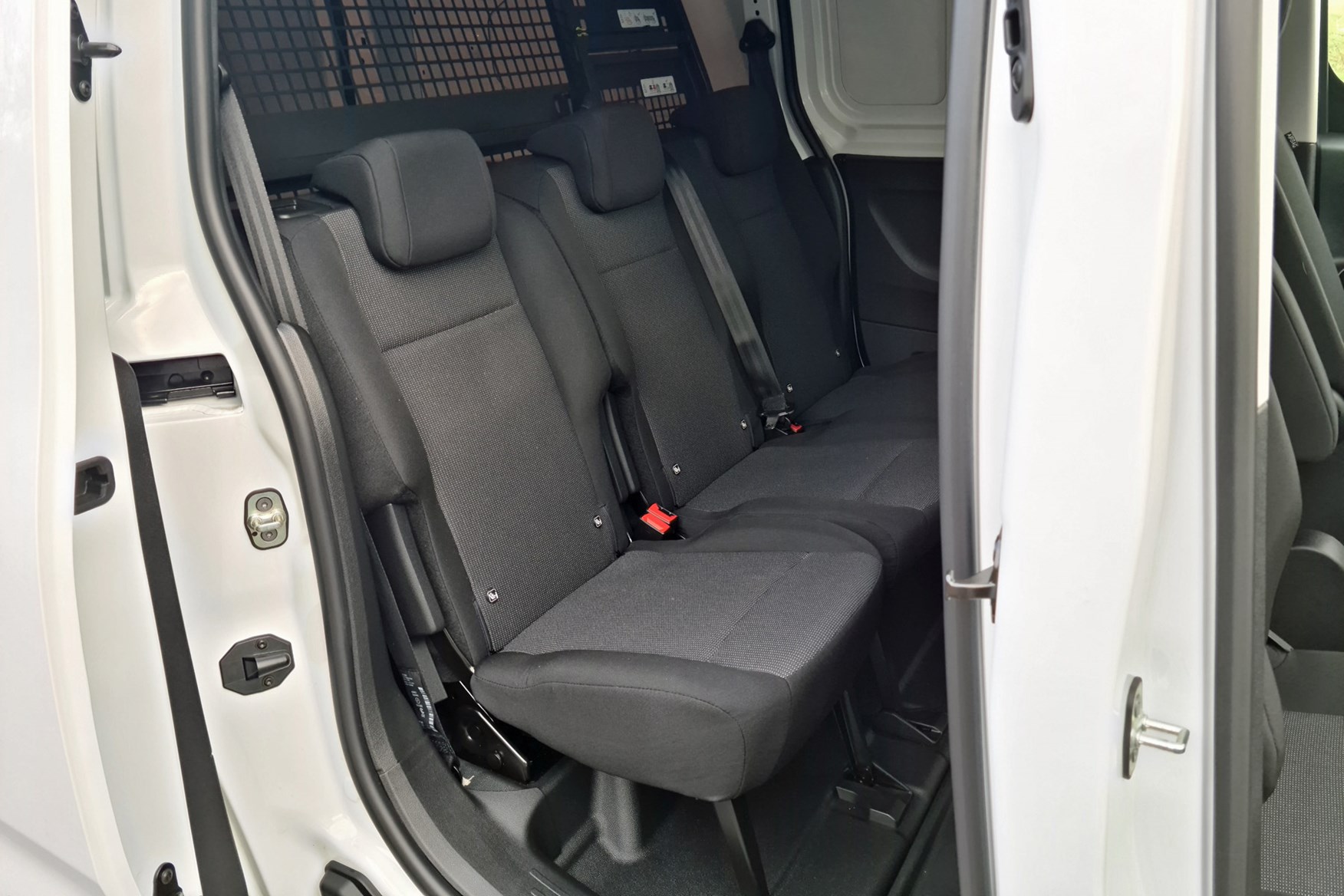 It's worth noting that you don't get windows in the side doors of the crew van as standard. This might be useful for security purposes if you'll regularly be folding the clever rear seat row flat and storing more items inside, as it will prevent prying eyes.
But it also means that anyone sat back there doesn't have much access to natural light...
There's more info about the crew van experience at the bottom of our main Citroen Berlingo van review.
Expensive to buy
Low running costs will eventually cover the difference
Only a three-year warranty
As with most electric vehicles, running a Citroen e-Berlingo can be very cheap if you do it properly. Even at its worst, it'll likely still cost you less than running a diesel van – however, if you want to offset the higher initial purchase price, there are ways to speed this up.
The first is to charge at home or at your business using the cheapest tariff possible – usually an overnight one, or one supplemented by solar panels. This can bring the price of a full charge down to just a few pounds, making running a Citroen e-Berlingo very cost-effective indeed.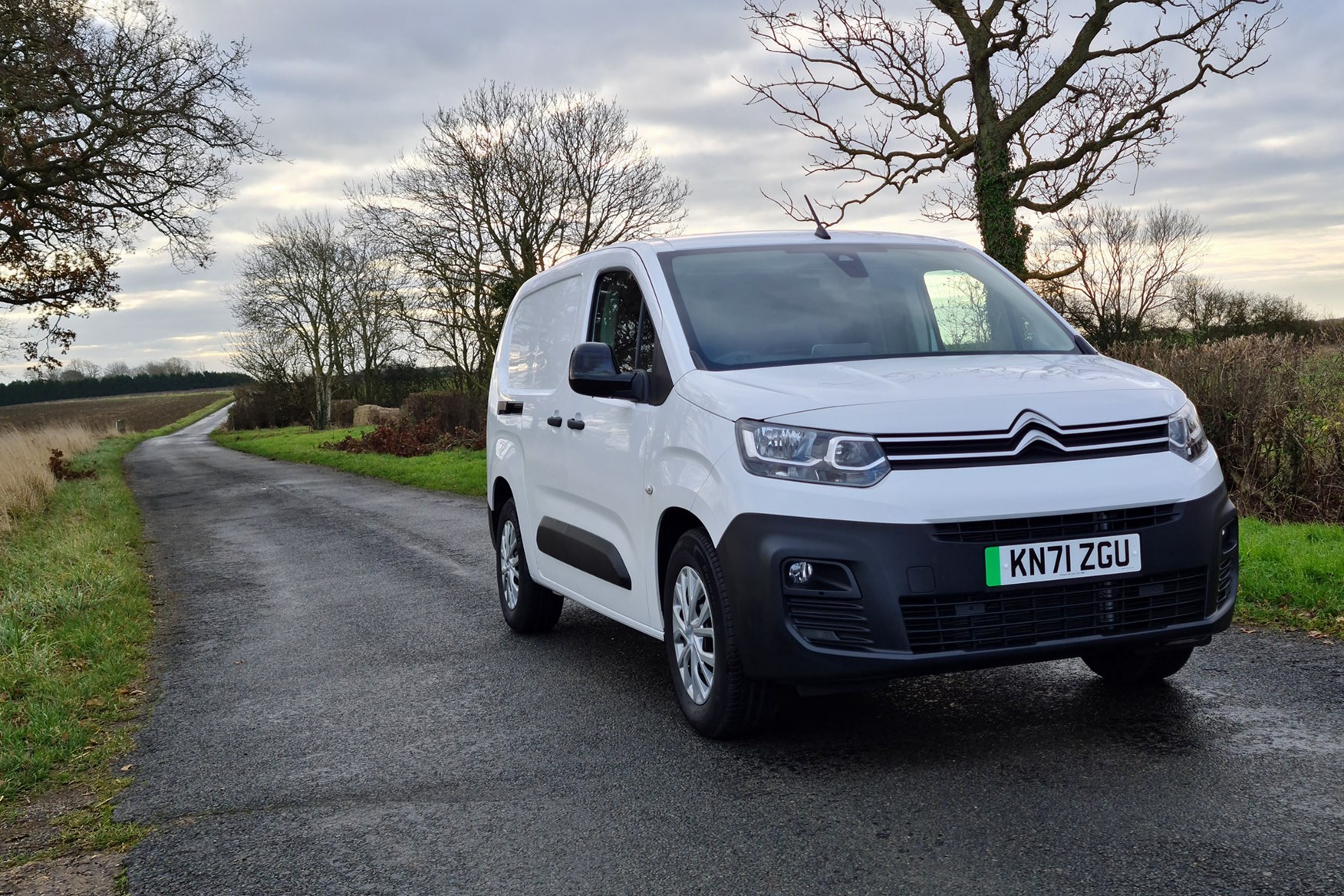 The opposite is true if you regularly top up using public chargepoints, which can in some cases be almost as expensive as putting diesel in.
However, Citroen reckons most of its customers will be able to do their whole day's work on a single charge, replenishing the van's battery overnight when electricity is cheaper. Using the companion app or the infotainment touchscreen you can schedule the e-Berlingo to charge at the cheapest times, too.
Citroen e-Berlingo servicing
Intervals of every 25,000 miles or two years, the same as the diesel vans. In theory these are variable intervals, with the van notifying you via the dashboard if it thinks it needs a service sooner – but with no engine oil to degrade this is unlikely.
Regenerative braking should help prolong the life of the braking systems and tyres, and there are fewer fluids to check and change, so servicing could prove cheaper.
Citroen e-Berlingo warranty
The main van is warranted for three years or 60,000 miles, while the battery gets a separate warranty promising to retain at least 70% of its capacity over eight years or 100,000 miles.
However, that can't compete with the Toyota Proace City Electric, which like all Toyotas can benefit from up to 10 years of warranty cover.
Citroen e-Berlingo standard equipment
The e-Berlingo is available in two trim levels, named Enterprise Pro and Driver Pro.
Standard kit for Enterprise Pro models includes:
Air-conditioning
Cruise control
Carpeted cabin
Electric, folding door mirrors
Multi-flex passenger seat (including load-through bulkhead)
DAB radio
8" infotainment display with Apple CarPlay and Android Auto
Front fog lights
Step up to Driver Pro and you'll get in addition:
Automatic wipers
16-inch alloy wheels
Body-coloured rear bumper, side rubbing strips and exterior door handles
Satellite navigation
10.0-inch digital instrument display
Front and rear parking sensors
Rear camera with side blindspot view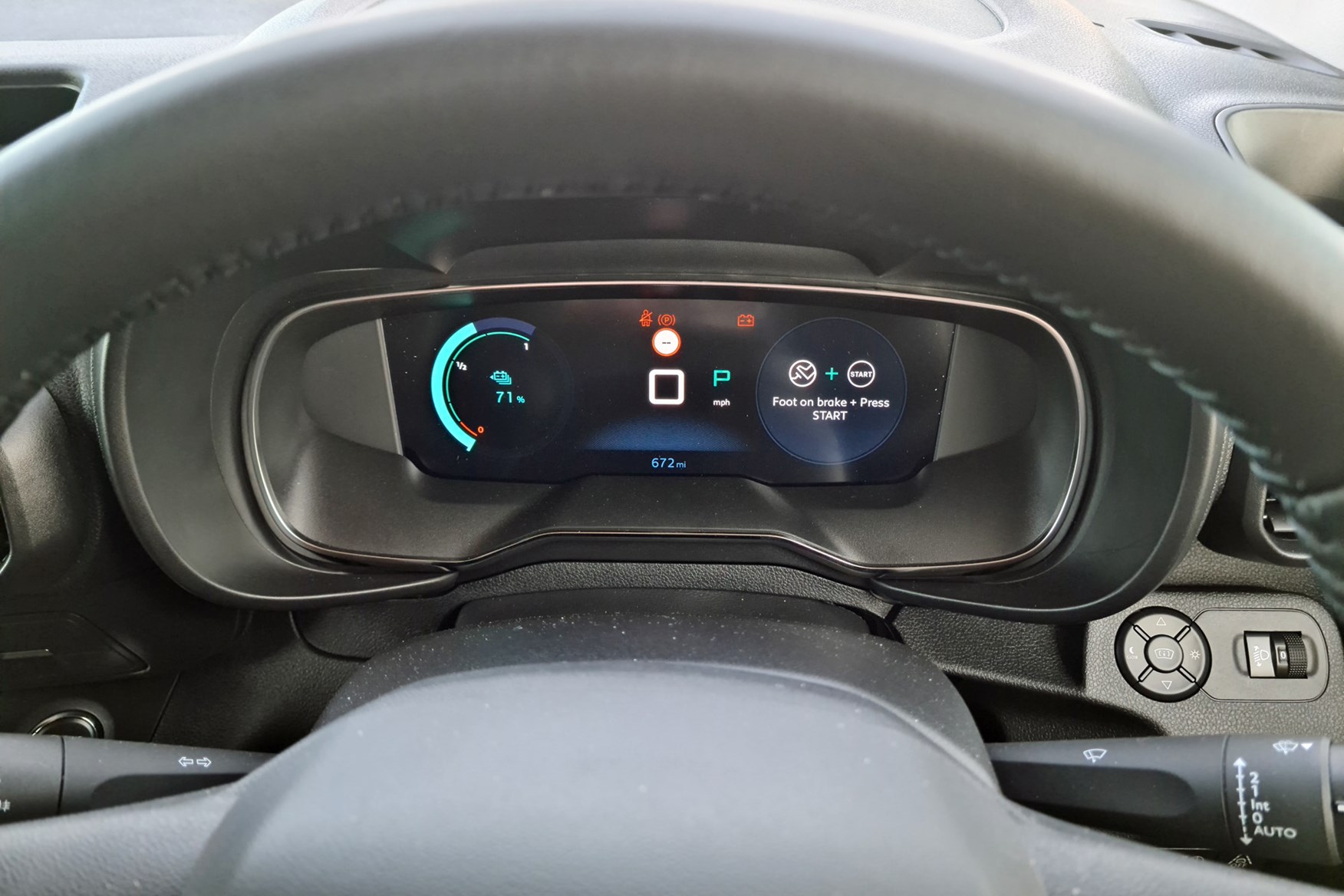 The e-Berlingo is still so new that it would be unfair to make any judgements about its reliability, good or bad. Signs do look promising, though. Citroen's commercial vehicles tend to be fairly reliable, and the e-Berlingo uses electric technology that's found across Peugeot, Citroen and Vauxhall passenger cars and vans.
With fewer moving parts electric vehicles are inherently more reliable than their diesel siblings, too.
Alarm as standard
Most safety kit is optional
Four star Euro NCAP for passenger model
The e-Berlingo isn't a cheap van, as a result of its electric powertrain – but annoyingly you'll still have to pay extra for the latest safety kit, some of which we'd consider nearly essential in 2021.
As standard you do get an alarm, but even a passenger airbag is a cost option, while you can opt for a full pack of passenger, side and curtain airbags above that.
You also need to pay extra for the Safety Pack or Safety Pack Plus, which are the only ways to get autonomous emergency braking and lane departure warning on your e-Berlingo.
Which Citroën Berlingo e-Berlingo is best for me?
As the e-Berlingo is more of a powertrain choice than a standalone model it's not difficult to choose the right variant.
The shorter wheelbase models have an 800kg payload, while long-wheelbase models have a larger loading area but a 750kg payload.
Which of those figures is more important to you will be your own decision.
Also read:
>> Citroen e-Berlingo electric van dimensions and specs