Peugeot e-Partner electric van review (2022)
Fully electric version of one of our favourite small vans
PROS
Load space unaffected by batteries
Up to 800kg payload
Full model range available
Fast charging as standard
Good range and performance
CONS
Shares everything with three other vans
Cramped for three passengers
Only one battery and motor option
Expensive to buy outright
i-Cockpit dashboard not for everyone
Summary
The Peugeot e-Partner is one of four near-identical small electric vans that propose a practical solution to rising fuel prices, tougher emissions regulations, and the increase in last-mile deliveries necessitated by the nation's addiction to online shopping.
Along with its siblings, the Citroen e-Berlingo, Vauxhall Combo-e and Toyota Proace City Electric, the Peugeot e-Partner represents the start of second-generation of electric small vans, perhaps representing the point where they not only become usable, but desirable.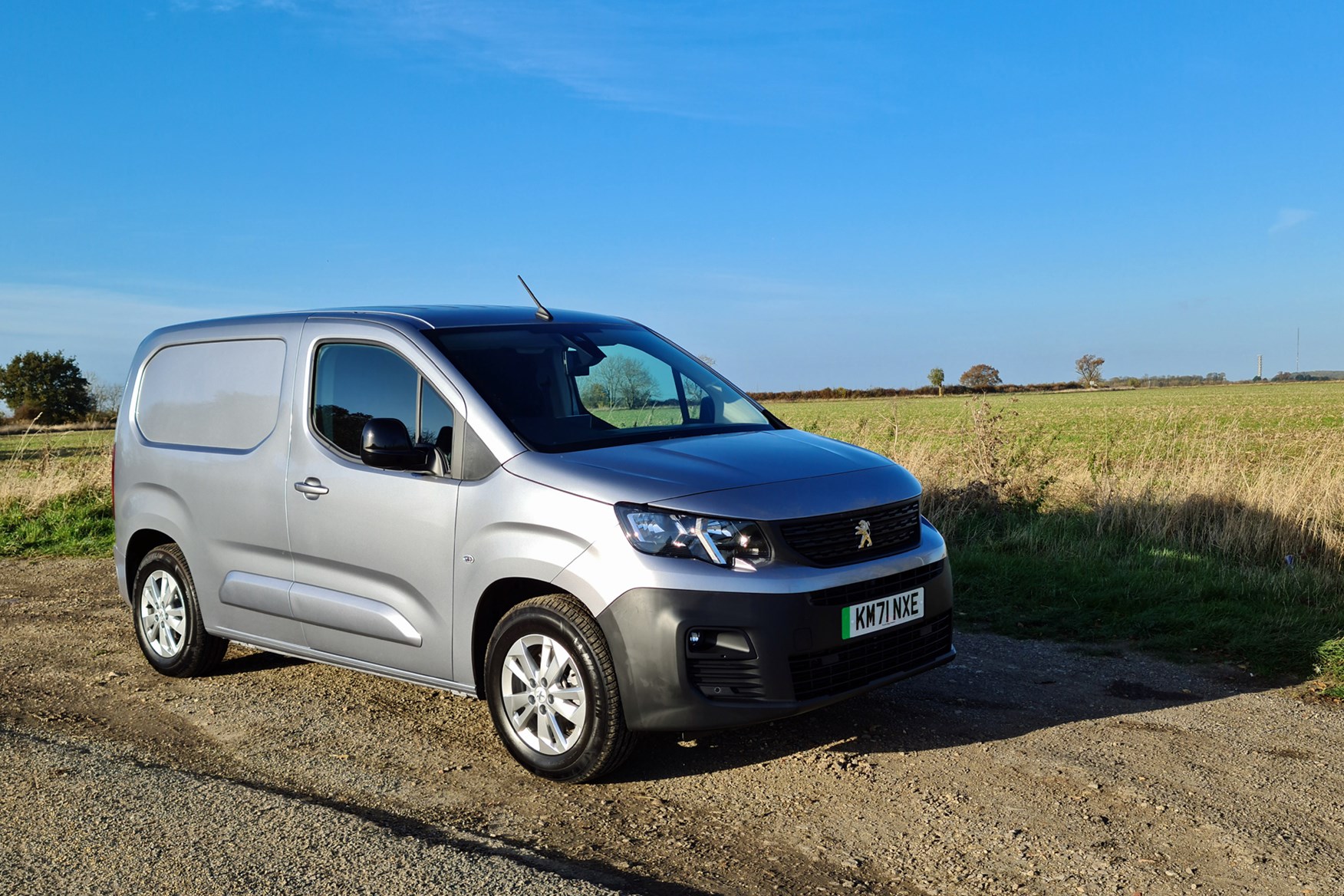 Peugeot reckons 80% of its customers cover less than 124 miles a day – well within the e-Partner's official claimed driving range of 171 miles per charge. And as it becomes increasingly important for businesses to be seen to be 'going green', these four vans could well become common sights, especially in large cities.
We've now driven the e-Partner in the UK. So how does its promise stack up in reality?
Performs just like a diesel
Electric vans have been around since 2011, when the original Renault Kangoo ZE first went on sale, and there have always been some compromises - usually related to payload, driving range and comfort.
The e-Partner and its related vans go some way towards combatting these problems, with a generous 800kg payload, identical load area to petrol and diesel Peugeot Partner models and thoroughly usable performance.
Admittedly, the diesel alternatives can carry 200kg more and 'refueling' isn't as straightforward for an electric van. But with a suitable daily mileage requirement, many users will be able to treat an e-Partner much like they do their conventional vans.
There's also barely a visual cue that this is an electric van – the only way you'll tell the difference is by the badging.
Full model range available
Opting for the electric powertrain doesn't mean losing out in choice anywhere else, either. Peugeot's mantra is 'choose your Peugeot, choose your powertrain' – treating an electric motor as if it were no different to a petrol or a diesel engine.
So you can choose different spec levels, a short or long-wheelbase, and either a panel van or five-seat crew van. There's also a passenger car variant, named the Peugeot e-Rifter.
What are the rivals?
There's no escaping that the Peugeot e-Partner is more or less identical to three other vans. The Citroen e-Berlingo, Vauxhall Combo-e and Toyota Proace City Electric feature the exact same mechanicals with the only differences being the badges, the dealers and, in the Toyota's case, the 10-year warranty.
The e-Partner does have a slightly different steering wheel and dashboard arrangement, following the brand's i-Cockpit design philosophy. This makes very little difference once you're used to it, however.
Further rival e-vans are coming thick and fast, though. The Renault Kangoo E-Tech and the closely-related Mercedes-Benz e-Citan and Nissan Townstar - all on sale in 2022 - are the most direct alternatives, but there's also a selection of Chinese brands vying to enter the UK market and an increasingly broad range of slightly larger electric vans as well.
>> The best electric vans in the UK
Peugeot e-Partner driving range and charging
Officially the Peugeot e-Partner will go up to 171 miles on its fully charged, 50kWh battery pack. This battery is the same as the smaller of the two available in the larger Peugeot e-Expert and it's paired up to the same 136hp electric motor.
The 171-mile claim is slightly better than the 165 miles claimed by the forthcoming Renault Kangoo E-Tech, which won't be on sale for quite a while anyway. It's also a big step up over the 106 miles of the e-Partner's predecessor, and an improvement on popular models such as the old 124-mile Nissan e-NV200 or the curious Maxus e Deliver 3, which returns 151 miles (and is technically a medium van).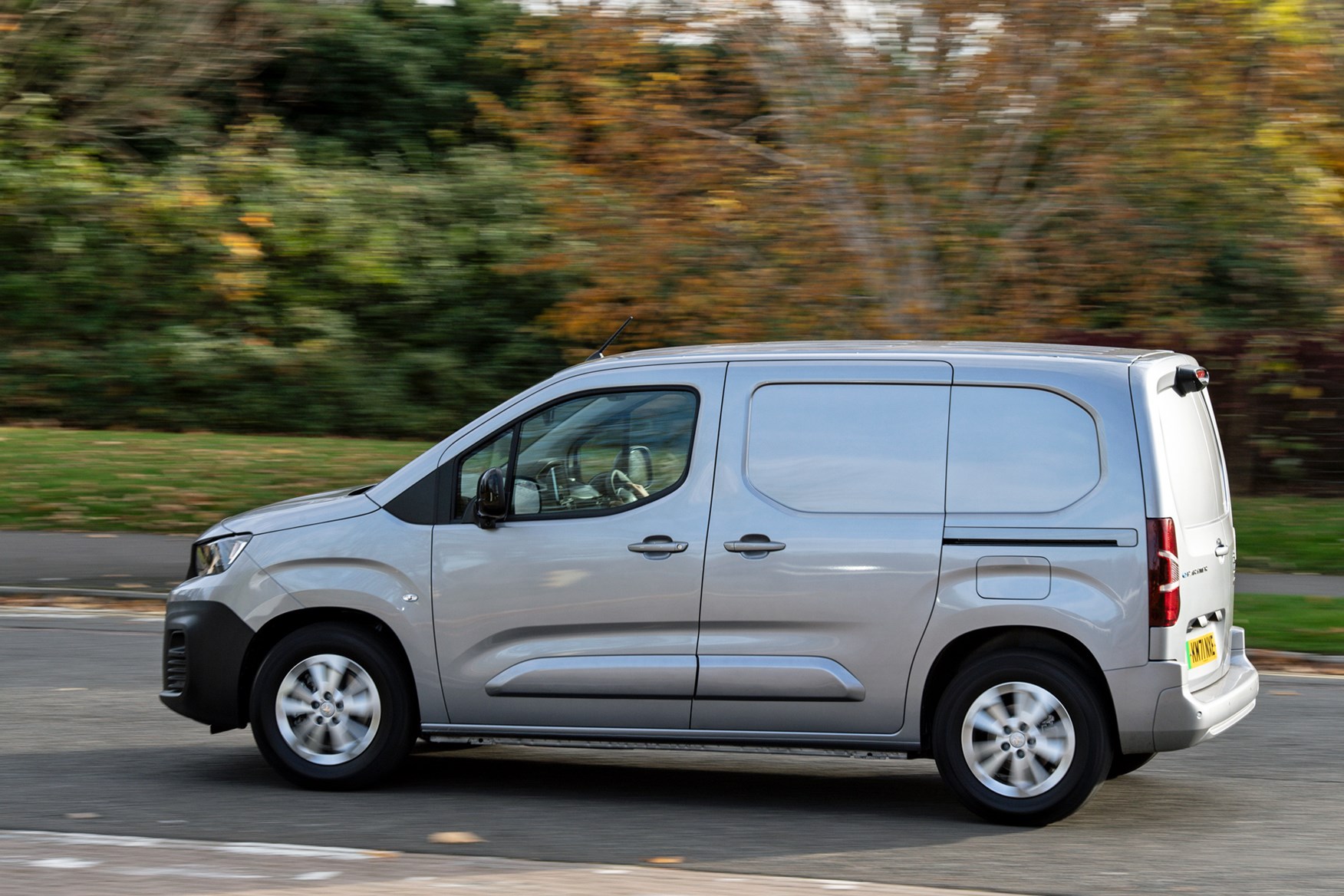 Unfortunately, in real-world testing, we've found that any effort to stretch the e-Partner's legs on the motorway for a longer trip will see the driving range plummet. There's more on this in the Driving section of this review.
In better news, every e-Partner offers fast charging as standard, capable of topping up at a 100kW rapid charger. If you can find one (and 100kW chargers are becoming more and more common in the UK) you'll be able to go from 0-80% charge in just 30 minutes.
If charging up at home or work, doing so via a standard domestic wallbox at 7.4kW will yield a full charge in seven and a half hours. You can up the on-board charger to an 11kW unit to bring that down to five hours.
---

Verdict: is the Peugeot e-Partner any good?
This review goes into much further detail, but it's fair to say the Peugeot e-Partner and its sister vehicles are the current benchmark for small electric vans. That's still a niche category, but it means these EVs the ones to beat for forthcoming models.
Driving range remains an issue if you regularly need to between towns and cities in order to serve your customers. But if you're operating mostly around a single urban area, the e-Partner requires few compromises compared with a conventional van.
Though it is more expensive to buy outright, it offers an instant green image and lower running costs, and should prove competitive when it comes to monthly finance pricing.
Skip to our full verdict on...
Silent electric powertrain with plenty of punch
Three driving modes to tweak the experience
Real-world range may prove disappointing
The Peugeot e-Partner uses the same electric motor you'll find in its sister vans, as well as the larger e-Expert. This makes it refined and good to drive, but you consider the driving range limitations carefully.
Peugeot e-Partner power and performance
That electric motor produces 100kW of power, the equivalent of 136hp. It sends that power to the front wheels, and is capable of 0-62mph in 11.7 seconds. Top speed is electronically limited to 81mph.
This makes the e-Partner marginally more powerful than the top-spec diesel model. And though it is down on torque with 260Nm versus 300Nm, the electric van feels more urgent, thanks to the characteristics of an electric motor. All the torque is available from standstill, giving the e-Partner genuinely rapid acceleration around town, which is where this van is really at its best.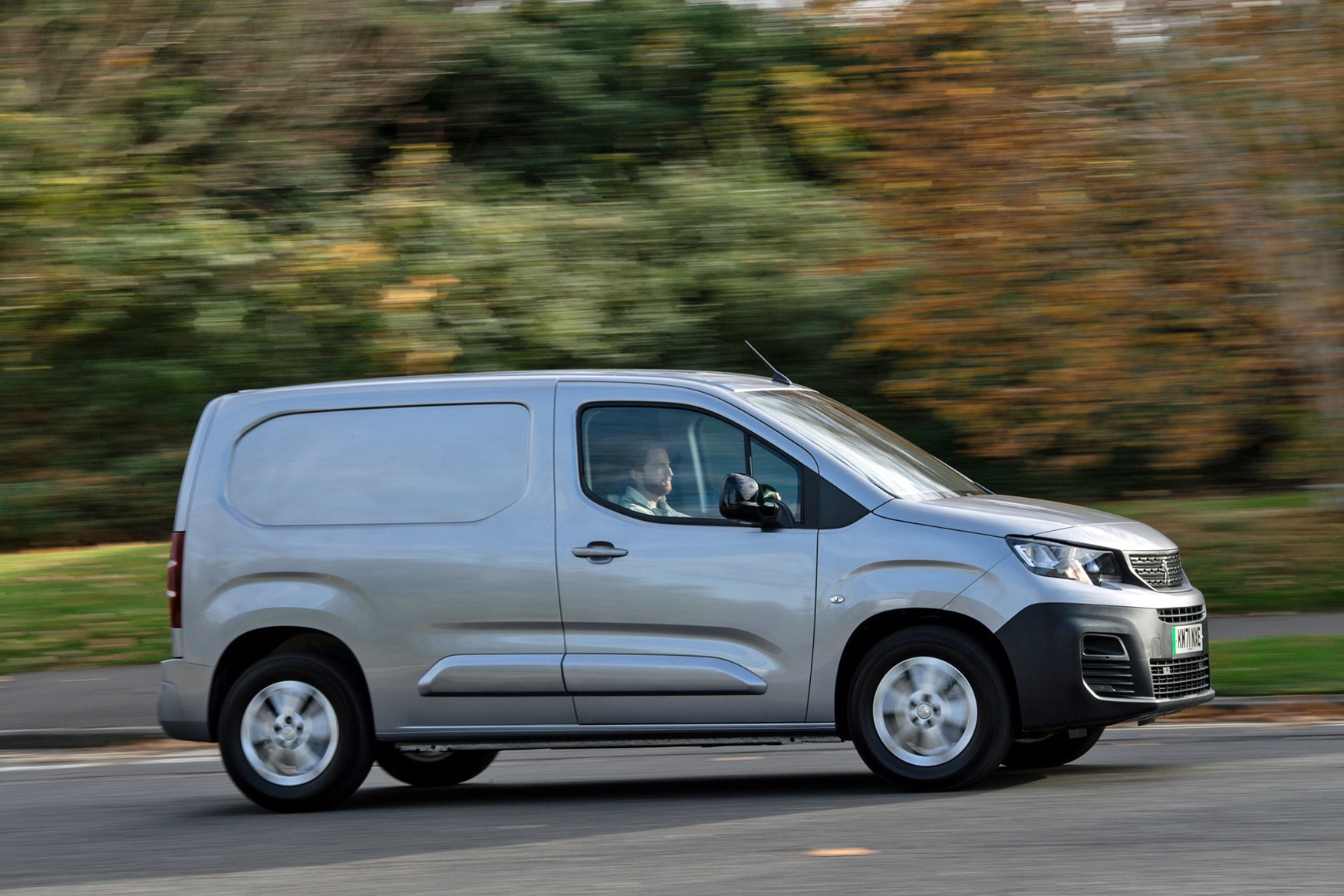 No matter where you drive, there's almost zero noise from the powertrain, and with a single-speed transmission it's far smoother than even the eight-speed automatic gearbox available with the diesel engine.
Despite a top speed that isn't far above the motorway limit, there's enough oomph for it to be comfortable at 70mph, so there are no performance issues to worry about on faster roads.
The problem is that when you do need to go faster, you'll find the driving range suffers considerably.
Peugeot e-Partner real-world driving range
There is no getting away from it: travelling on a motorway for even a relatively short distance severely impacts the e-Partner's driving range. At one point, we found ourselves at 50% battery and just 45 miles remaining - and this was in an empty van, using cruise control to avoid unintentional acceleration and Eco mode (see below) so performance wasn't affected by the heater. A loaded van will have even greater difficulties.
You might argue that this is a problem for all electric vehicles, and to a certain extent that's true. Urban driving suits them best of all, because speeds are lower, and the regular stopping and starting provides a constant source of energy to keep the batteries topped up. But we have driven other electric vans recently - most notably the Maxus e Deliver 3 - that seem to manage their battery power much more efficiently.
Now, it could be that the e-Partner is simply giving you the worst-case scenario at any point so you can plan your response better. But there is still a severe disconnect between what the driving range gauge promises when you first start the van and what it seems to be capable of delivering in reality that could surely be managed better. The difference between the claimed range and real life is substantial enough here to undermine trust in this burgeoning technology in a damaging way.
It also seems to be a particular problem for Stellantis vehicles, as we've experienced the firm's other electric vans and electric cars behaving in the same way.
Ride and handling
In much better news, if you've driven a petrol or diesel Partner you'll feel comfortable behind the wheel of the e-Partner. In almost every respect they drive identically – you won't notice the additional weight of the heavy battery pack unless you're regularly cornering hard.
The electric version is quiet, thanks to the lack of engine noise, but then the conventional alternatives are hardly noisy either.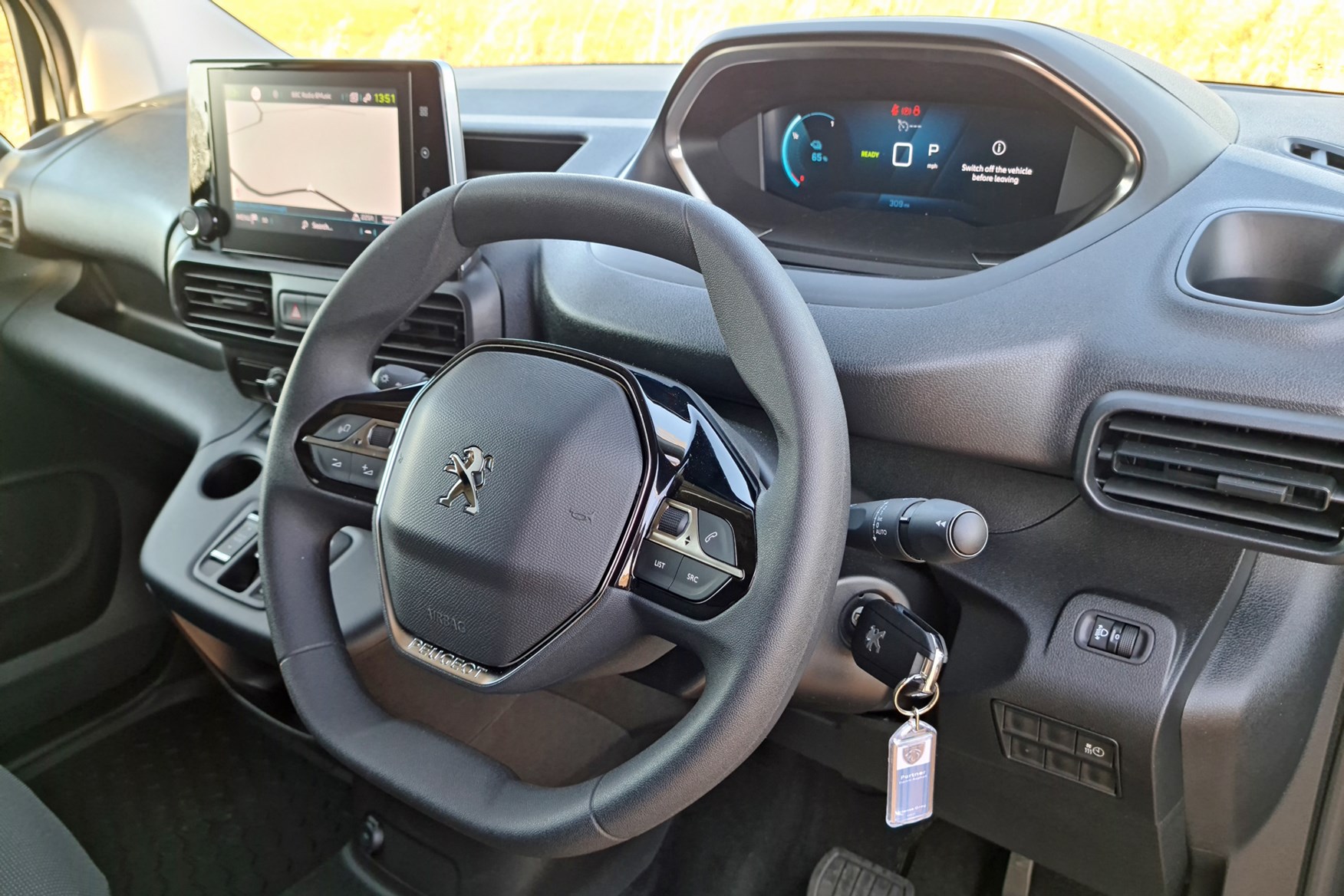 The suspension is comfortable and settled on the motorway and around pockmarked town roads, though can get a little fidgety on bumpier B-roads.
The light steering isn't quite as pleasant, and can be a little twitchy on faster roads - a sensation that's enhanced by Peugeot's deliberately small, hexagonal steering wheel, which is supposed to make the vehicle feel more alert and nimble but can be a little disconcerting.
Still, it makes parking very easy.
Three drive modes
You've a few options when it comes to driving your e-Partner. You'll find a few switches down where you'd expect to see a gearlever.
The first is a toggle switch to go between drive and reverse – simple enough. Alongside it you'll find an indicator for which of those you're in, flanked on the top and bottom by buttons for 'P' (park) and 'B' (brake). The latter activates regenerative braking, which uses the resistance of the electric motor to slow you when you take your foot off the accelerator. It's not a particularly pronounced effect like it is in some electric cars, and won't take you down to a full stop – but we preferred driving with it on.
There's also a switch to go between the three drive modes, named Eco, Normal and Power. Eco mode restricts the electric motor to just 60kW (81.5hp) and even throttles back the air-conditioning, so it's best saved for when you're really worried about your remaining battery capacity.
Normal mode, which the e-Partner defaults to on startup, provides 80kW (109hp) of power, which is plenty for most applications. However, if you want the motor's full 100kW, you need to go into Power mode, which Peugeot recommends using for uphill stretches, when heavily laden, or while towing.
Well-made cockpit
Flash digital dials
i-Cockpit arrangement won't be for everyone
We won't bang on about the Peugeot e-Partner's interior for too long as in most respects it's absolutely identical to the regular Peugeot Partner.
The few changes are obvious to see. The first is around the gear selector – instead of a gear lever or automatic transmission dial you find a toggle switch with a few other controls. Somewhat frustratingly, even though these controls could have been relocated, they remain on the same 'pod' as the standard van's, which severely impacts legroom for a potential third passenger in the double passenger seat.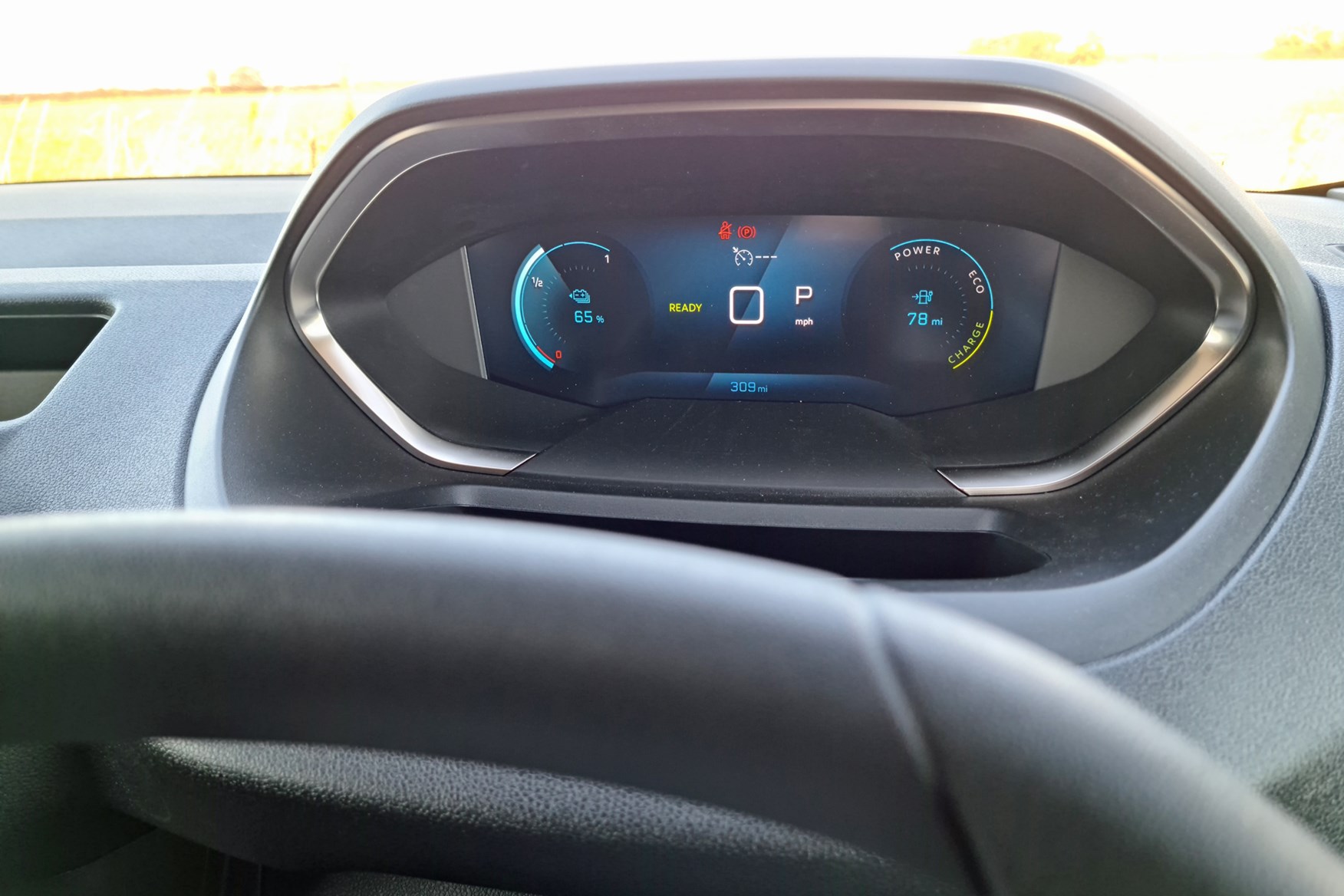 Another variation is that most models are fitted with a digital instrument cluster – a real rarity for a van. This has clear graphics and looks good too, it's a very nice touch. It's also useful that it can display useful info like which of the driving modes you're in or sat-nav directions.
Those dials are set into Peugeot's i-Cockpit dashboard, which places the gauges high up, over the top of a shrunken steering wheel. It's undeniably an acquired taste compared with the more conventional layouts in its sister vans, but it's easier to get used to in this than in Peugeot's passenger cars where more people tend to struggle to find a comfortable driving position.
Low running costs
More expensive to buy than diesel
Should prove reliable, but only three-year warranty
Despite rising electricity costs, running a Peugeot e-Partner should prove very cheap to run – once you've factored in the hefty purchase price. Even with the UK government grant available for electric vans, you'll end up paying several thousand pounds more for the e-Partner than you would for the most powerful automatic diesel.
Running costs will rise sharply if you rely on the public charging network, which can be pricey. But home or business electricity costs, especially on cheap overnight tariffs or supplemented by solar panels, can bring it right back down.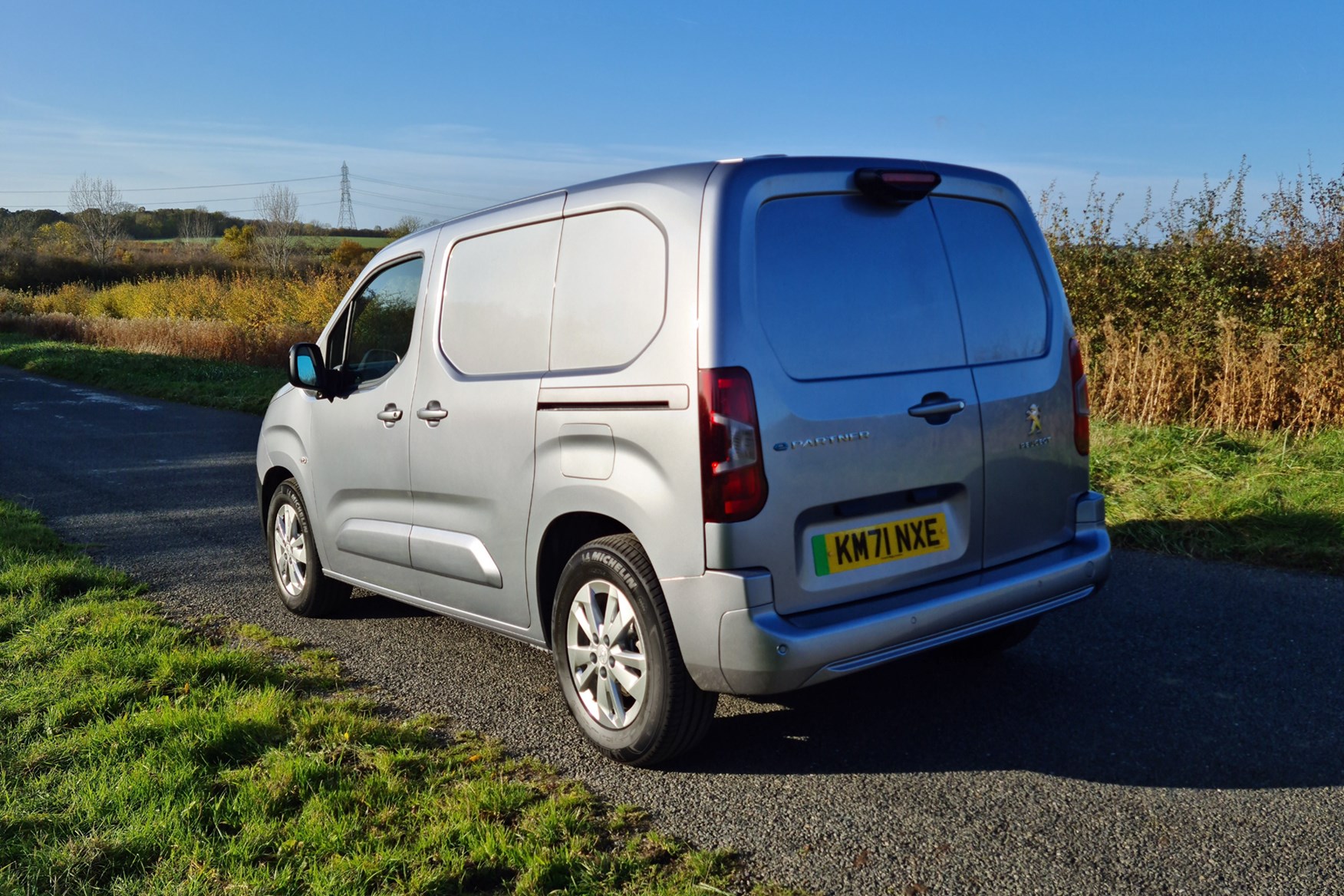 The e-Partner's range should be sufficient to allow you to do your day's work and then replenish overnight – remember, Peugeot reckons 80% of its users average less than 124 miles a day, well within the van's 171-mile maximum range. You can also use the infotainment system or companion app to schedule charging for the cheapest times.
Peugeot e-Partner servicing
Service intervals are set at the same as the diesel vans, so you'll need a service every 25,000 miles or two years. These are variable intervals in theory, but with no engine oil to degrade it's less likely the van will ask for an early service.
Similarly, electric vans should prove slightly cheaper to service than combustion equivalents – the regenerative braking helps to prolong the life of the braking systems and the tyres, while there are fewer fluids to check and change.
Peugeot e-Partner warranty
Most of the e-Partner is covered by the standard Peugeot warranty of three years or 60,000 miles.
However, the battery is warranted separately to retain at least 70% of its original capacity for eight years or 100,000 miles.
All well and good, but you could choose the Toyota Proace City Electric, and get a basically identical van that's covered for up to 10 years as long as it's serviced by Toyota.
Peugeot e-Partner standard equipment
The e-Partner is available in a choice of two trims in the UK: Professional Premium and Asphalt Premium.
Peugeot e-Partner Professional Premium standard equipment:
Air-conditioning
Cruise control
Carpeted cabin
Electric, folding door mirrors
Multi-flex passenger seat (including load-through bulkhead)
DAB radio
8" infotainment display with Apple CarPlay and Android Auto
Front fog lights
Peugeot e-Expert Asphalt Premium standard equipment (in addition to Professional Premium):
Automatic wipers
16-inch alloy wheels
Body-coloured rear bumper, side rubbing strips and exterior door handles
Satellite-navigation
10.0-inch digital instrument display
Front and rear parking sensors
Camera system with permanent rear view and blindspot view
The e-Partner is still far too new to make any judgement on its reliability.
It is, however, based on a proven set of components that sees service across Peugeot's range of passenger cars and vans, and with fewer moving parts electric vehicles do tend to be inherently more reliable than their more complex combustion-engined cousins.
We'll update this page if we have any reports of the e-Partner's reliability, positive or negative. If you've got one, let us know how reliable it's proving via the Parkers feedback email address.
Lots of safety kit available…
… but most is still optional
Standard alarm
The Peugeot e-Partner might be expensive but you'll still have to shell out extra if you want the latest safety kit. Only one airbag comes as standard, with a front passenger airbag available for £120 or a full set of curtain, side and passenger airbags for £490.
You also need to pay extra for the Safety Pack or Safety Pack Plus, which are the only way to get autonomous emergency braking or lane keeping assist.
The MPV version of the conventional Partner van, the Peugeot Rifter, scored four stars in its Euro NCAP crash test back in 2018.
Which Peugeot Partner e-Partner is best for me?
With just one powertrain, two lengths and two trims, choosing a Peugeot e-Partner is fairly easy. You might also choose to opt for a crew van if you need to transport five people regularly.
Also read:
>> Peugeot e-Partner dimensions and payload info