Ford Fiesta Van review (2021)
Stylish small van that's great to drive and loaded with kit
PROS
Smart to look at
Sharp to drive
Well equipped
Quiet on the motorway
Cheap to run
CONS
Small load area
You can buy a 'proper' van for less
Best kit still costs extra
Car-grade plastics
Glass rear window
Summary
The 2021 Ford Fiesta Van is a car-derived van based on the bestselling Ford Fiesta car, and particularly appealing in Fiesta Sport Van spec. Since August 2020 it has been available with petrol engines only, however, which makes an already niche model even more unusual.
The same update introduced new mild hybrid technology in an effort to improve fuel economy, and made the Fiesta Van Sport the only model offered to regular retail customers.
With updates to the engines and trim levels in 2020, we're not expecting any major changes to the Fiesta Van in 2021. But we will of course report any developments here in our Ford Fiesta Van review.
What is the Ford Fiesta Van?
You've probably already gathered this is a van with a particular and limited appeal. Especially when a 'proper' compact van, such as Ford's very own Transit Courier, has an entry-level list price that's thousands of pounds less, a more powerful engine and double the load volume (if not much more payload capacity).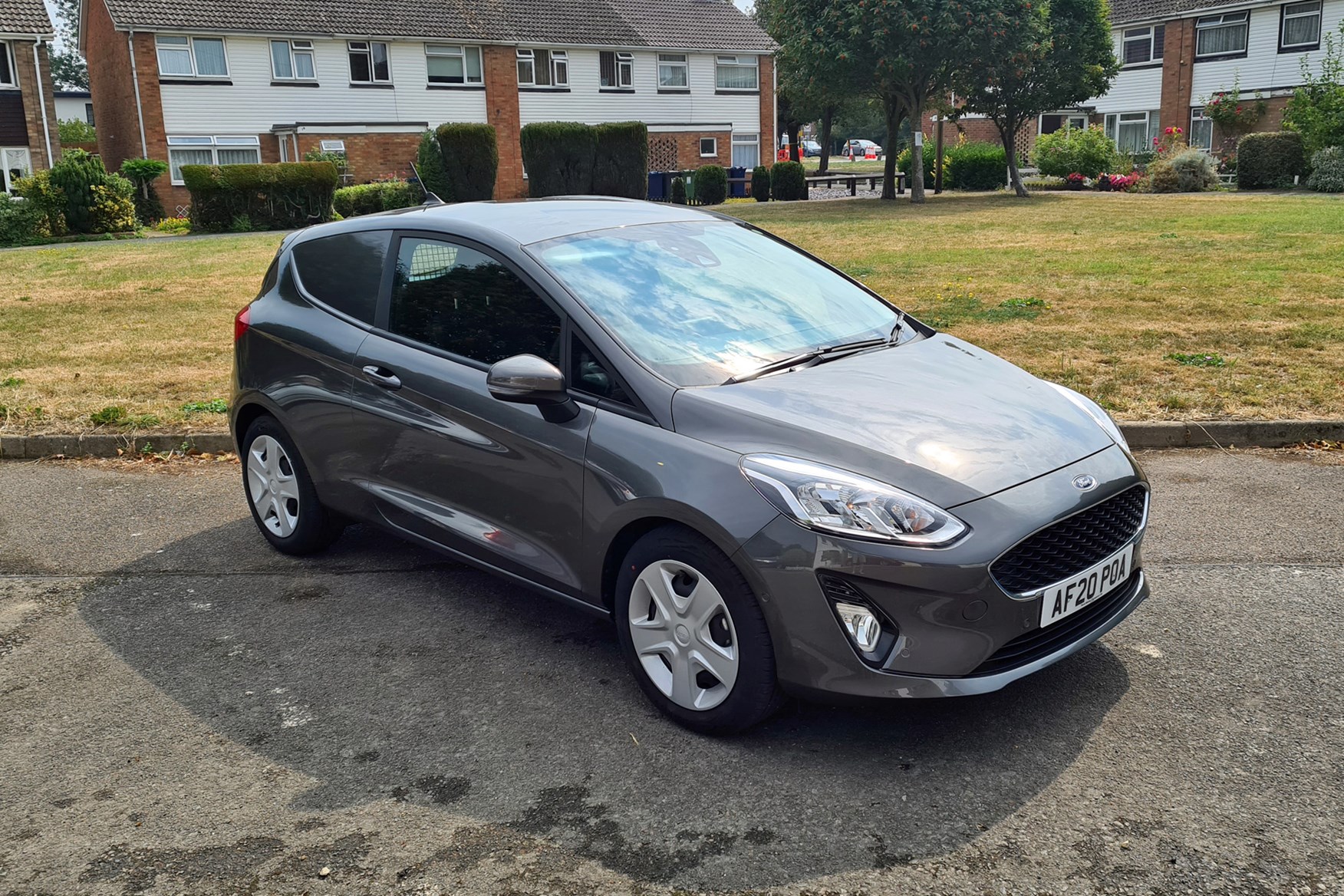 By comparison, the Fiesta Van is quite literally a Fiesta car with the rear side windows blanked off and the rear seats replaced by a flat, well-insulated and rubber-lined load area that's separated from the front seats by a part-mesh steel bulkhead.
On the other hand, this means that it not only looks like a car but also largely drives like one and comes very well equipped. Since the Fiesta is one of the most engaging small motors on the road, available with all sorts of driver aids and handy technology, this is very good news indeed.
Especially in the case of the Fiesta Sport Van, which features sports suspension to complement its additional sporty styling.
Ford Fiesta trim levels – including the Ford Fiesta Sport Van
Two trim levels are available, labelled simply Fiesta Van and Fiesta Sport Van. The Sport is by far the bigger seller and, as of late 2020, the only model available to private buyers. The standard Fiesta Van trim is now exclusively for fleets.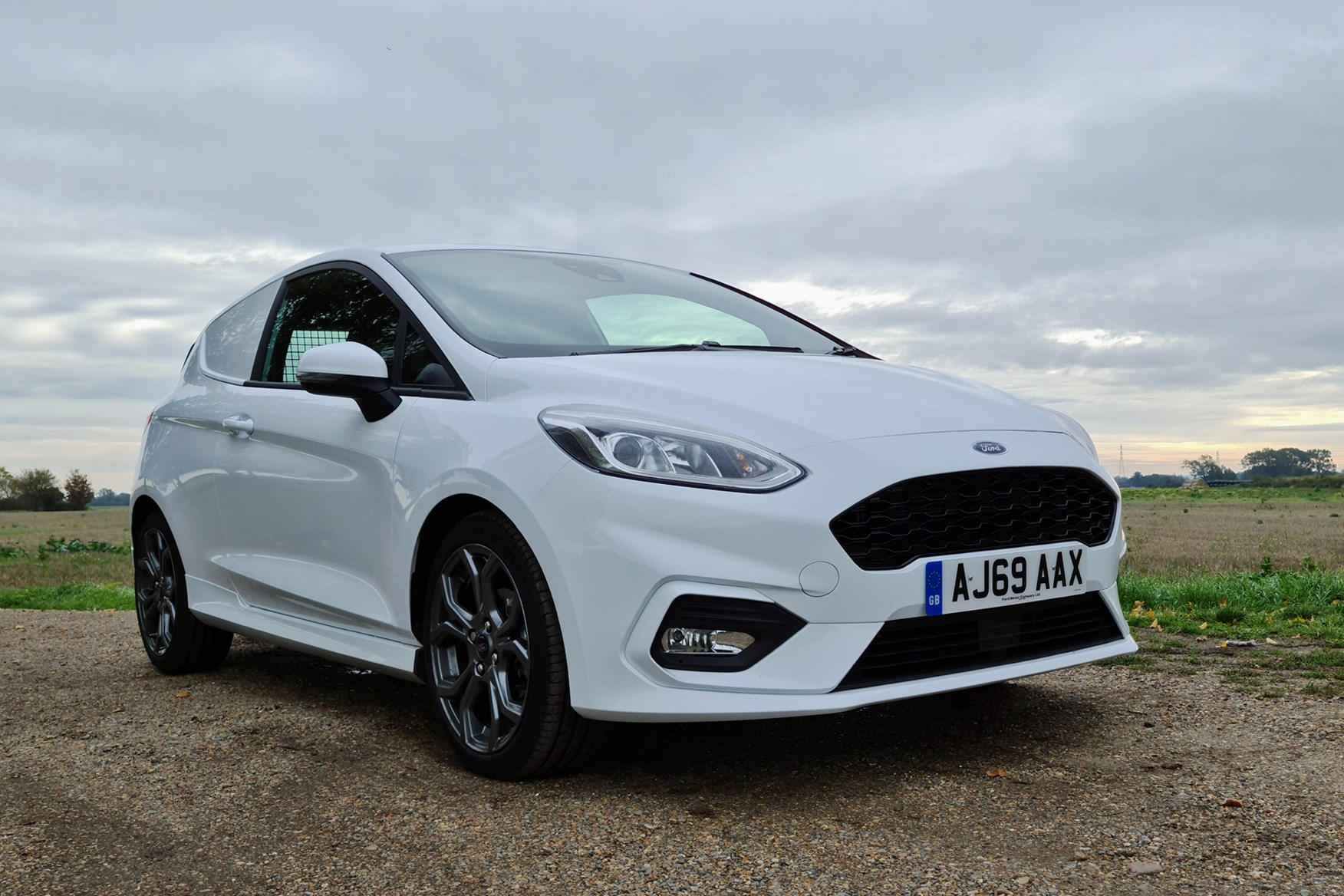 All Fiesta Vans come with an extensive list of standard equipment, including DAB radio, Bluetooth, automatic headlights, heated mirrors and remote locking.
The Fiesta Sport Van builds on this with extra items including a sporty body kit similar to that fitted to the ST-Line Fiesta passenger car, sports seats (pictured below), air-conditioning, Quickclear heated windscreen, keyless start and an alarm.
New Ford Fiesta Sport Van EcoBoost Hybrid for 2020
From August 2020 the Fiesta Sport Van's top 125hp turbo petrol engine is available to buy with mild hybrid electric vehicle (mHEV) technology. This is similar to a system already available on the larger Transit and Transit Custom, and replaces the original alternator with something called a belt-driven integrated starter generator.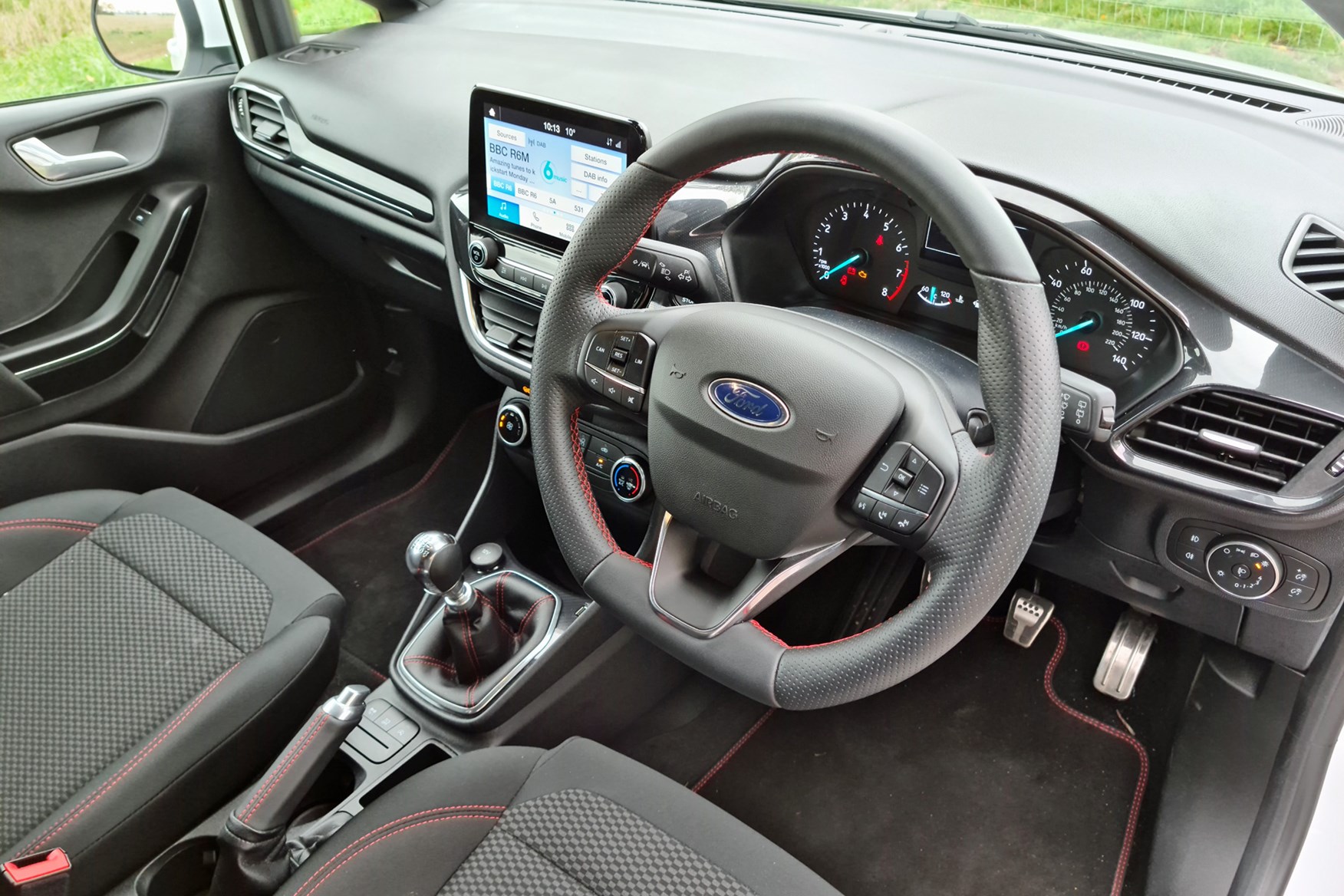 Combined with an additional battery pack, this new tech is designed to save fuel - switching the engine off much earlier than with a conventional stop-start system, it also recovers more energy that would otherwise be lost under braking and can assist the engine to improve low-speed response and fuel economy.
In June 2020, Ford also announced that the FordPass Connect 4G Wi-Fi modem would come as standard on all new Fiesta Vans, enabling Over-The-Air software updates and a wide range of vehicle connectivity via the FordPass Pro smartphone app.
Why buy a Ford Fiesta Van?
With its small load area and limited practicality, you might be wondering: what's the point of the Fiesta Van? Well, while it is certainly smaller in the back than a conventional van, it's still more practical than a regular car of this size.
So if your business only requires modest carrying capacity but the advantages of a dedicated commercial vehicle – which includes fixed-rate taxation and a functional load area complete with tie-down points and the added safety of a bulkhead – the Fiesta Van delivers this quite brilliantly.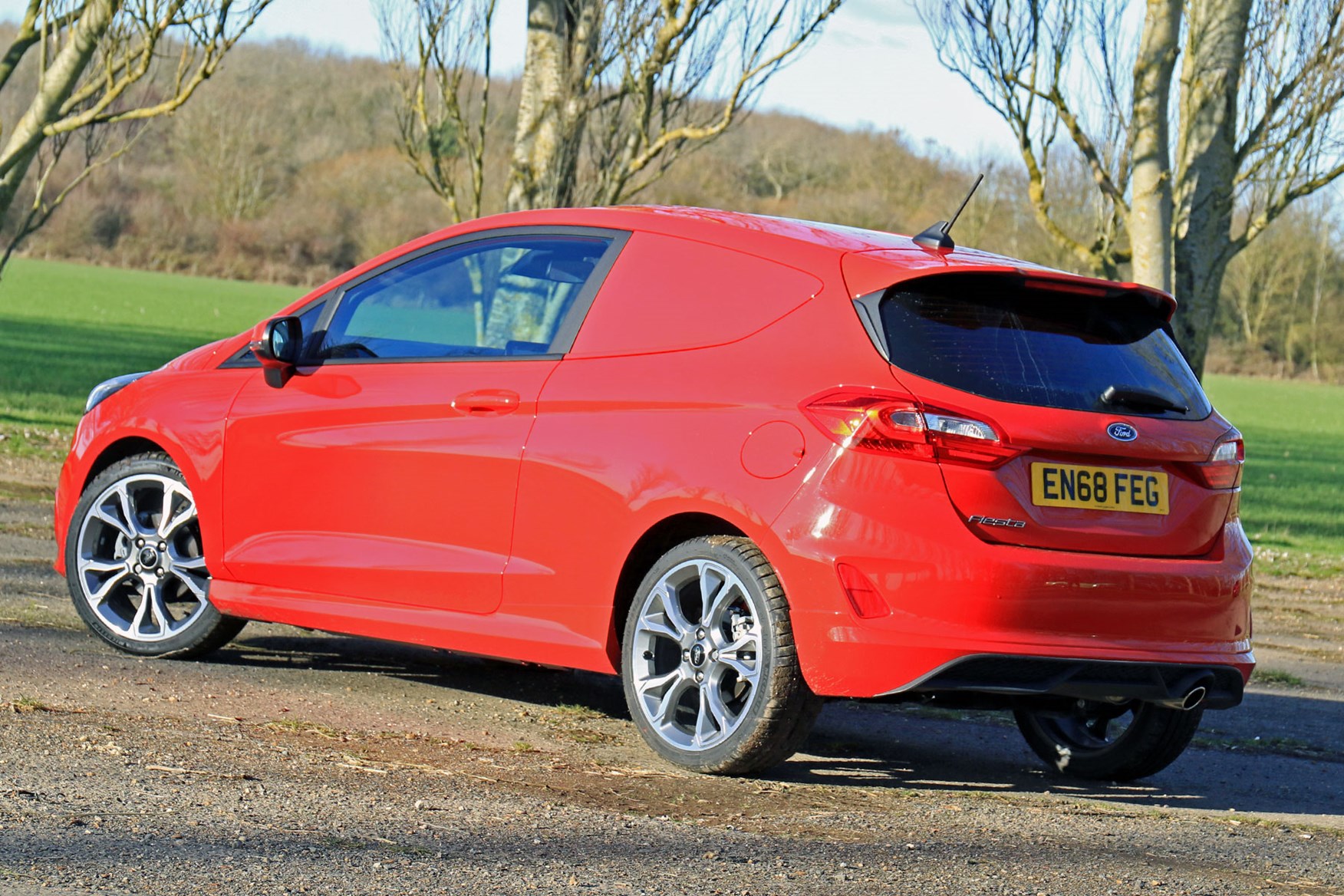 With a front passenger area that's identical to the Fiesta car – and all the modern driving convenience this suggests – plus sharp looks that can be modest in standard guise or eye-catching when dressed up as a Sport Van, it's also a surprisingly nice place to spend lots of time.
What's more, its small size makes it nippy around town and easy to squeeze into the tightest of yards and delivery spaces.
Fiesta Van alternatives
First launched in 2018, until late 2020 the Fiesta Van also competed in a market of one, as there were no other car-derived vans on sale in the UK (following the end of Vauxhall Corsavan production earlier in 2018 - and discounting commercial 4x4s, which are generally based on much larger SUV models).
However, Renault has now introduced a van version of its Zoe electric car. The Fiesta is less expensive outright, but the Renualt Zoe Van is highly competitive (meaning: often cheaper) when it comes to monthly finance pricing and offers lower running costs.
Being 100% electric, the Renault may not be as easy to live with, nor as practical. Read our full comparison twin-test for more info.
Alternatively, it's worth considering a small panel van, as these are usually less expensive and offer much more cargo space and payload.
>> Find out more about the best small vans on Parkers
>> Ford Fiesta Van vs Renault Zoe van - which is best?
---

Ford Fiesta Van verdict
If you're in the market for this kind of vehicle, don't be too concerned about the lack of competitive choice, the Fiesta Van is a brilliant piece of kit.
From the way it looks to the way it drives, not to mention the quality of fit and finish in the load area and the modern, fuel-efficient engines, this is a really good little van.
Only the 'little' part should make you pause, for the Ford Transit Courier drives nearly as well and has twice the load-space in the back. Even so, the Fiesta Van has a far, far nicer cabin, and its less overtly 'commercial vehicle' appearance may be appealing to some owners and operators as well.
Keep reading for our full Ford Fiesta Van and Ford Fiesta Sport Van review, or click the links below to jump straight to the section that most interests you.
Skip to our full verdict on...
Fun, fast, comfortable and quiet
Petrol only engine choice from August 2020
Six-speed gearbox on all but most basic diesel
The Ford Fiesta is one of the best-handling, nicest-driving small cars on sale – and the Ford Fiesta Van has inherited these traits wholesale.
Even more impressive, the transformation into a van hasn't resulted in a massive increase in noise inside the cabin. In terms of driver and passenger comfort it's truly superb for a van.
What's more, this assessment is based not only on the latest 1.0-litre EcoBoost turbo petrol models, but also the previous diesel versions. If you want a small van that doesn't feel like a van at all from behind the wheel, this is a great place to start.
Ford Fiesta Sport Van engines
The spicier-looking Fiesta Sport Van naturally deserves spicier engines, and got them at launch in the form of a 125hp 1.0-litre EcoBoost turbo petrol and a 120hp variant of the 1.5-litre TDCi turbodiesel. In November 2019, the 120hp diesel was replaced by the same 85hp diesel available in the standard Fiesta Van, and then in August 2020 all of the diesel Fiesta Vans were discontinued, in line with changes to the Fiesta car range.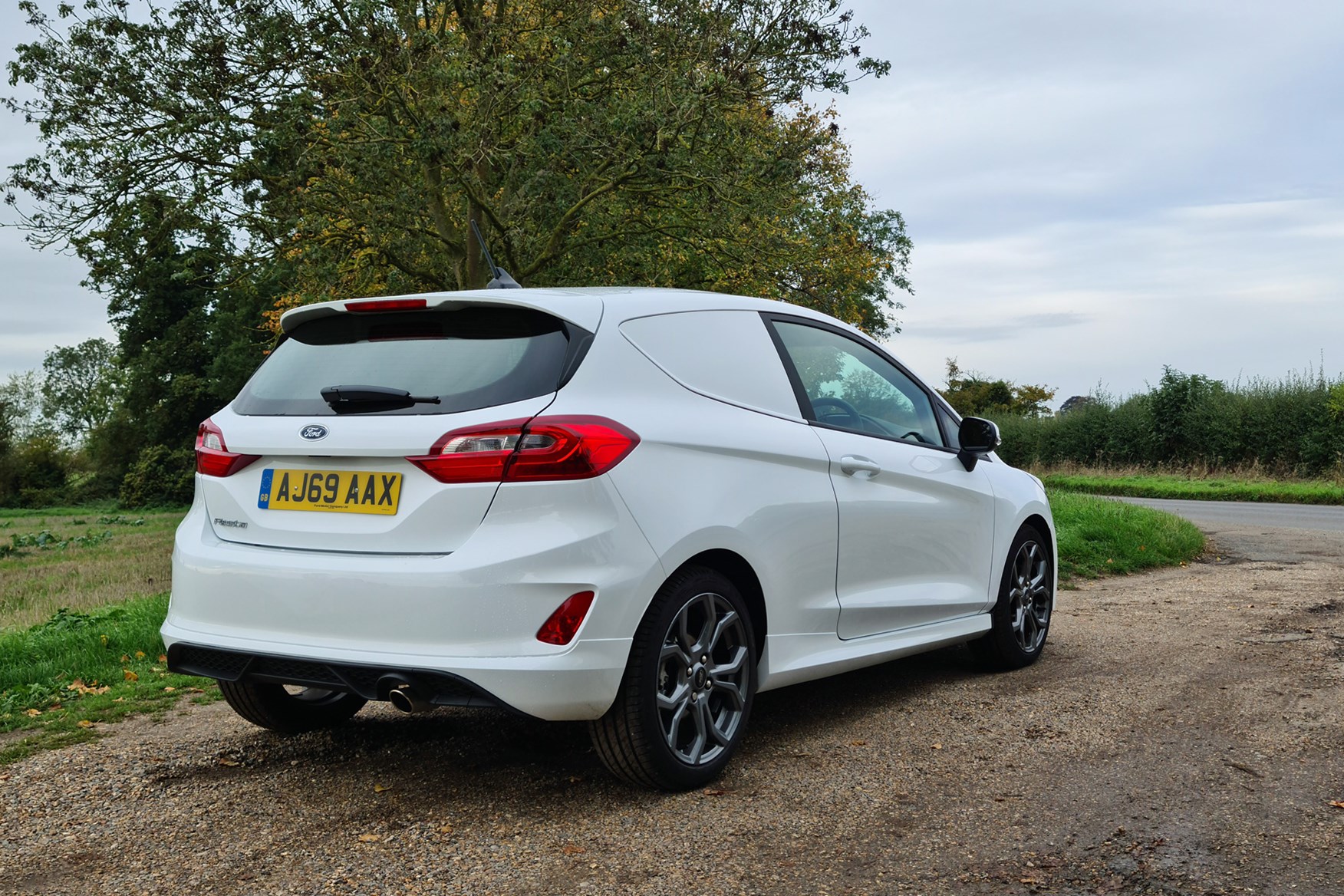 This was a bit of shame, because although the 120hp diesel cost £1,000 more than the 125hp petrol at launch, it compensated with 100Nm of extra torque (270Nm versus 170Nm) and many additional miles-per-gallon of fuel. And in the small Fiesta body, this TDCi produces a thumping performance that will see you zipping up the road like a stabbed rat if required.
The power band is quite narrow, so you need to work the manual gearbox to make the most of it – but this is no chore as the standard-fit six-speed unit is well-weighted enough to make finding the next gear an easy and rewarding task.
What's the 125hp EcoBoost petrol Fiesta Sport Van like?
While Ford's decision to stop selling diesel Fiesta Vans may puzzle the people who were previously buying them, the result is a Fiesta Sport Van that really lives up to the name, as it now comes powered exclusively by the 125hp version of the 1.0-litre EcoBoost turbo petrol engine.
In a vehicle as small as this, the result is a quiet riot to drive. We do miss the greater torque of the diesel version, but on a country road you can now really put the Fiesta Sport Van through its paces - the engine is zippy and keen, the handling neat, and the ride, though firm, is well able to deal with most bumpy British tarmac.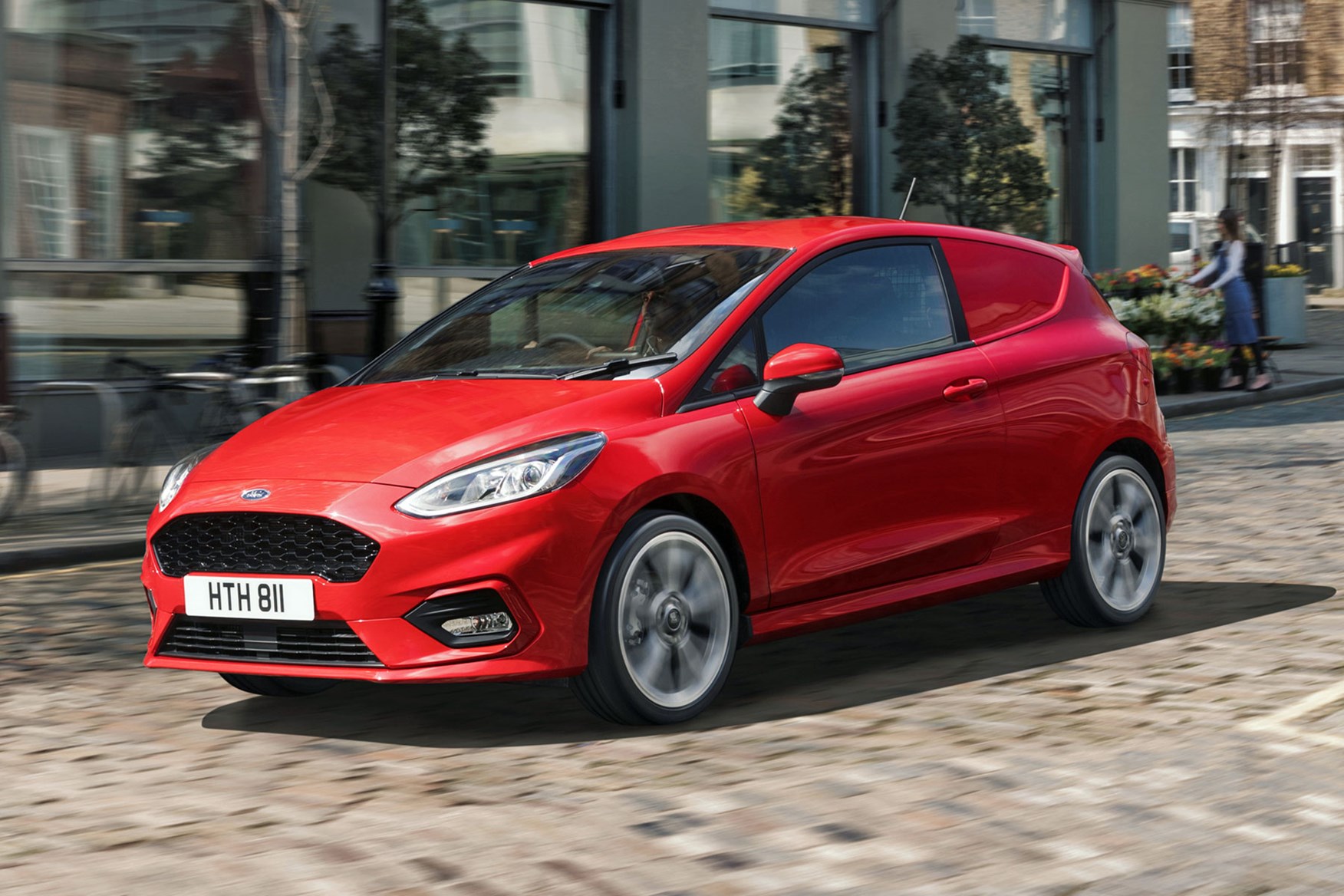 The result is so much fun you'd better make sure whatever you're carrying in the back is well strapped down, and preferably shock-proof. We did find the power-delivery a little jerky, and occasionally caught the turbo off-boost.
Even driven quite vigorously, this small van seems well able to return over 40mpg. Though those looking for maximum fuel economy should consider the new EcoBoost Hybrid model, which joins the range then using mHEV technology.
>> Ford Fiesta Van EcoBoost Hybrid full details
What is the Fiesta Sport Van like to drive?
Ford has tuned the Fiesta Sport Van's chassis to deliver good fun.
With 10mm lower sports suspension fitted as standard, it changes direction with an immediacy you'll rarely find in a commercial vehicle. The steering is direct, if a little vague in the straight-ahead position, and the Fiesta Sport Van doesn't lean much in the corners, either – helping you carry speed confidently.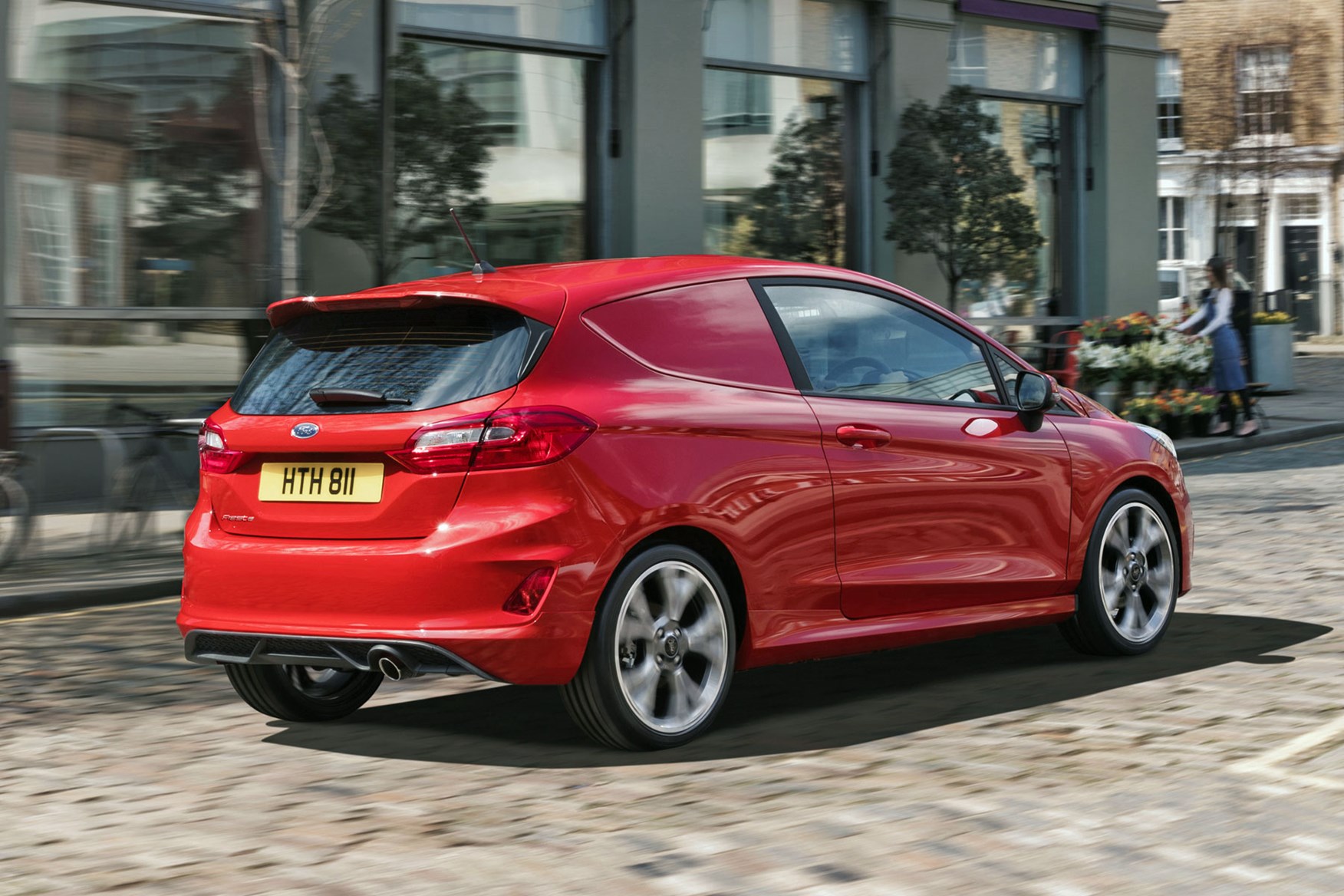 What's more, all of the Fiesta Sport Vans we've tested have all been fitted with large alloy wheels and high-performance Michelin tyres. Which means they've stuck to the road like toffee to a filling. Hence also the somewhat firm ride.
As for regular non-Sport versions, these are probably 90% as much fun, but with a bit more body roll in the corners and a cushier ride. And although they don't look quite as good outside or in, they're still well equipped and nicely put together.
How quiet is it inside?
Diesel or petrol, we've always been struck by how quiet the Fiesta Van is inside. This is not only testament to the build quality of the Fiesta cabin, which is completely carried over from the car, but also the finishing in the load area, as there's no resonance from the back either.
Every current Fiesta Van gets a six-speed manual gearbox (only the original entry-level 1.1-litre petrol made do with a five-speed). Not many small vans come with six gears; this is part of the reason the Fiesta Van manages to be so quiet on the motorway.
Standard Ford Fiesta Van engines
In the basic Fiesta Van you initially got a choice between a 1.1-litre Ti-VCT non-turbo petrol and a 1.5-litre TDCi turbodiesel; the petrol model was later replaced by a more powerful 1.0-litre turbo, and in 2020 the diesel option was dropped altogether.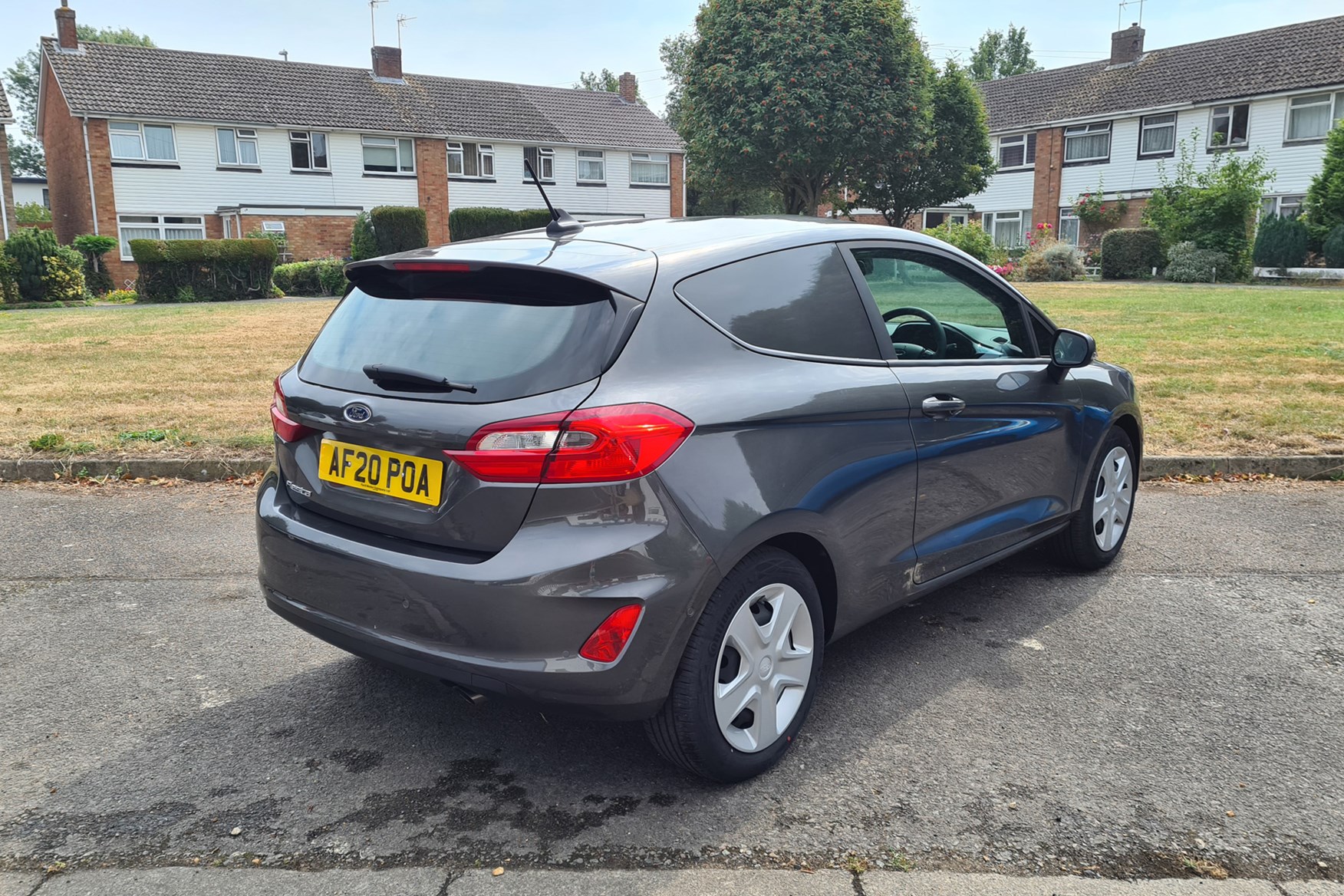 Both original engines produce 85hp, but the diesel's considerably greater torque (215Nm versus 110Nm) and better fuel economy made up for the extra amount buying it cost.
The 85hp diesel engine isn't even particularly noisy, and will certainly feel livelier than the 85hp Fiesta Van petrol, with the latter set to be especially gutless when driven fully loaded to its 528kg maximum.
Perhaps unsurprisingly then, the 1.1-litre petrol was soon replaced by a 95hp 1.0-litre EcoBoost turbo petrol with a much punchier 170Nm of torque. Ford's decision to then stop selling diesel-powered Fiesta Vans was more of a shock, but follows changes to the Fiesta car line-up, too.
The standard Fiesta Van is now only available to fleet buyers. Retail customers are only able to buy the Fiesta Sport Van.
Just like a car in the cabin
Lots of fancy equipment
Interior may not stand up to hard use
One of the best things about car-derived vans – and that goes for commercial versions of 4x4s and SUVs as well – is that you get a passenger-car cabin, with all the build quality, creature comforts and features that this entails.
For a while the latest vans are certainly getting better and better cab interiors, very few live up to the example set by cars, even those from the same brand.
The disadvantage to this is that car-derived commercial vehicles don't usually offer the same level of practical in-cab storage as a proper van.
The Fiesta Van treads the line between these two positions better than most, however.
What is the Ford Fiesta Van like inside?
The Fiesta Van's cabin interior - especially in fancier Sport Van spec, with its racy seats and contrasting red stitching - is a delight.
Everything you touch feels high quality, the instrumentation is clear and the large touchscreen for the Ford Sync infotainment system makes it look very modern inside. At launch this was only standard on the Sport Van, but an update has seen this added to all models, in place of the previous 4.2-inch screen basic Fiesta Vans were initially fitted with.
What's more, the seats in both standard (above) and Sport versions are comfortable, with plenty of adjustment, and the driving position can be set just so thanks to the reach and rake steering wheel.
Plus, there are large and functional cupholders between the seats, useful for storing smaller items, plus reasonably large glovebox and door bins.
So although the only thing that gives away that this is a van on the inside is the bulkhead behind you, it is still usefully practical in the front.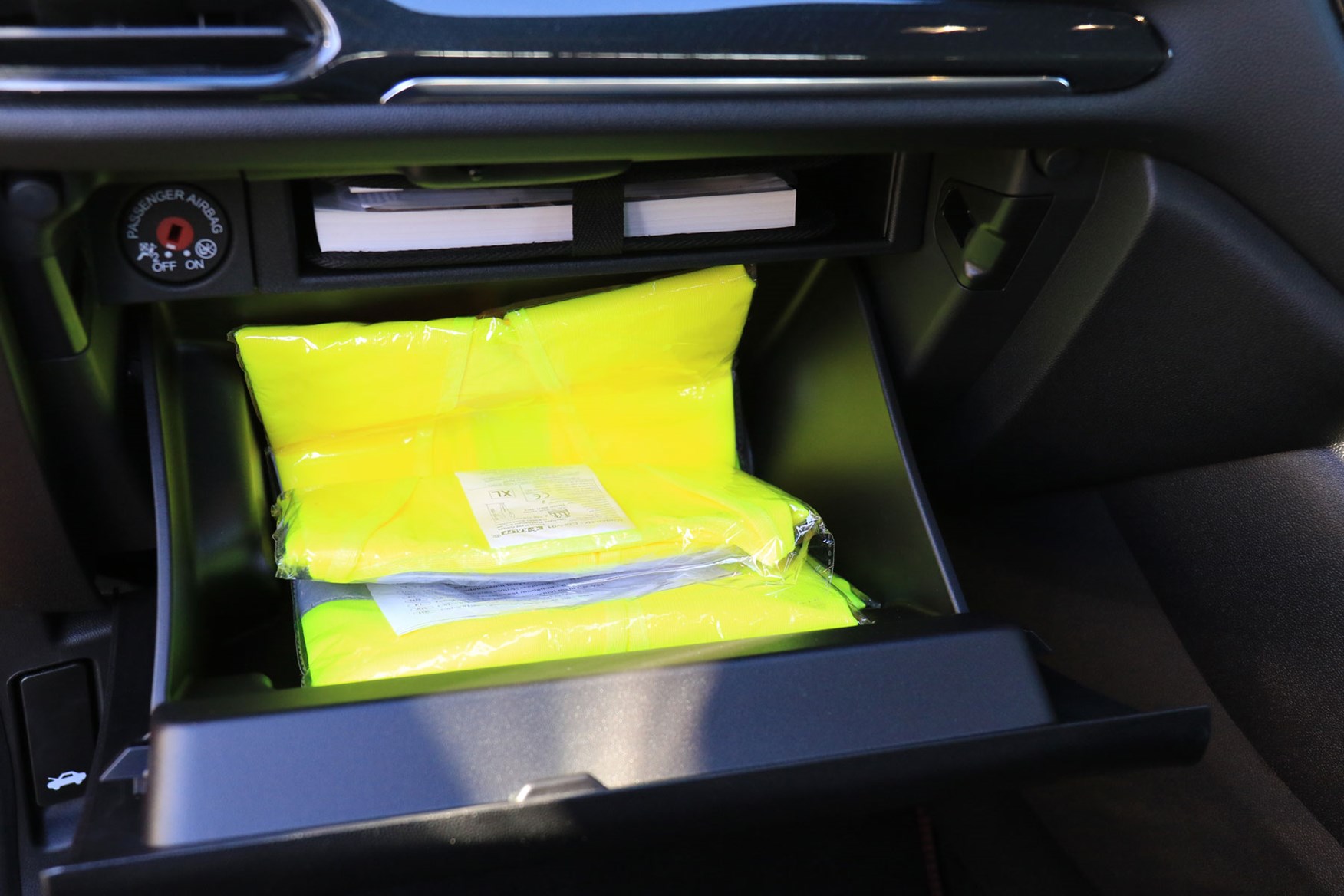 How long it remains this nice inside will very much depend on how careful you are with it, however. Those plastics might look and feel good but they won't have been engineered with the endurance given to dedicated van cabin materials.
Ford Fiesta Van on-board technology
Being based on a modern car also means the Fiesta Van benefits from a lot of new technology.
Much of this is safety related – which we've covered in the Safety and Security section below – but Ford Sync includes DAB radio, Bluetooth, sat-nav and USB connectivity.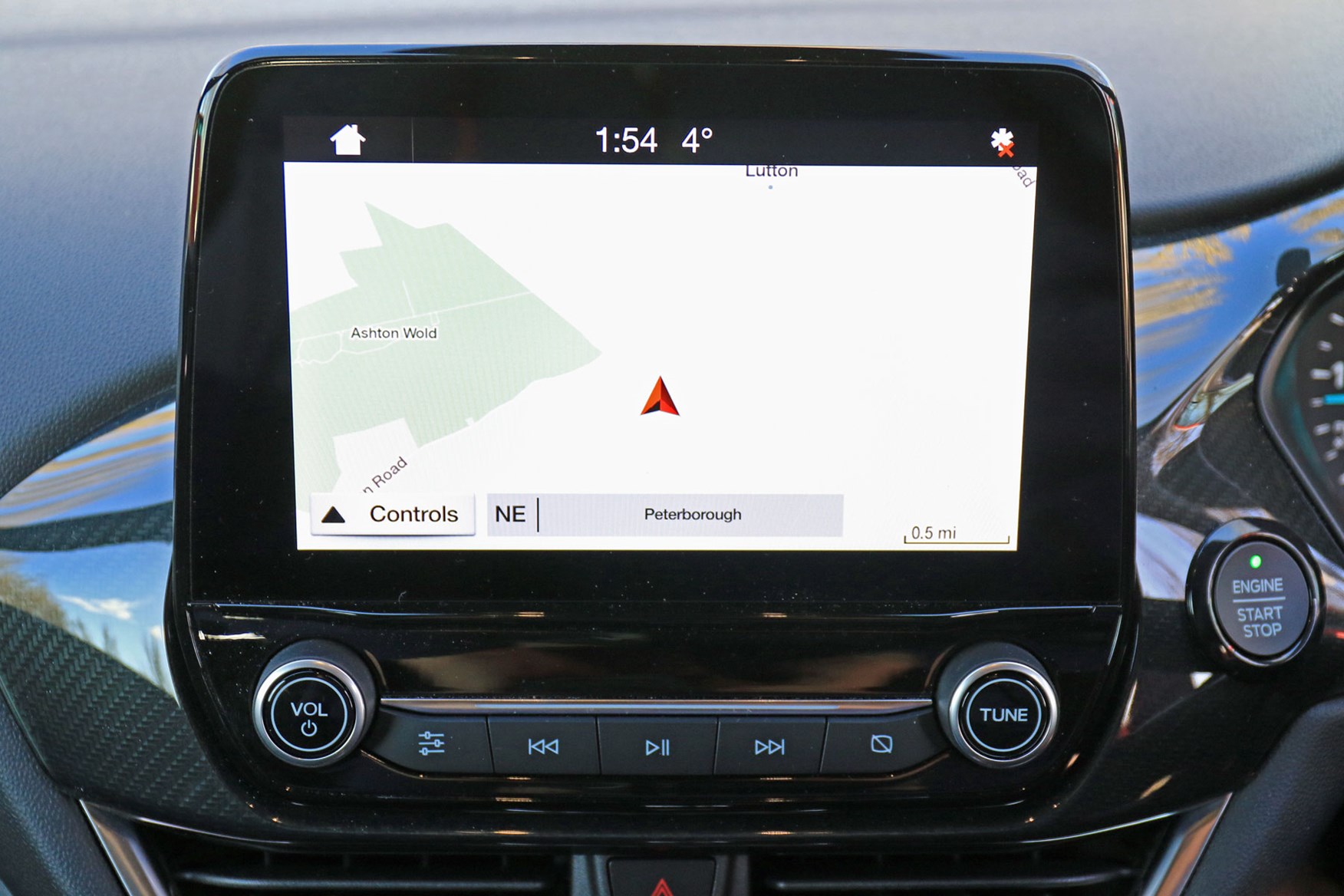 On top of this, Ford Sync includes on-board Wi-Fi for up to 10 devices via FordPass Connect, a connectivity system that also allows you to remotely monitor the status of things including oil level and tyre pressures, and remotely lock and unlock the van should you need to give someone else access – all via your smartphone.
Sadly, if you want Apple CarPlay and Android Auto you still have to pay extra to get the newer Ford Sync 3 system. Doing so adds the option to use clever navigation apps such as Waze, which even works with the Fiesta's built-in voice control system.
Very well equipped
Should be good on fuel
Sport Van gets bodykit and suspension upgrade
On the one hand it's a touch odd that the smaller Fiesta Van costs more at entry-level than the Transit Courier. On the other, the Fiesta is much higher-quality and more modern inside, and comes very well equipped as standard.
So depending on where your priorities lie, the Fiesta Van remains good value. Here's what you get for the money.
Ford Fiesta Van standard equipment
These are the standard equipment highlights for the regular Ford Fiesta Van (at time of writing in October 2020):
Steel bulkhead with steel mesh upper portion
Load floor liner
16-inch steel wheels (previously 15-inch steel wheels)
Ford Sync with 8.0-inch touchscreen infotainment system with DAB radio. Bluetooth, USB connection, sat-nav and FordPass Connect (previously a basic 4.2-inch screen without sat-nav and FordPass)
Automatic headlights - new LED reflector type with daytime running lights
Front foglights with cornering function
Electric windows
Electric door mirrors with heating
Body-coloured rear spoiler
Remote locking
Four-way adjustable driver's seat
Reach and rake adjustable steering wheel
Manual air-conditioning (not at launch)
Active grille shutter
For details of safety equipment, see the Safety and Security section below.
Ford Fiesta Sport Van standard equipment
The Sport Van gets its name from its racy looks (based on the Fiesta ST Line passenger car) and uprated suspension, and has the following standard equipment highlights (in addition to or replacement of those fitted to the regular Fiesta Van):
17-inch alloy wheels (previously 16-inch alloy wheels)
LED (previously halogen) projector headlights with daytime running lights and LED taillights
Sport body kit – front and rear bumpers, side skirts, bespoke foglight surrounds and chrome exhaust extension
Sport suspension
Sport seats
Sport pedals
Aluminium gearknob with leather gaiter
Flat-bottomed, leather-trimmed steering wheel
Quickclear heated windscreen
Keyless start
Dark headlining
Alarm system with power deadlocks
'Premium' floor mats
Front and rear disc brakes
Further details of safety equipment can be found in the Safety and Security section below.
Ford Fiesta Van optional extra highlights
You still have to pay extra for an infotainment system that includes Apple CarPlay and Android Auto.
FordPass Connect on-board Wi-Fi and connectivity package was originally a cost-extra, too. But now comes as standard equipment as part of Ford Sync.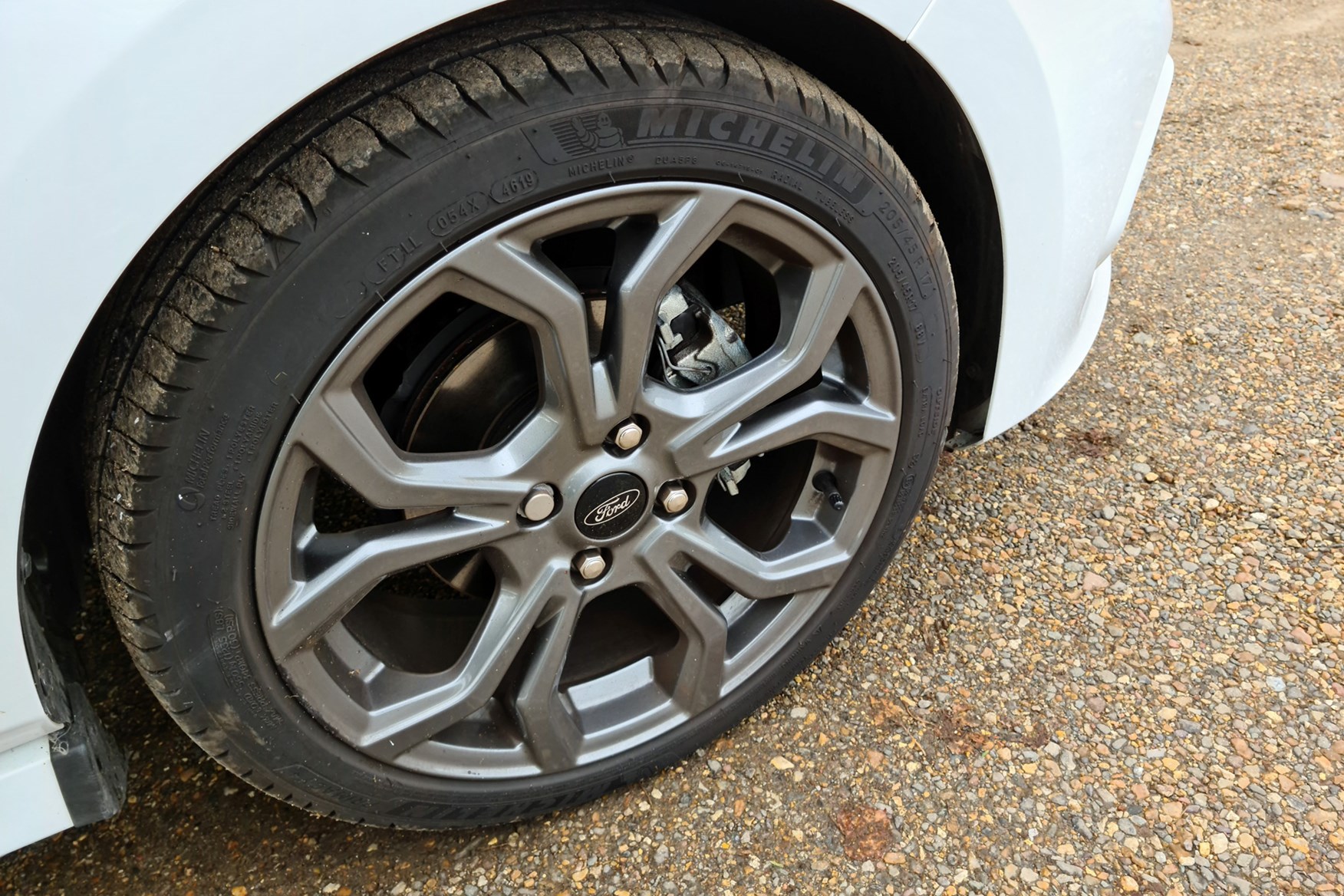 Ford's Quickclear heated windscreen is available as an extra on the basic model, while both versions can be upgraded to full electronic climate control if desired.
You can also have heated seats – and a heated steering wheel.
Parking sensors are optional on all models, with a reversing camera also available.
Ford Fiesta Van mpg
These are the fuel economy figures for the Fiesta Van using the older NEDC combined testing standard:
1.1-litre Ti-VCT 85hp petrol: 55.4mpg
1.0-litre EcoBoost 95hp petrol: 67.3mpg
1.0-litre EcoBoost 125hp petrol: 64.2mpg
1.0-litre EcoBoost 125hp petrol mHEV

(

mild hybrid

)

: 70.6mpg
1.5-litre TDCi 85hp diesel: 72.4-74.3mpg (depending on wheel size)
1.5-litre TDCi 120hp diesel: 64.2-67.3mpg (depending on wheel size)
The petrol-only Fiesta Van line-up available from August 2020 has also been tested to the tougher - and supposedly more realistic - WLTP standard, giving the following official figures:
1.0-litre EcoBoost 95hp petrol: 44.8-64.2mpg (depending on options)
1.0-litre EcoBoost 125hp petrol: 43.5-62.8mpg (depending on options)
1.0-litre EcoBoost 125hp petrol mHEV: 45.6-65.7mpg (depending on options)
These are closer to what you can expect to get in real life, but will still require some effort. Driven normally, we found the 125hp EcoBoost returning around 41mpg. All versions have stop-start technology fitted as standard.
Ford Fiesta Van warranty and service interval information
All Fiesta Vans come with a three-year / 60,000-mile warranty.
Service intervals for petrol models are every 18,000 miles or two years (whichever is sooner).
Servicing intervals for diesel models are every 10,000 miles or one year (whichever is sooner).
The Fiesta Van is based on the same technology and engineering as the Fiesta car, and we're pleased to report that this always does very well in industry reliability surveys. Something that's all the more remarkable, given the huge numbers of Fiestas sold.
So while it is likely that the van version will be used a little less sympathetically than the car, we're confident that a Fiesta Van is likely to prove a reliable purchase.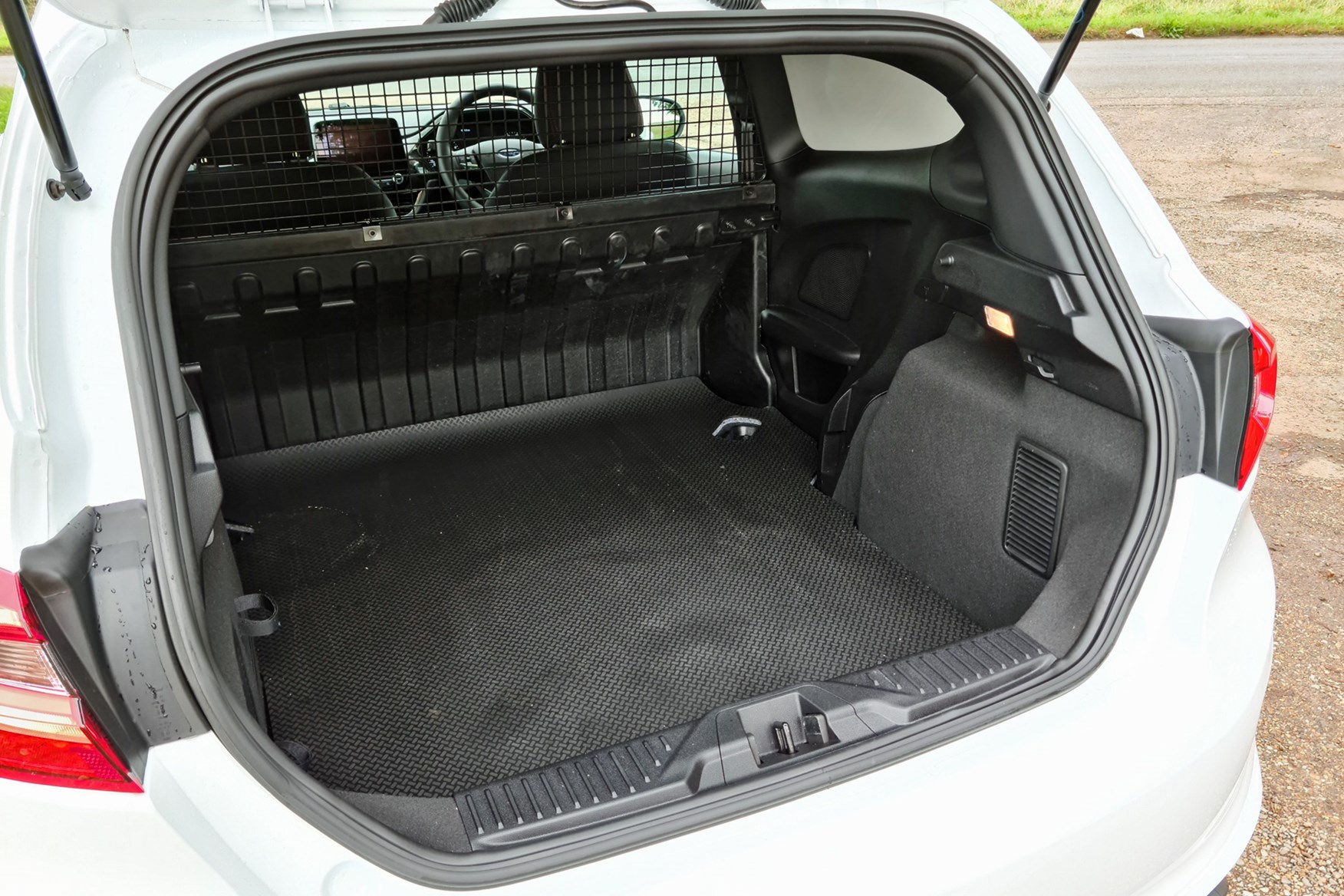 There have, however, been a few reports of gearbox issues for the car, and this model of Fiesta has also faced official recalls surrounding brake components and the steering column. Both perhaps worth keeping in mind if shopping for a used example of the van in particular.
Over-The-Air software updates
Fiesta Vans fitted with FordPass Connect can have their software updated without requiring a visit to the dealer. This means your van should always be fully up-to-date, and may even enable some fault fixing without a visit to a service centre, reducing unnecessary downtime.
Standard safety kit on the Ford Fiesta Van is pretty good, but it's the options list that really impresses.
Ford Fiesta Van standard safety equipment
All Fiesta Vans get the following safety kit as standard (at time of writing in October 2020 - earlier models may not be so comprehensively equipped):
Full steel bulkhead (steel mesh upper, full steel lower)
Automatic lights
Front foglights with cornering function
Driver and passenger airbags
Tyre pressure monitoring system
EasyFuel capless refuelling system
The Fiesta Sport Van also includes:
Adjustable speed limiter
Quickclear heated windscreen
Front and rear disc brakes (non-Sport uses drums on the rear)
Does the heated windscreen count as safety equipment? Absolutely, it's mega in cold weather as a much more efficient way of clearing the screen and ensuring good visibility as quickly as possible. It even includes heated washer jets (and can be added as an option to the basic model).
The passenger airbag can be disabled if you need to carry a child seat. But note that there are no Isofix mountings, so you'll have to rely on the seatbelt.
Ford Fiesta Van optional safety equipment
The Fiesta Van's safety chops can be upgraded with a wide selection of optional kit, ranging from parking sensors and reversing cameras to active safety aids including autonomous emergency braking (AEB), adaptive cruise control, traffic sign recognition, and driver tiredness monitor.
If you're in the mood to spend extra money, by all means go for the AEB – which Ford calls Pre-Collision Assistance – which is particularly good for avoiding low-speed bumps in traffic. But also consider the blind spot monitors; LED headlights are now standard.
A Driver Assistance Pack is available that groups together a number of safety extras into a better value package.
Extra airbags are also offered, along with a selection of mechanical speed limiters (which should also help to save fuel).
Ford Fiesta Van security
Only the Fiesta Sport Van gets an alarm and power deadlocks as standard; security on the standard version is limited to regular remote central locking.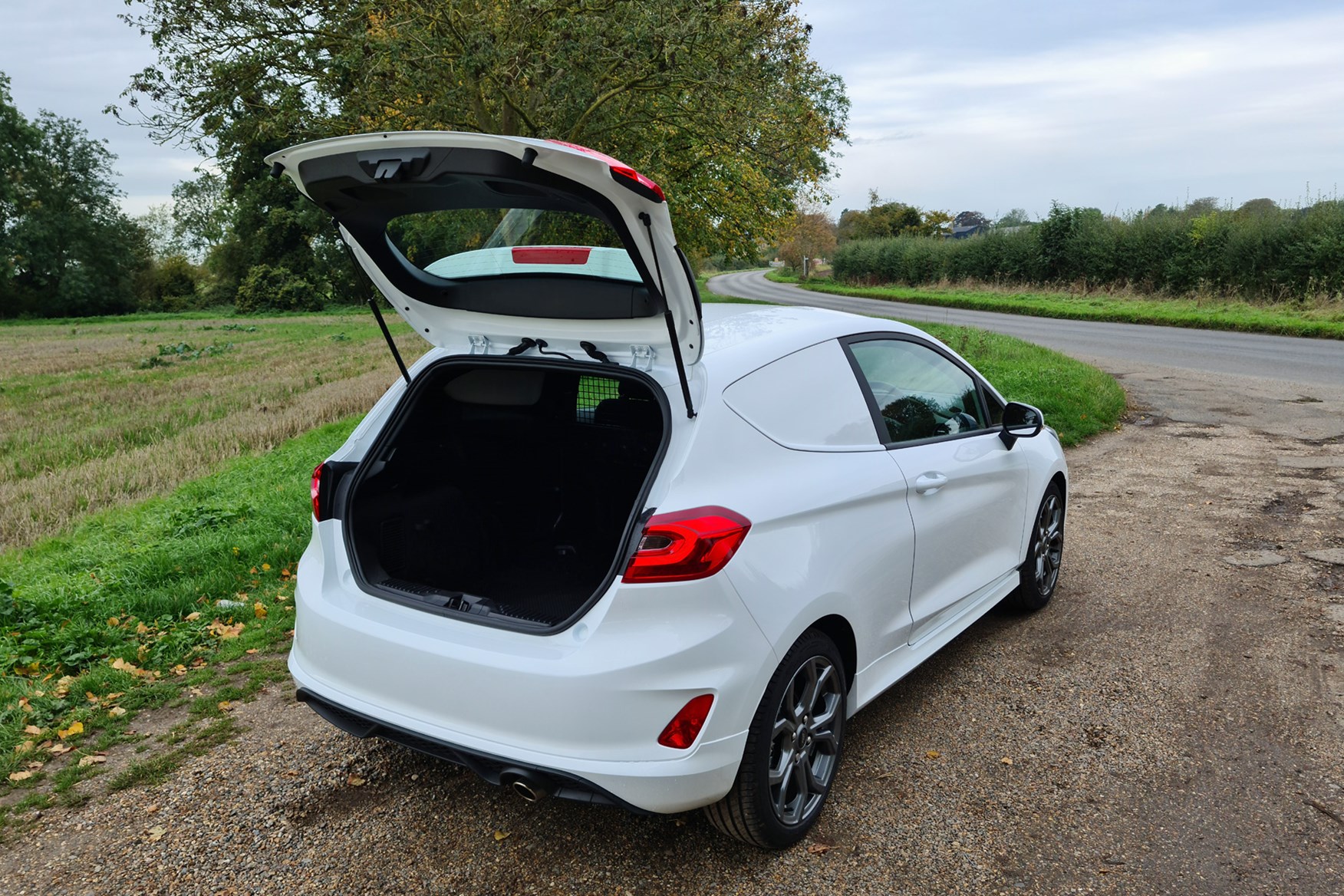 However, since April 2019, any Fiesta Van with keyless entry and start comes with enhanced security that puts the key fob to sleep to prevent so-called 'relay box' thefts that would otherwise allow criminals to access and even start the van remotely.
Ford also offers a range of lock upgrades under its Trade Vehicle Locks (TVL) scheme, but only at extra cost.
From late 2020, a new FordPass Pro Guard Mode is also available free of charge to enhance the security of vans fitted with FordPass Connect. When activated, this will alert you of theft attempts even if carried out using a stolen key - or via a relay box. Such break-ins would fool a conventional alarm system.
As ever, we'd recommend you avoid leaving anything in the van that you can't afford to lose, if at all possible. Especially since the Fiesta comes with a glass rear window and no option of a full steel tailgate to hide the contents of the load area from prying eyes.
Which Ford Fiesta is best for me?
The Fiesta Van fulfils a very particular set of requirements.
Prioritising compact dimensions and driver comfort over maximum carrying capacity for the cost (there are proper vans available priced around the same, or even less), it will suit businesses that need to shift small loads in style or provide a diminutive but high quality work vehicle for engineers who don't need to carry lots of heavy equipment with them.
Which is the most popular Ford Fiesta Van trim level?
The basic Fiesta Van will do the job perfectly well. But it's no surprise Ford now only offers the Sport Van to individual buyers, as the added kit ups the luxury, while the sharper looks are likely to put even more eyes on any company details displayed on the vehicle's exterior.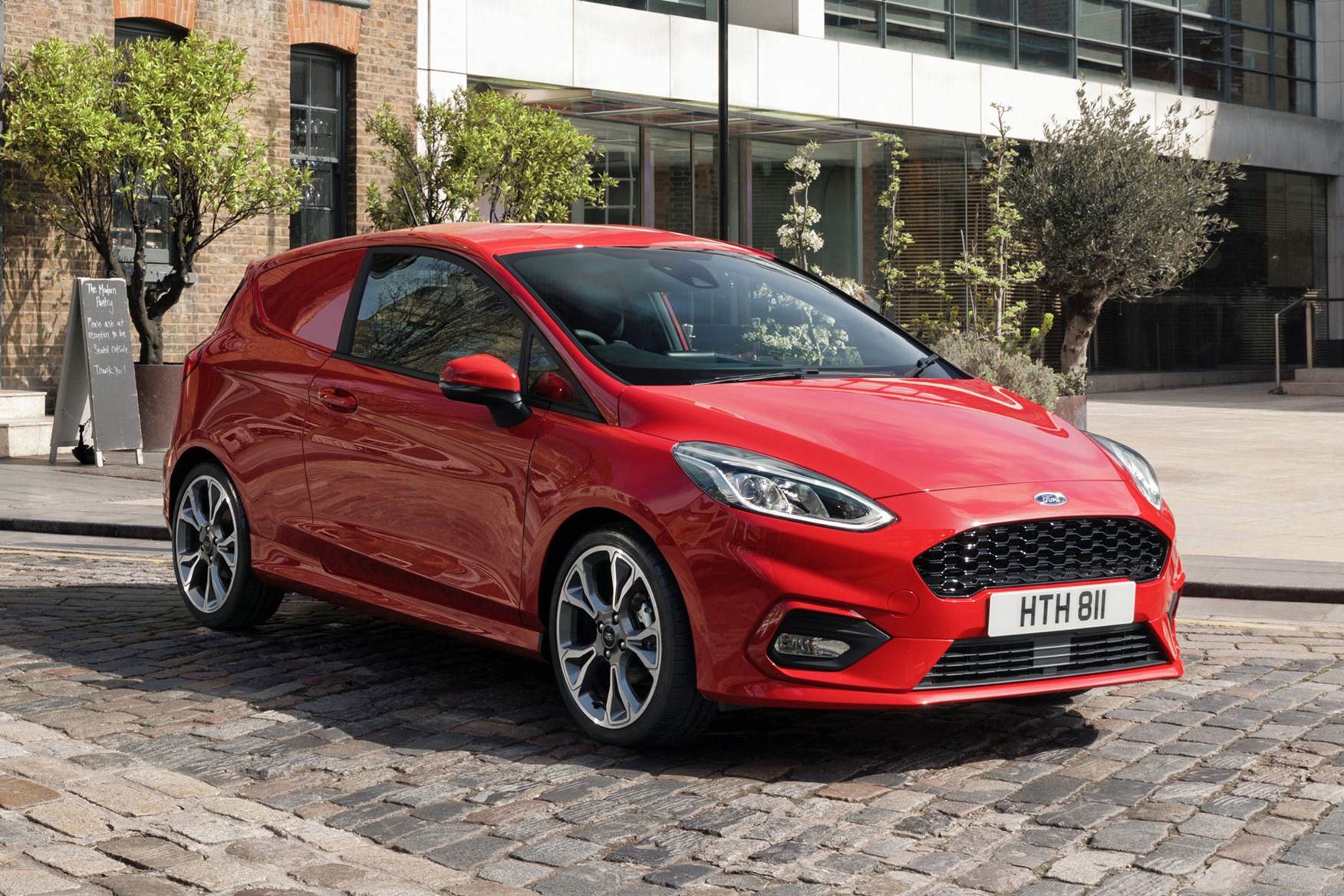 If you're a sole trader looking for a small van, perhaps as your only mode of transport, the Fiesta Sport Van also has a cool factor few other commercial vehicles can match.
Which Ford Fiesta Van has the highest payload?
The lower standard specification of the basic Fiesta Van models allows them to carry greater payload – though there's not much in it.
For full details, see our dedicated Ford Fiesta Van dimensions page, which includes all the info you need on load capacity and payload.
>> Find new Ford Fiesta Vans for sale near you
>> Find used Ford Fiesta Vans for sale near you
Also read:
>> Ford Fiesta Van vs Renault Zoe van - which is best?