Ford Transit Courier review (2014-on)
The smallest Transit is a neat solution for those upgrading from a car-based van
PROS
Well-designed interior
Good to drive
Impressive fuel economy and emissions
Strong forecast residual values
CONS
Least practical of the Transit range
Diesel engines feel slightly sluggish
Summary
The Ford Transit Courier was the fourth and final model to join the Transit family. It's also the smallest, representing a slightly more practical alternative to the Ford Fiesta Van (which was discontinued in 2017, with a new model arriving in 2019).
Other Tranist Courier rivals include the Fiat Fiorino plus the Peugeot Bipper and Citroen Nemo, though these have been discontinued as of 2018.
How practical is the Ford Transit Courier?
Ford expects the majority of customers to be a mix of one-person operators or small and medium enterprises (SMEs). Larger and considerably more practical than the Fiesta van, the Courier initially had a 660kg payload and a 2.3-cubic metre load space, which fell to 500-590kg as part of the 2018 update, though the load space grew to a maximum of 2.4 cubic metres.
As well as a regular van, it's also available as a five-seater Kombi model with a second three-seat row that can fold and tumble in a 60:40 split.
Ford Transit Courier 2018 facelift
Ford gave the Transit Courier a significant update in mid-2018 (pictured below). This included updated, more efficient engines and gearboxes, an upgraded media system and visual tweaks the front of the van. Also introduced was new driver-assistance kit to boost safety.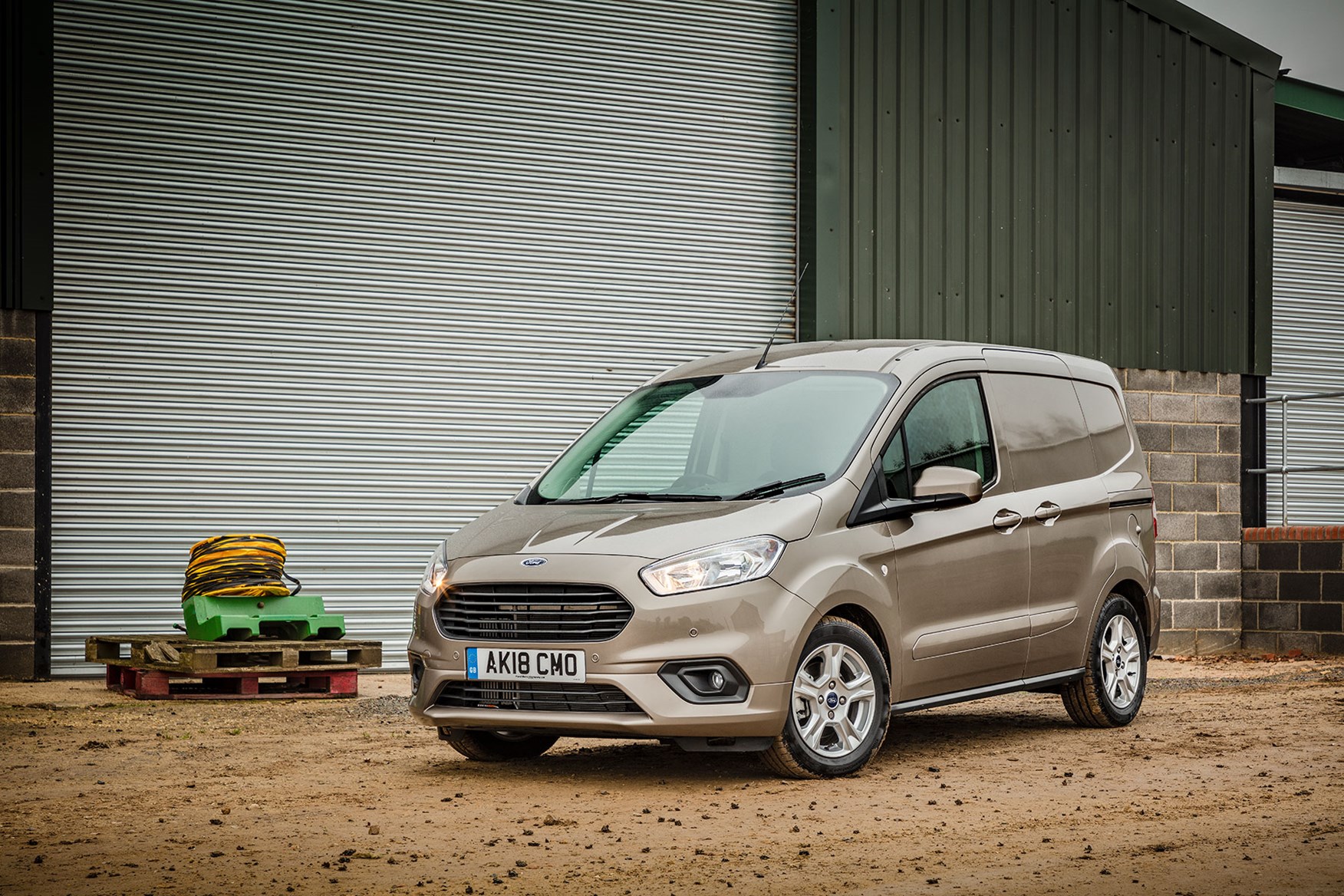 Inside, the centre console was redesigned for easier use, with a new, larger 6.0-inch touchscreen Sync3 media system available on higher-spec models and positioned closer to the driver for improved visibility.
The updated powertrains met the latest Euro 6.2 emissions standards, with the option of a frugal 1.5-litre diesel and several 1.0-litre petrols.
All versions gained six-speed manual transmissions in place of the previous five-speed unit, promising improved shift quality, cruising refinement and better real-world fuel economy.
Helping to reduce fuel consumption further in diesel models is a new efficiency package, with improved aerodynamics and an Active Grille Shutter that reduces warm-up times and further reduces drag.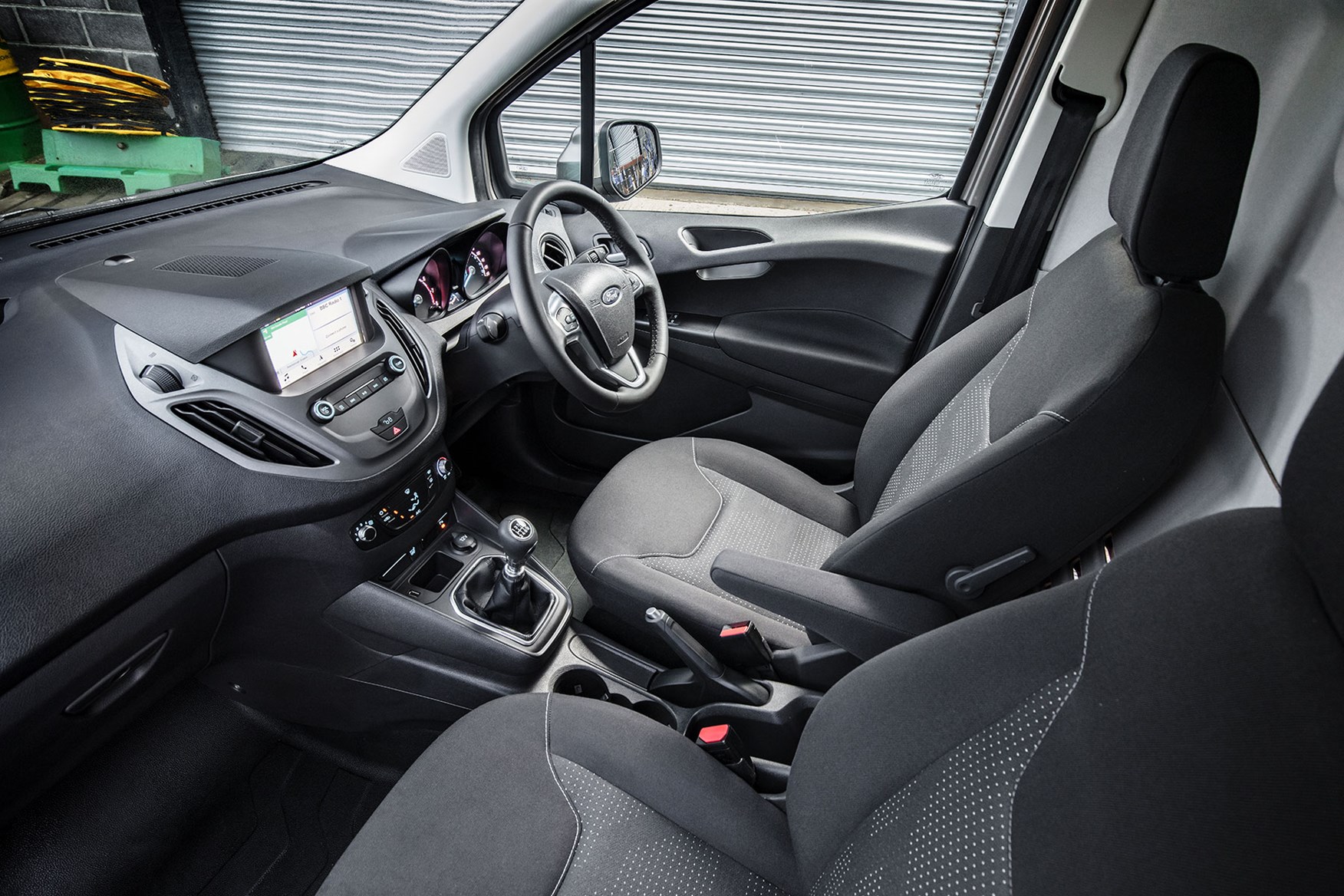 For more information on the changes for 2018, click here.
---

Ford Transit Courier verdict
Practical, cleverly designed, good to drive and very fuel-efficient, the Courier is a fine addition to the Transit family, and wears the badge well. Updates for 2018 and the phasing out of several rivals only serve to make the Courier stand out further.
To find out more, read on for the full Ford Transit Courier review on Parkers Vans
Skip to our full verdict on...
The Ford Transit Courier has been available from launch with a choice of three engines:
75hp 1.5-litre TDCi four-cylilnder turbodiesel
95hp 1.6-litre TDCi four-cylinder turbodiesel
100hp 1.0-litre EcoBoost three-cylinder turbo petrol
The engine range was updated in 2018 with a new, more powerful 100hp 1.5-litre diesel replacing the previous 1.6-litre unit.
The EcoBoost is a niche choice (targetting around 5% of sales), which is a shame as it's the nicest engine to drive.
Although it has less torque than the diesels, it's more flexible and has a less laggy power delivery from low revs. If you drive primarily in towns and cities, or do journeys with frequent stops, it's arguably the best choice.
For higher-mileage use, the diesels make more sense, with the 75hp 1.5-litre proving capable and popular if you're looking for a low-cost option. It's also the only engine available to buyers of the five-seat Kombi model.
As for the now-phased-out 1.6-litre diesel, we tested this model with ballast equivalent to a half the Transit Courier's maximum payload. Performance certainly doesn't set the world alight but it is quiet, and Ford claims impressive fuel economy figures.
That leaves the 100hp 1.5-litre diesel as the best option for those buying new after plenty of pulling power for dealing with heavy loads, or who do mostly motorway trips.
What is the Ford Transit Courier like to drive?
The Courier handles very well - happily it shares the same excellent control weights, steering response and snappy gear change as many Ford cars.
Whether a part-laden van or an unladen Kombi, when tested we found the Courier to have superb ride quality, especially for such a small van with a short wheel base.
Sound-proofing seems very good indeed, as well – there's no need to raise your voice in conversation at motorway speeds. We imagine the fabric-covered bulkhead in the van versions we drove is partly to thank for this.
In driving experience terms, no rival comes close. This is a compact van that can genuinely put a smile on your face.
An attractive, well-designed cabin is one of the Courier's real strengths. Much of the dashboard and switchgear is familiar from Ford's car models, such as the B-Max and Fiesta, and it all feels high-quality and durable.
The updated media system added during 2018 only adds to this impression, being located up high and offering crisp onscreen displays.
Now the steering wheel adjusts for rake and reach, it should be easier than before for drivers of all sizes to get comfortable behind the wheel. And there's lots of leg room, even for very tall drivers.
A deep storage slot between the two seats has enough space for clipboards and laptops or digital tablets and the cup holders are spacious and easy to access, too.
The Transit Courier has plenty going for it on the running costs front.
Every model is competitively priced, the cost of options isn't outlandish, and healthy residual values mean it holds its value well - good for attractive finance costs.
Ford Transit Courier service intervals and warranty
Service intervals are at 20,000 miles and the van comes with a three-year/100,000-mile warranty.
Ford's Assistance package is standard, including 'load continuation' whereby if a Courier breaks down on a delivery run, its contents can be delivered free of charge while the van is repaired.
Ford Transit Courier mpg
On the fuel economy front, the lowest Ford Transit Courier running costs belong to the 1.6-litre diesel, which claims a 74mpg average as standard, though this has since been discontinued.
A special low-emissions version of the same engine was also available, which, with a claimed 76.3mpg (and CO2 emissions of only 97g/km), made the Transit Courier the most economical 'proper' van currently on sale. (The Vauxhall Corsavan was more frugal still, but is based on a car...)
Van fuel economy: everything you need to know
The 1.5-litre diesel is pretty good too, managing 72mpg.
On the face of it, the petrol EcoBoost lags well behind at 54mpg, but for journeys around towns and cities it could actually be the more economical proposition as diesel engines don't typically like short journeys. This will depend on your driving style, however.
Following the introduction of tougher fuel economy tests in mid-2018, the title of most economical Transit Courier is now shared between the 75hp and 100hp 1.5-litre diesels.
These emit as little as 112g/km under the new system. That's equivalent to around 67mpg – still extremely good for a modern van.
Ford Transit Courier standard equipment
The Transit Courier launched with two equipment grades: Base and Trend.
In 2017 an additional Sport model (above) joined the line-up, partially in compensation for the death of the Fiesta Van Sport, which was popular and sold in good numbers.
Since then range-topping Limited trim has been introduced, and sits alongside Sport, offering extra interior kit rather than sporty design details.
Ford Transit Courier Base standard equipment highlights:
Smartphone holder and docking station on top of the dashboard
Reach and rake adjustable steering wheel
Full-size spare wheel
Fixed, moulded bulkhead
Hill Launch Assist
Ford Transit Courier Base Kombi M1 standard equipment highlights:
Full front, side and curtain airbags
Fully-glazed, flip-out second-row windows
Dual sliding doors
Glazed, heated rear cargo doors with wash/wipe
Second row 60:40, fold/tumble seats
Electric supplementary heater
Tyre pressure monitoring
Ford Transit Courier Trend standard equipment highlights (in addition to Base):
Ford Sync3 4.0-inch infotainment system (replaces device holder)
Powered, heated door mirrors
Electric windows
Driver's seat with height and lumbar adjustment plus armrest
Leather steering wheel and gearknob
Overhead storage
Underseat storage
Single side load door
12-volt socket in load area
Automatic headlights and wipers
Front foglights
15-inch wheels with hubcaps
Ford Transit Courier Limited standard equipment highlights (in addition to Trend):
Body colour front bumper and upper rear bumper end caps
Body colour door handles and side trim
Manual air-conditioning
Rear parking sensors
Automatic headlights and wipers
Cruise control with adjustable speed limiter
Sync3 media system with 6.0-inch touchscreen
15-inch alloy wheels
Side load door track cover
Ford Transit Courier Sport standard equipment highlights (in addition to Trend):
Body colour bumpers with integrated skid plate
Body-coloured side mouldings
Black painted door mirrors
Sport stripes
Leather gear knob with red stitching
Leather steering wheel with red stitching and radio controls
Side load door track cover
16-inch black alloy wheels
Air-conditioning
Sat-nav is available as an option on all models.
The price difference between Base and Trend is very modest (around £800 ex VAT at the time of writing), making the upgrade almost a no-brainer given the masses of additional equipment you get for your money, which should also deliver better resale values when you come to sell the van on.
The difference in price between Trend and Sport is a little greater (around £1,250 ex. VAT at time of writing), but again you get good value for money and a distinctive-looking compact van that could help your business stand out from the crowd.
Clever design helps to save money
The rear bumper has a multi-piece design to make it cheaper to repair, while Ford's Easyfuel system is fitted as standard, which supposedly makes it impossible to fill up with the wrong type of fuel.
The Ford Transit Courier is assembled in Turkey. Ford says it has covered nearly a million miles in testing, and - for example - doors have been opened and closed 250,000 times to make sure the mechanisms can cope with working life.
Further helping the van's case is that its engines are already well-known from other Ford products, and much of its structure is well-proven too.
The front section of the floor and the majority of the Courier's architecture in general is based on Ford's B-Max small people carrier, which in turn borrows components from the Fiesta.
With that in mind, Ford Transit Courier reliability should be very strong.
Ford also reckons the keyfob is waterproof – handy if you drop it in a puddle.
Ford Transit Courier safety levels are decent, if not outstanding - with the Tourneo Courier passenger version achieving a four-star Euro NCAP rating when it was tested in 2014.
Standard Ford Transit Courier safety items include:
Rollover Mitigation, which is triggered if sensors detect the van tilting past a dangerous point

Trailer Sway Control, which can brake individual wheels to keep trailers under control



Base Kombi models also feature no less than six airbags as standard, while the Trend and Sport panel van models with Ford Sync include an emergency assist function.
In the event of an accident, this can automatically place a call direct to local emergency service operators if the occupants' mobile phone is connected to the Bluetooth system. It can provide the van's exact location and uses the correct local language to give the information, based on GPS information. Very clever.
As for security, the Transit Courier features remote locking and an immobilser as standard. You will have to pay extra for an alarm system, however.
Which Ford Transit Courier is best for me?
Ford Transit Courier 1.5 TDCI EcoBlue 100hp Sport
It may only have 100hp, but this Sport model looks sharp enough to justify its higher price over lesser Trend models.
The diesel engine is surprisingly quiet at idle and pulls off reasonably promptly thanks to 215Nm of pulling power, with sufficient muscle to deal with heavy loads.
While quiet at low engine speeds, the volume level ramps up as you pick up speed, though this is what you'd expect in a small, diesel van. There is enough low-down heave to not have to work the engine too hard to make progress, however.
Making the most of the engine's power is a very slick gearbox and an easy-to-balance clutch, which makes you feel like you're driving a small car, rather than a tiny van. With six gears the engine is reasonably quiet at speed.
There's not too much wind noise on the motorway either, though a lot of noise does resonate up from the road. The fabric-covered bulkhead in our test model did successfully prevent any noise from the load bay echoing into the cabin, though.
As for the suspension, it is quite firm, potentially exaggerated by the 16-inch alloys that come with Sport trim, meaning less rubber and more metal between you and the road.
The Courier is well set-up, though, meaning it's mostly very comfortable, proving firm enough to feel up to lugging heavy loads without bouncing around the road, while remaining planted around corners. The brakes also feel strong and up to the task of keeping heavy loads in check.
Adding to this sense of security is nicely weighted steering that provides a good sense of control.
While the seat provides adequate back support, it took us plenty of fiddling with the seat to find a comfortable position in this version.
Ford Transit Courier 1.0 EcoBoost 100hp Limited
Petrol power might still be a leftfield choice, even for a small van, but the turbocharged 1.0-litre in the Transit Courier makes a lot of sense.
Though it only has 100hp, it feels more than up to the task of punting the lightweight Courier along – provided you don't plan on testing out the payload seven days a week.
That's partly because the engine is so quiet and so smooth, it never feels like you're working it hard. It's an eager, responsive engine and while the Courier is not fast, it feels light and nimble with this tiny motor under the bonnet.
The engine is practically inaudible in the bottom half of the rev range and remains refined even in the top half, emitting a muted, but pleasant thrum.
We found the suspension a little on the firm side, not quite smoothing out roads that the diesel did. We wonder whether this is down to the petrol engine's lighter weight not being matched with softer springs, effectively making it feel firmer as it taxes the suspension less than the diesel.
Fill the load area, however, and we're sure that the ride would smooth itself out and even unladen, the Courier is still one of the most comfortable small vans.
As with the diesel, the gearbox is slick and easy to use, with six gears helping to make the most of the petrol engine's power. Similarly, the steering is nicely weighted and gives a good sense of connection with the front tyres.
With the engine making less noise than the diesel, road noise is a little more noticeable, but still quieter than the diesel in Sport trim.