Fiat Fiorino review (2021)
Supermini-sized van is fun to drive and practical to use
PROS
Easy to manoeuvre in tight spaces
Well-designed cabin
Superb fuel economy
Surprisingly fun to drive
More practical than a car-derived van
CONS
Noisy on the motorway
Short load area
Bouncy ride
Limited model range
Few mod cons
Summary
The Fiat Fiorino is a tiny but versatile van the size of a supermini, and a hardworking alternative to car-derived van such as the Ford Fiesta Van. It benefits from Fiat's experience in commercial vehicles as well as its storied history of building brilliant city cars, making it perfect for use in towns and cities.
First introduced in 2008 and updated in 2016 with a fresh face and Euro 6-compliant engines, the Fiorino originally had a pair of sister vans, the Peugeot Bipper and Citroen Nemo. But both French brands have discontinued their versions in the UK, leaving the Fiorino almost unique in the market place as a van of this size.
Read our 2021 Fiat Fiorino review for full details.
Titchy but practical
Being van-shaped rather than car-based gives the Fiorino a great balance of load space and exterior size – it's less than four metres long, but will (just) accommodate a Euro pallet in the rear, while access is granted through barn doors at the back and proper sliding side doors.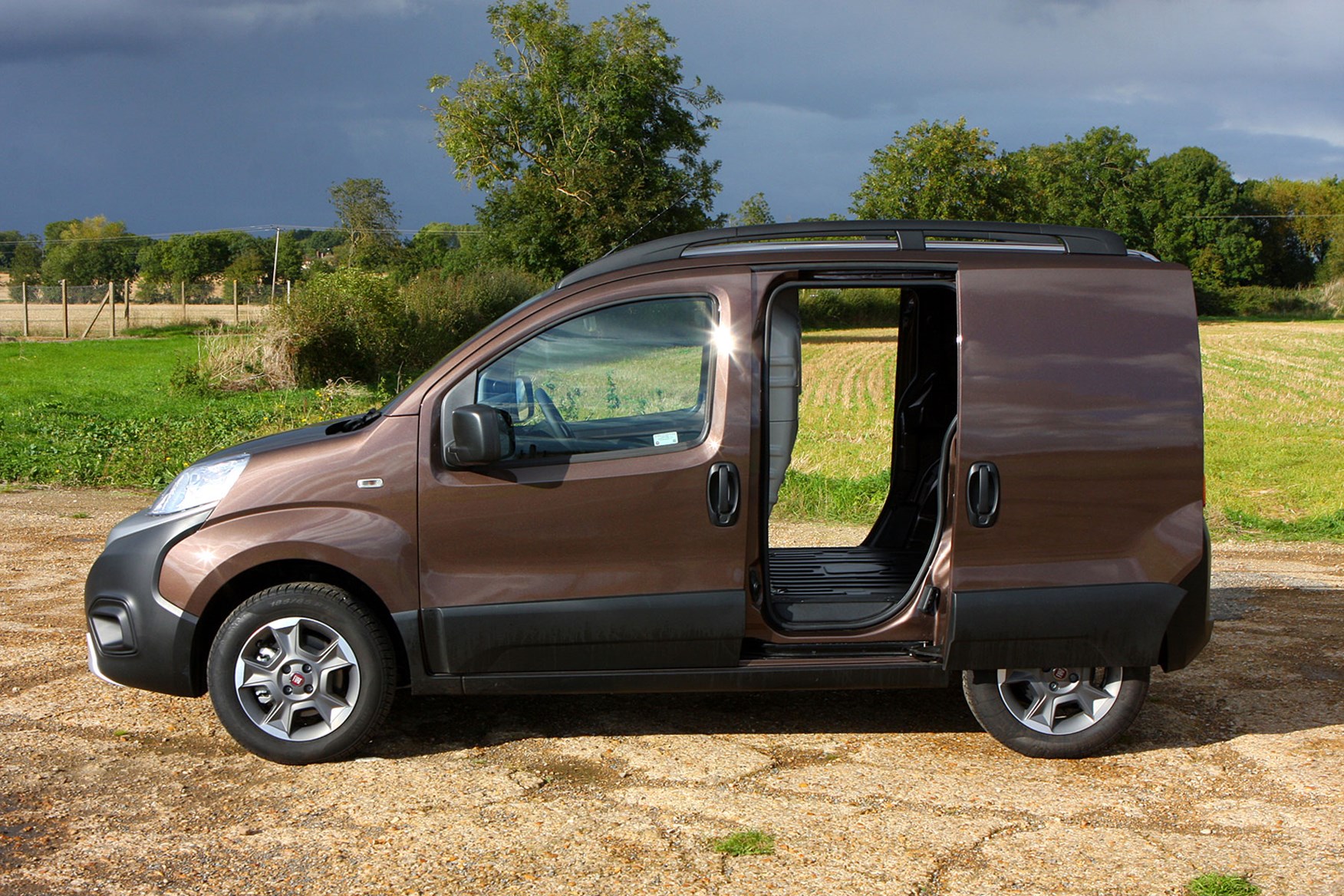 A payload of 610kg is limited compared to vans a size up, but in reality it's plenty for the sort of loads you're likely to be carrying in this fun-sized van.
It's a bit of a shame that the only standard protection between the cab and the load area is a simple steel ladder frame behind the driver, though. A bulkhead is available at extra cost, but we suspect this would limit space in the cab even further.
Just one body length, two engine ouputs
The Fiorino comes in one size – there's no long-wheelbase or high-roof models, so if you need more space you'll need to step up to a larger vehicle, such as the Fiat Doblo Cargo.
A petrol engine was offered previously but, if you're buying new, you're limited to a single 1.3-litre diesel engine offered with either 80hp or 95hp. Even the former provides plenty of performance for such a dinky van.
Car-like cab with lots of thoughtful touches
The Fiorino takes most of its cabin architecture from Fiat's passenger car range, so there are plenty of switches and dials that feel more akin to a city car than a commercial vehicle.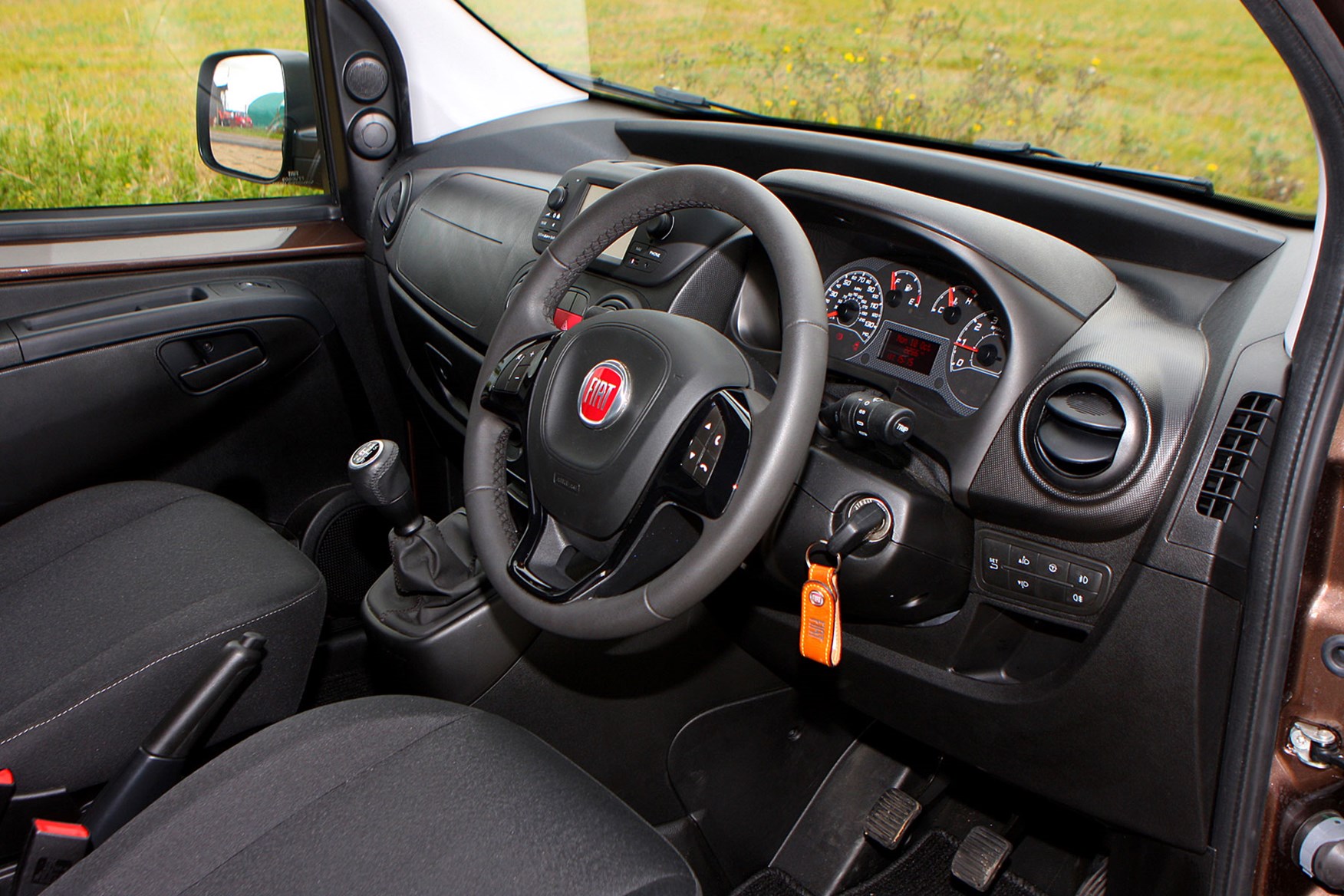 It's far more spacious than you might expect – the seat moves back far enough even for tall drivers and there's plenty of elbow room, too. Better yet, it's well designed, with the dashtop sloping back into a recess to provide somewhere to sling documents or keys and nice, legible controls for everything.
Fiat Fiorino rivals
The Fiorino's competition in tiny vans is… limited. Apart from the now-discontinued Peugeot Bipper and Citroen Nemo, only Ford offers anything like this in the form of the Transit Courier. There's also the Ford Fiesta Van – which though it's newer, more manoeuvrable and more car-like to drive than the Fiorino, doesn't really offer anything close to the same kind of capacity.
Another alternative would be to step up in size to one of our favourite small vans such as the Citroen Berlingo family or the Ford Transit Connect. These definitely move the game on in terms of versatility, with far more load capacity and payload – but they're also quite a bit bigger and more expensive.
>> The best small vans on Parkers
>> What is a car-derived van - and which are best?
---

Fiat Fiorino verdict
Adorably cute, as dinky as one of Fiat's city cars and actually great fun to drive, but the Fiorino is likely to remain a niche product, as it's simply nowhere near as versatile as a slightly larger van, such as the Citroen Berlingo.
For most businesses, then, we'd recommend stepping up to one of our best small panel vans, as these will offer hugely improved load capacity and payload as well as prove far more comfortable on the motorway. They'll also come with more safety and security equipment than the aging Fiorino.
However, for businesses with small items to deliver, or where physical size and parking is a major concern, there's really not much else quite like the Fiorino. It's cheap and reliable, too, with Fiat's commercial vehicle arm having a strong reputation for dependability. If you end up with a Fiorino, you're unlikely to be too disappointed by the package on offer, providing you can work within its limited capacity.
Skip to our full verdict on...
Just two diesel engines on offer
Surprisingly, great fun to drive
Outclassed on the motorway, though
The Fiat Fiorino feels a lot like one of the Italian brand's city cars to drive – which is great news if you're primarily based in town. Its range of drivetrain options is limited, though, so you'll have to look elsewhere if you want a petrol engine, an electric van or an automatic gearbox.
Just one engine, two power outputs
The Fiorino is offered with a sole 1.3-litre MultiJet turbodiesel engine, currently with power outputs of either 80hp or 95hp. This engine's been around in one shape or form since 2003, but don't let that put you off – it's actually quite quiet and refined.
In such a small van, 80hp is more than enough power to keep things moving along. The Fiorino's not quick, but offers a decent slug of torque from just 1,500rpm. You'll need to stir the gearbox a lot to keep the engine in its power band, but that's not too big of a deal thanks to its positive action and easy positioning high up on the dashboard.
Easy to drive around town
With light, easy steering and great visibility, the Fiorino's a delight to nip about town in. It's actually quite fun – grip levels are high, and it doesn't even lean too much in the corners.
The small turning circle also makes it easy to park or make an impromptu U-turn, and the ride is damped well enough to deal with the majority of potholes and speedhumps without complaint.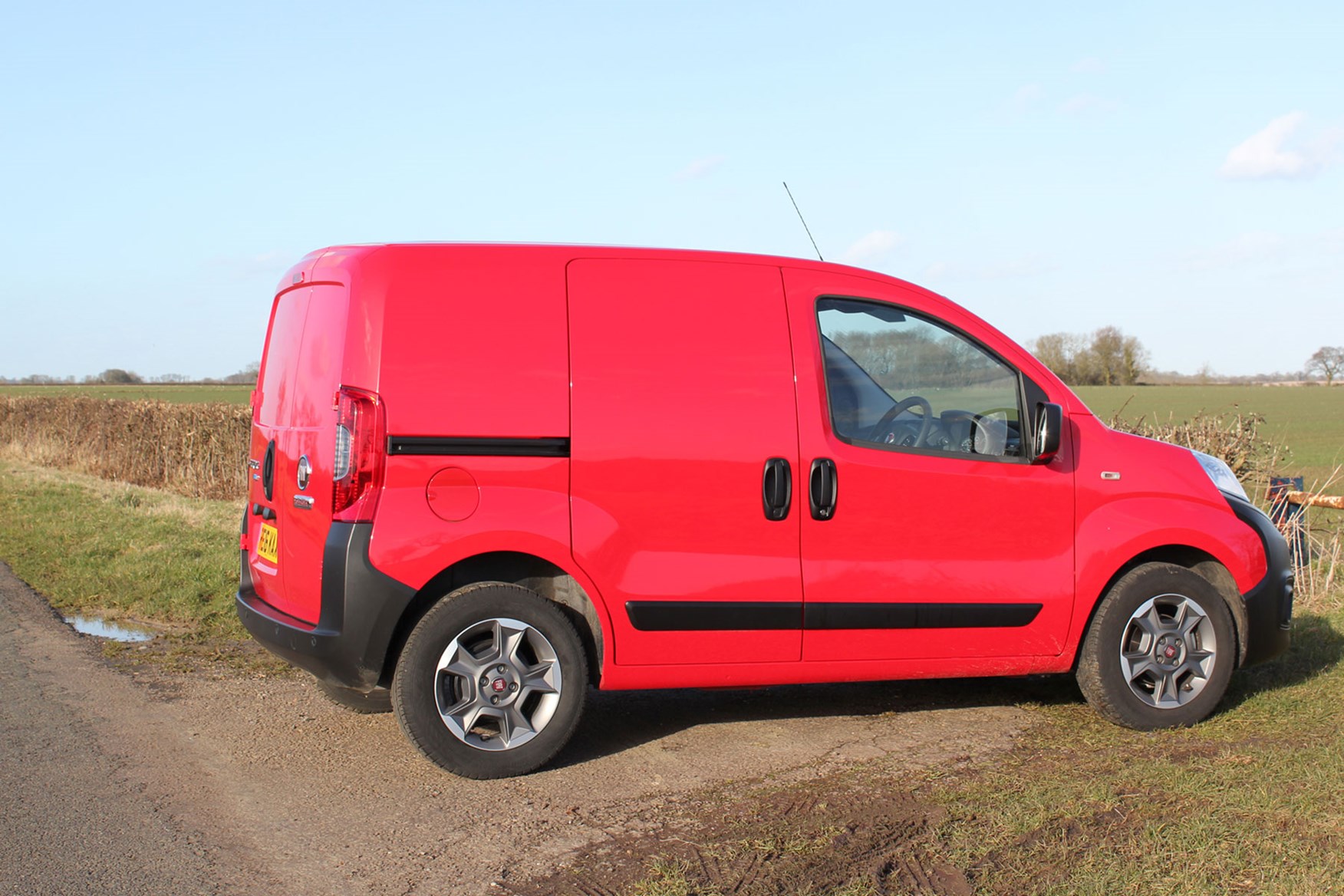 However, it can be quite difficult to judge that jutting jaw of a front bumper when parking in tight spaces, and we found the door mirrors didn't adjust far enough for our driving position – leaving too much of the van in view and increasing blindspots.
It also suffers on the motorway. Weighing little and with bluff sides, it has a tendency to get blown about by crosswinds and buffeted while overtaking lorries, while the light steering becomes twitchy at higher speeds.
There's also plenty of wind noise, which tends to drown out the engine. With just a five-speed gearbox, the motor is spinning quite fast at motorway speeds.
Car-like cabin with surprising amounts of space
Well laid out, good-quality materials
Storage spaces could be better thought-out, though
The Fiorino's cabin feels a lot like Fiat's passenger cars, too – and the layout, with a high-set stereo above the climate controls and a manual gearshift set up on the centre console, where it falls easily to hand.
The dials and gauges are familiar from other Fiat vans and so are the steering wheel and column stalks. In short, there's nothing in the layout that will prove confusing.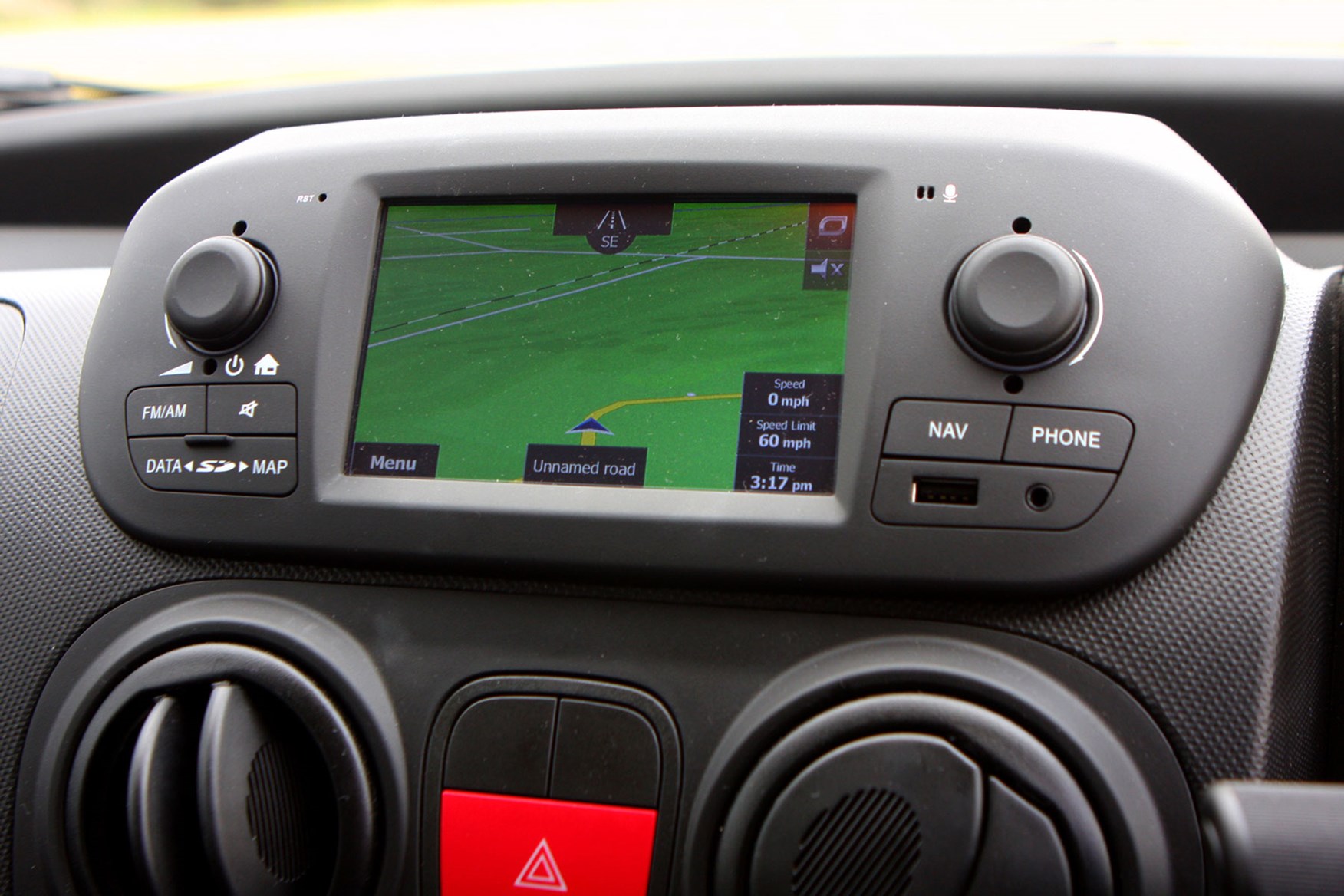 The stereo being set so high is a mixed bag, as it does make it very easy to adjust on the move and puts the (optional) sat-nav infotaintment system right in your eyeline. However, we wouldn't recommend this system as its tiny 5.0-inch screen is really difficult to see – you'd be much better off with a phone mount and USB cable.
Speaking of USB, if you do decide to plug-in a phone, the cable will be left to dangle across the whole centre console, potentially fouling the gear lever – it's a shame the socket couldn't have been relocated to lower in the dash.
Great driving position
There's tons of adjustability in the Fiorino's driving position, with height adjustment in the seat and reach and rake adjustment for the steering wheel. There's also a surprising amount of elbow room for such a narrow van, and the driver even gets an armrest for a dose of big-rig comfort.
Lots of storage cubbies
There are plenty of storage solutions within, including a nice deep glovebox and good-sized door pockets. The cupholders are poor, though, and there's nowhere particularly convenient to put a modern smartphone, as the trays on top of the dashboard and behind the gearlever are too small and slippery.
The biggest open storage solution is the dash top, which is helpfully sloped with a lip just before the windscreen. This makes it perfect for slinging documents or other small bits and pieces – as long as you don't mind them reflecting in the windscreen or rolling about round corners.
Cheap to buy, almost as cheap to run
More than 60mpg is possible
Should prove cost-effective
The Fiorino is a small van with a small, efficient diesel engine, so it should come as no surprise that it returns impressive fuel economy.
Fiat Fiorino mpg
Fiat claims a combined fuel economy figure of 62.8mpg, with CO2 emissions of just 117g/km. During our testing we found that a figure in the high 50s was very easily achievable.
Previously available was a 1.4-litre petrol engine – this claimed a fuel economy figure of 40.1mpg, and is worth avoiding.
An EcoJet pack is available, which claims to offer fuel savings of up to 14%. It includes stop-start, and switches out the alternator and oil pump for more efficient units.
Fiat Fiorino service intervals and warranty
The Fiorino can be covered by Fiat's 555 package – this brings five years of servicing, roadside assistance and an extended five-year, 100,000 mile warranty. This is available for Tecnico or Sportivo models, and makes the extra cash for the higher trim levels a worthy purchase.
Service intervals for all models are the same, at two years or 21,000 miles, and the standard warranty is three years with no mileage cap in the first two.
Fiat Fiorino trim levels and standard equipment
The Fiorino shows its age on the spec sheet, where the absence of modern safety or comfort features is sorely felt.
All models get:
Driver airbag
Ladder bulkhead
Electronic stability control
Twin rear doors
Remote central locking
Radio with MP3 capability
Lumbar support and driver's armrest
Step up to SX for:
Deadlocks
Silver front bumper and grille
Wheel trim covers
5.0-inch touchscreen radio with Bluetooth
Steering-wheel mounted audio controls
Electric windows
Electric mirrors
Tecnico trim adds:
Reverse parking sensors
Air-conditioning
Top-end Sportivo brings:
Cruise control
Leather steering wheel
15-inch alloy wheels
Metallic paint
Front fog lights
As you can see, there's no Apple CarPlay or Android Auto for smartphone connectivity, nor are there any active safety aids such as autonomous emergency braking, a reversing camera, lane-keep assist or driver attention warnings.
It's good news on this front, with no official recalls (according to the DVSA website) and very few major reliability problems to report.
The Fiorino can suffer from top suspension mount issues, but other than that these vans are solidly built – as you'd hope for from a brand that's been building commercial vehicles as long as Fiat has.
The Fiorino was developed jointly with Peugeot and Citroen and all three versions of the small van have proved reliable.
A slightly mixed bag here, as although the Fiorino's side doors have been designed to resist flying open in an accident, yet remain useable afterwards, a nine-bar steel ladder is the only standard protection between the driver and the load compartment (there's nothing behind the passenger) and only the driver gets an airbag.
You can add a passenger airbag and pair of side airbags from the options list, however, and Fiat offers a wide range of bulkhead upgrades at extra cost.
All Fiorinos have an anti-lock braking system (ABS) with electronic brakeforce distribution, but there was no electronic stability control (ESC) available at all when the model was first introduced. Fiat has subsequently made ESC standard across the range, and you can even buy an Adventure model with enhanced Traction+ system and 'mud and snow tyres' for added grip on slippery surfaces.
If buying secondhand, check to see that the vehicle has deadlocks fitted - as they too were optional initially, and even now are only standard on higher-spec models. Similarly, remote central-locking was restricted to SX trim upwards initially, but it's now fitted to all versions.
Which Fiat Fiorino is best for me?
Still trying to decide? Here's a a little more quick-fire info.
Best Fiat Fiorino for payload
All Cargo models of the Fiorino can carry an identical 610kg.
Best Fiat Fiorino for maximum capacity
There are no high-roof or long-wheelbase options for the Fiorino, so all have the same basic capacity.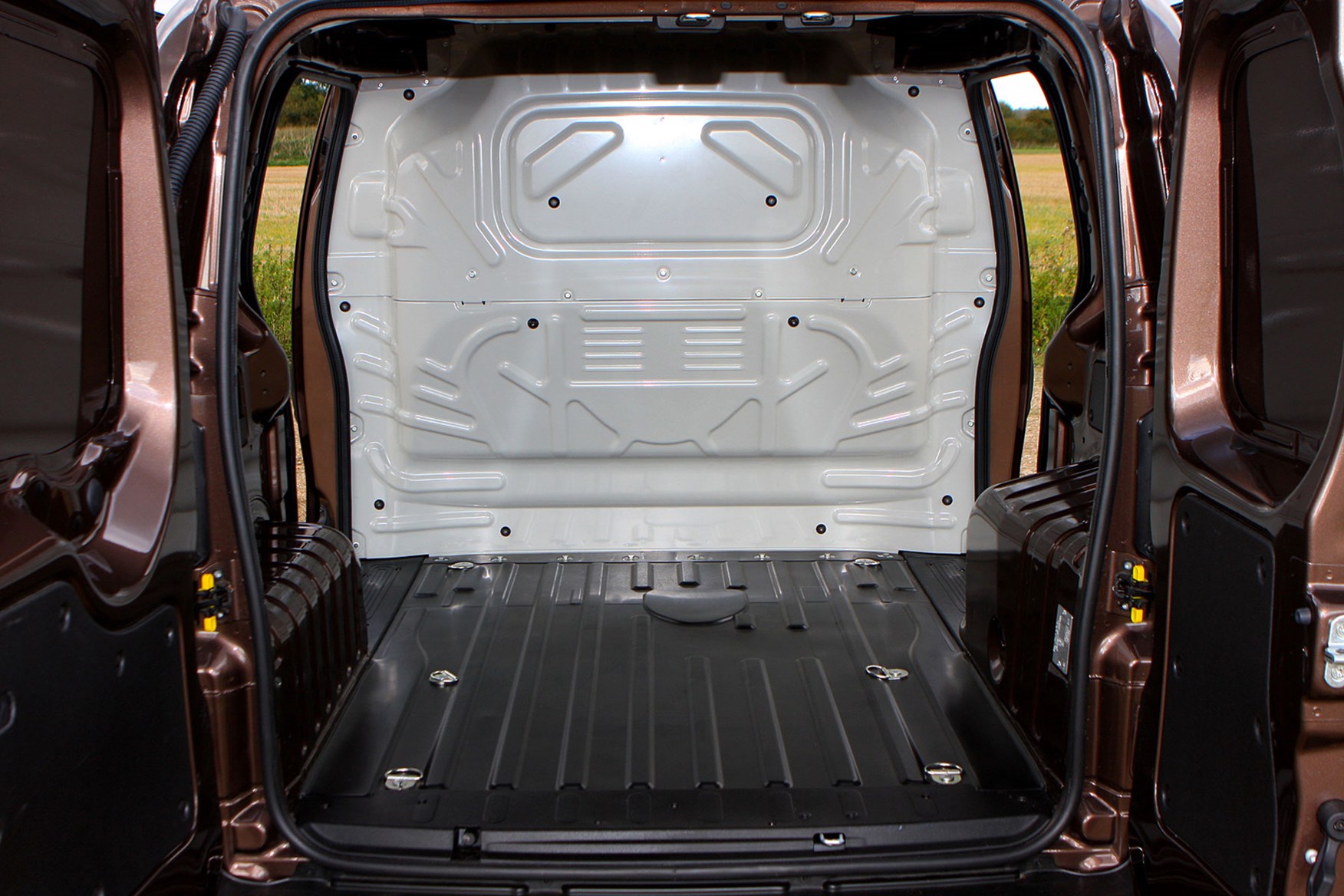 However, if you stick with the standard half-width ladder bulkhead instead of a full steel one, you'll gain a bit more load length by utilising the folding passenger seat.
Best Fiat Fiorino for running costs
Again, all models offer an identical claimed maximum fuel economy, but opting for the EcoJet pack can improve this thanks to stop-start and a few other features.