The 2022 Parkers Large Van of the Year offers excellent customer service
PROS
Very car-like and comfortable to drive
Autonomous emergency braking as standard
MAN truck-grade servicing and back-up
Wide range of models and variants
Good value
CONS
Payload ratings not especially high
On paper fuel economy lags behind rivals
Dash-top storage lacks cover
Rear-wheel drive models less refined
Not as many dealers as some rivals
Summary
The MAN TGE is the winner of the 2022 Parkers Large Van of The Year award, and was also joint-winner in 2021 and 2020 alongside its sister van the VW Crafter. Keep reading our 2021 MAN TGE review to find out why we rate it so highly.
It's not often that a new van brand arrives, but MAN became just that when it launched the TGE in 2016. On sale in the UK from late 2017, the TGE is a rival to the Mercedes-Benz Sprinter and Ford Transit.
This is not a completely new van at all, however – it's a re-branded version of the latest Volkswagen Crafter.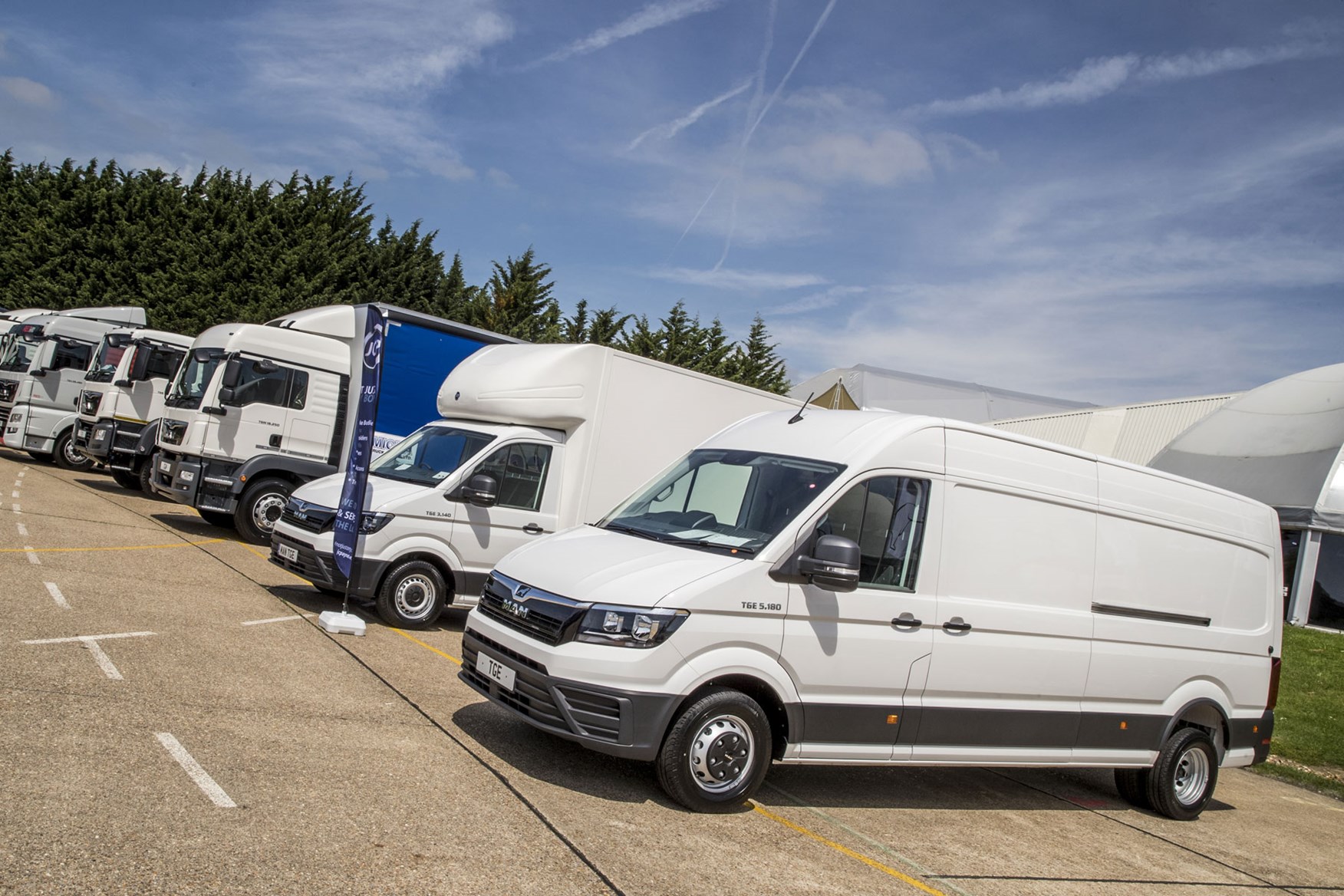 But while the visual differences may be slight, since MAN is primarily a truck manufacturer, TGE buyers will have access an extensive after-sales network, including round-the-clock servicing. We'll detail this further later in the review.
MY2021 MAN TGE
MAN announced a Model Year 2021 (MY2021) update for the TGE in February 2021. But don't get too excited, this is limited to new infotainment system options and the addition of a three-button emergency call module on TGEs fitted with a touchscreen.
MAN TGE: VW Crafter in disguise
First things first, the MAN TGE really is a straight copy of the Crafter. It's made in the same factory, comes with the same range of body and drivetrain options, and aside from the badging and a few pieces of interior trim, it's all but identical.
That is a very good thing. The Crafter - and the TGE - are exceptional, modern large vans. Good to drive, comfortable, and intelligently designed, they collectively won the overall Van of the Year in the 2020 Parkers New Car Awards, and received the Best Large Van award in 2020 and 2021.
For 2022, a change to our award stucture intended to make them easier to understand saw us award the TGE as Best Large Van on its own, in recognition of the outstanding aftercare available via MAN truck-level dealer network. The Crafter remains an excellent alternative choice, none-the-less.
MAN TGE engines and variants
The TGE is available with the same four versions of VW's latest 2.0-litre TDI turbodiesel van engine as the Crafter. Power outputs are 102hp, 122hp and 140hp for the single-turbo verision, plus 177hp for the twin-turbo; torque ranges between 300 and 410Nm.
At launch in 2017 it was front-wheel drive (FWD) only. But as with the Crafter, rear-wheel drive (RWD) and all-wheel drive (AWD) versions of the TGE were gradually introduced during 2018, and we have driven examples of all of them.
A six-speed manual gearbox is standard on all models, but you can have an excellent eight-speed automatic transmission as an extra-cost option.
Gross vehicle weight (GVW) for the range goes as high as 5.5 tonnes (5,500kg) – though as ever, 3.5 tonnes (3,500kg) remains the highest GVW you can drive on a regular car licence.
Standard, Long and Extra-long variants are offered with Standard, High or Super high roof options; you can specify the TGE with a loadbay of up to 4,855mm in length and 2,189mm of height.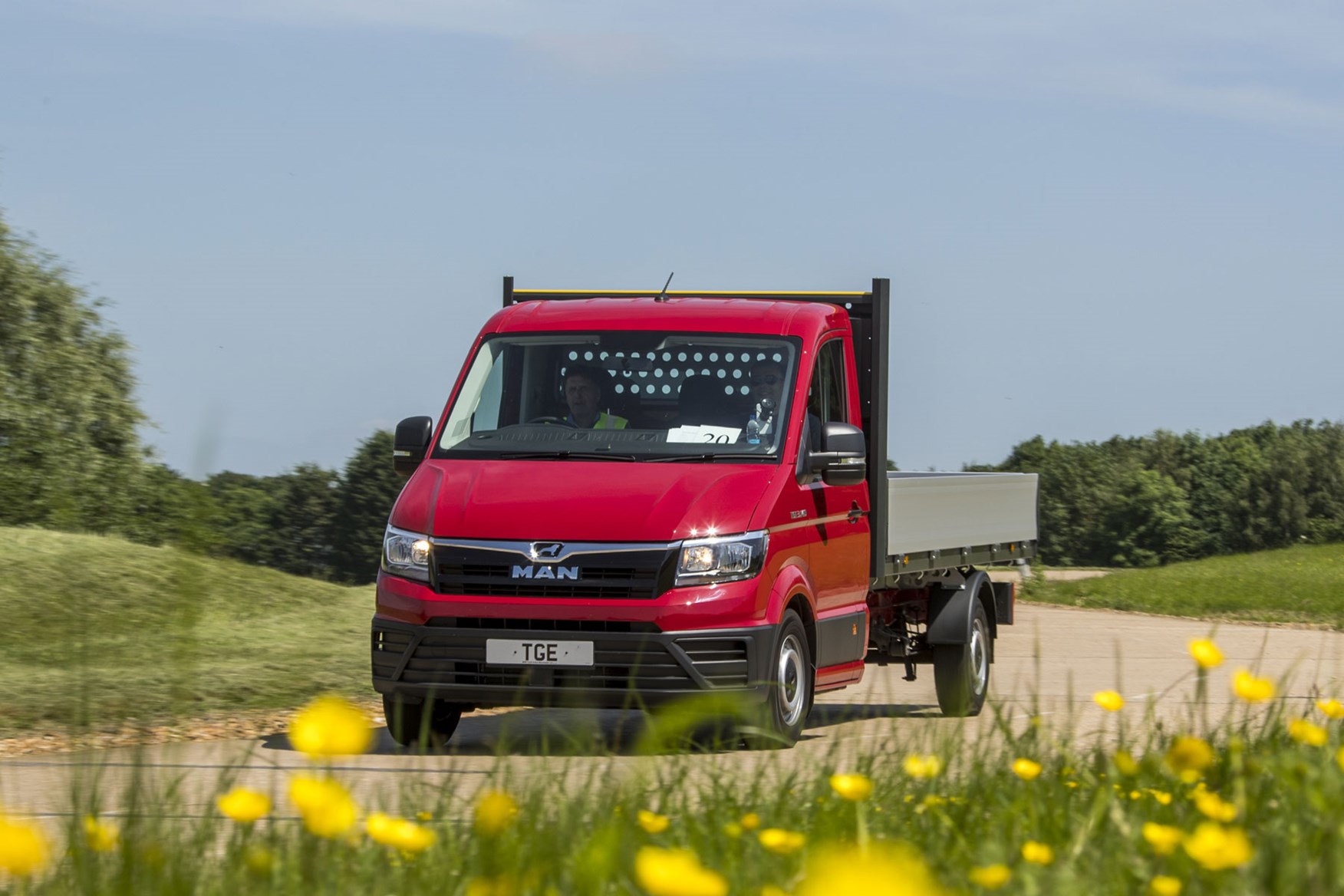 Full details of the load space can be found on our dedicated MAN TGE dimensions page.
In addition to regular panel vans, combi variants with extra seats and chassis cab variants are also available, alongside a ready-made set of conversions, launched at the CV Show 2018 and marketed under the Vans to Go name.
MAN TGE value, servicing and support
Pricing is similar to the Crafter, but the big difference is in the servicing and support package, which mirrors that offered for MAN's big trucks.
So, you get 24/7 roadside assistance and parts backup – important for those who run long and hard outside of the standard working week.
MAN says that the TGE is aimed primarily at those fleets that already run trucks, and have a business-critical need for this 24-hour package.
MAN eTGE electric van
There is also a pure-electric version of the TGE called the eTGE, originally shown back in 2018 but still not quite officially available in right-hand drive (though courier firm DPD does already have some on its fleet in the UK).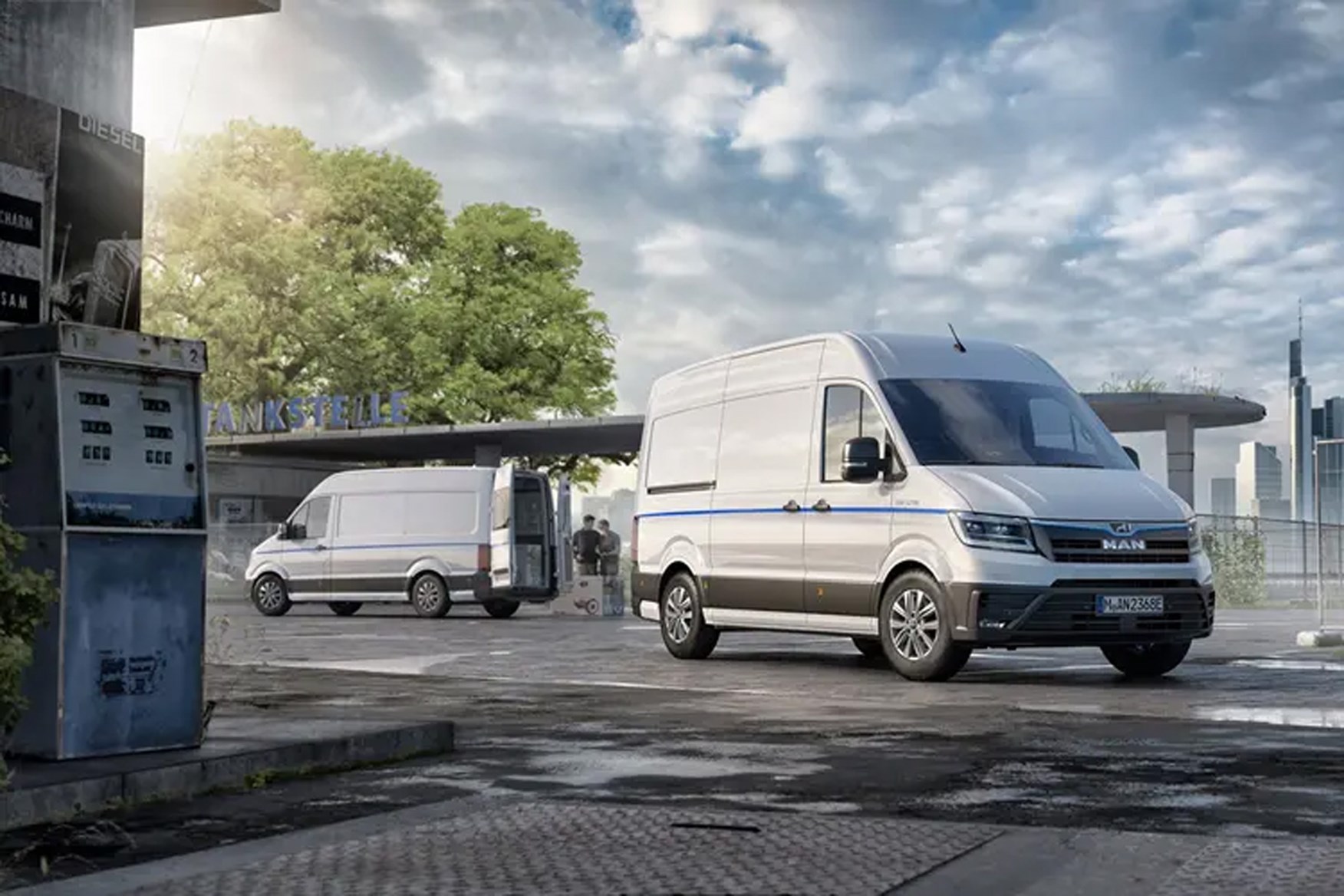 We haven't driven the eTGE yet, but we have tried a prototype version of the VW e-Crafter sister van. You can also check out our full electric van guide.
---

Verdict: is the MAN TGE any good?
The MAN TGE is supremely easy to drive, has a great, user-friendly cab design, and is available with a wide selection of advanced driver-assistance and safety systems.
The main question is whether you'd buy one in favour of its Volkswagen-badged sister. If you want the best servicing package available, and you are located nearer a MAN dealer than a VW one, then the answer to that question is an easy 'yes'.
While it can't match more basic rivals for payload, and lacks the ultimate high-tech sophistication of the latest Mercedes Sprinter, in our opinion, the TGE is a truly excellent choice of large van.
Skip to our full verdict on...
Car-like driving experience with supreme comfort

2.0-litre engines seem up to the job
RWD models less refined but better for heavy duty operations
Unsurprisingly, the MAN TGE drives like a VW Crafter. But since the Crafter is one of the friendliest large vans on sale from behind the wheel, you can chalk that up as a significant win.
MAN TGE engine options, power and torque
The TGE comes with the following engine options, all based on a 2.0-litre TDI turbodiesel from Volkswagen:
102hp / 300Nm single-turbo
122hp / 300Nm single-turbo (only available on RWD models)
140hp / 340Nm single-turbo
177hp / 410Nm twin-turbo
Having sampled all but the 122hp version, it's clear that this 2.0-litre engine is more than up to the job of getting this large van moving.
The 102hp TGEs are acceptably brisk, while the 177hp model feels decidely rapid – up to and beyond UK motorway speeds. This leaves the 140hp engine as a sensible middle ground, and the option most operators are likely to choose.
What's the MAN TGE like to drive?
As well as travelling thousands of miles on the road at the wheel of the essentially idential VW Crafter (read our long-term test here), we've also driven the TGE on racing circuits and test tracks, allowing us to stretch its limits in ways that wouldn't be possible on the public highway.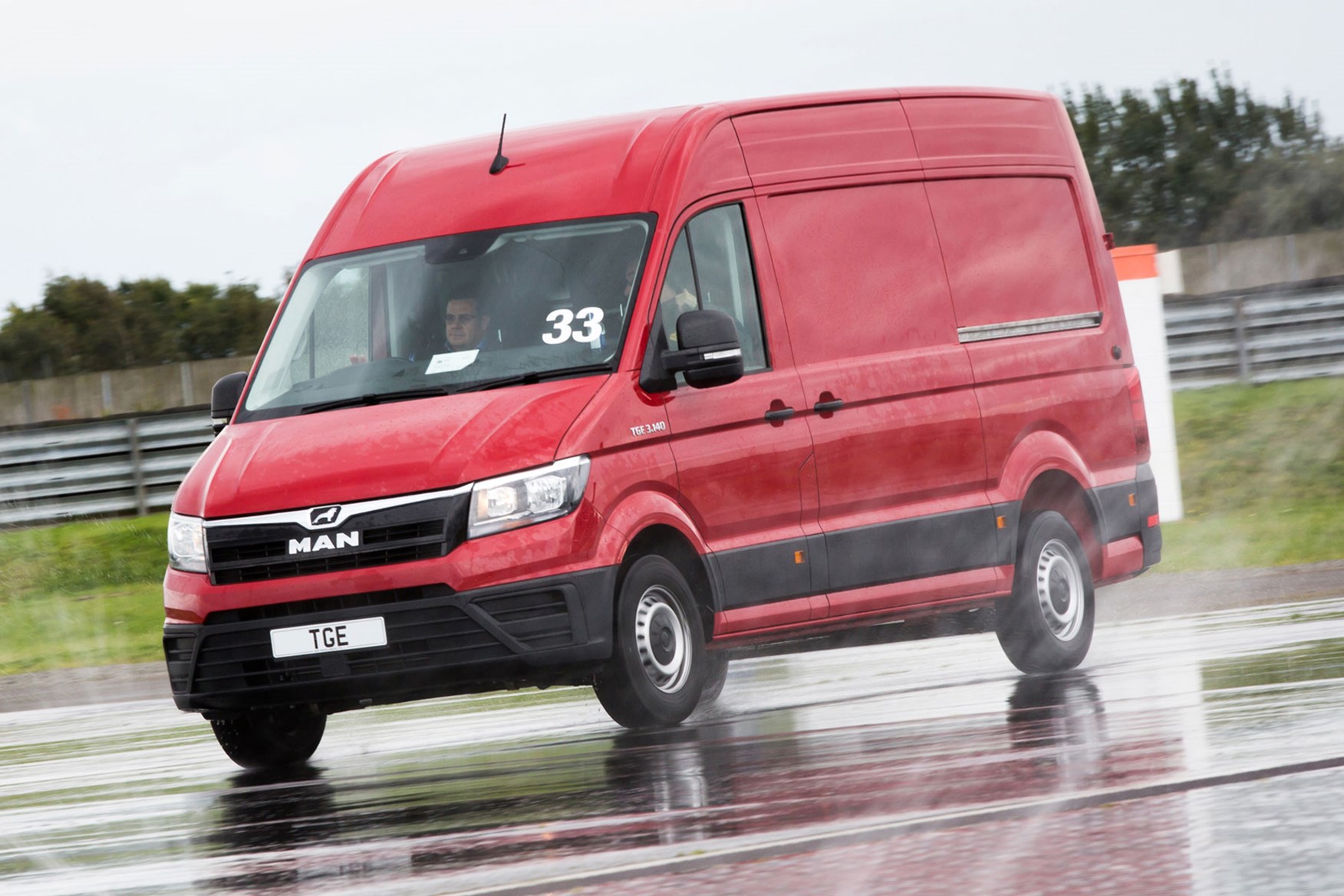 For example, we've circled a high speed bowl at 100mph while carrying a 750kg payload, and tried an unladen front-wheel drive TGE on a skidpan during a simulated rainstorm.
In both instances the MAN van proved unflappably stable and secure from behind the wheel. Combine this with light yet accurate electric power steering that makes it as easy to handle as a car in all but the tightest situations, and you've got a van that's a genuine joy to drive in almost any circumstances.
The manual gearchange is light and slick to use, while the eight-speed automatic is responsive and loses nothing in terms of flexibility of use compared with the manual. The auto should theoretically reduce your clutch replacement costs, too.
MAN TGE ride comfort
The TGE's suspension set up is the same as the Crafter's, and so it shares its sister van's exceptional ride comfort and compliance. As a result it's comfier over long distances than many cars.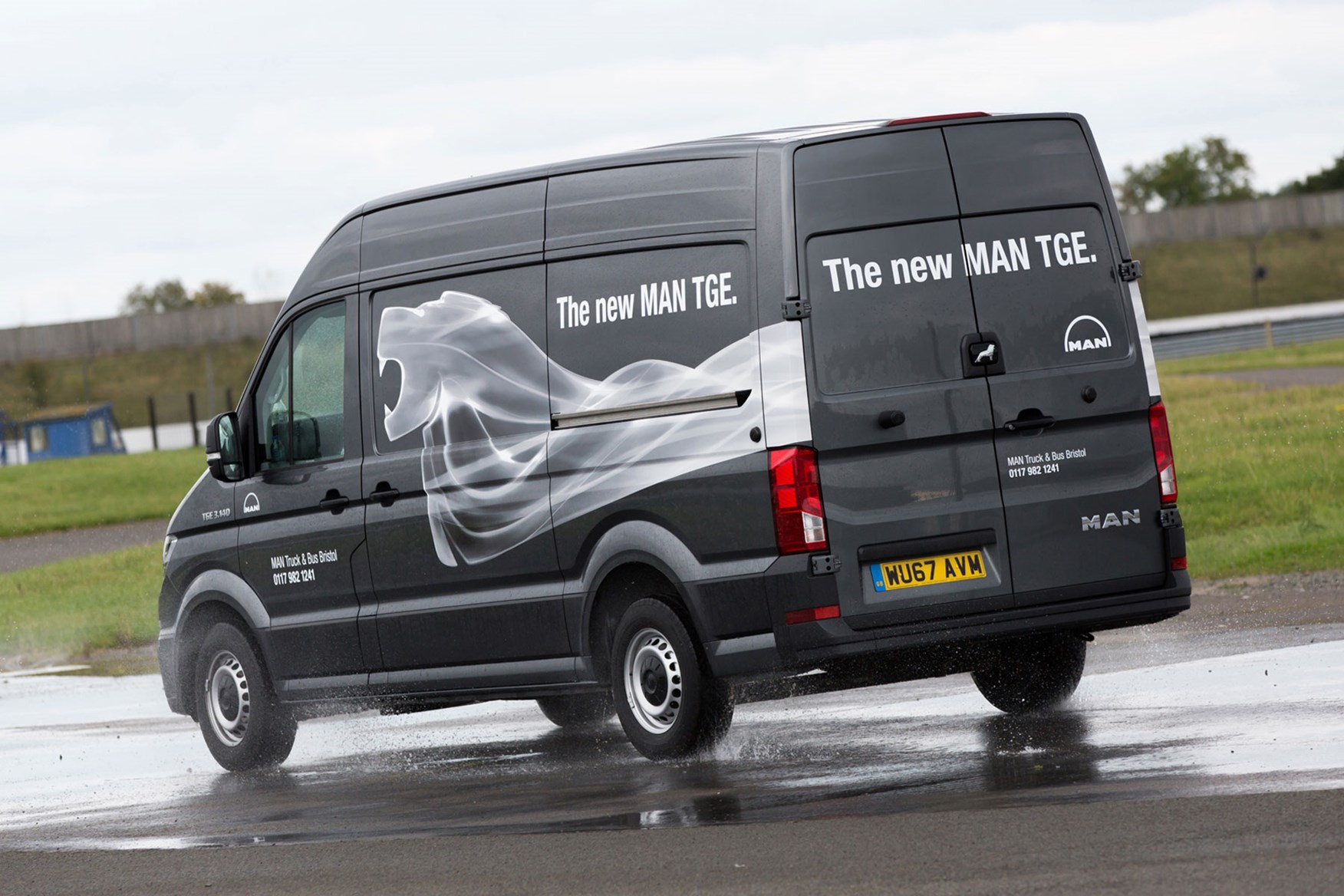 Especially since the MAN gets an upgraded 'comfort' driver's seat as standard.
A selection of suspension upgrades are available on the options list, meaning the TGE can be further tailored for heavy duty work.
MAN TGE: FWD vs RWD vs AWD
Front-wheel drive (FWD) TGEs are the most refined, have the lowest loading height and higher payload ratings spec-for-spec.
Rear-wheel drive (RWD) variants suffer from a slight increase in vibration and noise, which can be felt in the cab. They should be better for particularly heavy payloads and towing, however, which is worth keeping in mind.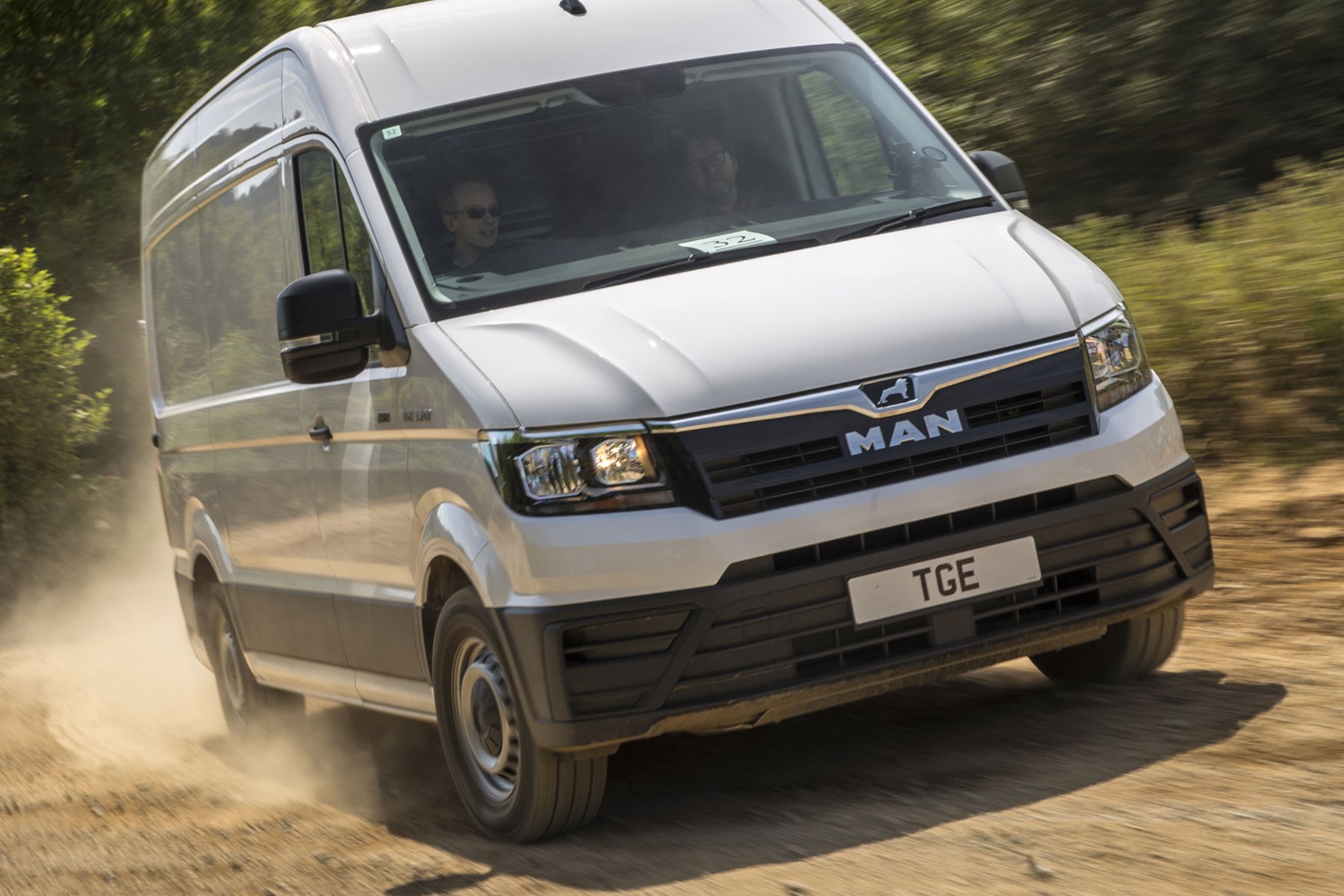 All-wheel drive (AWD) TGEs don't look much different from the outside, but with the ability to send power to the axle with the most grip on demand – in other words, without any need to mess about with switches – they calmly negotiate slippery surfaces with very little fuss.
The limited ground clearance means they aren't suitable for very heavy off-road work, and there is no low-range gear setting like you'd find in many pickups. But a locking rear differential is an option, and if you need a van that will make light work of unpaved tracks when recquired the TGE is certainly capable.
Quality and comfort are top of the class

Lots of storage, though not much is covered

Simple to use controls
The MAN TGE has a brilliant driver's cab. It's well-made, practical, and a nice, comfortable place to spend time.
Yet another asset the TGE borrows from the Crafter, placing it above all other large vans – with the possible exception of the 2018-on Mercedes Sprinter, and even that struggles to match its German rivals for quality and functionality.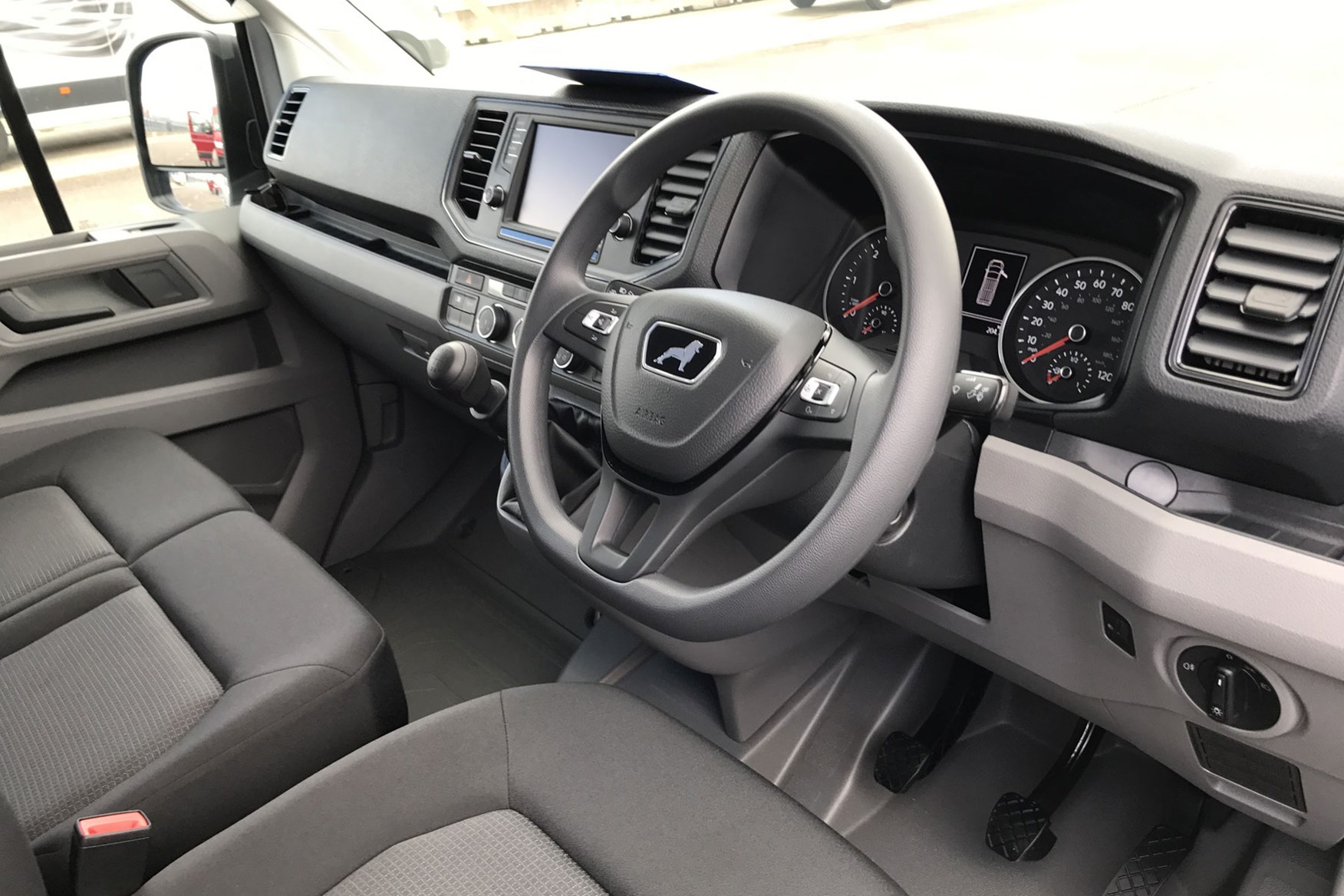 Major plus points are its big, clear instruments, solid and chunky stalk controls and infotainment set-up, and the copious amounts of storage space in the cab.
We'll give it a thumbs up, too, for its large dash-top cubbies (although shame they aren't covered), quartet of generously-sized cupholders, and sensibly-designed overhead bins.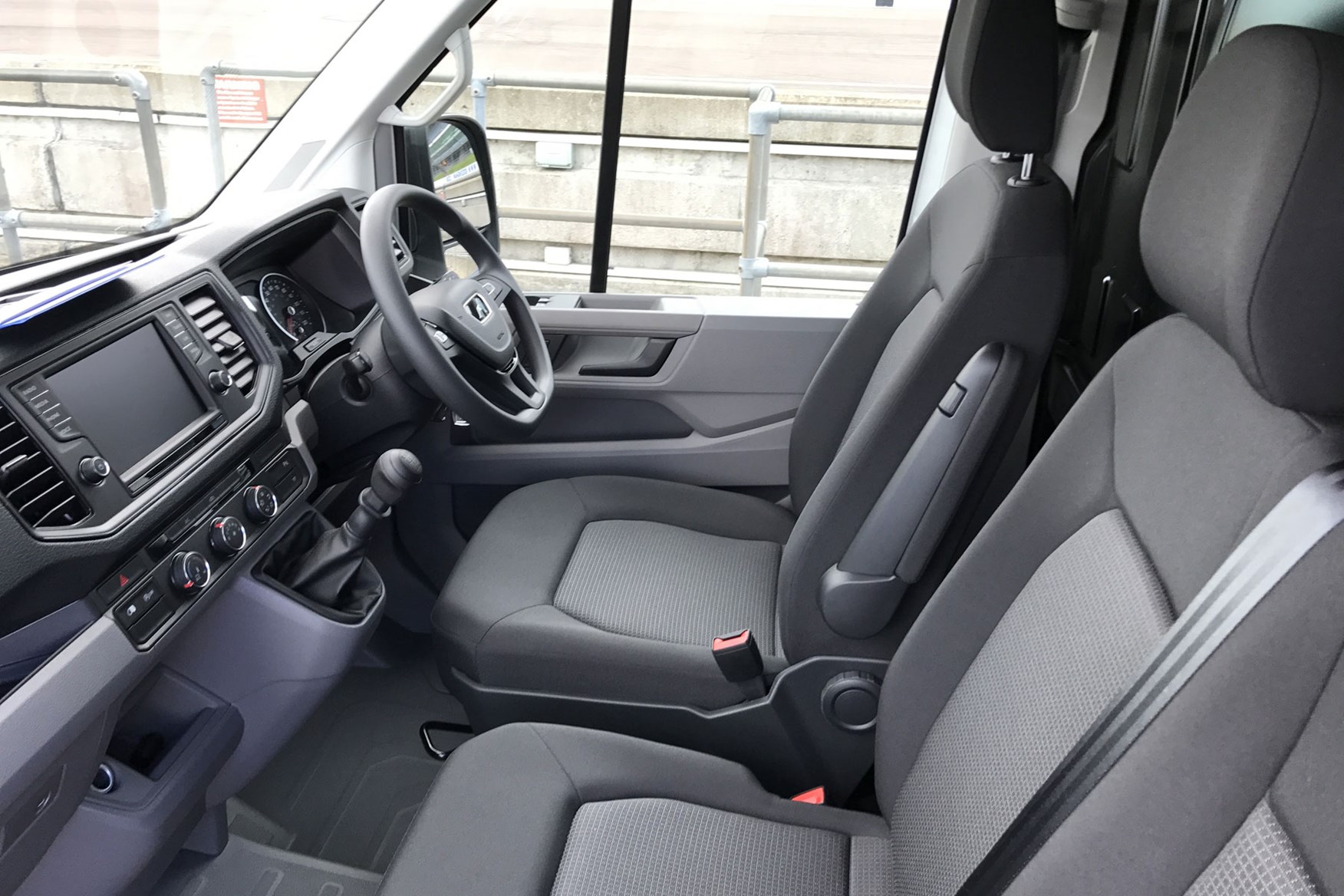 Want to work in your cab? Then the folding centre seat (to form a desktop) and plentiful power sources are all very useful. The availability of heated windscreen, seats and steering wheel all make life easier, too.
And while optional, the VW-derived touchscreen infotainment system and in-cab connectivity can't match the latest Sprinter for clever, high-tech features - the TGE's is nonetheless simple and straightforward to use.
Single standard specification - but lots of options
Official fuel economy is not great
Long service intervals, out-of-hours servicing
MAN does not sell the TGE in different trim levels – there is just a single specification, and a lengthy options list.
We've detailed the standard equipment below, but spec-for-spec, the MAN is typically priced very competitively versus its VW Crafter cousin, especially when you consider the extensive service and maintenance backup available through the MAN truck dealer network.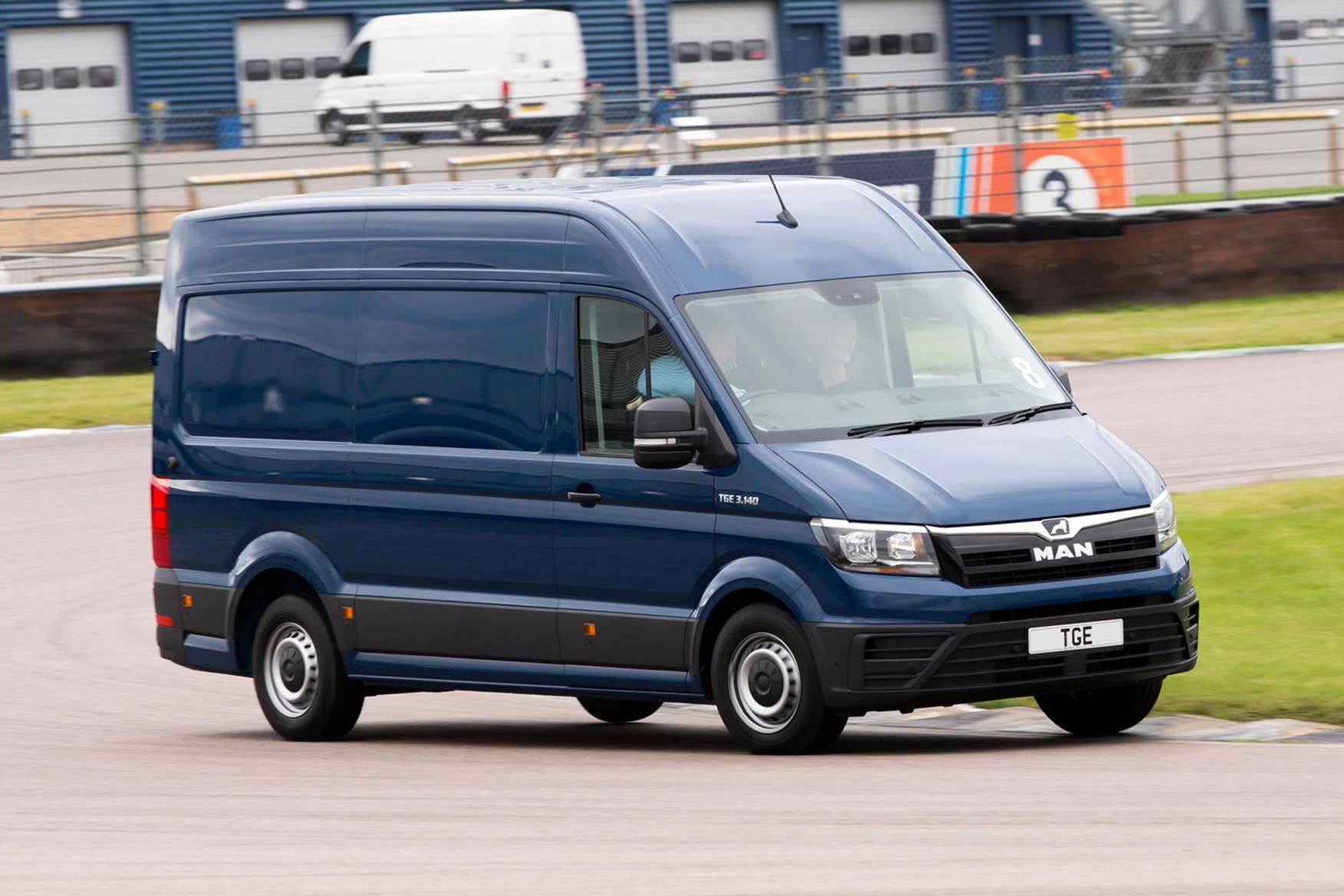 This means it's also on the costlier side compared with almost every rival bar the Mercedes Sprinter. This is not the same as saying it's poor value, however – the phrase 'you get what you pay for' applies as well here as it does anywhere else.
However…
MAN TGE fuel economy
Fuel economy isn't the TGE's strongest area. Almost every rival in the large van class (bar the Crafter) offers better on-paper efficiency than the 38.2mpg best MAN offers.
Opt for the more powerful 177hp engine, or one of the bigger body sizes, and won't even get that.
And that's a pre-WLTP. This new testing procedure was introduced in September 2019, and is tougher than the old NEDC standard, making the figures all worse on paper.
Regardless, real-world economy is likely to be around 30mpg in all versions. A stop-start system is fitted as standard.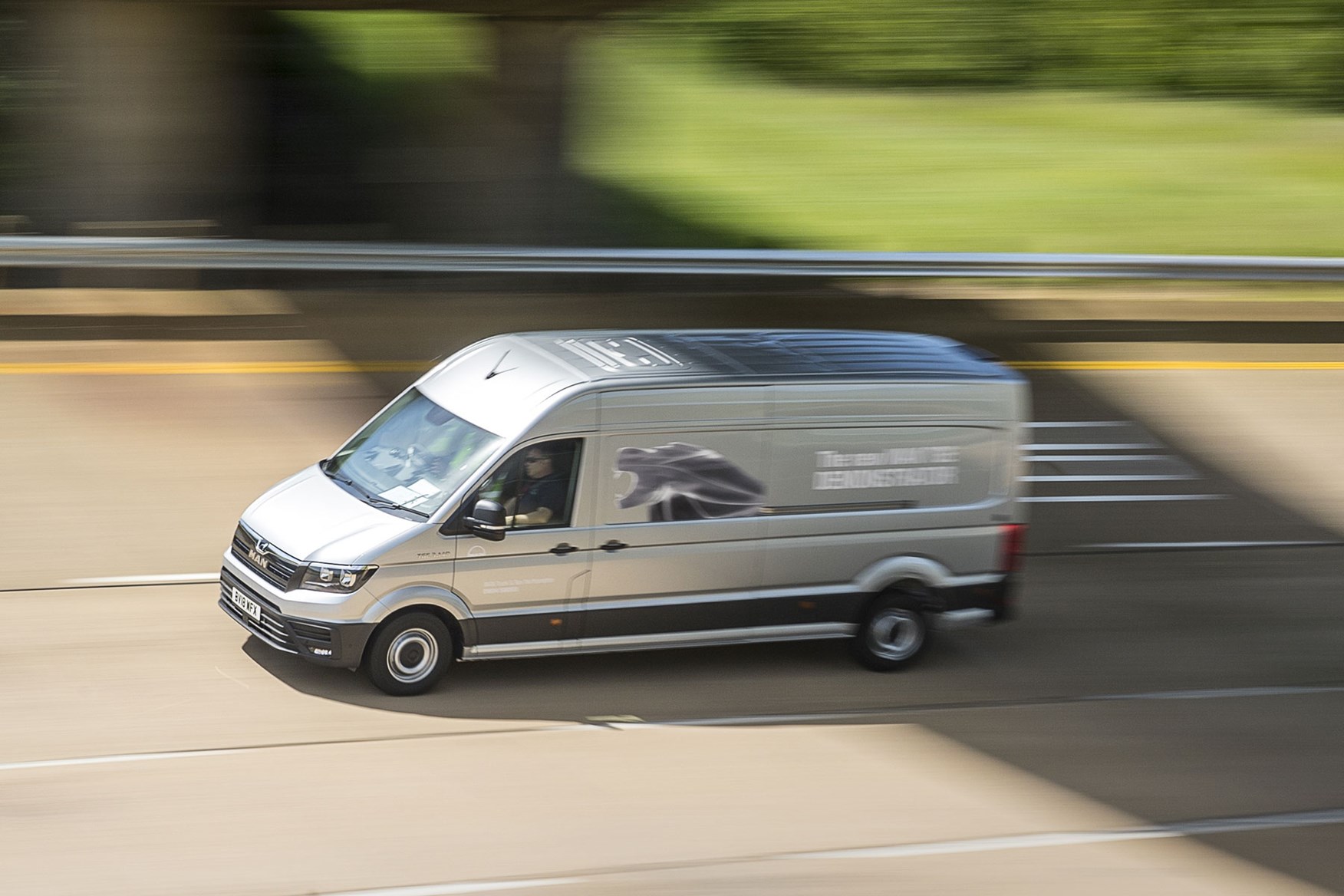 The TGE uses AdBlue to meet Euro 6 emissions regulations; each tankful should last around 5,000 miles, depending on how and where you drive.
MAN TGE servicing
Service intervals fall every 30,000 miles, though the trip computer will monitor this and alert you whenever a service is required.
MAN offers a choice of service contracts (or maintenance plans), and every TGE comes with a MAN Mobile24 24 hour roadside assistance package should the worst happen.
MAN TGE standard equipment
These are the MAN TGE's standard equipment highlights (June 2018):
Comfort driver's seat with two-way lumbar support
Dual passenger seat with fold down table and storage box
Multi-function steering wheel with reach and rake adjustment
Bluetooth and USB connection
12v socket
Cruise control with adjustable speed limiter
Full-height steel bulkhead
Bodybuilder module with telematics preparation
16-inch steel wheels
Note that safety equipment – of which there is a lot – is detailed separately in the Safety and Security section of this review, below.
The real highlights here are comfort driver's seat and the cruise control, which will improve longer journeys especially. The bodybuilder module makes every TGE sold in the UK suitable for conversion for specialist use, which may be a particular benefit when buying or selling used.
However, we're surprised that air-conditioning isn't considered an essential these days (though it does impact fuel economy and payload, so perhaps there's a reason for that).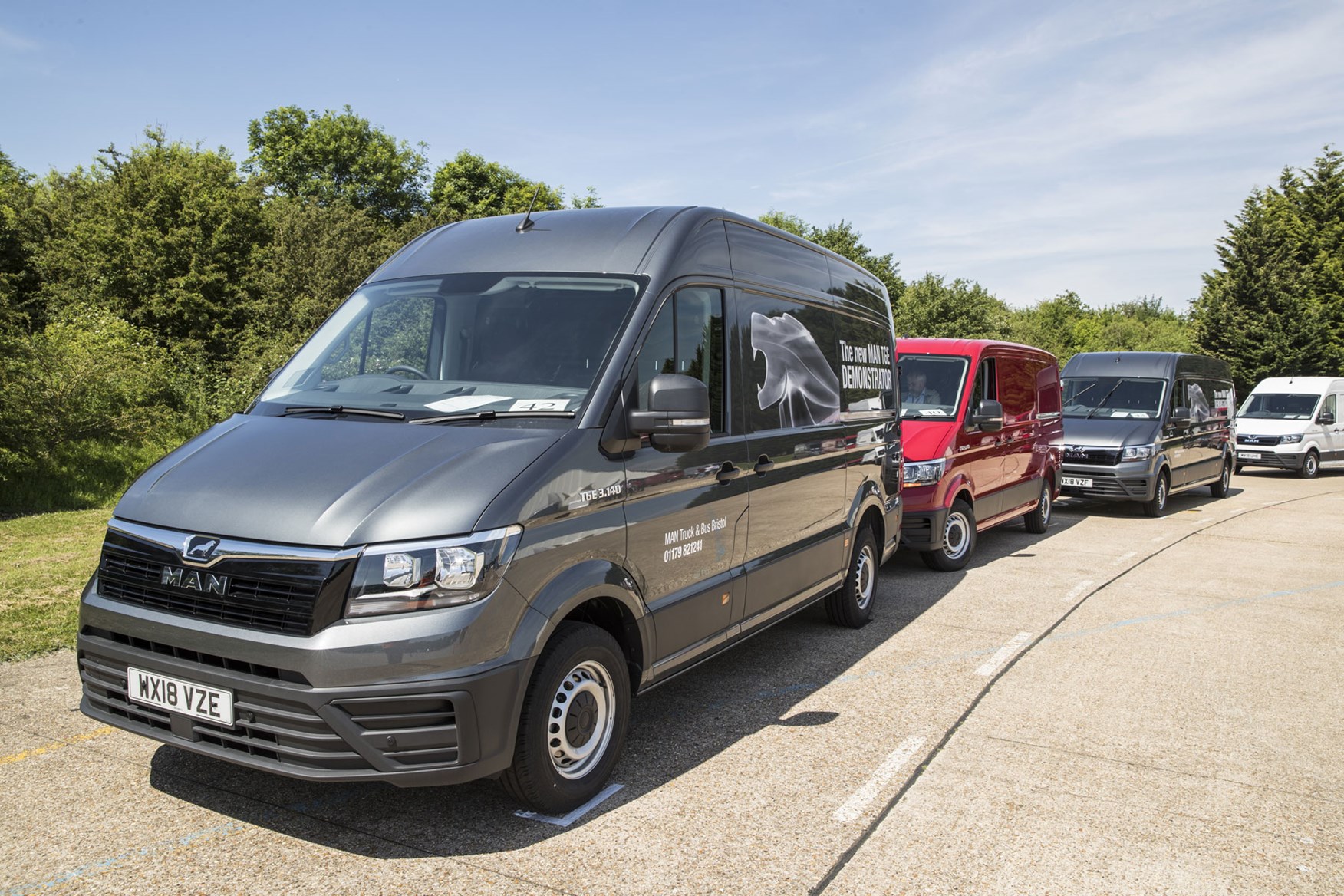 You'll also need to pay extra for fitted sat-nav – this is a VW-based system, and among the more user-friendly offerings on the market.
Beyond all of this lies a vast options list, so MAN has sensibly collated some popular selections into various equipment packages, adding both convenience and value.
MAN TGE equipment packages
Here's a quick breakdown of what's included in some of the more interesting equipment packages.
The MAN TGE light and sight package includes:
High beam assist
Automatic lights
Automatic wipers
Front foglights which function as cornering lights at low speed
The MAN TGE comfort package includes:
Four 12v sockets in the cab (three in the dashboard, one in the driver's seat frame)
Two DIN slots and a reading light mounted in the roof
'Comfort Plus' driver's seat
'Premium' interior noise dampening
The MAN TGE comfort package plus includes:
Four 12v sockets in the cab (three in the dashboard, one in the driver's seat frame)
Two DIN slots and a reading light mounted in the roof
Chrome package
Heated leather steering wheel with multi-function controls
'ErgoActive' suspension seat for driver
'Premium' interior noise dampening
Adaptive cruise control
Step lighting at the front
The MAN TGE winter package includes:
Heated, insulated laminated-glass windscreen
Additional 1,400W electric heating system
7.0-litre windscreen washer bottle/reservoir with level indicator
Headlight cleaning system
Heated windscreen washer nozzles
In addition to these, MAN also offers a pair of safety packages (detailed in the safety section below) and a trio of industry-specific packages. Two of these are aimed at tipper and dropside conversions.
The third is the 'driver assist distributer package', which is intended to make like easier for parcel couriers and the like who have regular stops, particularly in tight streets. It includes:
Reversing camera
Heated, foldable, electric door mirrors
Blindspot monitors and cross-traffic alert (labelled 'lane change assist)
Side marker lights
Front and rear parking sensors
Side sensors (labelled 'lateral protect assist')
The MAN TGE should offer the same reliability as the equivalent VW Crafter – and we've seen no major reports of problems with either.
VW generally performs well in the FN50 van reliability survey, and we have no reason to think the Crafter – or TGE – will be any different.
We'll update this if we hear anything to the contrary, and if you have any personal experience in this area please drop us a line via the Parkers feedback email address.
Should the worst happen, all MAN TGEs come with a 24-hour roadside assistance package, and the MAN dealer network is very much geared towards minimising downtime, as it is used to doing for the same for trucks, where downtime is even more critical.
Lots of active safety kit

Clever optional extras

No alarm fitted as standard
As any modern van should, the MAN TGE places a strong emphasis on safety, offering not only autonomous emergency braking (AEB) as standard equipment, but also a number of high-tech optional systems as well, many of which are made possible by the electromechanical power-steering system.
MAN TGE safety
Here's a quick rundown of the MAN TGE's standard safety equipment highlights:
Autonomous emergency braking (labelled 'emergency brake assist' or EBA)
Driver's airbag
Not bad. You do still have to pay extra for additional airbags, but this may only be worthwhile to your business if the TGE is regularly carrying more people than just the driver.
Optional MAN TGE safety equipment highlights include:
Adaptive cruise control
Blindspot monitors
Cross-traffic alert
Side sensors to help avoid collisions with objects beside the van
Other potentially damage-preventing technologies include a self-parking system (yes, the TGE will parallel park itself with this fitted), and a trailer assist system that makes reverse parking with a trailer exceptionally simple.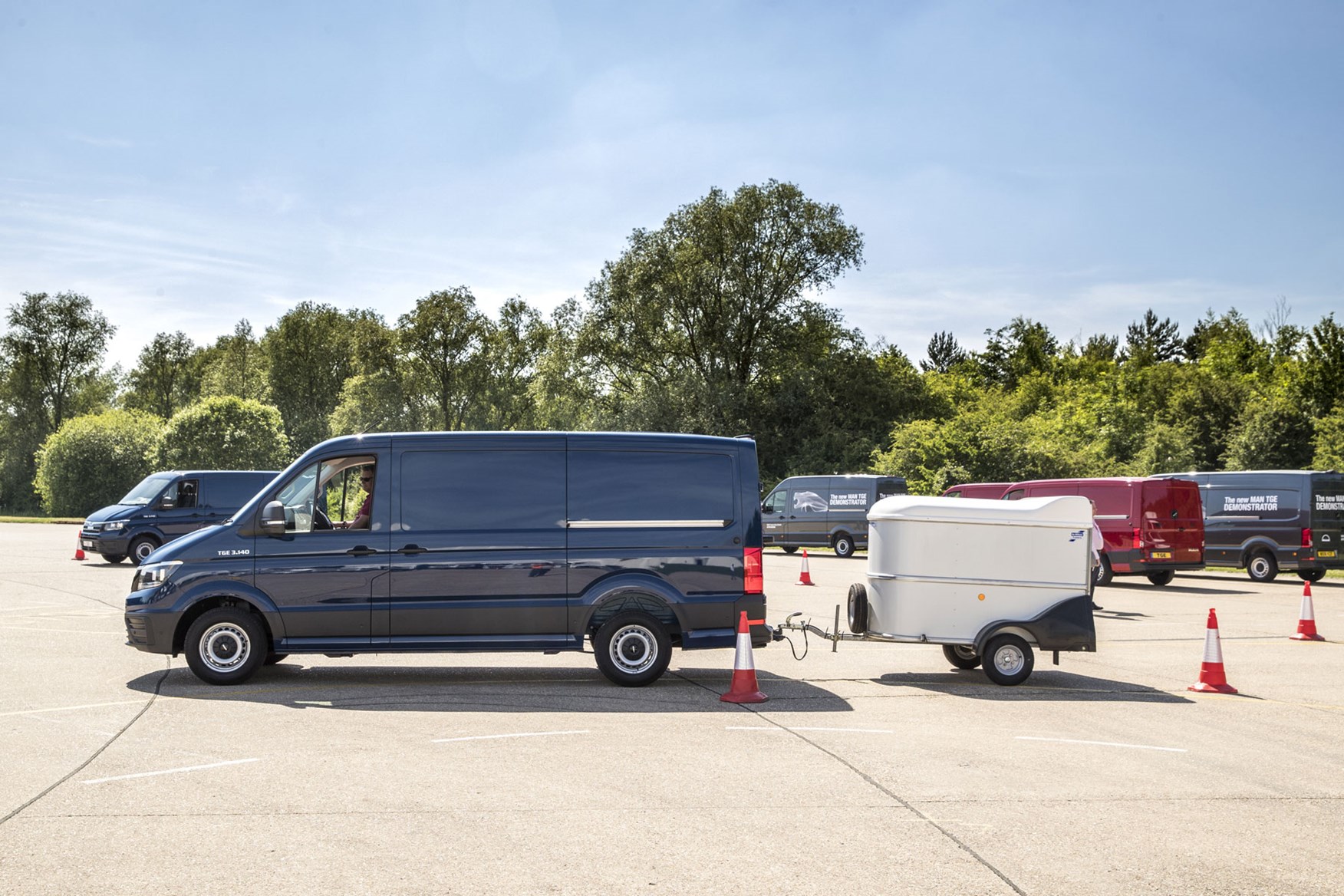 Honestly, this last is almost mind-blowingly clever, and involves steering the van with the electric mirror adjuster. Bonkers, but brilliant.
MY2021 update adds emergency call buttons
Further to the above, the 2021 Model Year update has added a roof-mounted three-button module to TGEs fitted with a touchscreen infotainment system. The three buttons give you instant access to the emergency services, MAN's Mobile24 breakdown service and a call centre that can answer questions about the van.
The emergency call system does not require a phone to work, so you can call and ask for help after an accident even if you've left your mobile at home. What's more, if an airbag is deployed, the system will call for help automatically, transmitting the location of the van so you can easily be found as well.
MAN TGE security
The only security equipment you get as standard on the MAN TGE is an engine immobiliser. Oh, and remote locking, which hardly counts. A factory-fitted alarm is an optional extra.
As ever, van security is a sensitive subject. We'd expect the TGE to withstand a casual, opportunistic attack, since it's one of the newest vans on the market. But nothing can stop power cutting tools. So if you can't afford to lose something, don't leave it in the van.
Which MAN TGE is best for me?