Renault Trafic dimensions (2014-on)
On this page you'll find dimensions info for the Renault Trafic launched in 2014, and updated with a mid-life facelift in 2019. This includes info on the load area, towing capacity and payload ratings.
For find out what the Trafic is like to drive, what equipment you get as standard, its running costs and its value, see our main Renault Trafic review page.
The Trafic comes in two lengths and two heights. Short-wheelbase (SWB) models were originally designated S, long-wheelbase models (LWB) were designated L, while the roof heights were labelled L for low and H for high.
So a Renault Traffic SH is a SWB high-roof model, a Trafic LL is a LWB low-roof model, and so on.
Following the 2019 facelift, however, Renault has moved towards using the more traditional L1 and L2 labels for length, and H1 and H2 labels for height.
It's pretty straightforward to work out what you're looking at, either way.
What's the load area like in the Renault Trafic?
While it doesn't have the highest payload ratings, Renault has certainly put plenty of thought into the Trafic's load area – from flaps in the bulkhead for longer items to a vast number of lashing points as standard, this is a versatile van right out of the box.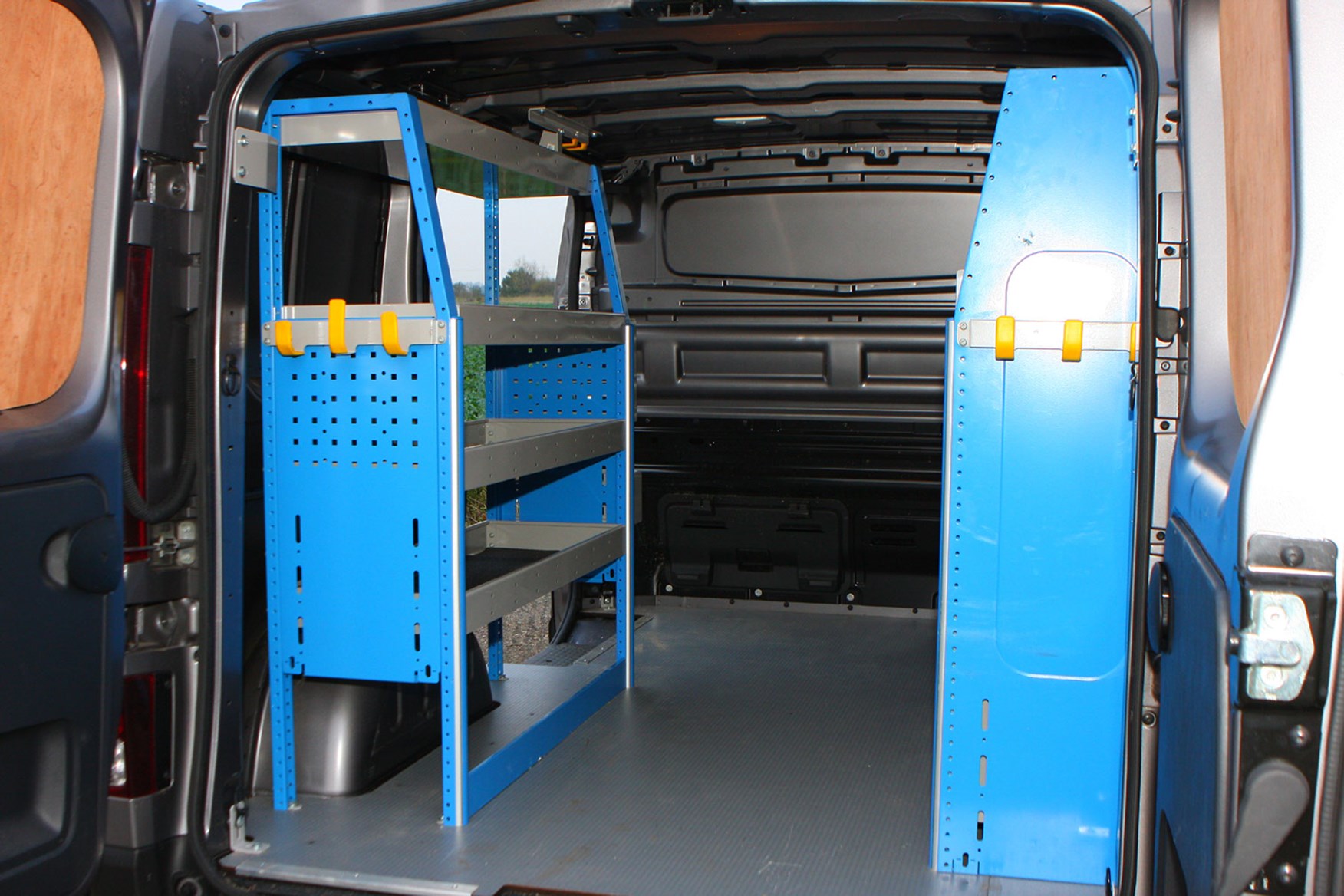 Add a number of custom racking options that can be installed before delivery by the Renault Tech team, an optional internal roof rack and high-quality Renault Tech interior lining packages, and the Trafic is a van you can put straight to work.
The only changes in the load area for the 2019 facelift update are the addition of LED lights, which are brighter than the conventional lights previously fitted, making it easier to see inside.
But will your gear or goods fit? Let's find out.
Renault Trafic exterior dimensions
First things first, will it fit on your drive? The LWB version is 400mm longer than the SWB model, which comes in at just under five metres in length.
Full exterior dimensions are listed in the table below:
Renault Trafic variant
SL / L1H1
SH / L1H2
LL / L2H1
LH / L2H2
Exterior length (mm)
4,999
4,999
5,399
5,399
Exterior height (mm)
1,971
2,465
1,971
2,465
Exterior width without mirrors (mm)
1,956
1,956
1,956
1,956
Exterior width with mirrors (mm)
2,283
2,283
2,283
2,283
Wheelbase (mm)
3,098
3,098
3,498
3,498
Front overhang (mm)
933
Rear overhang (mm)
968
Side door max width (mm)
1,030
Side door min width (mm)
907
Side door height (mm)
1,284
Rear door width (mm)
1,391
Rear door height (mm)
1,320
1,320
1,820
1,820
Rear sill height (mm)
552
Ground clearance (mm)
160
Note there are no differences in any of these dimensions after the 2019 facelift, so although the front of the vehicle has been changed it hasn't gotten any longer.
The Trafic is also available as a crew van (with a second row of seats), in both body lengths but only the lower roof height. The exterior dimensions of these are the same as the panel van.
Renault Trafic load area dimensions
Even the shortest version of the Trafic has enough floor space for three Euro pallets. You get a single sliding side door on all models (a second is optional), and no less than 16 floor-to-ceiling lashing points on SWB models; there are 18 on LWB versions.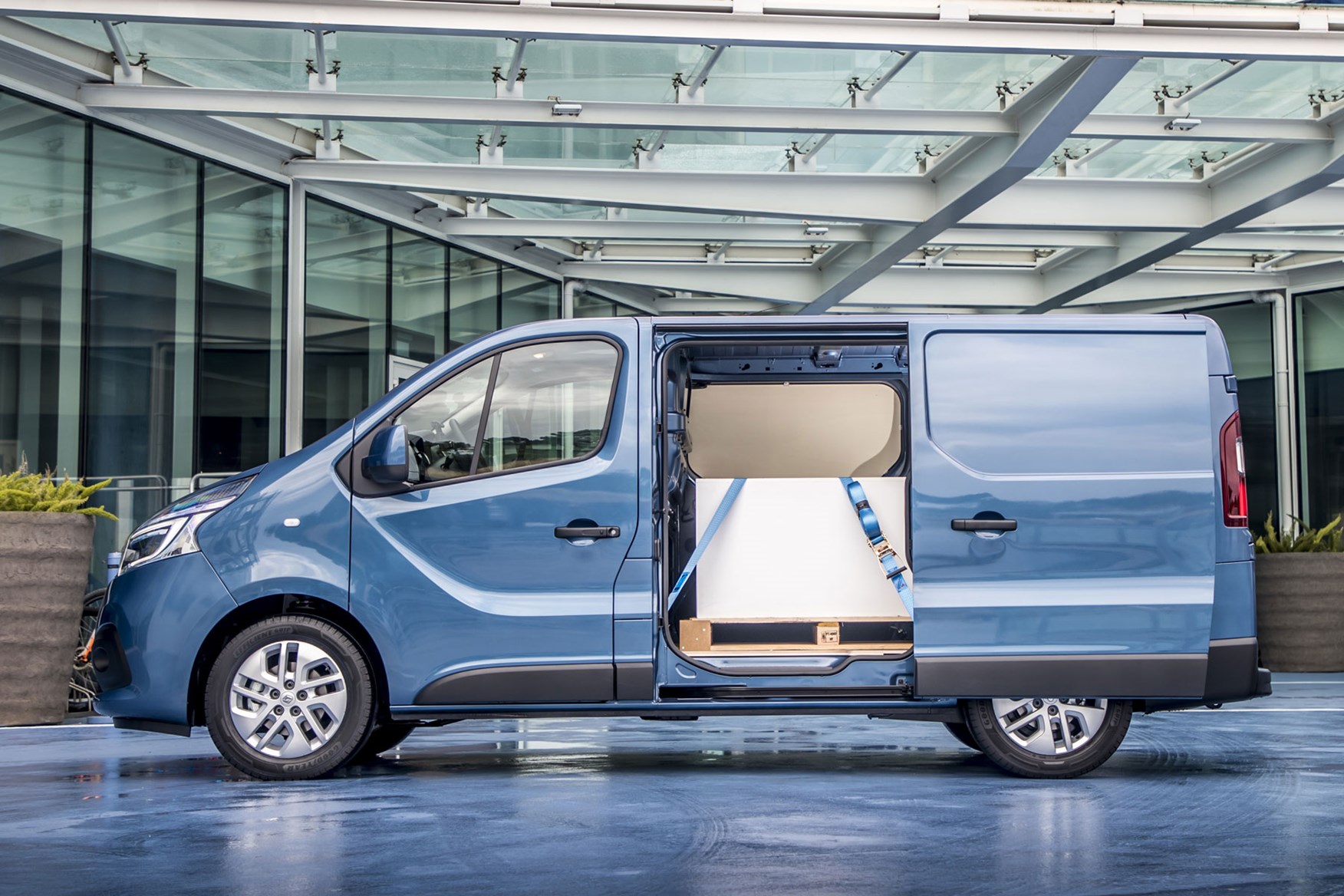 Longer loads up to 4,150mm can be accommodated via a load-through flap in the bulkhead and a lift-up passenger seat, which allows items such as pipes to extend all the way through into the passenger footwell. This is standard fit from the Business+ trim level upwards.
The full Renault Trafic load space dimensions are listed in the table below:
| | | | | |
| --- | --- | --- | --- | --- |
| Renault Trafic van variant | SL / L1H1 | SH / L1H2 | LL / L2H1 | LH / L2H2 |
| Maximum load length (mm) | 2,537 | 2,537 | 2,937 | 2,937 |
| Maximum load height (mm) | 1,387 | 1,898 | 1,387 | 1,898 |
| Maximum load width (mm) | 1,662 | 1,662 | 1,662 | 1,662 |
| Width between wheelarches (mm) | 1,268 | 1,268 | 1,268 | 1,268 |
| Maximum load volume (cu m) | 5.2 | 7.2 | 6.0 | 8.6 |
The Trafic crew vans have smaller load areas due to the extra seats reducing the loading length:
| | | |
| --- | --- | --- |
| Renault Trafic crew van variant | SL / L1H1 | LL / L2H1 |
| Maximum load length (mm) | 2,018-2,023 | 2,418-2,423 |
| Maximum load volume (cubic metres) | 3.2 | 4.0 |
Fair to say, payload and towing capacity are not Renault Trafic's strongest areas.
Renault Trafic payload details
The Renault Trafic's maximum payload is limited by its relatively low gross vehicle weight options (GVW – the total legal combined weight of van and everything inside) compared with the heaviest-hauling rivals, such as the Ford Transit Custom, and the latest Vauxhall Vivaro and its close family, the Citroen Dispatch, Peugeot Expert and Toyota Proace.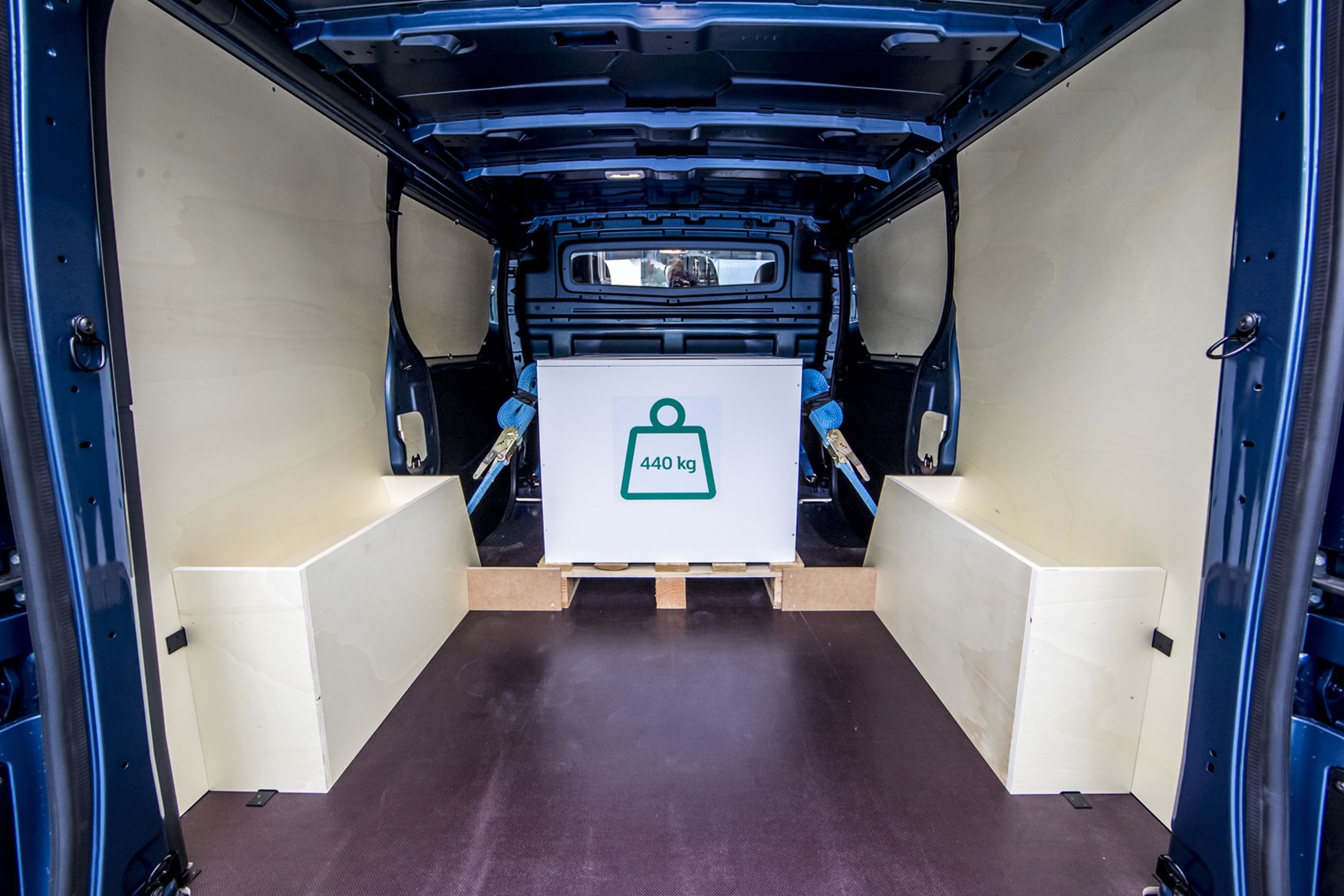 Before the 2019 facelift, the two GVW options were labelled 27 and 29 - roughly equivalent to 2,700kg and 2,900kg. After the 2019 update these have been changed to 28 and 30, again roughly equivalent to 2,800kg and 3,000kg.
Despite this, according to the figures released so far, the Trafic's maximum payload has still fallen for the 2019-onwards model. This is no doubt due to the van's kerbweight being increased after the move from 1.6-litre engines to the newer 2.0-litre engines.
As such, the most a Trafic can carry is 1,280kg in the strongest pre-2019 LL29 variant. This applies to all four engines, though, so you are not restricted to the most powerful and therefore most expensive version if carrying more is a priority.
After 2019, maximum payload for Uk models is 1,240kg, which applies only to the LL30 dCi 120 model. The equivalent dCi 145 drops to 1,234kg, while the equivalent the dCi 170 maxes out at 1,198kg - although that's partly because it's only available in well-equipped Sport and Black Edition trim levels.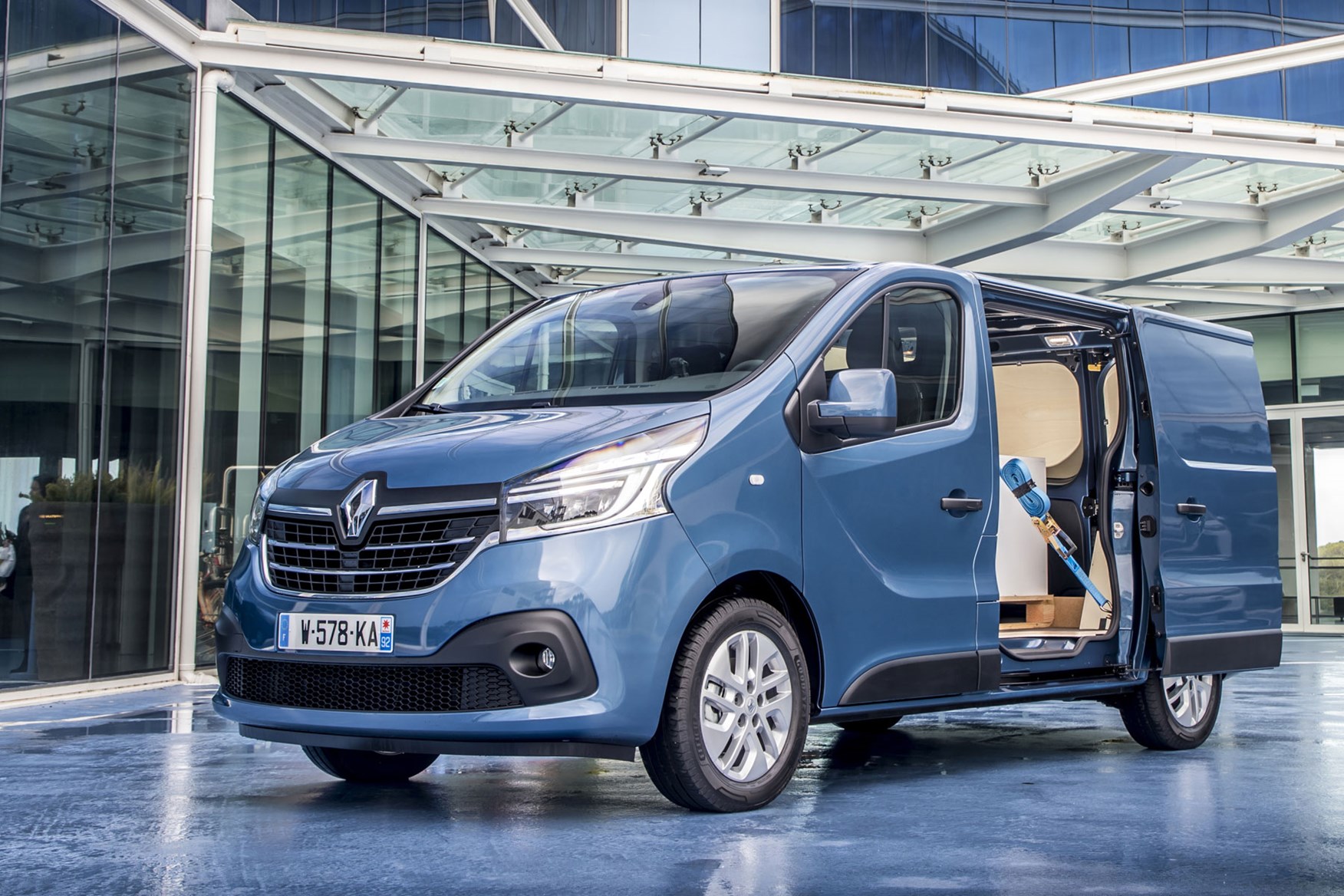 Shorter models carry less, and high roof models also carry less. The more standard kit you have also reduces the payload, hence Sport models will have lower payload ratings than entry-level Business versions.
Regardless, the Trafic is a fair way short of the best payload ratings in the medium van sector, which are now approaching 1,500kg.
Renault Trafic towing capacity
The Renault Trafic's maximum towing capacity is the 750kg for unbraked trailers, and 2,000kg across all versions for braked trailers.
These figures apply to the 1.6-litre engines and the newer 2.0-litre engines.