New Citroen Dispatch review
High payloads and high-tech kit, but cramped behind the wheel
PROS
Competitively priced
Appealing engines
Low running costs
High payload ratings
Three body lengths
CONS
Dark and cramped cabin
Offset driving position
Poor visibility
Limited in-cab storage
Style over substance?
Summary
Completely redesigned from the ground up and using the new Efficient Modular Platform 2 that also underpins the latest Peugeot Expert and Toyota Proace - and 2019 Vauxhall Vivaro - the third-generation Citroen Dispatch is good to drive and offers an impressive selection of high-tech features while retaining its traditional strengths of practicality and efficiency.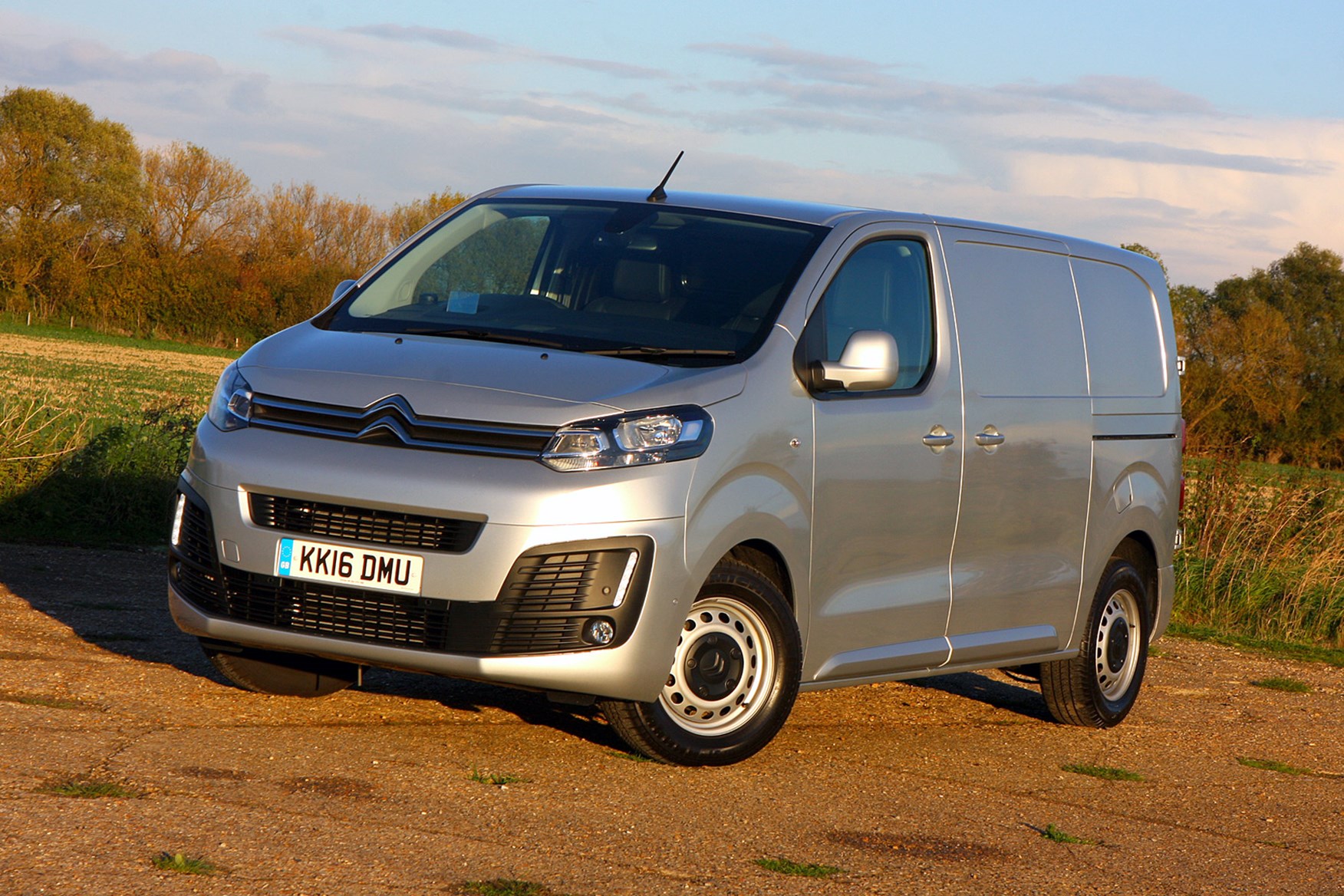 Payload capacity and claimed fuel economy are particularly impressive, placing the Dispatch right at the top of the medium van class.
>> Best medium vans for payload
Citroen Dispatch: disappointing cab interior
The new cab, however, is quite cramped, claustrophobic and lacking in storage space, and doesn't have the same levels of fit-and-finish as the VW Transporter or Ford Transit Custom.
The driving position on right-hand drive models is also noticeably offset, which is a travesty for a modern van.
Citroen Dispatch variants
Unusually, the Citroen Dispatch is a available in a choice of three body lengths, including a super-short version. A load-through bulkhead - called Moduwork - and folding passenger seat extends the space available for transporting longer skinny items such as pipes and planks.
In addition to the panel vans, crew van models and a platform cab suitable for conversions are also available.
Unlike the previous model, there is only one roof height. This has been deliberately made low enough to take the stress out of accessing car parks, though obviously restricts the size for stuff you can put inside.
For full details of load area and payload see our dedicated Citroen Dispatch Dimensions page.
>> Citroen Dispatch (2016-on) dimensions
Citroen Dispatch trim levels
The Dispatch launched with a choice of three trim levels: X, Enterprise and Enterprise Plus (really just an extension of Enterprise, as this suggests).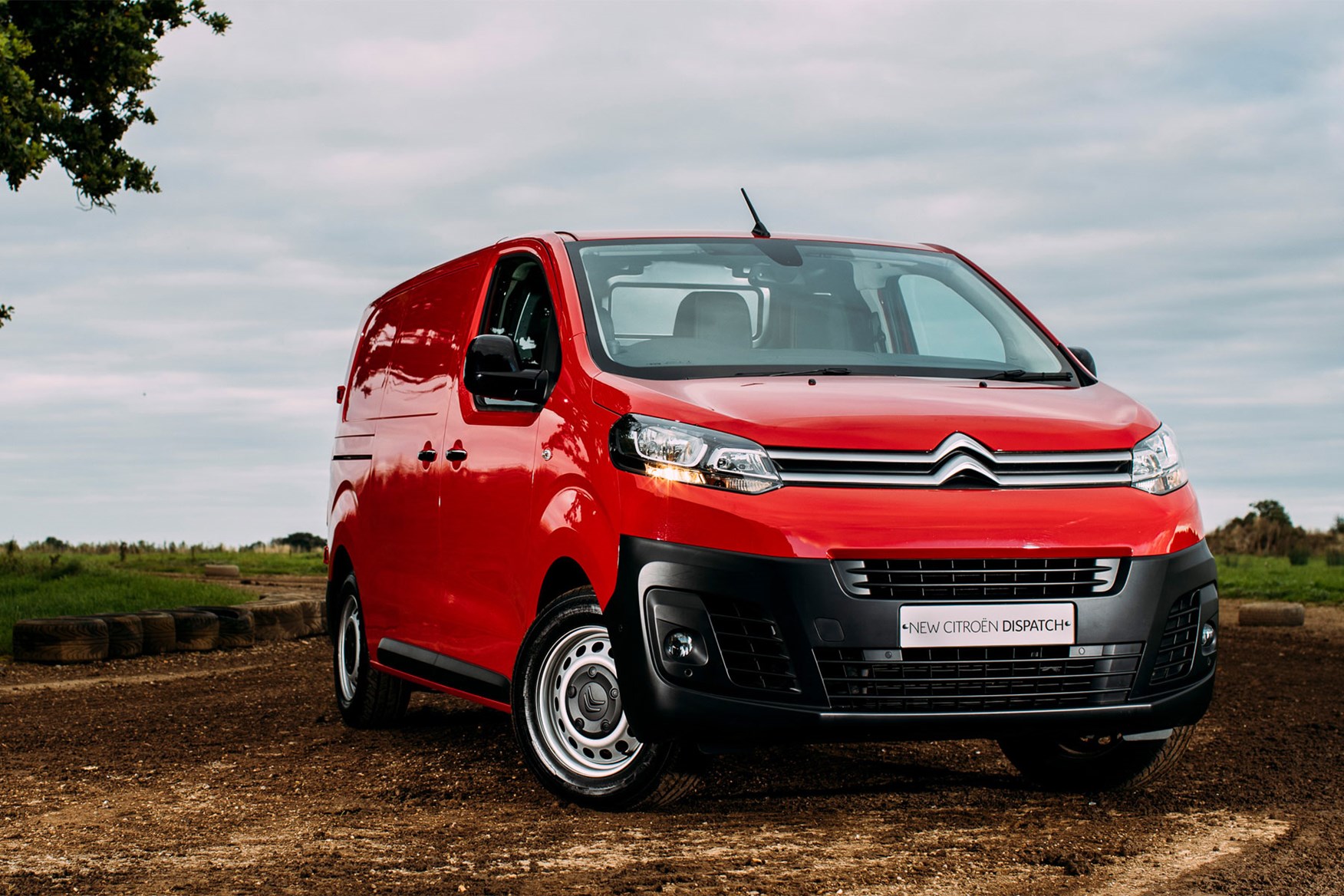 From May 2019 production the range expands to also include Worker and Driver variants - see below for details.
Citroen Dispatch engine choice
At launch Citroen offered a choice of five power outputs spread across revised versions of the 1.6-litre and 2.0-litre BlueHDI engines fitted in the previous model.
May 2019 production sees the 1.6 replaced by a more modern 1.5-litre unit that meets the latest Euro 6D Temp (or Euro 6.2) emissions regulations; updated 2.0-litre motors that also comply with these regs are introduced at the same time.
Citroen Dispatch 2019 update
For 2019 Citroen has not only modified the engine line-up for the Dispatch and added two new trim levels, it's also added an emergency assistant package called the Citroen Connect Box as standard equipment across the whole range.
At the same time, the range-topping 180hp engine ditches its original six-speed automatic gearbox for a new EAT8 eight-speed auto, which is set to improve performance and efficiency.
>> Citroen Dispatch 2019: engine upgrade and new trim levels
---
Citroen Dispatch verdict
This is a modern van that's comparatively inexpensive to buy, should prove cheap to run and offers very impressive payload capacity.
Raid the options list, and you can also kit it out with an excellent range of safety equipment and some interesting toys - including powered doors that can be opened by waving your foot under the bumper and a head-up display.
Shame that the cabin isn't more inviting, but if you're looking for a good amount of bang for your buck, the Dispatch is well worth consideration.
Keep reading for the full Citroen Dispatch review on Parkers Vans and Pickups
Skip to our full verdict on...
Comfortable and refined to drive
Little in the way of unpleasant body roll in the corners
Engines provide plenty of performance
Citroen has made huge improvements to the Dispatch's ride and handling compared with the previous version.
The latest model has a very low centre of gravity thanks to the low position of the engine (don't be fooled by the height of the grille!), helping the van to feel planted on the road, and reducing body roll in the bends.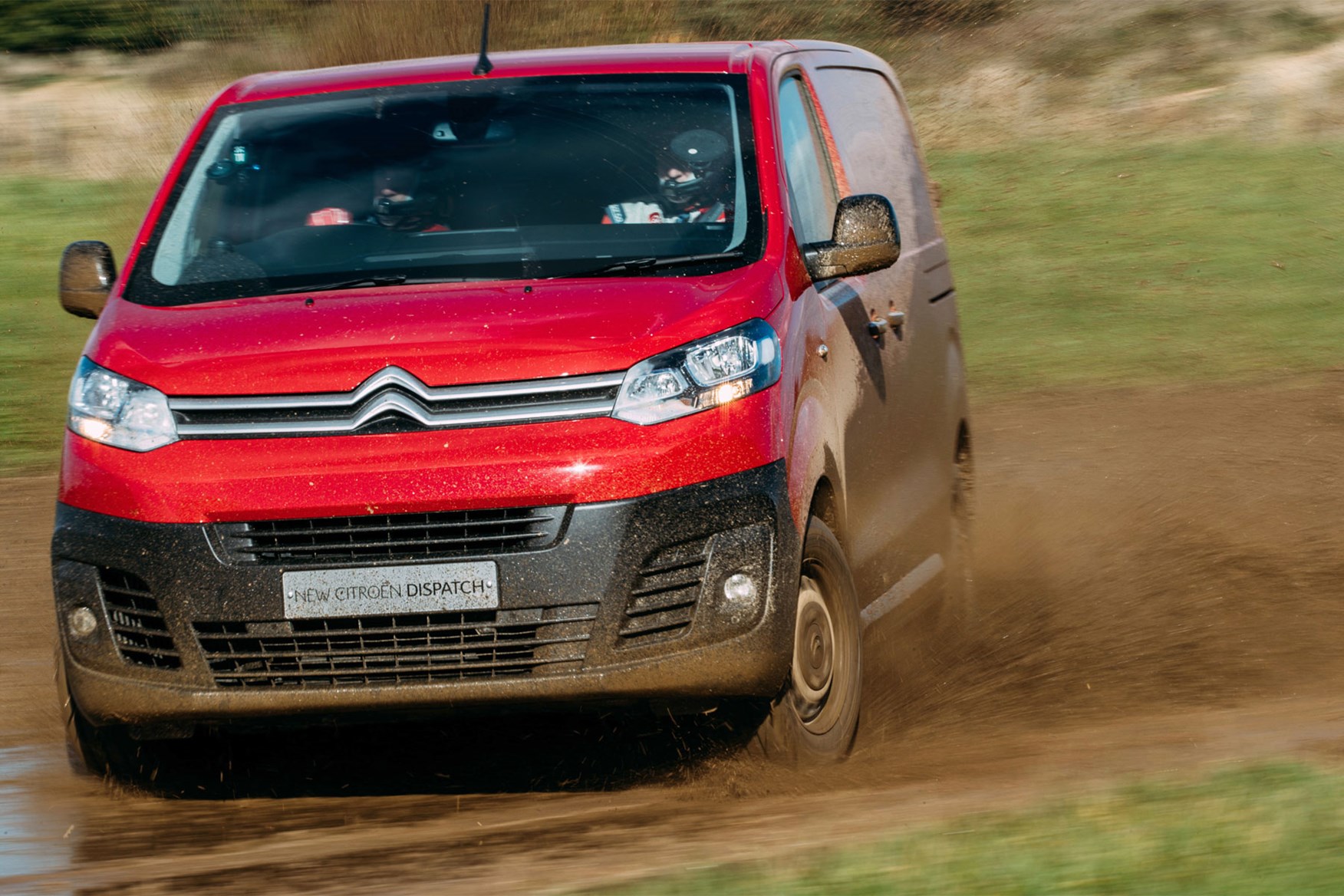 Similarly, the suspension is nicely set up so that it deals well with bumps, and isn't too choppy - even when there's little in the way of load in the back. Many medium vans, including the bestselling Ford Transit Custom, can often feel very bouncy when driven unlaiden.
Citroen Dispatch pre-May 2019 engines
At launch the Dispatch was available with a pleasing wide range of BlueHDi diesel engines and transmissions.
The 1.6-litre engine comes with 95hp and 210Nm in its entry-level guise, combined with either the standard five-speed manual gearbox or optional six-speed automated manual transmission (a sort of clunky automatic); alternatively, the 1.6 is available with 116hp and 300Nm, and a standard-fit six-speed manual gearbox.
The larger 2.0-litre engine is available with 120hp / 340Nm, 150hp / 370Nm - both six-speed manual - or 180hp / 400Nm output that comes exclusively with a six-speed automatic.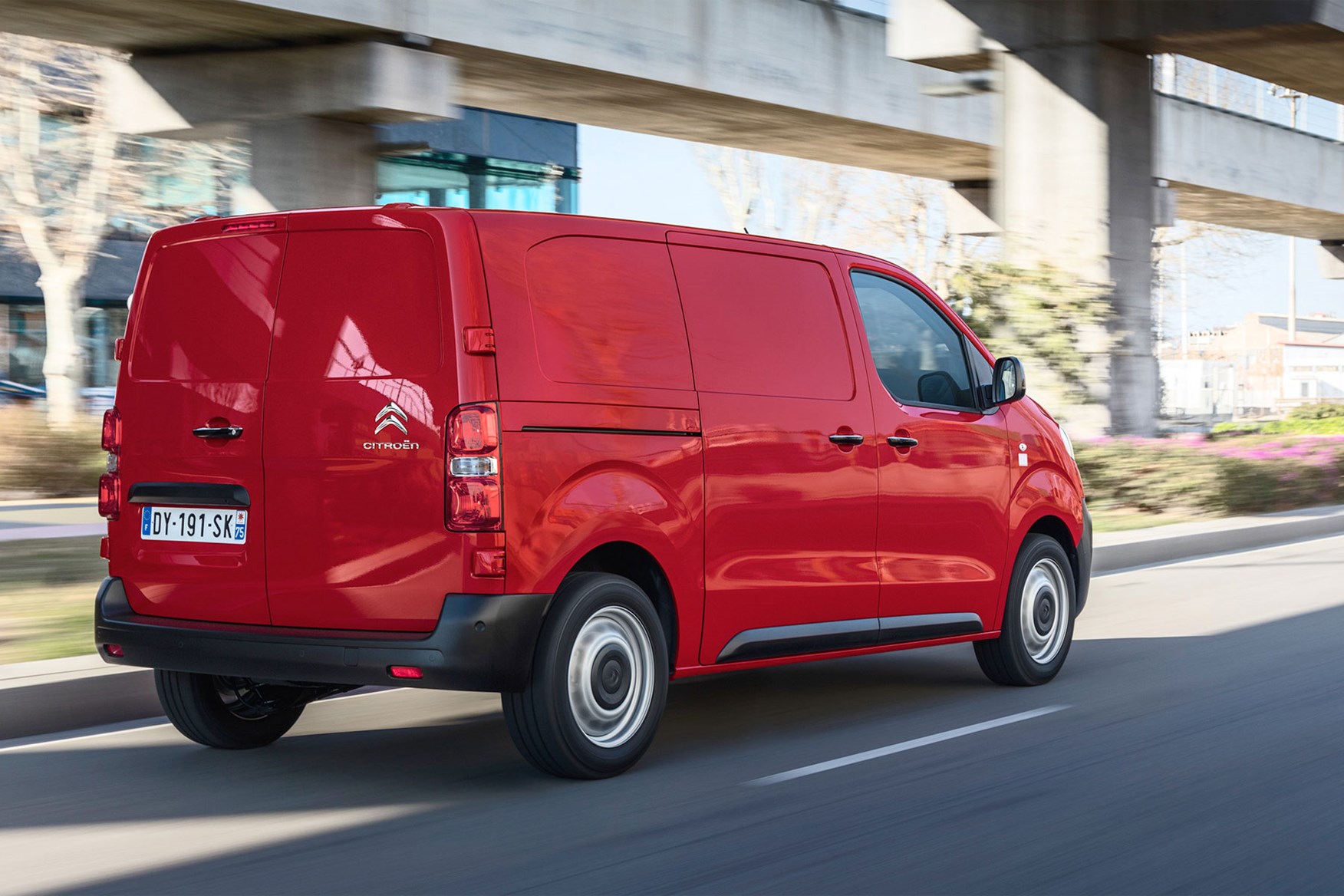 Apart from the entry-level 95hp output, which may feel a little anaemic when challenged by heavy loads, all of these engines are sprightly and keen, and generally acceptably refined.
The gearboxes could be better, however - a situation that's not helped by some weirdly square geare knobs. Ergonomic these are not.
Citroen Dispatch post-May 2019 Euro 6D Temp engines
As of May 2019 production, the Dispatch meets the more stringent Euro 6D Temp emissions regulations, well ahead of the September 2019 deadline.
This means little change for the 2.0-litre engines for practical purposes, you can still buy 120hp, 150hp and 180hp versions - though the most powerful model does get upgraded to an eight-speed automatic gearbox (EAT8), in place of the previous six-speed unit.
However, the 1.6-litre engines are replaced by a new 1.5-litre motor, offering a single 100hp power output. This new engine has been in use in Citroen passenger cars for some time, so should be cause for any reliability concerns.
At the time of writing (April 2019) we're yet to sample the revised engine range in the Citroen Dispatch, but we are not anticipating any unpleasant surprises.
Cramped cabin with limited visibility
Poor driving position
Rivals offer better in-cab storage
Climbing into the cab, one disadvantage becomes immediately apparent. The low seating position and high dashboard means that visibility has been compromised and the small cab is dark and cramped.
The driving position on right-hand drive models is also noticably offset, meaning that the steering wheel and pedals don't line up, forcing you to sit slightly twisted.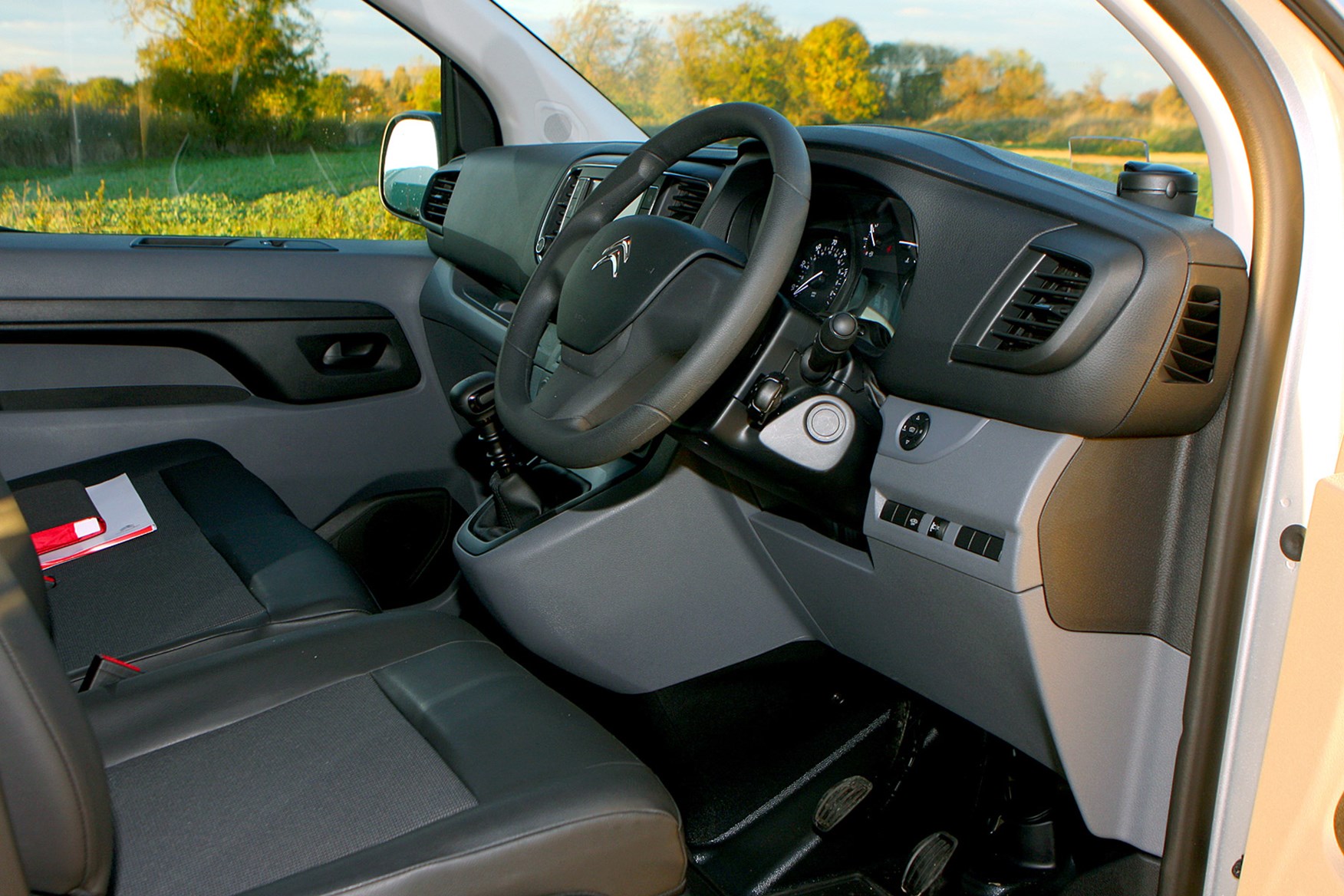 The next problem is finding somewhere to put your stuff. There are a number of small storage compartments, but the only decent-sized space is located underneath the passenger bench.
Many rivals are much more practical in this area.
The quality isn't quite up to the standard of the competition either; we particularly noticed the poor fit of the panel on the bulkhead.
Still, you can get a Moduwork load-through bulkhead, which comes with a twin passenger bench that has a fold-flat outer seat and a middle seat back that folds down to form a desk.
The Dispatch is also available with an array of high-tech add-ons, including the novelty of a head-up display, as well as more run of the mill items such as touchscreen infotainment systems.
Well priced, with good mpg - the Dispatch should be cheap to run
More premium rivals may offer lower monthly finance costs though
Service intervals, warranty info and trim levels detailed below
With low starting prices, the new Citroen Dispatch looks very affordable compared with most of the competition. A lot of Citroen's well-respected Business Centre dealerships offer good deals on products, too.
But if you're planning to buy on finance, you may find more desirable rivals have lower monthly costs. So check before you sign on the dotted line...
Citroen Dispatch mpg
The (pre-May 2019) engines claim to return between 48.7mpg and a class-leading 55.3mpg on the combined fuel economy cycle.
Running costs should be very competitive here.
Citroen has gone down the SCR (selective catalytic reduction) route for Euro 6, which means AdBlue has been introduced. This is stored in a 22.4-litre tank, an amount providing a theoretical range of 9,320 miles between fill ups.
Citroen Dispatch service intervals
Service intervals are set at 25,000 miles or two years, whichever comes first.
Not bad, but the Transit Custom is now supposedly capable of going 36,000 miles between dealer visits.
Citroen Dispatch warranty
The Dispatch comes with a three-year, 100,000-mile warranty.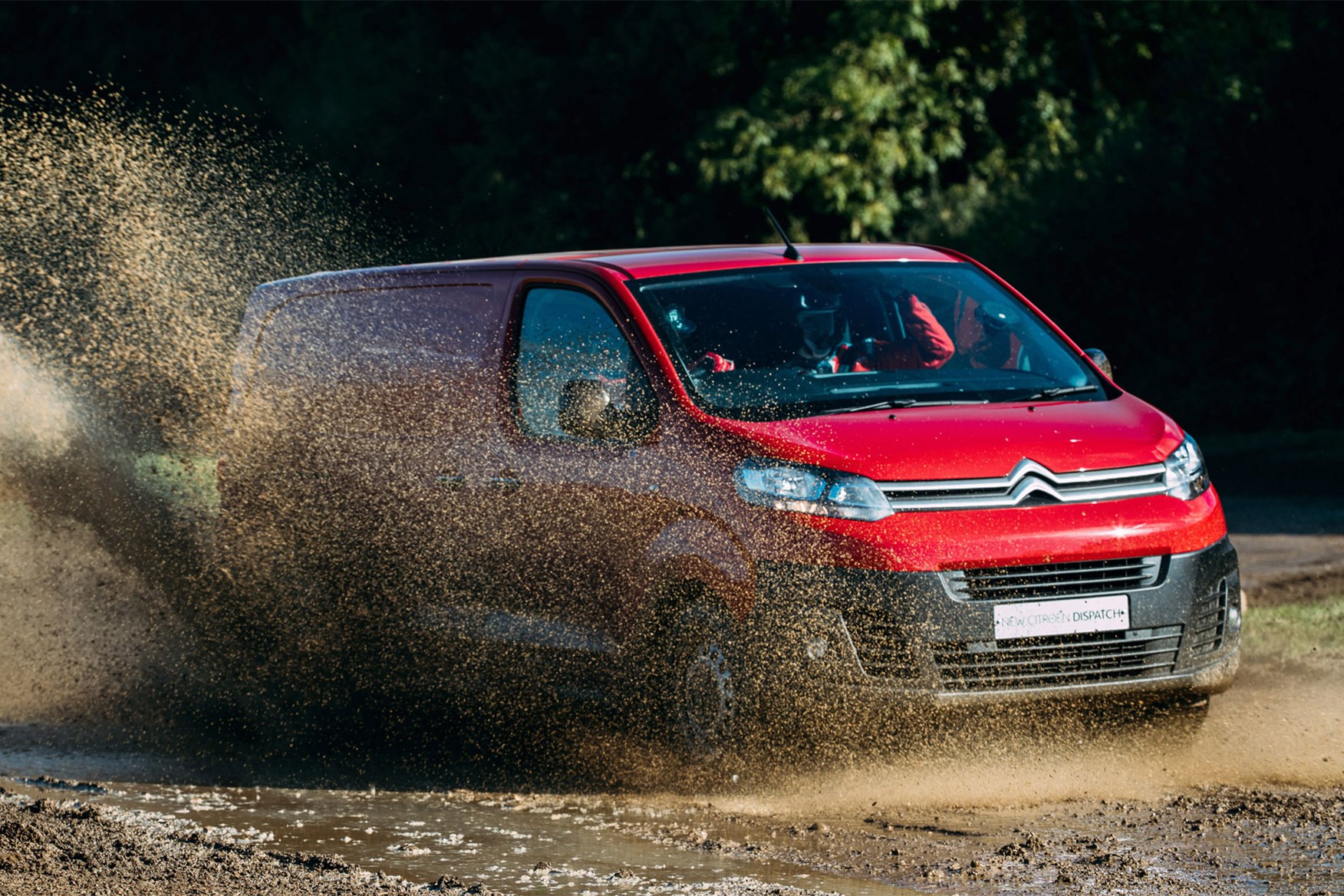 The first two years offer unlimited mileage cover.
Citroen Dispatch standard equipment
The Citroen Dispatch comes in the following trim levels (at time of writing in April 2019), with the following highlight items of standard equipment.
For details of safety equipment see the Safety and Security section.
Citroen Dispatch X standard equipment highlights:
Twin sliding side doors
Full steel bulkhead
Height-adjustable driver's seat
Dual passenger bench with storage tray
Electric windows
Full size spare wheel
12v socket in load area and cabin
Citroen Dispatch Enterprise standard equipment highlights (in addition to X):
Air-conditioning
Rear parking sensors
Electrically adjustable heated door mirrors
Moduwork load-through bulkhead and passenger bench
Automatic lights and wipers
7.0-inch touchscreen infotainment system
Citroen Dispatch Enterprise Plus standard equipment highlights (in addition to Enterprise):
Metallic paint
Body-coloured bumpers, door handles and side rubbing strips
Front foglights
LED daytime running lights
17-inch alloy wheels
180-degree rear parking camera
Front and rear parking sensors
Electrically folding heated door mirrors
Connect Nav sat-nav system with emergency call and breakdown assist
New Citroen Dispatch trim levels for 2019
From May 2019, the Dispatch range will be expanded with the introduction of Worker and Driver models. Here are the details.
Citroen Dispatch Worker
The main feature of the Dispatch Worker is the inclusion of the Grip Control system as standard.
This is an enhanced traction system for slippery surfaces that includes clever electronics as well as mud and snow tyres. You also get an extra 20mm of ground clearance and a 20mm-thick sump guard.
The idea being that the Worker model is intended for tough site duties.
The Moduwork load-through bulkhead and passenger seat is part of the package, too.
Citroen Dispatch Driver
The Dispatch Driver is intended to make life better for operators who spend a lot of time on the road.
To this end it includes not only most of the features of the Enterprise Plus model, but also improved noise and temperature insulation, in an effort to further increase refinement (the Dispatch is already pretty decent in this area).
On top of this you also get a load of extra safety equipment, including autonomous emergency braking (AEB), lane departure warning and adaptive cruise control.
Engines should be well proven...
...but Dispatch has been subject to a lot of recalls
Citroen is using the same 1.6- and 2.0-litre engines that proved to be fairly reliable with the previous generation.
We say 'fairly' with some deliberation. This latest Dispatch has already been subject to a number of safety recalls from Citroen, including issues with the engines - but also the suspension, the steering and the brakes.
So, if you're buying used make sure that all the recall work has been properly carried out. And if you're worried about a particular van, you should be able to check the number plate with Citroen and the government's 'check vehicle recalls' service.
All Citroen vans come with a three-year / 100,000-mile warranty, with the first two years offering unlimited mileage coverage.
Vast amount of available safety kit
Shame more of it isn't standard
All models have deadlocks
There's no doubting that vans are becoming a lot safer with each generation, and the new Citroen Dispatch is testament to that. A whole host of new safety systems have been introduced with this model.
Citroen Dispatch safety
All of the following items are available on the Citroen Dispatch - though you will have to pay extra (or at least go for a higher trim level) to actually get most of them:
Speed limiter
Forward distance alert (warns you if you're too close to the vehicle in front)
Driver fatigue monitor
It's an impressive array. But we would like to see things like AEB fitted on more models as standard - this can not only prevent or reduce injury but also improve running costs by cutting down on low-speed accidents.
All models do get driver and passenger airbags, however, not to mention a full steel bulkhead.
And from May 2019 production all Dispatch vans will be fitted with an emergency assist function called Citroen Connect Box that automatically calls the emergency services in the event of an accident.
The system can be activated manually, and also gives you a direct line to Citroen's assistance centre.
Citroen Dispatch security
All versions of the Dispatch come with deadlocks, and a remote locking system that allows you to open the cab separately from the load area.
You'll need an Enterprise model or above to get an alarm as standard.
Which Citroën Dispatch is best for me?