Toyota Proace review (2016-on)
PROS
Well priced, with five-year warranty
Innovative Compact model
Decent load capacity for size
Good turning circle
Efficient engines
CONS
No extended roof height option
Cabin not the most spacious
Vague five-speed gearbox
Not the nicest steering
Limited engine choice
Summary
This all-new version of the Toyota Proace medium-duty van was launched in September 2016. If it looks vaguely familiar that's probably because it's basically the same van as the latest Peugeot Expert and Citroen Dispatch, which both launched earlier in 2016. Toyota's version features a unique face but a similar feature set, albeit with a reduced selection of engines.
Like the Peugeot and Citroen, this means the Proace van is available in two wheelbases and three body lengths - the shortest combination of these two elements producing an unusual Compact version - but only a single roof height. Every van comes with a sliding door on both sides, and rear doors that open 180 degrees.
Combi (three seating rows for up to nine passengers, similar to the Proace Verso MPV), Crew Cab (with two rows of seats for up to six) and platform cab (for conversions) variants are also offered, giving this Proace the widest range of versions Toyota has ever offered in the medium van segment. There are two trim levels: Base and Comfort.
Limited engine choice
That's the good news. The bad news is that UK engine choice for the Toyota is limited to a pair of 1.6-litre turbodiesels with 95hp/210Nm or 116hp/300Nm, plus a single 2.0-litre turbodiesel with 122hp/340Nm; both French alternatives can be bought with two more powerful 2.0-litre diesels. Toyota is hedging its bets a little here as it attempts to re-establish itself as a serious LCV player.
Tidy road manners, a tight turning circle and some clever thinking - such as the Smart Cargo system, which includes a flip-up passenger seat and removable bulkhead panel to accommodate extra-long loads - hold plenty of appeal. But the real attraction for potential Toyota Proace buyers is likely to be the aggressive pricing (although you'll find Citroen is more aggressive still) and the five-year, 100,000-mile warranty.
Keep reading for Parkers' full review of the Toyota Proace medium van.
Skip to our full verdict on...
There are three engine and gearbox choices for UK buyers of the Toyota Proace van:
95hp 1.6-litre turbodiesel with 210Nm and five-speed manual gearbox (Compact and Medium vans)
116hp 1.6-litre turbodiesel with 300Nm and six-speed manual gearbox (Medium van only)
122hp 2.0-litre turbodiesel with 340Nm and six-speed manual gearbox (Medium and Long vans)
Toyota believes the 116hp 1.6-litre with the medium-length body is likely to be the biggest seller - and driving all three engines back-to-back it's not difficult to tell why. The 116hp motor combines the refinement of the lower-powered 95hp 1.6 with almost the same punchy performance as the pricier, less fuel-efficient - and louder - 122hp 2.0-litre.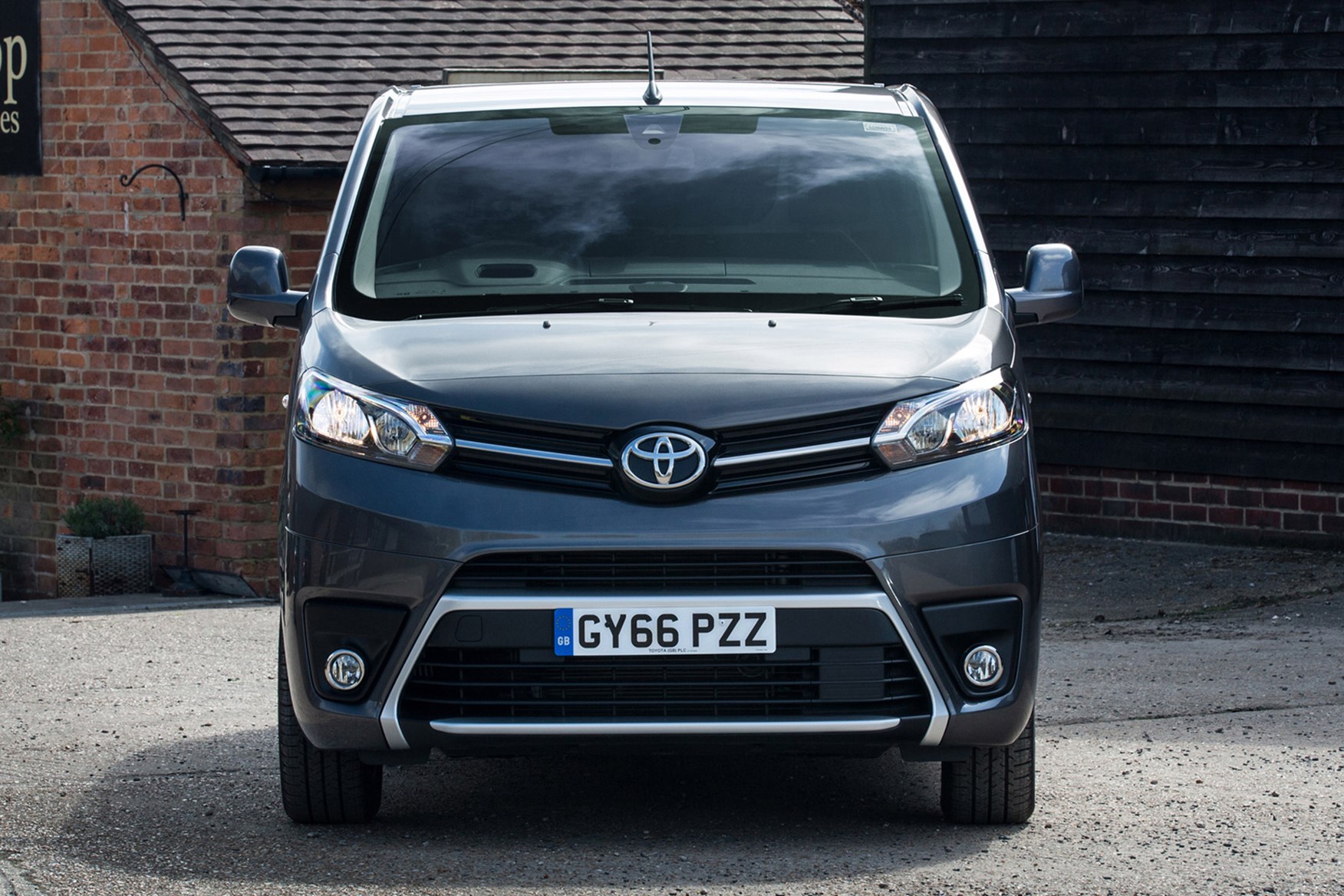 Also the only engine we have so far been able to try with a payload, the 116hp model shrugged off the 300kg demo weight away from the traffic lights. It was also useful to note that the load improved the Proace's ride comfort, settling down the otherwise slightly bouncy rear-end to become a van we could comfortably use to cover several motorway hours if needs be.
The six-speed gearbox is considerably more pleasant to use than the vague and rubbery five-speed alternative, too. Or at least it would be, if it wasn't for the horrible, square-topped gearknob, which feels very odd in your palm.
Proace Compact ideal around town
All versions are neat enough to drive, though if you principally drive around town you might be especially impressed with the short-wheelbase Compact model, which has an 11.3-metre turning circle - better than some vans in the class below, despite the extra width that boosts its storage capacity.
All of that said, we were not especially keen on the steering, which gets lighter rather than heavier the faster you go. This makes the Proace unnecessarily cumbersome-feeling at parking speeds and occasionally unstable-feeling at faster ones. Certainly we were never entirely confident we knew exactly how much grip was available to the front tyres in the wet.
As with the French versions of this van, the Toyota Proace doesn't have the most generous passenger cabin. It's easy to get into, since you sit quite low, but combine this feature with a low roofline, steeply angled windscreen and dashboard that seems to stretch away to the horizon, and we can understand why some people might find it claustrophobic.
Style and comfort
We found visibility fine for manoeuvering around town, however, and the driving position has plenty of adjustability - including a steering wheel with a large amount of reach and rake - so it's an easy van to get comfortable in.
We also thought the instruments and general dashboard design were very smart, even verging on stylish, but that is of course before it's all covered in plaster dust or other working life residues. The switches and stalks are Peugeot rather than Toyota-derived, including a pair of rather oddly-shaped gearknob choices.
The gearlever is mounted high up in a pod that sprouts from the front of the dash - good news for the driver, who doesn't have to reach very far, but bad news for anyone sat in the middle seat, since they'll either have to sit turned sideways or be amputated at the knees. The racy flat-bottomed steering wheel seems entirely unnecessary here.
Storage space and standard equipment
More critically, storage space in the cab is not especially impressive. The door bins are quite large and there's a decent area under the passenger seat (limited to the middle one if you have the Smart Cargo option), but the gloveboxes aren't overly generous and the cupholders are on top of the dash - you have to lean quite far forward to reach them and it means your bottle of water is sat right in the sun.
The backrest of the middle seat can be folded down to form a mobile desk, though, and standard equipment on the Base model includes Bluetooth, DAB radio, electric windows, cruise control and a USB port, with air-conditioning available as an option. This is standard on the Comfort spec, alongside height and lumbar adjustment for the driver's seat, but touchscreen infotainment and sat-nav are only optional at this level.
Toyota has priced the Proace aggressively, and it certainly appears to be plenty of van for the money. But best of all, those diesel engines are efficient.
Best of the bunch is the 116hp 1.6-litre motor (again) as it features stop-start as standard and returns a claimed 54.3mpg with CO2 emissions of 137g/km; the 2.0-litre isn't far behind, though, at 53.3mpg and 139g/km. The 95hp 1.6 will prove least efficient (especially when loaded), and claims 51.4mpg with 144g/km.
Servicing and dealer network
Toyota is also working to keep costs down in other areas; every Toyota dealership is now fully trained up to provide LCV sales, and the firm has also designated a number of LCV Specialist centres within its existing network in order to serve van customers in the best possible fashion.
Service intervals for the Proace are every two years or 25,000 miles, whichever comes sooner. Some rivals will go further, but more regular servicing helps to spot critical issues before they become terminal failures, so many manufacturers argue this actually reduces downtime.
Too early to say how the new model will fare, but Toyota says the previous Proace had the same warranty repair rate as its Hilux pickup truck - which is renowned for being hardwearing and reliable.
The previous Proace was also built in partnership with Peugeot and Citroen, so there's no immediate reason to feel that the new one will prove any less reliable.
Proace five-year warranty
Putting its money where its mouth is in this respect, all Proace models come with the same five-year, 100,000-mile warranty coverage as the firm's passenger cars.
All versions of the Toyota Proace come with the following safety equipment:
Electronic stability control
Hill hold assist
Tyre pressure monitors
Four airbags (driver, passenger, front sides)
Steel bulkhead (window standard on Comfort spec, optional on Base)
Deadlocks with remote locking and an immobiliser are also standard across the range, but you can only option a factory alarm system on the Comfort specification.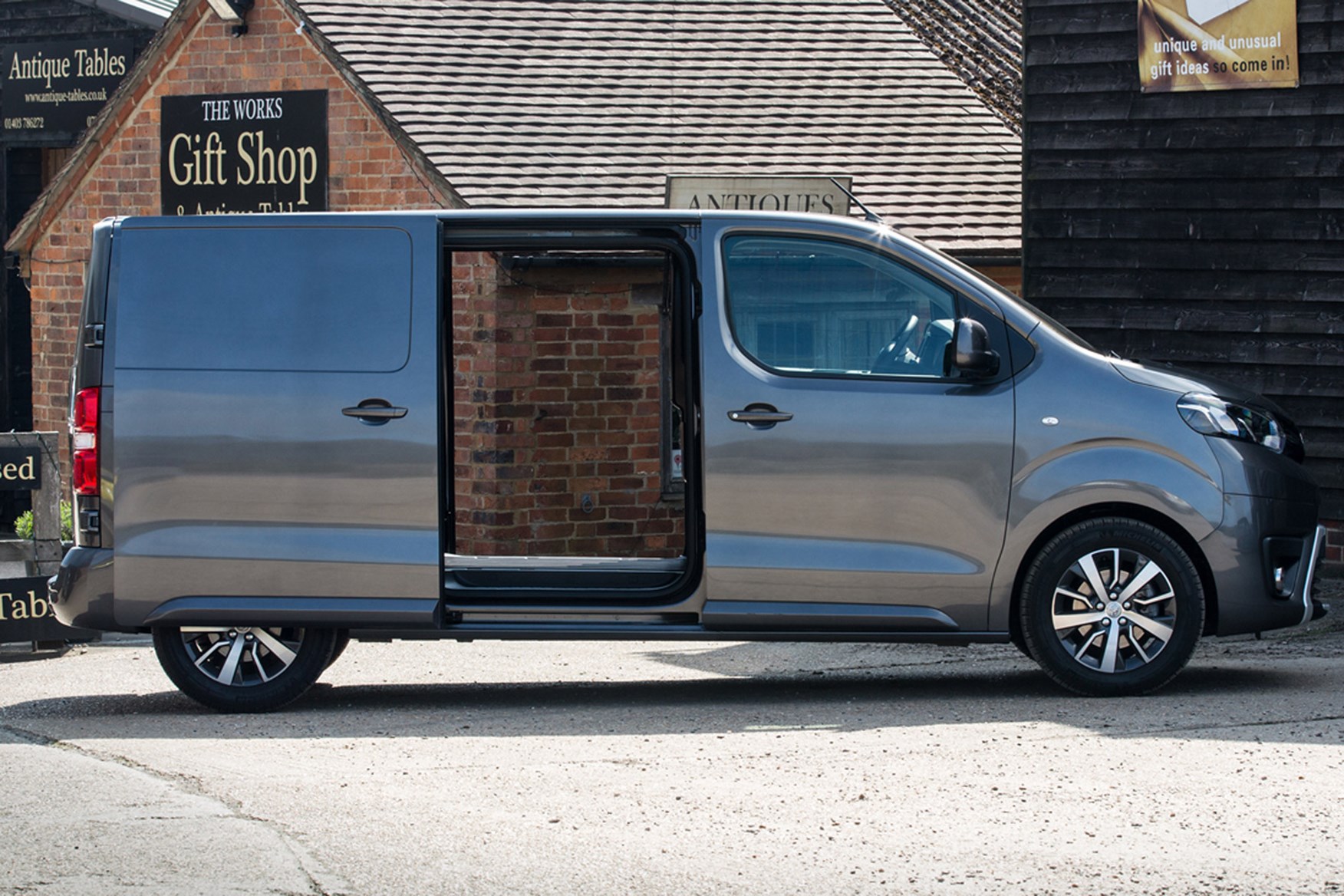 Security and safety
Comfort models are also available with a Security and Alarm Pack, which includes more advanced safety features:
Forward Collision Warning - spots danger ahead
Adaptive Cruise Control - full explanation in the Parkers' Glossary here
Pre-Collision System - prepares the van for unavoidable impacts
Head-up Display - helps you keep your eyes on the road
Cornering lights - surprisingly useful if you live in areas without street lights
You get a touchscreen infotainment system bundle as well but sat-nav is still extra...
Which Toyota Proace is best for me?