Toyota Proace van review (2022)
Efficient engines, high payloads and a five-year warranty
PROS
Well priced, with up to 10-year warranty
Super-short Compact model
Decent load capacity for size
Good turning circle
Efficient engines
CONS
No extended roof height option
Cabin not the most spacious
Vague five-speed gearbox
Off-set driving position
Limited engine choice
Summary
This Toyota Proace medium van was launched in September 2016. If it looks vaguely familiar that's probably because it's basically the same van as the equivalent Peugeot Expert and Citroen Dispatch, and the latest Vauxhall Vivaro. Our 2022 Toyota Proace review will take you through all the pros and cons.
Toyota's version of this features a unique face but a similar set of features, including high payload ratings and impressive on-paper fuel economy. More significantly, it offers buyers the peace of mind of up to 10 years of warranty coverage. Its cousins are only covered for three.
Three body lengths, one roof height
As with its relatives, the Proace van is available in two wheelbases and three body lengths - the shortest combination of these two elements producing an unusual Compact version (the others being labelled Medium and Long, which is nice and simple) - but only a single roof height.
Every van comes with a sliding door on both sides, and rear doors that open 180 degrees.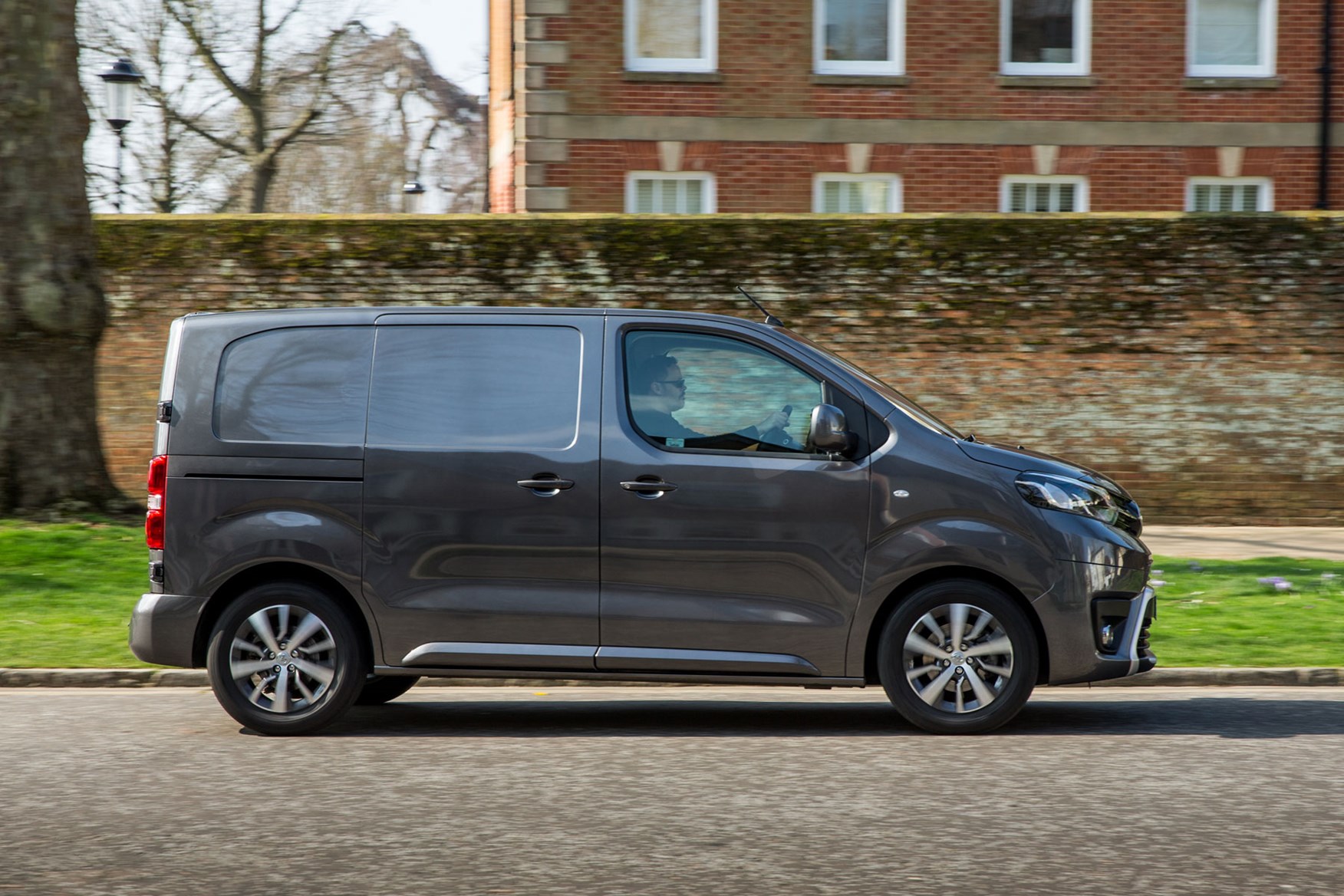 Combi (three seating rows for up to nine passengers, similar to the Proace Verso MPV), Crew Cab (with two rows of seats for up to six) and platform cab (for conversions) variants are also offered, giving this Proace the widest range of versions Toyota has ever offered in the medium van segment.
At launch in 2016 there were two trim levels - Base and Comfort - but now there are three: Active, Icon and Design.
Engine range
Toyota launched the Proace in 2016 with a pair of 1.6-litre turbodiesels offering 95hp / 210Nm or 115hp / 300Nm, plus a single 2.0-litre turbodiesel with 120hp / 340Nm.
At the time, the Citroen and Peugeot alternatives could be bought with two more powerful versions of the same 2.0-litre diesel, leaving Toyota buyers looking a little shortchanged.
Over time the engine range has changed - especially with the introduction of newer Euro 6.2 emissions regulations - but Toyota still does things differently.
Instead of a single 1.5-litre engine and three 2.0-litre engines, as per the the Dispatch and Expert, the 2019-onwards Proace is available with two 1.5-litre motors providing 100hp / 270Nm or 120hp / 300Nm and two 2.0-litre engines producing 120hp / 340Nm or 180hp / 400Nm. Go figure.
The Vivaro, meanwhile, is available with all of them.
Toyota Proace rivals
Aside from its own family, the Proace is competing in a tough sector against some very good vans, including the bestselling Ford Transit Custom, popular Volkswagen Transporter and fine-mannered Renault Trafic.
---
Verdict: is the Toyota Proace any good?
Tidy road manners, a tight turning circle and some clever thinking - such as the Smart Cargo system, which includes a flip-up passenger seat and removable bulkhead panel to accommodate extra-long loads - give the Proace plenty of appeal. It also has some of the highest payload ratings and fuel economy figures in the medium van sector.
However, like all the related vans, the cab is a little on the small side, and there are rivals that offer a better all-round solution - although not with a 10-year warranty attached.
Skip to our full verdict on...
Small engine range with confusing overlap of power outputs
More potent 1.6-litre motor is the most impressive
Neat and tidy driving experience on the whole
The Proace is a modern van that's generally comfortable and easy to drive. And don't be put off by the smaller engines - the more powerful versions are quieter and perform very well.
Initial engine choice and driving experience
There were three engine and gearbox choices for UK buyers of the Toyota Proace van at launch in 2016:
95hp 1.6-litre turbodiesel with 210Nm and five-speed manual gearbox (Compact and Medium vans)
115hp 1.6-litre turbodiesel with 300Nm and six-speed manual gearbox (Medium van only)
120hp 2.0-litre turbodiesel with 340Nm and six-speed manual gearbox (Medium and Long vans)
Toyota believes the 115hp 1.6-litre with the medium-length body is likely to be the biggest seller - and driving all three engines back-to-back it's not difficult to tell why. The 115hp motor combines the refinement of the lower-powered 95hp 1.6 with almost the same punchy performance as the pricier, less fuel-efficient - and louder - 120hp 2.0-litre.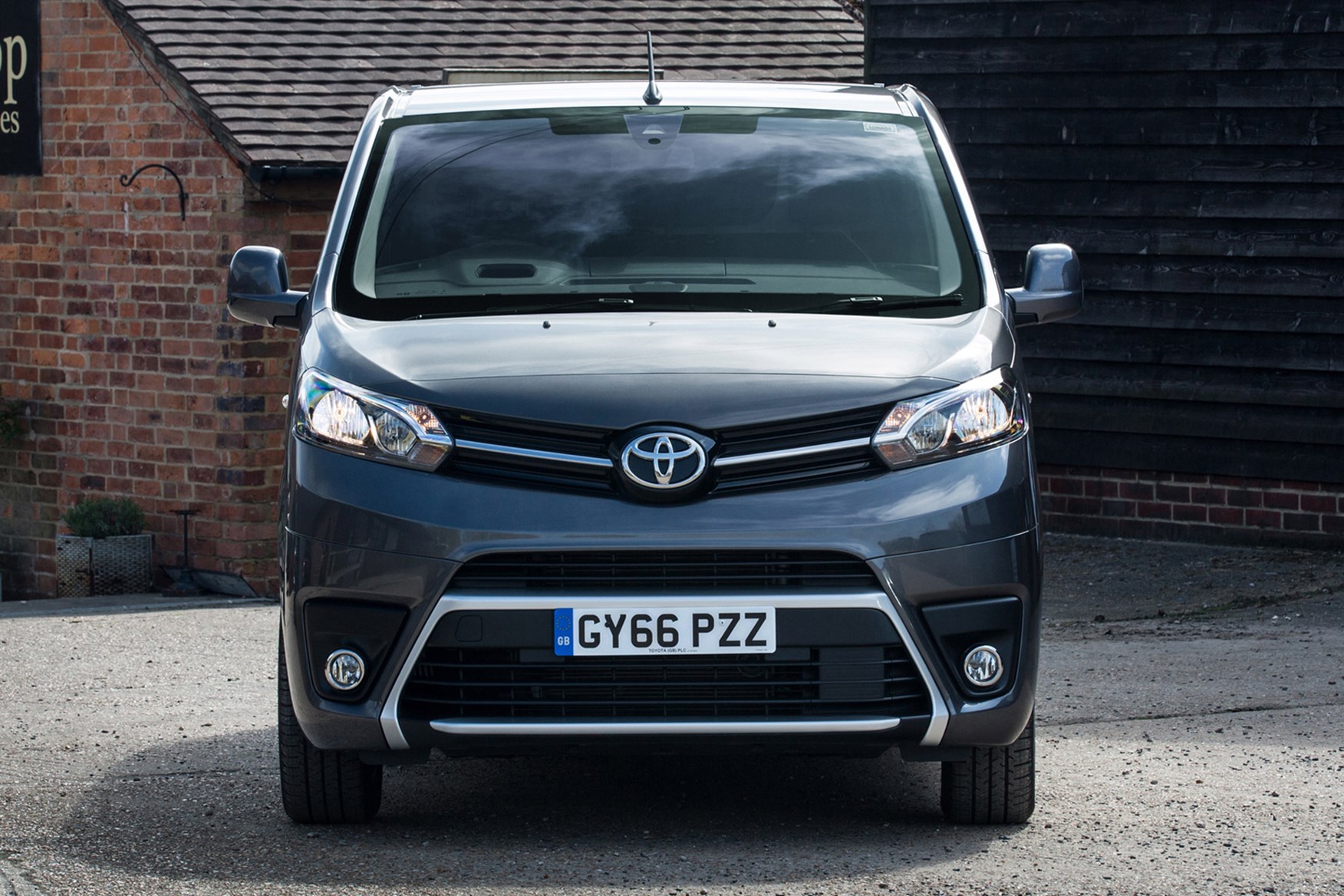 Also the only engine we have so far been able to try with a payload, the 115hp model shrugged off the 300kg demo weight away from the traffic lights. It was also useful to note that the load improved the Proace's ride comfort, settling down the otherwise slightly bouncy rear-end to become a van we could comfortably use to cover several motorway hours if needs be.
The six-speed gearbox is considerably more pleasant to use than the vague and rubbery five-speed alternative, too. Or at least it would be, if it wasn't for the horrible, square-topped gearknob, which feels very odd in your palm.
A more powerful 2.0 litre model was added in 2018. Badged 180 - but actually rated to around 174hp - this comes as standard with a six-speed automatic transmission (later replaced by an eight-speed auto). You can read a specific review of this van below.
Euro 6.2 engines from mid-2019
In common with its Citroen and Peugeot cousins, the Proace's 1.6-litre engines have been replaced by a newer 1.5-litre engine, which is better suited to the latest Euro 6.2 emissions regulations. The 2.0-litre engines have also been updated, although not to quite the same extent.
This gives the current range (writing in October 2019) the following engine options:
100hp 1.5-litre turbodiesel with 270Nm (Compact and Medium vans)
120hp 1.6-litre turbodiesel with 300Nm (Medium van only)
120hp 2.0-litre turbodiesel with 340Nm (Medium and Long vans)
180hp 2.0-litre turbodiesel with 400Nm (Medium van only)
All of them now benefit from the six-speed gearbox - except the range-topping 180hp motor, which comes with an eight-speed automatic transmission as standard.
We're yet to drive the new 1.5-litre engines in the Proace, but have sampled them in other vans and are confident they should prove every bit as good as the 1.6-litre units they're replacing.
Proace Compact ideal around town
All versions are neat enough to drive, though if you principally drive around town you might be especially impressed with the short-wheelbase Compact model, which has an 11.3-metre turning circle - better than some vans in the class below, despite the extra width that boosts its storage capacity.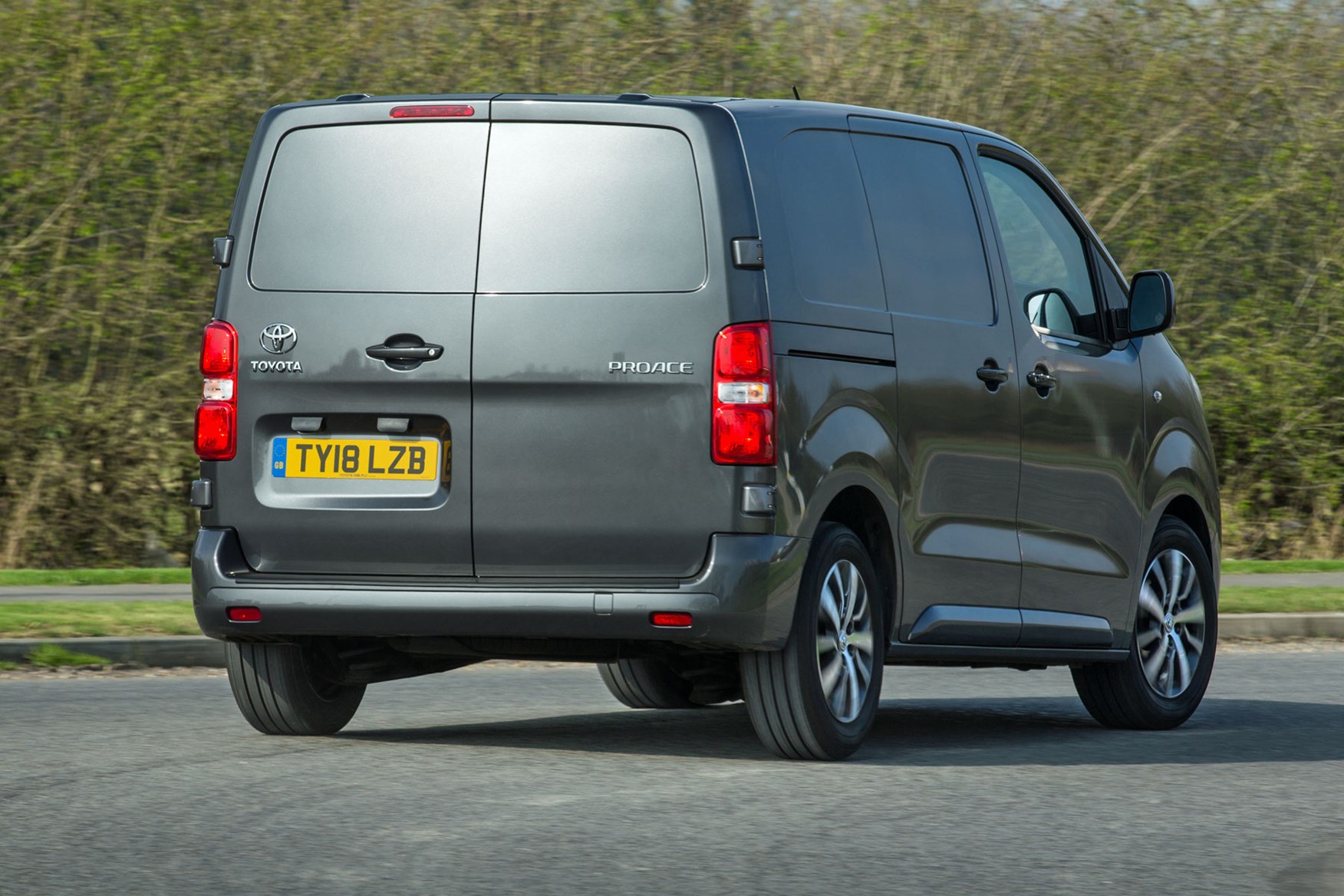 All of that said, we are not especially keen on the steering, which we've experienced getting lighter rather than heavier the faster you go. This makes the Proace unnecessarily cumbersome-feeling at parking speeds and occasionally unstable-feeling at faster ones. Certainly we were never entirely confident we knew exactly how much grip was available to the front tyres in the wet.
As with the French versions of this van, the Toyota Proace doesn't have the most generous passenger cabin.
It's easy to get into, since you sit quite low, but combine this feature with a low roofline, steeply angled windscreen and dashboard that seems to stretch away to the horizon, and we can understand why some people might find it claustrophobic.
Style and comfort
We found visibility fine for manoeuvering around town, however, and the driving position has plenty of adjustability - including a steering wheel with a large amount of reach and rake - so it's an easy van to get comfortable in.
Except for one glaring issue.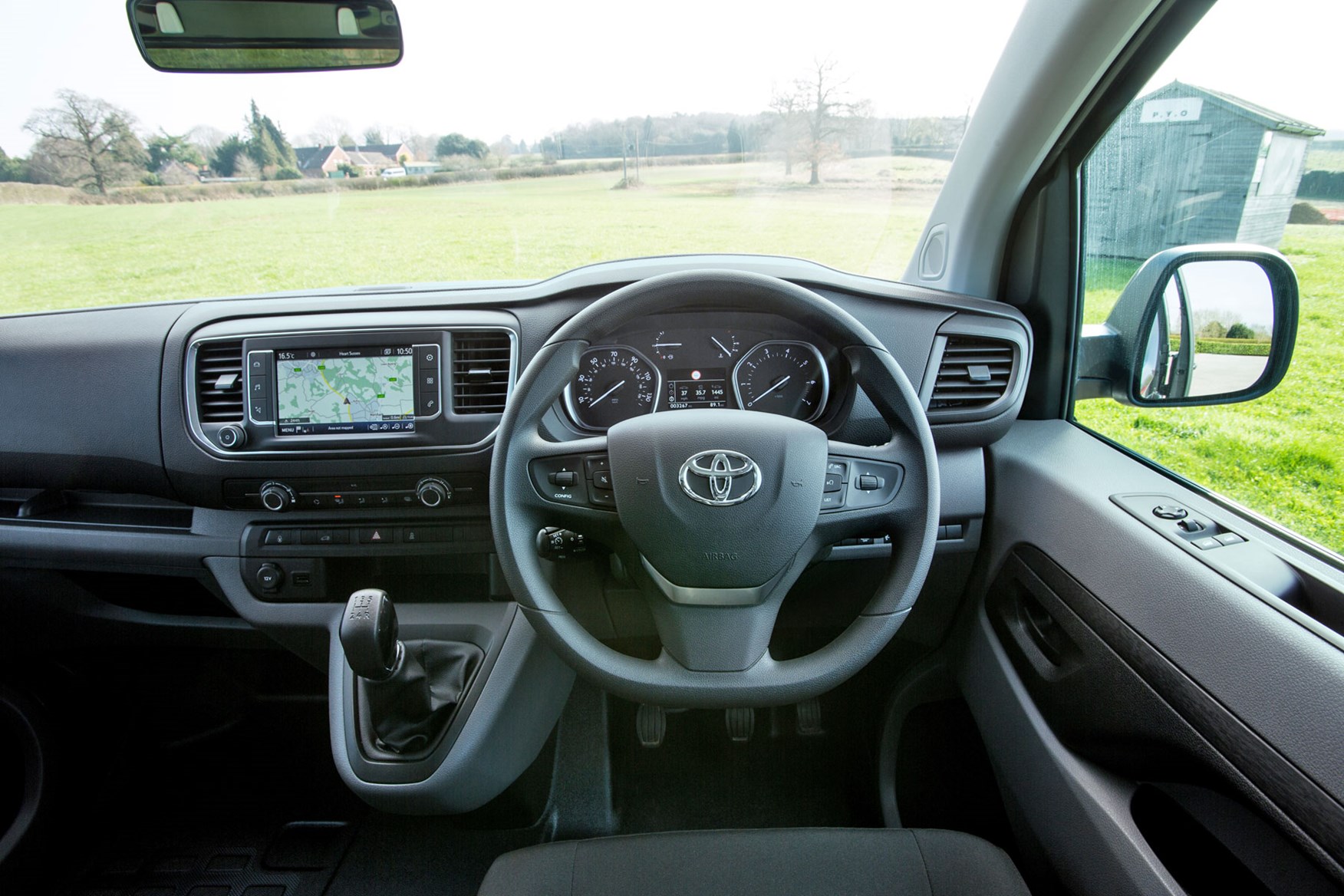 On right-hand drive models, the steering wheel and the pedals are quite off-set from each other. It's the sort of thing you might not notice at first, but over time sitting in a slightly twisted fashion to accomodate this may well become rather annoying.
That said, the instruments and general dashboard design are very smart, even verging on stylish. The switches and stalks are Peugeot rather than Toyota-derived, including a pair of rather oddly-shaped gearknob choices.
Similarly, the gearlever is mounted high up in a pod that sprouts from the front of the dash - good news for the driver, who doesn't have to reach very far, but bad news for anyone sat in the middle seat, since they'll either have to sit turned sideways or be amputated at the knees.
The racy flat-bottomed steering wheel seems entirely unnecessary here.
Storage space and standard equipment
More critically, storage space in the cab is not especially impressive.
The door bins are quite large and there's a decent area under the passenger seat (limited to the middle one if you have the Smart Cargo option), but the gloveboxes aren't overly generous and the cupholders are on top of the dash - you have to lean quite far forward to reach them and it means your bottle of water is sat right in the sun.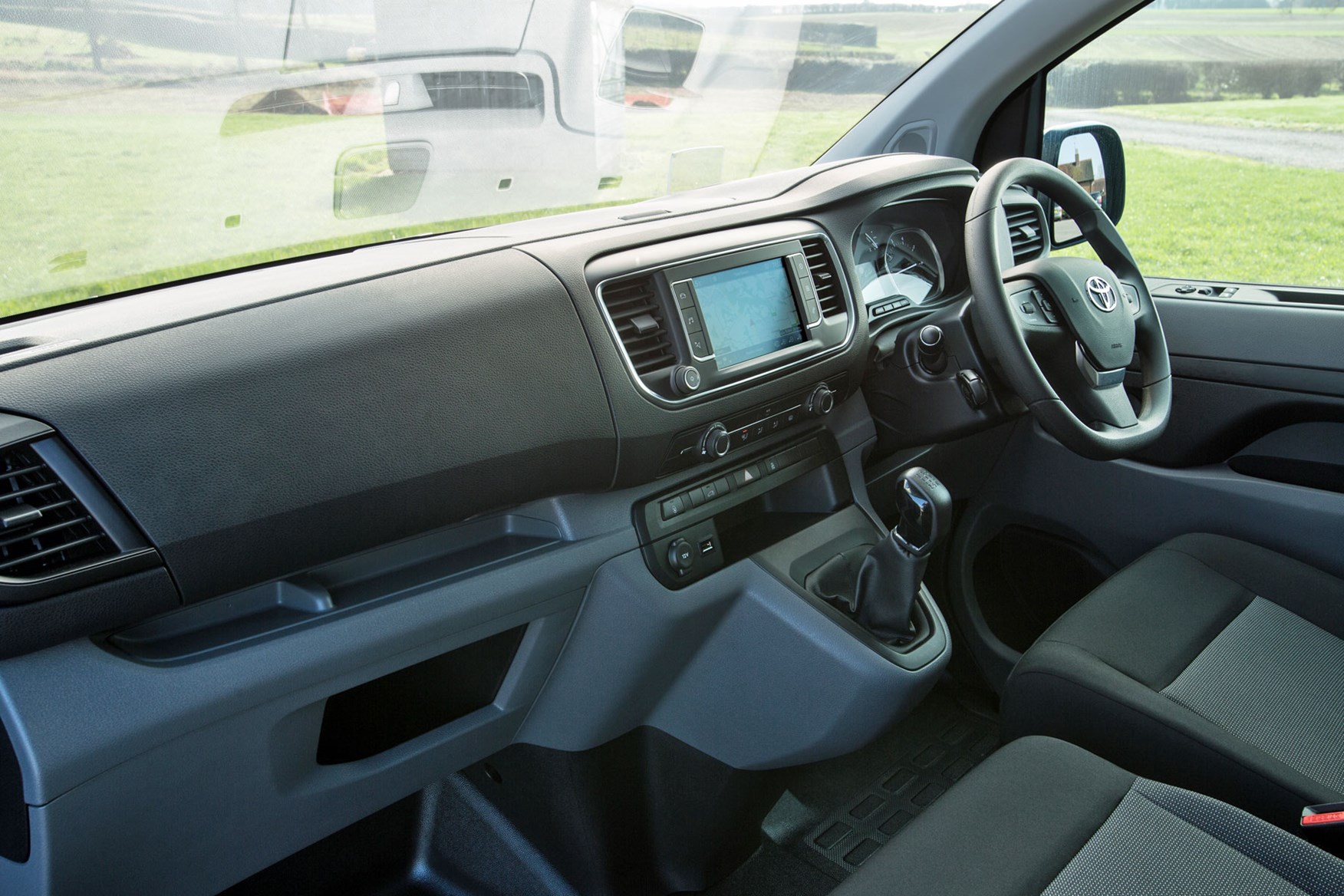 The backrest of the middle seat can be folded down to form a mobile desk, but we're never sure how many real-world users actually take advantage of such features.
One of the best medium vans for fuel economy
Every trim level is good value for money
Up to 10-year warranty coverage, but servicing not the cheapest
Toyota has priced the Proace aggressively, and it represents plenty of van for the money. What's more, those diesel engines are efficient.
Toyota Proace mpg
At launch, the best of the bunch was the 115hp 1.6-litre motor as it features stop-start as standard and returns a claimed 54.3mpg; the 2.0-litre isn't far behind, though, at 53.3mpg. The 95hp 1.6 will prove least efficient (especially when loaded), and claims 51.4mpg.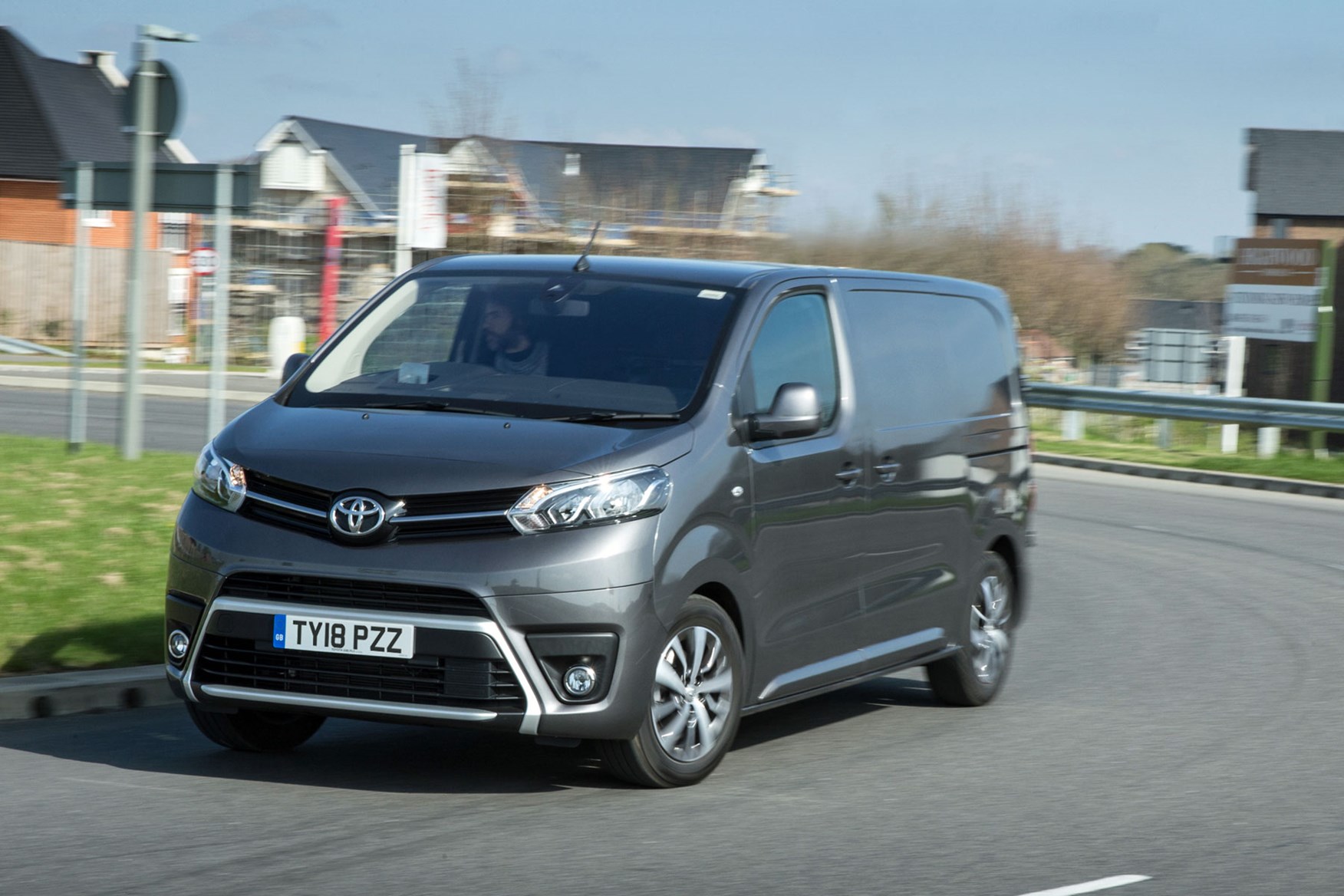 Confusing matters, however, not only have the 1.6-litre engines been replaced by newer 1.5-litre alternatives, the method of testing for official fuel economy changed in September 2019. The new WLTP method is tougher and intended to better represent real-world results, and as such on-paper fuel economy claims have fallen sharply:
100hp 1.5-litre : 38.6-42.1mpg
120hp 1.5-litre : 40.3-44.8mpg
120hp 2.0-litre : 35.7-38.6mpg
180hp 2.0-litre : 36.2-39.2mpg
This doesn't really mean that these new Proace engines are that much less efficient, it's simply that the offical test no longer flatters them in the same way.
All these vans are fitted with an AdBlue tank to keep emissions down; this will need refilling around about every 9,000 miles, depending on how and where you drive.
Servicing and dealer network
Service intervals for the Proace are every two years or 25,000 miles, whichever comes sooner.
The example servicing prices we've seen do appear to be on the high side; Toyota offers fixed-price installment plans to help you spread the cost, however, and the firm is working to try and keep expenses down in other areas.
Every Toyota dealership is now fully trained up to provide LCV sales, and there are also a number of LCV Specialist centres within its existing network, aiming to provide more the more flexible forms of aftersales care that businesses often need in order to reduce downtime.
Toyota Proace warranty
Until 1 June 2021, the Proace was covered by a five-year, 100,000-mile warranty.
After this point, a new Toyota Relax warranty scheme offering up to 10 years of cover was introduced.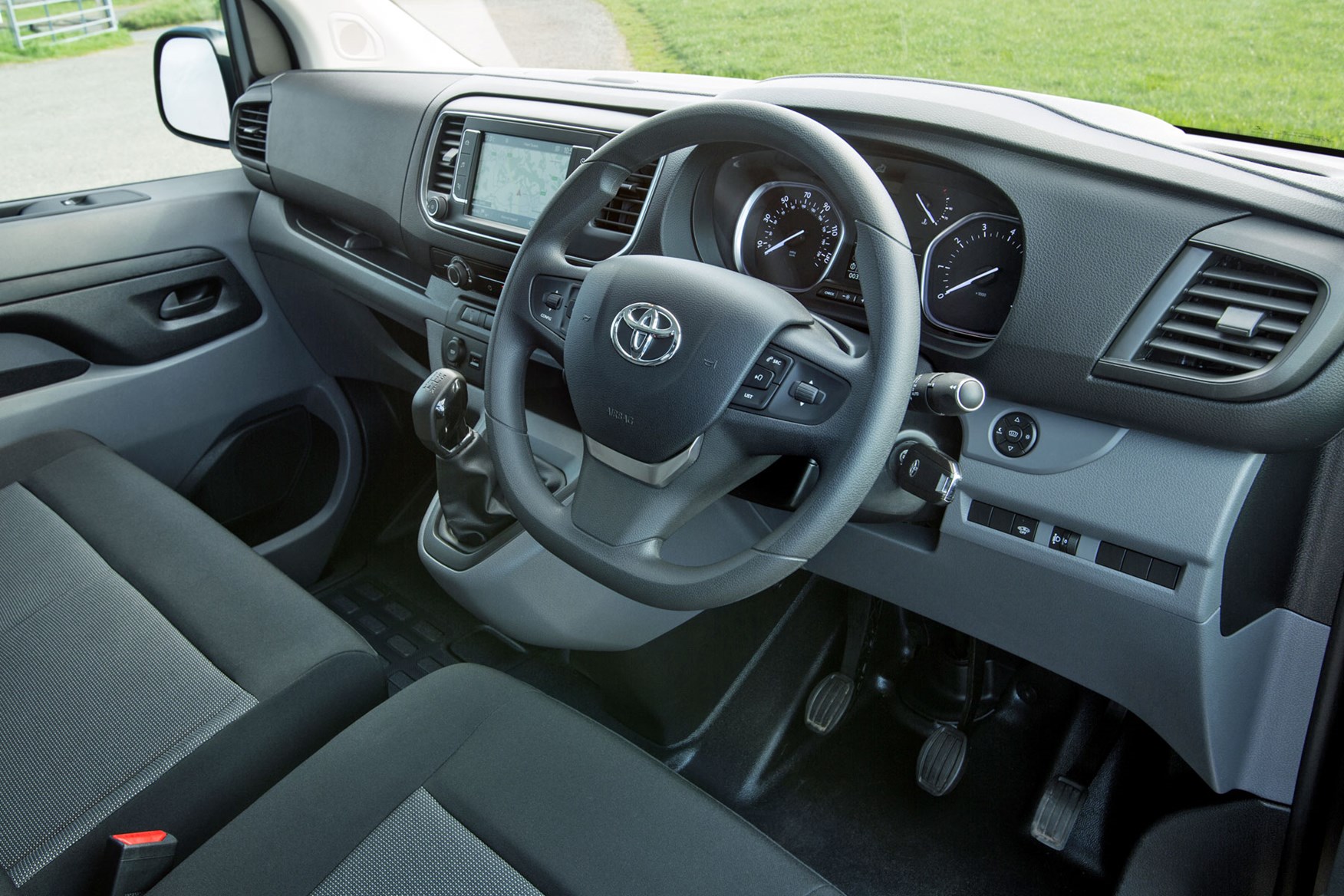 This is a very unusual way of going about things, but one that coule benefit you hugely. For while the standard Toyota Relax warranty is only three years / 60,000 miles, every time you get the vehicle serviced by Toyota the warranty is extended until the next service is due - right up until it's 10 years or 100,000 miles old.
It can even be applied to used vehicles that are out of warranty now. We have full details in our Toyota Relax warranty guide.
Toyota Proace standard equipment
At launch there were two trim levels: Base and Comfort.
Standard equipment on the Base model includes Bluetooth, DAB radio, electric windows, cruise control and a USB port, with air-conditioning available as an option.
Air-con is standard on the Comfort spec, alongside height and lumbar adjustment for the driver's seat, touchscreen infotainment and a host of additional safety equipment, but sat-nav was only optional.
These were subsequently replaced by three new trim levels: Active, Icon and Base,
These have the following items of standard equipment (at the time of writing in October 2019); for full details of safety equipment see the Safety and Security section below.
Toyoyta Proace Active standard equipment highlights:
Twin sliding side doors
Full plastic load floor
Full steel bulkhead
16-inch wheels
Electric windows
Electric, heated door mirrors
Cruise control
Remote locking
DAB radio
USB connector
Bluetooth
12v socket in cab
Two airbags
Toyota Proace Icon standard equipment highlights (in addition to Active):
Rear parking sensors
Air-conditioning
Windowed bulkhead (with protective grille)
12v socket in load area
Height-adjustable driver's seat with lumbar support
Four airbags
Toyota Proace Design standard equipment highlights (in addition to Icon):
Body-coloured bumpers, door handles and door mirrors
17-inch alloy wheels
Touchscreen infotainment system with 7.0-inch display, sat-nav, voice control and Wi-Fi connectivity
Upgraded instrument cluster
Front foglights
Front parking sensors
Keyless entry and start
Blindspot monitors
Toyota Safety Sense package (see below)
It may be worth noting that Toyota's options list is rather limited, so there's not much more than the above available.
According to Toyota, the previous-generation Proace had the same warranty repair rate as its Hilux pickup truck - which is renowned for being hardwearing and reliable.
As that Proace was also built in partnership with Peugeot and Citroen, there's no immediate reason to fear the Proace reviewed here will suffer from being built in France rather than Japan. And certainly we've not heard any consistent horror stories.
Toyota Proace recalls
That said, these vans have been subject to an eyebrow-raising number of safety recalls according to the UK goverment's official vehicle recall website, most of which seem to be related to build quality at the factory.
The number of recalls has fallen as years have passed, however, so if you're buying a new one you should hopefully be getting a better product.
>> Top 10 most reliable vans according to the FN50 van reliability survey
Good level of basic safety equipment
Active aids are limited to top spec models though
Deadlocks as standard, but most have no factory alarm
Toyota gives you a good dollop of safety kit as standard on all Proace vans, though the better the trim level the better the protection.
Toyota Proace safety
At launch all versions of the Toyota Proace come with the following safety equipment:
Tyre pressure monitors
Four airbags (driver, passenger, front sides)
Steel bulkhead
However, when the trim levels were switched to Active, Icon and Design, the entry-level Active was reduced to two airbags (driver and passenger); everything else above is still fitted on all models, though.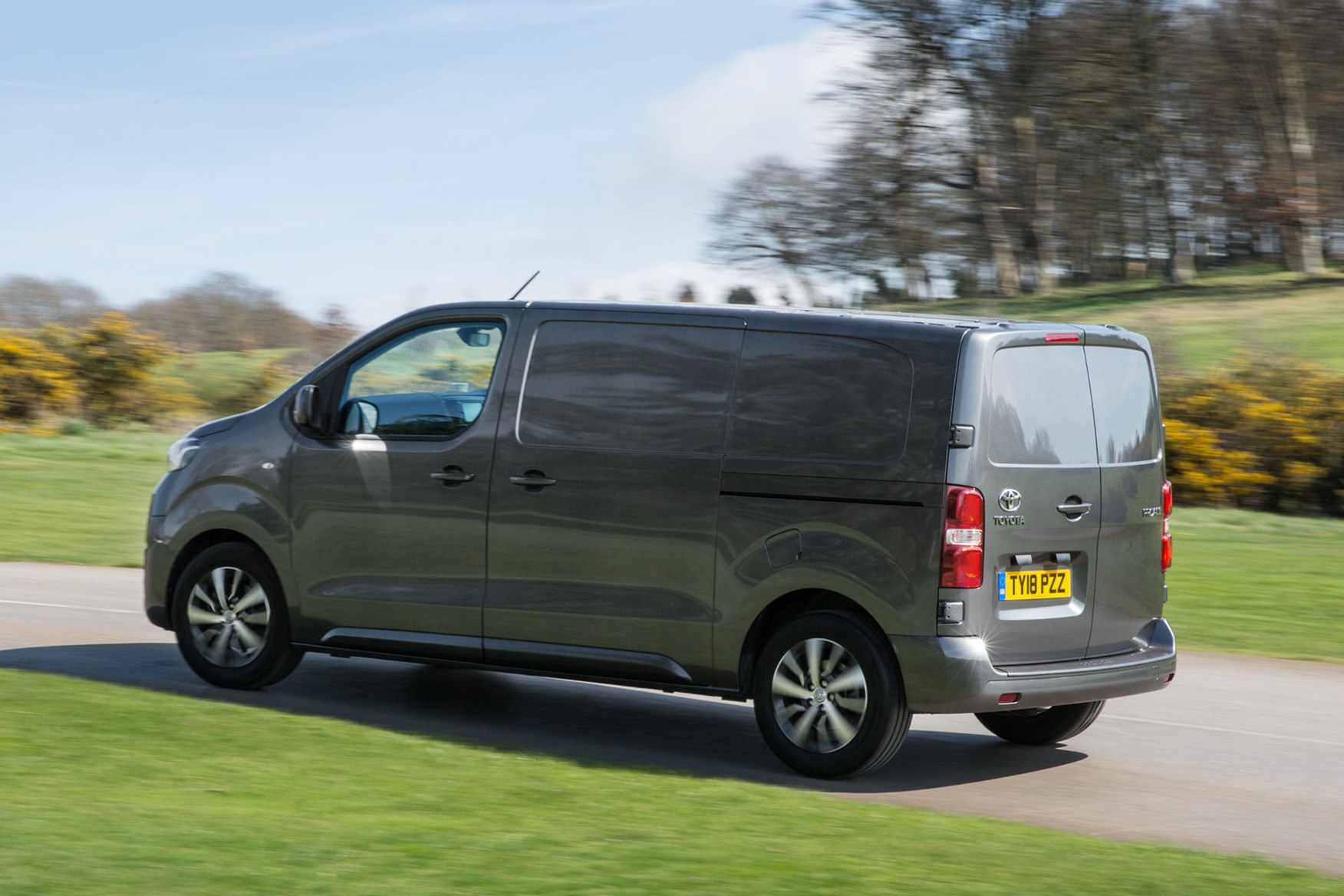 That said, if you want the very safest Proace possible, go straight to Design specification as this comes as standard with Toyota Safety Sense, which includes:
Pre-collision system with pedestrian detection (autonomous emergency braking)
Adaptive cruise control
Cornering lights
Acoustic and athermic windscreen (insulated against sound and heat, basically)
Design also comes with blindspot monitors. These items are not even optional on the rest of the range.
Euro NCAP Bronze award
In December 2020, the Proace was awarded a Bronze rating by Euro NCAP on the basis of its available safety equipment. This comes as part of a wider campaign by the crash-testing body, which is aiming to improve van safety more quickly than currently regulations require.
Toyota Proace security
Deadlocks with remote locking and an immobiliser are standard across the range, but a factory alarm system was only optional on the Comfort specification.
The alarm is now standard on the Proace Design, optional on the Proace Icon and not available at all on the Proace Active.
Which Toyota Proace is best for me?
Still trying to decide which Toyota Proace to buy? Maybe we can help.
Best Toyota Proace engine
All of the engines available in the Proace will do the job - but we'd go for the most powerful version of the smallest motor. So either the 115hp 1.6-litre if buying an early used model or the 120hp 1.5-litre if looking for a more recent model.
These have the best on-paper fuel economy, plenty of performance to get the job done and good refinement.
The entry-level engines are ok around town but less at home on the motorway, while the 2.0-litre motors combine extra oomph with extra noise. The 180hp model is certainly fast, though.
Best Toyota Proace trim level
We'd go mid-spec to get standard air-conditioning, but if you don't need this the most basic models won't leave you too short of other creature comforts.
Only the range-topping models get all the safety kit, however.
---
For more buying guidance we also have the following individual model review:
Toyota Proace Design 2.0-litre Auto (six-speed) review
Tested October 2019 by CJ Hubbard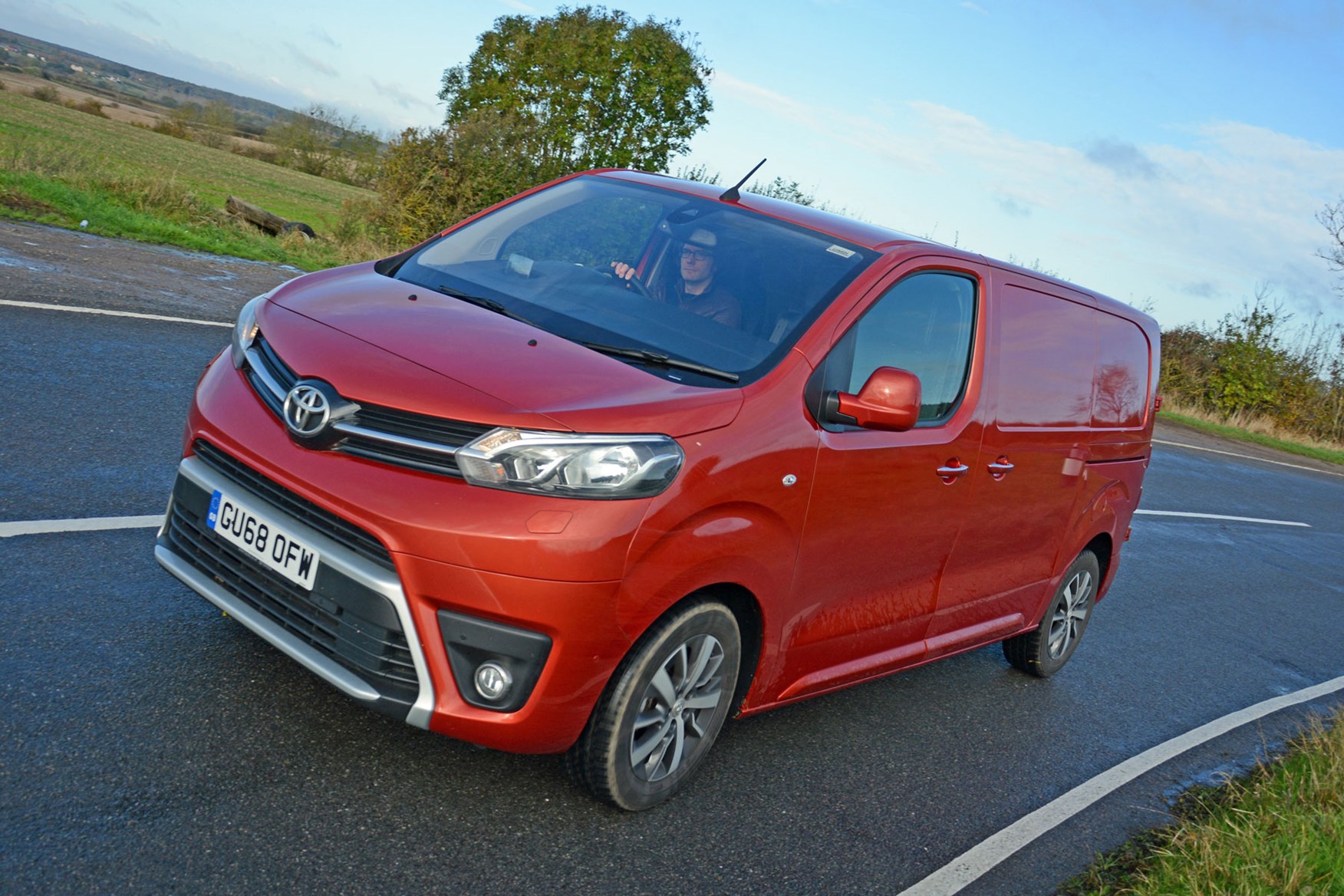 Range-topping Toyota medium van driven
Automatic transmission and powerful engine
Could it be a leftfield lifestyle choice?
If you're looking for a medium van with a comfortable ride, plenty of power and the convenience of an automatic gearbox, this Toyota Proace is surely going to crop up on your radar.
Essentially the same vehicle as the latest Citroen Dispatch, Peugeot Expert and Vauxhall Vivaro but sold as standard with a five-year warranty, it's a good value choice, too, especially if you're planning to keep your next van for quite a while.
Our experience with this test example suggests it isn't without its faults, however…
Drives well does it?
All automatic versions of the Proace come with the most powerful 2.0-litre 180 diesel engine option, which boasts 174hp and 400Nm of torque. This makes for a quick van when you're travelling light and a relaxed one when you're loaded.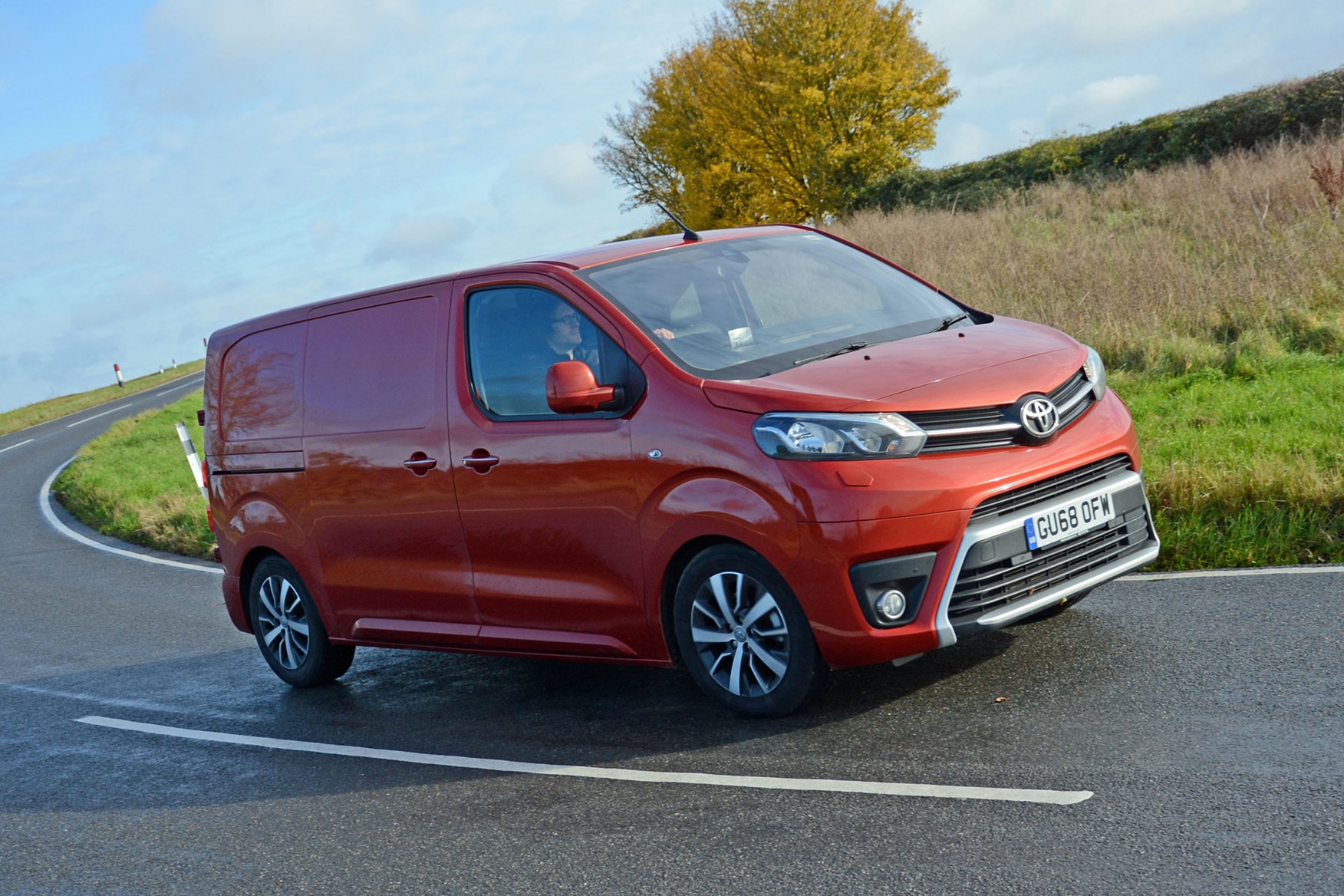 This particular example is one of the original Euro 6 versions with the six-speed automatic transmission – from the latter part of 2019 this was changed for a newer eight-speed automatic and the engine upgrade to meet Euro 6.2 – but even this isn't much of a constraint.
Power is delivered smoothly, auto gearshifts are handled with aplomb and you get paddleshifters on the steering wheel if you want to override it yourself. We generally found that the transmission did a great job just on its own, so we can't see many owners playing around with these very much.
Regardless, this is a much nicer automatic transmission than the one fitted in the Ford Transit Custom.
The Proace is a modern design of van, so doesn't even have a conventional gear selector – instead there's a round dial to switch between Park, Neutral, Reverse and Drive.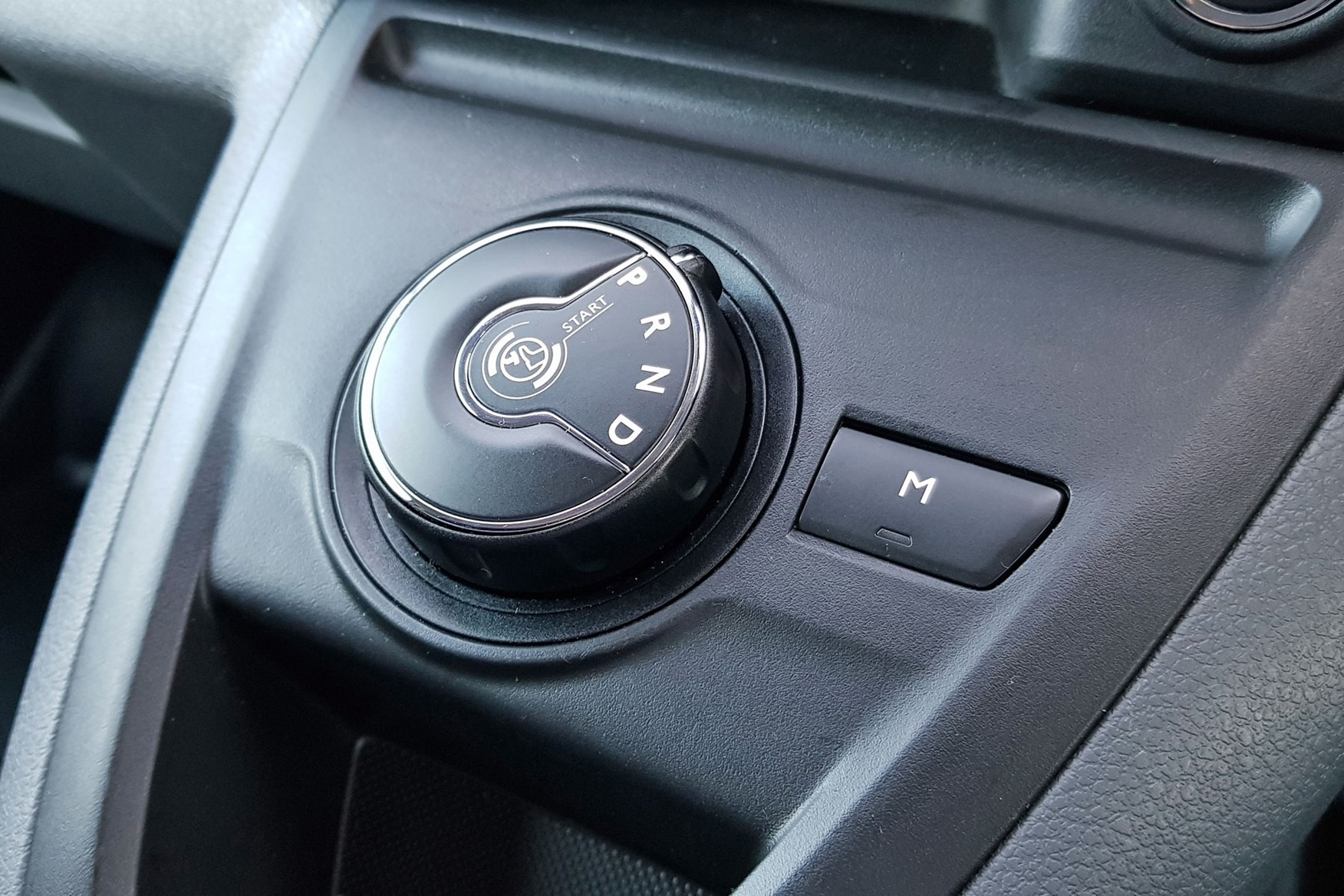 Given this, it's a shame more wasn't done with the layout to increase knee room for anyone unlucky enough to be the middle-seat passenger – the plinth the dial is mounted on is the same size as one the manual gearbox lever fits into when really it could be much smaller, or not there at all and the switch mounted on the dashboard.
Like all these vans, the ride is comfortable, regardless of how little weight you've got in the back – impressive when rivals are typically rather bouncy when they're empty. The steering is direct and there's not much body roll in the corners, though the Renault Trafic family and the Transit Custom are still more fun and confidence inspiring to drive quickly, if that's important to you.
You said there were some problems?
The cab isn't great. It looks good at a glance, but we always struggle with storage for pocket clutter in these, and the space under the touchscreen infotainment system near the USB socket isn't actually large enough to safely hold a modern smartphone.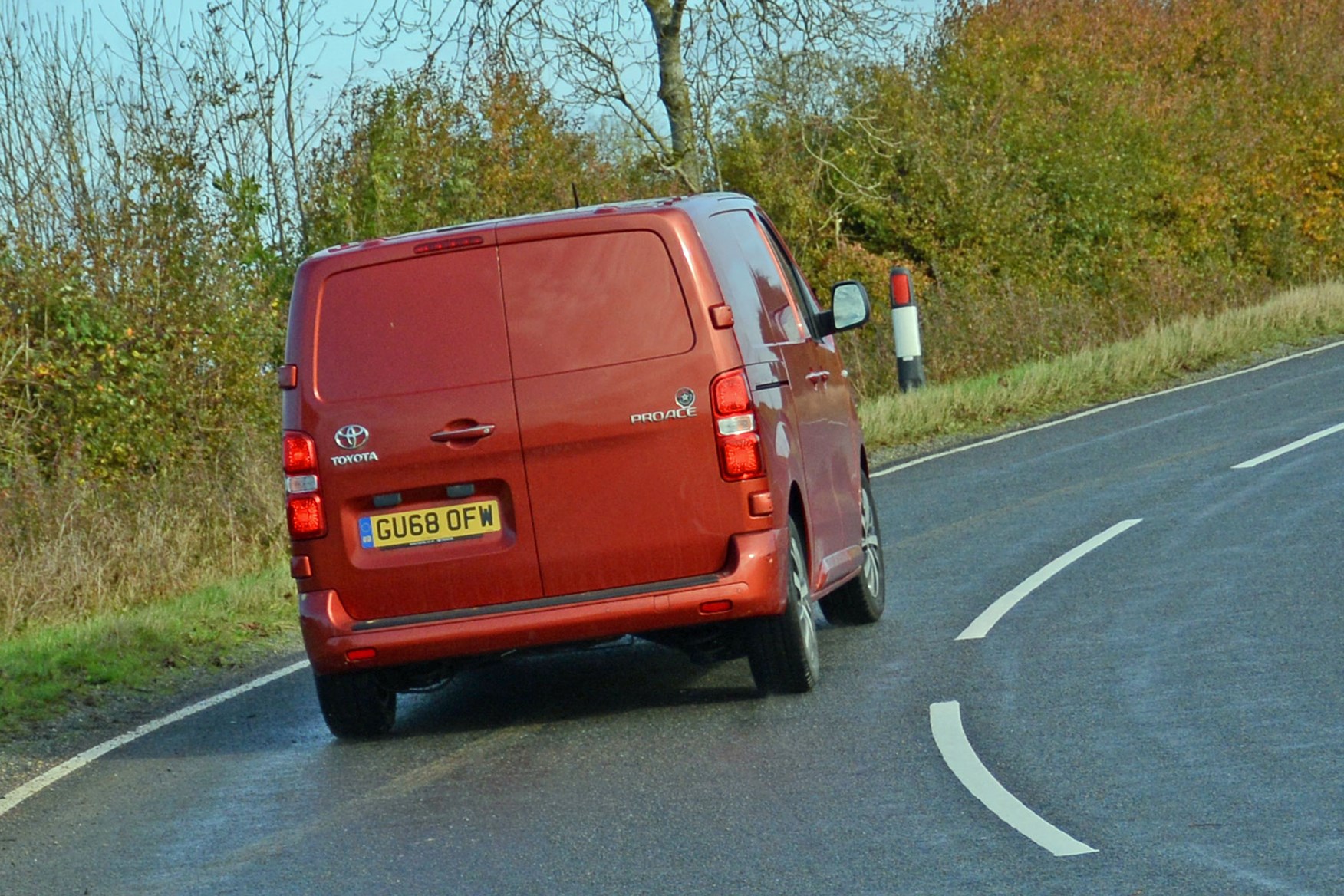 Worse still is the driving position. The steering wheel is distinctly offset to the left, the pedals offset to the right, and the relationship between the seat and the steering wheel doesn't seem to be quite right either – as if you need longer than average arms or shorter than average legs.
It's ever so disappointing, especially for one of the newest van platforms on the market.
What's more, this particular one suffered with a gruff engine, an annoyingly whistling door or window seal on the passenger side, and windscreen wipers that made such a loud thumping noise that some colleagues chose to risk driving with them off rather than put up with it.
The last wouldn't be drowned out by the radio, and was so irritating we don't think we could have lived with it. Perhaps it just needed some new wiper blades…
How does the Proace auto handle payload?
Despite all that engine power and torque, this is not the Proace to choose if you've got the heaviest loads to shift.
At 2,760kg, the gross vehicle weight (GVW) is some 340kg lower than the equivalent 2.0-litre 120 Proace with the manual gearbox (3,100kg GVW). The auto weighs more, too, at 1,760kg versus 1,642kg – leaving a mere 1,000kg of payload capacity, instead of the manual's gargantuan 1,458kg.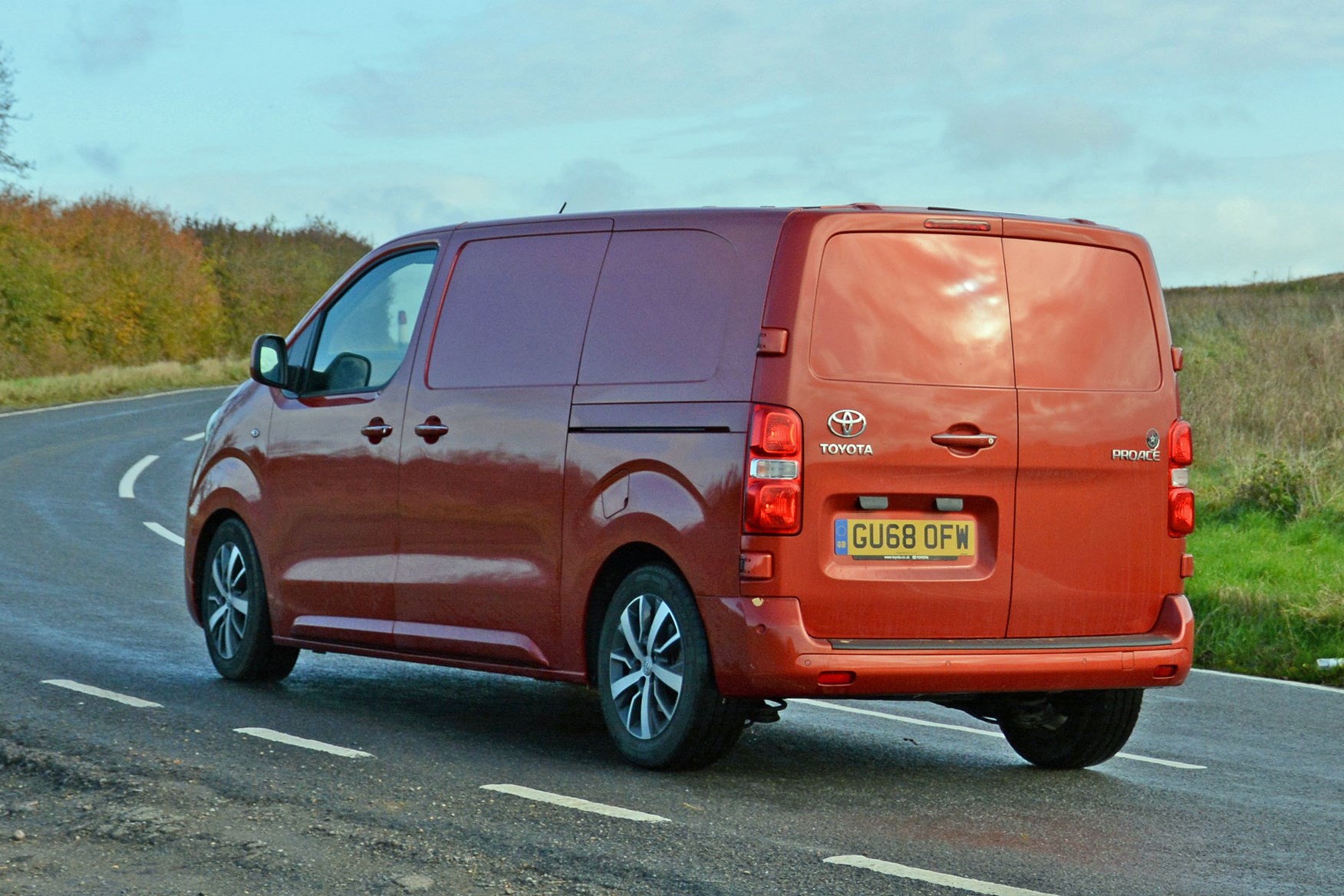 For the record, 1,000kg is still a lot of payload for a van of this type, especially with an automatic transmission. Though it's obviously better suited to lighter cargos and longer-distances – a 120hp manual remains the more practical choice.
For more details about this van's practicality, see our dedicated Toyota Proace Dimensions page.
What about running costs?
Toyota reckons this version of the Proace automatic should be capable of a claimed 49.5mpg – though that is tested under the older NEDC standard, rather than the latest WLTP system, so take it with a reasonably substantial pinch of salt.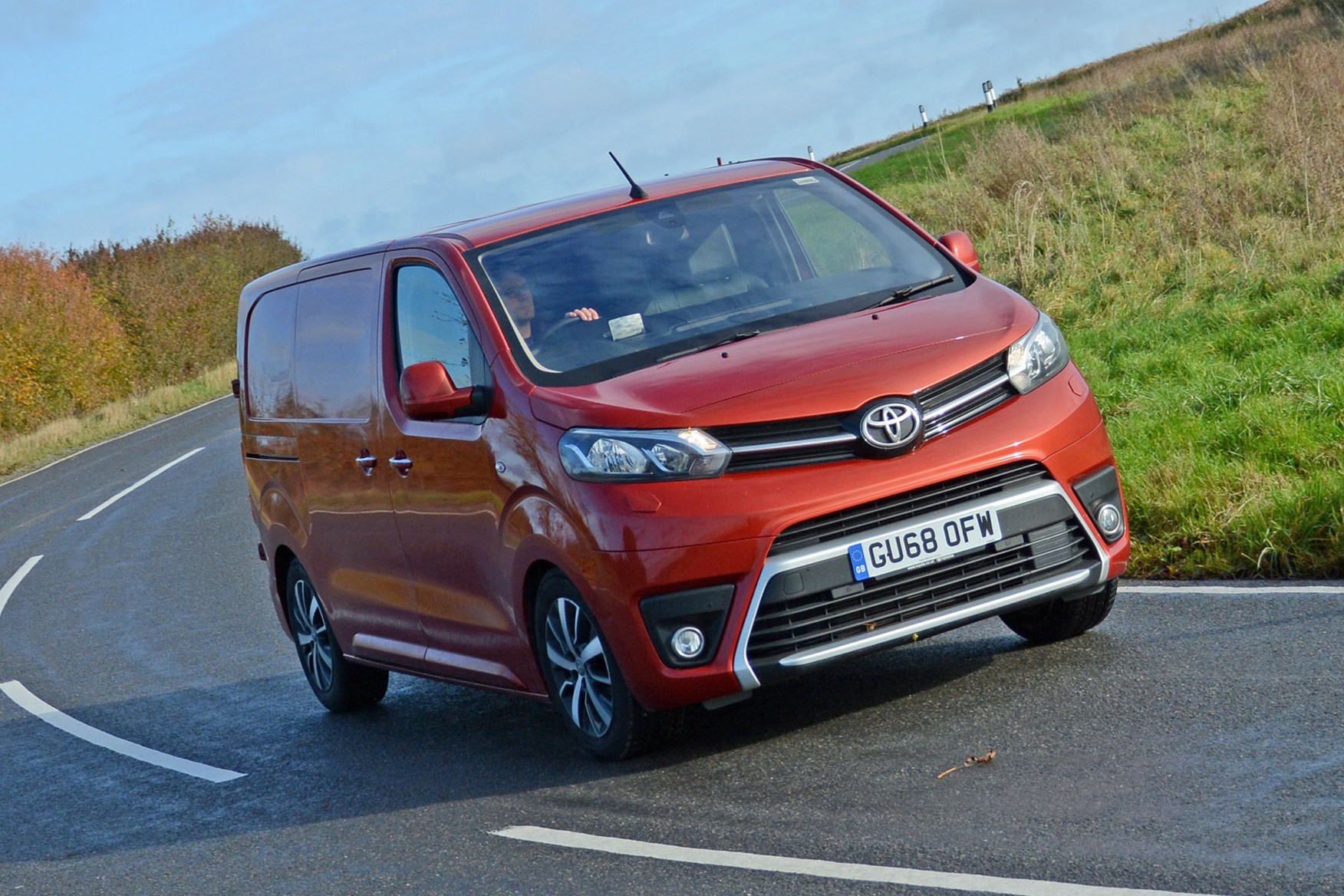 Over 40mpg should be possible on a gentle run, but expect to get less if you're hard on the accelerator or carry lots of gear.
Should I buy a Toyota Proace automatic?
The Toyota brand has an excellent reputation for building quality products in general, but since the Proace van is really Peugeot-Citroen design in disguise, it seems you might need to row-back your expectations a little bit here. These vans have been subject to a number of recalls in their short lives, and the driving position is something of a travesty.
That said, the powerful engine and automatic gearbox are a great combination, with a relaxed but high-performance feel that's only likely to be even better in the newer eight-speed models (the extra ratios aim to improve responses and increase fuel economy).
The interior is car-like and there are a lot of modern creature comforts available – while the five-year warranty combined with Toyota's typically outstanding dealer service should offer plenty of peace of mind.
As automatic vans go, this is a good one. But if you don't need the automatic part of it, there are certainly other medium vans we would consider first.