The Audi A6 is an accomplished large family and executive car that's lead the pack since 1994, a front-wheel drive (or Quattro AWD) saloon and estate alternative to the BMW 5 Series and Mercedes-Benz E-Class. You can search through hundreds of used Audi A6s for sale on Parkers if you want a highly capable large saloon or estate with efficient engines and class-leading safety. Originally introduced as a facelift to the groundbreaking Audi 100, it was extensively redesigned in 1997; the C5 platform Audi A6 looks very different, with bold arches and curved tail. Interior design is more modern and higher quality, too. The next generation A6, in 2004, added more length, technology and sharper details. From 2011 to 2018, the fourth generation A6 includes technology from the larger A8; a used Audi A6 of this era is a particularly capable car with advanced driver assistance on many models. Performance models of the S6 and RS6 reached their peak here too, with a glorious V8 soundtrack and up to 560hp. In 2018 the fifth generation went on sale, and you can save money on the latest models by looking for nearly-new Audi A6's for sale through Parkers too.
Read more
Results

1

to

10

of

1,516

2010/60
128,226 miles
Manual
Diesel

Quality Part X Ltd Stevenage,

Stevenage

2009/59
90,220 miles
Automatic
Diesel

2012/12
148,050 miles
Automatic
Diesel

2012/62
43,614 miles
Automatic
Diesel

2010/10
160,964 miles
Automatic
Diesel

Malik Driving Solutions Ltd,

Birmingham

2019/69
5,249 miles
Automatic
Diesel

2016/16
66,214 miles
Manual
Diesel

Imperial Car Supermarkets Southampton,

Southampton

2016/66
29,153 miles
Automatic
Diesel

Imperial Car Supermarket Northampton,

Northampton

2015/65
81,395 miles
Automatic
Diesel

Imperial Car Supermarket Northampton,

Northampton
Disclaimer
Telephone numbers starting with 08XX will cost you 7p per minute plus your phone company's access charge. Calls to other telephone numbers will only cost your phone company's access charge.
What is the Audi A6?
Five generations of cars have worn the Audi A6 badge since it replaced the 100 range in 1994, but the premise remains the same. Each is an upmarket range of large saloons and estate that compete directly against the likes of the BMW 5 Series, Jaguar's XF, the Mercedes-Benz E-Class and Volvo's S90 and V90 twins.
Introduced in 2018, the current Mk5 incarnation of A6 shares much of its mechanical componentry and underpinnings with the more expensive Audi A7 and A8 line-ups, rather than the smaller A4 and A5 ranges.
0-62mph: 3.6-8.3 seconds
Fuel economy: 47.9-62.8mpg
Emissions: 117-155g/km of CO2
Boot space: 565-1,680 litres
Which versions of the Audi A6 are available?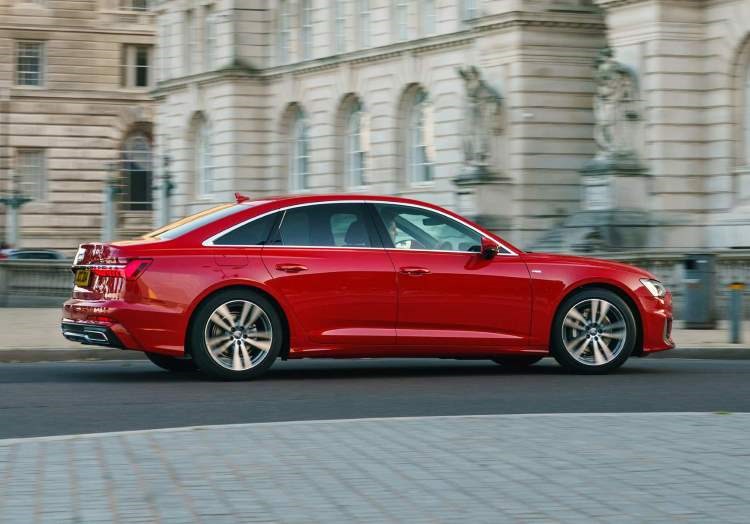 Audi has a tendency to flesh-out its model ranges gradually over each one's lifecycle, meaning that as the current generation of A6 – known by brand aficionados by its C8 development code – is still relatively new, Despite that, by early 2020 the vast majority of permutations will be available.
First to appear was the four-door Audi A6 Saloon, closely followed by its estate counterpart, the Audi A6 Avant. A replacement for the jacked-up Audi A6 Allroad – an Avant with an SUV-style makeover – arrived in summer 2019.
Similarly, the current engine range is limited to a pair of diesels with mild-hybrid electrical assistance to elevate fuel efficiency. Under Audi's revised powerplant designation strategy, the four-cylinder 2.0-litre is known as the 40 TDI, while the V6 3.0-litre is the 50 TDI. The former is front-wheel drive, while the latter is equipped as standard with four-wheel drive and marketed under Audi's long-standing Quattro badge. As well as the TFSI petrols, plug-in hybrid TFSI e versions of the A6 will be in showrooms in early 2020.
As is usual in this segment of the market now, only automatic gearboxes are available, although the A6 is fitted with a pair of options: lower-powered ones have a seven-speed dual-clutch transmission called S Tronic, while the punchier models come with a conventional eight-speed automatic dubbed Tiptronic.
Trim levels follow Audi's usual hierarchy, although they start at Sport in the A6 range, rather than SE. S Line remains the most popular, with Black Edition and Vorsprung available higher up the range.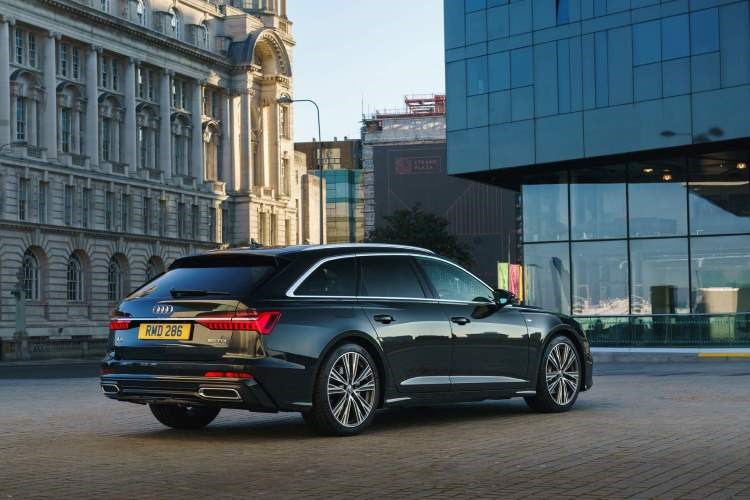 What are the Audi S6 and Audi RS 6?
As sure as night follows day, 2019 saw the arrival of the higher performance Audi S6 in Saloon and Avant formats, but for the first time solely powered by a diesel engine - a 3.0-litre V6 with a 48-volt mild-hybrid system helping produce a total output of 349hp.
However, greater interest surrounds the RS 6 Avant, set to reach the UK in early 2020. Once again, no Saloon version is expected, but like the S6 it features mild-hybrid assistance, but here it's paired to a 4.0-litre V8 twin-turbo petrol generating an impressive 600hp and 800Nm of torque - enough to shove this mighty wagon from a standstill to 62mph in just 3.6 seconds.
Styling and engineering
Despite the carefully evolved appearance of the bodywork, the current generation of Audi A6 is underpinned by a new platform, which allows for the inclusion of mild-hybrid and plug-in hybrid electrification without compromising cabin or bootspace.
Although the exterior styling is not surprising, it is punctuated by interesting details, such as the LED lighting graphics front and rear, but it's the interior that's more of a technology showcase.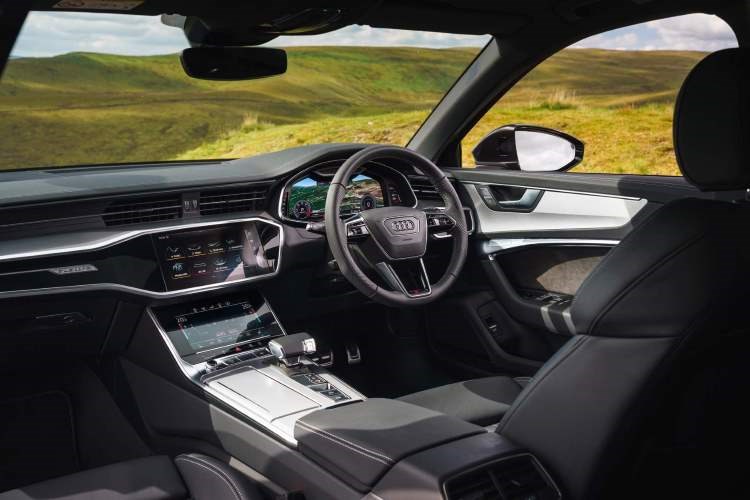 Three screens dominate the dashboard, with the two on the centre console providing touch-sensitive control over most of the A6's functions. It looks slick, but arguably it requires a greater degree of concentration to operate while driving than its predecessor's Multimedia Interface (MMI) rotary controller.
Nevertheless, the passenger compartment is spacious, solidly built and beautifully finished.
Is it good to drive?
If you're a keener driver, then a BMW 5 Series or Jaguar XF is still likely to sate enthusiastic types in a way that the Audi A6 doesn't. The difference between them is far from the chasm it once was, but similar to the Mercedes-Benz E-Class, the focus here is comfort, in spite of the sporty trim packages.
From launch, this generation of A6 was available with four different suspension types, but we don't expect all permutations to be available for the entirety of this model's lifecycle.
There's a standard conventional set-up, along with a lowered, stiffer version on S Line models, together with two adaptive choices to vary the firmness. Despite Audi's of yore riding with an unnecessary degree of firmness, these ones are much more compliant.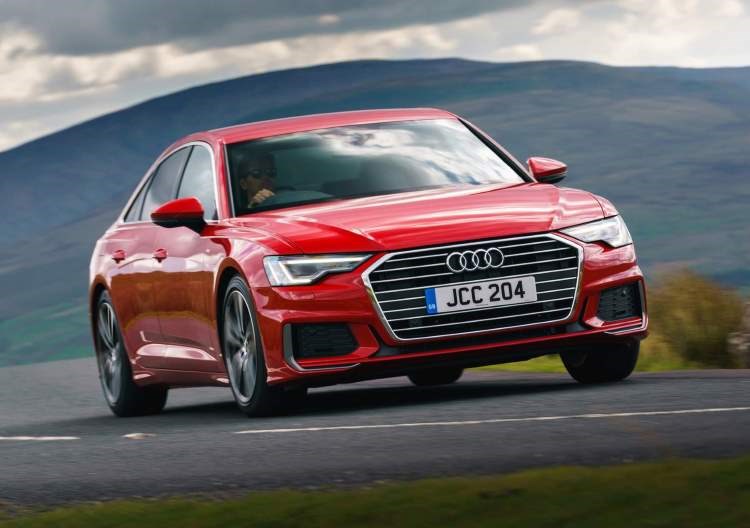 Of the two adaptive versions – one uses variable-rate shock absorbers, the other is a full air-cushioned suspension system – we'd urge caution specifying the latter. It's supremely comfortable at urban speeds, yet feels disappointingly unsettled when plying along smooth motorways.
Additionally, there's a boost for the A6 in terms of how manoeuvrable it is courtesy of four-wheel steering, both increasing high-speed stability and making the large Audi more nimble around town.
How much does the Audi A6 cost?
With the least expensive model in the initial wave of the Audi A6 launch phase costing a tad under £40,000, a reminder is served that premium-badged cars don't tend to be cheap purchases.
As with the car market generally, most customers will go a PCP or PCH route in order to reduce outgoings significantly.
To this end, the A6 is typically only marginally pricier than the BMW 5 Series for an equivalent model, while the Mercedes E-Class is slightly pricier still.
Thanks to healthy deposit contributions, the Volvo S90 is by far the bargain of the moment.
How reliable this generation of Audi A6 is remains to be seen once a significant number have aged and clocked-up higher mileages. Learn how this model's rated by its drivers with our owners' reviews.
Watch our Audi A6 video review
Parkers has thousands of used Audi A6 cars for sale in our classified listings. Find your next secondhand model in our ads – we've everything from family cars and hatchbacks to executive saloons and sports cars.