Maxus e Deliver 3 electric van review 2022
Quirky pure electric van with excellent driving range accuracy
PROS
Reliable and accurate driving range
Speedy performance
Good payload for its size
Low running costs
Optimised construction
CONS
Rivals offer bigger batteries
Rivals offer greater load capability
Not particularly well equipped
Not particularly well priced
Cramped interior full of quirks
Summary
A van is a pretty simple concept: it's a box on wheels. The best ones are designed to carry things in the most efficient way possible while also looking after their driver and passengers to a satisfactory degree. These days that means plenty of creature comforts, a decent driving experience and sensible – even attractive – design. This might seem a funny way to start our Maxus e Deliver 3 review, but despite its relatively ordinary appearance, this is one of the quirkier vans we've driven for some time.
There is a lot to unpack here. Firstly, if the Maxus brand isn't familiar to you, this is the new name for what used to be LDV in the UK; LDV having been acquired by Chinese automotive giant SAIC in 2010, which began using the Maxus name almost immediately but only finalised the change globally in 2020.
What is the Maxus e Deliver 3?
The Maxus e Deliver 3 is an electric van. And we mean only an electric van – there is no diesel version of this model at all. It was conceived with electric power right from the start, so is built using lightweight materials including aluminium and composites to compensate for the heft of the batteries. Good news for driving range, performance and payload.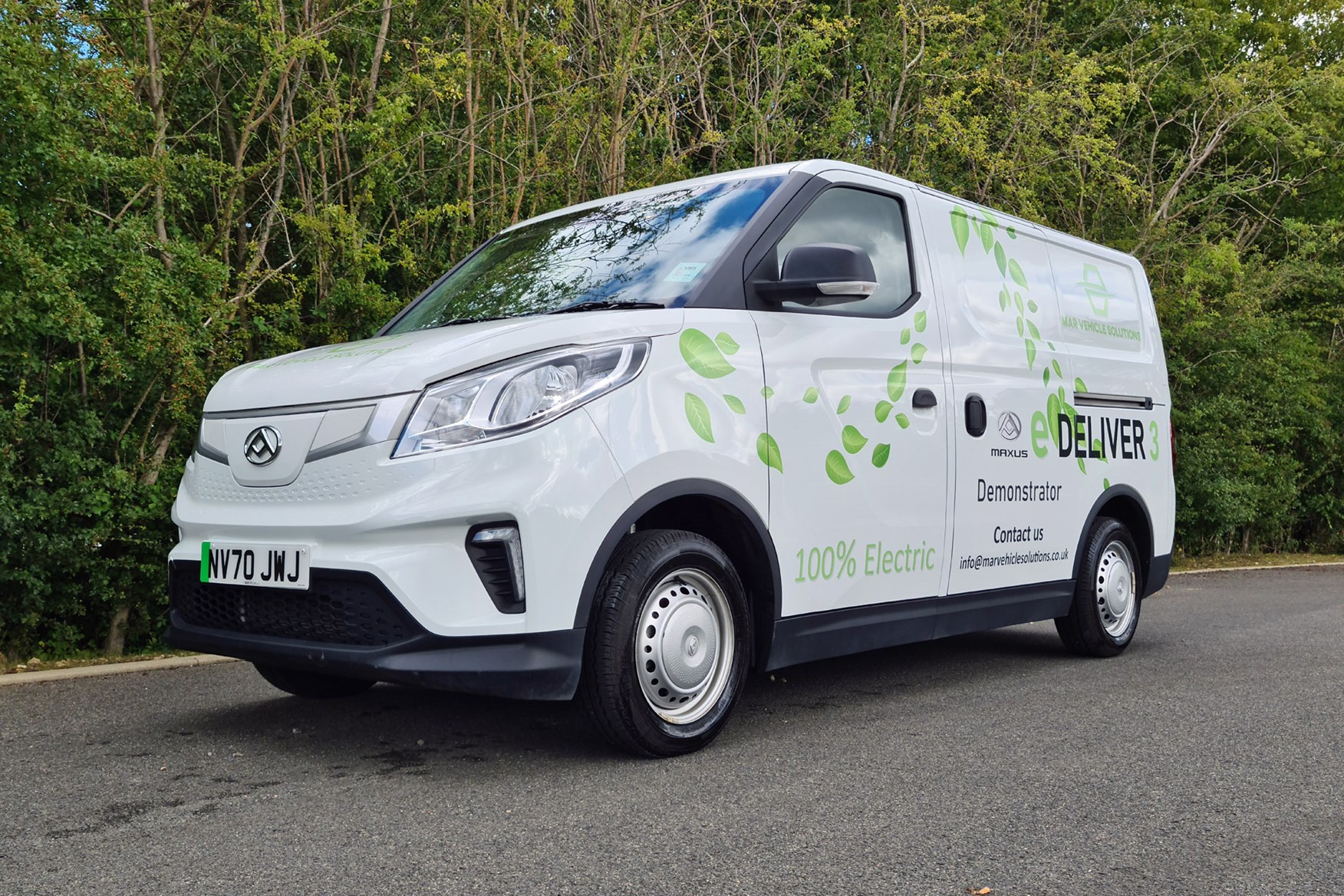 However, the curiosities start with its unusual size. The e Deliver 3 sits right on the border between typical small vans and medium vans, with a load space that's slightly bigger than the former but more compact than what's typical for the latter – although this is partly because only the short-wheelbase L1 panel van model is sold in the UK at the moment.
A long-wheelbase chassis cab is also available for use in bespoke conversions, but the long-wheelbase L2 panel van offered elsewhere in the world is presently not an option on these shores.
What's the driving range of the Maxus e Deliver 3?
The Maxus e Deliver 3 comes with a choice of two battery sizes, 35kWh and 52.5kWh, both using the same type of 'tenary lithium polymer' technology that's also used by Tesla.
On paper, according to official WLTP results, this gives the e Deliver 3 a 'combined' driving range per charge of 99 miles or 151 miles, respectively. This increases to 141 miles or 213 miles in exclusively urban driving, where the stop and start of traffic helps keep the batteries topped up.
The best-performing rival electric vans – the Citroen e-Dispatch, Peugeot e-Expert, Toyota Proace Electric and Vauxhall Vivaro-e, which are all fundamentally the same vehicle – claim up to 205 miles per charge in regular driving, thanks to a larger 75kWh battery pack option. But we've found this claim to be a little disappointing in reality.
With its bespoke electric vehicle design, the e Deliver 3's kerbweight is well over 400kg less than those Stellantis-built competitors. A huge amount that makes a huge difference to the efficiency of the drive system.
So although it may not ultimately go as far, in our testing the Maxus has shown exceptionally accurate range prediction that is unfazed by motorway speeds or fast driving on b-roads, while every other electric van we've driven significantly has been.
This is a strong reason to consider this electric van very seriously.
How practical is the Maxus e Deliver 3?
As long as you don't need more than 4.8 cubic metres of load space and can cope with the complexities of running an electric van, then it does a perfectly reasonable job.
What complexities? As with all electric vans, the e Deliver 3 takes much longer to recharge than an equivalent diesel does to refuel, so it makes most sense when daily use is within its specified driving range and it's then recharged overnight, or between shifts. Plugging in throughout the day unlikely to be practical for most owners or operators.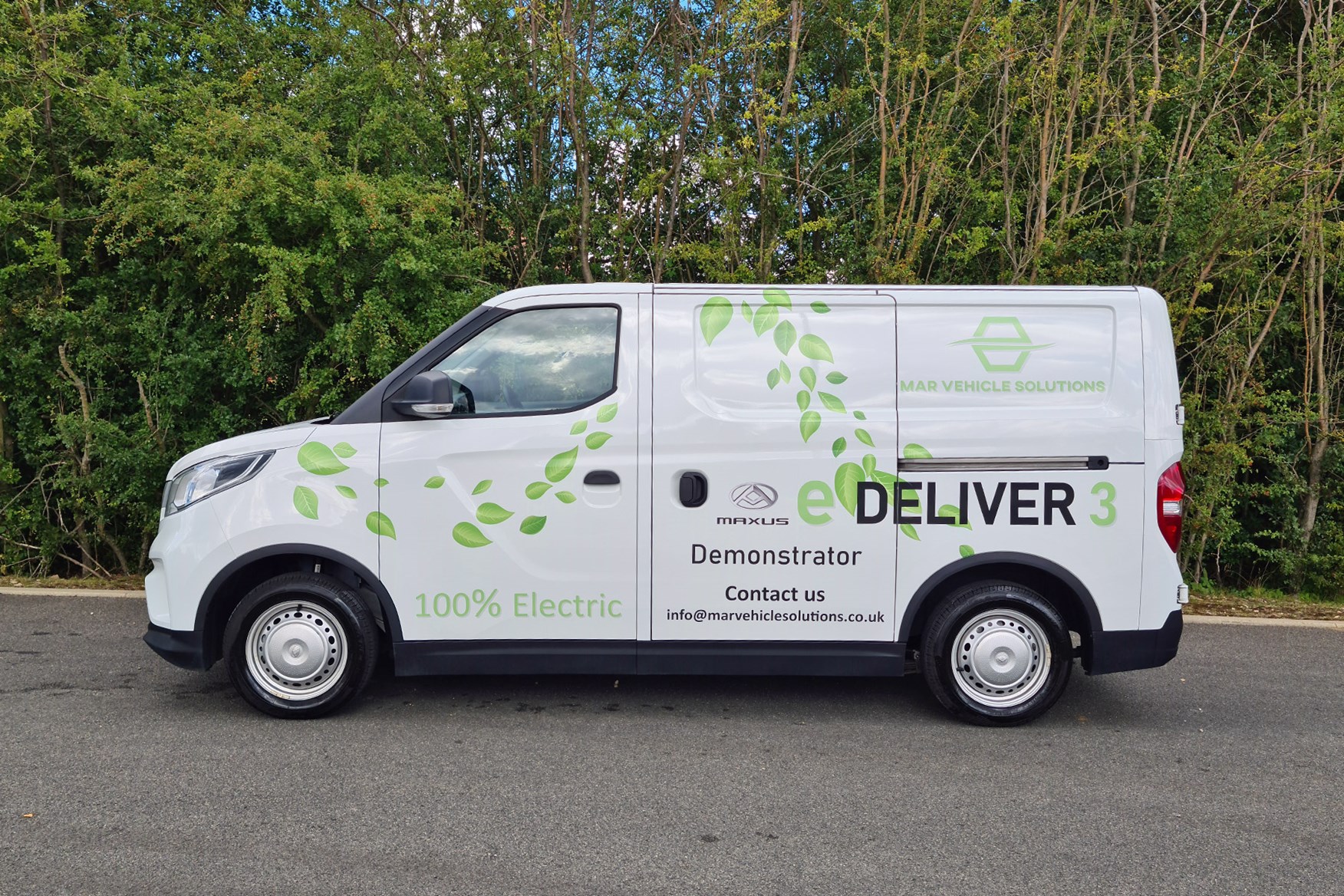 The e Deliver 3 is also only a two-seater (there's no passenger bench option), and the cab may feel a little too constricting for taller drivers. The ventilation system and infotainment aren't quite as we've come to expect from mainstream models, either. More on all this in the Interior section of this review.
For info on the load space, payload and towing capacity, see our Maxus e Deliver 3 dimensions page.
How long does the Maxus e Deliver 3 take to charge?
Using a DC rapid charger of the type found on the public charging network, an 85% charge takes 45 minutes for either battery pack size.
Using the type of AC charging found in domestic or workplace wallbox chargers, you'll need six hours for the smaller battery and eight hours for the larger battery – though that is to 100%.
What are the e Deliver 3's rivals?
The main challenge comes from the Stellantis vans: the Vauxhall Vivaro-e, Peugeot e-Expert and Citroen e-Dispatch, which come in a range of trim levels and a choice of body sizes; the Toyota Proace Electric is also built by Stellantis for Toyota, using the same technology, but only comes in a single variant.
Toyota compensates for this with a 10-year warranty offering (the others have three years of cover).
The Mercedes-Benz eVito and Volkswagen ABT e-Transporter are also medium-sized electric vans, but they have very restricted driving ranges by comparison. The Ford Transit Custom Plug-in Hybrid and LEVC VN5 offer electric capability backed up by petrol engines for long-distance use.
Given the e Deliver 3's size, you might also consider a small electric van as an alternative. The best of these are also made by Stellantis at present: the Citroen e-Berlingo, Peugeot e-Partner, Toyota Proace City Electric and Vauxhall Combo-e. Again, the Toyota benefits from a 10-year warranty option.
>> The best electric vans you can buy now
>> New electric vans coming soon
---

Verdict: is the Maxus e Deliver 3 any good?
This review goes into much greater detail about what the Maxus e Deliver 3 is like. But in short, with accurate range prediction that matches closely to the official figures, it provides a very convincing example of the advantages of electric drive systems. The e Deliver 3 is easy to drive, has good performance and should prove very cheap to run.
However, the pricing puts it in direct competition with some outstanding mainstream electric vans, which offer more load space, higher payloads and fewer quirks. So while the e Deliver 3 is likeable, it's tough to recommend it in comparison with a van such as the Toyota Proace Electric.
Skip to our full verdict on...
Accurate driving range, even at motorway speeds
Plenty of performance while also being efficient
Easy to drive, comfortable enough, very light steering
The Maxus e Deliver 3 starts with a conventional twist of a conventional key. You have to wait a beat for a green Ready light to come on in the instrument cluster before selecting Drive or Reverse using the selector dial on the centre console, or it won't engage.
Similarly, a couple of times we caught it out by pressing the accelerator too soon when switching between forwards and backwards, which stops anything happening. Easily fixed by turning the dial back to neutral and trying again. While this might be momentarily confusing, it's probably a sensible safety feature.
Like most electric vans, there's no conventional gearbox, just a single-speed transmission. This makes for smooth and – if required – rapid acceleration. The e Deliver 3 is not stupidly fast, but this is by no means a slow van, with plenty of punch should you need to quickly increase speed, for overtaking or even avoiding a hazard.
How fast is the Maxus e Deliver 3?
Maxus sells the e Deliver 3 with a 90kW electric motor. This gives you the equivalent of 122hp combined with 255Nm of torque, which the motor provides as soon as it starts spinning – the reason electric vans feel very lively at low speeds and accelerating from a standstill.
The e Deliver 3 keeps that sensation of performance at much higher speeds as well. So although the official 0-62mph is a relatively stately 11 seconds, in most situations it seems much nippier than that suggests.
Top speed is 75mph, which it has no trouble reaching and sustaining.
What's the real-world driving range like?
This is the most impressive aspect of this van – we expect electric vehicles to be smooth and effortless to drive, so that part of the driving experience isn't surprising.
But we have also found that most electric vans start losing driving range more quickly at higher speeds. To give a crude example, a van which says it will do 60 miles around town might only do 45 miles on the motorway, and often you find the range indicator starts plummeting as you go faster.
In the e Deliver 3, this doesn't seem to happen. With the cruise control set we drove at the speed limit on motorways and dual carriageways – usually the toughest challenge for any electric van – and the range indicator continued to fall in line with the miles we were covering. In fact, we covered more miles than it initially suggested should be possible.
Partly this will be down to sensible calibration of the range indicator. But the e Deliver 3's comparatively lightweight construction and the engineering of its electric drivetrain must also make a difference here.
The stop-start nature of town driving and even fast b-road driving – which both increase the recuperation of energy back into the batteries thanks to more frequent instances when the van is slowing down – saw the e Deliver perform still more efficiently for us.
Exactly what kind of range you'll get out of the van will depend on your driving style (aggressive driving is always bad for efficiency) and how much payload you are carrying (heavier vans are also always less efficient).
Suffice to say, we're confident this electric van will go at least as far as it says it will on the dashboard.
Are there different driving modes?
As well as the standard driving more there is also an Eco setting. This restricts the top speed to 58mph to reduce electricity consumption, and is worth about five extra miles of driving range if you casually switch it on – probably more if you use it routinely.
Turning off the air-conditioning, on the other hand, instantly gives you an extra 10 miles of range.
The e Deliver 3 has three Regeneration modes, too, activated by the Reg switch beside the steering wheel. These control the degree to which the motor actively slows the van when you release the accelerator – the more the motor slows the van, the more energy it recuperates into the battery pack and the further you'll go per charge.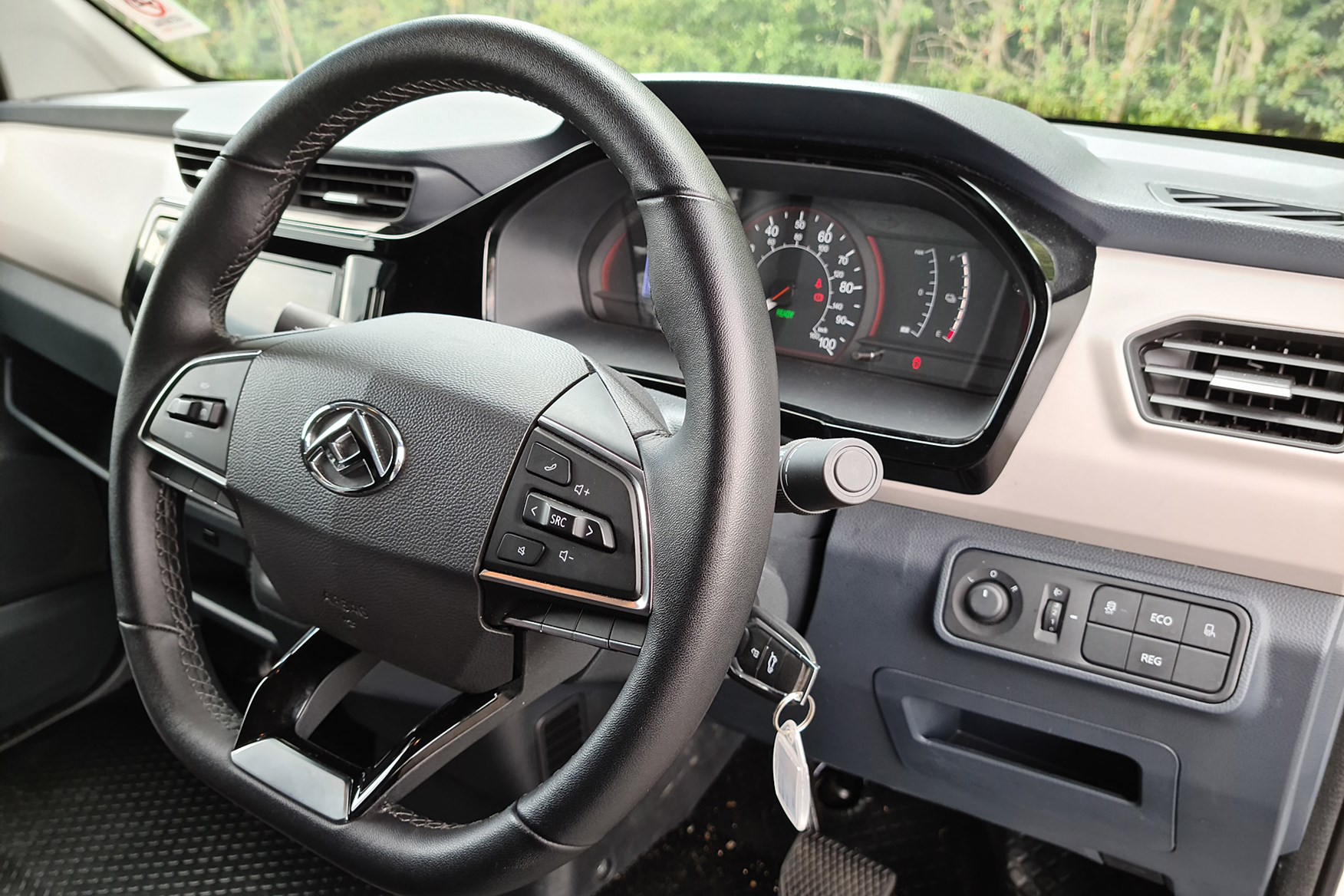 On the maximum setting, this gives you a fair degree of 'one pedal' driving, meaning that when you release the accelerator the van slows as if you were using the regular brakes.
This won't bring you to a complete standstill in the e Deliver 3, but it's enough of an effect that you can go several miles at a time without pressing the brake pedal, saving wear and tear on the brakes themselves and sending lots of energy back into the batteries.
Does the e Deliver 3 handle well?
Easily as well as it needs to. The electrically assisted power steering is light, so there's not much feedback, but there's quite a bit of body roll in the corners and the van communicates quite early on that it is likely to understeer (keep going straight) if you carry too much speed into a tight bend.
That's nothing to be alarmed about, just a clear indicator that you are driving a commercial vehicle and not a sports car. It goes where you point it with no trouble at all, even if you drive it relatively quickly.
Similarly, with no weight in the back, the suspension at the rear is rather bouncy – though with a payload rating of up to 900kg, firm rear suspension is to be expected. This proved no worse than in some other, more mainstream rivals over the trickier sections of tarmac on our favoured test routes.
Slightly cheap feeling inside with hard surfaces
Limited space for taller drivers, no covered storage
Poor infotainment and unusual air-conditioning system
Fundamentally, the e Deliver 3's interior is absolutely fine. But this is an area where some of the van's quirks come back into play.
On first opening the door you'll be greeted by the waft of a rubbery smell from the easy-clean floor surfacing. It's not overwhelming but it is noticeable, in a way that you probably wouldn't comment on the interior smell of a mainstream rival.
Is the e Deliver 3 comfortable?
The two seats seem fine in terms of comfort and durability – only time will tell with these – but the driver's seat does not go back very far, and taller drivers are going to feel cramped. Even at 5'11", this writer had the driver's seat right up against the bulkhead.
What's more, the seat rubbing against the bulkhead creates a creaking noise that's at odds with the calm quiet of the electric drivetrain. This is likely to prove very annoying for some people.
More of a bother to us was the hard plastic on the interior door handle, as this is uncomfortable to rest your elbow on. The material quality is generally a touch lower than you might hope, but it all seems to have been put together well enough.
Small side windows may give some occupants a sense of claustrophobia, but forward visibility is fine.
What's storage like in the cab?
While there are several places to stuff things about the cab, including reasonably large door pockets, none of these are covered and there's no glovebox – just a slot on the dashboard instead.
The only cup holders are on the floor between the seats.
How modern is it inside?
The steering wheel is a modern, shaped affair with a stitched leather rim and buttons for the cruise control and the infotainment system; these feel a bit cheap but work as they should.
We did notice that the digital display for the set cruise control speed doesn't match up with the analogue speedometer (the latter reads a few mph higher), but otherwise had no trouble using this.
The instrument cluster is dominated by that speedo, which is large and centrally positioned. On the right side you'll find the 'dials' for the battery level and instant power consumption – but levels on these are represented by a series of lights rather than a moving needle. Simply enough to understand.
On the left side is a digital display, which allows you to cycle through various information screens, including the all-important remaining driving range and trip computer. This also shows cheerful advice messages.
This display is controlled by an old-fashioned trip stalk that spears out of the instrument cluster, rather than by a button on the steering wheel, making it less easy to use on the move than it could be.
So where does it start to go wrong?
The touchscreen infotainment system in the centre of the dashboard is easy enough to navigate and doesn't feel too laggy. But it's also way behind mainstream alternatives, has no Apple CarPlay or Android Auto integration and no DAB radio. We couldn't get the regular FM radio to work, either, though perhaps that was just an aerial issue on this particular van.
Things get really weird with the ventilation controls for the air-conditioning system. They look ordinary enough, until you realise there's no way of adjusting the temperature…
Instead, Maxus gives you a choice of warm or cool, with a 'comfort' button labelled Econ that adjusts the intensity of each. On a hot day we found the cool setting perfectly pleasant, but if you're used to setting the temperature 'just right', you may have to do a bit of mental reshuffling to get your head around this approach.
Cheap to run, competitively priced
Not a huge amount of standard kit, few options
Five-year warranty
Like all electric vans, the e Deliver 3 might look a little expensive on paper, but the promise of reduced running costs thanks to the lower cost-per-mile of electricity compared with diesel goes a long way towards compensating for that.
So too do the current electric van tax rates, which are reduced to £0 for both road tax and benefit-in-kind company van tax. There's no fuel benefit charge on electricity either.
>> The Parkers guide to van tax
How much does the Maxus e Deliver 3 cost?
At the time of writing in August 2021, prices for the Maxus e Deliver 3 electric van start at £30,000 with the smaller 35kWh battery pack and £33,000 with the larger 52.5kWh battery pack.
That's excluding VAT and before the reduction available from the UK government Plug-in Van Grant, which will save you a substantial chunk of money.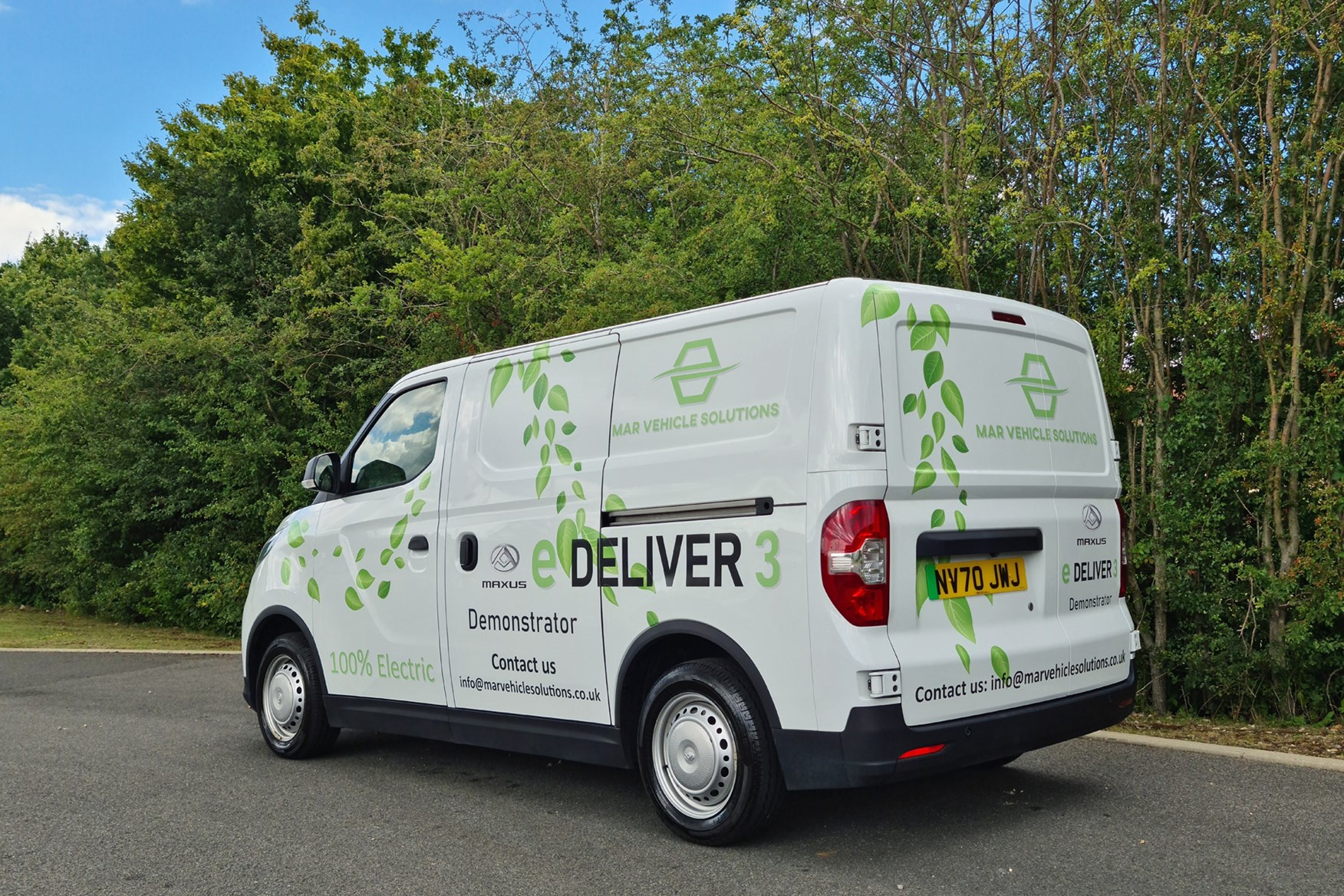 This pricing is very much in line with the amount you'll pay for rival vans with similar battery capacity – which is to say the 52.5kWh e Deliver 3 is priced slightly less than a 50kWh model from the Stellantis family of electric vans, while the 35kWh e Deliver 3 is about £3-4,000 cheaper.
Aspects of the Maxus may make it a slightly tough sell by comparison – the equivalent Toyota Proace Electric has a larger load area and more conventional interior, for example. But we say again how impressed we were by the driving range accuracy the e Deliver 3 offers.
Maxus e Deliver 3 warranty
The whole van has a five-year / 60,000-mile warranty, while the battery pack has an eight-year / 100,000-mile warranty.
Maxus e Deliver 3 servicing intervals
The service intervals for the e Deliver 3 are 18,000 miles or two years, whichever comes sooner.
Maxus e Deliver 3 standard equipment
Maxus only sells the e Deliver 3 in a single specification and there are few options.
These are the standard equipment highlights:
Two driving modes
Three energy recovery (regeneration) modes
Air-conditioning
Automatic lights
Electric mirrors
Electric windows
Reach and rake adjustable steering wheel with multifunction controls
7.0-inch touchscreen with Bluetooth
Reversing camera
Rear parking sensors
Heated seats
Bulkhead
Stainless steel load floor
Six load-lashing rings
The available options include alloy wheels, a windowed bulkhead, and a choice of three paint colours – though most e Deliver 3s are imported in white.
Details of safety and security equipment are in that section, below.
Electric vehicles have fewer moving parts, making them fundamentally less prone to failure than diesel models, so we're not expecting any huge issues here. The e Deliver 3 has been available to buy for a little while now, and there are no signs of any reliability horror stories.
Own an e Deliver 3? Let us know if you've found it problematic or brilliantly reliable via the Parkers feedback email address.
Well behind what we've coming to expect from a modern van
Basic stuff only here. The e Deliver 3 comes with electronic stability control, seat belt reminder and a driver and a passenger airbag (actually, that's not bad, as many vans only include an airbag for the driver).
You also get front and rear disc brakes. But there are no high-tech active driver aids available at all.
As for security, you get an immobiliser but no alarm.
The bolts for the rear door hinges are exposed, which strikes us as a bit of vulnerability, so consider some additional security measures a priority.
Which MAXUS e Deliver 3 is best for me?
Since the e Deliver 3 comes in a single van size at present, with a single choice of drivetrain, really the only decisions you need to make about it are what size of battery is best for you.
Slightly unusually for an electric van, the bigger battery version of the Maxus has the higher payload rating, which means you can have the best of both driving range and carry capability in one vehicle here.
There isn't much in it, payload wise – 865kg vs 905kg – so if you don't need the longer driving range there is a useful saving to be had on the list price.
We think most people will be better off with the bigger battery version overall, though.
Also read:
>> Maxus e Deliver 3 dimensions, payload and towing capacity
>> The best electric vans in the UK