Nissan NV400 review (2021)
A big van with a big warranty
PROS
Strong engines
Plenty of payload
Practical cab
Lots of variants
Five-year warranty
CONS
Newer rivals better to drive
Basic entry level equipment
Lacks latest safety aids
Limited dealer network
Could be more comfortable
Summary
The Nissan NV400 is a large van that competes in the same area of the market as the Ford Transit, Peugeot Boxer, Citroen Relay and Fiat Ducato. This 2021 Nissan NV400 review will tell you everything you need to know, but the quick hits are that it's good value, offers high payloads and comes with a five-year warranty.
However, it is also based on one of the oldest vans on the market, isn't the nicest to drive and has been poorly rated for safety by Euro NCAP.
What is the Nissan NV400?
First introduced in 2011, substantially facelifted in 2014 (below) and revised again in 2019, the NV400 is a Nissan-branded version of the Renault Master, which means it's also closely related to the Vauxhall Movano.
These family ties are no bad thing if you're after a good value van with high payload ratings, as this trio are among the benchmark-setters for heavy lifting at the 3.5-tonne limit for a standard driving licence and the 2.3-litre engines are consistently strong performers.
All three vans were thoroughly updated in 2019, with highlight upgrades including revised engines, a completely new dashboard and improved safety tech.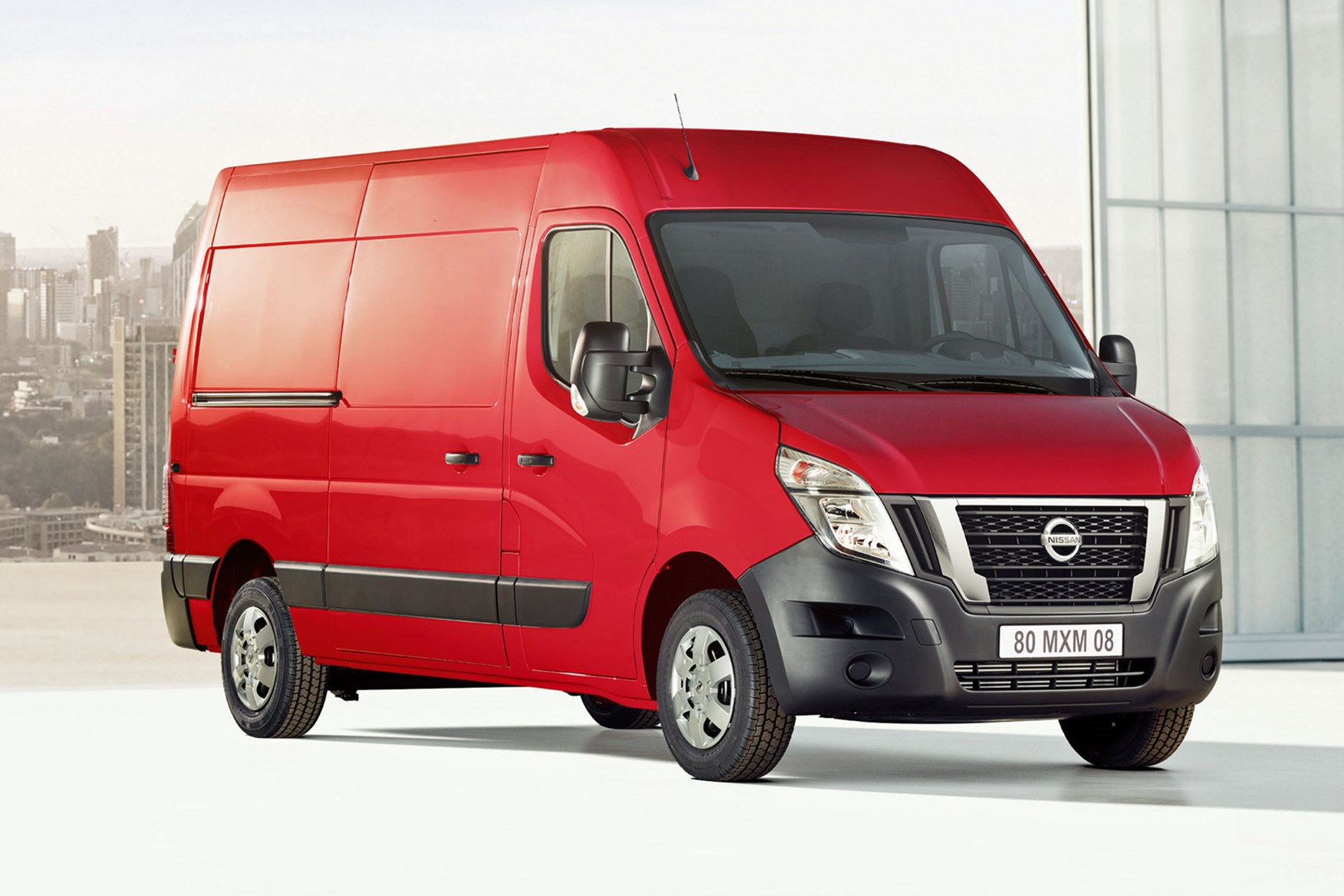 This isn't enough to make the NV400 a rival to the more premium Mercedes-Benz Sprinter and Volkswagen Crafter, but you'll find that spec-for-spec, the Nissan carries more – which for many operators is probably more important.
Five-year warranty
One potentially major advantage the NV400 has over its relatives – and almost every other large van on sale in the UK – is the five-year, 100,000-mile pan-European warranty that comes with every new example.
The mileage limit won't necessarily help long-distance drivers (the Sprinter and Crafter are your best bet there, as they both have unlimited mileage three-year warranties now), but if you plan to keep the van a while, that's two years more cover than nearly every rival.
Plenty of choice
While the engines have been 2.3-litre dCi turbodiesel units specifically developed for commercial vehicles throughout the NV400's life, the range of power outputs has shifted over time – though there is always a wide spread to suit different budgets and uses, newer NV400s have more power at every level.
The NV400 is also a large van that's available in front-wheel drive (FWD) and rear-wheel drive (RWD) configurations, and comes in a variety of factory body styles including panel van, crew van, dropside, tipper, chassis cab and platform cab.
This review deals mostly with the regular panel van, which is itself available in four body lengths and three roof heights. See our dedicated Nissan NV400 dimensions page for more details of this.
---
Nissan NV400 verdict
This is a solid choice of large van if you need a long warranty. The engines are good, payloads are high, and the latest revisions bring a welcome improvement to the interior.
It won't be as nice to drive as a Transit, Sprinter or Crafter – but we'd take one over a Boxer or a Relay.
Skip to our full verdict on...
Strong engines with up to 180hp / 400Nm from 2019
Good turning circle and easy to drive
Not the most comfortable ride but from the worst either
Like the Renault Master and the Vauxhall Movano that share its underpinnings, the Nissan NV400's driving experience impresses through the strength of its engines.
It's not likely to be as comfortable as some more modern rivals, but it shouldn't be too noisy and vibrations in rear-wheel drive models are well suppressed, which is not something we would say about all of the competition.
Powerful 2.3-litre engines
All versions of the NV400 use a 2.3-litre dCi turbodiesel engine. This has come in single- and twin-turbo variants over the years, with the revised 2019 model moving to an all twin-turbo line-up.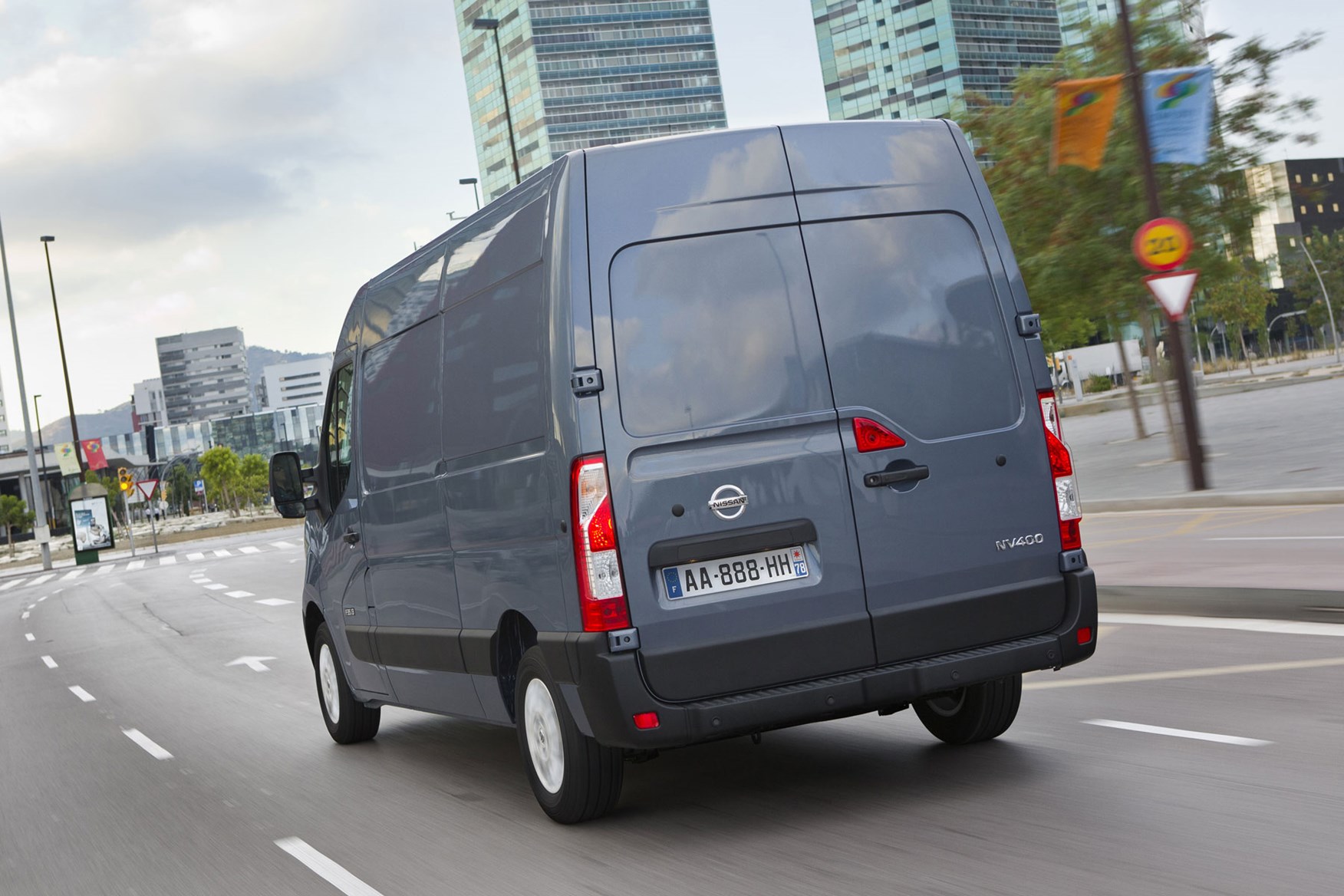 Front-wheel drive (FWD) models now have the following outputs:
135hp / 360Nm
150hp / 385Nm
180hp / 400Nm
The 150hp and 180hp versions are available with an optional automatic transmission – but this is a robotised manual rather than a true automatic, so don't expect the shifts to be smoothest. The standard six-speed manual gearbox is robust and precise feeling, and generally nicer to use.
The latest rear-wheel drive (RWD) NV400s come with the following output options:
145hp / 360Nm
165hp / 380Nm
This marks a point of difference between the NV400 and the Master, as the Master is offered with a 130hp engine in the UK but not the 165hp engine; the Movano is available with all three options.
The RWD NV400s are classed as 'heavy-duty' vehicles, which mean they have to meet slightly different – and less stringent – emissions regulations. This makes little practical difference at the moment, but may become more problematic if air quality concerns in city centres continue to grow.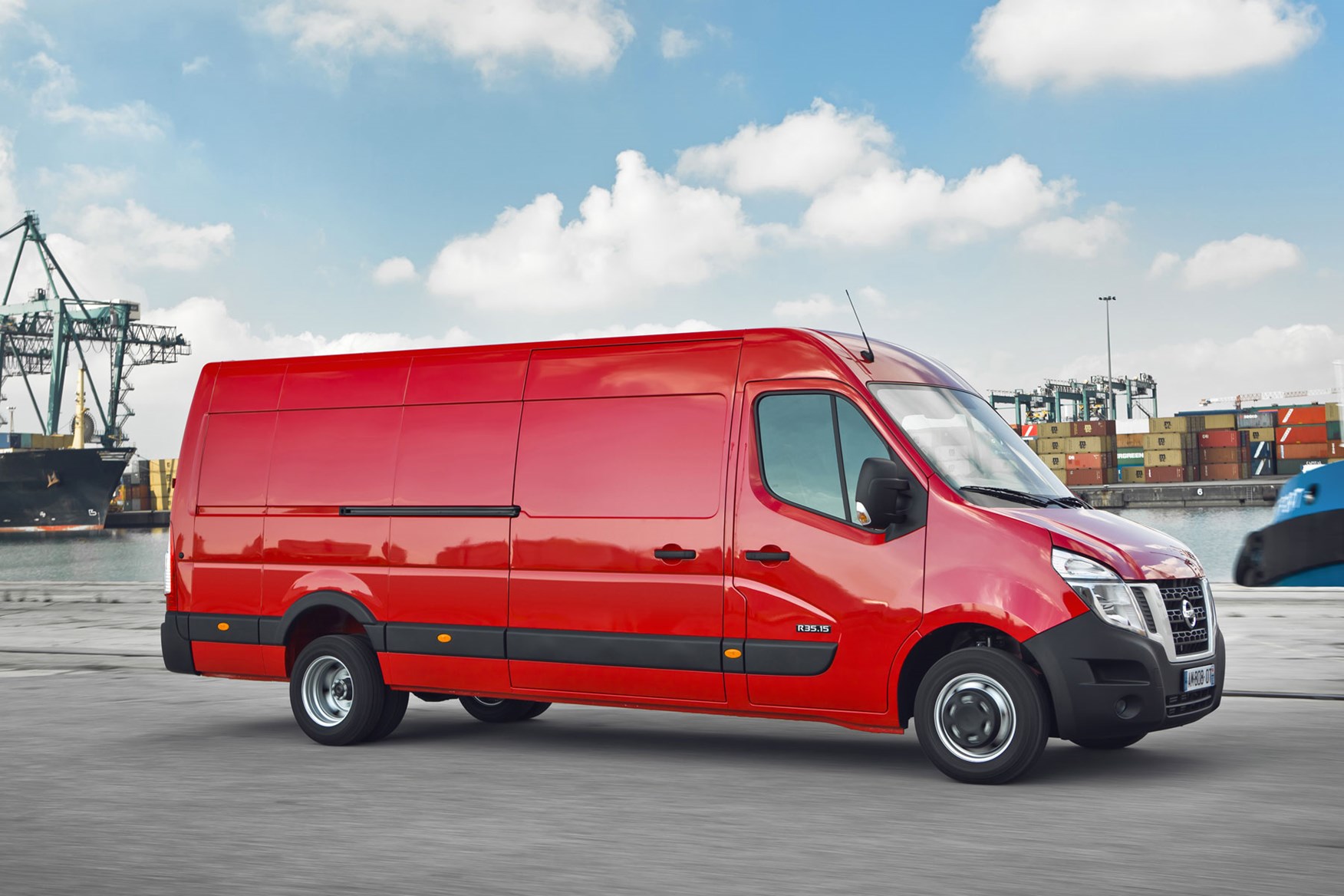 The NV400 has seen several rounds of previous engine updates since its launch in 2011, with older models offering between 100hp and 150hp, depending on their age.
The very lowest power outputs will likely prove thirsty if heavily loaded, but the 2.3-litre engine has always been a gutsy performer overall.
Should I buy a FWD or RWD NV400?
Front-wheel drive models have higher payload ratings – spec-for-spec – lower loading sills and better on-paper fuel economy.
Rear-wheel drive offers better loaded traction and improved towing stability, and despite the lower legal payloads (due to the increased weight of the van rather than any lack of strength) should prove better-suited to heavy duty work.
Experience with the latest RWD Masters also suggests the six-speed manual gearbox isn't as nice in these as it is in the FWD models, but they are commendably low on annoying vibrations and generally pretty refined.
Practical and hardwearing inside
2019 brought new dashboard design
Apple CarPlay and Android Auto now available
The NV400's cab has always been functional and practical, but an update in November 2019 has seen the dashboard completely overhauled, bringing some welcome modernisation to an interior that was starting to look and feel a little bit old.
Cab interior at launch
Sit behind the wheel of an original NV400 and you'll find a dash made of sturdy, hard-wearing materials. All of the controls are accessible and easy to use, and feel rugged enough to withstand day-to-day abuse.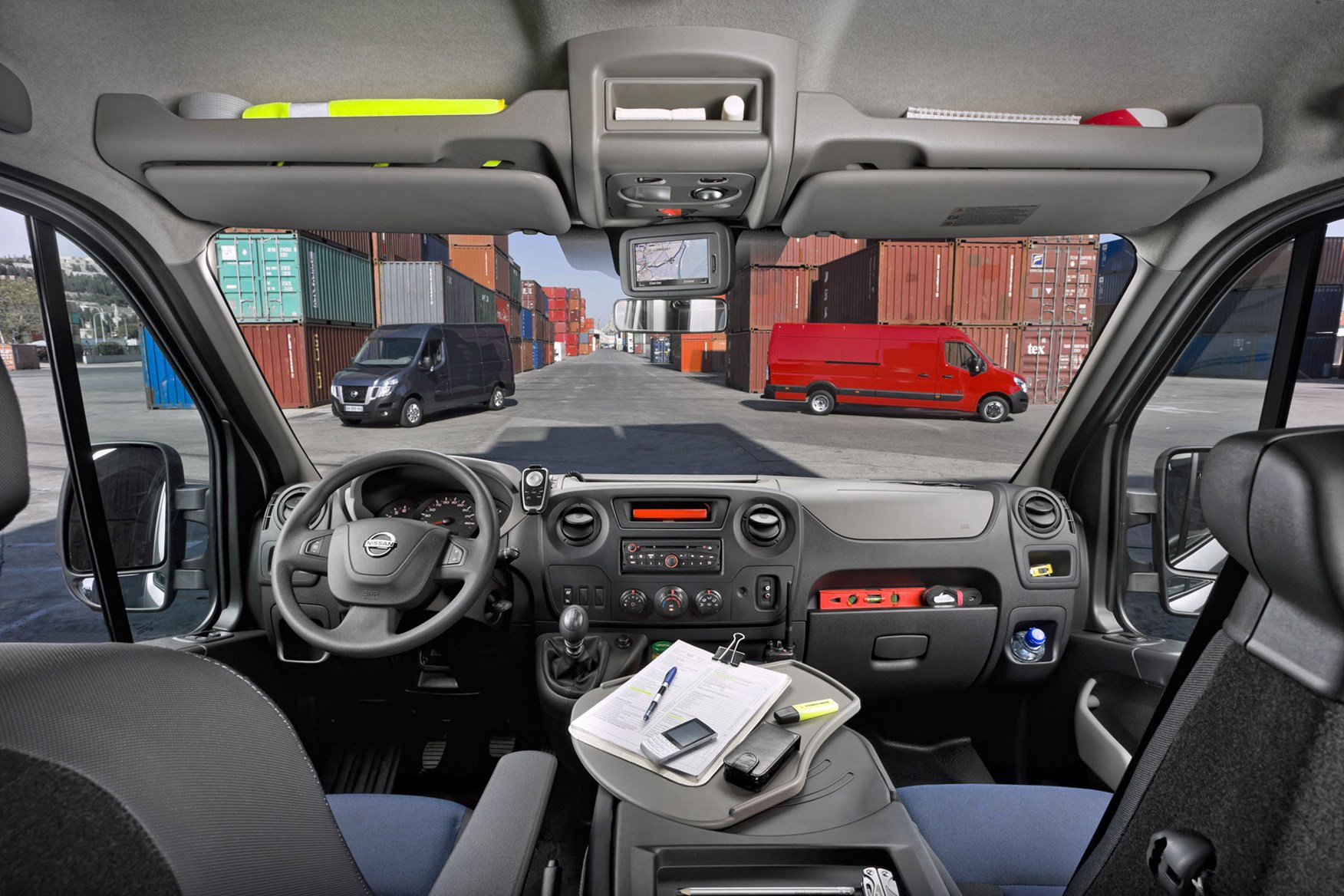 There's a clipboard holder, cup holders, several cubbies including overhead and under-seat storage, door pockets and a folding centre seat which can be specified with a swivelling table on the backrest.
The driver's seat is comfortable, and can also be suspended if needs be.
Cab interior from November 2019
Nissan has yet to release any images of the updated NV400 interior, but as it's identical to the latest Master and Movano inside we know what to expect.
The practical elements remain, but the design is much smarter, and available with optional touchscreen infotainment systems now properly integrated into the dashboard. You can even get Apple CarPlay and Android Auto now.
Good fuel economy on paper
Five-year warranty and roadside assistance
25,000-mile service intervals
In common with a number of other large van makers, Nissan is yet to release full fuel economy data for the NV400 that complies with the latest Euro 6.2 emissions regulations and new WLTP testing procedure.
Nissan NV400 mpg
Weirdly, though, Nissan takes the WLTP data it has and converts it back to NEDC for the NV400.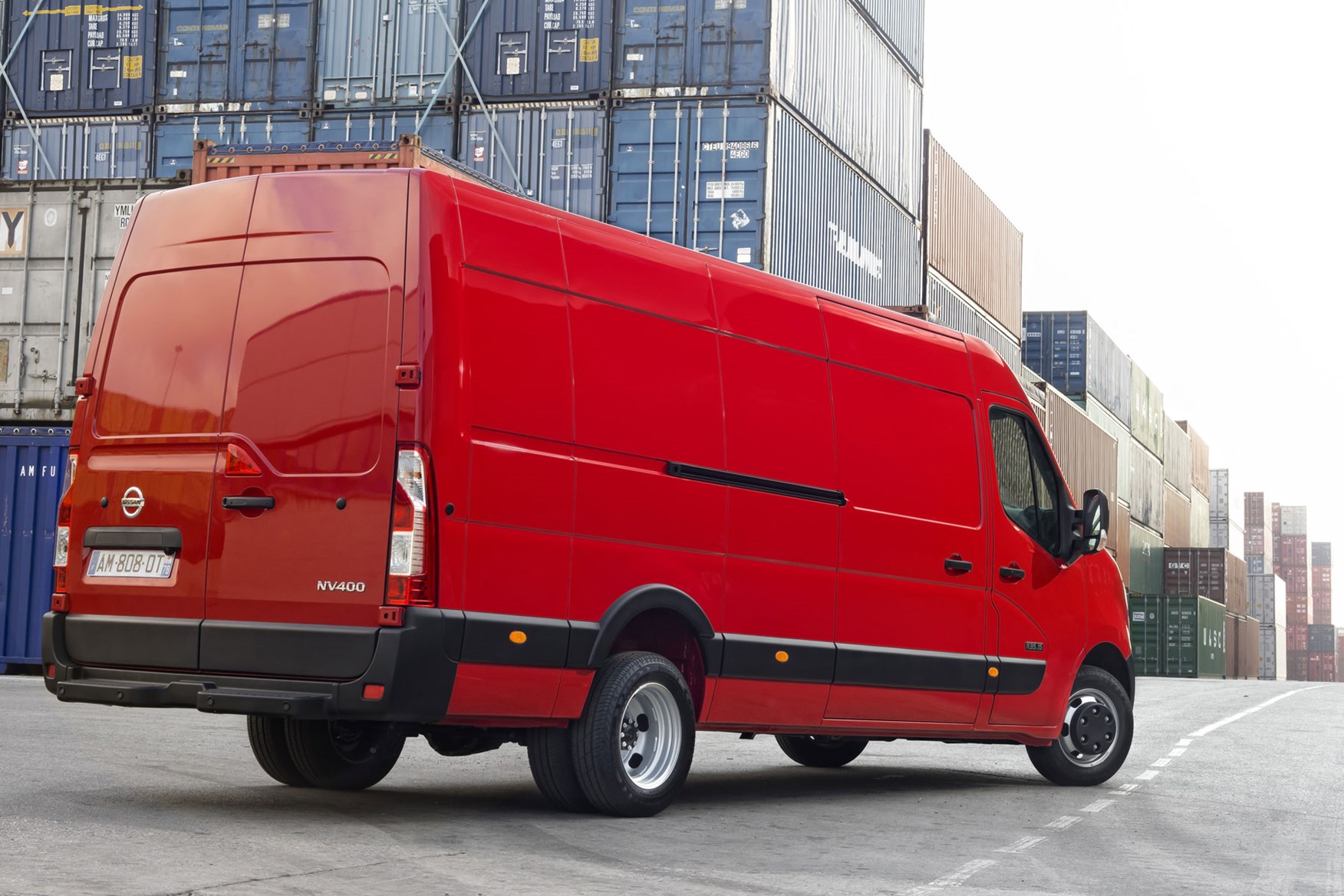 This seems a strange decision because NEDC is less realistic than WLTP, which means buyers are unlikely to see anything like the figures Nissan quotes on paper.
Still, for the record, FWD NV400s claim 37.7-48.7mpg, while RWD NV400s are rated 37.7-46.3mpg.
Nissan NV400 warranty
A big plus for the NV400 is that new versions come with a five-year warranty.
While this doesn't seem like it would benefit buyers who change their van sooner than that, it is also fully transferable between owners so may help keep used value buoyant.
As discussed above, the mileage limit is still 100,000 miles, so long-distance users may not find this as useful. But you do get five years of roadside assistance as part of the price, too.
Earlier NV400s had a three-year, 100,000-mile warranty.
Nissan NV400 service intervals
The service intervals are every two years or 25,000 miles, whichever comes sooner.
Nissan also has a specialised LCV dealer network to help accommodate maintenance needs that minimise your vehicle downtime. But this isn't as extensive as the biggest rival networks, so best check where your nearest centre is if you are a high-mileage operator.
Trim levels and standard equipment
The NV400 originally came in E grade and SE grade versions, but the latest models use Nissan's now familiar Visia, Acenta and Tekna trim names instead.
Visia is very basic, and only available on a single variant, but otherwise standard equipment is fair, with features such as DAB radio, Bluetooth and sat-nav available as required.
These are pretty tough vans, and we don't see many reports of serious issues with them.
There aren't even many official recalls, which suggests build quality is consistent. We've tracked down just three, and the largest number of NV400s involved was 41; one recall affected just four.
It's a similar story with the Master and Movano, so we don't think this Nissan is likely to let you down.
If you have experienced any reliability horrors with this model, however, please let us know about it via our feedback email address.
Rivals offer more modern safety equipment
New models come with an alarm as standard
Upgrades in 2019 increased the amount of available safety equipment, but the NV400 still lags behind more modern vans in this area.
To such an extent that in 2020 it was listed by Euro NCAP as one of four vans that are 'not recommended'.
Nissan NV400 safety
If you're buying used, it's worth noting that electronic stability control – which Nissan calls Vehicle Dynamic Control – was not fitted as standard on early base models; since ESC is one of the major safety innovations of recent times, it's definitely worth seeking out an NV400 with this fitted.
All new models come with this as standard, however, alongside a driver's airbag.
Higher-spec models get a big blindspot mirror hidden in the passenger sun visor, which is a basic but surprisingly effective solution to spotting smaller vehicles lurking out of immediate sight alongside you, while things like automatic lights and wipers, proper blindspot monitors and crosswind assistance are now available.
Nissan NV400 security
Again, older vans won't be quite as well equipped, but the latest versions get an alarm and an immobiliser as standard - not many van makers are so generous with alarms, so this is good to see.
Nissan also fits what it calls superlocking – though this is unlikely to stop a determined thief with cutting equipment, so as ever try and avoid leaving anything in the van you can't afford to lose.
Which Nissan NV400 is best for me?
Most buyers opt for the mid-spec engines, but as power outputs have increased even the entry-level 135hp (FWD) NV400s offer a good chunk of performance for your cash – though the more powerful 150hp versions will likely prove more efficient on fuel, especially at higher payloads, as they'll be less stressed.
As for trim levels, in terms of the current line-up we'd probably avoid the entry-level Visia specification, unless you really need the cheapest van going; Acenta gives you better value for money, but note that air-conditioning is still extra.
For older models the E Grade will do the job but the SE Grade certainly offers better value, with useful items such as rear parking sensors, cruise control / speed limiter, a larger fuel tank all included and an additional glovebox all included.