Vauxhall Movano review (2010-2021)
Versatile large van with high payloads, fully updated in 2019
PROS
Facelift model much improved
Wide range of body styles
High payloads, lots of space
Strong and robust engines
Van-specific dealers now
CONS
Pre-facelift interior not great
Newer rivals better to drive
Newer rivals more comfortable
Not much standard safety kit
Average fuel econnomy
Summary
The Vauxhall Movano is a large van that first went on sale in this 'Movano B' guise in 2010. It got a major refresh and facelift in 2019, and remains one of the best big vans to choose if you need plenty of payload.
However, it's set to be replaced by an all-new Movano in summer 2021, and this new version will also be sold as a Movano-e electric van.
Where does the Movano B fit into the large van market?
Based on the same platform and structure as the equivalent Renault Master – which also forms the basis of the Nissan NV400 – this Movano is not the most sophisticated large van on the market. But does it offer strong value and very high payloads at the all-important 3.5-tonne (3,500kg) gross vehicle weight.
It's not a particularly big seller in the UK, but build quality is consistent, and it is capable of carrying higher loads than almost any rival – and following the introduction of the latest Euro 6.2 (also known as Euro 6d-Temp) emissions regulations, leads the class in this critical area.
It's also available in a wide range of body sizes and styles, and offers buyers a choice of front-wheel drive (FWD) and rear-wheel drive (RWD) to suit most uses.
Vauxhall Movano 2019-2020 facelift
Sometimes referred to as the 2020 model year change, the most recent Movano facelift introduced a new-look front end, vastly improved interior, additional safety equipment and a substantially upgraded range of 2.3-litre diesel engines, all of which feature BiTurbo twin-turbo technology for better fuel efficiency and performance.
The facelift, which informs much of this review, brings a higher bonnet line and improved engine cooling, and is easily spotted by the large griffin badge (apparently the biggest Vauxhall has ever made) in the centre of the grille, aligned with a central chrome strip that joins up with the new daytime running lights.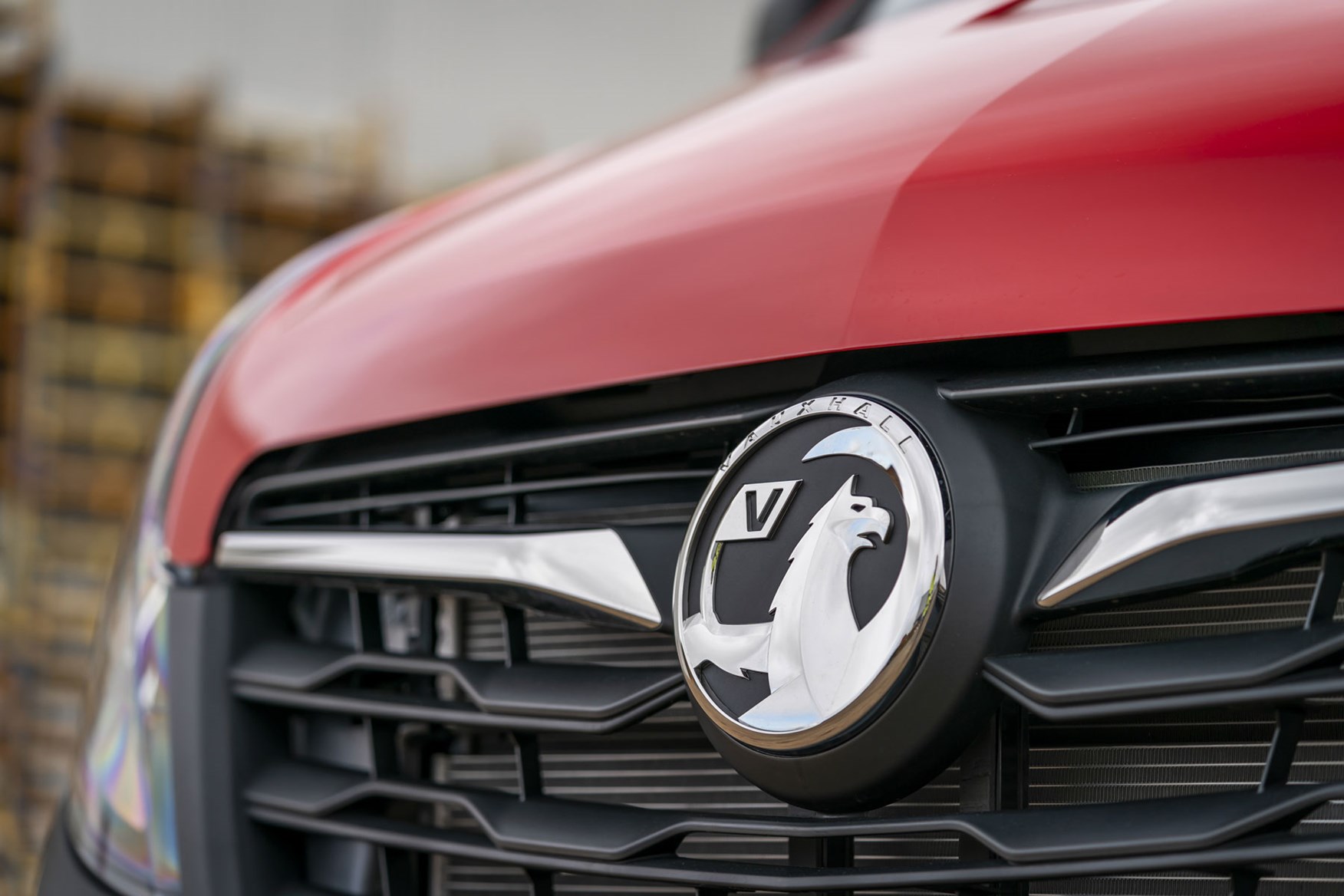 More significantly for most operators, the interior is much nicer than before, with improved materials, better storage solutions (though right-hand drive models miss out on the most innovative of these features) and the availability of new infotainment systems compatible with Android Auto and Apple CarPlay.
Additional safety features include standard-fit crosswind assist, an increased number of active driver aids on the options list and the availability of an innovative permanent rear-view camera system, if you want it.
Vauxhall Movano engines
At launch way back in 2010, the Movano offered 2.3-litre engines with 100-146hp; power and performance has been consistently improved over time, but the 2019 upgrade that started reaching showrooms in September 2019 brought in still bigger changes.
With a host of new parts to enhance efficiency, power output for these runs from 135hp to 180hp on FWD models, and 130hp to 165hp on RWD models.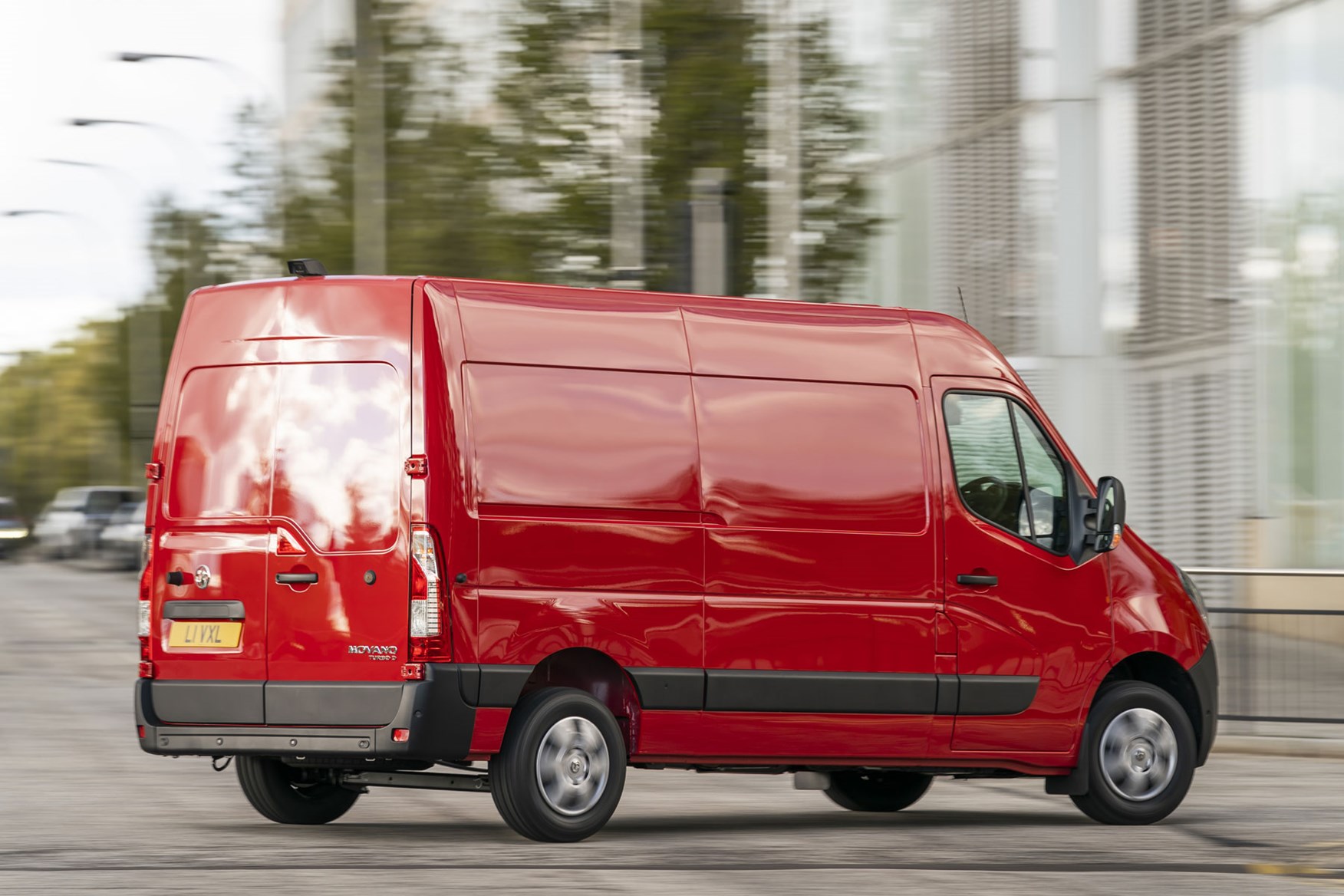 This is an increase of 5-10hp across the board versus the immediately preceding Movano engine line-up, with corresponding increases in torque of between 20Nm and 40Nm as well.
Despite this, fuel economy goes up by as much as 17% - so although the revised Movano costs a little more than the previous version, Vauxhall claims that over four years and 80,000 miles the improved running costs will bring you out ahead.
Vauxhall Movano rivals
Two vans dominate sales in the large van sector: the Ford Transit and the Mercedes-Benz Sprinter. Both are newer designs than the Movano – especially the Sprinter, which was all-new in 2018 – but neither of them can match the Vauxhall for ultimate payload at 3.5-tonnes.
As such, aside from the technically similar Master and the NV400, the Movano's closest rivals in load-hauling terms are the Citroen Relay, Peugeot Boxer and Fiat Ducato, which also offer high payload ratings. The all-new 2021 Movano is actually based on the same platform as this latter three, as Vauxhall is now part of the same Stellantis family.
If payload isn't such a major concern, also consider the Volkswagen Crafter and its cousin the MAN TGE – which offer a truly impressive driving experience and exceptionally well thought-out cab.
---
Vauxhall Movano verdict
With its powerful and pleasant engines and impressive load capacity, the Movano is a good choice if you need a hard-working van that can cope with heavy duty tasks. And while it isn't built in Britain like the medium-sized Vauxhall Vivaro, as of 2019 Vauxhall has started up a network of 'business centre' dealerships to improve the service it offers van drivers and buyers.
The Movano isn't as good to drive or as technologically advanced as some rivals, so if those are your priorities you're best looking elsewhere. But if you want a box on wheels with plenty of strength keep reading to find out more.
Details of payload ratings and load capacity can be found on our dedicated Vauxhall Movano dimensions page.
Skip to our full verdict on...
Powerful engines throughout the range
Latest models are more refined
Nimble handling but not as nice to drive as newer rivals
Prior to the 2019 facelift, we'd have summed-up the Movano's driving experience as capable but a little crude. For such large vans, these are surprisingly nimble machines that tackle corners with composure and well control body roll, but they were also always noisy inside and firm on the behind, with rather choppy ride quality.
The introduction of the revised BiTurbo 2.3-litre engine range in combination with changes to the cab interior as part of the facelift seems to have brought a good improvement in refinement. You're more likely to be bothered by wind and road noise than engine noise when cruising along, and there isn't even very much of that to speak of.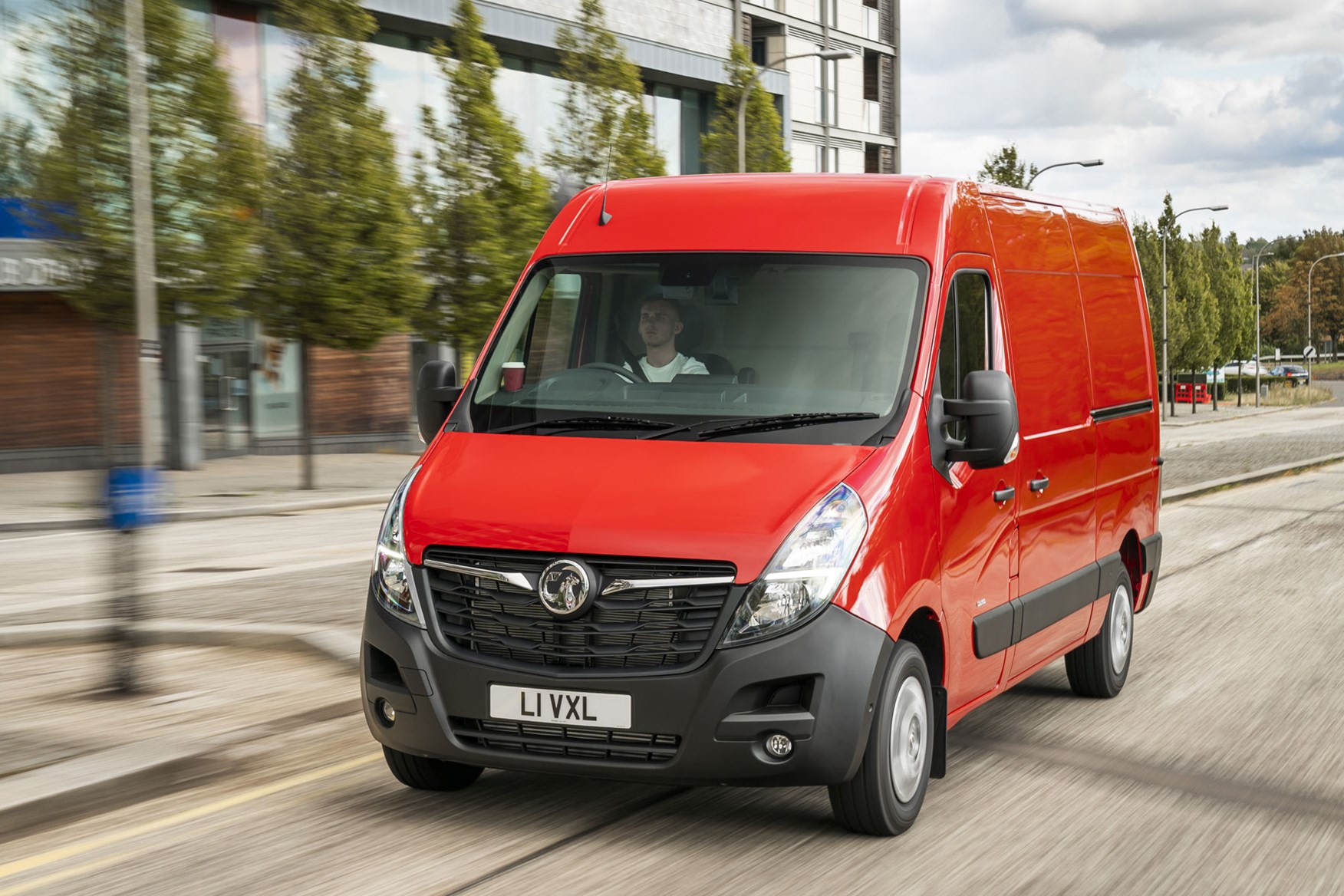 By modern standards, the steering, handling and ride comfort lags behind the best rivals – particularly the Crafter and Sprinter – but it's likely to be less of a chore to tackle a long journey in one of these than in a Boxer or a Relay.
The only proviso we have to this is that we have so far only driven front-wheel drive versions of the updated Movano – typically rear-wheel drive versions of large vans suffer with more vibration and noise issues than their front-wheel drive family members.
What are the Movano's BiTurbo engines like?
Again, we can only speak for the versions fitted in the FWD facelift models at the moment – and these do have more power than the equivalent RWD versions – but whether you go for the entry-level 135hp model, the popular and efficient 150hp variant or the top-of-the-range 180hp motor, you should find more than acceptable performance.
The 150hp is unsurprisingly the pick of the bunch. It has 385Nm of torque to the 135's 360Nm and will shift heavier loads more easily with the promise of good fuel economy. The 135hp will struggle that bit more with the same weight, likely causing it to use more fuel.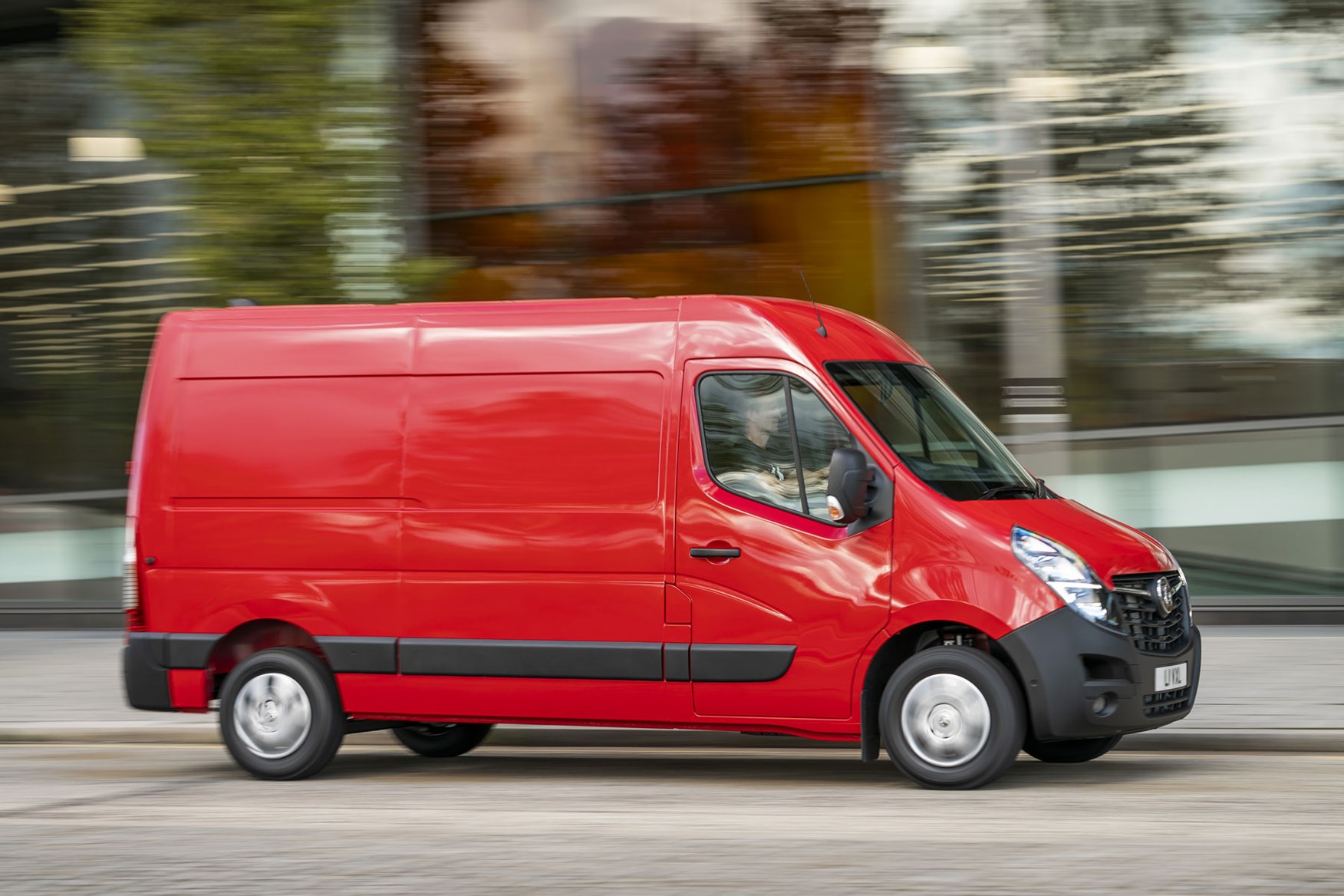 The 180hp Movano is an impressively rapid beast, thanks in part to 400Nm, but not so much so that opting for either of the others will really leave you feeling short-changed. As such, it feels like something of an indulgence, and we believe that for most users the 150hp model should be well up to the job.
To get some idea of how the latest RWD Movanos perform, check out our Renault Master review, as this van not only features the same underpinnings it uses the same engine as well.
What's the Movano's gearbox like?
Much improved for the 2019 facelift, the standard-fit six-speed manual transmission now has an almost car-like action, and is less notchy to use.
Vauxhall plans to add a semi-automatic gearbox option on some models in 2020; again this is the same transmission already deployed in the Renault Master, so you can get a sense of how that's likely to perform from that review. Hint: it's not brilliant.
Much improved interior for 2019 facelift
Driving position could be better
Rear-view camera worth considering
The original dashboard design (below) was functional, but had become increasingly tired and out-dated compared with modern rivals – but although it suffered with some cheap-feeling plastics it always gave the impression that it had been built to last.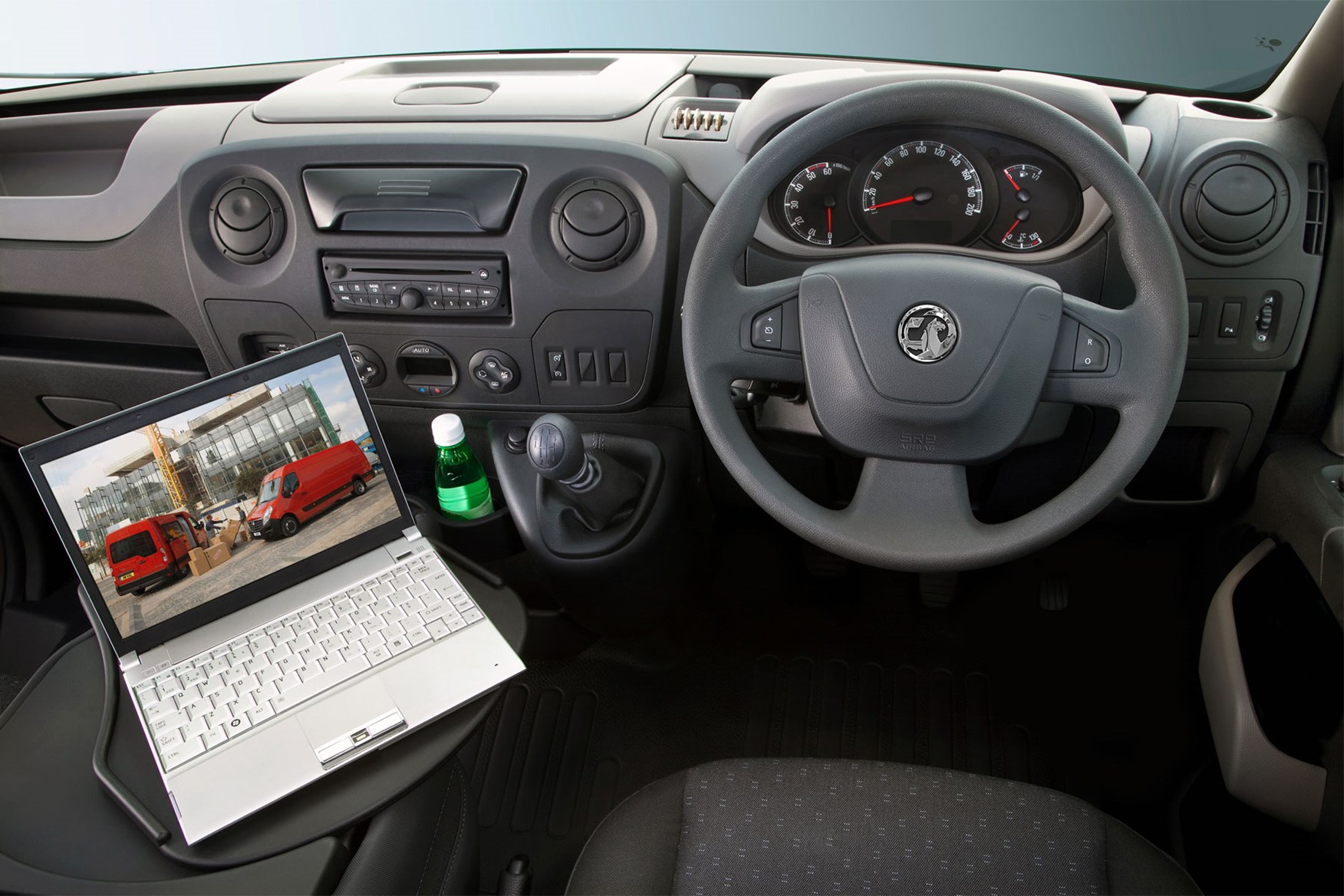 For the 2019 facelift, however, things inside the cab are substantially improved. The dashboard design (below) is neater and more modern, with higher-quality materials, but retains a useful amount on-board storage.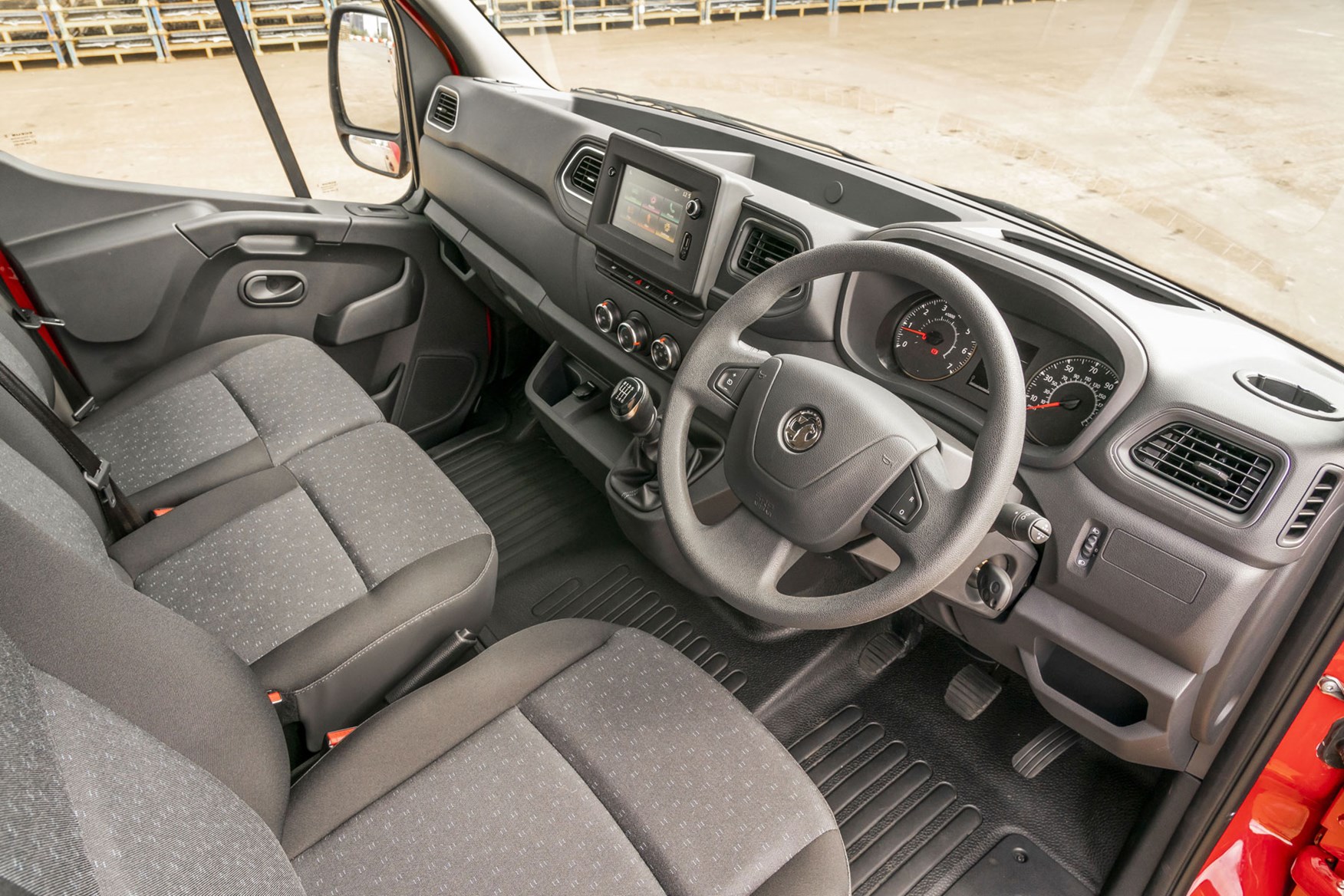 Feature such as the split door bins and the wide-angle mirror in the passenger sun visor, intended to help with blindspots, seem very well thought out.
Shame, then, that the steering wheel still only adjusts for height and not for reach, meaning you may have to compromise you preferred driving position a little to safely hold on to it. There is plenty of adjustment in the seats to help with this, but the wheel's position is fundamentally rather flat and bus-like, which comes across as very old-fashioned compared with more modern rivals.
Technology upgrades for the Movano
The touchscreen for the fancier infotainment system options is now part of the dashboard – on previous models it was sometimes located in a ceiling pod where the rear view mirror would be in a regular car.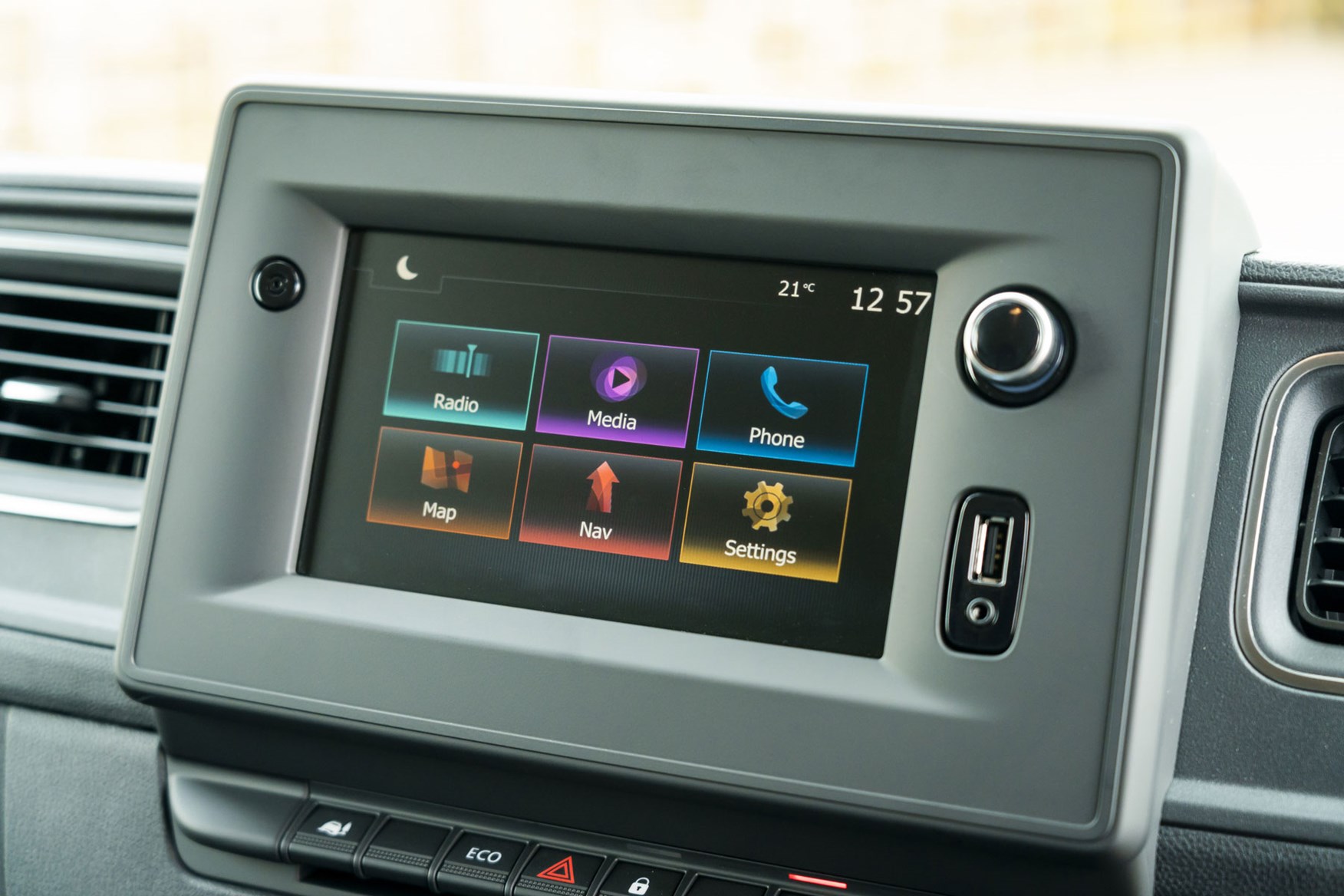 That space is now optionally occupied by a permanent rear view camera, if you're prepared to pay the extra for it. A very useful feature in a large van which otherwise has rear visibility limited to the door mirrors, this has reasonable screen resolution and we found it easy to get used to – unlike the blindspot cameras now available on some small vans.
Left-hand drive models also benefit from a new sandwich shelf and drawer-like glovebox. Sadly these are incompatible with right-hand drive, so we have to make do with a rather compact conventional glovebox instead.
Fuel economy acceptable but not outstanding
Warranty and servicing intervals starting to look average
Vauxhall is in the midst of switching between the pre- and post- facelift models at the time of writing (September 2019), so some we'll return to this with full standard equipment details later. The situation with the official claimed fuel economy is also slightly confusing at the moment, as we'll explain.
Vauxhall Movano mpg
The revised 2.3-litre BiTurbo engines in the 2019 facelift Movano are up to 17% more fuel efficient than the models they replace. Leading the way is the 150hp front-wheel drive model, which where start-stop is fitted (it's not standard across the range), claims up to 48.4mpg.
Least efficient at the time of writing is the 145hp rear-wheel drive model, which has a claimed figure of 31.4mpg – though we're still waiting on details of the 165hp versions, which will probably be worse.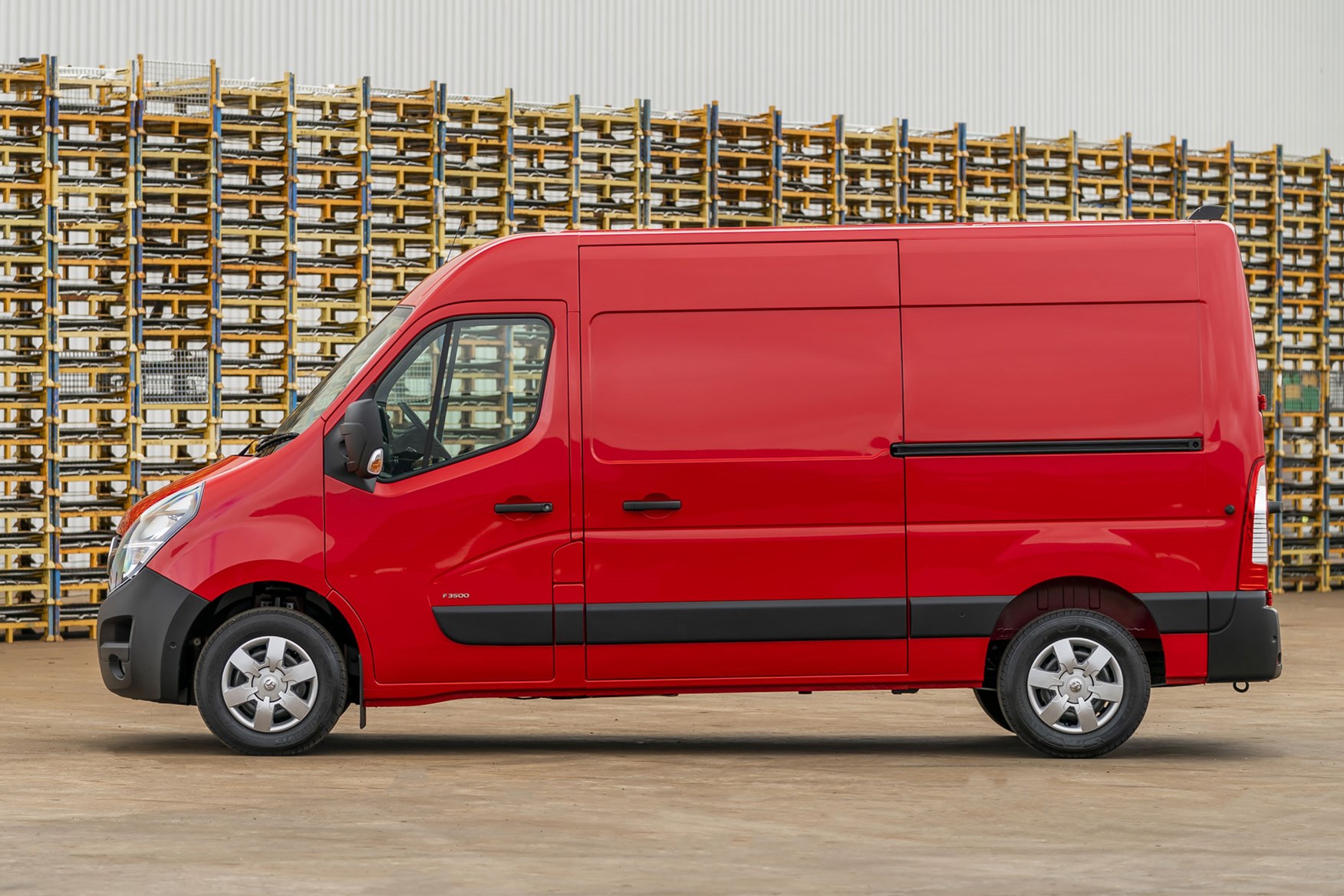 As for the confusion noted above, well in addition to change in emissions standards, September 2019 brings a change to the way that some van fuel economy figures are measured.
So called 'light duty' models – which includes front-wheel drive Movanos – now have to be tested using a new WLTP process, which is supposed to better reflect real-world driving.
However, 'heavy duty' models – including rear-wheel drive Movanos – can still use the older NEDC test, which gives less realistic figures that appear higher on paper.
Because of this mix of figures, some van makers – including Vauxhall – are choosing to still provide NEDC-equivalent figures for light duty vehicles for the sake of comparison.
All of which means you should continue to take the official fuel economy figures with a large pinch of salt.
Vauxhall Movano warranty
All Vauxhall vans are covered by a three-year, 100,000-mile warranty; some older Movanos were offered with a four-year warranty, but the current range is back to three.
That's a pretty average offering by modern standards – the more premium large van rivals from Mercedes and VW now have unlimited mileage coverage over three years.
Vauxhall Movano servicing intervals
The Movano's service intervals are every two years or 25,000 miles.
Not bad, but some large vans now claims to go beyond 30,000 miles between dealer visits.
Vauxhall Movano standard equipment
As of the model year 2020 facelift (on sale from September 2019) these are the highlight items of standard equipment:
Height-adjustable driver's seat with single armrest
USB and Bluetooth connectivity
Steering column-mounted audio controls
Driver's airbag
Hill-start assist
Crosswind assist
Automatic lights and wipers
Remote locking
Immobiliser
ECO gearshift indicator
Full bulkhed
Sliding side door on passenger side
Illuminated load area
As you can see, it's not a huge amount of cutting-edge stuff, which helps keep the basic price down. There is an extensive options list to help you build a suitable van.
Strong engines, should last well
Impressively few recalls speaks of good build quality
The Movano has a good reputation for reliability – the 2.3-litre engines are chain driven and generally considered to be pretty tough, and the vehicle has been engineered for a 250,000-mile service life.
Oil change intervals are 25,000 miles, while coolant should last 100,000 miles. Brakes and clutches tend to be tough and long-lasting, too.
There have, however, been reports of gearbox faults. Listen hard for whining noises if buying used. As with most vans, emissions control technology can be troublesome, as can injectors. Keep up with the proper service intervals, though, and this is a van that should last a long while.
Vauxhall Movano official recalls
For a van that's been around since 2010, it's impressive to note there have been very few official recalls.
Manufacturing problems that have required fixing including issues with the on-board diagnostics system, a problem with the fuel filter strap and an incorrectly tightened rear suspension component (only 20 Movanos had this issue).
Most serious was a problem with the steering column, which caused Vauxhall to issue an advisory to not drive the vans involved. There were only 160 of these, and they should have all been fixed by now.
If buying used, do make sure all the recall work on any vehicle you're considering has been properly carried out (there is no charge for recall work).
Safety kit improved for model year 2020
Crosswind assist, auto lights, auto wipers as standard
Most active driver aids are still optional, however
At launch in 2010, the Movano didn't even have electronic stability control (ESC) as standard across the entire range. This changed in 2014 when it was finally added to front-wheel drive models, but one of the major points of the 2019 facelift was to upgrade this big van's safety credentials.
Vauxhall Movano safety
All model year 2020 facelift panel van models feature not only ESC but side-wind assistance, which automatically counteracts crosswinds to help the vehicle continue to go where the driver is pointing it, even in blustery conditions.
As you'd expect, you also get a driver's airbag (a passenger airbag is optional), while automatic light and wipers, hill-start assist, a full bulkhead, large blindspot mirror in the passenger sunvisor, and advanced braking electronics are also part of the standard spec.
Autonomous emergency braking is only standard on vehicles at the higher 4.5-tonne (4,500kg) gross vehicle weight, however, which is a shame.
Optional safety equipment includes automatic high-beam assist, lane-departure warning (not terribly consistent in our experience), blindspot monitors, parking sensors, parking cameras and the innovative permanent rear-view camera.
Cruise control and an adjustable speed limiter are available as well.
NOT recommended by Euro NCAP
The Movano is one of five vans that Euro NCAP is not recommending to buyers following the launch of the crash-testing body's van safety campaign in December 2020.
To be clear, this is not because it performs poorly when crashed, but rather based on the lack availability of modern active safety aids.
Vauxhall Movano security
All Movanos get remote locking with selectable door opening (meaning you can unlock the cab without unlocking the load area, and vice versa) and a immobiliser.
An alarm system is an optional extra, however.
Which Vauxhall Movano (10-21) is best for me?
There are so many Movano variants, not mention options for conversions, that it shouldn't be difficult to find one that suits your needs.
As we've already discussed, this van is ideal for work requiring high payload capacity, although it isn't as comfortable to drive long distances as more modern rivals.
We would suggest avoiding the early 100hp entry-level engines if you can, as these can quickly start to feel strained when loaded, resulting in poor fuel economy. These days the basic 130hp and 135hp models have more power than the original middle-spec versions, so that's not such a problem any more.
The most rounded choice is the latest mid-range offerings – with 150hp in FWD guise or 145hp in RWD guise.
If buying used, remember that the FWD Movanos did not have electronic stability control until 2014.
---

Individual model reviews
For your further info, we have the follwing Movano individual model reviews:
Vauxhall Movano L2H2 150hp FWD review
Tested in January 2020 by Gareth Evans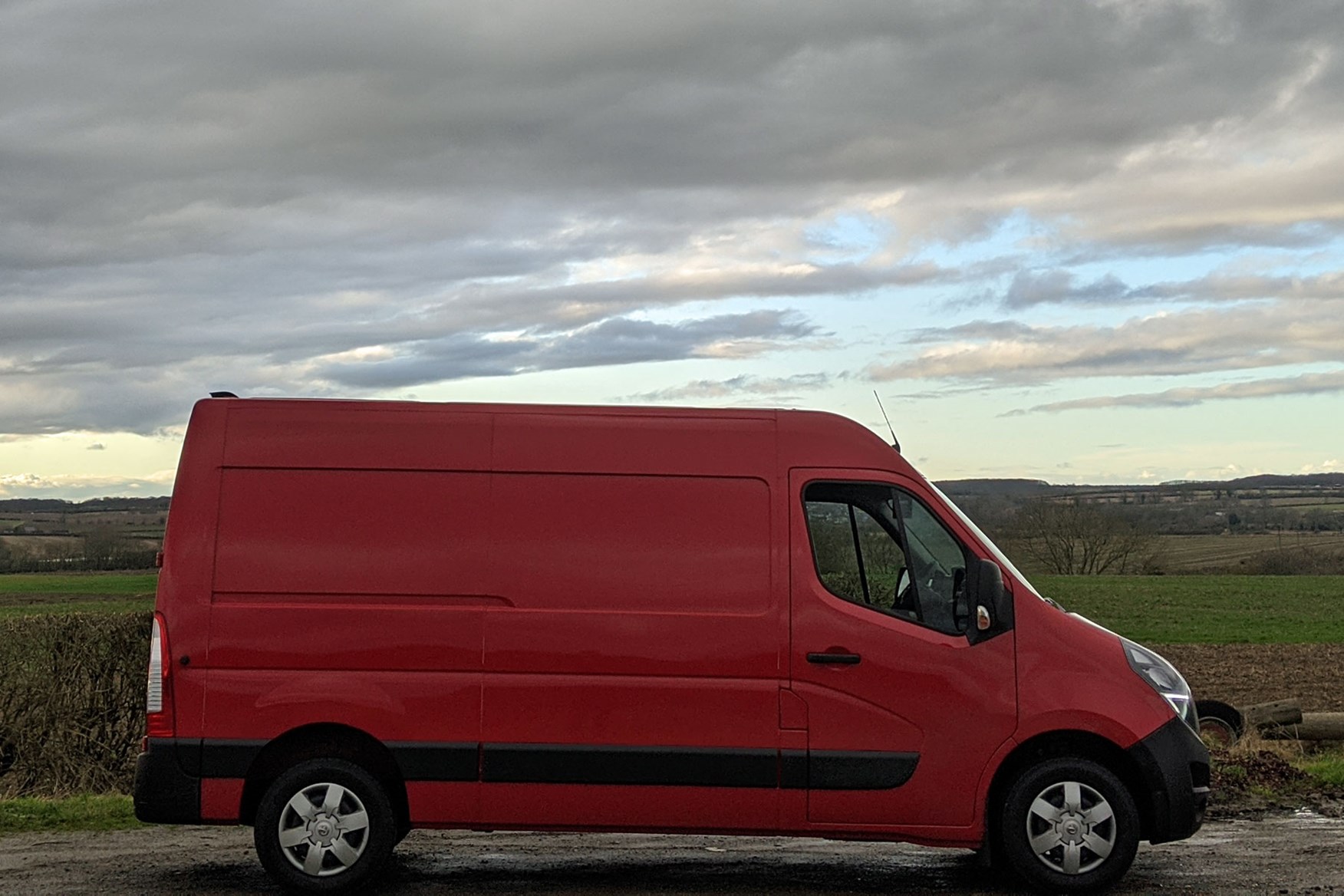 First extended test of facelifted Movano
Old van but it still works very well
Lots of the new kit featured here
A house move meant I had a solid case to test a new van, and the one that fit the bill was this Vauxhall Movano L2H2 model with front-wheel drive. It's got a 2.3-litre twin-turbo diesel motor, Poppy Red paint and a gargantuan load area.
First impressions: Movano style
Climb aboard this Movano and the first impression is of a smart cab design laid out intuitively, with the typical commercial-style finishing (hard-wearing, functional but not particularly exciting) and some interesting features that help the £34,830 list price stand up.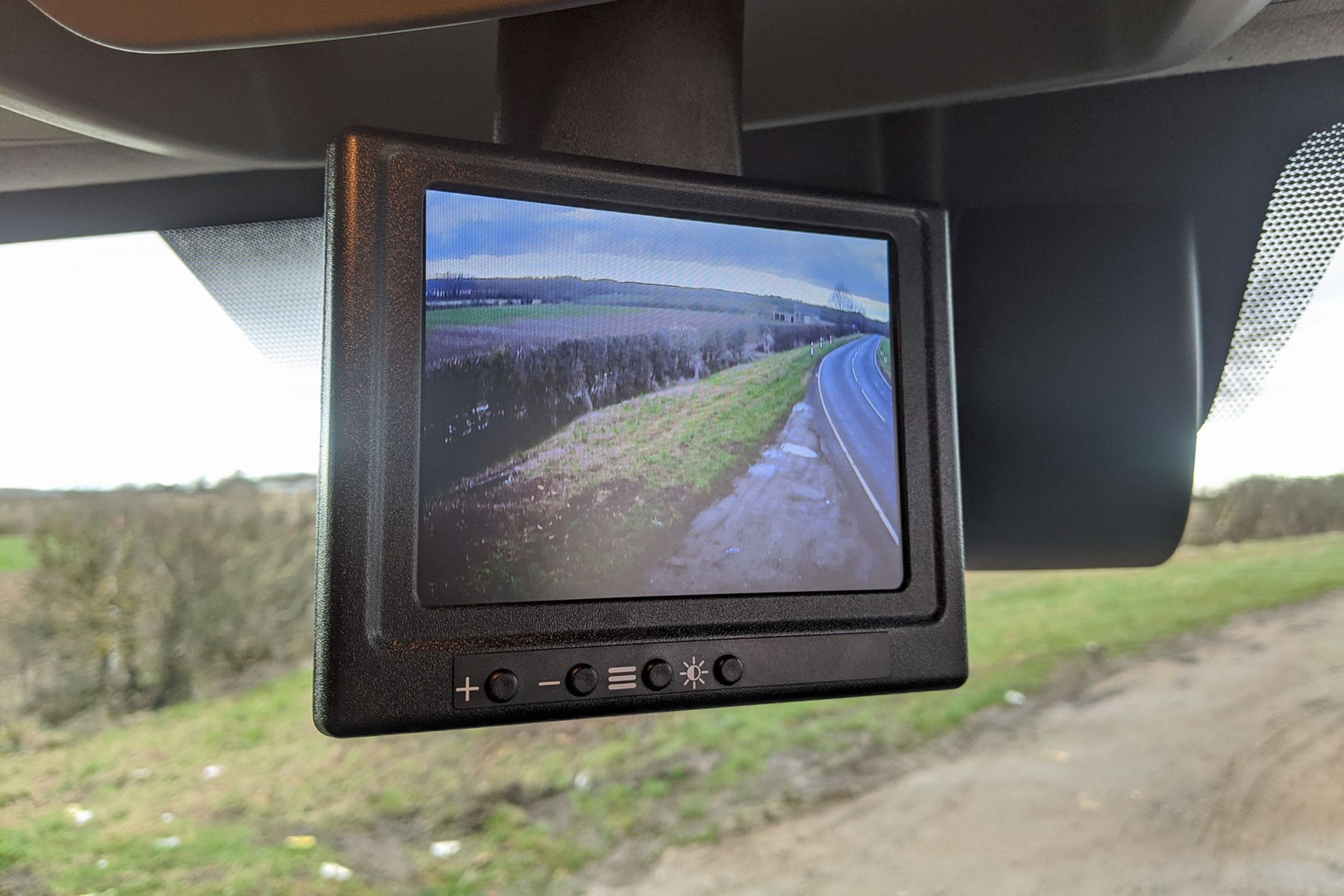 Most notable of these is the permanent rear-view camera, which hangs from the spot you'd expect an interior mirror to be on a vehicle with back windows. This £850 option, coupled with the acoustic parking sensors, changes the entire game when backing this van into or out of a tight space. Its view is wide-angled and shows everything you need to see behind the Movano when reversing. It wasn't long before I was happily taking it into supermarket car parks, but beware that tall body – it won't fit under some lesser height restrictions and you can forget about a multistorey car park.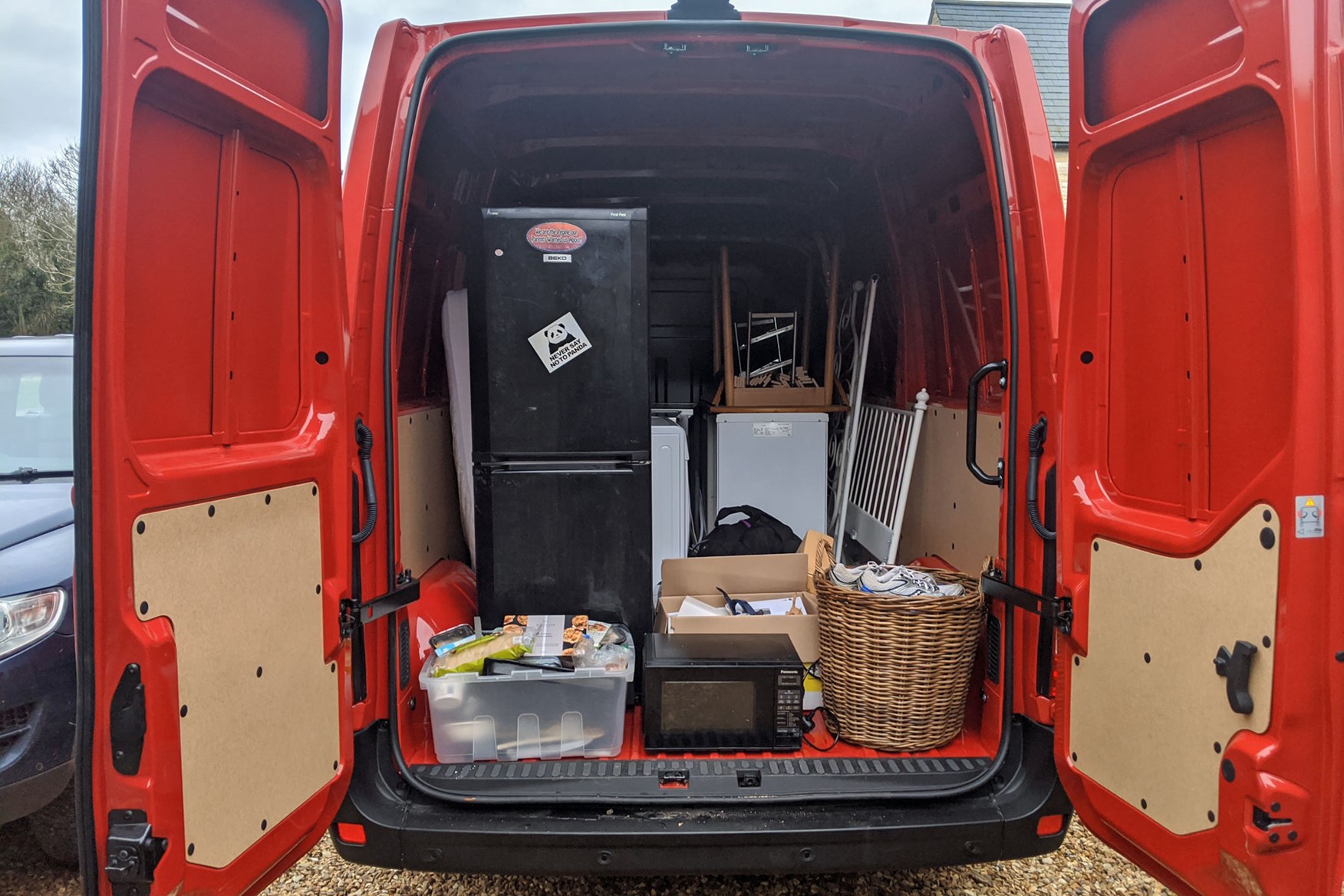 But it's big for a reason: carrying loads. And what a fine job it does. The 10.8-cubic-metre load area fits a huge amount inside. Take the image above – during my house move I easily fitted the following into a single load:
One fridge-freezer
Two under-counter freezers
One under-counter fridge
A washing machine
A dishwasher
A tumble-drier
A bed
Plus a bunch of other detritus piled around the edges. I found the rear doors helpfully light but reassuringly solid, and their 90-degree locking function helped loading the van in a tight spot with vehicles alongside. They'll open the full 180 degrees if needed.
I was glad of the interior load bay lighting, too, given my odd choice to move house in early January.
What's the latest 2.3-litre CDTi engine like in the Movano L2H2?
In a word, it's brilliant. I was extremely impressed with the flexibility and punch of this engine. Its torque is delivered so early in the rev range and for so much of it, that you don't need to operate the six-speed manual gearbox much at all. It'll easily take off in second gear, and reaches 60mph with no issues whatsoever – even when packed to the gunwales with all my stuff. Unusually, the gearshift indicator appears to tell you when to shift for the best torque, rather than best economy, meaning this van doesn't feel like it's nannying you, but working with you.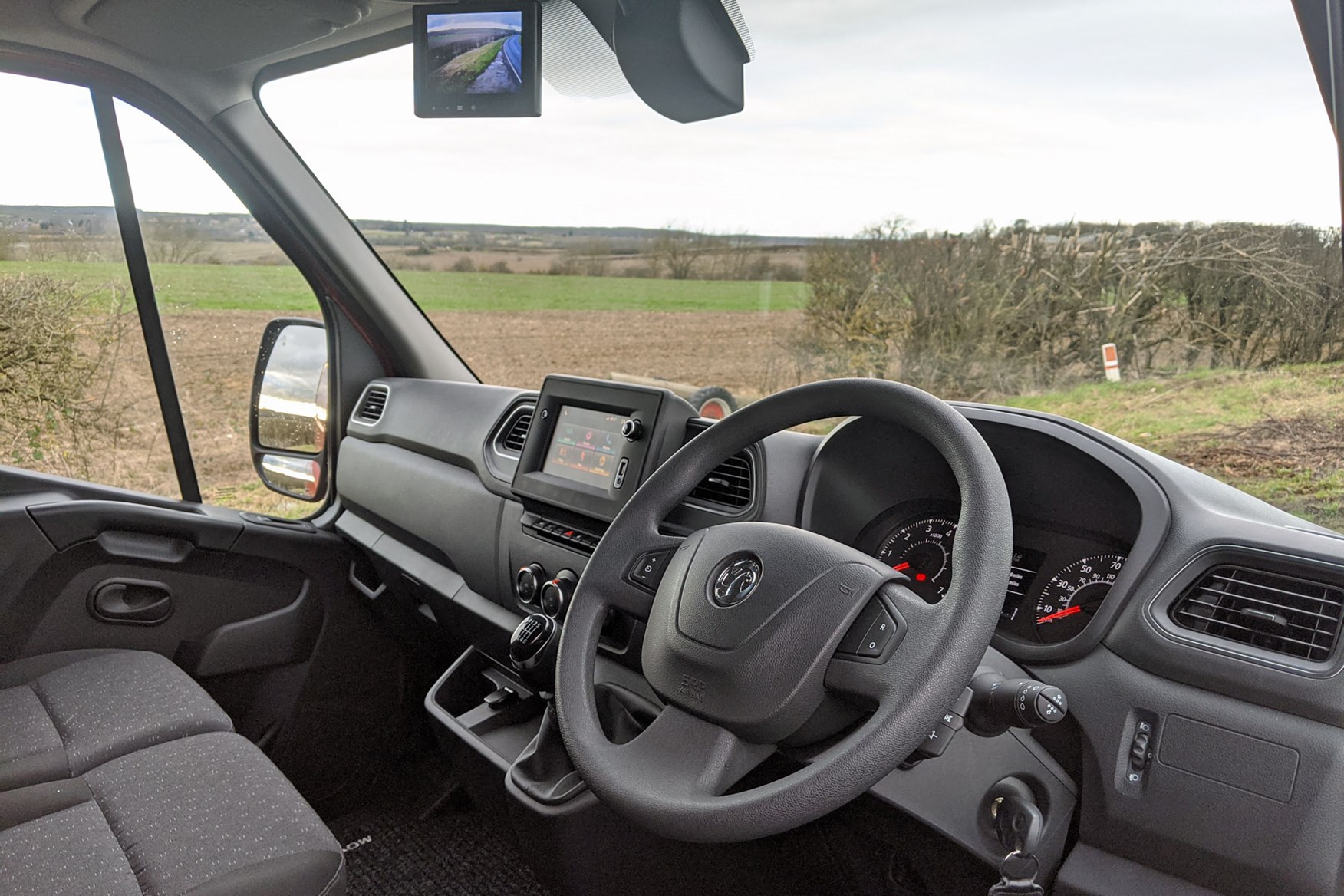 I saw nowhere near the 47.8mpg claimed fuel economy, but then I didn't take the van on anything resembling an extended run. Most of the use was short-distance stuff, and that's never ideal for mpg. My resulting 30-ish tally wasn't too bad with that in mind.
The placement of the gearlever itself was great too, and the upright driving position affords a commanding view of proceedings around you. The large mirrors (wide-angled on the driver's side) provide excellent visibility, particularly for parking, and there's a nearside mirror hidden in the passenger sunvisor should you need it, too.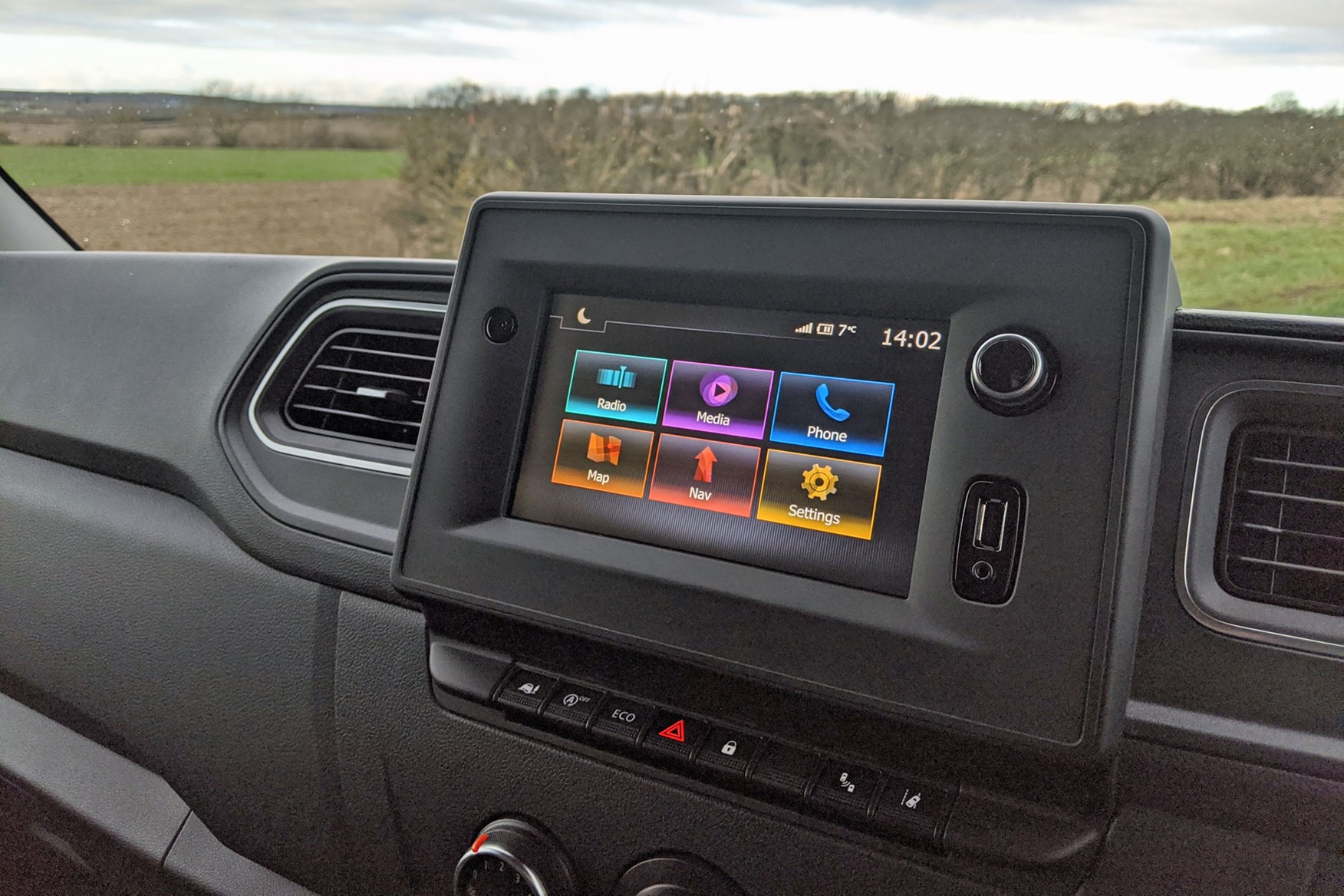 This test vehicle was specified with the £760 Navi Pro sat-nav and multimedia system, which appeared to do a great job of most things once I'd activated Android Auto and its myriad useful features. Without this, the graphics looked dated but the screen responsive and processor quick enough for the job.
Should I buy one?
In all, I was very impressed with this large van from Luton. It went over and above my expectations, which is something Vauxhall as a company has been doing relatively regularly of recent years. Here's hoping it continues under the new reign of Peugeot-Citroen, though with that alliance's enviable record in the commercial vehicle sector, there's no reason to expect otherwise.
---
Vauxhall Movano 145hp L3H2 FWD review (pre-facelift)
Tested in April 2017 by Christofer Lloyd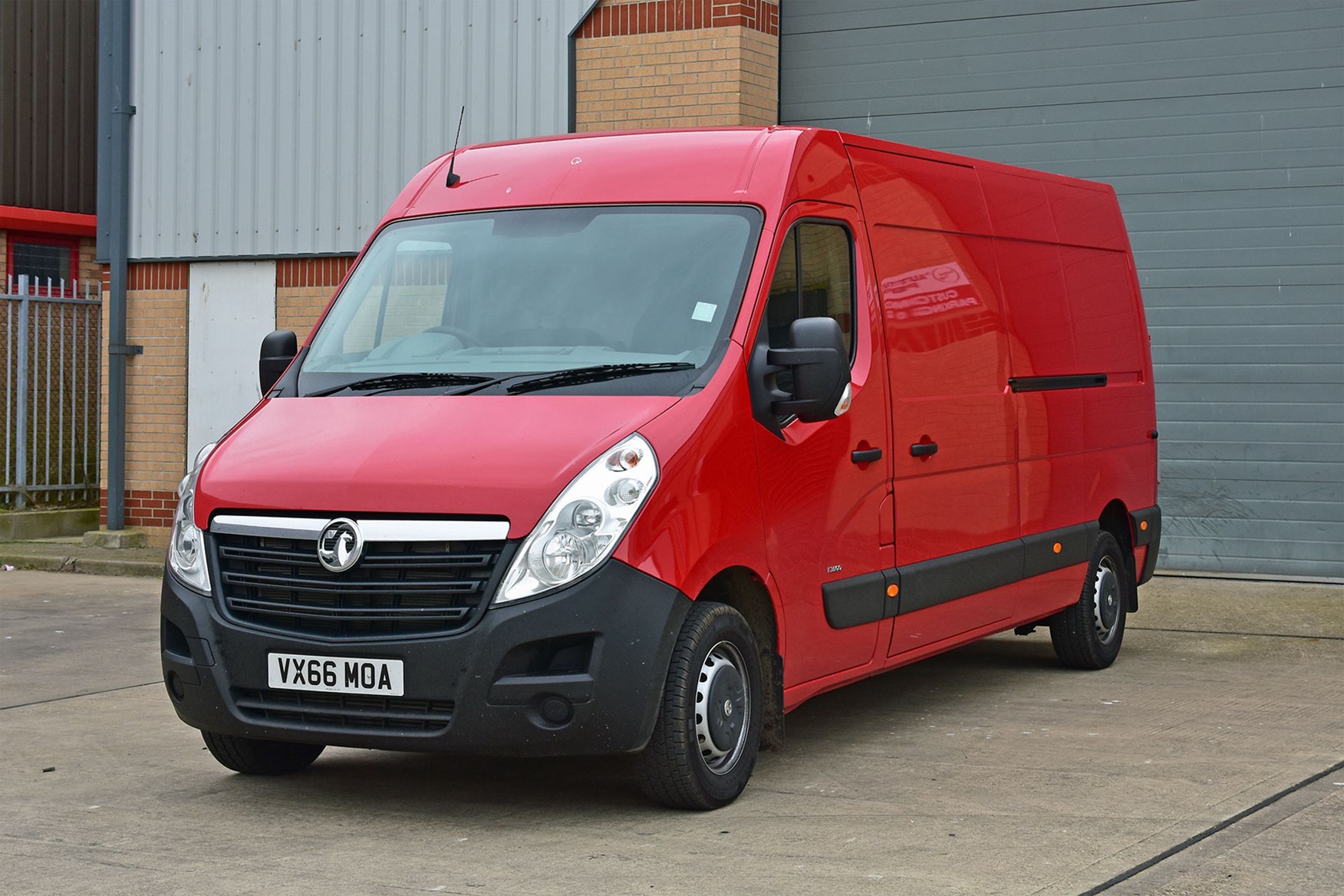 One of the best blends of size and payload
Powerful twin-turbo engine impresses
Capable and confident driving experience
Drivers after the biggest 3.5-tonne van capable of carrying the heaviest load have a tough decision to make. The bigger the van, the heavier it is, reducing lugging ability, so do you prioritise space or weight?
The Vauxhall Movano L3H2, however, offers a good balance between both, capable of hauling 1,485kg while offering up 13 cubic metres (459 cubic feet) of volume.
More than this, it packs a twin-turbocharged 2.3-litre diesel engine that should be able to cope with a full load, and providing it with impressively car-like speed away from traffic lights. Claimed economy is beaten by several similarly sized vans, however, at just 39.2mpg, compared with 44.1mpg for the slightly less powerful Peugeot Boxer.
Huge 3.7m-long load area with 1,485kg payload
In L3 H2 form, this is the second largest front-wheel drive Movano panel van you can get, with just the slightly taller L3 H3 offering more volume; though that version does gain a substantial 1.8 cubic metres extra with just 40kg slashed from the payload.
As this additional space is all above the roofline of our test van, it's likely to be superfluous to many drivers, however, making our test Movano one of the most useful versions to slot below the 3.5-tonne gross vehicle weight mark.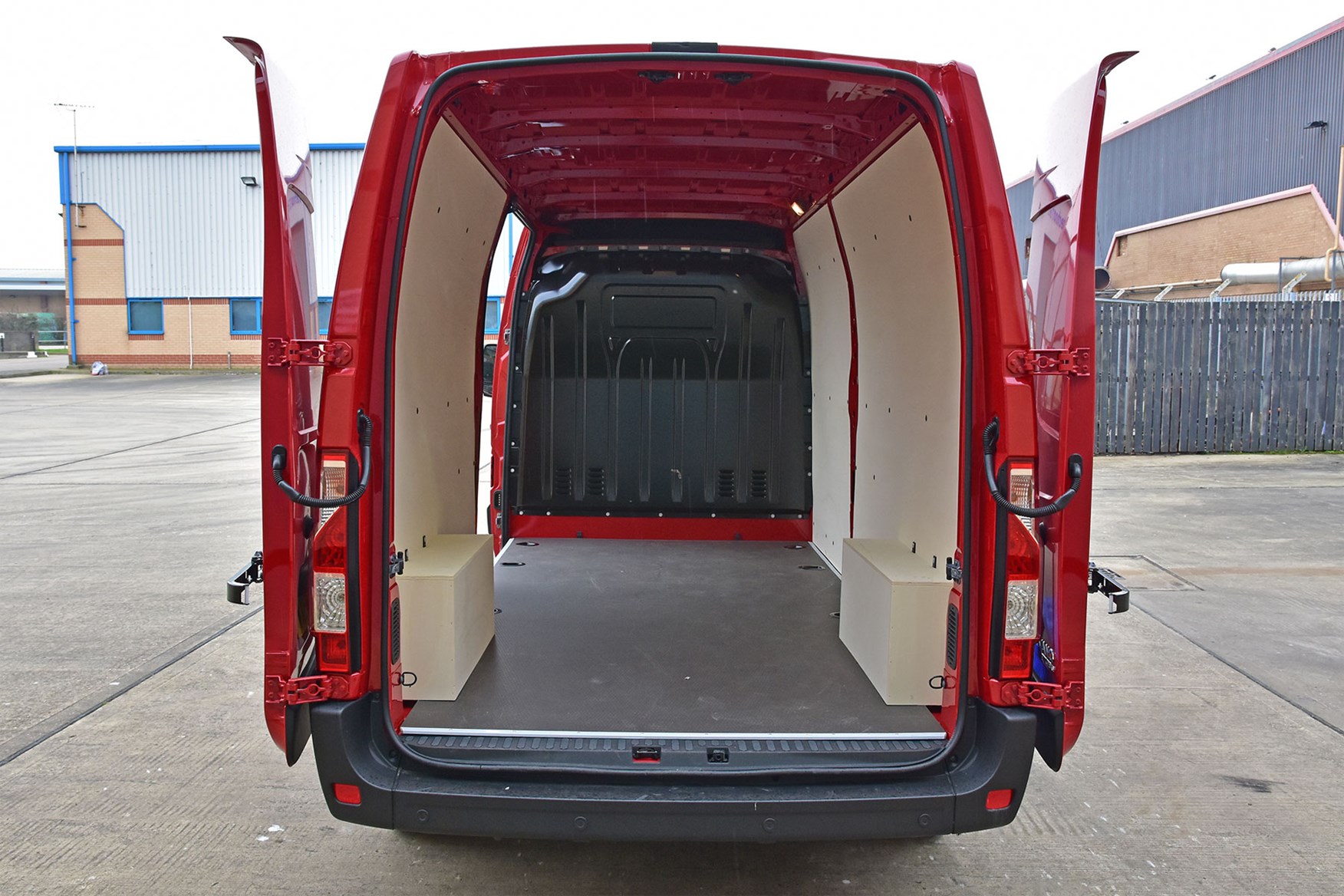 With a full-height sliding door on the left hand side, and doors that fold back and magnetically latch to the side of the van – plus flat-topped wheel arches and lashing points along the edges of the floor – nearly all of this volume is useful. The completely flat floor makes loading heavy items and sliding them around much easier, too.
With more than 3.7m length to play with, loading long items shouldn't be an issue, the load area is narrower than some similarly sized rivals, though, with 10cm less width than the Peugeot Boxer, for instance.
We also found that the side door didn't always hold itself open as easily as we'd like, sliding back on us, though the ability to pin the rear doors to the side of the van very quickly is a bonus.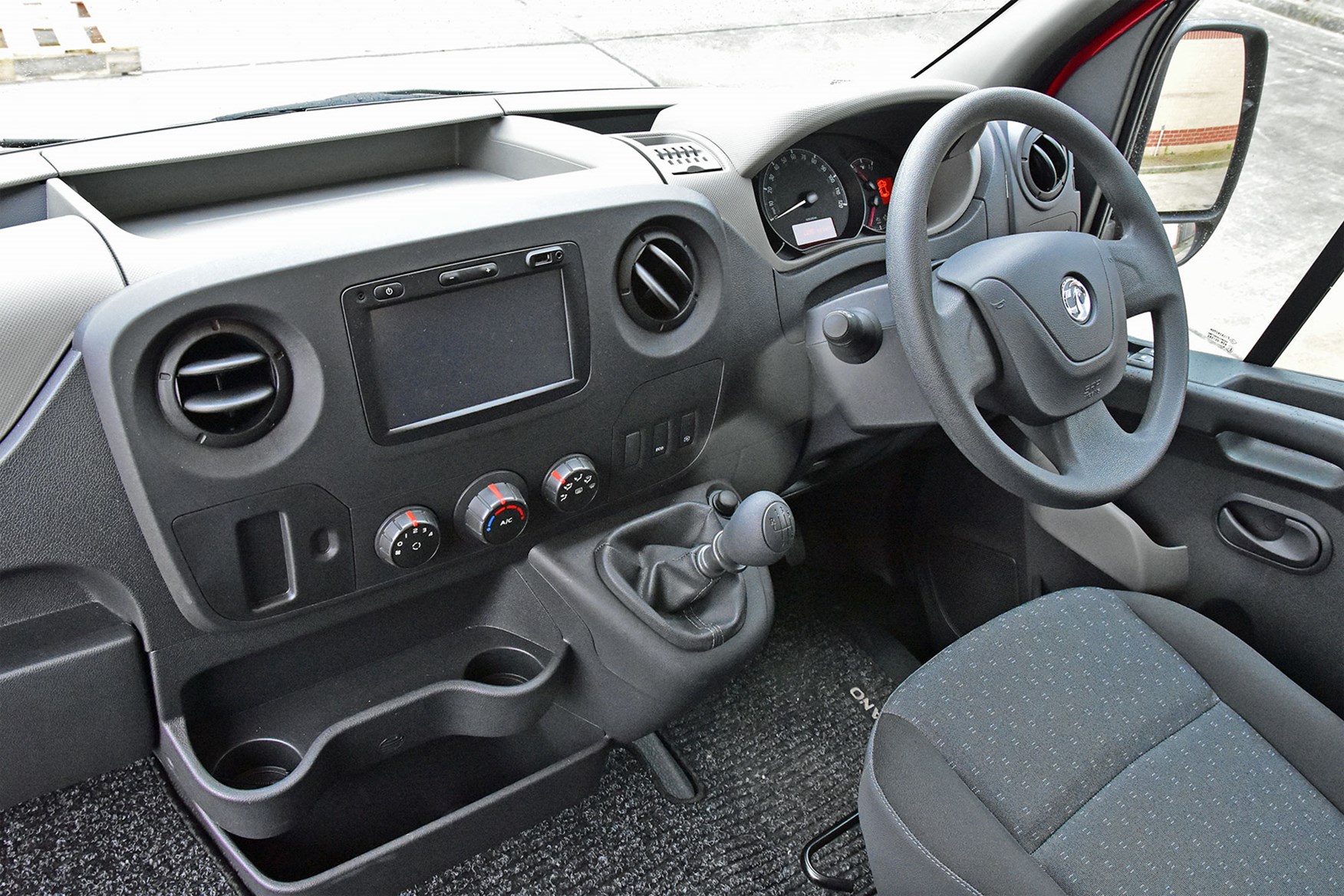 The front two passenger seats fold up, too, with a useful space underneath for keeping valuable tools out of sight or hiding a kit bag.
Punchy engine and comfortable ride – laden or unladen
With 145hp on tap, this Movano sits slap bang in the middle of the engine range, with 110hp to 170hp models available. This figure doesn't do justice to the amount of low-down muscle the engine offers; 360Nm of torque and an engine clearly optimised for use in a van means that the Movano pulls surprisingly hard from barely above idle.
Work the engine too hard and the power tails off quickly as the engine speed rises, but it feels well suited to a van of this size and weight and the slick gear change means that this Movano is surprisingly fast. Overtaking on single carriageway roads is easier than you'd expect with performance on a par with many diesel hatchbacks.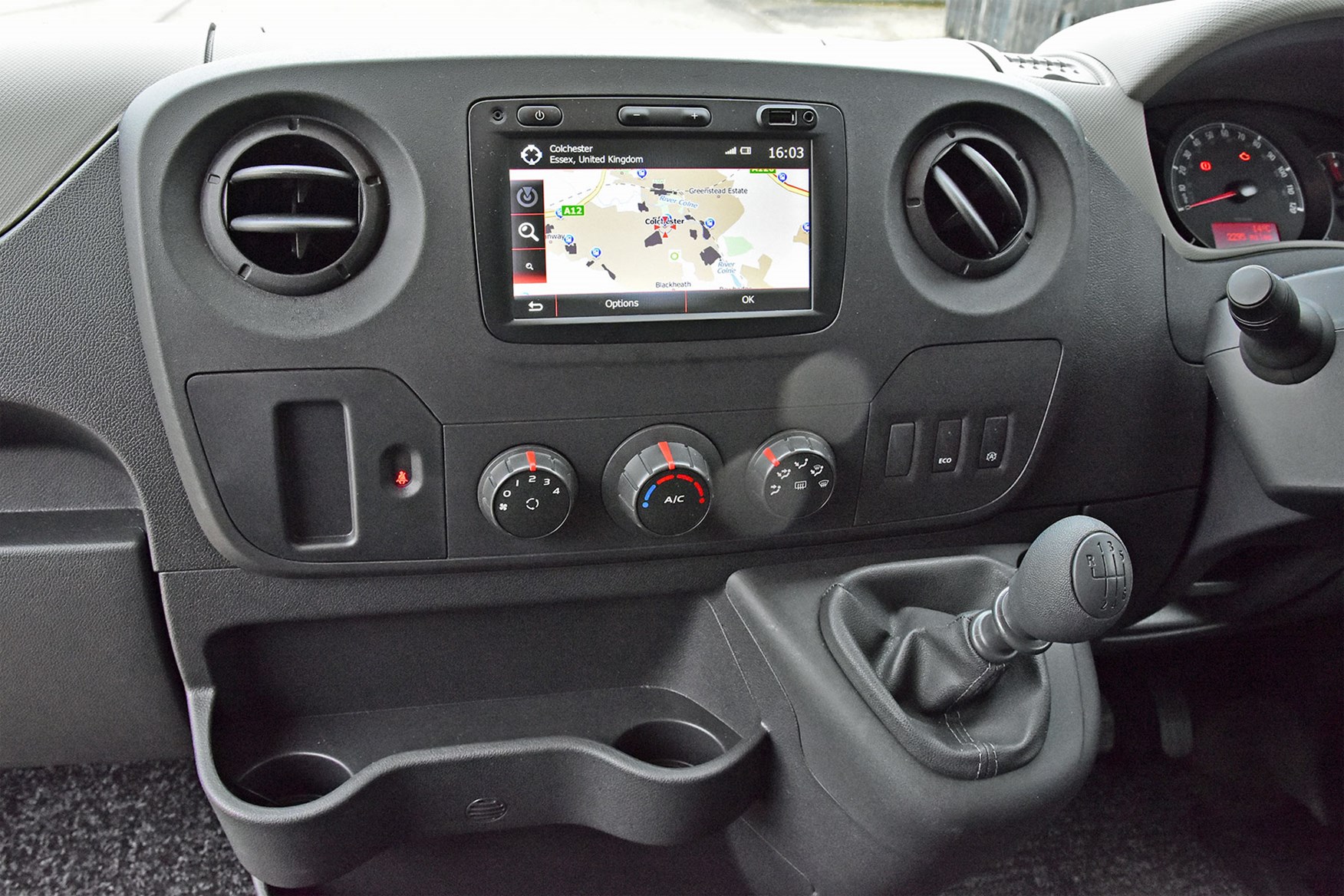 Thankfully the Movano takes corners better than expected, too, with the oversized wing mirrors adding to the feeling of confidence you get behind the wheel by giving a very good view behind. Similarly, the brakes are sufficiently strong for a van of this size and the steering quite precise for a van. The tall body does mean that the Movano gets blown off course a little when passing lorries, though that's par for the course with this size of van. Handily, our test van included rear parking sensors, which make judging the rear of this van far easier.
When empty the Movano does prove a little firm over bumps in the road, though it's hardly uncomfortable even then. The ride improves dramatically with just a bit of weight added, too, making this version impressively comfortable for a large van.
The driver's seat is also more comfortable than many vans, with good back support and folding armrests, which make long journeys much more tolerable.
Basic cabin with reasonable media system
While the Movano feels car-like in the way it drives, the interior doesn't make any attempts to do the same; the materials feel very cheap, but should live up to a life of abuse. More problematic, the media system isn't the easiest to reach from the driver's seat.
There are no steering wheel-mounted controls, with just a stalk with audio and phone controls on mounted behind the wheel. The media system also isn't the most user friendly and the screen isn't very responsive, though it's adequate for a van.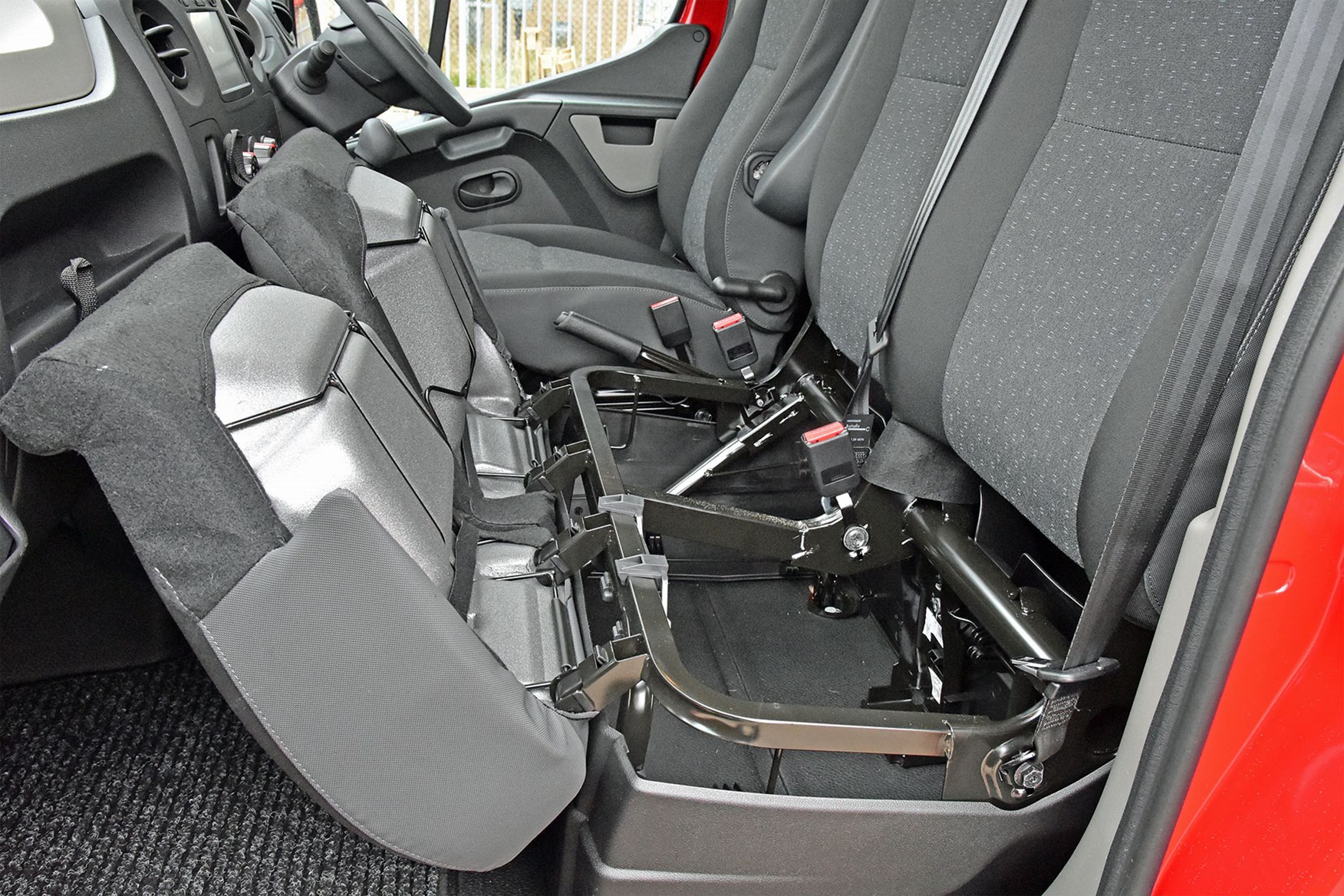 The Movano also features a number of storage cubbies scattered around the cabin, with storage in the doors, on the dashboard and centre console. Many of these aren't the most useful, with nowhere obvious to store a phone securely, for instance. You do get two cigarette lighters and a USB input, however, meaning that there are several options for charging devices.
Should I buy one?
This Movano manages to offer a huge load area and payload, while proving surprisingly sharp to drive. The engine is also impressively strong – whether loaded up or not. We found it particularly comfortable, too, making it a very easy van to live with.
The interior may be drab, but this is hardly out of the ordinary for a van, though a few of the cubby holes could have been better thought out for securely storing phones and bottles of different sizes, for instance. Claimed economy also lags behind several rivals.
However, as a van that is hugely practical while remaining safe and engaging to drive, the Vauxhall Movano should prove a safe bet.