Volkswagen Caddy review (2015-on)
Stylish, well-built and holds its value very well
PROS
Build quality
Powerful engines
Safety systems
Residual values
CONS
Expensive
Too similar to previous generation?
Won't fit a Euro-pallet sideways
Harsh ride
Summary
Over its previous three generations, the VW Caddy has been highly regarded for its build quality, strong residual values - meaning it's still worth lots when you come to sell it - and its general comfort.
Areas where the Caddy van traditionally struggled, such as fuel economy, have been dramatically improved on this fourth-generation model, which leaves very little to fault.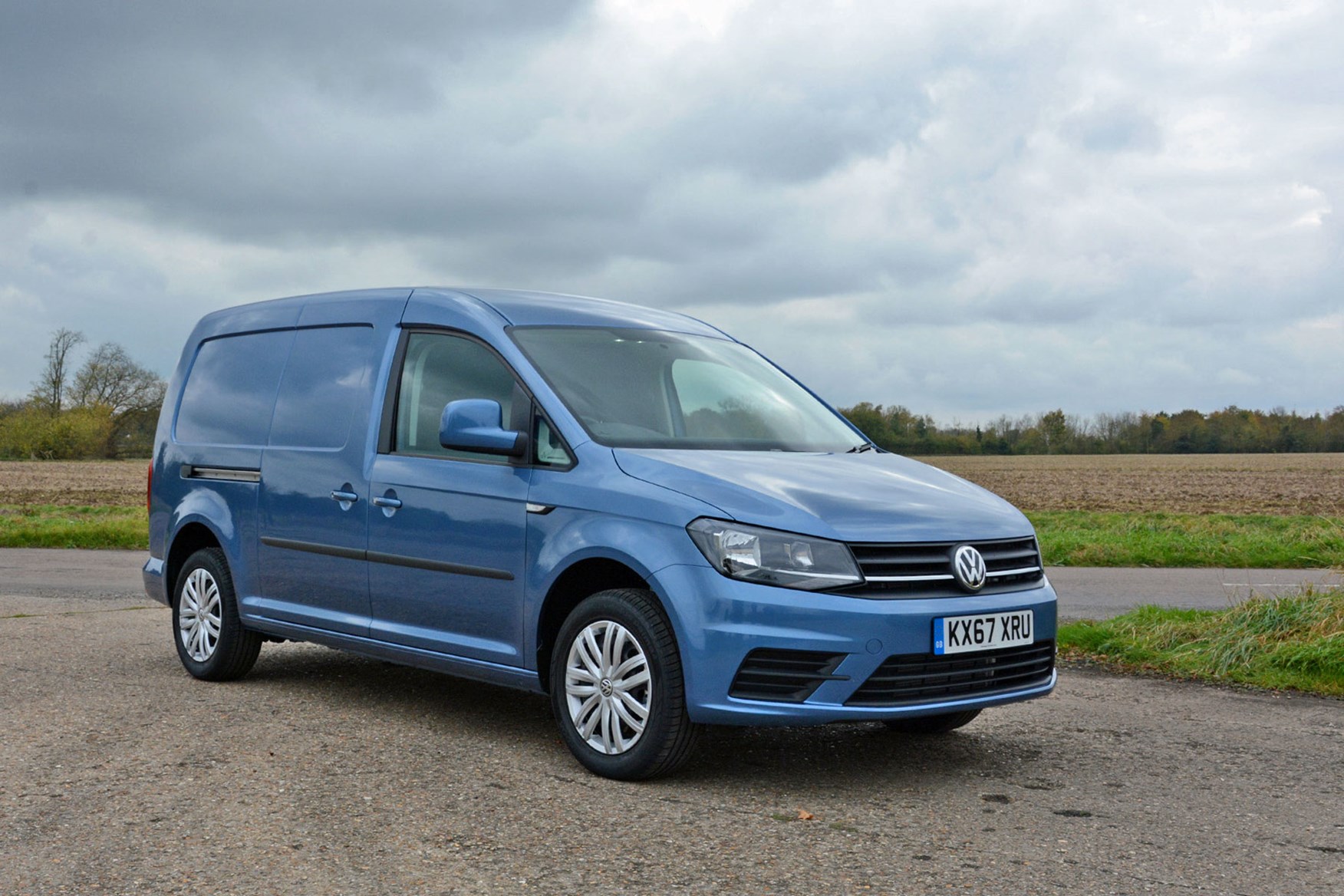 Payload has also been boosted, with three versions able to carry as much as 811kg - although the Caddy still can't compete with the best load-luggers in the small van sector, which now carry over a tonne.
>> Read more: best small vans for payload
Like most rival small vans, the Caddy comes in two wheelbases, the regular Caddy and the longer Caddy Maxi - with the latter matching the best in the segment for overall load volume.
VW e-Caddy electric van on sale in 2019
The most recent development for the Caddy range is the news that an electric version called the e-Caddy will be going on sale in the UK in mid-2019.
Built on Volkswagen's behalf by electrification (and racing) specialists ABT, the e-Caddy promises a claimed 160-mile range and is powered by an 111hp electric motor.
>> More info about the VW e-Caddy
Equipment and safety upgrade in 2017
Safety levels were further improved when VW added autonomous emergency braking (AEB) technology as a standard feature on all Caddys sold in the UK from June 2017 as part of an industry-first range-wide upgrade of its van line-up.
Standard equipment was increased at the same time as part of a so-called 2018 model year update, with the notable addition of air-con on mid-spec Trendline models and sat-nav on top-spec Highline..
VW Caddy engine choice
Engine choice is wide, with no less than three petrol options offering 84-125hp in addition to the usual diesel norm.
Following the shift to Euro 6 emissions regulations, every diesel engine is a 2.0-litre unit now, too - upsizing from initially offered 1.6-litre models in some cases yet providing greater fuel economy and lower emissions.
Despite the common capacity, diesel output is even broader, ranging from 75hp to 150hp. More powerful Caddys are optionally available with a DSG automatic transmission in place of the standard manual gearbox.
Read on to find out more about the Volkswagen Caddy and Volkswagen Caddy Maxi in this full Parkers Vans review.
Alternatively, check out these individual reviews of specific VW Caddy models:
Skip to our full verdict on...
This generation of Caddy launched with both Euro 5 and Euro 6 turbodiesel engines, with the former - mostly 1.6-litre diesels - phased out by September 2016.
Only the larger 2.0-litre TDI diesels carried over as Euro 6 engines; with slightly adjusted power and torque ratings of:
75hp / 225Nm
102hp / 250Nm
150hp / 340Nm
There were no petrol engines at launch, but VW subsequently introduced three options for those looking to reduce their NOx and particulate emissions:
1.2 TSI with 84hp / 160Nm

1.0 TSI with 102hp / 175Nm

1.4 TSI with 125hp / 220Nm
Yes, you read that right - the 1.0-litre petrol is more powerful than the 1.2-litre petrol. Every Caddy engine is turbocharged.
Lower power ratings are mated to a five-speed manual or six-speed automatic gearbox, while higher-powered engines is get a six-speed manual or seven-speed automatic.
What's the VW Caddy like to drive?
It's very difficult to fault the way the Caddy drives. All power ratings, including the entry level 75hp, are very responsive, and provide ample power and torque.
However, firm suspension that means the Caddy performs well into the corners also sees the cab take a lot of impact from speedbumps and potholes.
Still, the amount of noise perforating into the cab, both from the engine and road, has been noticeably reduced and makes the Caddy much more comfortable to drive. Though in versions without a solid bulkhead fitted you will still want to turn the radio up to drown everything else out.
While the hard plastics of the interior may lack flair and style, the interior of the Volkswagen Caddy is very smart, functional, and has a durable feel. Everything fits into place nicely, and there are no squeaks or rattles on the road.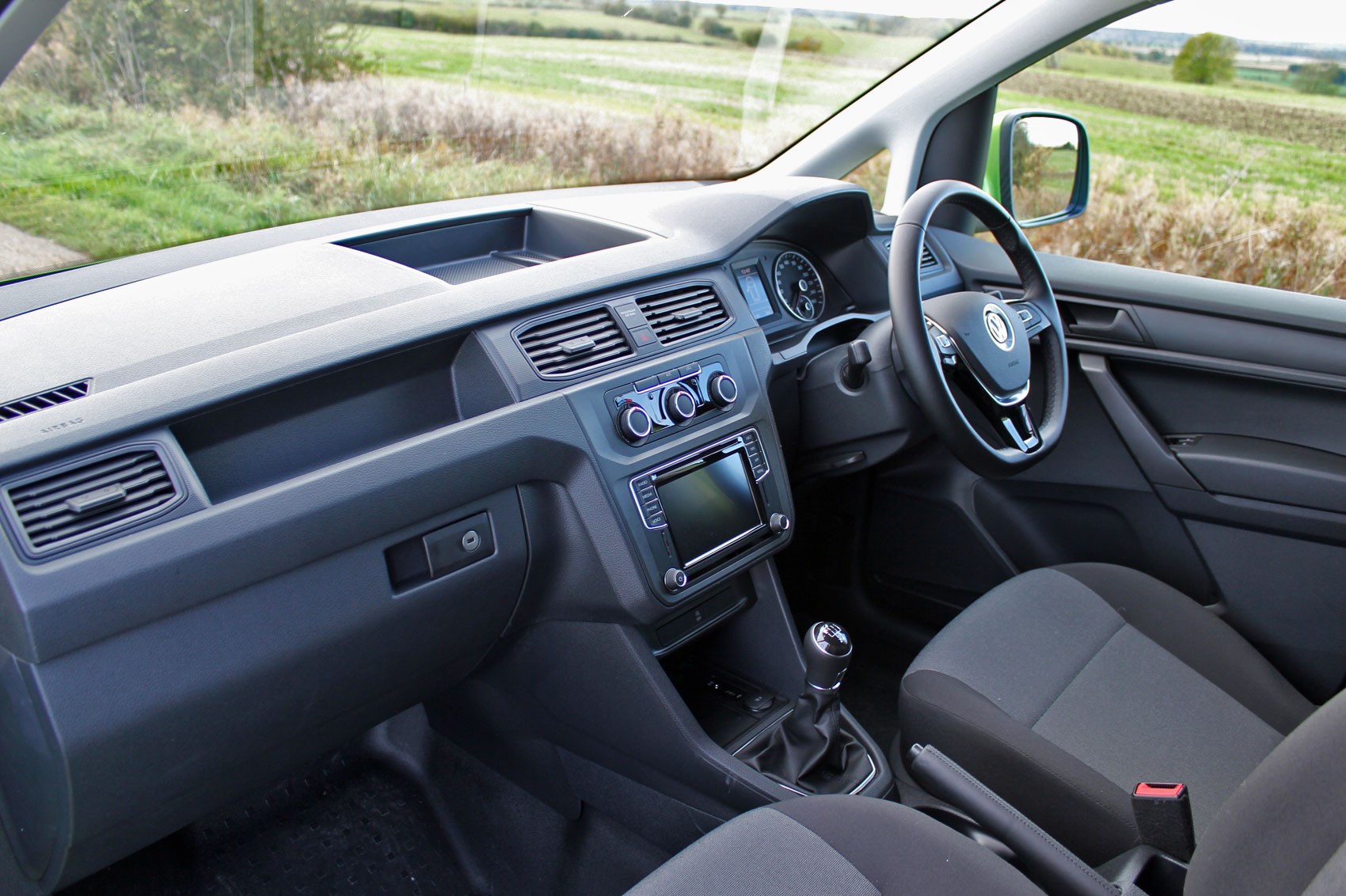 The cab is very accommodating, with a reach and rake adjustable steering wheel and three-way adjustable seat as standard. The infotainment system offers Bluetooth, USB and aux-in connectivity and comes with a 5.0-inch display.We were also impressed by the optional Discover Media system with satellite-navigation and 6.5-inch display.
The Caddy is not a cheap van to buy new or used, with customers prepared to pay for the quality that also keeps residual values high. These are typically the best in the small van market, so if you do buy new it should still work out cost-effective in the long run due to the amount it will still be worth second-hand.
Good fuel economy
The Caddy is also amongst the most fuel efficient small vans you can buy - currently ranking joint fourth in our full list of the most economical models.
Go for a BlueMotion version if you want the best possible mpg.
Euro 6 models do feature a 10-litre AdBlue tank, however. This will need to be refilled approximately every few thousand miles (the exact distance depending on the type of driving you do), adding - albeit modestly - to costs.
Click here to read the Parkers Vans list of the more economical small vans
Fixed-price servicing
VW offers fixed-price servicing plans on new and used models, helping you to manage the price of essential maintenance.
According to the FN50 Van Reliability Survey, the Volkswagen Caddy is the generally considered the most reliable van in its class.
Durability and high build quality have long been associated with the Caddy and Volkswagen Commercial Vehicle products in general, and helps keep residual values high.
For further peace of mind, however, VW launched a free MOT insurance scheme in May 2018, covering all qualifying vans and pickups up to 10 years old.
Safety is one of the Caddy's strongest areas.
Standard equipment includes a generous four airbags (many small van rivals only include one), electronic stability control, and an electronic differential lock to improve traction on slippery surfaces.
On top of that lot, all Caddys are fitted with a system called Automatic Post-Collision Braking. If you're unlucky enough to have a accident, this applies brakes after the first collision if the driver is no longer able to in order to prevent further accidents.
Then, in June 2017, VW also made Front Assist with City Emergency Braking standard right across its UK van range - including the Caddy. This is an autonomous emergency braking (AEB) package that aims to reduce impact speed or even avoid the crash altogether using radar and pre-emptive braking.
Adaptive cruise control, driver fatigue alert, high beam assist, reversing camera and park assist are also available on the Caddy.
Which Volkswagen Caddy is best for me?