Volkswagen Caddy review (2015-2020)
Stylish, well-built and holds its value very well
PROS
Build quality
Powerful engines
Safety systems
Residual values
Image
CONS
Expensive
Too similar to previous generation?
Won't fit a Euro-pallet sideways
Can be noisy inside
Firm ride
Summary
The fourth-generation Volkswagen Caddy, launched in 2015, is perhaps the discerning small van buyer's choice. It's not necessarily the most practical, and it's certainly not the cheapest – but it's got that trendy VW image, impressive build quality and an appealing sense of modernity.
It also offers impressive safety credentials and substantially improved fuel economy compared with the previous model, leaving little to fault overall. We voted it runner up in our 2020 Small Van of the Year Award.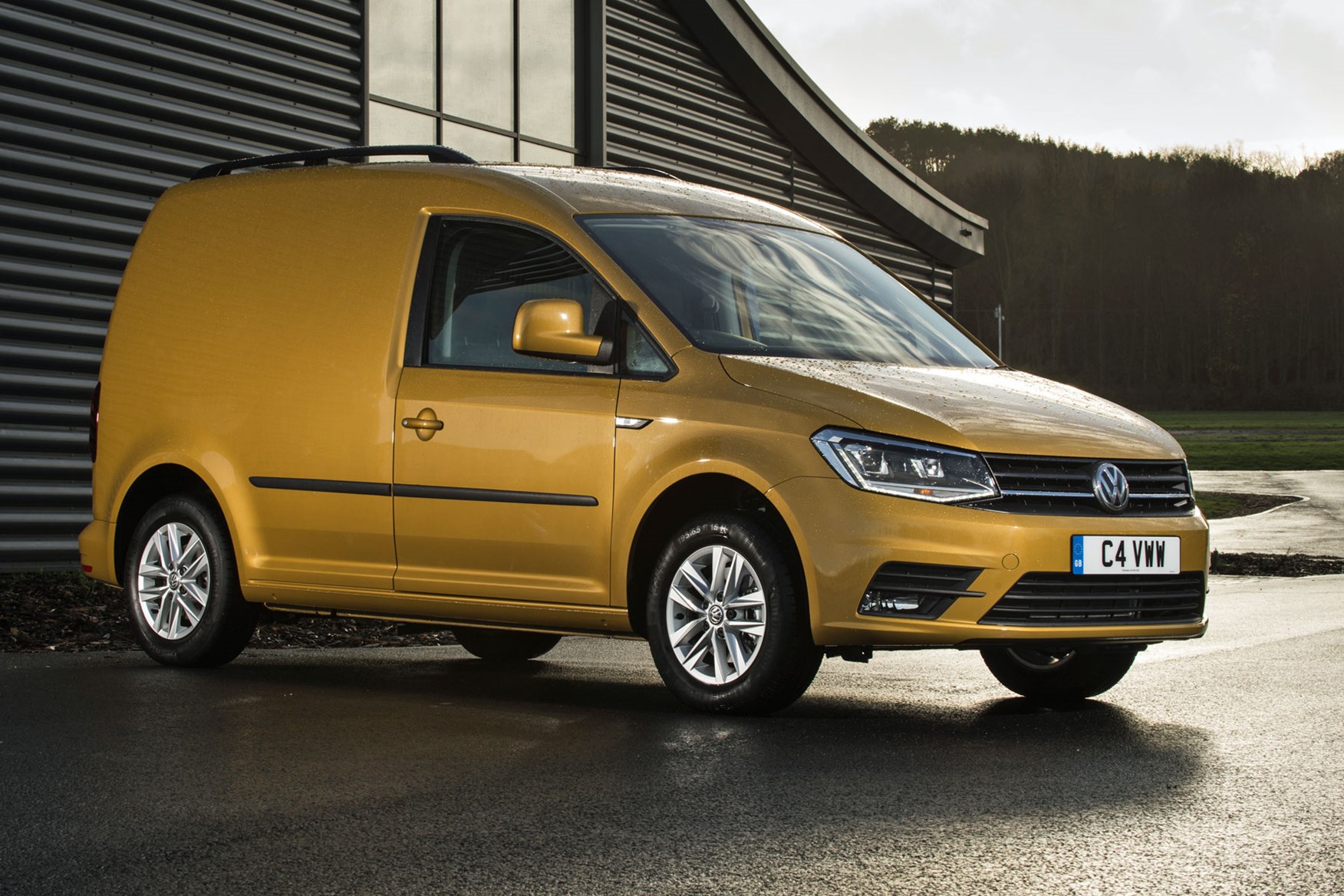 However, it can be noisy inside, and while some versions are capable of hauling over 800kg, it still lags behind the best rivals for payload capacity as the top small van performers can now carry over a tonne (1,000kg).
This Caddy will be replaced by an all-new model in 2021 - see below for more details.
Equipment and safety upgrade in 2017
Safety levels were further improved when VW added autonomous emergency braking (AEB) technology as a standard feature on all Caddys sold in the UK from mid-2017 as part of an industry-first range-wide upgrade of its van line-up.
Standard equipment was increased at the same time as part of what VW called a 2018 model year update, with the notable addition of air-con on mid-spec Trendline models and sat-nav on top-spec Highline..
VW Caddy trim levels and body variants
As with most rival small vans, the Caddy comes in two wheelbases - the regular Caddy and the longer Caddy Maxi, which is also available as a kombi crew van with a second row of seats.
Overall load volume is reasonably competitive, but the load space is compromised slightly by some fittings and fixtures that remain from the passenger car versions, which are known as the Caddy Life and the Caddy Maxi Life.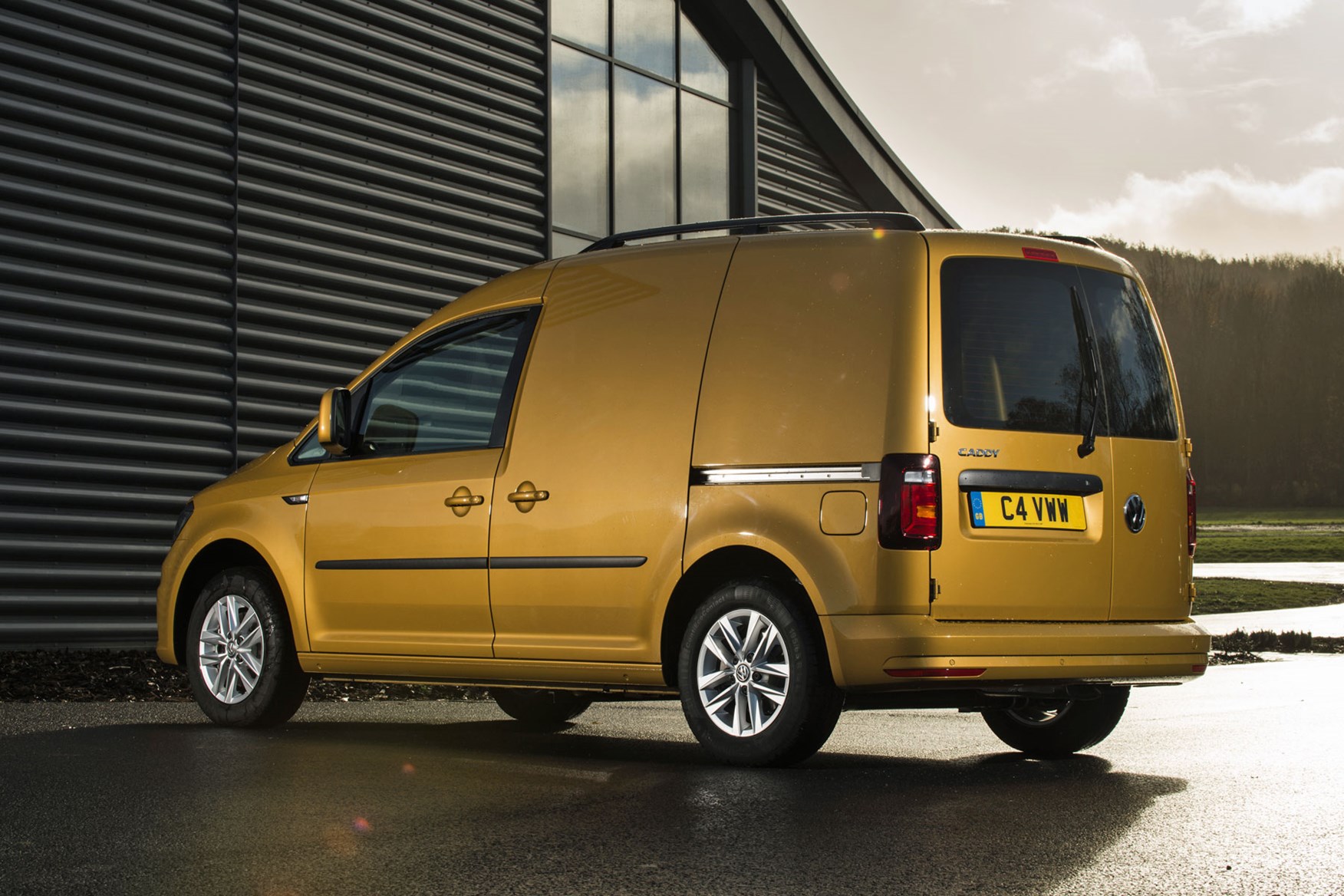 One consequence of this is that you can't get a Euro pallet in sideways; we've got full details of load capacity and more on our dedicated VW Caddy Dimensions page.
The Caddy follows the trim level conventions of other Volkswagen vans, meaning Startline, Trendline and Highline models form the core of the range, with special versions including fuel-saving BlueMotion and sporty Black Edition variants also appearing over time.
Big diesel engines, punchy petrols
This generation of Caddy has traditionally been offered with a wide range of engines, but over time this has been cut right back to a choice of just two 2.0-litre TDI turbodiesels (102hp and 150hp) and one 1.0-litre TSI turbo petrol engine (102hp).
This is just the latest in a series of engine changes for VW's small van, which initially launched with 1.6-litre diesels as well. These were swiftly replaced by 2.0-litre TDIs, bucking the downsizing trend but bringing improved fuel economy and emissions.
Other 1.2-litre and 1.4-litre TSI turbo petrols were also available for a time, though the appetite for petrol-powered vans - even small ones - is limited, and really the 1.0-litre model comfortably satisfies this demand.
VW Caddy rivals
The Caddy's chief rivals are the UK bestselling Ford Transit Connect and the latest trio of vans from the PSA Group: the Citroen Berlingo, Peugeot Partner and Vauxhall Combo Cargo.
Other small van options include the Renault Kangoo and Fiat Doblo Cargo, but both of these are feeling their age. Mercedes also offers the Citan in this area of the market, but as an expensive reworked Kangoo it's not our favourite Benz and is comprehensively out-classed by the Caddy.
VW e-Caddy electric van no longer coming to the UK
The most recent development for the Caddy range is an electric version, dubbed the e-Caddy.
Built on Volkswagen's behalf by electrification (and racing) specialists ABT, this promised to bring some much needed competition to the Renault Kangoo ZE and Nissan e-NV200. However, plans to build it in right-hand drive have been shelved, due in large part to this Caddy's imminent replacement by a brand new model.
All-new VW Caddy 5 coming to the UK in 2021
Word to the wise here: the fourth-gen Caddy's days are numbered, with an all-new replacement model arriving in the UK in early 2021. The new van will officially be called the Volkswagen Caddy Cargo - and we've already driven it on British roads.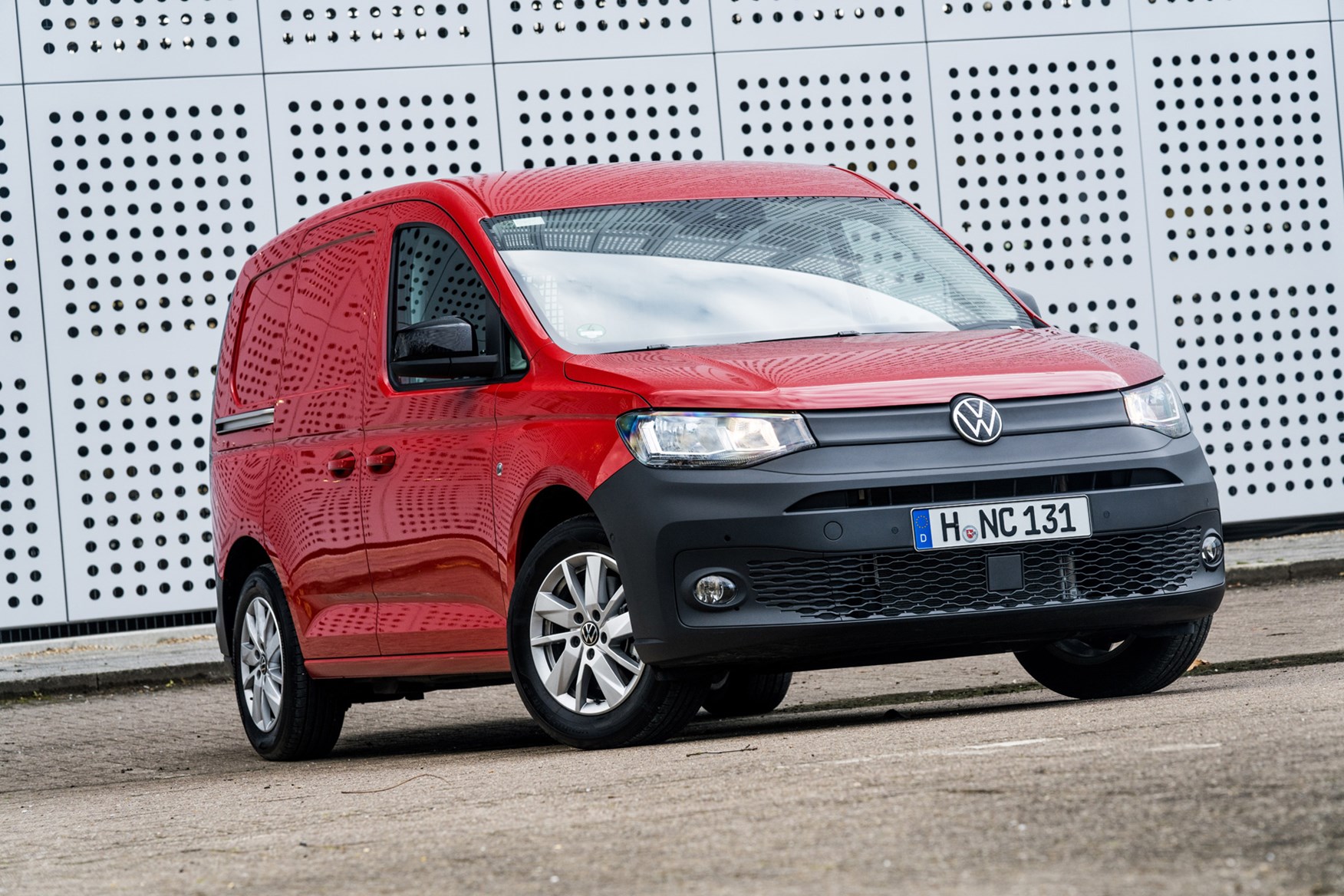 The Caddy Cargo has a striking new look and is based on a brand new structure - the MQB platform used throughout the Volkswagen Group's family of passenger cars. It is also far more technologically advanced than this model, quieter inside and better to drive. Definitely worth waiting for.
>> Read our full VW Caddy Cargo review
---
Volkswagen Caddy verdict
This is a small van that looks good, drives well and won't cost you a fortune to run - even monthly finance pricing is competitive thanks to the way it holds its value. Reliability is a strong point, too.
But it's also not the most versatile small van on the market, with limited payload capacity and space compared with some. And despite the premium appearance, refinement could definitely be better.
Worth considering. But so are its closest rivals.
Skip to our full verdict on...
2.0-litre diesels buck downsizing trend and work very well
Good van to drive, but can be firm
Lack of standard bulkhead makes some versions noisy
The Volkswagen Caddy drives very much like a car, which means even casual van drivers should find themselves comfortable behind the wheel very quickly. It offers unusually large diesel engines for a small van, with a wide choice of petrol options available over its lifetime, too.
Only the occasionally harsh ride and the amount of noise in the cabin really stand as criticisms here.
VW Caddy diesel engines
This generation of Caddy launched with both Euro 5 and Euro 6 turbodiesel engines, though the old Euro 5 1.6-litre diesels phased out by September 2016.
This left only the larger 2.0-litre TDI diesels carried over as Euro 6 engines, offered with the following power and torque ratings:
75hp / 225Nm
102hp / 250Nm
150hp / 340Nm
However, this range was then rationalised again (a fancy way of saying reduced) and at time of writing the entry-level 75hp TDI has been dropped at the time of writing (October 2019).
We doubt anyone will miss it - the 102hp model is economical and provides a satisfying driving experience. For while there may not be much difference on paper between the torque figures of this 2.0-litre motor and rivals' smaller alternatives, the VW's larger engine size still makes for a more muscular performance, a difference you'll certainly notice on a fully loaded van.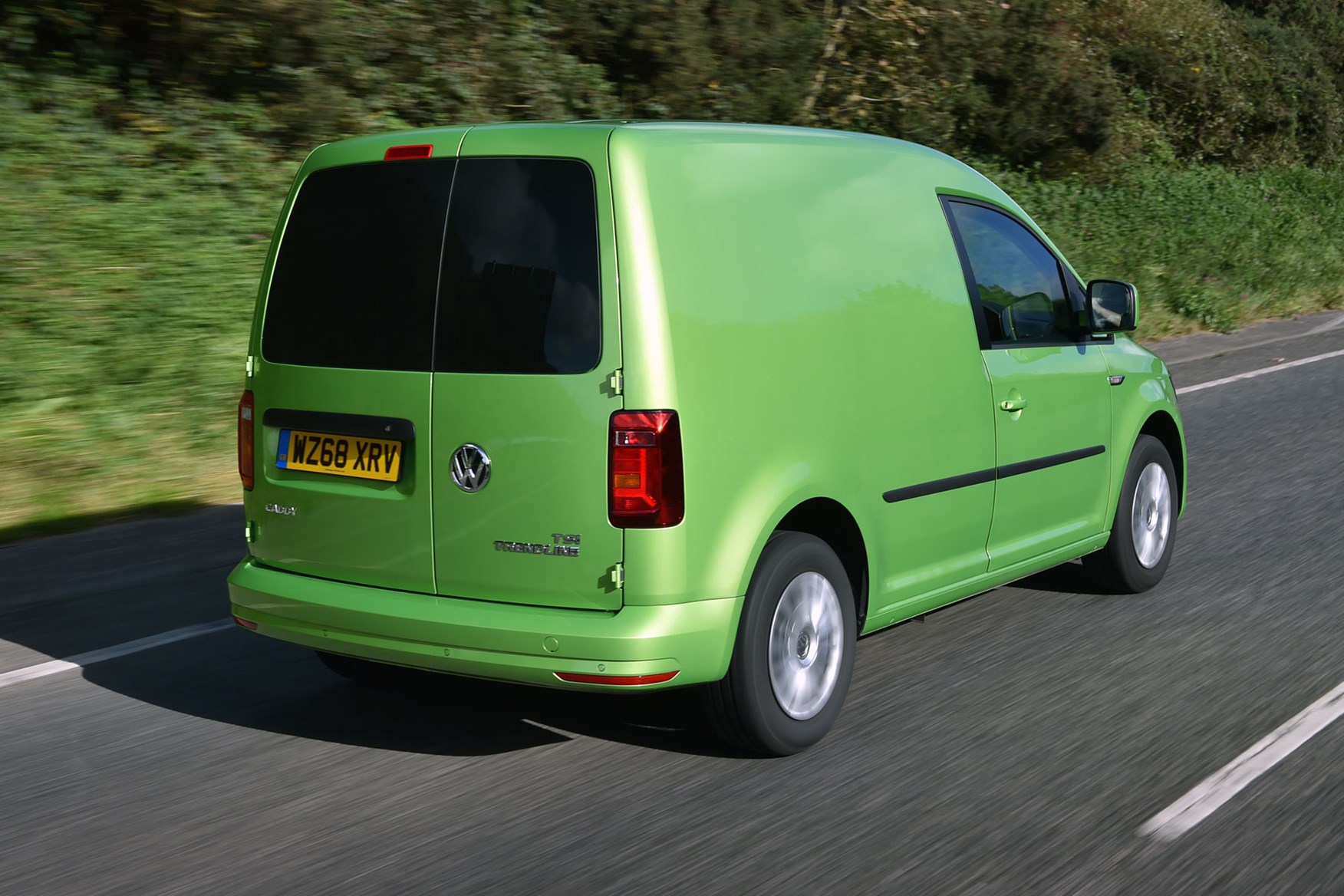 As this hints, the 150hp Caddy is therefore something of a flying machine, outgunning every rival and justifying every penny of its additional price - especially as it now comes with a six-speed DSG automatic transmission as standard. Far from essential for a works van, but if you're an independent operator or small business buying a van to use as your only transport the extra engine power adds what might well be a welcome touch of added luxury.
The 102hp engine is fitted with a perfectly acceptable five-speed manual, with the DSG available as an optional extra.
VW Caddy petrol engines
There were no petrol engines at launch, but VW subsequently introduced three options for anti-diesel buyers, or those who mostly drive short distances around town:
1.2 TSI with 84hp / 160Nm

1.0 TSI with 102hp / 175Nm

1.4 TSI with 125hp / 220Nm
Yes, you read that right - the 1.0-litre petrol is more powerful than the 1.2-litre petrol. Every Caddy engine is turbocharged.
Lower power ratings are mated to a five-speed manual or six-speed automatic gearbox, while the 1.4 gets a six-speed manual or optional seven-speed automatic.
Again, the range has been rationalised, and presently only the 1.0-litre five-speed manual is available. We've spent quite a bit of time in one of these and it's a lovely engine, revvy with a characterful three-cylinder thrum.
Fuel economy in urban driving isn't too far from the diesels, either, though on longer journeys the petrol still doesn't make as much sense.
What's the VW Caddy like to drive?
With responsive engines offering plenty of torque - even the 75hp diesel - the Caddy is generally a charming thing to drive, with a feel that will be familiar to anyone who's spent time in Volkswagen's passenger cars.
Cornering is among the sharpest in the small van sector - perhaps only second to the Transit Connect - and you get plenty of feedback from the road to give you confidence without it becoming overwhelming.
The downside to this is that the suspension is on the firm side. This prevents the Caddy from rolling around too much in the corners, but does mean you'll feel a lot of the lumps and bumps on the road surface. We've never found this to be so bad that it troubles us on longer journeys, but there are certainly softer-riding small vans out there.
More of an issue for us is the noise in the cab. Not all Caddys come with a solid bulkhead, and this only amplifies the already quite loud tyre and engine noise. Still, it is at least quieter than the previous model...
Cab interior is smart but not stylish
Excellent build quality still ahead of rivals
Standard-fit sat-nav on top-spec Highline
By the very latest standard, the Caddy's interior is not the most stylish place to spend time, and the plastics certainly place hardness and longevity over soft-touch plushness.
But even so, the build quality still feels a notch above most alternatives and very durable, while the design is both practical and easy to use.
There are lots of storage spaces and the controls are clearly labelled, within close reach and simple to operate.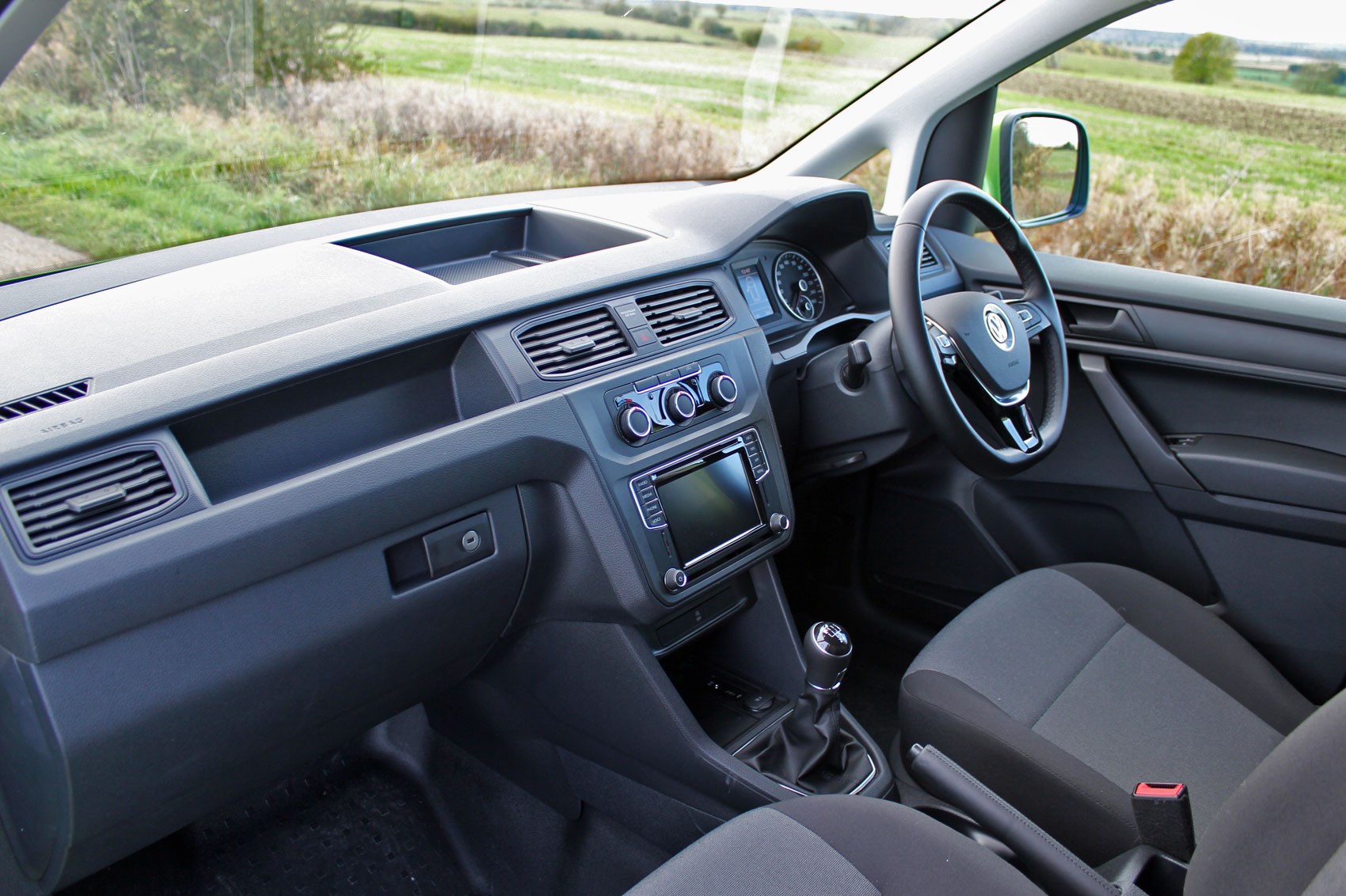 Squeaks and rattles are generally notable only by their absence, and the cab is very accomodating, with reach and rake adjustable steering wheel and three-way adjustable driver's seat as standard.
Infotainment and visibility
The touchscreen infotainment system offers Bluetooth, USB and aux-in connectivity and comes with a 5.0-inch full-colour display.
This can be upgraded to a Discover Media system with satellite-navigation and 6.33-inch display (standard on the Highline trim level from July 2017), which although older than a lot of rival systems now still works very well.
It is a shame that the screens are placed so far down in the centre console, though, meaning you have to look a long way from the road to view them.
The Caddy also has a low and car-like seating position, which some buyers may not like.
The asymmetrical door mirrors are an unusual touch; you get used to them quickly, though, and we bet most casual observers won't even notice.
Hefty pricing, but good value
Fuel economy among the best in class
Mid-grade model has air-con, top-spec gets sat-nav
The Caddy is not a cheap van to buy new or used, with customers prepared to pay for the quality that also keeps second-hand values high.
As such, these residual values are typically the best in the small van market, so if you do buy new it should still work out cost-effective in the long run due to the amount it will still be worth second-hand.
It's also worth noting that other running costs are highly competitive, and as of May 2020, VW is offering interest-free loans on van repairs, servicing and accessories to help customers spread costs as well.
VW Caddy mpg
Despite its 2.0-litre engines being larger than anything else fitted in the small van sector, the Caddy is still one of the most fuel efficient choices on paper, with some models claiming over 65mpg under the old NEDC testing scheme.
September 2019 saw the introduction of a new WLTP testing process, however, which has resulted in official fuel economy falling to under 50mpg for all versions (the best petrol only just tops 40mpg).
This doesn't mean the latest Caddys are less efficient than they were, rather that the WLTP testing process is supposed to be more realistic. You still shouldn't expect to match the official figures in the real world, but they should now be closer.
These are the official fuel economy figures as of October 2019:
2.0-litre TDI 102hp : 44.8-46.9mpg (42.8-47.1mpg with DSG)
2.0-litre TDI 150hp : 41.5-45.6mpg (DSG as standard)
1.0-litre TSI 102hp : 37.2-40.9mpg
All Euro 6 models feature a 10-litre AdBlue tank. This will need to be refilled every few thousand miles (the exact distance depending on the type of driving you do), adding - albeit modestly - to costs.
VW Caddy warranty
The Caddy is covered by a three-year, 100,000-mile warranty.
VW Caddy service intervals
Volkswagen offers fixed-term or variable servicing intervals, depending on the number of miles and the type of driving you do.
Fixed-price servicing
VW also offers fixed-price servicing plans on new and used models, helping you to manage the price of essential maintenance. It also has an ever increasing array of online servicing options - meaning you can book your van in for work without even speaking to a human if you want, handy for dealing with downtime stuff outside of working hours.
On top of this, as of March 2020 a new augmented reality process has been put into place at VW's Van Centres and Authorised Repairers to helps solve complex maintenance problems. Of something unusual goes wrong, this should get you back on the road faster, in theory.
VW Caddy standard equipment
The Caddy comes in three standard trim levels: Startline, Trendline and Highline. Here's what each includes as of October 2019 - though for details of safety equipment see the Safety and Security section of this review.
VW Caddy Startline standard equipment highlights:
DAB radio with 5.0-inch colour screen, Bluetooth, aux-in and USB connectivity
Electric, heated door mirrors
Lockable glovebox with light
LED cab illumination
12v socket
Three-way adjustable driver's seat
Reach and rake adjustable steering wheel
Bulkhead - part-mesh on Caddy, solid on Caddy Maxi
Half-height side boarding in load area
Load-lashing rings - six on Caddy, eight on Caddy Maxi
LED load compartment lights
Heat-insulating windscreen
Side loading door - passenger side on Caddy, both sides on Caddy Maxi
15-inch steel wheels
Low rolling resistance tyres
Brake energy regeneration
Stop-start system
Hill-hold assist
Thatcham Category 2 immobiliser
VW Caddy Trendline standard equipment highlights (in addition to Startline):
Air-conditioning
Cruise control with speed limiter
Eight-way adjustable driver's seat
Height-adjustable driver and passenger seats
Storage compartment under driver and passenger seats
Body-coloured bumpers, door mirrors and door handles
Rear parking sensors
VW Caddy Highline standard equipment highlights (in addition to Trendline):
Discover Media sat-nav infotainment system with 6.33-inch touchscreen
Automatic lights and wipers
Front foglights
Heated windscreen
Thatcham Category 1 alarm
Alloy wheels
Historically very reliable
Supported by attractive repair finance and MOT insurance
The Volkswagen Caddy always performs well in the FN50 Van Reliability Survey, and in the 2020 survey it ranked second overall. An incredibly impressive achievement.
Durability and high build quality have long been associated with the Caddy and Volkswagen Commercial Vehicle products in general - it's one of the reasons they have such high used values.
Supporting this assertion, at the time of writing there has only been one official recall for this model, which was for a very small number of vans and related to a head restraint.
For further peace of mind, however, VW launched a free MOT insurance scheme in May 2018, covering all qualifying vans and pickups up to 10 years old.
What's more, as of May 2020, customers can spread the cost of repairs - whether unexpected or not - across six months thanks to a new zero-percent loan option.
Lots of airbags as standard
Autonomous emergency braking on all models from mid-2017
Only top-spec versions get an alarm
Safety is one of the Caddy's strongest areas. Security? Maybe not so much...
VW Caddy safety
Standard equipment includes a generous four airbags (many small van rivals only include one), electronic stability control, and an electronic differential lock to improve traction on slippery surfaces.
On top of that lot, all Caddys are fitted with a system called Automatic Post-Collision Braking. If you're unlucky enough to have an accident, this applies brakes after the first collision if the driver is no longer able to in order to prevent further accidents.
Then, in mid-2017, VW also made Front Assist with City Emergency Braking standard right across its UK van range - including the Caddy. This is an autonomous emergency braking (AEB) package that aims to reduce impact speed or even avoid the crash altogether using radar and pre-emptive braking.
Adaptive cruise control, driver fatigue alert, high beam assist, reversing camera, automatic parking and a heated windscreen are also available on the Caddy.
The Winter Pack is worth considering, too, as it includes headlight washers, heated washer jets, washer fluid level indicator, heated front seats and an auxiliary heater - all of which will get you going sooner and in greater safety on a cold morning.
VW Caddy security
All current versions (writing in October 2019) get an immobiliser as standard, but only the Highline comes with an alarm.
That said, VW does offer a great value Business Pack for entry-level Startline buyers, which includes not only an alarm but also rear parking sensors and air-conditioning.
Which Volkswagen Caddy (15-20) is best for me?
Still trying to decide which Caddy to buy? Maybe this info will help.
Best VW Caddy engine
The 102hp TDI covers all bases extremely well, returning good fuel economy and providing plenty of performance. We've still got a soft-spot for the 150hp version, but that is rather indulgent.
The 1.0-litre 102hp petrol is the top choice if you don't want diesel.
Best VW Caddy trim level
They're all good value, so this really does come down to what you need in day-to-day driving. The entry-level Startline with the addition of the Business Pack should cover everything that most people are likely to need, though.
VW Caddy individual model reviews
In addition to all the above, we also have the following individual Caddy model reviews, giving you even greater info on specific versions:
VW Caddy Trendline 1.6-litre TDI 102 DSG review - tested November 2015
---
VW Caddy Trendline 1.0-litre TSI turbo petrol review
Tested November 2017 by CJ Hubbard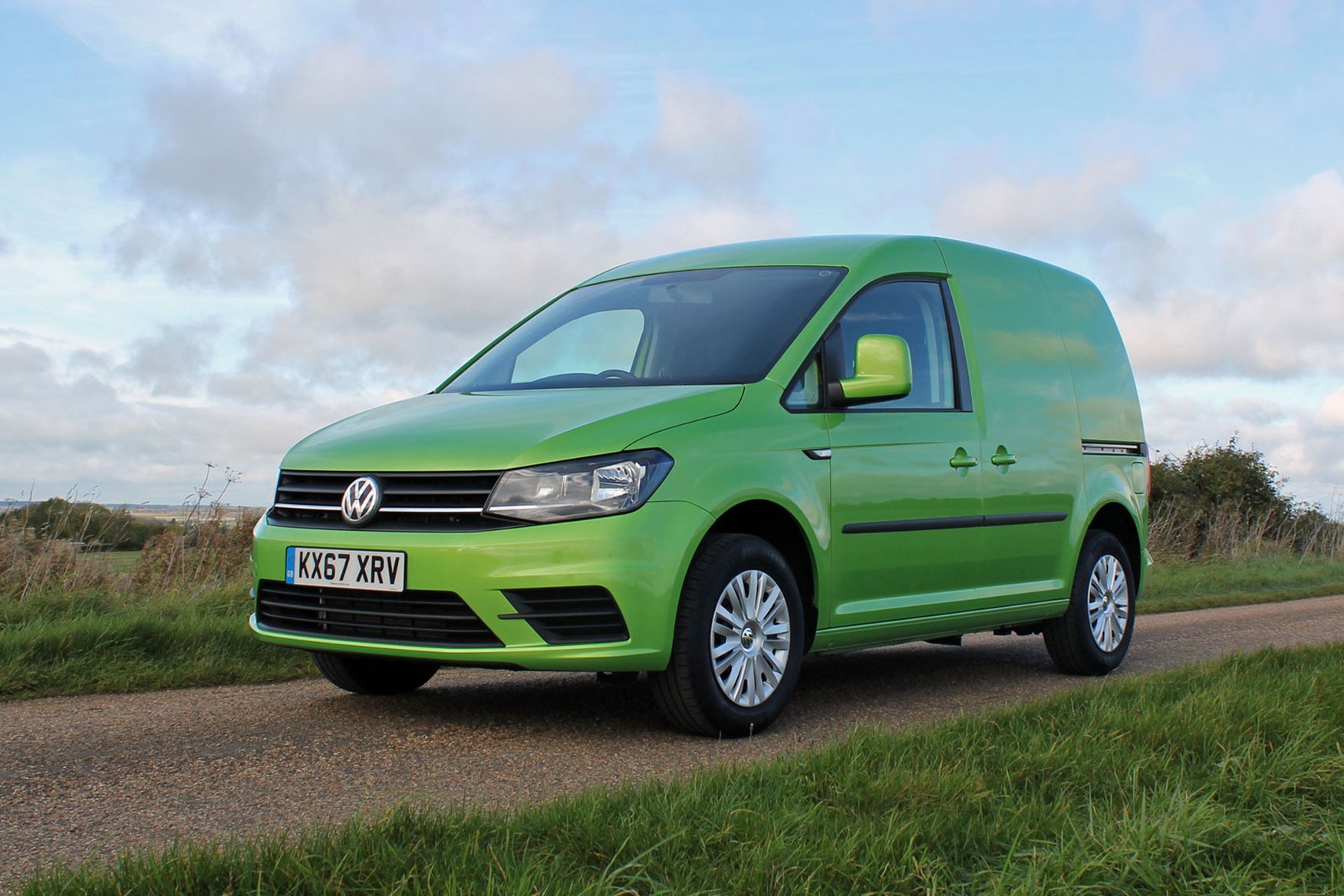 Petrol-powered three-cylinder Caddy tested
Can such a small engine really work in a van?
102hp and 175Nm versus 727kg payload rating
Petrol-powered vans are few and far between these days, but Volkswagen offers more choices than most. Here for review we have its smallest model, the standard-wheelbase VW Caddy, combined with a 102hp 1.0-litre TSI turbocharged petrol engine that promises over 50mpg.
That's the middle of three Caddy petrol engine options.
Changes for the VW Caddy in the 2018 model year
This also represents our first chance to review the 2018 model year Caddy, which went on sale in July 2017.
The update didn't bring any changes to the looks, which were already among the smartest in the small van segment, but it did make autonomous emergency braking a standard feature – as it now is across all VW's vans.
The mid-spec Trendline trim level we're testing here also got an upgrade to standard-fit air-conditioning. Which is nice.
What's the VW Caddy like to drive with a 1.0-litre petrol engine?
Better than you're probably imagining.
Even in our increasingly 'downsized' world, a single litre sounds a bit extreme for a van – it's half the capacity of every diesel-engined Caddy now, after all.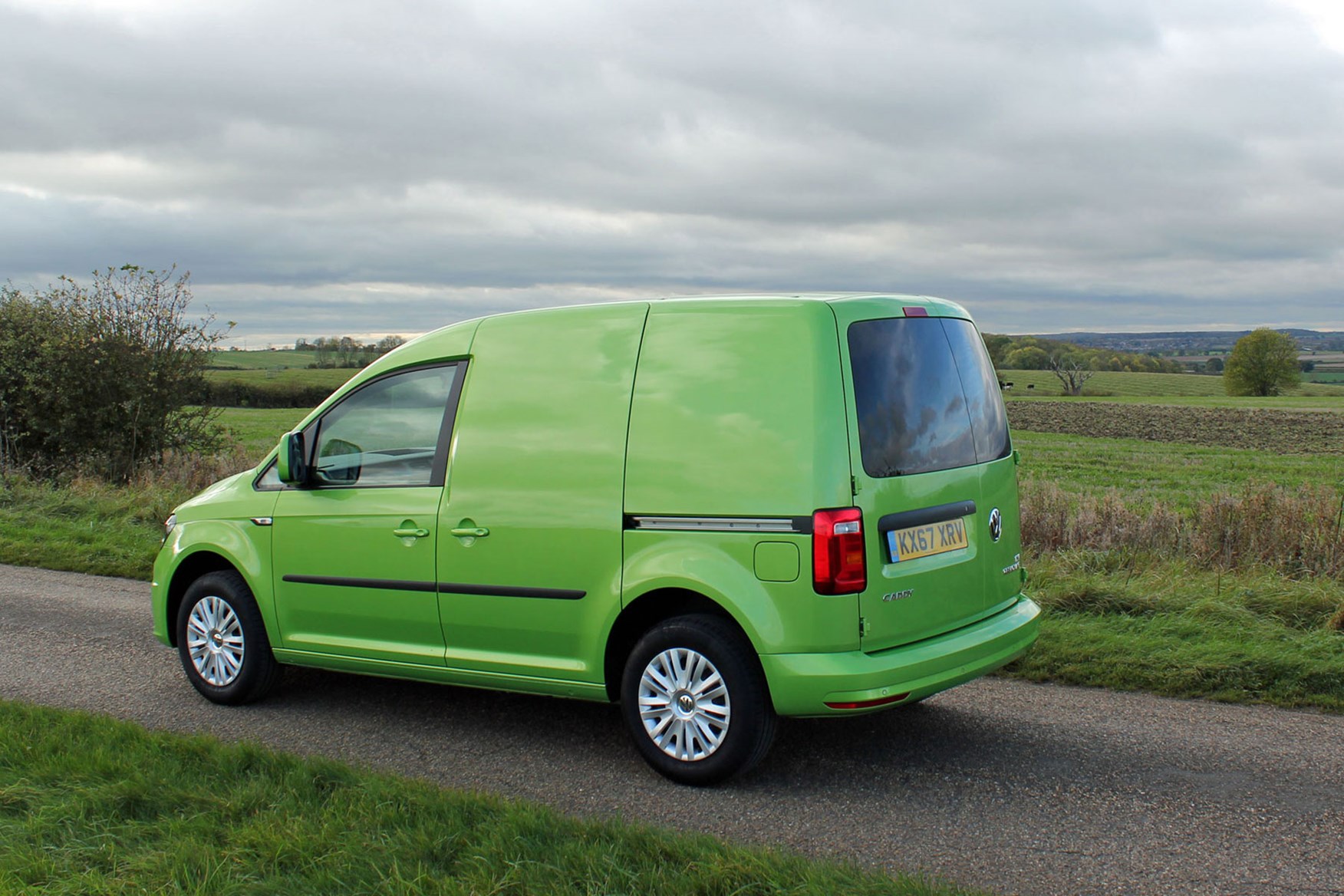 But, this is a very modern turbocharged engine – and with 102hp, it outguns the older 1.2-litre TSI petrol's 84hp at the entry-level to the Caddy range quite comfortably, while also being lighter and more fuel efficient.
Both of these factors are helped by the 1.0-litre TSI having just three cylinders instead of the more common four, which not only saves weight but reduces friction to improve efficiency. Like most triples, it sounds good, too, with a kind of thrummy hum that's packed with character.
In other words, it sounds much more pleasant than a diesel Caddy. You do still get quite a bit of road noise inside, however – especially with the standard part-mesh bulkhead – so don't expect it to be whisper-quiet.
You're also restricted to a five-speed manual gearbox, which seems a bit tight (it's the same for the diesel equivalent). Gearchanges aren't especially precise, but the 1.0-litre Caddy's enthusiastic power delivery means you tend to row along the road in a rather sprightly fashion, helped by the light but sure-footed handling.
An official 0-62mph of 11.3 seconds reflects this enthusiasm – though combine the 727kg payload maximum with the engine's modest 175Nm of torque, and you're in for a slow and laboured journey if the going gets hilly.
Surely a diesel Caddy is still more efficient?
Helpfully VW also makes a 102hp Caddy diesel, so we can do a direct comparison.
On paper, the 102hp petrol claims 51.4mpg – making it the most efficient of any petrol Caddy. The 102hp diesel claims 60.1mpg in standard guise, while the efficiency-optimised BlueMotion version raises this to 64.2mpg. You don't need to be a genius to see that's a big percentage difference.
The diesel also produces 250Nm of torque – 75Nm more than the petrol – suggesting it should make easier work of a full load, which in turn ought to be better for real-world fuel economy.
So why buy a petrol-powered VW Caddy?
It's cheaper, for starters – by at least £1,000 before VAT.
That's quite a few tanks of petrol – and miles – the diesel has to make up before its better economy starts to actually reduce your running costs.
What's more, the trip computer in the 1.0-litre TSI we were testing was indicating a 49mpg average at a gentle dual-carriageway cruise. Suggesting that petrol power can be pretty efficient after all.
Add to that the quieter engine, and the reduced levels of harmful NOx and particulate emissions you get from a petrol (at the expense of higher CO2), and you can see that this could be a good choice for low-mileage operators. Especially those who spend a lot of time driving in town.
Should I buy a VW Caddy 102hp TSI petrol?
Does the Caddy make sense with a tiny petrol engine? Largely, yes.
If you're planning to do mega miles, a diesel will still deliver better mpg. But the 1.0-litre TSI turbo petrol is quieter, cleaner and characterful – and not that inefficient if you drive it sensibly.
A niche choice for now, sure. But not a bad one. And if diesel continues to be lambasted in the press, it could be a smart, potentially futureproof move as city centres start to crack down on air quality emissions.
---
VW Caddy Black Edition 2.0-litre TDI 102 review
Tested January 2017 by CJ Hubbard
Special edition small van reviewed in the UK
Big wheels, lowered suspension, lots of kit
Limited to 500 examples, 703kg payload
Volkswagen has spent decades proving that commercial vehicles can be about style as well as practicality, and the latest in a lengthy line of models designed specifically to reinforce this idea is the Caddy Black Edition.
Introduced in November 2016, the VW Caddy Black Edition is a limited-edition range-topper that aims to give you some of the aftermarket feel of a customised van with the reassurance of Volkswagen factory-fitted parts.
With 17-inch alloy wheels and lowered sports suspension as standard – not to mention the Deep Black pearl effect paint – it should certainly stand out against ordinary examples of rivals such as the Ford Transit Connect, Citroen Berlingo and Mercedes-Benz Citan.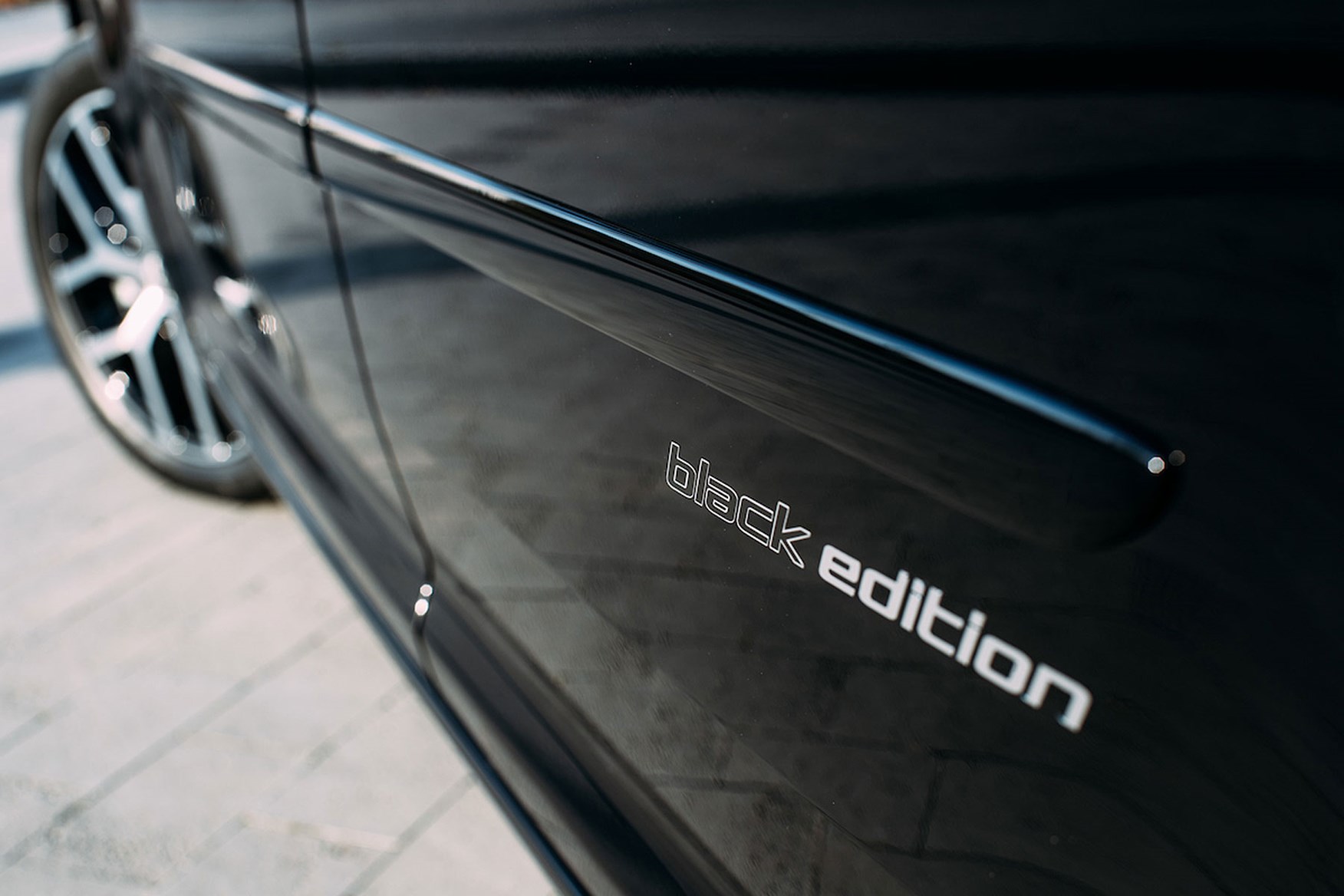 Powered by a big – by current small van standards – 2.0-litre TDI turbodiesel engine that provides a promising blend of 102hp, 250Nm and a claimed 60.1mpg, it also includes a generous amount of fitted equipment.
Enough at least to make the £800 extra the Black Edition costs over the equivalent Caddy Highline seem like something of a bargain.
What makes a Caddy Black Edition?
The Black Edition specification includes all of the following:
Body-coloured bumpers, door mirrors, door handles and side rubbing strips
Black roof bars
Front foglights with cornering function
17-inch Canyon alloy wheels in black and silver
27mm lower sports suspension
Full carpeting for the cab
Leather multi-function steering wheel
Leather gearknob and gaiter
Driver alert system
Full-height solid bulkhead
Blacked-out rear windows
Rubber load floor covering
This is in addition to the Highline's usual luxuries such as cruise control, air-conditioning, heated windscreen and touchscreen infotainment system including DAB radio and Bluetooth. Notable items you'll still need to pay extra for include satellite-navigation.
The Black Edition add-ons would cost you around £2,000 as optional extra on the Highline, so that £800 premium really does look good value.
What's the lowered suspension like?
The point of a van like this isn't necessarily to carry the biggest possible amount of stuff, but to look the business for your business – a van with a distinctive appearance being a sort of calling card that may help potential customers remember you.
This is a trick that's going down very well in the medium van sector just at the moment; it's not unheard of in the small van sector, but less common. It's enough to make the Caddy Black Edition a distinctive choice.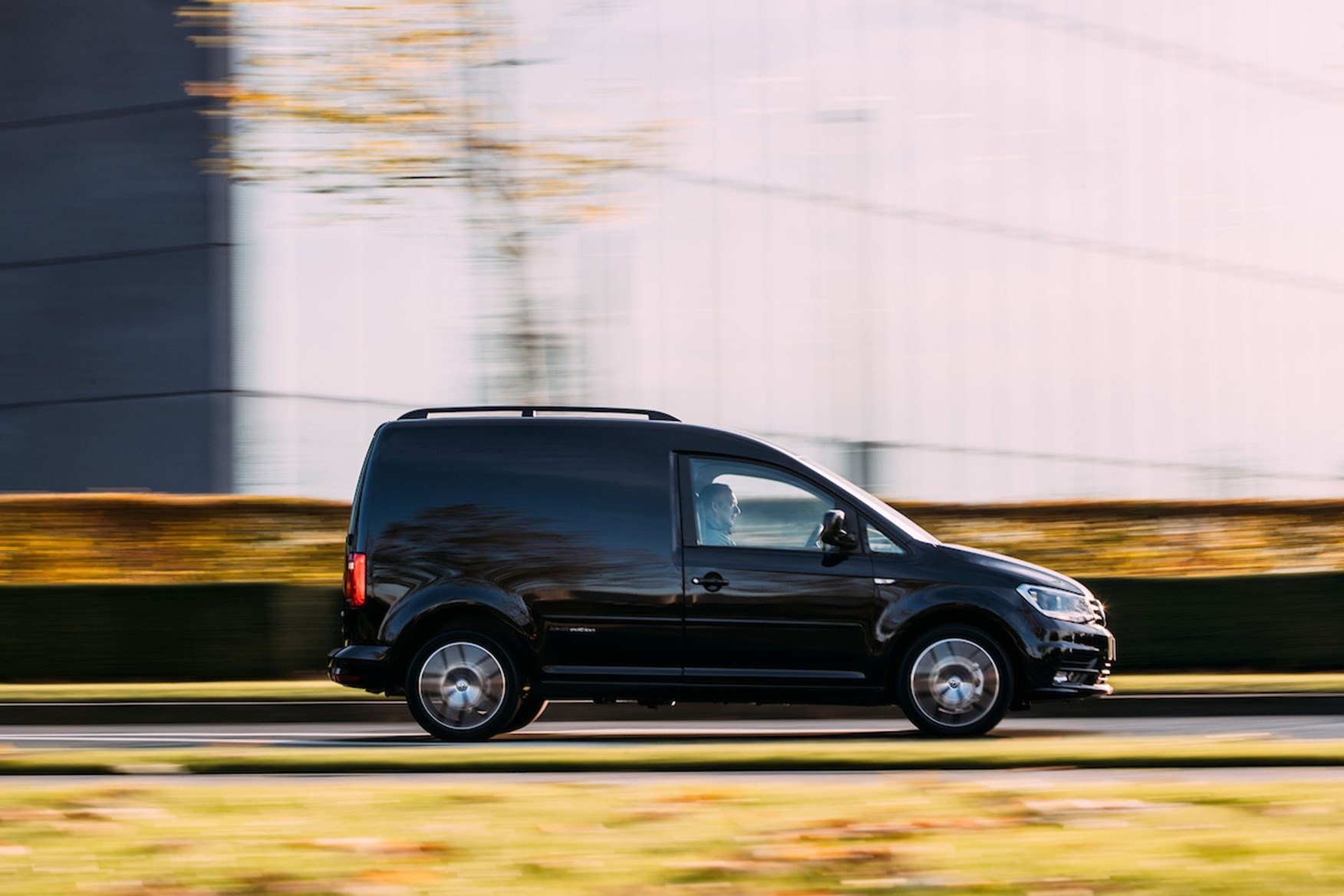 Whether you'll come to rue that choice over time may depend on your tolerance for an uncomfortable ride. Because the large wheels and the lowered suspension mean this Caddy will bounce you around on bad surfaces much more than a regular rival.
That's the price you pay for looking good…
How's the handling?
By way of compensation for the tough ride quality, the Caddy Black Edition is pretty neat to drive.
With some clever electronics helping along under the skin – there's an electronic differential lock (EDL) for increased traction as well as electronic stability control – you can make quite rapid progress. The Caddy feels grippy in corners and the 2.0-litre engine provides eager performance.
The only thing we really didn't like about the driving experience was the five-speed manual gearbox, which felt strangely imprecise and occasionally didn't engage gear correctly.
In the cab
As with most Volkswagens, the Caddy's interior exudes resounding quality. This is a van that feels like it will stand up to a lot of abuse.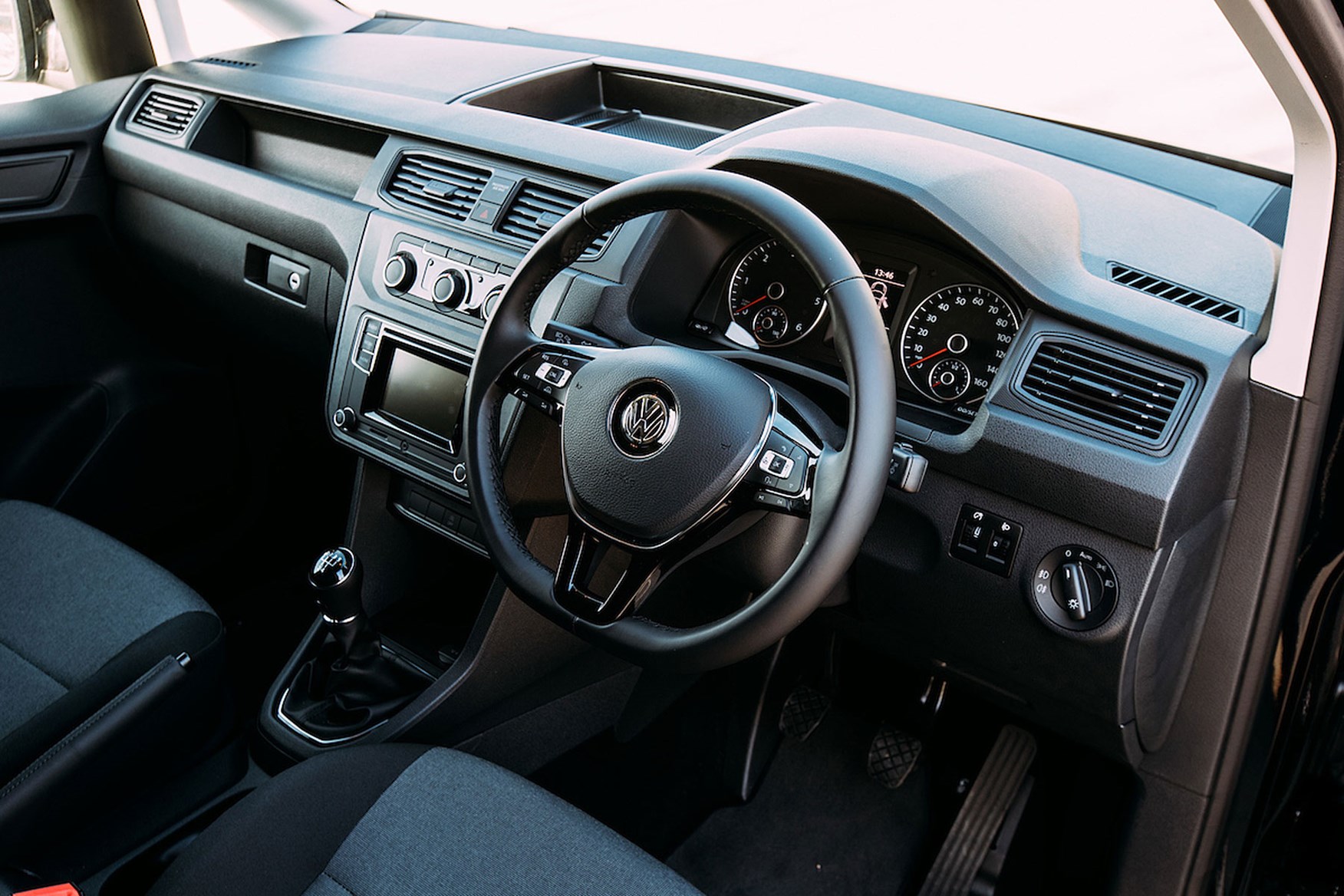 That said, the overwhelmingly dark plastics turn the cab into a black hole at night, and it would be nice to see some more covered storage – though the cubby on the dashtop is usefully deep, and the overhead bins well lipped.
Should I buy a VW Caddy Black Edition?
The Caddy Black Edition is definitely not a case of style over substance – this is a very usable small van that also happens to look smarter than your average contender. The ride is firm, but most buyers will probably feel that's fair trade for the appearance, and the reduction in roll through corners.
At £19,370 on the road (excluding VAT; at the time of writing) it's not even especially expensive.
And though there are more practical alternatives – small vans that will carry more payload and have larger load areas – with just 500 examples of the Black Edition available in the UK, we're sure it won't struggle to find fans.
---
VW Caddy Highline 1.4-litre TSI turbo petrol review
Tested July 2016 by Liam Campbell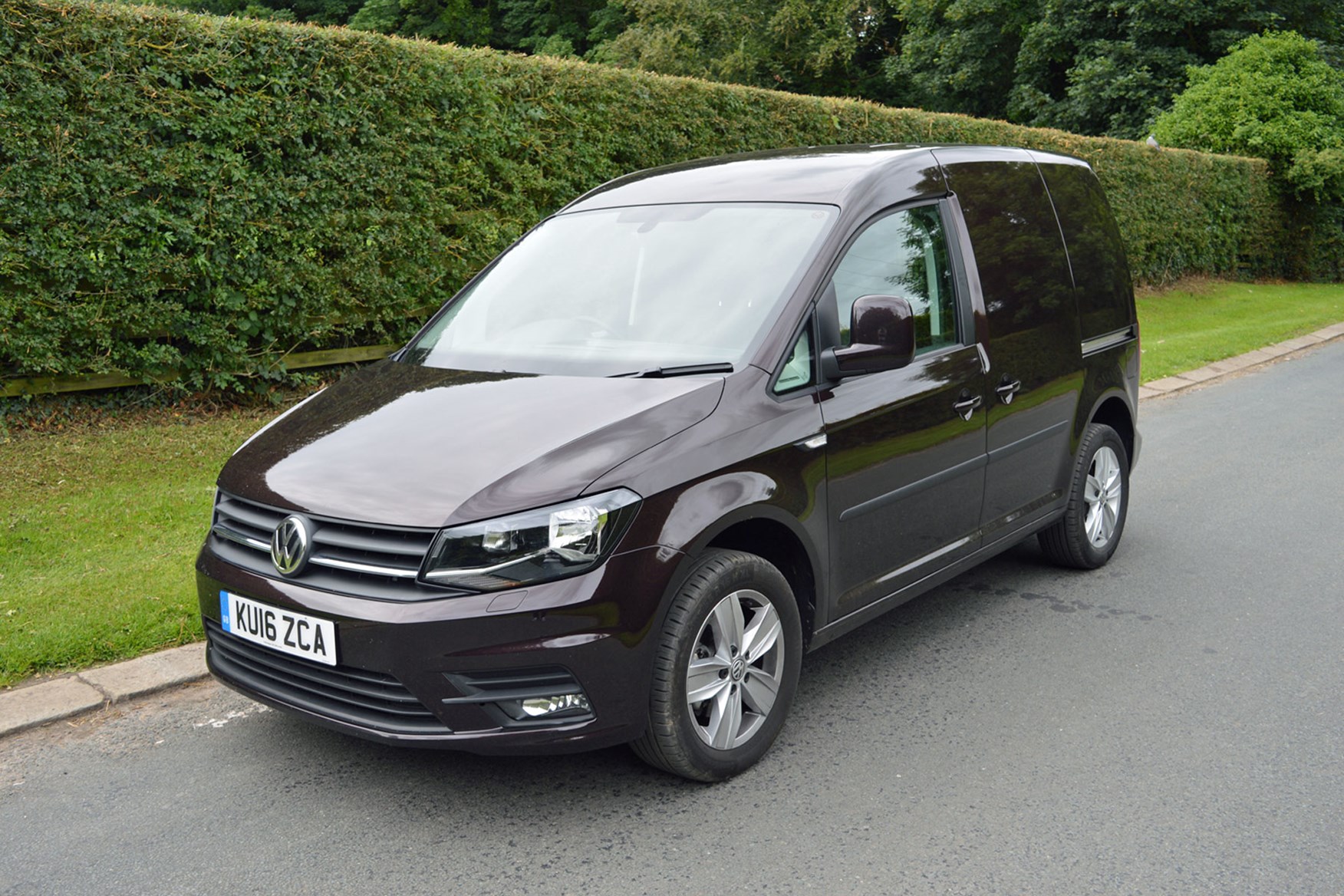 Petrol engine introduced in 2016
Quieter and quicker off the mark
Priced at £16,790 plus VAT
The Euro 6 emissions standard and the increasing scrutiny on diesel engines prompted Volkswagen to introduce a range of petrol versions of its Caddy van in early 2016. The petrol engines complemented the already-available 1.6-litre and 2.0-litre diesel engines, and we've put the mid-sized 1.4-litre petrol to the test.
Petrol engines in small vans have made a resurgence in recent years, with Ford, Vauxhall and Fiat Professional now all offering them in their small vans. They make the perfect alternative for inner-city courier work, as short start-and-stop trips can clog the DPF (diesel particulate filter) that most diesel vehicles now have.
In the cab
Despite the low seating position, the view from the driver's seat is commanding thanks to the Caddy's low dashboard and short nose while the standard rear windows provide good visibility to the rear. There are a lot of storage spaces including a large glove compartment and overhead shelf.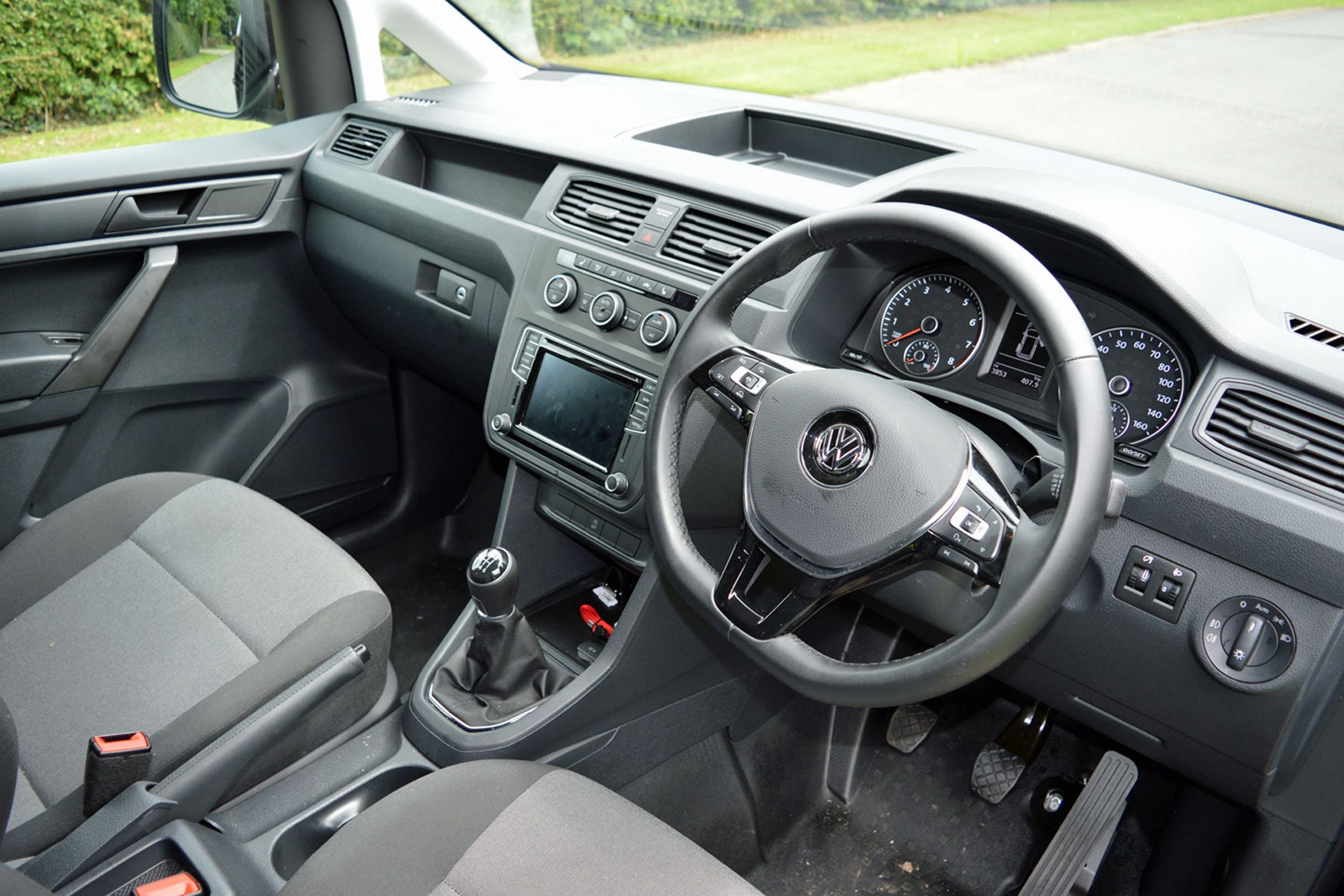 We tested the high-spec Highline edition, which was packed with a wide range of equipment including climate control, cruise control, a 6.33-inch touchscreen display, hill hold assist and rear parking sensors.
On the road
The 1.4-litre petrol engine has many obvious advantages over the diesel engines. It's surprisingly nippy, producing 125hp and reaching 62mph in just 10.3 second from standstill, although the meagre 220Nm means it isn't quite as lively if you're carrying a full load.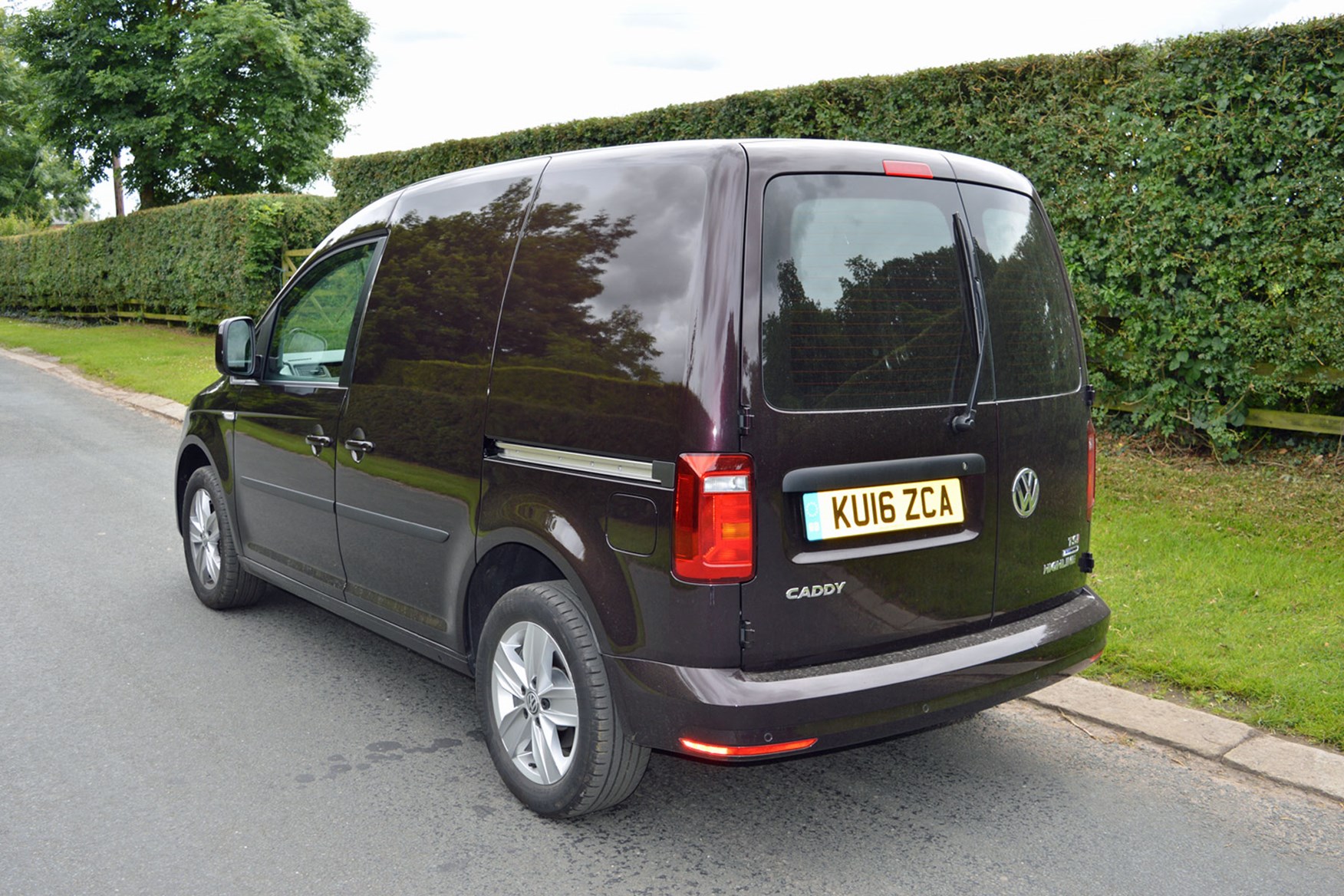 While the engine itself is quiet, the cab is quite noisy at higher speeds due to the mesh bulkhead, but it is comfortable and drives and handles just like a small passenger car. The engine is coupled to a six-speed manual transmission and achieves 47.9mpg on the combined NEDC cycle.
Should I buy a 1.4-litre TSI turbo petrol Caddy?
The Volkswagen Caddy is the most respected small panel van and, by introducing petrol engines, Volkswagen is opening the model up to even more potential customers. Petrol versions are quieter and quicker when unloaded which makes them ideal for inner-city work, but the diesel engines are better for carrying heavy loads and load distance work.
---
VW Caddy Trendline 1.6-litre TDI 102 DSG review
Tested November 2015 by Liam Campbell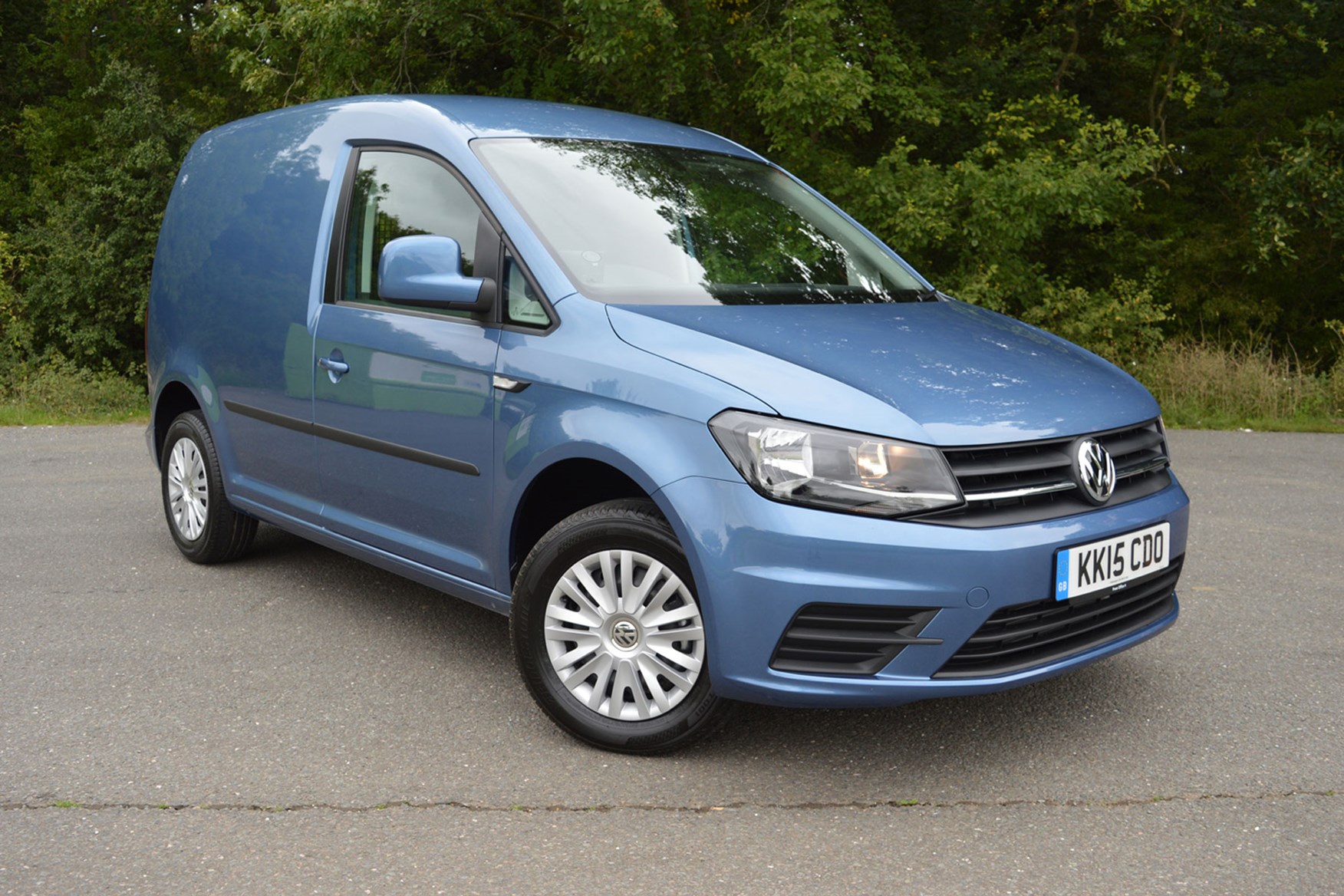 VW Caddy DSG is one of the only automatics in the small van sector
Trendline spec adds rear parking sensors and cruise control
Total list price of £23,722 plus VAT
One of the more unusual advantages of the Volkswagen Caddy is the availability of an automatic transmission. We put the seven-speed DSG transmission, fitted to a short wheelbase Trendline van, to the test in a mixture of urban and rural settings.
Exterior
On the outside, the Volkswagen Caddy hasn't changed much compared with the previous generation. The Trendline trim level adds body coloured bumpers, door mirrors and door handles to give a more premium appearance, although the plain steel wheels have been given a set of rather cheap-looking wheel trims.
In the cab
One of the biggest improvements made to the new Caddy is the cabin environment. The dashboard is smart and a lot less cluttered than other models, and there are up to 17 conveniently located storage compartments.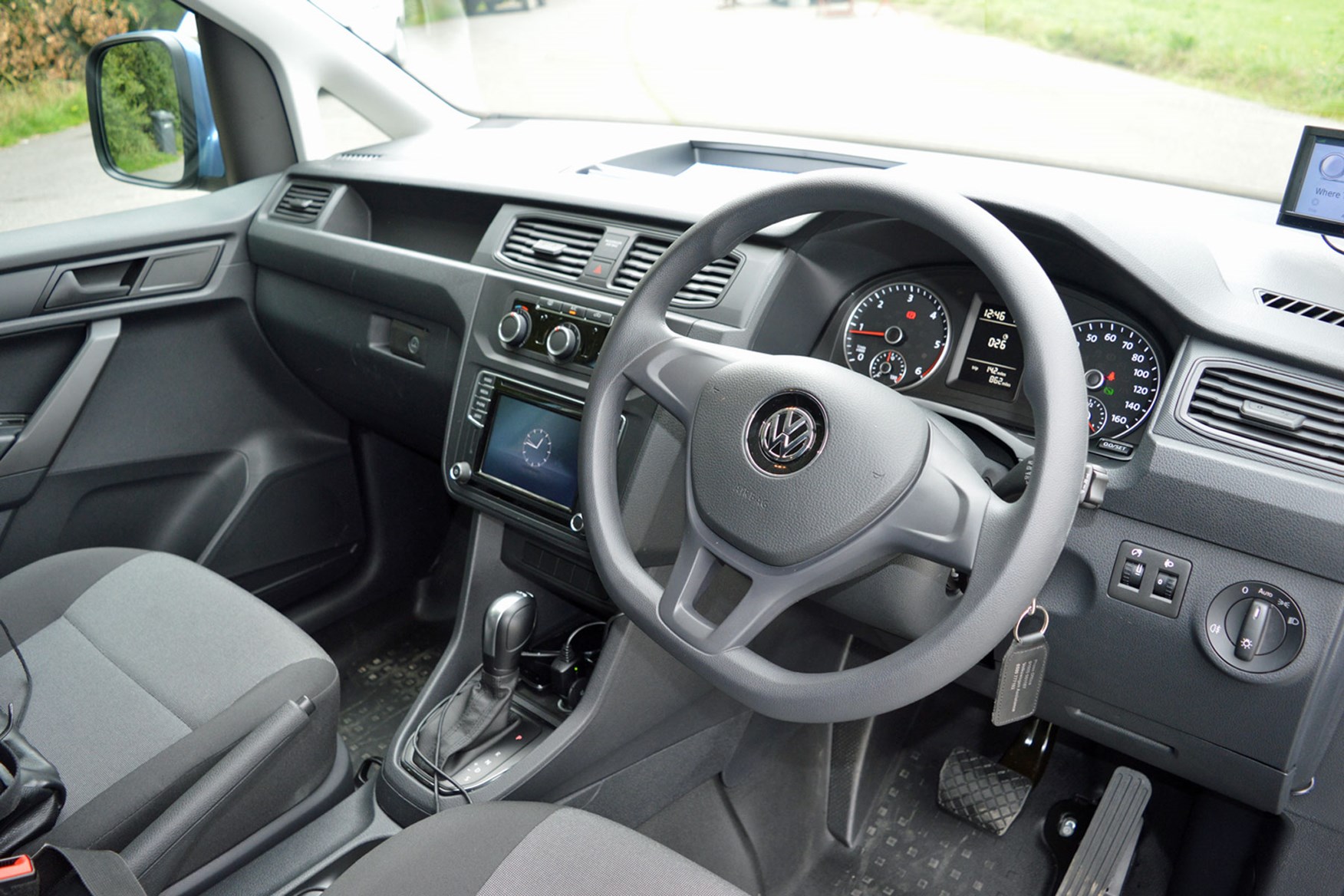 Due to the short nose and low windows, visibility is very good. Both the seat and steering wheel are reach and rake adjustable to accommodate drivers of most shapes and sizes.
A 5.0-inch touchscreen Composition Colour radio system with DAB radio and Bluetooth capability is standard, even for the entry-level Startline, while the Trendline specification adds rear parking sensors, cruise control and a multi-function display in the instrument panel. Sadly, steering mounted controls aren't a standard feature on any model.
On the road
We've tested Volkswagen's DSG transmission on a number of occasions, but we're always surprised at just how smooth and refined it is. The seven gears add flexibility and ensures that this automatic can quickly adapt to different driving manoeuvres, with little effort or hesitation.
Under the bonnet is the smaller of the Caddy's engines, the 1.6-litre TDI unit, which has been tuned to 102hp and 250Nm. In the cities, this versatile engine is complemented by the tight turning circle, both of which can be exploited thanks to the great visibility from the driver's seat.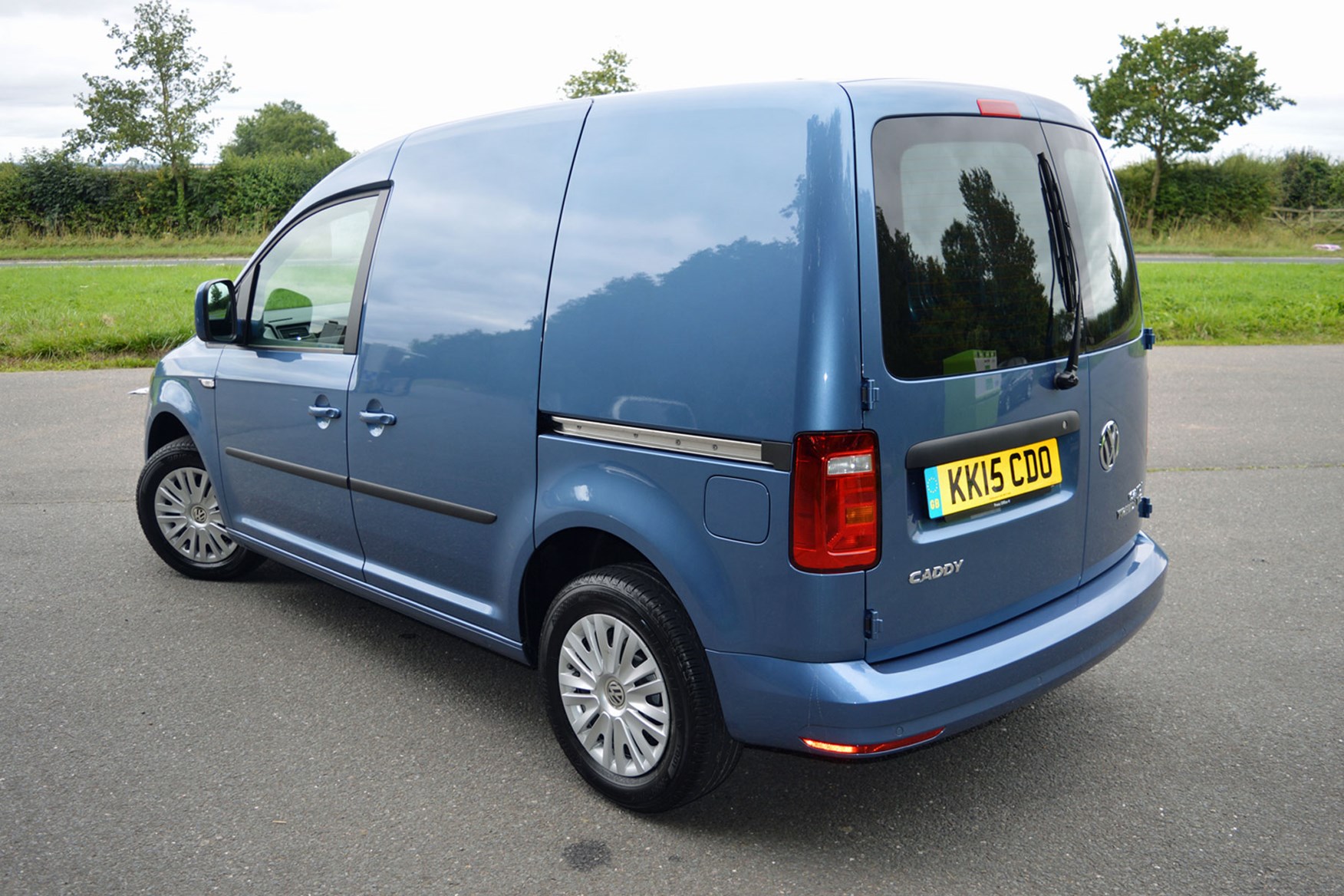 On the open road, road noise does become more noticeable due to the open bulkhead design, but engine noise remains low thanks to the seven-speed transmission. The steering is precise and provides adequate feedback, while there is little body roll.
Should I buy a Caddy Trendline 1.6-litre TDI with DSG?
The seven-speed DSG is one of the only true automatic transmissions in the small van sector, and the fact that it's incredibly smooth and efficient makes it ideal for the stop and start of inner city driving, which makes it more ideal for courier work.
With the additional Acapulco Blue metallic paint, Visibility Pack (auto-dimming rear view mirror, automatic headlights and rain sensing windscreen wipers), climatic air conditioning and composition media radio, our test version had a list price of £23,722.
There's £2,000 difference between the Startline and the Trendline, but just £1,000 between the Trendline and Highline. Considering that the Highline spec adds climatic air conditioning (in addition to alloy wheels, fog lights, rain sensing windscreen, etc), which is a £1,080 option on its own, we'd recommended ditching the extra kit of this model and opting for the Highline.