Vauxhall Vivaro review (2014-2019)
Accomplished medium van that's good to drive
PROS
Spacious load area
Frugal yet feisty diesel engines
Car-like driving experience
Car-like cab interior
CONS
Double-passenger seat not great for two people
Passenger airbag trim seems flimsy
Limited payload options versus rivals
Falling behind in the technology stakes
Summary
Flying the Union Flag was an important part of the brand message when this second-generation Vauxhall Vivaro medium van arrived in 2014.
Why? Well, up to 40% of the Vivaro's components are sourced from Britain, many within 100 miles of the Luton factory. Over the expected lifecycle of the van, it's estimated £600m of revenue will be generated for British businesses.
This despite it being the product of a joint venture with Renault, which continues to produce its Trafic version, as well as the Nissan NV300 and Fiat Talento, at its factory in France.
Even so, Vauxhall banks on patriotism playing a role in the Vivaro's success; its chief rival, the Ford Transit Custom, is no longer built in the UK, and many Vivaro models proudly carry a Union Jack badge on the back.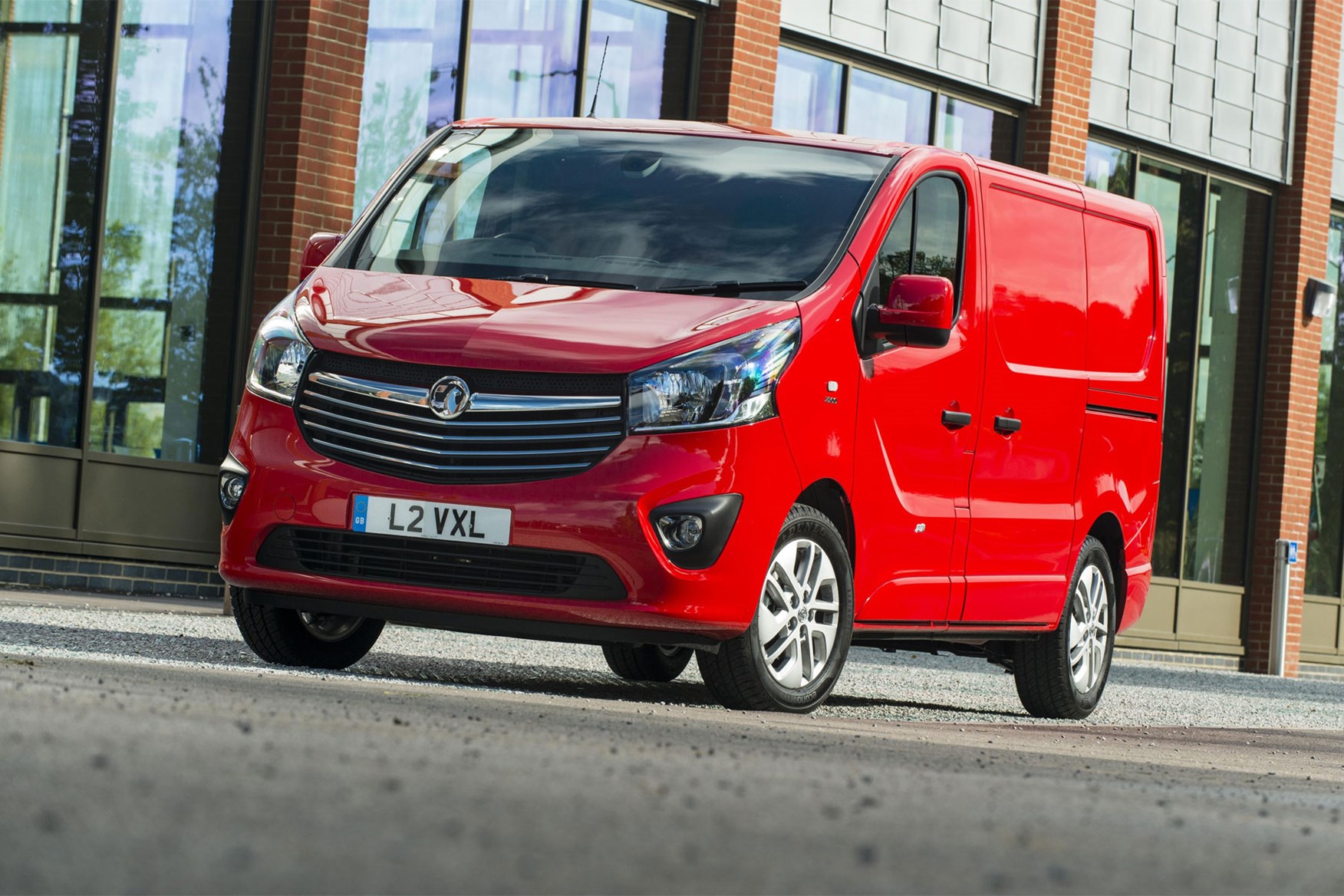 Other key competitors include the VW Transporter and the Citroen Dispatch / Peugeot Expert / Toyota Proace trio.
Those last three took on even greater significance in 2019, when Vauxhall revealed an all-new Vivaro van based on the same platform; more details on this below.
What makes the Vauxhall Vivaro different to the Renault Trafic?
Visually, only the front panels differ from the Renault version, with a unique bonnet, grille, front bumper and internal headlight design.
The remainder of the bodywork, the car-like interior and all the mechanical components are common to the two van ranges.
Like the Renault, the Vivaro is also a particularly pleasant mid-size van to drive, with neat handling, good refinement and frugal real-world fuel economy.
Maximum payload isn't the most impressive, however, and there are certainly more powerful medium vans available.
Vauxhall Vivaro engines, body styles and trim levels
The commonality between the Vivaro and the Trafic includes all four 1.6-litre turbodiesel engine options, and the bodywork choices of panel van, crew cab, minibus with up to nine seats and platform cab for aftermarket conversions.
More premium passenger carrying MPV variants also appeared later in its life.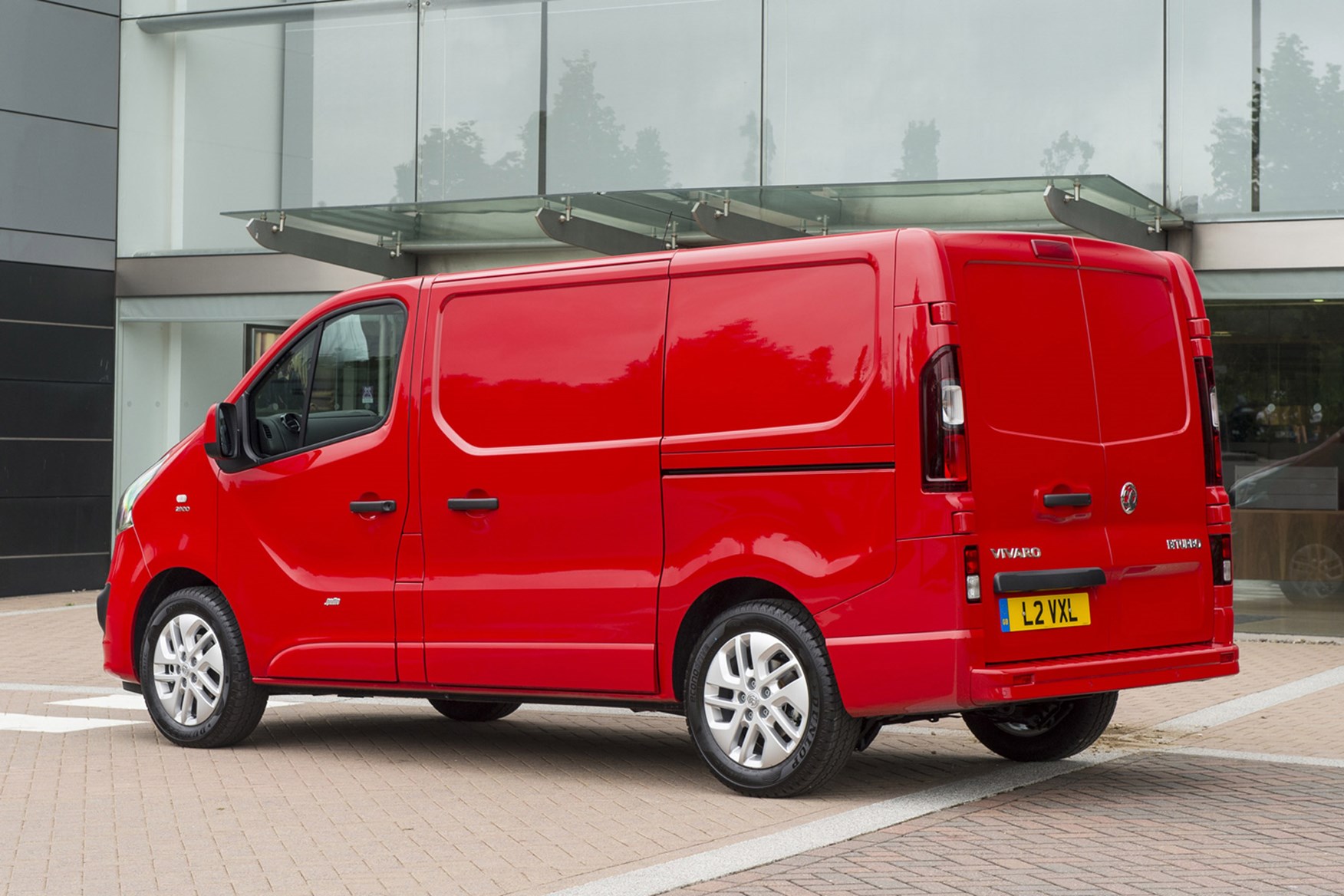 Trim level choices range from basic working vans with unpainted bumpers through to well-equipped Sportive models and - again, later in its life - Limited Edition Nav versions with sat-nav as standard (and dubious graphics).
This Vivaro is available in two body lengths and with two roof heights (though the higher-roofed variants are actually built by Renault in France).
Replaced by all-new Vauxhall Vivaro in 2019
Things took an unusual twist for the gen-two Vivaro when the PSA Group purchased Vauxhall from General Motors in 2017.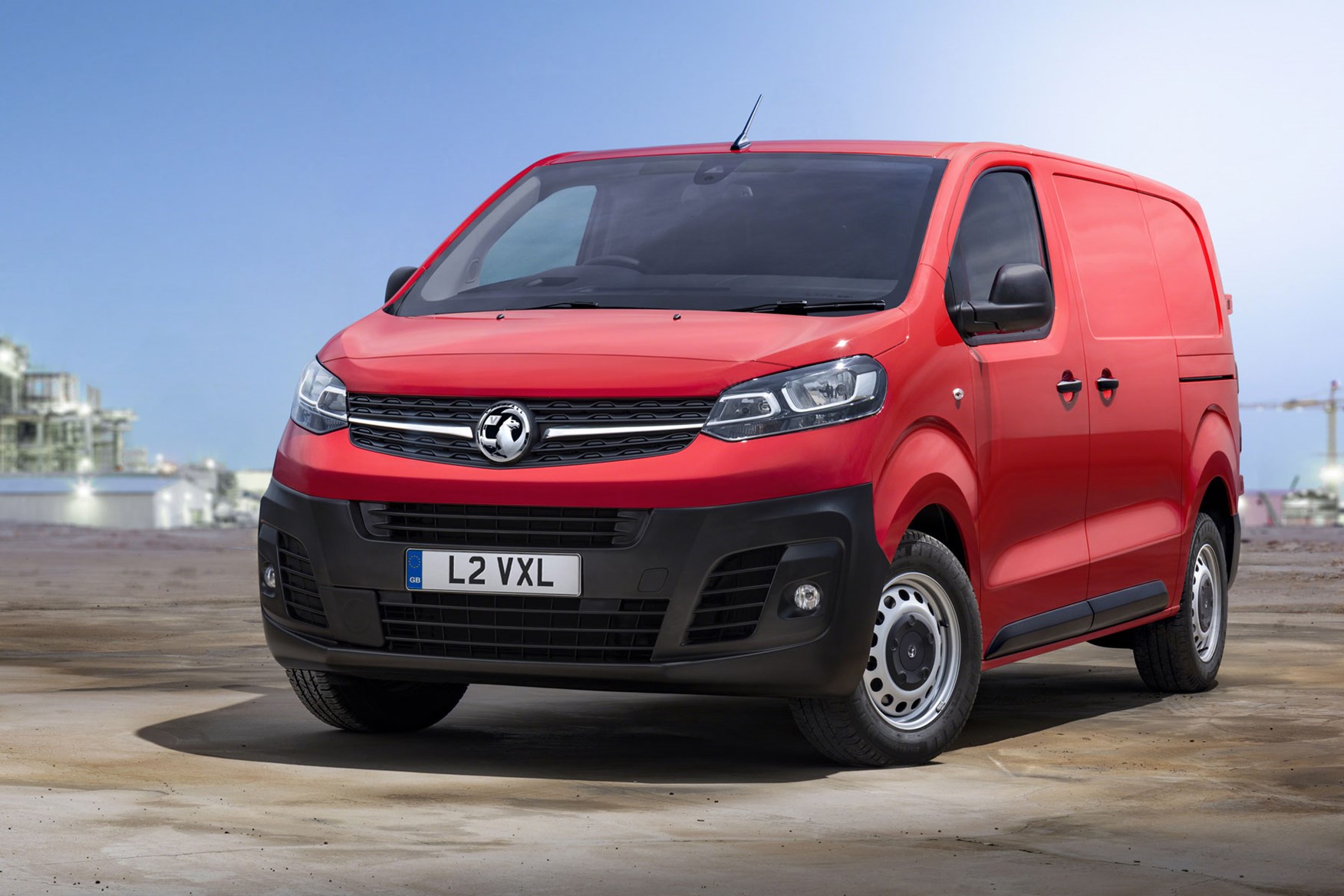 PSA is the parent company of Peugeot-Citroen, and since Renault is a French arch rival the decision was soon made to switch the Vivaro onto PSA's own medium van platform (as pictured above). The same as the one used by the Dispatch and Expert.
As a result, the Trafic-based Vivaro's production run was over just five years after launch - giving it one of the shortest lifecycles in recent van history.
Read our review of the all-new 2019 Vauxhall Vivaro.
---
Vauxhall Vivaro verdict
Though never as popular as the Ford Transit Custom - which typically sold in twice the numbers - this generation of Vauxhall Vivaro remains a fine choice of medium van.
Comfortable and very car-like to drive, it covers distances easily, has a modern cab design and a practical load area. The engines are punchy yet efficient.
Many rivals will carry greater payload, but with keen pricing yet good value, this is a cost-effective van, and is accomplished enough to be used as weekend wheels as well.
Skip to our full verdict on...
Engines are small but punchy
This is a quiet, comfortable van
Better than most rivals to drive
Immediately obvious, whatever type of road surface you drive the Vauxhall Vivaro along, is how comfortable and well-controlled the ride is, both with the cargo bay empty and laden.
It is a remarkably car-like van to drive, able to comfortably absorb bumps and potholes yet still maintaining impressive composure when cornering quickly.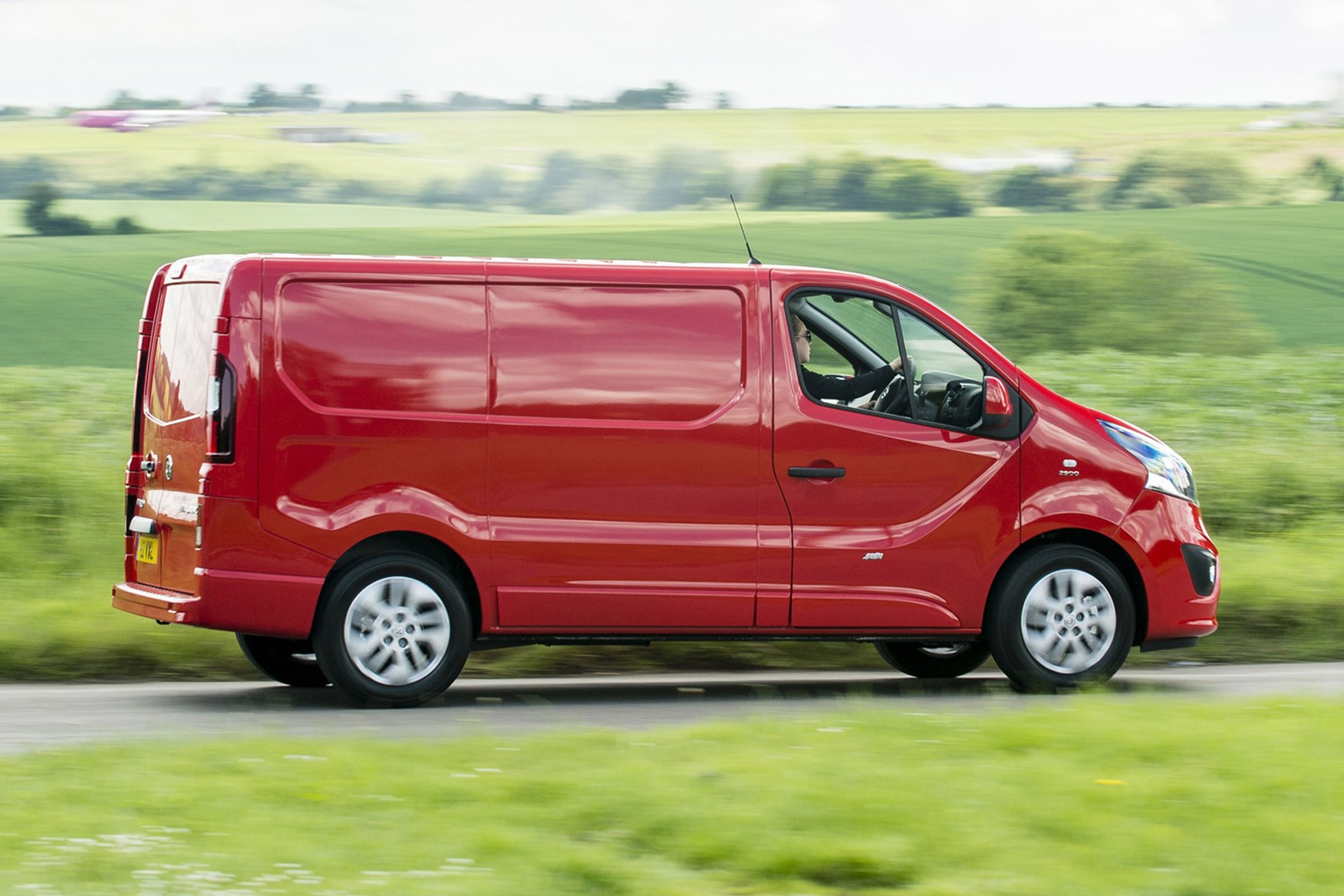 This is not only an improvement over the previous generation of Vivaro but most other rival vans in its segment at launch as well. In fact, at the end of its life five years later, this is still one of the mid-size benchmarks from behind the steering wheel.
Noise and vibrations are well-isolated, too; good news for everyone on board.
Vauxhall Vivaro Euro 5 and Euro 6 engines
This Vivaro has always been available with four different tunes of 1.6-litre diesel engine - although exact power output and torque varies with year, as the later Euro 6 emissions-compliant versions are slightly more powerful than their Euro 5 predecessors.
The Vauxhall Vivaro Euro 5 engines (sold from launch in 2014 until around the mid-point of 2016) are as follows:
1.6CDTi single-turbo - 90hp / 260Nm

1.6CDTi single-turbo - 115hp / 300Nm

1.6CDTi BiTurbo twin-turbo - 120hp / 320Nm

1.6CDTi BiTurbo - 140hp / 340Nm
The Vauxhall Vivaro Euro 6 engines (introduced in mid 2016) all received a 5hp upgrade but maintained the same levels of torque:
1.6CDTi single-turbo - 95hp / 260Nm
1.6CDTi single-turbo - 120hp / 300Nm
1.6CDTi BiTurbo twin-turbo - 125hp / 320Nm
1.6CDTi BiTurbo - 145hp / 340Nm
All but the more powerful single-turbo motor came with EcoFlex fuel-saving technology (stop-start system and brake energy recuperation), but in the lower-powered single-turbo the tech was only optional.
Regardless of emissions era, each one of these engines is refined and quiet, with ample grunt to make light of city driving. If you frequently transport heavier loads or you regularly cruise Britain's motorways, the torquier BiTurbos do make more sense.
Vauxhall Vivaro: good to drive
The Vivaro's steering feels light enough to make easy work of winding your way slowly around urban environs, while at higher speed it gradually feels heavier in order for the driver to feel fully in control.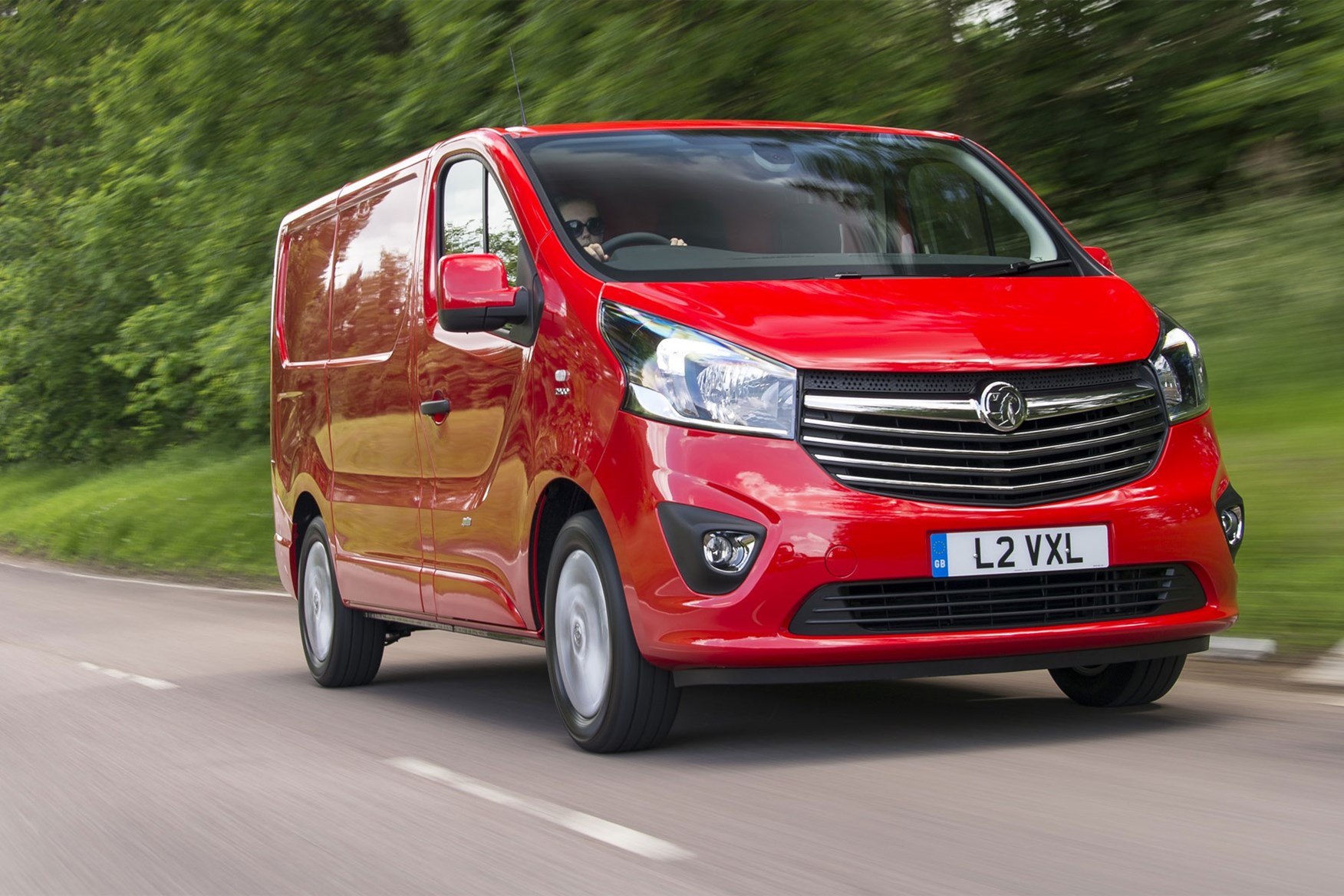 Similarly the six-speed manual transmission is slick to use and feels light yet positive as you swap ratios.
There is no automatic gearbox option, however, which rivals including the Ford Transit Custom and VW Transporter do offer.
Comfortable, car-like interior with lots of adjustability

Plenty of storage and mobile office capability

On-board technology is starting to feel its age
What's likely to strike you most about the Vauxhall Vivaro's interior is how un-van-like it is; the driving position and dashboard design make it feel much more like a people carrier than a commercial vehicle, although the harder plastics are a reminder of the heavy-duty role it has to satisfy.
The only area that seems a little suspect was the panel covering the passenger airbag, which feels decidedly flimsy. Time will tell if it passes the steel toe-cap boot and heavy work bag test.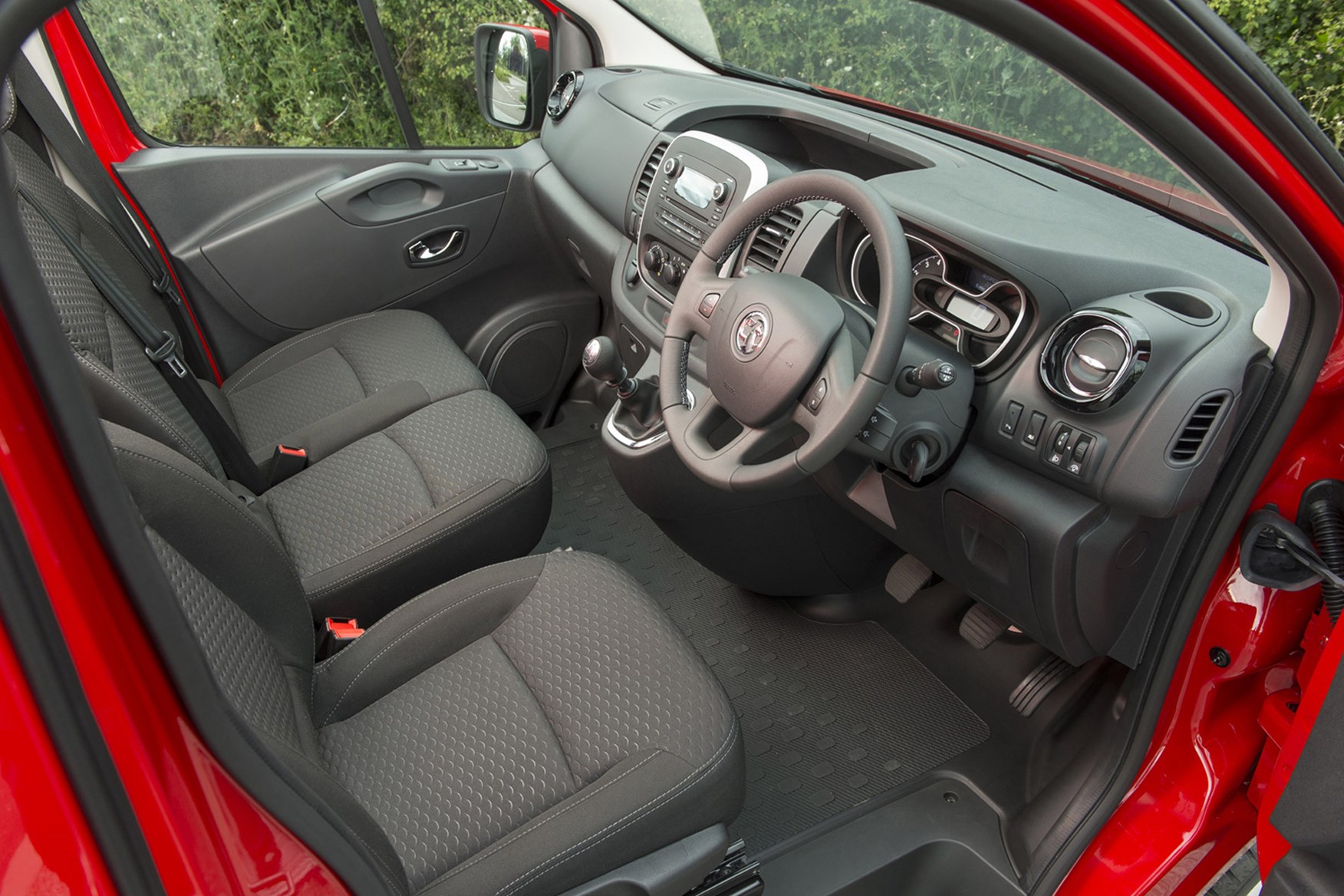 Although the familiar griffin badge sits on the steering wheel's centre, the interior owes more to Renault than Vauxhall, with many of the components lifted straight from the French brand's car range.
Vauxhall Vivaro cab comfort and storage
Those swapping from the older Vivaro will appreciate the greater range of seating adjustment, comfort and space.
Additionally, convenient touches abound, such as the dedicated smartphone and tablet cradles on the dashboard (although this is a little small for most smartphone these days), and the flip-down centre seatback where you can tuck away a laptop and also doubles as a desk and stand for the integrated clipboard.
Interior stowage is one of the Vivaro's strong suits – in all there are 14 separate cubbies with a combined total capacity of 90 litres. DAB digital radio is standard across both Vivaro trims, as is Bluetooth phone connectivity.
Should you prefer to have on-board sat-nav there are two choices available, both offering fine clarity via a 7.0-inch colour touchscreen. These aren't the most modern systems by 2019 standard, however.
One disappointing area is the optional dual passenger seat, which doesn't offer much room at all for the middle passenger.
Thanks to its economical range of 1.6-litre diesel engines, many of which are fitted with EcoFlex stop-start technology, Vauxhall Vivaro running costs should prove very reasonable.
Vauxhall Vivaro mpg
With a choice of single- and twin-turbocharging and four power outputs, the small size of the 1.6-litre engines translates into impressive on-paper fuel economy. At launch it was the most fuel efficient van in its class.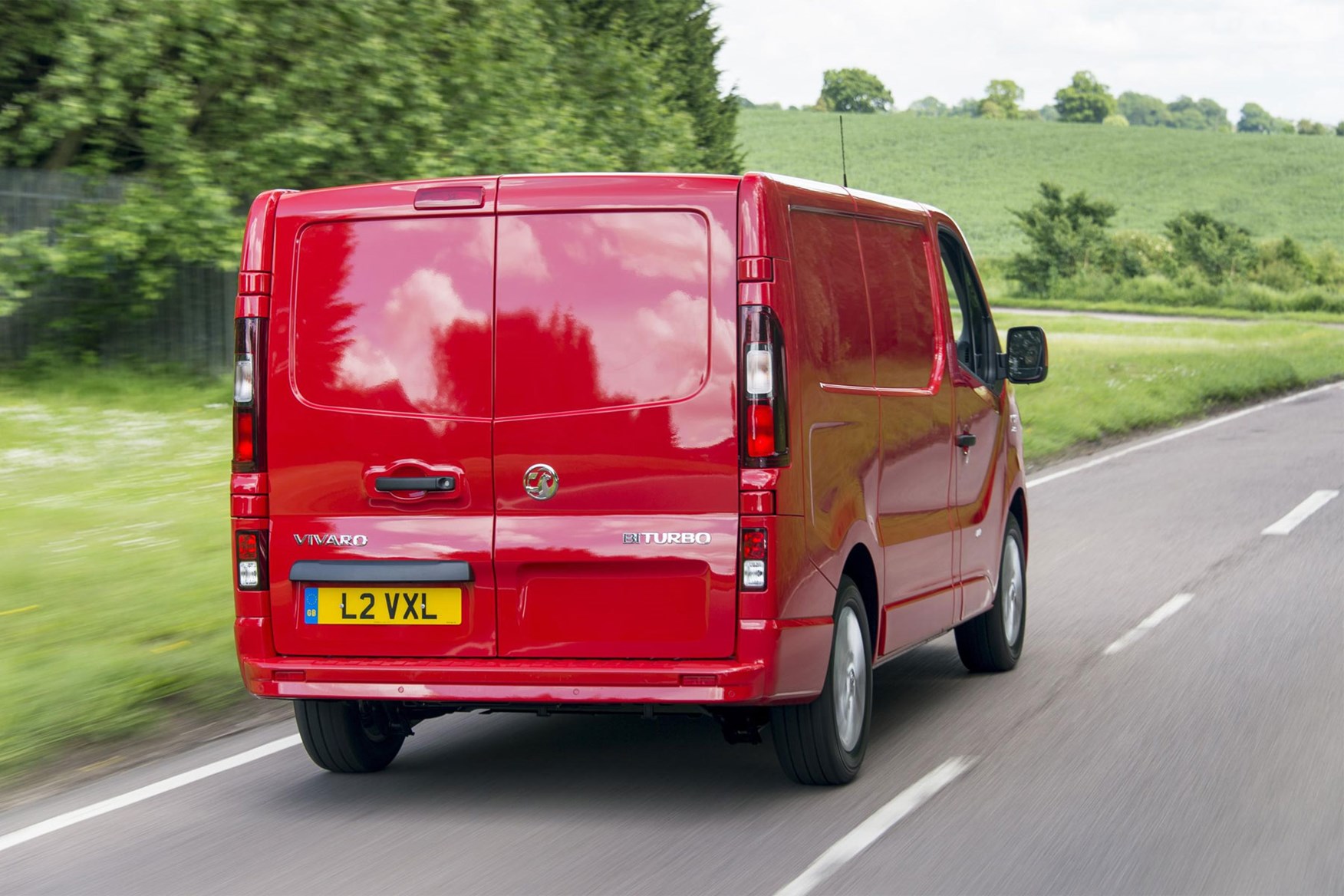 Some more modern rivals have surpassed the Vivaro's 47mpg best on paper now, but this remains a frugal van in the real world, and unless you've got a really heavy right foot you should expect to see a decent return of miles from every tank.
Vauxhall Vivaro service intervals
This generation of Vauxhall Vivaro has service intervals set at every two years or 25,000 miles, whichever is sooner.
This applies to all engine outputs and both the Euro 5 and Euro 6 emissions variants.
SImilarly, the timing chain is said to require no service work at all, keeping the Vivaro on the road for longer.
Vauxhall Vivaro warranty
The Vivaro launched with a three-year warranty, but at times has been offered with four years of cover.
Later vehicles returned to the three-year level, however, as manufacturers realise customers value lengthy warranties less than cheaper servicing and other incentives.
A thorough development process with commercial vehicle partner Renault was expected to make reliability a strong selling point for the Vauxhall Vivaro.
Combined with this is the fact that the Luton factory responsible for producing the Vivaro is recognised as one of the highest-achieving plants when it comes to quality of production, meaning the robust, durable plastics look and feel well-assembled.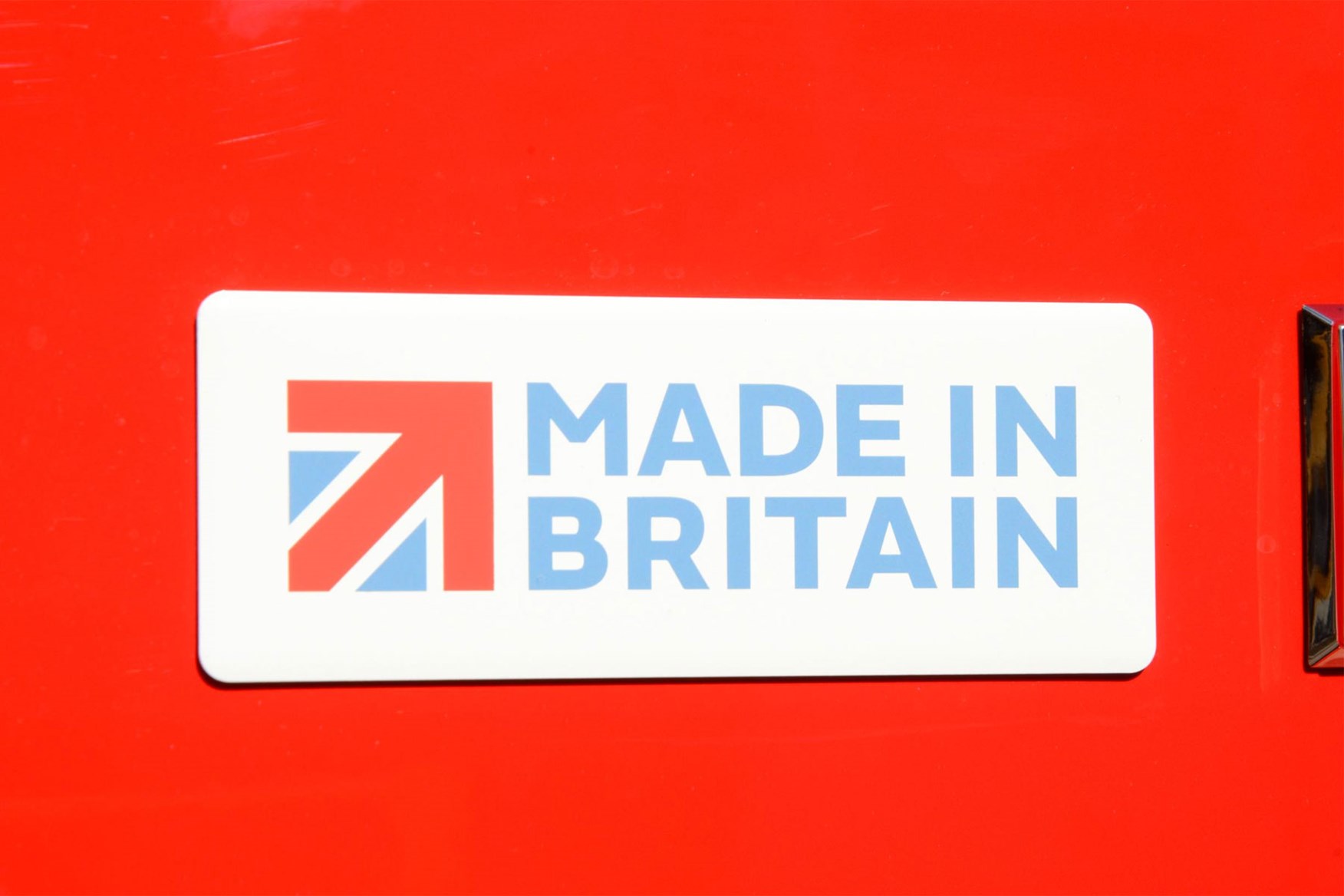 This hard work appears to have paid off, as the Vivaro typically ranks among the top 10 most reliable vans in the FN50 fleet reliability survey - something the Ford Transit Custom has recently struggled to manage.
>> The most reliable vans according to the FN50 van reliability survey
Vauxhall van dealer network
Vauxhall also has an extensive nationwide network of dealers, meaning most van operators are likely to be well within reach of a centre should they need work undertaking, a major consideration for minimising downtime.
Packed with safety expertise based on Vauxhall's (and partner Renault's) strong performances in Euro NCAP car crash tests, for it's time this Vivaro was regarded as a very safe and secure van in which to travel.
Four airbags protect occupants in the cabin, with active head restraints helping minimise the effects of whiplash injury too.
On-board electronics help keep the Vivaro stable, including specific functions to help reduce trailer sway motion in addition to a sophisticated traction control system to ensure getaways on loose and slippery surfaces are successful.
The headlights and taillight are mounted high on the Vivaro's body to aid visibility.
Anti-blindspot mirror
In addition to the door mirrors with convex surfacing on their lower and outer edges, the inside of the passenger sun visor is fitted with a large wide angle mirror. This simple yet effective device significantly improves visibility over the driver's left shoulder – an area where a huge blind spot is created by the van's panelling.
Choose a Vivaro with a second row of seats and the outer two positions are equipped with ISOFIX child seat-mounting points for additional security.
Lacks the latest active safety aids
However, what the Vivaro doesn't have are any of the latest active safety aids, such as autonomous emergency braking (AEB), electronic blindspot monitoring or lane-keeping assist.
Which Vauxhall Vivaro (14-19) is best for me?
Still trying to work out which Vauxhall Vivaro to buy? We've also got the following individual variant reviews for you to consider:
You can also find Vauxhall Vivaro deals near you in the Parkers Vans and Pickups for sale section:
>> New Vauxhall Vivaro vans for sale
>> Used Vauxhall Vivaro vans for sale
You can find Vauxhall Vivaro lease deals on Parkers as well.
---

Vauxhall Vivaro Doublecab Sportive 125hp Euro 6 review
Tested Feburary 2017 by CJ Hubbard
Six-seater van with 4.0-cubic metre load space
Sportive trim comes loaded with standard kit
EU6 twin-turbo engine powerful and refined
Need a van that can carry more than a crew of two or three, or perhaps one that can also do duty as family wheels whenever the need arises? Then you'll be wanting a van with two rows of seats, much like this Vauxhall Vivaro Doublecab in Sportive specification.
Why buy the Vivaro Doublecab?
The Vivaro Doublecab variant trades payload volume for added people practicality, and comes in a slightly restricted range compared to the regular panel van.
Meaning that there's just a single Gross Vehicle Weight of 2,900kg, and one roof height (H1) rather than two. Though you still have a choice of two body lengths (L1 and L2).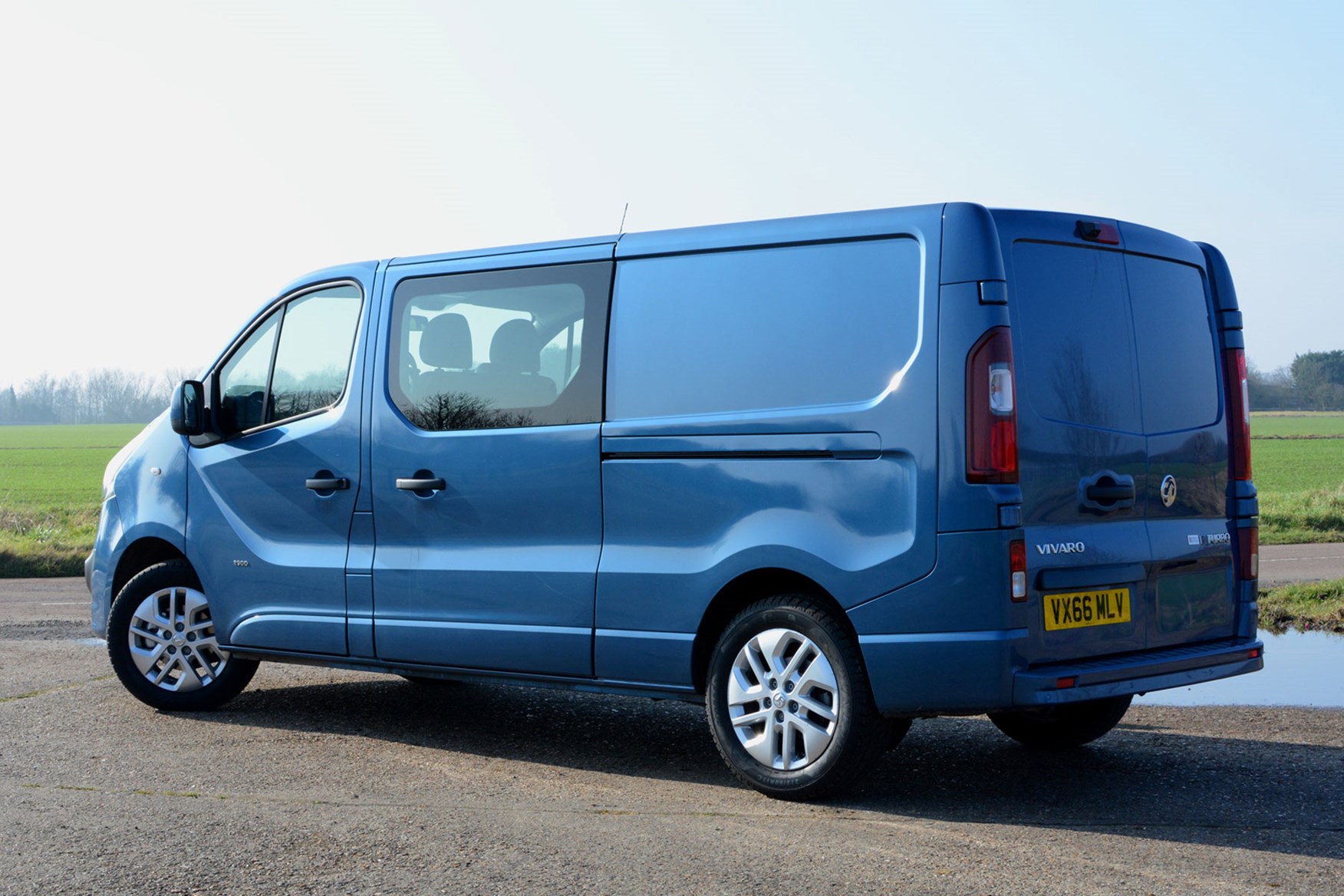 The test vehicle is an L2 model, which gives you an impressive 4.0 cubic metres of load space and a payload rating over 1.0 tonne. Not to mention seating for six, which on the Sportive trim also includes Isofix mountings for child seats in the rear bench, extending its 'lifestyle' versatility.
Vauxhall Vivaro Doublecab L2 load area dimensions, capacity and payload
We'll come back to those added functions in a moment. For now let's concentrate on the Vivaro's primary purpose – being a van. These are the critical dimensions:
Maximum load length behind rear seats: 1,740mm
Maximum load length at floor: 2,423mm
Maximum load width: 1,662mm
Maximum width between the wheelarches: 1,268mm
Maximum load height: 1,387mm
Load volume: 4.0 cubic metres
Payload rating: 1,040kg
To put all that into context, the load volume is basically as big as a long-wheelbase van from the class below – even though this Vivaro also has seating for six.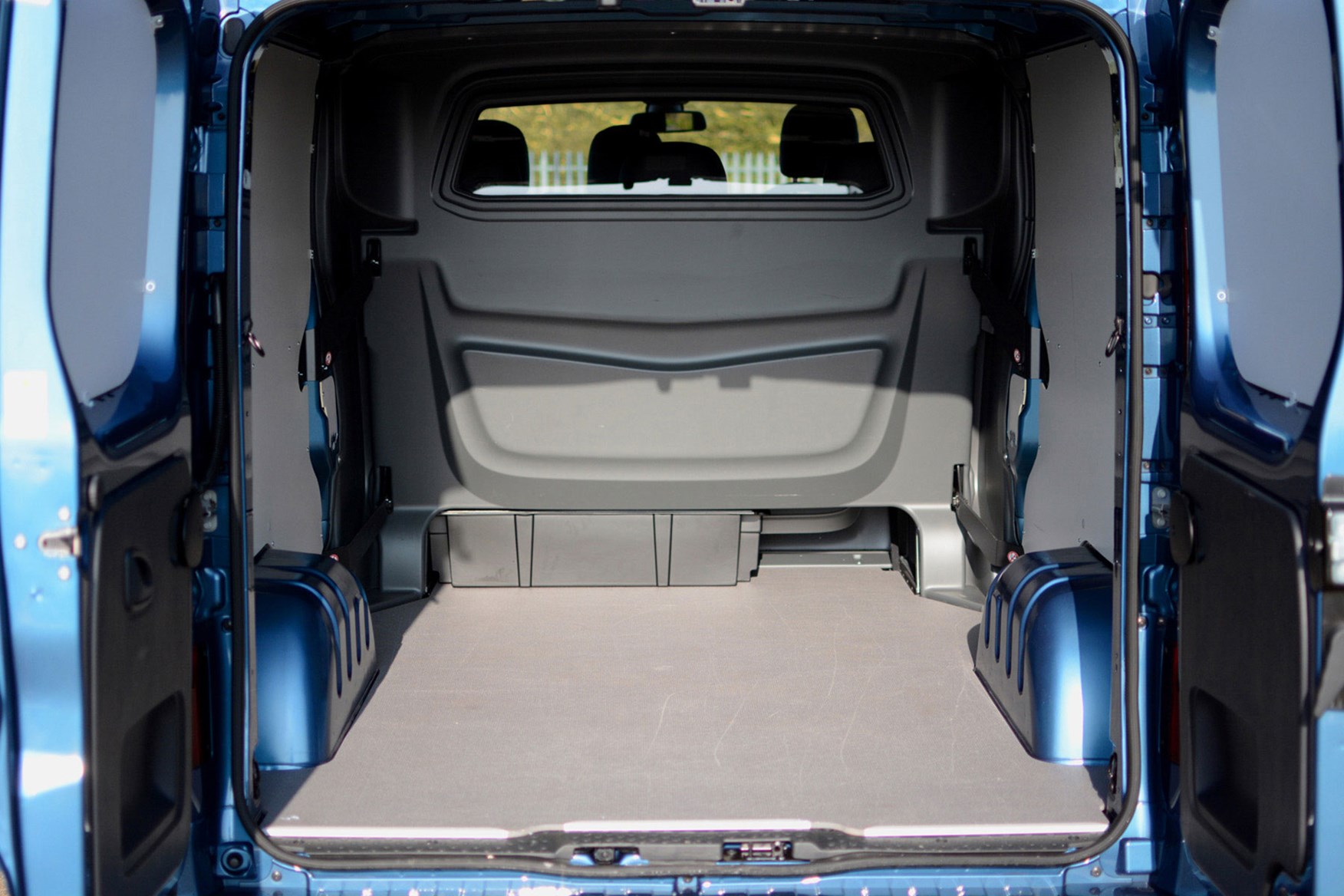 The load area on our example was fully wood lined, a £345 option for the floor, £310 for the full-height sides (all prices quoted exclude VAT).
Doublecab Vivaros do without the full steel bulkhead fitted in the panel vans, gaining a windowed ABS plastic replacement instead (the window being largely useless unless you option windowed rear doors of course).
The plastic bulkhead has the advantage of allowing loading beneath the rear seats, hence the extra 683mm of load length at the floor.
The Vivaro's width easily accommodates a Euro pallet, while the rear doors have two opening positions (90 and 165 degrees).
You must remember the 1,040kg payload rating includes everything on board the van – including the people. So if you've got a literal tonne of gear to move you may have to leave your mates at home or risk the wrath of the law…
Vauxhall Vivaro Doublecab L2 passenger space
You'll have no trouble getting three full size humans into the second-row seating in this Vivaro, and with Sportive trim you get twin windowed sliding doors for access as standard – which is one more than Volkswagen gives you on even the fancy-pants Transporter Sportline.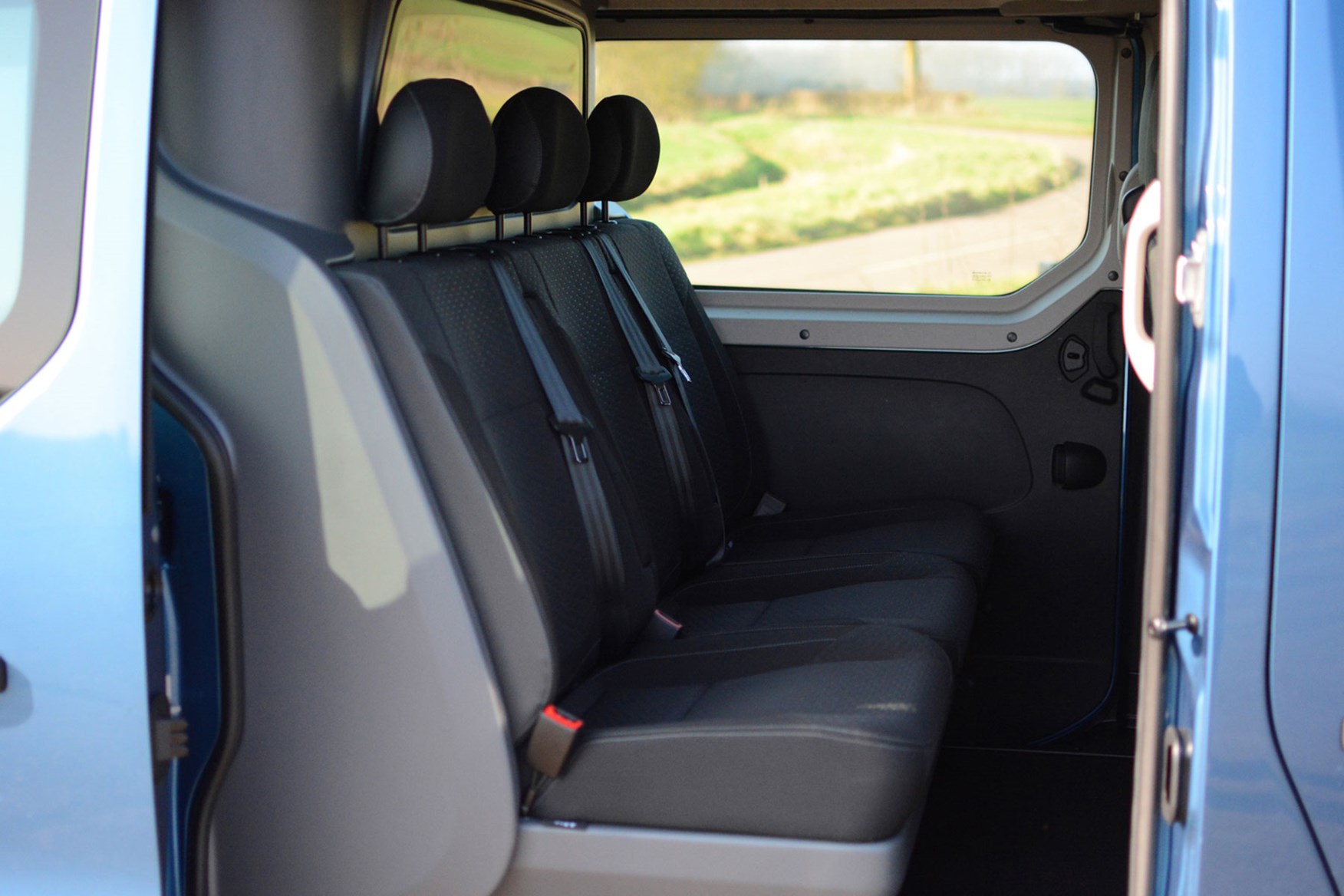 In the front, however, the two people on the passenger side will need to be close friends, as the elbow room isn't as generous. The one in the middle will probably also prefer to be shorter of leg, given the protruding gearlever pod.
Still, both the outer rear seats feature Isofix mounting points, making this a superbly adaptable family wagon – albeit one that will require a rather large driveway to park it on.
Vivaro Sportive standard equipment
Sportive is the higher of the two standard Vivaro trim levels, and comes very well equipped.
Standard features include:
Body-coloured finish for the bumpers, side moldings, door mirrors and rear light surrounds; looks good but means more costly repairs if you prang it
Air conditioning
Dual passenger seat (Doublecab doesn't get the fold-flat centre section that forms a kind of mobile office, unfortunately)
Electric heated mirrors and electric front windows
Remote locking with selective door opening
Six-way adjustable driver's seat, plus height and reach adjustable steering wheel
Cruise control with speed limiter
Rear parking sensors
DAB digital radio with Bluetooth, CD player and USB connection
LED daytime running lights plus front foglights with chrome surround
Metallic paint
You'll still have to pay extra for alloy wheels (£610) and sat-nav (£860), and there's only one standard airbag. The optional navigation system is identical to the one fitted in the Renault Trafic, which is straightforward to operate via the touchscreen.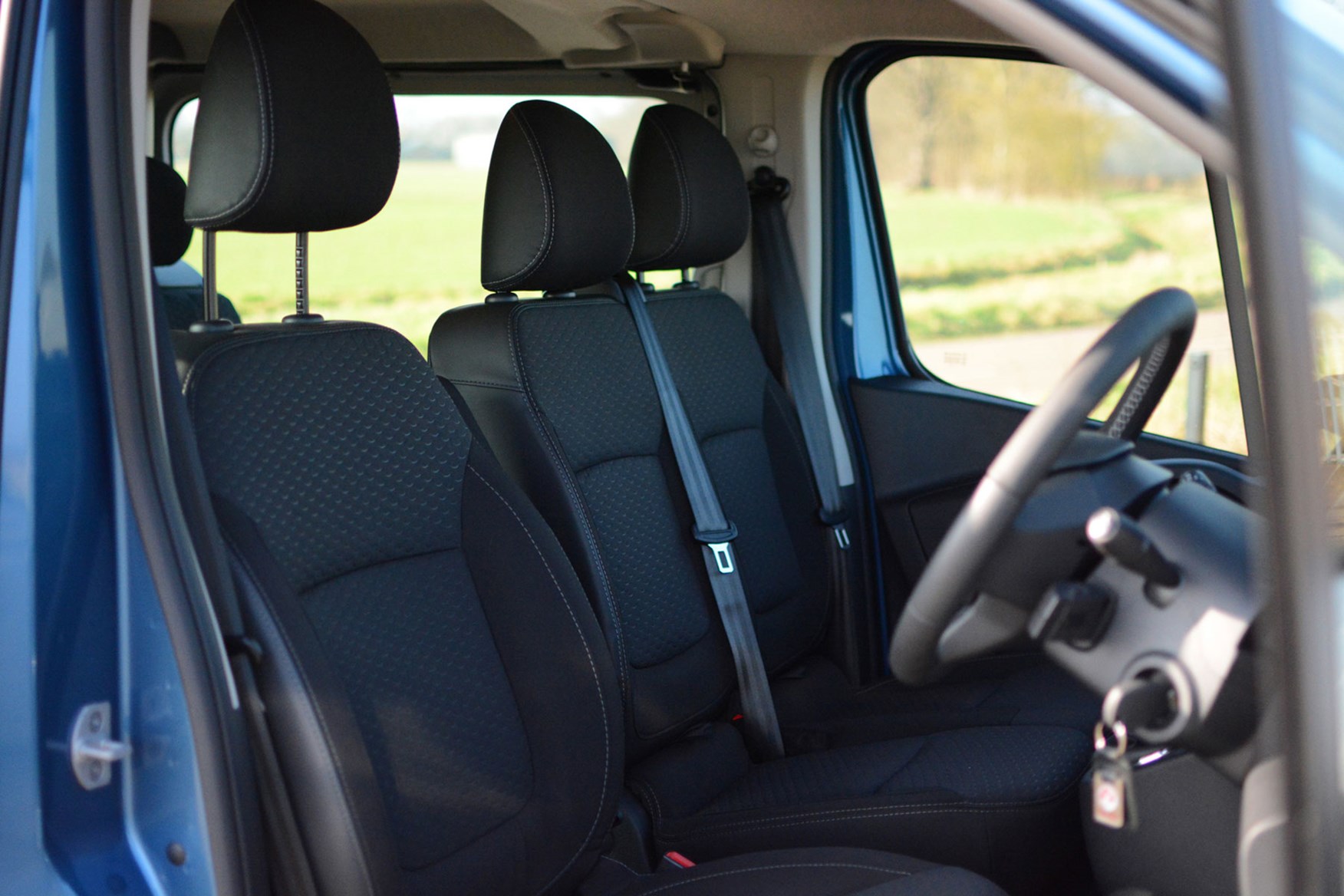 One other neat feature of the test van was the reversing camera upgrade, which displays on a screen inset into the rear-view mirror.
Verdict on the Vauxhall Vivaro Doublecab Sportive
The Vivaro Doublecab Sportive is not the flashiest-looking multi-crew van, nor does it have an image to compete with the likes of the VW Transporter. But it's big, comfortable and well put together, with one of the most easy-going driving experiences of any medium van on the market.
Definitely one for the shortlist – just don't forget to shop around for the best deal.
---

Vauxhall Vivaro Sportive 140hp Euro 5 review
Tested July 2015 by Liam Campbell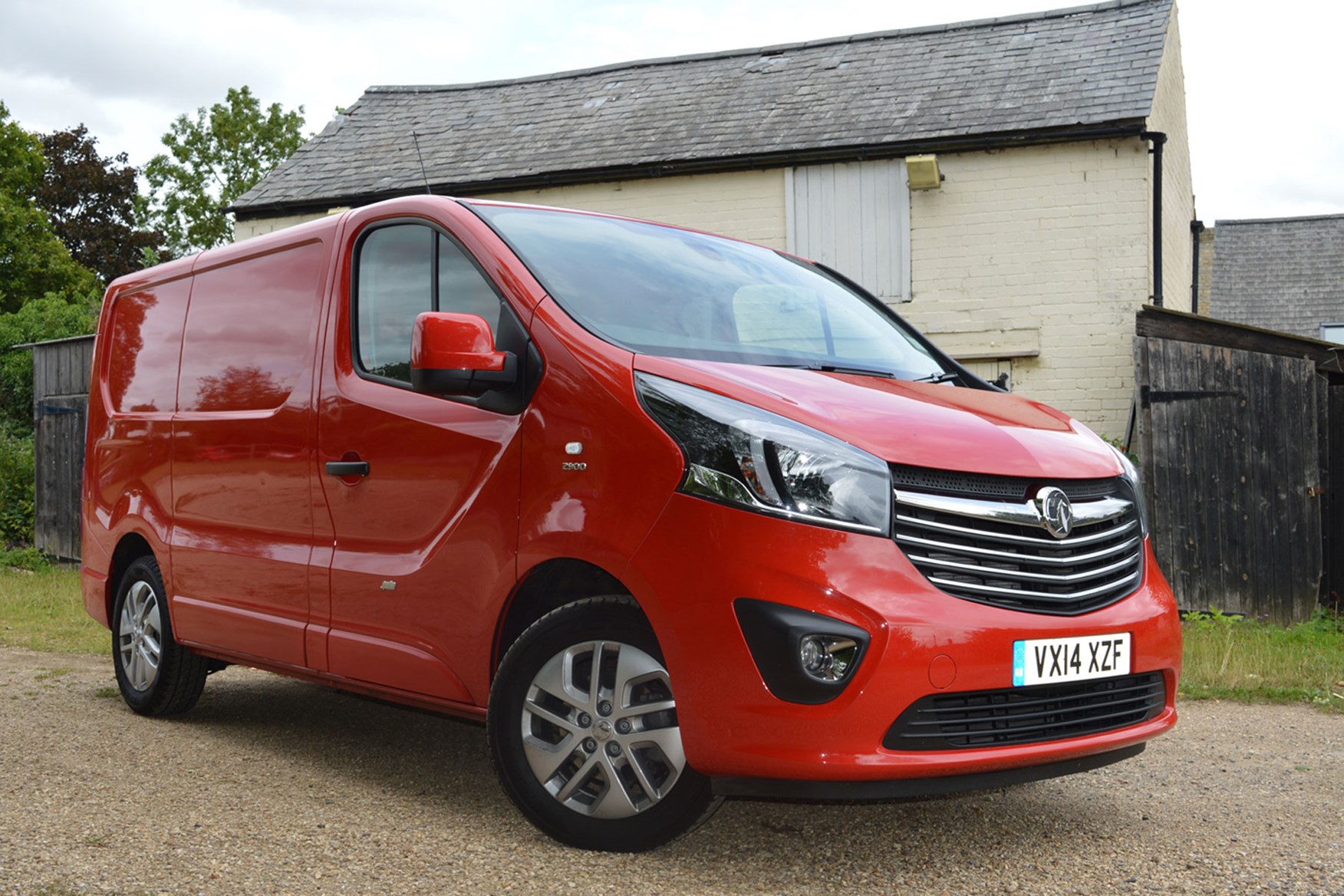 1.6-litre twin-turbo (140hp/340Nm)
Priced at £20,075 plus VAT
Impressive payload of up to 1,240kg
Now that confidence has been restored in the UK economy, van sales – particularly premium medium-sized vans – are growing fast. Vauxhall's entry to this market, the Vauxhall Vivaro Sportive, is no stranger to UK tradespeople, but with a model replacement last year, we thought we'd familiarise buyers with this latest version of the British favourite.
Kerb appeal
The Sportive spec isn't quite as sporty or stylish as the Sportline trim on the Volkswagen Transporter, or the Sport Van trim on the Ford Transit Custom. For example, alloy wheels aren't standard and there are no graphics or glossy or chrome effects like its competitors.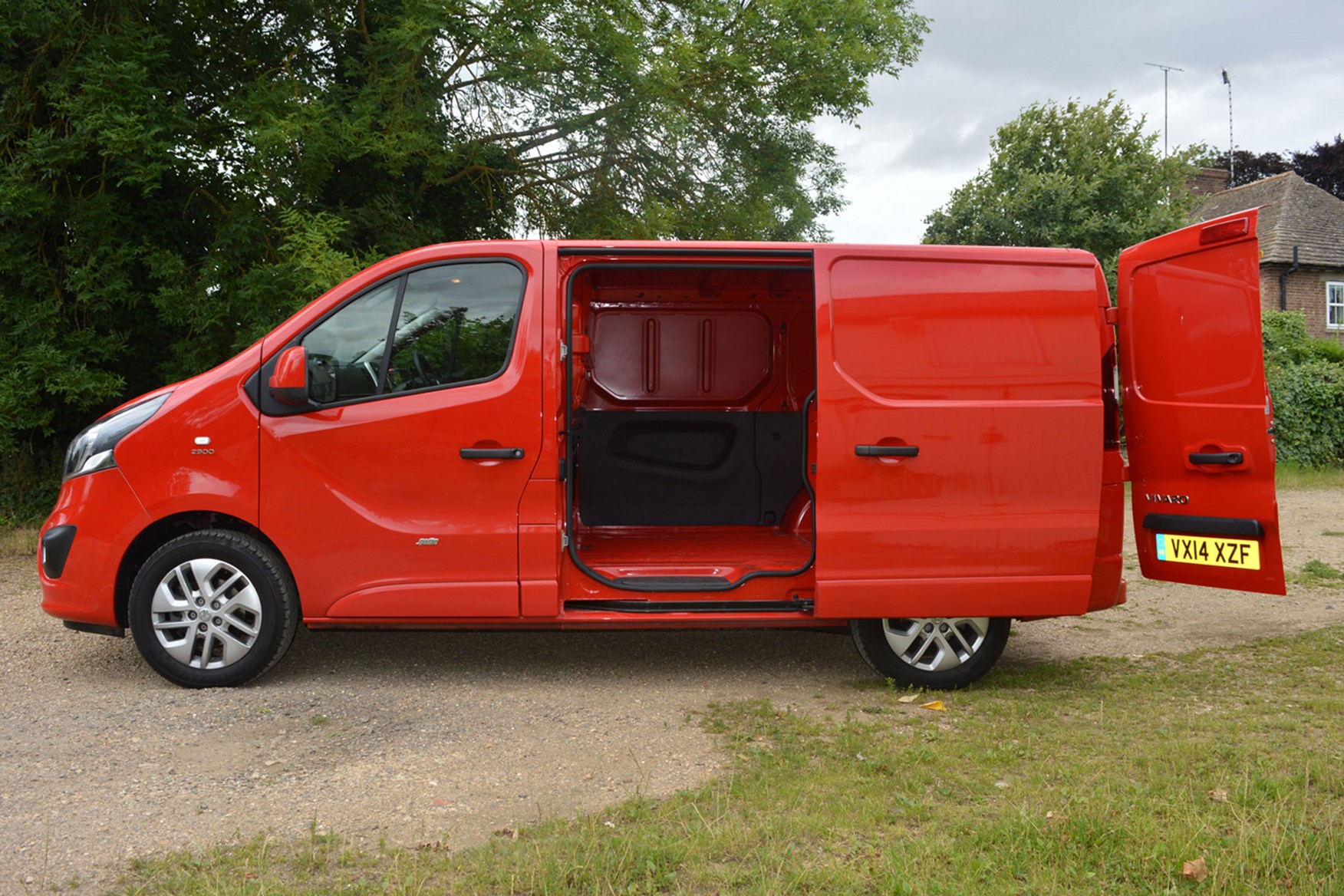 In fact, the only way to tell it apart from the entry level Vauxhall Vivaro is the body coloured door mirrors, bumpers and side protection mouldings. Metallic paints can also be specified, and although it is a lot more visually appealing than the standard, it doesn't live up to its sporty name.
Productive cab
Climbing into the cab, two things are immediately noticeable: the high seating position and spacious cab. The elevated seat position offers far better long-distance visibility than every other in this class, but the high dashboard means it's more difficult to see objects closer to the bumper.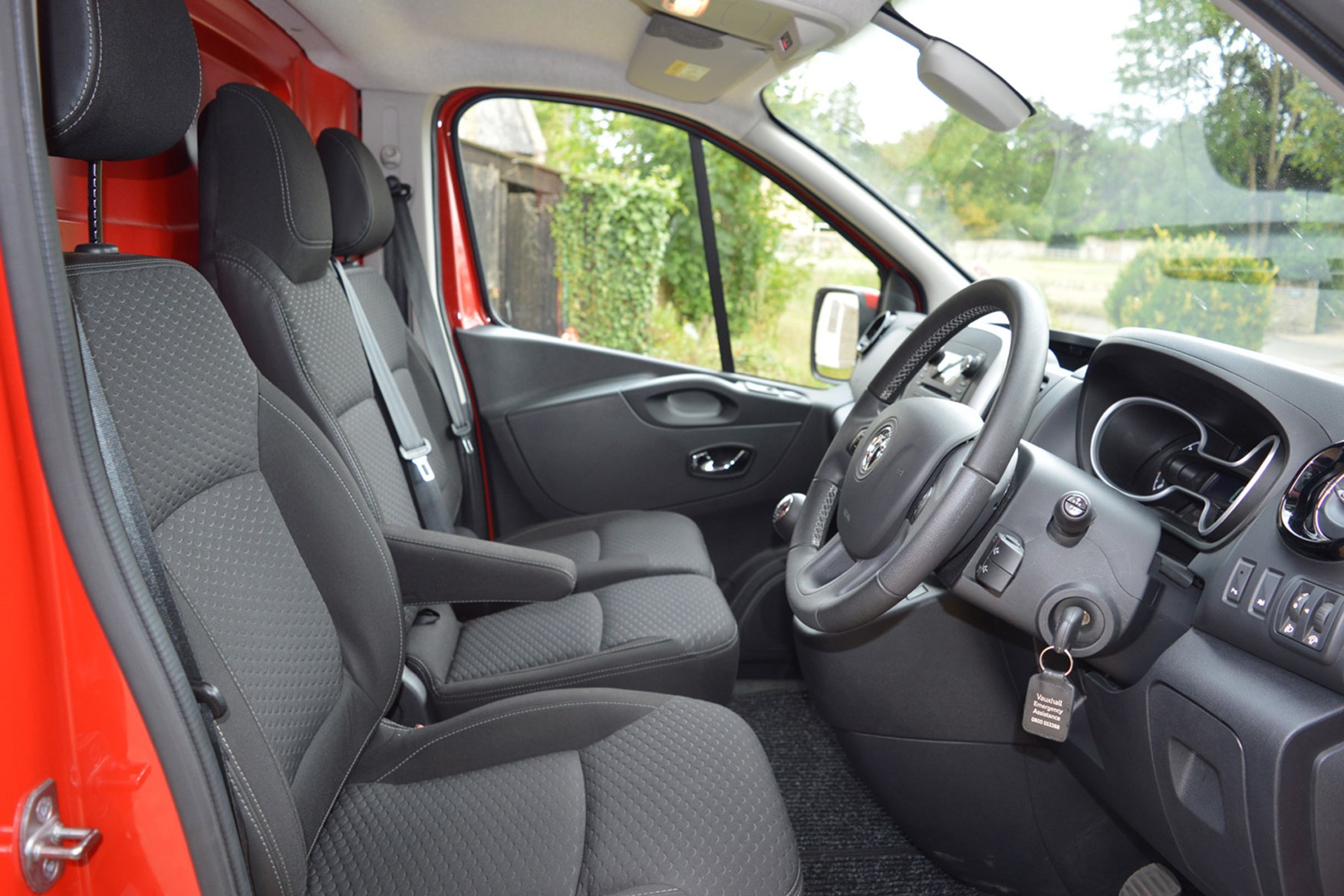 The no-thrills but functional approach continues into the cab. There are no two-tone effects like the competitors; instead the engineers have used a rather dull, grey plastic. The buttons are large and easy to use though, and there are steering wheel-mounted controls for the radio and cruise control.
Storage isn't an issue with Vauxhall providing a wide range of compartments, from underneath the passenger seat to a lidded compartment above the glove box. The Sportive trim gets a slightly better radio, with a CD player, Bluetooth, auxiliary and USB ports.
Also standard is the air conditioning with air recirculation facility and reversing sensors.
Cargo capacity
Our test vehicle was the smallest of all the four Vauxhall Vivaro variants, with the load space measuring a maximum length of 2,537mm, width of 1,622mm and height of 1,387mm, which equates to a VDA load volume of 5.2 cubic metres.
For those carrying extra-long pipes or planks of wood, there is a very useful two-stage load through facility on the Sportive trim that allows items to extend into the passenger foot well, lengthening the maximum load length to 3,750mm.
The payload is equally respectable. The relatively high gross vehicle weight and low payload combine to offer 1,240kg, which is higher than the base Ford Transit Custom Sport and the Volkswagen Transporter Sportline.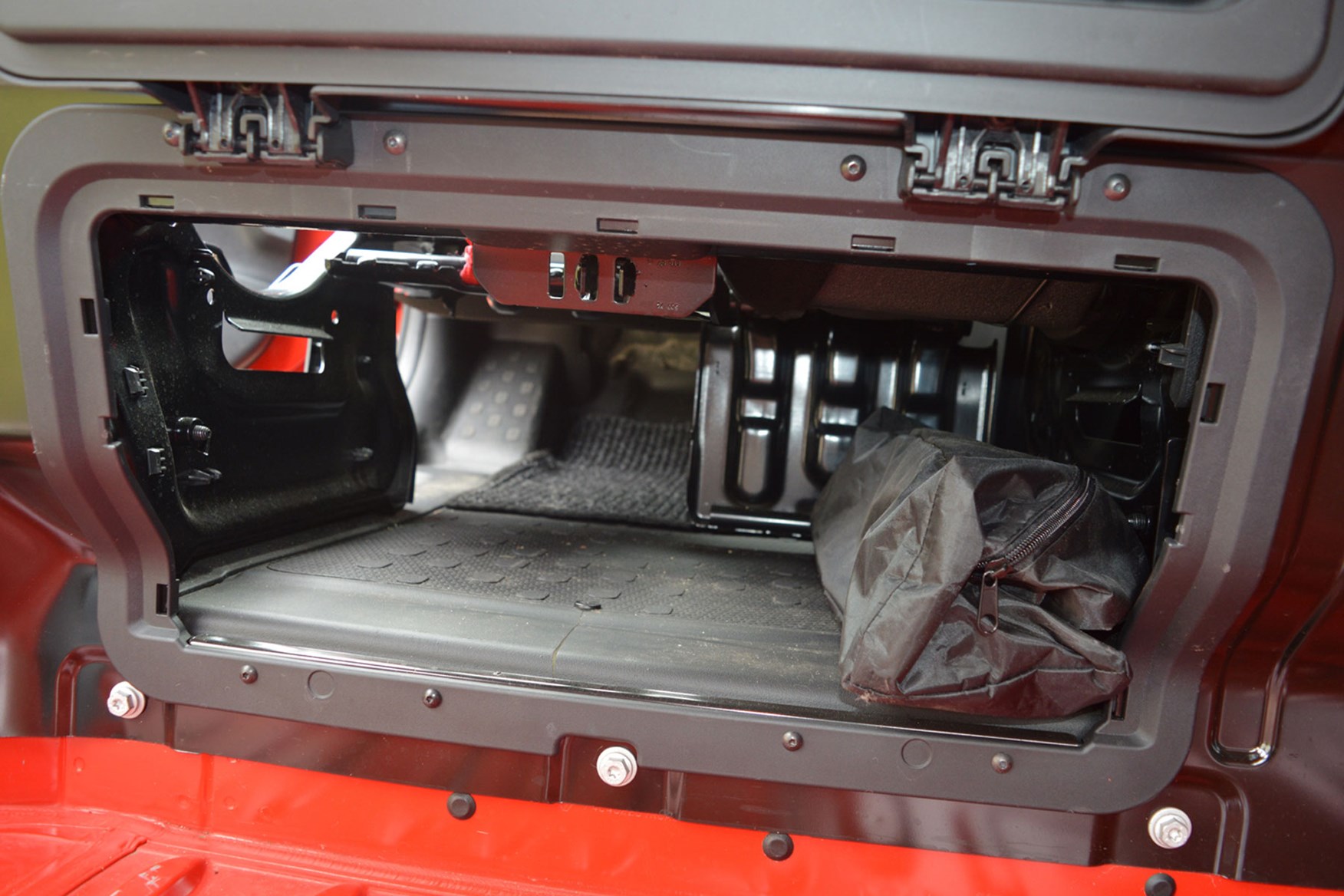 A full bulkhead and nearside side-loading door are standard, although no protection panelling is offered.
>> For full Vauxhall Vivaro dimensions information, see our dedicated dimensions page
On the road
In terms of performance, the Vauxhall Vivaro is a very competitive van but it's marginally beaten by both the Ford Transit Custom Sport and the Volkswagen Transporter Sportline. Under the bonnet of this example is Renault-Nissan's award-winning 1.6-litre twin turbo engine, tuned to 140hp and 340Nm of torque.
It's quick off the mark, and the wide torque band means there's ample pulling power when you find yourself in the wrong gear. The suspension is a little bouncy, although it cushions nasty potholes and speed bumps well.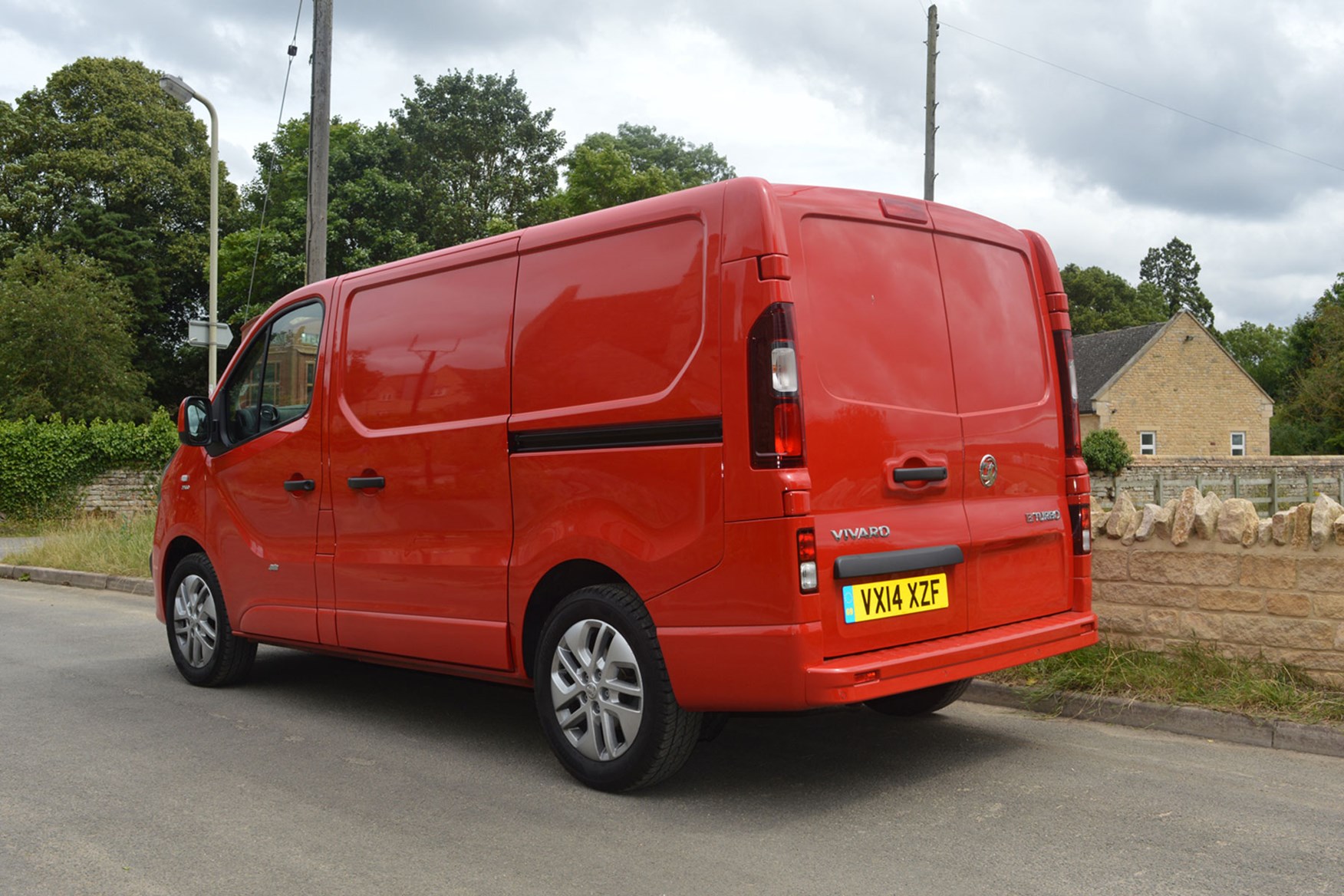 Road and engine noise are kept to a minimum thanks to clever sound proofing, but the wing mirrors generate a lot of noise at higher speeds.
Should I buy one?
There's very little 'Sportive' about this trim of Vivaro, but there's also very little to fault. It's functional and there are nice little touches like the two-stage load-through bulkhead and abundance of storage spaces, and we highly rate it.
<