Fiat Talento review (2021)
Fiat medium van offers lots of space and a fine driving experience
PROS
Smooth, economical engines
Large load space
Good to drive
2019 update brings 170hp
2020 update adds impressive auto
CONS
Beaten for payload by most rivals
May not hold its value well
Lacks latest safety kit
Entry-level 1.6 engine slow
No WLTP mpg figures
Summary
The 2021 Fiat Talento competes in the medium van segment as a rival to the dominant Ford Transit Custom. Originally launched in 2016 as a replacement for the Fiat Scudo, it was updated with a whole new range of engines in late 2019, increasing maximum power from 145hp to 170hp.
Based on the Renault Trafic – and built by Renault for Fiat, in France – the Talento offers a smooth driving experience and a large load area. But it falls well behind the best medium vans when it comes to outright payload.
No big changes have been announced for 2021 so far, but Fiat has just joined forces with Groupe PSA to form a new company called Stellantis, so it's possible the Talento will soon be based off the Groupe PSA medium van platform instead of the Renault Trafic (more on these below).
MY20 update
The revisions introduced in October 2019 – which fall in line with 2019 changes to the Renault Trafic and Nissan NV300, which are both identical vans to the Fiat underneath the branding – are officially known as the Fiat Talento MY20 update, with MY20 standing for model year 2020.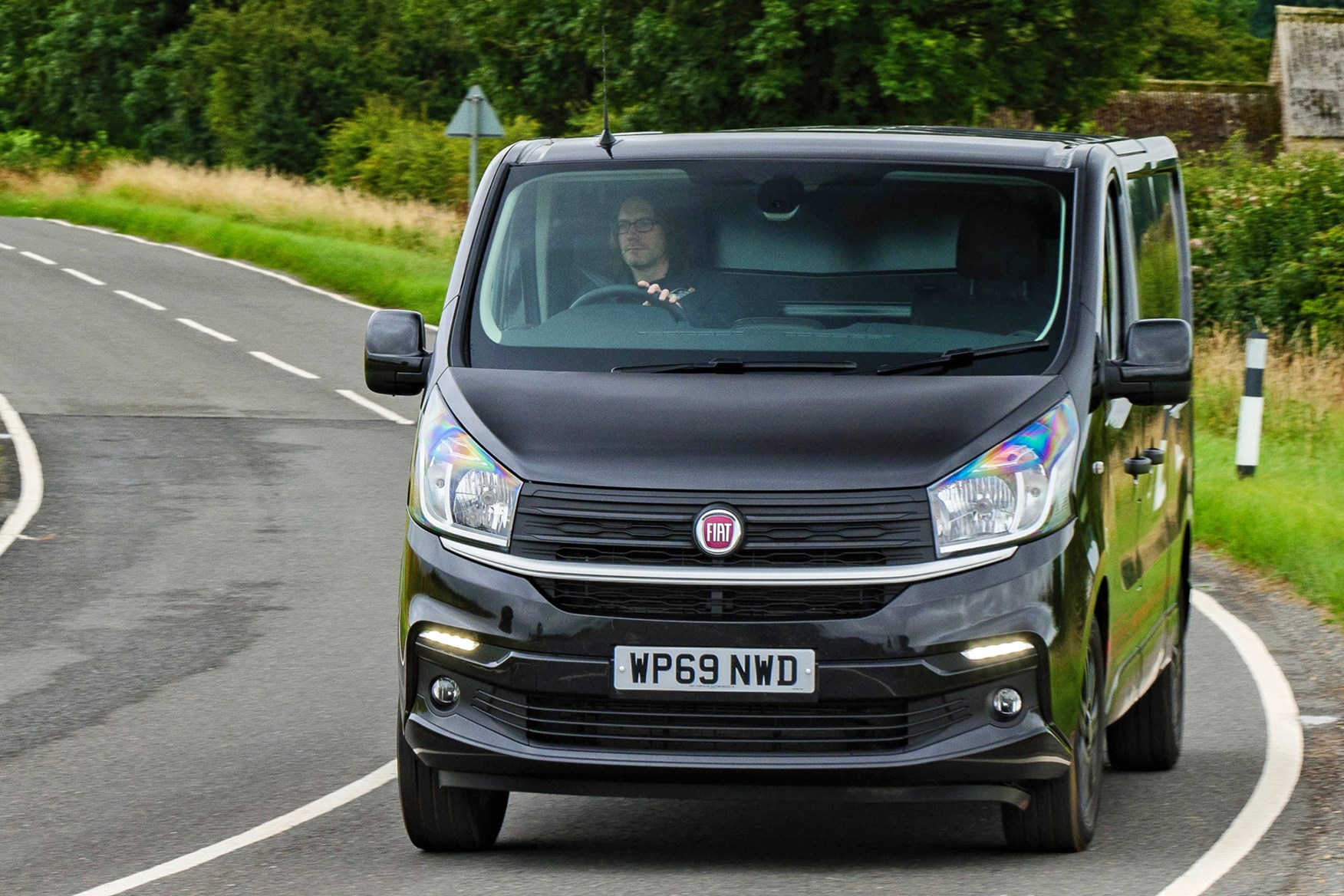 There are no changes to the outside, so we can't really call this a facelift; similarly, the only differences on the inside compared with earlier versions of the Talento are to some small pieces of trim, with silver detailing for lower-specification models and gloss black for higher-spec models.
Standard equipment was boosted slightly, however, with the introduction of new infotainment systems while under the bonnet the original 1.6-litre turbodiesel engines were replaced by a new range of 2.0-litre turbodiesels. These are badged Ecojet but are the same Renault dCi engines used by the Trafic and NV300.
In November 2020, Fiat added a DCT automatic gearbox option for the first time – this is the automatic transmission already used by the Renault Trafic.
Variants and trim levels
The Talento Cargo is available as a panel van, a crew cab and a platform cab suitable for conversions. A Talento combi passenger carrier has been offered in the UK as well, but writing in November 2020 it is not currently in the price list.
The panel van is available in short-wheelbase (SWB) and long-wheelbase (LWB) variants, the vast majority of which are offered with a standard (H1) roof height – though a high-roof (H2) model can be ordered. The crew cab and the platform cab come as LWB models only. Check out our dedicated Fiat Talento dimensions page for more details.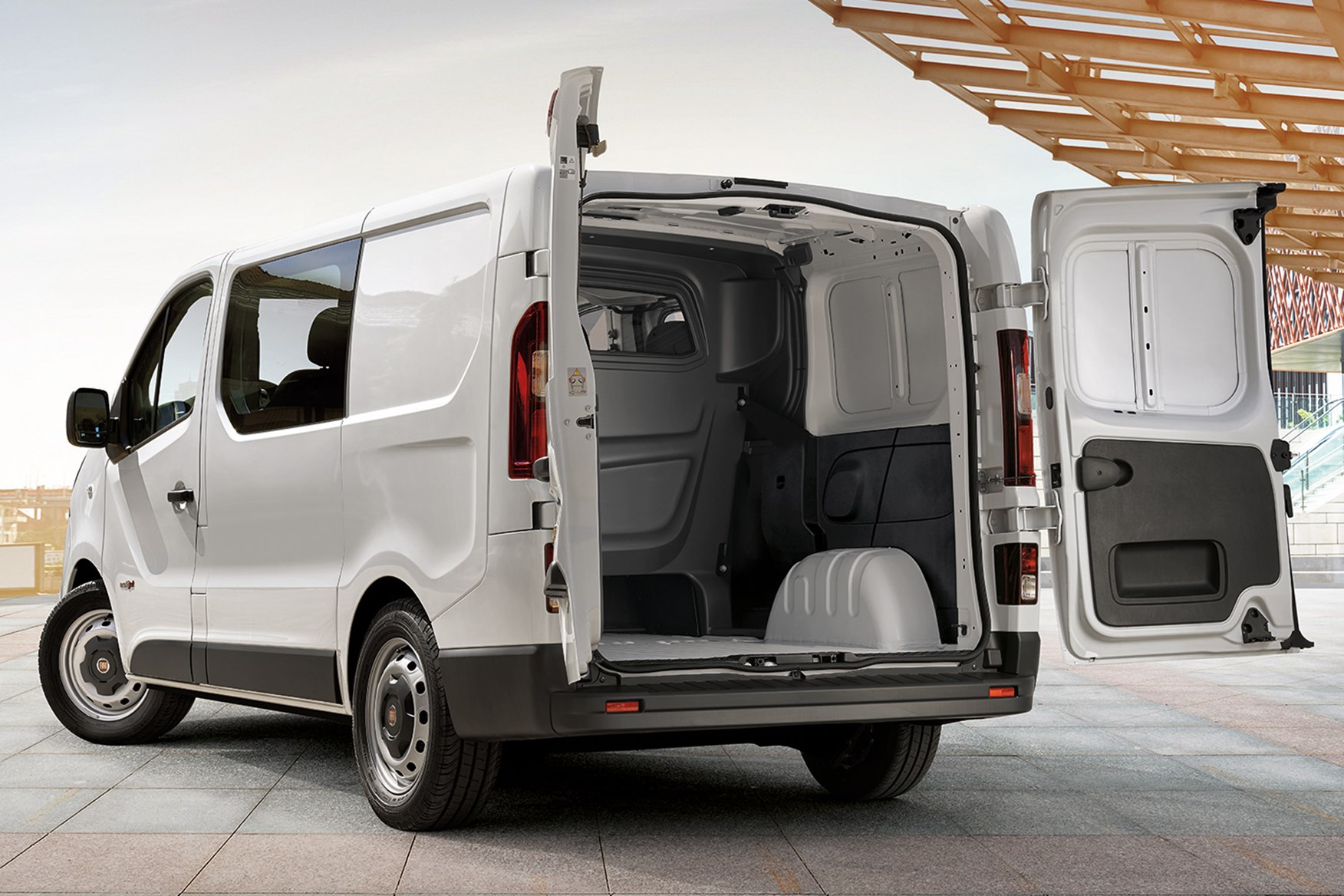 There are four regular trim levels in 2020: standard (also known as base), SX, Tecnico and Sportivo. Standard and SX are basic working models, while Tecnico and Sportivo ramp-up the kit and the image to feel and appear a little more premium.
An Onyx Edition was added at the top of the range for crew vans only in August 2020.
Fiat Talento rivals
As well as the market-leading Ford Transit Custom and the in-house competition from its siblings the Renault Trafic and the Nissan NV300, the Fiat Talento faces stiff challenges from rivals such as the Volkswagen Transporter and Mercedes-Benz Vito.
The Groupe PSA family of medium vans – the Vauxhall Vivaro, the Peugeot Expert and the Citroen Dispatch (plus the Toyota Proace, which is built for Toyota by PSA) – are also worth considering. They're not as spacious in the cab, and the Talento offers greater loading length in the back, but they do carry very high payloads, and offer a similarly smooth driving experience.
---

Fiat Talento verdict
If you're near a Fiat Professional van dealer and can get one at an attractive price – which shouldn't be too difficult – the Talento is certainly worth a closer look. These vans are good to drive, comfortable and to our eyes look very smart. The engines are also typically very fuel efficient in the real world, with the earlier 1.6-litre models punching well above most expectations when it comes to performance, too.
But with maximum payload under 1,260kg for MY20 versions, the Fiat falls a long way short of the best in the medium van sector when it comes to practicality.
Keep reading for the full Fiat Talento review on Parkers Vans and Pickups
Skip to our full verdict on...
Good to drive with car-like underpinnings
Appealing engines that deliver strong power and efficiency
Visibility could be better
With a high driving position, the Talento gives you a commanding view of the road ahead, while sharing underpinnings and suspension components with a range of Renault passenger vehicles means that it delivers a genuinely car-like driving experience.
Yes, there's a bit of body roll in the corners – the sensation enhanced by the tall driving position – but even travelling unloaded, the Fiat manages to combine impressive agility with reassuring sure-footedness. As a result it feels nimble on a country road but steady and secure at high speeds on the motorway.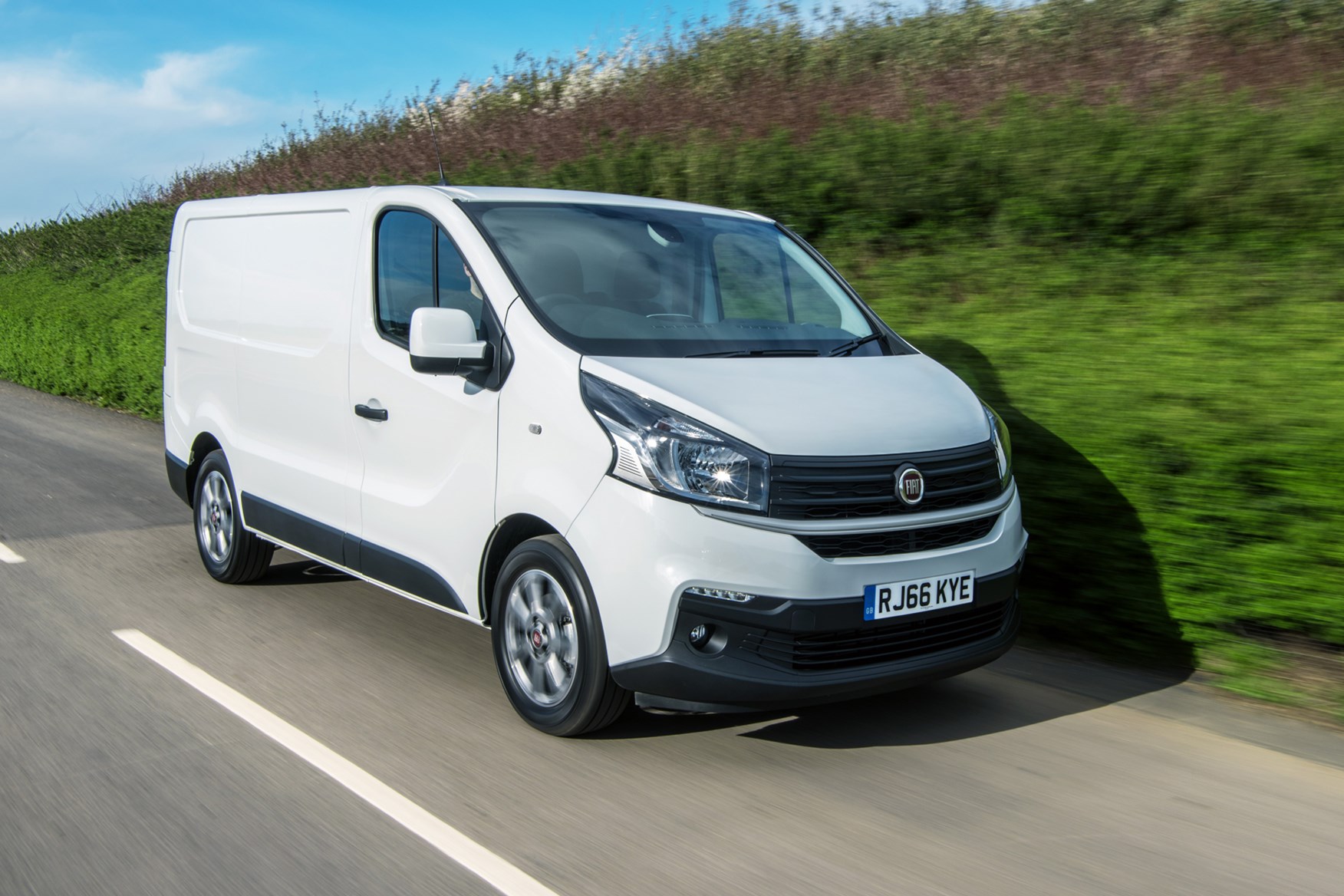 The ride comfort is firm but not uncompromising, so it copes well with damaged town-centre tarmac without feeling too soft and bouncy.
However, impressive though the Talento is to drive, the vast majority of competitors in the modern medium van segment are similarly capable now, so this doesn't really give the Fiat an edge. What's more, the small door mirrors mean all-round visibility isn't quite as good as it is in some rivals, something that's probably more important to most van drivers than the ability to take a roundabout at maximum warp.
Still, the engines are extremely pleasant.
Fiat Talento 1.6-litre engines
The Talento launched with a range of four 1.6-litre turbodiesel engines – two single turbo models offering 95hp / 260Nm or 120hp / 300Nm, and two twin-turbo models with 125hp / 320Nm or 145hp / 340Nm.
That maximum figure of 145hp doesn't look like much in an area of the market with some rivals pushing out 200hp, but since the vast majority of medium vans are bought with closer to 100hp engines, it's not really fair to judge the Fiat on this. Besides which, these are all very agreeable engines to drive – being quiet, torquey and relatively vibration free.
The most sensible pick is the 125hp twin-turbo, the extra turbo improving both response and fuel economy compared with the 120hp single-turbo unit. Combined with a surprisingly sweet-shifting six-speed manual gearbox, you'll rarely find yourself wishing for the extra 20hp and 20Nm of the 145hp engine.
Certainly don't let the small 1.6-litre capacity put you off these earlier Talento vans.
Fiat Talento 2.0-litre engines
In October 2019, Fiat dropped the 1.6-litre engines from the UK Talento range completely, replacing them with a new selection of 2.0-litre models – which meet the more stringent Euro 6.2 (or Euro 6d-Temp) emissions regulations.
As a result of this, the choice of power outputs is now 120hp / 320Nm, 145hp / 350Nm and 170hp / 380Nm – a substantial increase at the top of the range, making for a reasonably rapid van if you're prepared to fork out for it.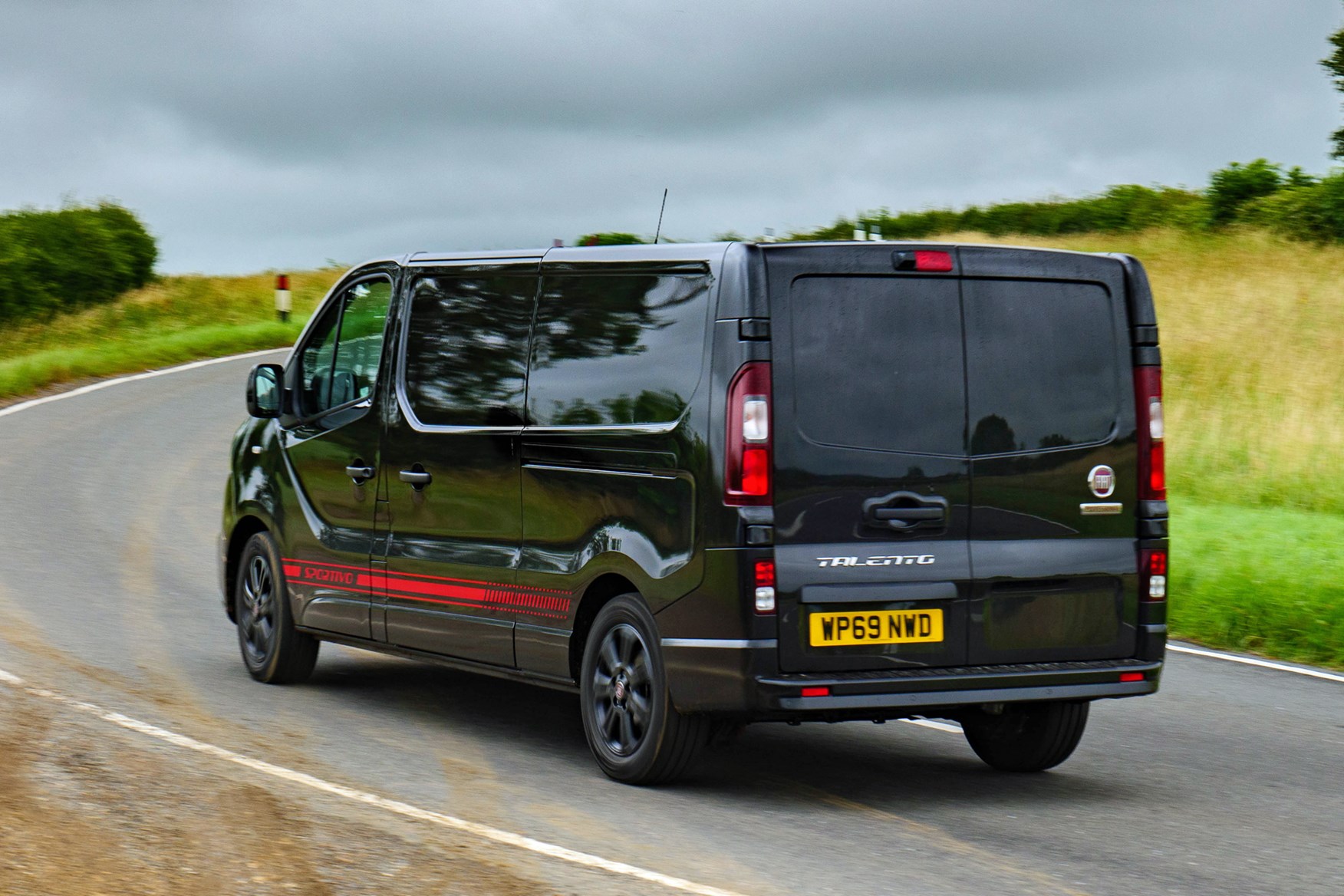 Producing maximum torque at just 1,500rpm, the new 2.0-litre engines feel very muscular from low speeds – almost too much so sometimes, with a boosty delivery that can be a little abrupt – and again, while the headline 170hp motor will certainly be enjoyable, it doesn't seem essential here. Especially given the relatively modest payloads the Talento is rated to carry.
The bigger engine does make the front of the van weightier than before, which in turn makes it slightly less agile. But this is still a good van to drive, and one that should prove comfortable for many, many miles at a time.
DCT automatic gearbox
Fiat didn't offer the six-speed dual-clutch automatic transmission available in similarly upgraded Renault Trafic models when the new engines were introduced in 2019 – but did add it as an option in November 2020 for some 145hp and 170hp variants.
The new auto gearbox – known as the DCT by Fiat and EDC by Renault – is similar in design to Volkswagen's DSG system but slightly more positive in its actions, and it comes as a welcome addition to the Talento range. Though the six-speed manual gearbox that is otherwise fitted is pleasing to use.
Attractive, car-like interior design
90-litres of in-cab storage
Some of the accessories seem a little out of date
As with other areas of this van, evidence of the Talento's relationship to Renault's passenger car range can be found in the cab. The centre console could have come straight out of a Clio, for example, with simple, good-quality controls and an attractive if not overly stylish look.
The instrumentation is clear to read and, as we've already remarked, the driving position is high, while the dashboard is relatively low, making forward visibility very good. We also find the driving position comfortable, with a good range of adjustment suitable for drivers of all shapes and sizes.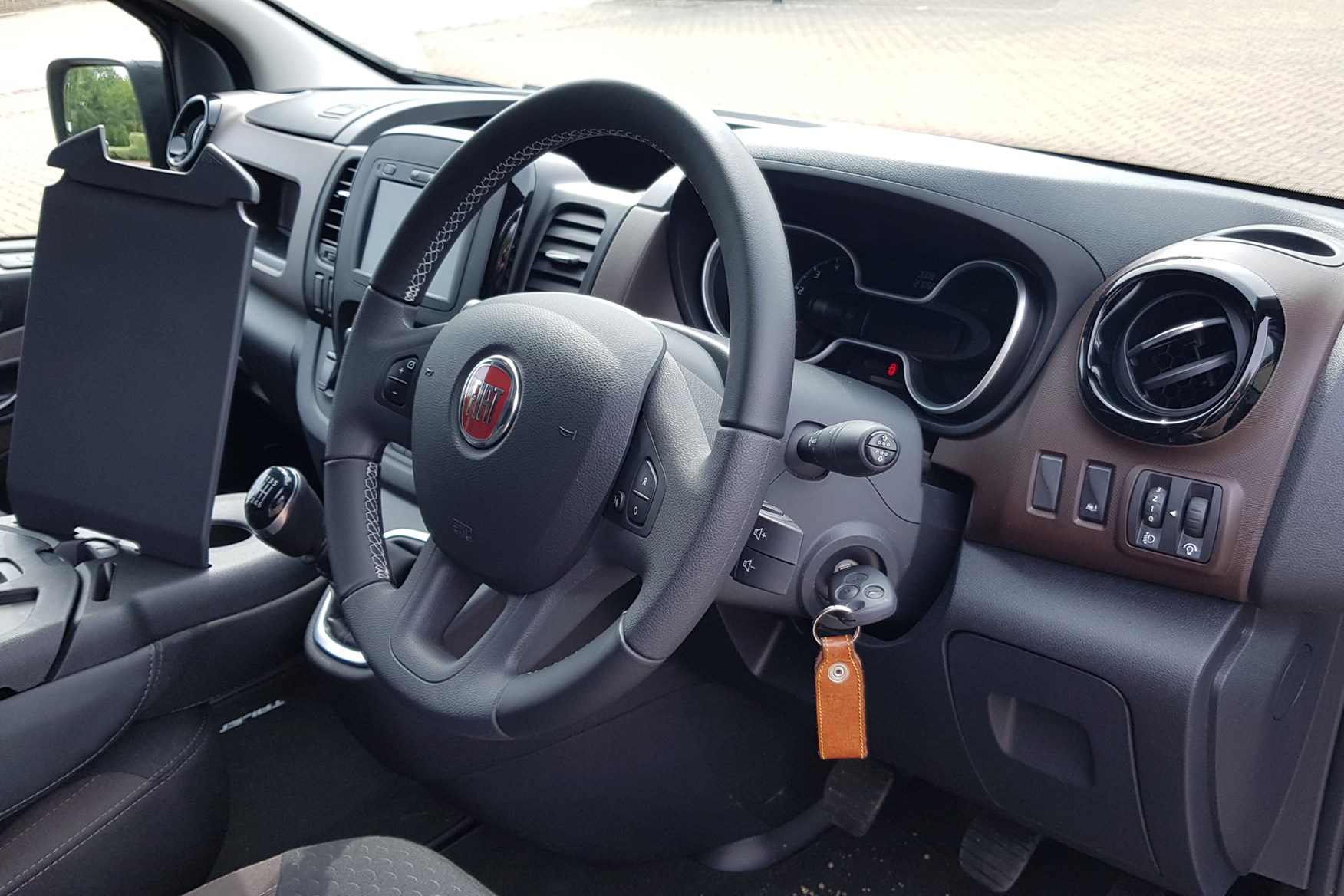 While there's little to distinguish the MY20-onwards vans and the previous models, our most recent 2.0-litre test van was finished in a surprising shade of 'bark brown', which is not something you see in a van very often. It genuinely helped to make this range-topping Talento Sportivo feel a little special compared with regular working vans.
How practical is the cab?
The Talento doesn't obviously look like the most practical van when it comes to storage in the cab, but as with the Trafic it's based on, there is actually a claimed 90 litres of space for clutter and essentials dotted around inside the cabin.
What's more a wide range of accessories for holding phones and tablets are available, while the central seat back folds down to form a working area that includes a pop-out clipboard and compartment for storing a small laptop.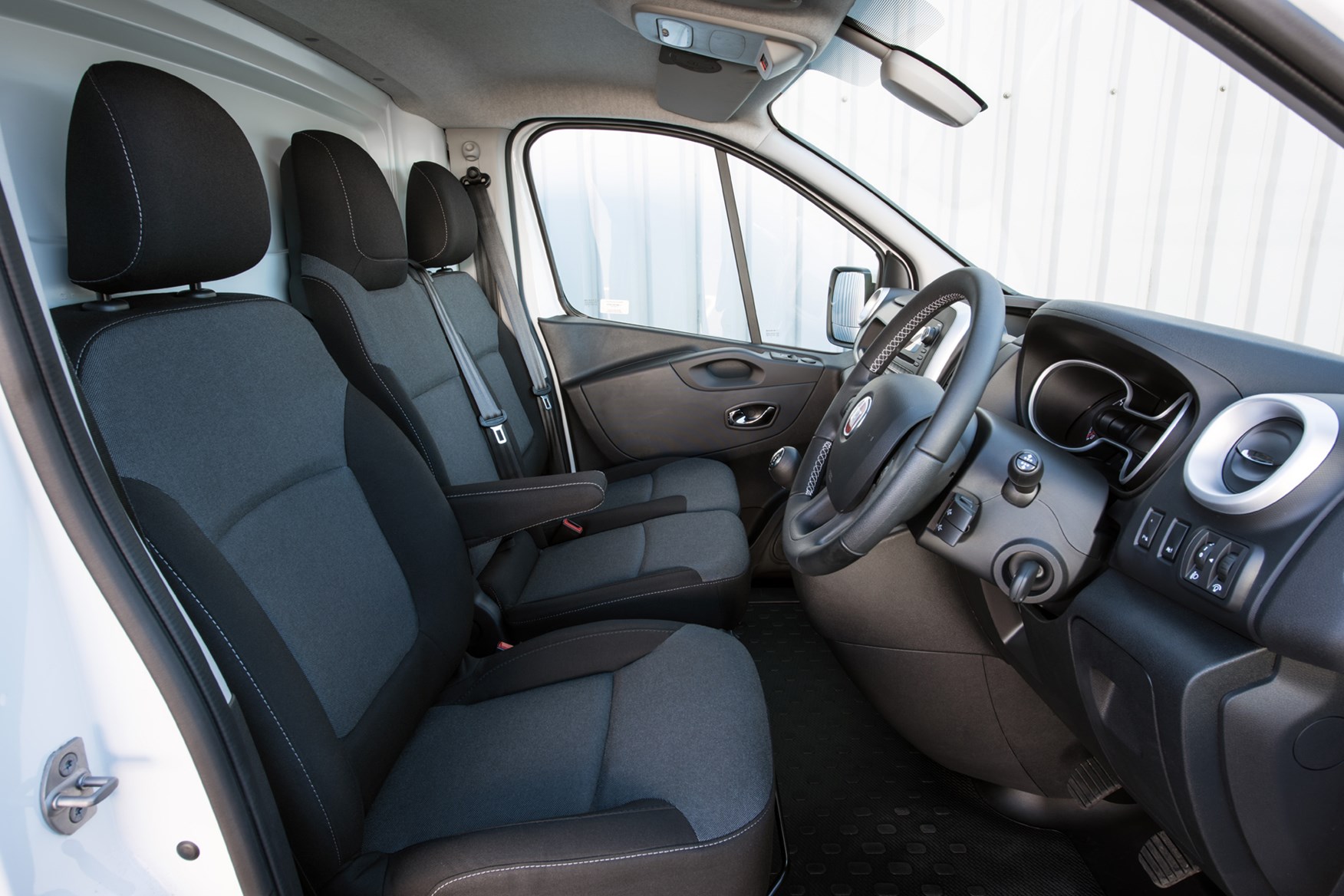 A 'CargoPlus' load-through bulkhead means longer, slim items such as planks and pipes can be extended into the passenger area of the cab if required.
Good fuel economy in the real world
But no WLTP mpg figures at the moment
May not hold value as well as other brands
While the Talento might not match the best in class on paper, efficient engines mean it should deliver good fuel economy and running costs in the real world. And although it's not the cheapest medium van around, reasonable levels of standard equipment mean it should still be good value for money.
Just make sure that you compare finance prices with other rival vans – be that from brands that sell the exact same vehicle (the Renault Trafic and the Nissan NV300) or completely different vehicles such as the latest Vauxhall Vivaro, Volkswagen Transporter and Ford Transit Custom.
Reason being, Fiat vans don't always hold their value well, so you may find the alternatives cost less per month – or allow you to get a fancier van for your budget.
Fiat Talento mpg
As with its sibling vans, the Talento has a great reputation for decent real-world fuel economy – so while you might not match the figures they put in the brochure, these vans are capable of over 40mpg in use. In other words, the sort of mpg Transit Custom drivers can only dream of.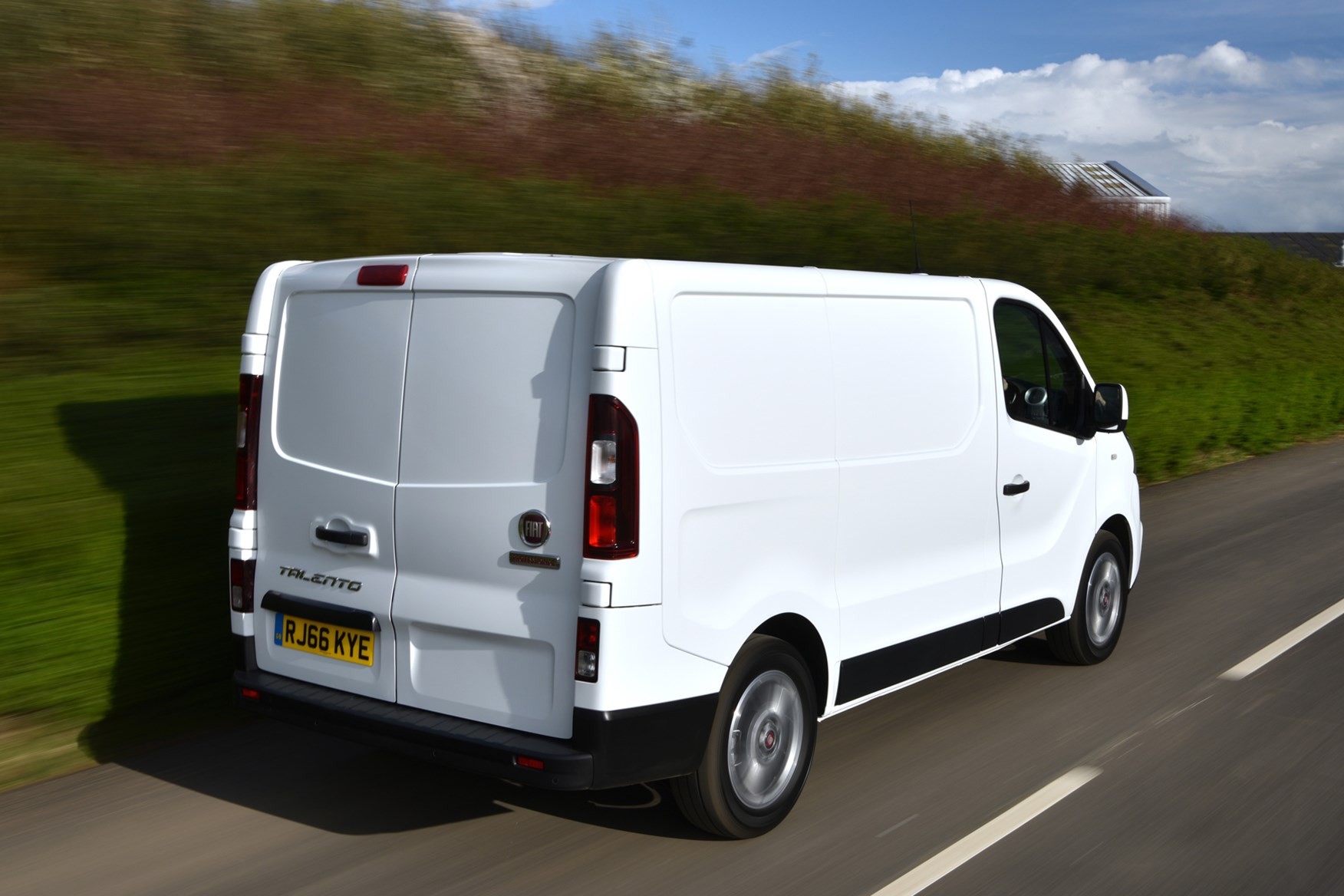 The official figures for the newer 2.0-litre engines range from 39.7mpg (for the platform cab) right through to 52.3mpg – but at present (November 2020), Fiat is still publishing data based on the older NEDC standard rather than latest, more realistic WLTP standard.
Which is a bit cheeky, and worth keeping in mind when comparing details with other new vans that are using WLTP (which always produces lower mpg numbers).
All 2.0-litre Talento models come fitted with a stop-start system.
Fiat Talento standard equipment highlights
These are the standard equipment highlights for the Fiat Talento panel van range (at time of writing in November 2020); each is in addition to the trim level before, unless otherwise stated.
Fiat Talento standard (base) mode equipment highlights:
Audio controls on steering wheel
Front electric windows
Heated, electric door mirrors
Height-adjustable driver's seat with armrest and lumbar support
Dual front passenger seat
Glovebox with light
Techno silver interior detailing with silver satin finish
Side loading door on passenger side
Fixed bulkhead
LED daytime running lights
12v socket in load area
Style Pack: part body-coloured bumpers, black grained finish to grille bars, door mirrors and rail cover
Remote locking with deadlocks
Immobiliser
Fiat Talento SX standard equipment highlights:
Air-conditioning
Rear parking sensors
Wide-view passenger mirror
Luxury black/brown interior with gloss black finish
Mobile office – fold-down passenger seat with detachable clipboard and under-seat storage
Fiat Talento Tecnico standard equipment highlights:
7.0-inch touchscreen infotainment system with sat-nav, Apple CarPlay, Android Auto and USB connectivity
Cruise control
Automatic lights and wipers
Front fog lights
Style Pack Plus: body-coloured upper and lower front bumper, door mirrors and rail cover, body-coloured upper rear bumper, front grille bars in 'metal' colour
Fiat Talento Sportivo standard equipment highlights:
Rear-view camera
Leather-trimmed steering wheel
17-inch matte black alloy wheels
Black metallic paint
Style Pack Luxury: body-coloured bumpers upper and lower, door mirrors and rail cover, front grille bars in black grained finish
Red sports stripes on lower body
Very few official recalls
Reliability generally appears to be strong
There are no signs of major reliability issues for the Talento – the Trafic it's based on is a consistently high performer in the FN50 van reliability survey, although Fiat dealers tend to place quite low in the overall top 10.
In terms of official recalls – an indicator of factory build quality – the Talento has been subject to only four, ranging from the wrong weight rating being listed for the loading hooks in the rear to just five vans being checked for potential fuel tank leaks.
The other two recalls were for issues relating to the parking brake. If buying used it's always worth checking these recalls have been carried out if required.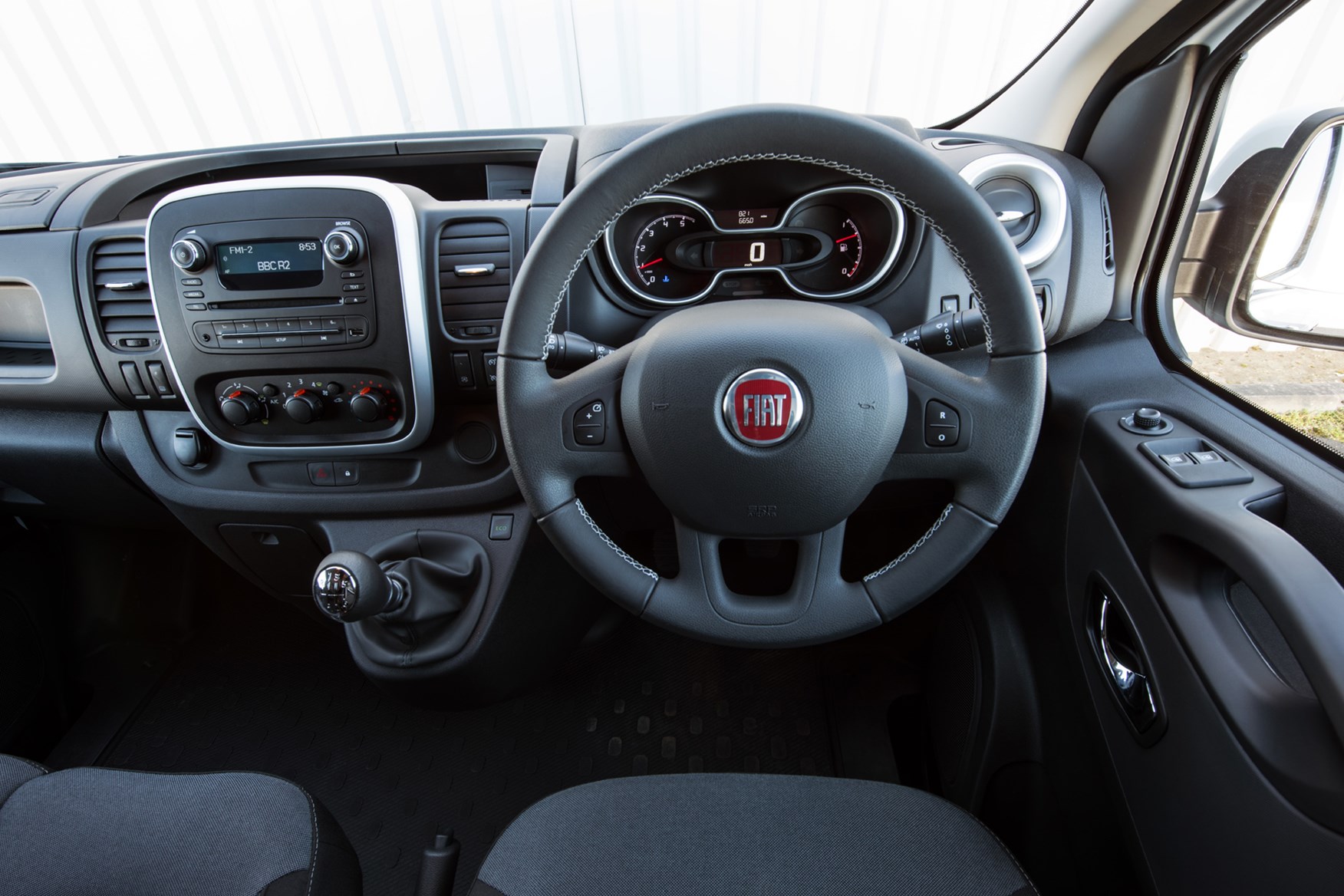 If we look to the Renault Trafic for further info on potential Talento problems – the vans share engines as well as their basic structure – there have been a few reports of turbo failures on the 1.6-litre motors, as well as injectors, alternators and other electronics given occasional problems.
But even considering this, these appear to be well-built, generally reliable vans. Let us know if you have any relevant experience that you feel we should be reporting here.
Very limited safety equipment compared with many rivals
As such, Euro NCAP says to 'avoid'
No alarm as standard on any model
With a basic van design dating back to 2014 (when the current generation of Renault Trafic the Talento is based on was introduced), the Talento is not the oldest model in the medium van sector – yet it lags behind most rivals when it comes to standard and available safety kit.
Fiat Talento safety
The only standard safety items on the Talento are a driver's airbag, ABS with electronic brake distribution and Emergency Brake Assist (which is not autonomous emergency braking but a booster for extreme braking situations and pretty standard fare now), and electronic stability control (ESC).
The ESC does have a Traction+ system, designed to increase traction on low grip surfaces, a Trailer Stability Assist system to help when towing, and a Hill-Hold Assist function to help you get going on a slope.
Plus there is a fixed bulkhead on all models.
However, you don't – and can't – get any of the latest driver active driver assistance systems you will find available on many rival vans. Not even blindspot monitoring is optional on the Talento, let alone rear cross traffic alert or traffic sign recognition.
It's for this lack of the latest active safety aids that crash safety body Euro NCAP has warned buyers to 'avoid' the Talento altogether.
Fiat Talento security
All models come with remote locking, deadlocks and an immobiliser. But you'll have to pay extra if you want an alarm, and there is no modern connectivity system equivalent to FordPass Pro or Mercedes Pro Connect to help keep an additional eye on your van.
Which Fiat Talento is best for me?