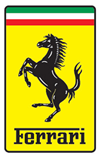 Ferrari F430 Convertible (2005 - 2009)
Spider 2d

(2005/55) Owner Review

Spider 2d
Summary

What does this car say about you?

What do your friends / family / neighbours think of the car?

Would you buy this car again and why?

What are you likely to buy next?

Buying experience

Type of dealer you bought from?

Franchised

Did you buy this car new?

No

What price did you pay?

£72,000

When did you buy the car?

October 2012

Did you get a good deal and why?

I went down the franchised dealer route having negotiated independent dealers to a point I felt comfortable with but for another 5k I was able to get the Ferrari Approved 24 months warranty and roadside assistance plus the 190 point vehicle check. That felt like a reasonable amount to pay for the peace of mind and having owned a Ferrari before so knowing the potential costs ! Quality first, price second....

Is there any special reason why you bought this car?

What was the dealer like?
Driving it

What's it like to drive?

An extraordinary car to drive. I had a 360 before but even though the F430 looks similar it feels and sounds quite different even thought the cockpit is pretty familiar. Its driven with your fingers / wrists and responds instantly.

What's it like to park?

Fine to park on a wide driveway, anywhere else cross your fingers !

Living with it

Have you had any problems with the car?

It will...

What's most practical about your car?

Its not a practical car in any way, but the boot actually is quite big in contrast to a Gallardo or C4S so a weekend away is pretty straightforward as long as its at a hotel where you can feel comfortable that it will be safe.

Favourite gadget, option or accessory?

The entire car is a gadget so not much need for accessories !